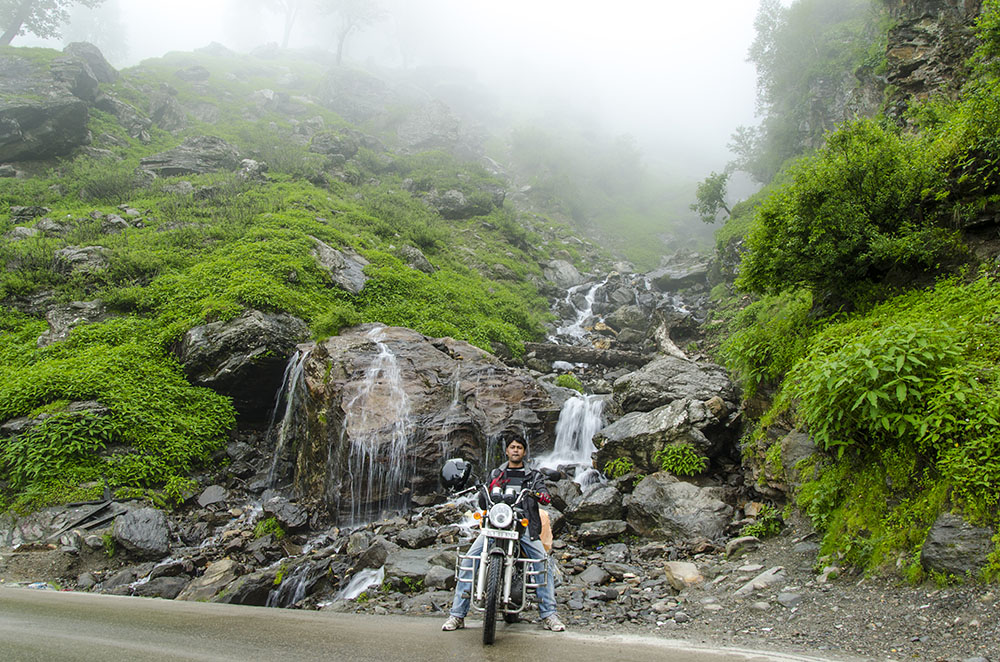 In this post, I will provide information on the best time to travel from Manali to Leh by road. This highway remains open only for about 5 months a year and invites thousands of travel enthusiasts to undertake a journey that is both fun and adventure. While the best time to visit will depend on your convenience and mode of travel, mentioned below are a few things that you must keep in mind.
Of the two highways connecting Ladakh to the rest of the country, Manali to Leh has always been the more popular. A lot of this is due to the fact that it is the more challenging and hence was more popular among the adventure enthusiasts. Challenging roads, high-altitude passes, water crossings, and unpredictable weather are some of the charms that Manali Leh Highway offers.
While the above all sounds fun, it can also pose a serious risk. There is no denying the fact that tourists have in fact died on the Manali Leh route and in Ladakh. So your planning, as well as the knowledge of the region, has to be fool-proof.
Best Time to Travel from Manali to Leh
This article is a part of series that I wrote on Manali Leh road, detailing several aspects of it like a road map, accommodation choices, and sightseeing spots. For complete information, you can also take a look at the other posts in this series.
Also read:
This article in particular focuses on the months when Manali Leh highway remains open and when is the best time to travel from Manali to Leh.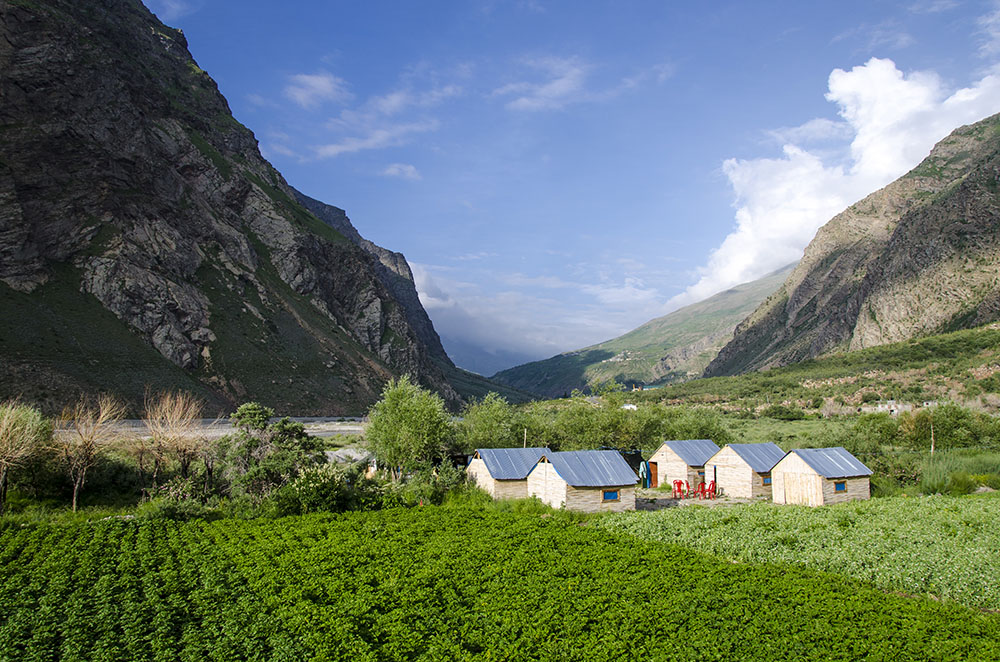 About Manali Leh Highway
To start with, let us go with some basic information. The total length of the Manali Leh highway is approximately 490 kilometers. Out of this, 230 kilometers are in Himachal Pradesh between Manali to Sarchu. The remaining 260 kilometers from Sarchu to Leh fall in the state of Jammu and Kashmir.
The highest elevation on the highway is 17,480 ft at Tanglang La pass. The road is mostly 2 lanes wide but has one lane at several stretches.
There are 5 high-altitude passes on this highway of which Tanglang La is the highest but strangely it is Baralacha La that remains covered with snow for the longest duration. This road was built and still maintained by the Border Roads Organization (BRO), a division of the Indian Army.
Best Time to visit Leh Ladakh via Manali
Manali Leh highway remains open for roughly around 5 months in a year for civilian traffic. It is declared open by Mid to late May (sometimes in early May) and gets closed by late October after the region starts to experience snowfall.
Each month presents its own set of challenges. When you want to traverse on this road majorly depends on when is it convenient for you, and how well prepared are you to handle bad roads. Let me give a small month-by-month breakdown.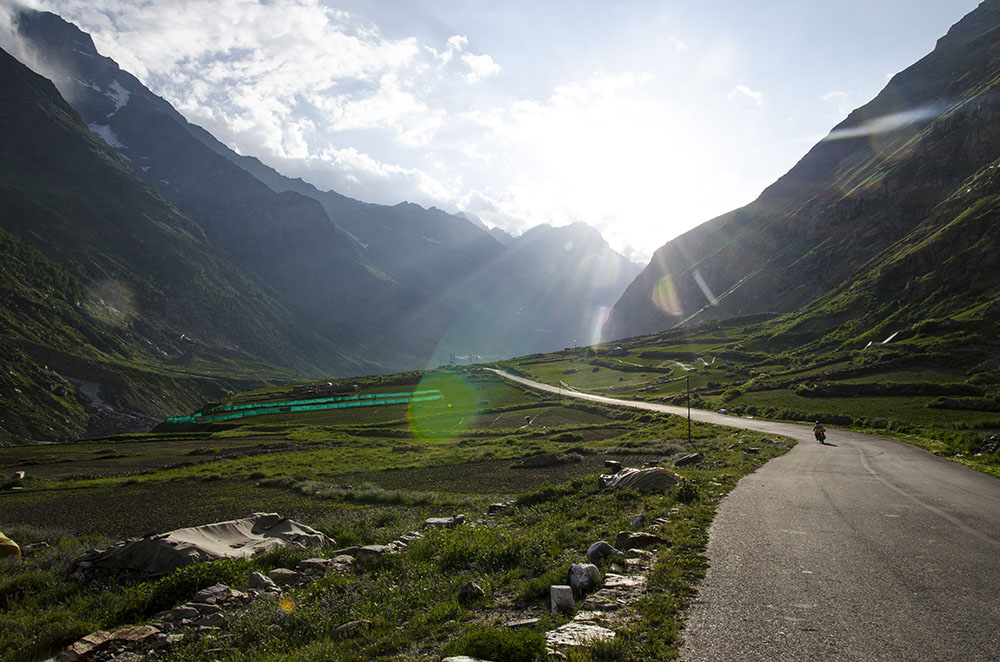 Manali to Leh in January
There is absolutely no way that you can travel on Manali Leh Highway in January. Passes like Rohtang and Baralacha La receive as much as 50 ft of snow each year and sometimes even more.
After the opening on the Atal Tunnel, you can go only as far as Jispa in Lahaul Valley but not beyond that.
Manali to Leh in February
You cannot travel on Manali Leh Highway in February as well. The snow accumulation is even more in this month after all the heavy snowfall in December and January. The roads will remain block. From the Manali side, you can only go as far as Jispa and from the Leh side, you can travel only till Upshi.
Manali to Leh in March
Is Manali Leh Highway open in March? No, it is not. Irrespective of how little snow the region may have seen in the winter season, Manali to Leh is never open in March.
There have been times when Rohtang Pass was declared open towards the end of March. That however is only limited to Rohtang. The work continues on the rest of the highway and so far, BRO has never been able to free it of snow in March itself.
Even with Rohtang, it will open in March only where there is very little snow. It has happened a few times in the past. Otherwise, BRO usually starts the snow clearing work in early March from both the Manali and Leh sides. The region continues to experience fresh snowfalls in March as well that further delays or halts the work.
Also read: How to Plan a Trip to Ladakh – Complete Travel Guide
Manali to Leh in April
Much like March, a journey on Manali Leh Highway is not possible in April as well. Rohtang is usually free of snow this month and BRO focuses on the Baralacha La Pass.
There have been instances when the entire road from Manali to Leh was cleared towards the end of April but it is very rare. Even if it does, chances of snowfall and temporary road closures will always remain. Hence, this is definitely not a safe month to go to Leh Ladakh from Manali
Even if you do plan on doing it, ensure that you are well aware of the road status and its conditions. You can follow the updates that I provide in this article Manali Leh Highway Current Status & Road Conditions.
Manali Leh Highway in May
Is Manali Leh Highway open in May? It depends on the amount of snow received in the winter season but the road is mostly open by the end of May. Sometimes it can open in the early or middle of the month a well but the end of May is a safe time to assume.
If the region received a lot of snow in winters or if there was fresh snowfall in May, the opening may get delayed to June as well. If you are planning to travel from Manali to Leh by road in May, you must first inquire about the road status and plan only in the last week of the month.
Also Read: Motorcycle Water Crossing Technique & Tips
Manali to Leh in June
June can be both a good and a bad month to travel on this road, depending on the timing and weather conditions. The road is definitely open so you are free to travel from Manali to Leh by road in June but you should keep a few things in mind.
Since the snow was cleared only a couple of weeks ago, the condition of the roads can be in a terrible state. Tar on the roads will be severely limited and there will also be a lot of water crossing due to the melting snow.
Due to the ongoing restoration work, you may find temporary closures en route and may have to wait for BRO to give you the signal to move.
On the bright side, you will find a lot of snow all along the road. If it is snow that you are after or you want to feel that crazy rush of driving in hostile conditions then you can plan your trip in early June. This is the best time to see the famed snow walls at Rohtang and Baralacha La top and a frozen/semi-frozen Suraj Tal Lake.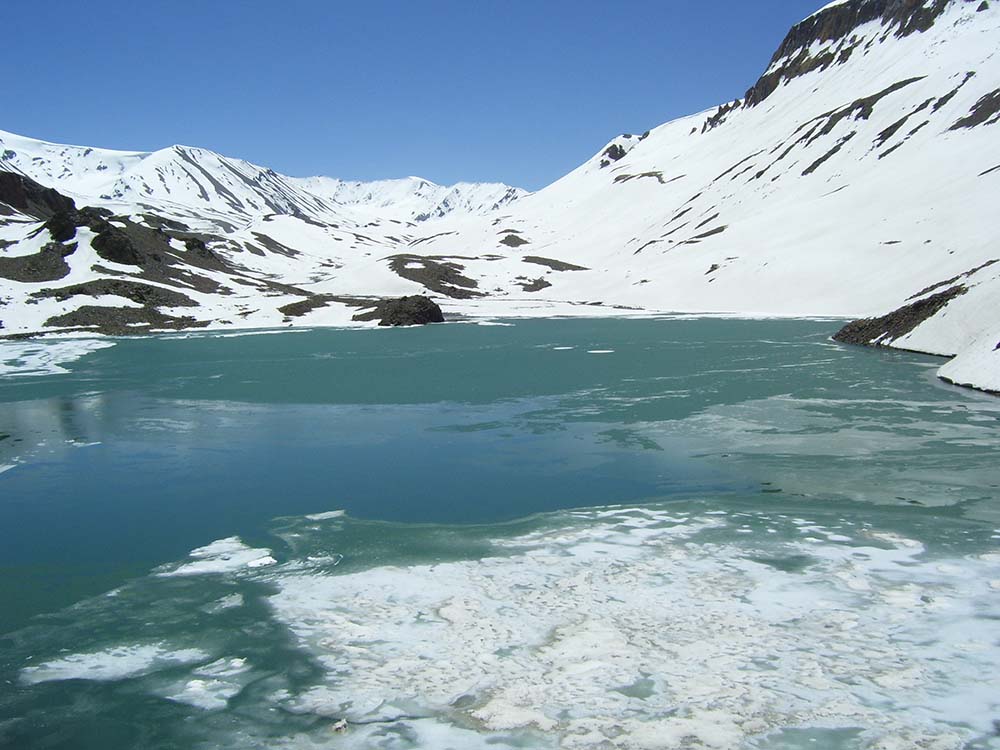 Manali to Leh in July
My favorite month to travel on the Manali Leh highway is July. It presents an ample amount of challenges without taking things to the level of being a problem or too risky.
Road conditions improve tremendously by July however the restoration work continues at several stretches. Water streams will still be a problem as the snow continues to melt. By noon, the flow of the water in these streams can be fierce.
All the campsites and places to stay will be fully operational. So there will be no problem in finding a place to break your journey for the night.
The downsides of traveling in July can be the tourist rush in Manali and the possibility of heavy rains. Monsoon hits the region in July but pre-monsoon showers can start as early as late June.
After 15th July, there will always be a risk of heavy rains. If you can, plan your trip in the first 15 days of the month.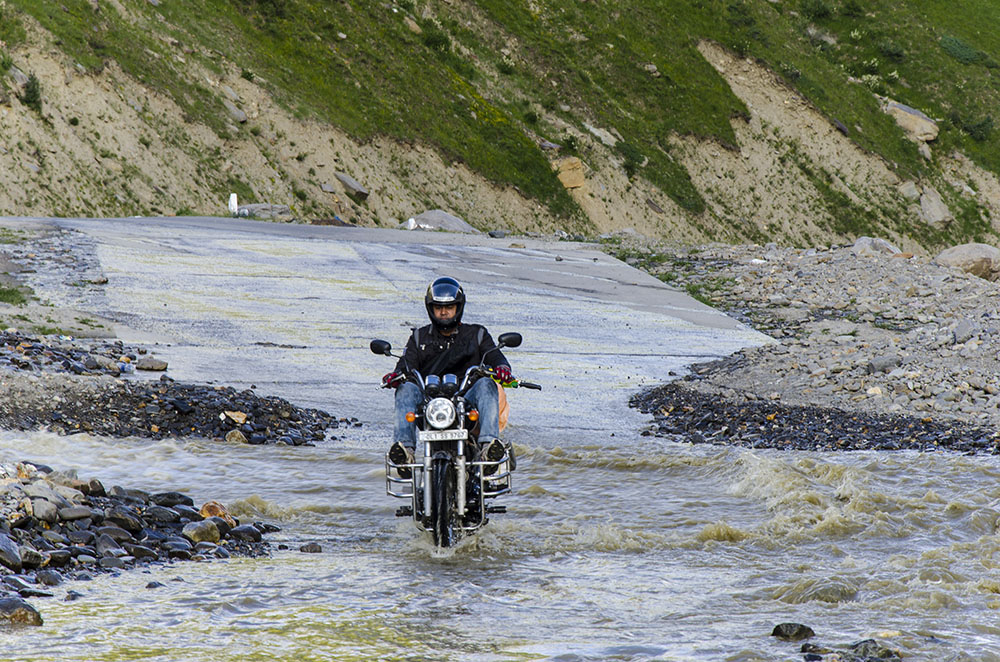 Manali to Leh in August
August is not really a good time to plan a trip anywhere in the hills, not just this region. There have been times when heavy rainfall triggered landslides and tourists were stranded on the road for an entire day and night. If you can, you should avoid traveling from Manali to Leh by road in August.
On the positive side, the road conditions are almost perfect in the month of August. I am talking about the internal roads in Ladakh. Tourist season will be at its peak so each and every campsite, chadar tent, or hotel along the way will be functional.
If greenery is what you are after, then this would be the best month to go. With Monsoon at its peak, the area around Kullu, Manali, and Lahaul Valley will be green.
While traveling in August, just be prepared for the rain and waterproof everything. Call ahead and inquire about the weather conditions. If there was news of extreme weather conditions, delay your plans by a few weeks.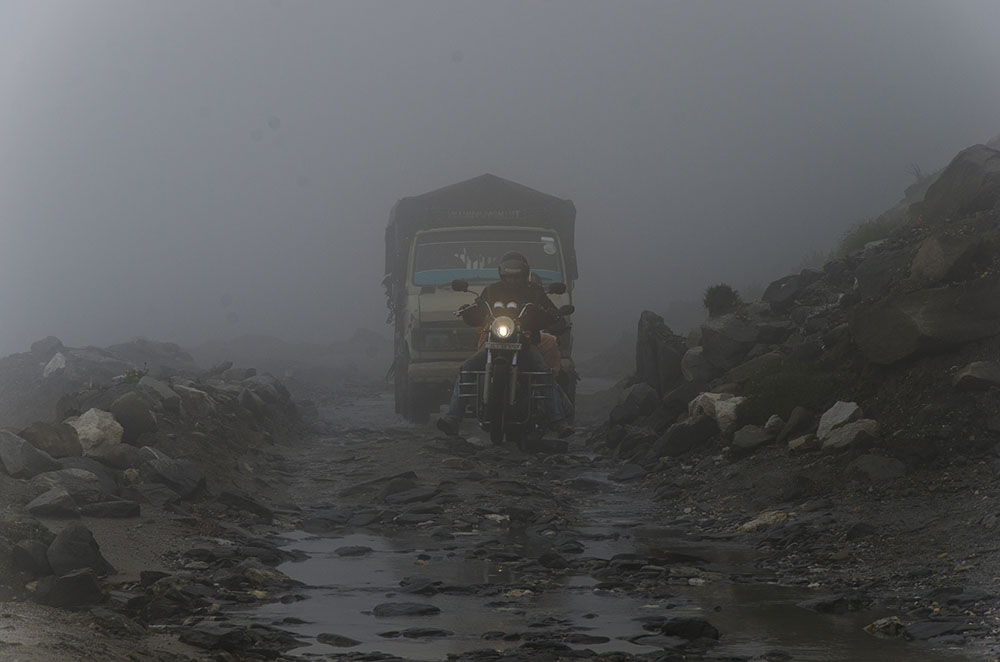 Manali Leh Highway in September
September is widely considered to be the best month to travel on the Manali Leh highway. Road conditions are as good as they can ever be with bad stretches limited to only a few and for short distances.
With the Monsoon gone, there will be very little chance of rain. Since the tourist season is towards its end, there is not a lot of rush at this time however all the accommodation options will open and fully functional.
 The entire route is filled with colors, from green grass to red stones to deep blue water. This is also the time when winter starts to settle in so it will be a bit cold, especially at night.
If you were lucky, you may even catch a snowfall in Ladakh in September.
Manali to Leh in October
Winter has arrived and the month of October is of uncertainty. Tourist season would have ended and this is the time when all the campsites/chadar tents start to wrap up, limiting the accommodations choices drastically.
Temperature can drop to freezing levels at night. Chances of snowfall at the passes and road getting closed temporarily are high. October is not the month when you should plan a journey on the Manali Leh highway. But if you must, keep your plans towards the first 10 days of the month.
I have in fact written a different article on this topic that I will urge you to read. Take a look at Why you Should avoid Manali Leh Highway in October.
Manali Leh Highway in November
Is Manali Leh highway open in November? No, it is not. The road gets closed by late October and is very unsafe to travel on in November, even if it was open.
There have only been a couple of times when the winter season got delayed and the highway remained open till early November. But the weather will be very unpredictable. It can start to snow anytime and you will run a great risk of being stranded.
Planning a trip from Manali to Leh by road in November is either not possible or ill-advised.
Also Read: How to Carry Spare Fuel on a Motorcycle Safely
Manali Leh Highway in December
By this time, all of the passes have already received a high amount of snow. The road from Manali to Leh in December is never open. For a trip to Ladakh at this time, you will have to catch a flight to Leh.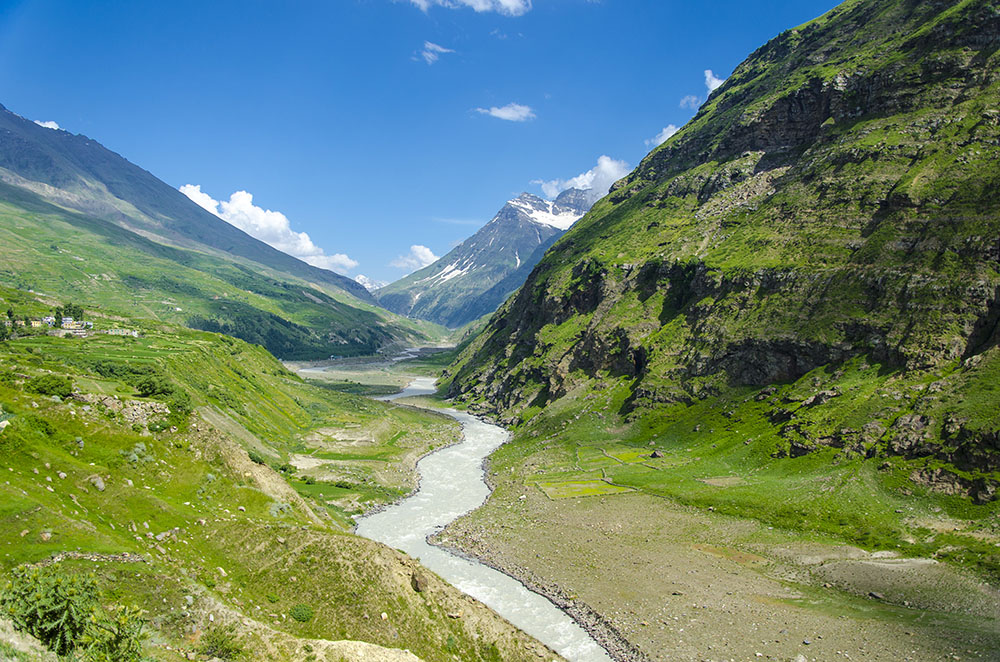 Best Time to Visit Manali Leh Highway
Late June, early July, and September are the best months to travel from Manali to Leh by road. But again, all this depends on what your preference is and when can you afford to be out on vacation. If you can, plan your journey in either of these months and you will definitely enjoy your trip.
Best Time for Manali Leh Bike Trip
Late June, early July, and September is the best time for Manali Leh bike trip. August definitely is the worst time for a bike trip on this route.
Best Time to Travel from Manali to Leh – Conclusion
Kashmir was termed as a paradise on earth hundreds of years ago by Emperor Shah Jahan and quite rightly so. Ladakh a few years ago was termed as 'Heaven on earth' by I do not know who. But once again the term was correctly used.
Another term 'Biker's paradise' was coined to describe the roads leading to it. Yet again it was 100% accurate. However as more and more people are now starting to visit this part of our country, it is no longer a journey that is limited to motorcycles.
A trip to Ladakh now includes almost every mode of travel, from a bicycle to a flight. However, no matter which mode of travel you chose, the fact cannot be denied that this trip still requires meticulous planning and preparation.
You need to make yourself aware of not only what you want to see there but also of timings, difficulties you may face both medical and mechanical, roads that may be closed and the list is quite long.
I hope this information on the best time to travel from Manali to Leh was of help. If you have any other questions, please feel free to ask in the comments sections below or at our Community Forum, and I would be glad to answer.