Manali Leh Highway Status 2018 for now is CLOSED. However an early opening of the highway is expected this year. Entire Himalayan region has seen very little snow this winter as expected to previous years. Usually the pass opens by early June however it is expected to open in in May itself.
Like last year, this will be a dedicated thread for Manali Leh highway status 2018. I will continue updating the status on opening and closing of the road; along with the road conditions as the year progresses.  Apart from the blog post here, I will also start a sticky thread at our Community Forum where other members of the forum can also shared their updates. If you have a more recent update than the one provided here, please do share it either in the comments section below or at the forum post; link of which I have provided below.
Current Manali Leh Highway Status 2018 –

OPEN
Rohtang Pass Status – OPEN
Manali to Keylong – OPEN
Manali to Kaza – OPEN
Keylong to Leh – OPEN
Also read:
Manali Leh Highway Travel Guide
How to Plan a Trip to Ladakh – A Complete Travel Guide
---
Update: June 30th
Heavy rains for last 2 days have created a flood like situation in Srinagar city. Jhelum river has crossed its danger mark and if the water rose another 2 to 3 feet, it will flood the entire Laal Chowk. Authorities have issued a flood alert in Srinagar, sSchools have been shut down and Amarnath Yatra has been suspended for now. Srinagar Leh highway remained closed all day yesterday and was only reopened in the evening for a little while. There was a landslide at Jammu – Srinagar highway yesterday leaving thousands of people stranded on the road. It would be unsafe to travel towards Srinagar as of now; until situation is back under control and weather clears.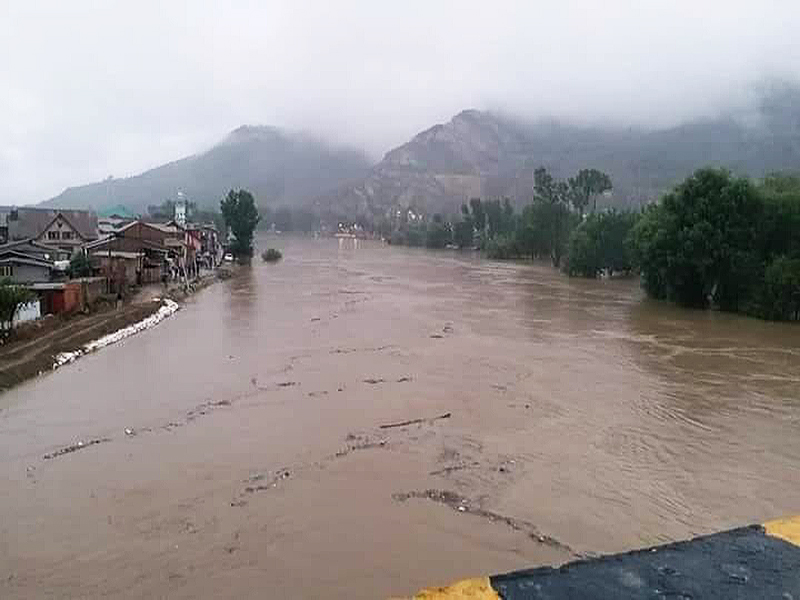 ---
Update: June 24th
Below is an update of road conditions on Manali to Leh highway, Srinagar to Leh highway and in Ladakh.
Bad sections: Udhampur to Nehru tunnel 50 km, zozila pass 20 km, khardung la pass 35 km, some where near to pang to keylong 35 km and 20 km near Rohtang.
Total 250 kms of bad roads on entire circuit
Chandigarh to Udhampur – road is good
Nehru tunnel to Sonmarg – road is smooth
Zero point to Leh – road is smooth
Leh to nubra – 40 kms bad road
Nubra to pangong – road is good
Pangong to pang – 100 km of bad rad
Pang to keylong – 50 kms of bad road and 4 water crossings
Keylong to Rohtang – last 20 km bad and tough water crossings
Rohtang to Manali – heavy rush
Manali to Chandigarh- road OK
---
Update: June 18th
Update on Road condition this year. Thank you Khawinder Bhai for providing these details.
There was a landslide near Zingzing Bar a few weeks ago but the road has been restored now.
Manali to Rohtang is a mix of good and bad.
Rohtang to Keylong is OK.
Keylong to Sarchu is extremely bad, almost ugly
Sarchu to Pang is good.
Pang to Leh is excellent.
---
Update: May 24th
Manali Leh Highway is now official all open. HRTC has also declared that they will starts their Delhi to Leh and Manali to Leh bus service this week itself. Those planning to drive by themselves, please practice caution as the road at top of the passes will still be narrow and slippery. Restoration work is still going on and it may result in temporary road closures as well.
---
Update: May 20th
Rohtang Pass has been opened for tourist traffic as well. Permits for both visiting Rohtang Pass and crossing it over are now being issued. Thanks Abhra Bhai for providing the update.
---
Update: May 14th
Manali Leh highway was officially freed of snow yesterday and reinstated for traffic movement. For initial days however, only Army vehicles will be allowed, followed by local traffic. Tourist traffic will only be allowed after the road has been deemed as stable by the authorities and weather does not throw any more surprises. It has snowed at Rohtang top still in last couple of days. However, if the weather hold now, the road should be reopened for tourists in next 7 to 10 days.
---
Update May 10th
The game of Rohtang getting open, closed, open, closed and open again continues. Authorities declared the pass open yesterday and will allow the movement of civilian traffic from today onward.  Ever sine it was opened in early April, the mighty pass has been closed and reopened again three times due to late snowfall and unpredictable weather . However, for now only local traffic will be allowed and there is still no word on by when the tourists will be allowed to visit or cross Rohtang top. The road condition at the pass is dangerous right now and even local traffic had to be stopped yesterday due to some cars skidding off the road.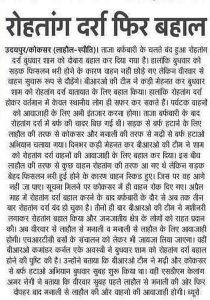 ---
Update: May 9th
Surprise Surprise !! It is the month of May and the spell of late snowfall still continues. Valleys of Lahaul and Spiti and Passes of Rohtang, Kunzum, Sach and Baralacha all received fresh snowfall yesterday. This is definitely bound to delay the opening of all routes including Rohtang Pass, Sach Pass, Manali Leh and Manali Kaza routes. For now, the estimate is that both Manali Leh and Manali Kaza routes will not open until Late May and Rohtang Pass will probably open around 20th; provided that there is no more heavy snowfall. Below is a pic of Kaza after fresh snowfall in Spiti yesterday. There is forecast that more snow is on the way.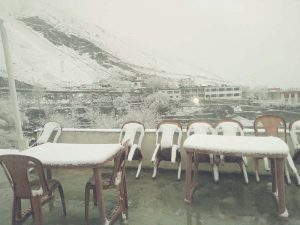 ---
Update: May 6th
Baralacha La and Rohtang Pass have been both cleared of snow. Work now continues to clear the snow between Baralacha La and Sarchu. If the weather holds the way and the work continues the way it is now, Manali – Leh Highway may reopen in a week to 10 days.
---
Update: May 3rd
Snow was almost cleared by Baralacha La last week and BRO was hopeful that they will be able to open the road by Mid May. However the constant spell of snow continue to delay the work. It snowed at Rohtang and Baralacha La top even yesterday. For now, the expected date of opening will be towards May end.
---
Update: April 21st
Winter this year arrived very late at Rohtang and other nearby passes. BRO was able to clear the snow off Rohtang completely and were hopeful that they will be able to reopen Manali Leh highway by April 20th but due to recent spells of snow, they had to shut down Rohtang Pass again. It has been snowing at top of the passing at regular intervals due to which opening of Rohtang, Kunzum Pass, Sach Pass, Manali Leh and Manali Kaza stretch will definitely get delayed. There is no confirmed date yet about opening of all these places.
Even Srinagar Leh highway which was opened several weeks ago was closed again yesterday due to snowfall at Zojila top.
---
Update: April 16th
Estimated date of Manali Leh highway getting restored for vehicles has now changed to May 5th. BRO was hopeful to declare it open by April 20th but recent snowfall in the region has pushed the date to May 5th now. Work is now under progress to restore the connectivity between May 5th to 8th at latest.
---
Update: April 6th
Rohtang Pass has been declared open for year 2018. BRO was able to clear snow all the way and restore traffic on the route on Thursday. For now, only light motor vehicles will be allowed to ply between Manali and Keylong from Friday, April 6th. An official announcement of the opening however will only be made on 9th April.
Please note though that for initial days, only the local vehicles are allowed to cross over. Tourists do not get the permit to cross over for initial few days. You must give it at least 7 to 10 days before planning a trip. To be on a safer side, do not plan to cross the pass before 15th April.
BRO is hopeful that if the weather remained the way it is right now; they will be able to restore connectivity on entire Manali Leh highway by 20th April. The road from Manali to Kaza will also be restored by April end; or May first week at latest.
For now, one-way traffic will be allowed towards the pass on a daily basis. This is because the road is not really in best of the condition and is quite narrow at some places. On Friday, traffic will be allowed to ply from Manali side and then on Saturday, vehicles from Lahaul side will be allowed to cross over. BRO will continue to work on the road and stabilize it. Once they have widened it enough for vehicles to cross each other, two way traffic will be allowed.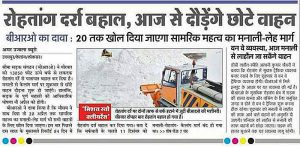 ---
Update: April 3rd
Rohtang Pass should be all clear of snow this week and in all probability will be declared open for tourists next week. Less than a kilometer of snow is left to clear towards the top which BRO is currently working on removing. Estimated opening time for Manali Leh highway right now remains to be around Mid-May.
---
Manali Leh Highway Status 2018 – Update: December 19th
Fresh spells continue all across the Himalayan region. The entire stretch between Manali to Leh, including Rohtang Pass and Manali Kaza stretch continue to remain off limits. For now, if you were planning a winter trip to Manali, there is no way that you can reach the top.
---
Manali Leh Highway Status 2018 – Update: November 26th
Manali to Leh highway is not open for vehicular traffic anymore. With recent snowfall in entire region; and with the temperatures dropping, frost and black ice has started to form on the roads.  For now, if you are planning to visit Ladakh in near future; catch a flight or plan for next year if a road trip is on your mind.
---
Manali Leh Highway Status 2018
Much to everyone's surprise, the road from Manali to Leh still remains open. The normal closing time of the highway is sometime in October; towards the end of the month. This year however, with half of the November gone; the highway has not see much of snow and still remains functional. You must however know that traversing on this road as of now is extremely risky.
An advisory has also been issues to travelers to avoid using the road. There is a high chance of snowfall, frost and black ice which makes the journey dangerous as of now. There are 5 high altitude passes between Manali and Leh and almost all of them have started to experience light spells of snow. The closing of the road is only a matter of days now and can happen anytime. All the tented accommodation facilities en route have wrapped up for the season; so once you cross Keylong, chances of finding another place to stay until Leh are almost next to none.
I hope the information above on was of help. If you have any further questions, please feel free to ask in the comments section below or at our Community Forum and I will be glad to answer.