Srinagar Leh Highway Status 2018 for now is Open. The highway this year opened in March itself which is a record in itself. This was due to the fact that it did not snow much anywhere across the Himalayas this year due to which BRO was able to clear snow way sooner than expected.
Like last year, this will be a dedicated post for updating the road status and condition. I will continue updating the status on opening and closing of the road; along with the road conditions as the year progresses.  Apart from the blog post here, I will also start a sticky thread at our Community Forum where other members of the forum can also shared their updates. If you have a more recent update than the one provided here, please do share it either in the comments section below or at the forum post; Srinagar to Leh Road Status 2018
Current Srinagar Leh Highway Status 2018:

OPEN
Srinagar to Sonamarg: Open
Sonamarg to Kargil: Open
Kargil to Leh: Open
Kargil to Padum: Open
Also read: Srinagar Leh Highway Travel Guide and Route Map
---
Update: June 30th
Heavy rains for last 2 days have created a flood like situation in Srinagar city. Jhelum river has crossed its danger mark and if the water rose another 2 to 3 feet, it will flood the entire Laal Chowk. Authorities have issued a flood alert in Srinagar, sSchools have been shut down and Amarnath Yatra has been suspended for now. Srinagar Leh highway remained closed all day yesterday and was only reopened in the evening for a little while. There was a landslide at Jammu – Srinagar highway yesterday leaving thousands of people stranded on the road. It would be unsafe to travel towards Srinagar as of now; until situation is back under control and weather clears.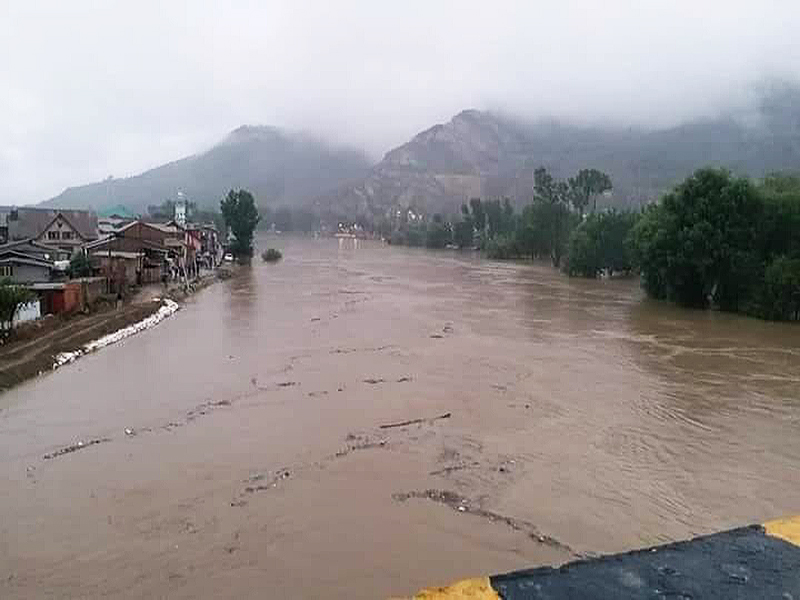 ---
Update: June 24th
Below is an update of road conditions on Manali to Leh highway, Srinagar to Leh highway and in Ladakh.
Bad sections: Udhampur to Nehru tunnel 50 km, zozila pass 20 km, khardung la pass 35 km, some where near to pang to keylong 35 km and 20 km near Rohtang.
Total 250 kms of bad roads on entire circuit
Chandigarh to Udhampur – road is good
Nehru tunnel to Sonmarg – road is smooth
Zero point to Leh – road is smooth
Leh to nubra – 40 kms bad road
Nubra to pangong – road is good
Pangong to pang – 100 km of bad rad
Pang to keylong – 50 kms of bad road and 4 water crossings
Keylong to Rohtang – last 20 km bad and tough water crossings
Rohtang to Manali – heavy rush
Manali to Chandigarh- road OK
---
Update: May 3rd
For anyone planning to travel on Srinagar Leh highway anytime soon, below is a small update provided by a fellow traveler.
Traffic will be allowed from Drass for Sonamarg in Kashmir from 0500 hrs. Ladakh bound traffic will be allowed from 1100 hrs.
Road condition is mostly good all the way with a few bad patches. Even the road at Zojila is above average and easily doable.
There is not much of slush yet at Zojila which becomes the biggest problem at this pass. But then the temperature at the top is still close to zero and snow has not yet started to melt. Though most of the patches on the climb are now paved with cement blocks, there is some unpaved area and there could be slush one the snow starts to melt away.
---
Update: April 27th
Traffic resumed on Sonamarg – Drass stretch of the strategic Srinagar – Leh highway on Wednesday after remaining suspended for five consecutive days. The highway was closed last week following heavy snowfall in Zojila and Drass areas. Traffic will be allowed from Drass for Sonamarg in Kashmir from 0500 hrs. Ladakh bound traffic will be allowed from 1100 hrs.
---
Update: April 22nd
Traffic movement remained suspended on the Sonamarg – Drass stretch of 434 kms strategic Srinagar Leh highway on fifth consecutive day on Tuesday. Officials said that a number of snow slides on Sonamarg – Drass road stretch have hampered the early restoration of the traffic movement on the highway. Officials said efforts are on from both ends of the Sonamarg – Drass stretch to restore the traffic on the highway as early as possible.
For now, the estimate is that it will take at least another 3-4 days to restore the highway. Around 4 feet of fresh snow has accumulated at Zojila Top after the recent snowfall and avalanche last week.
Update: April 21st
Srinagar Leh highway was closed yesterday on temporary basis due to recent snowfall at Zojila.  If the weather holds and it doesn't snow anymore again, road will probably be open again in 2-3 days.
Update: April 7th
After almost 2 weeks since traffic was allowed to ply on Srinagar Leh highway, it has now finally been declared open officially. Beacon division of BRO held a small ceremony and made an official announcement of opening. Traffic however has already been crossing over Zojila and reaching Leh for last 2 weeks. A few people have even made their trip to Ladakh already traversing via Srinagar.
Also read: Is Srinagar Leh Highway Safe for Tourists?
It seems Army was waiting for the local administration to hold some photo op ceremony which was getting delayed for no reason. Finally when the date was still not finalized, BRO decided to open the road nonetheless. Local administration in Ganderbal is quite upset about this and even deciding to file criminal proceedings against BRO Beacon.
Source: GreaterKashmir
---
Update: April 1st
As I posted earlier, Srinagar Leh highway is open and the locals are already commuting on it; however an official announcement is still getting delayed. It seems a photo op ceremony is pending which the officials want to have before they make an official announcement.
Even though the road is open, I will still recommend that you give it a week more before traveling to Ladakh. Locals do get to move around but tourists may get stopped and now allowed to cross Zojila until it is all official.
For now, traffic from Drass to Sonamarg is allowed until 1 PM  and Sonamarg to Drass after 1 PM.
---
Update: March 29th
Srinagar Leh highway is free of snow and Army is allowing vehicles to cross over Zojila but in limited numbers. It is expected right now that an official announcement of highway opening will be made on Sunday, March 1st; after which all traffic movement will be allowed.
---
Update: March 26th
This will officially mark the beginning of tourist season in Ladakh. Though an announcement has not yet been made, but Srinagar to Leh route is now open for light motor vehicles. An Ambulance crossed over from Kargil to Srinagar on Sunday, 25th March, after which all civilian vehicles were released and crossed Zojila over safely.
If you have been waiting to go to Ladakh this year, you are good to travel now but I would still advise at least 7 to 10 days before traveling. Road right now is highly unstable with plenty of snow and slush at Zojila. BRO may still close it on temporary basis to continue their restoration work.
---
Update: March 25th
Srinagar Leh Highway was freed of snow on March 20th; as I updated earlier in this post. It has not been declared officially clear still; but an Ambulance carrying a critical patient from Kargil crossed over Zojila and reach Srinagar safely today. Critical care ambulance of BHC RC started it's service and became the first civil vehicle to cross Zojila. It is now only a matter of days before the highway gets declared open. Anticipated opening date right now is March 28th but it may get pushed by a few days and open in first week of April.
The road from Kargil to Zanskar valley too was officially declared open on Sunday.
Also read: How to Plan a Trip to Ladakh – A Complete Travel Guide
Source: JKnewstoday
---
Update: March 21st
The road across Zojila and Srinagar Leh highway has been cleared of snow completely but is not official yet. Project Beacon of BRO has cleared snow all the way till Zero point at Zojila yesterday. Project Vijayank had already cleared the snow till the top from Kargil side on 18th. So the road between Sonamarg and Kargil right now is actually open but not for civilians yet.
If weather favors and it does not snow yet again, Srinagar Leh highway in all likelihood will be open by April 1st week. However considering the fact that it snowed all across Himachal on 20th March, it will not be a surprise if it starts to snow again in Kashmir as well.
---
Update: March 20th
Snow clearing operation on Srinagar Leh Highway came to a complete stand still after it started to snow at several areas on 14th and 15th March. Zojila received 7 inches of fresh snow whereas it snowed about 4 inches at Sonamarg. The work however was resumed soon after and BRO is working to clear Zojila as soon as possible.
The connectivity on entire stretch has been restored today and civilian traffic was allowed to ply. Right now, the traffic between Srinagar and Sonamarg is allowed between 11 AM to 3 PM. Road is open as far as Sonamarg market only and you cannot go beyond that.
---
Update: March 13th
Last year Srinagar Leh highway was declared open on May 13th but this year; in all probability it will be open by Mid-April. BRO is hopeful that snow clearance will end by the end of March if weather permits. Zoji La this year has only received about 8 to 10 feet of snow which is way less than the usual amount of snow each year. About 3 to 4 feet of snow has accumulated at Sonamarg – Baltal road. Once the snow is cleared, a decision will be taken on opening the road after assessing the situation. Usually, after snow clearing is done, BRO takes about a week or so to test the road and then allows civilian traffic to ply on it.
Srinagar Leh highway latest news
[blockquote align="none" author=""]
Srinagar, Mar 13: Jammu and Kashmir is likely to open early this year.  A Beacon official told Greater Kashmir that snow clearance work on the highway is going on.
He said that snow clearance operation on the Srinagar – Leh road is going on in full swing, however, we are facing a tough situation at few places due to avalanches along the road," the official said.
He said snow clearance will end by the end of March if weather permits. "We will take a decision on opening the road after assessing the situation, "he said.
He said snow clearance on Zoji La Pass is very difficult . "However, this year, the Pass received less snow making snow clearance operation easy," he said.
Reports said that nearly 8-10 ft of snow has accumulated along Zoji La pass while as 3-4 ft of snow along Sonamarg – Baltal road comparative less.
Director works Beacon, Col Hooda while talking to Greater Kashmir said: "We haven't set any timeline for the road opening however we expect Srinagar – Leh road to be thrown a little early this year and only by mid April" he added.
He said that the toughest work for snow clearance remains on the 30-km road stretch up to zero point of Zoji La from Sonamarg.
Project Beacon of the Border Road Organization is responsible for clearing the road up to zero point near Zoji La from Sonamarg, while the Vijayak of the BRO clears the road from the Kargil side
[/blockquote]
---
Update: March 12th
Sharing some current captures of Srinagar Leh Highway and snow clearing operation in progress. Expected opening date of the road right now is between 10th to 15th April (just an estimate, highly prone to change). On 9th March, BRO was only 8 kilometers away from zero point at Zoji La.
---
Update: March 11th
Sharing a recent pic of area near Sonamarg and Gulmarg that I just received from a friend in Srinagar. Local roads in the region are mostly all operational now and it is not long that Srinagar Leh highway too will be declared open. Local cabs have already started plying towards Sonamarg. The helicopter service between Srinagar and Leh too continued this year. You can buy the ticket from TRC Srinagar for Rs. 5,000 to reach Leh by Helicopter.
---
Update: March 9th
The snow clearing operation on Srinagar Leh highway is at full swing. BRO has started to clear the snow towards Zoji La from Srinagar side. Whereas from the other side of the pass, Drass side that is, the snow has already been cleared. The estimate right now is that the road this year will open by early April.
And it is not just on the Srinagar to Leh road. Even the Manali Leh highway is expected to open in the month of April as of now or in early May. Snow this year is way too less and BRO has already cleared the most of the snow in Lahaul Valley.
---
Update: March 2nd
The recent spell of rain and snow continues across the Kashmir region. It has constantly been raining all across at the lower parts of Jammu and Srinagar while higher reaches like Sonamarg and Gulmarg received a fresh spell of moderate snowfall. Minimum temperature in Srinagar city dipped to 6.8, Pahalgam 1.9 and Gulmarg -1.6 degree Celsius. Leh recorded a minimum temperature of -0.4 degrees Celsius whereas Kargil was the coldest across the region at -4.3
---
Srinagar Leh Highway Status 2018 – Update: February 28th
Border Roads Organization began snow clearance operation today on the 12 kilometers Gagangeer – Sonamarg stretch of Srinagar Leh highway. Per the officials, if weather doesn't take a turn, this part of the road will be cleared completely within next few days. The snow this year is very less from the Gagangeer side due to which Sonamarg remained open for tourists entire winter this year.
The tough part however is on the other side of Sonamarg, towards Zoji La. There is a lot of snow on the 30 kilometers long stretch between Sonamarg and Zero Point.
It has been raining cats and dogs between Jammu and Srinagar though; due to which the Jammu – Srinagar highway was closed, reopened and closed again several times last week. The road was closed again yesterday temporarily as the incessant rain was causing the risk of shooting stones.
Srinagar Leh Highway Status 2018 Update: February 23rd
BRO is all set to start its snow clearing operations effective March 1st to restore road connectivity to Ladakh. This year, the entire region has seen very little snow as compared to previous years. There are no major avalanches or landslides in sight and the road is not too bad in condition. Sonamarg for the first time remained opened for tourism throughout the winter.  What this necessarily means that the entire stretch between Srinagar and Leh will open early this year; unless there is a major snowfall in the month of March.
So far, the city of Srinagar has witnessed very little now. Below are a few pictures of winter this year.
---
Srinagar Leh Highway Status 2018 Update: January 26th
The long dry spell this winter finally broke this week in Himachal and Uttarakhand with several areas receiving high amount of snow. Keylong was coldest in the region with minimum temperature settling at -5.8 degrees C, Kalpa -3 degrees and Manali -0.6 degrees and and Dalhousie at -0.8 degrees. The state of J&K was no exception with fresh snowfalls around Sonamarg and Gulmarg. The city of Srinagar however remains deprived of snow still.
Leh continues to remain the coldest city in entire J&K with temperature several degrees below 0. Other areas of Ladakh like Nubra valley and Pangong too are under a grip of cold wave.
Srinagar Leh Highway Status 2018 Update: January 22nd
The dry season across the entire Himalayan region continues. Most of the areas have either see little or no snow at all. Srinagar has seen no snowfall at all this year so far. Road between Srinagar and Sonamarg continues to remain open and so do the roads towards Gulmarg, Pahalgam and Jammu as well. You will definitely however find some snow at Sonamarg and Gulmarg but a little less than usual.
Internal roads in Ladakh are all open. If you reached Leh by air, you will easily be able to journey towards Nubra Valley, Pangong Tso and Tso Moriri. Even the road across Tanglang La is currently open and you can even take the route through Pang to reach Karzok.
---
Srinagar Leh Highway Status 2018 –

U

pdate: January 14th
Srinagar still continues to run dry. There is not much snow in Srinagar though there is plenty in nearby areas like Sonamarg, Gulmarg and Pehalgam. Road however is open for all these areas so if you were planning a winter trip to Kashmir, you will find plenty of snow in all these places.
Srinagar Leh highway is open until Sonamarg but closed beyond that as Zojila is all snowed out.
---
Srinagar Leh Highway Status 2018 – Update: January 1st
Temperature continues to dip all across Jammu and Kashmir state; with the town of Leh recording as the coldest city. Nights are recording a temperature of -19 to -20 degrees Celsius with temperature remaining close to -10 degrees Celsius at noon. Temperature at Srinagar goes down to close to -10 degrees during night and 10 degrees at noon.
The region has not seen much snow this year, including Ladakh. There has been no snowfall so far in Srinagar and very less in Leh town. There was a fresh spell of snow on 1st Jan however it was only at the peaks and higher areas. What this necessarily means is that if it continues this way, we are looking at an early Summer and early opening of the road. For now however, to be on a safer side, plan your trip only after late April.
---
Srinagar Leh Highway Status 2018 – Update: December 10th
Srinagar to Leh road is no longer open. Temperature has been dipping all across the Kashmir and Ladakh region. Srinagar city recorded minus 3.0 degrees Celsius; Pahalgam minus 4.5; and Gulmarg minus 2.2 as the night's lowest temperatures of this season so far. Ladakh region recorded minus 12.3 degrees Celsius; and Kargil minus 7.2 degrees Celsius as the night's lowest temperature. The entire stretch connecting Kashmir to Leh will remain closed until further notice next year.
---
Srinagar Leh Highway Status 2018



Srinagar Leh highway usually remains open until mid to end November. Last year, the road was operational in December as well. This year too, right now the route is open and used by both Indian Army and locals here. Several stretches however, specially the pass en route, have already seen light spells of snow.
The pass will close in a few days; owing to heavy snowfall and leading to closure of the highway for this year.
If you were planning to traverse on the route anytime soon, I would strongly advise against it. Do not take the unnecessary risk and better plan your trip to Ladakh next year.
I hope the information above on was of help. If you have any further questions, please feel free to ask in the comments section below or at our Community Forum and I will be glad to answer.