A road trip to Ladakh is possible only in the months of May till October; when both the highways connecting it to rest of the country are open. The road from Srinagar to Leh opens a bit early and remains accessible till late. But majority of the tourism really happens in the moths of June, July, August and September; when Manali Leh highway is open as well. This means that a large portion of the tourists travel each year to Ladakh in Monsoon season. Rains play havoc in the valleys near Manali and Srinagar each year and even though Ladakh is a rain-shadow area; monsoon season can be a huge cause of trouble here as well.
If you too were planning a trip to Ladakh in Monsoon; towards end of July or August that is; then in this article you will find a few tips on what to expect at this time and how you can travel safely.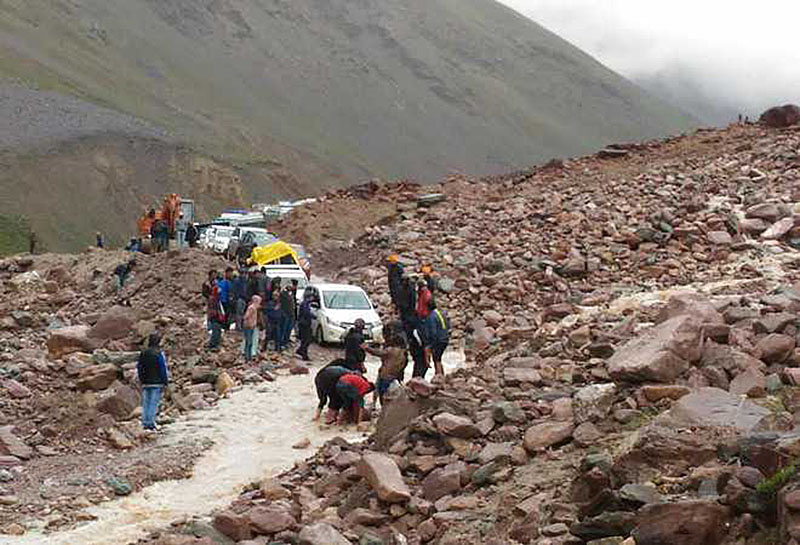 The actual definition of a rain shadow area is that it either does not rain there at all; or so less that it almost equal to none. Much however has been changing off-late; all thanks to Global warming. The 2010 cloudburst of Ladakh that claimed lives of several is a shining example of how rules like this do not apply anymore. Even last year, there was a cloudburst on Manali Leh highway which left the travelers stranded on the road for over 24 hours. The picture above is of the same cloudburst that washed an entire section of the road away.
No, I am not trying to scare or discourage you from making this trip; just laying out a few important aspects so that you can be well prepared.
Ladakh in Monsoon Season
Mentioned below is what you should expect and be prepared for while going to Ladakh in Monsoon.
Incessant Rains in Lower Himalayas
While traveling to Ladakh during rainy season, be prepared to face rainfall in early part of the trip which really can be non-stop. If you were traveling from Manali, then it may constantly rain on the entire stretch from Chandigarh to Keylong. From Srinagar side, you will encounter rain the moment you start to climb via Jammu and then will continue to travel through the deluge well until Drass.
Also read: Ladakh Checklist – Things to Carry for Ladakh Trip
Risk of Getting Stuck / Stranded
This has started to happen quite often in last few years. Landslides caused by rain will block the traffic completely until help arrives to clear the road. A landslide last year on Manali Leh road near Sarchu caused travelers to wait along the road for more than a day. Depending on the severity of the roadblock ahead, there is a high risk of being stranded for several hours altogether.
And there will be Slush
Slush is a big problem around Rohtang top, some areas near Keylong, Jispa and Darcha on Manali Leh highway. You will also find it in plenty between Srinagar and Sonamarg; and then Zojila top on Srinagar to Leh road. I wish I could say there was a way to avoid it but there really is not. You will have to know how to drive or ride through the slushy areas safely. Good part however is that the slush mostly is limited to the places I mentioned above. In Ladakh, there could be some towards the top of the passes; specially Khardung La and Chang La.
Ladakh in Monsoon Means Water Crossings
There are really two aspects to it. One is of the melting snow and then the Monsoon. So the melting snow would have created the water stream and the rain would have just made it even more furious. This is another challenge that you just cannot avoid. It does not matter which month you go in to Ladakh; you will definitely have to cross these rivulets but in Monsoon, the flow of the water will be twice as much.
Also read: Best time to visit Leh Ladakh
Shooting Stones
What is a shooting stone? It is nothing but a piece of stone that will fall from a hill above straight on the road. With that being said, even the smallest of these are capable of causing some very serious enough damage. The risk of shooting stones is high in Monsoon season. Thankfully though, all the areas that are prone to this risk would be highlighted and marked. You will see a huge board put up as warning you that you are now entering a shooting stone zone. Make sure that you do not stop or take breaks in such areas and continue to drive through carefully.
Keep a Check on the Weather
I know that a Ladakh trip is planned months in advance but it is always wise to take a final rain check before you start. If there are news of heavy rains all across; or people getting stuck or stranded; or of landslides; then it is best to delay your trip; wait for monsoon to pass and plan in September.
Pack Wisely
This will apply to both the kind of clothes you pack and how you pack them. Try packing clothes that are rather easier to dry. Carry a good waterproof rain jacket and waterproof shoes. If you are traveling on a motorcycle then it becomes of even utmost importance. You will have to carry an entire rain suit that is capable of taking the beating for hours together if required. Do not carry just one pair of shoes and if possible, carry a pair of sandals as well.
Now comes the part about packing your stuff. If you were traveling by car, then make sure that you do not put anything on the roof. Even if you have it all well packed and sealed, prefer to accommodate as much of the luggage as you can inside the car itself. If you were traveling by a motorcycle, then follow the steps below.
Find a good waterproof bag, some large polybags (like the ones they give you in showrooms after you buy new clothes) and a large tarpaulin or black packing polythene
First put your clothes in the polybags.
Then put them in the bag.
Now wrap the bag in the large black polythene or tarpaulin before you mount it on the bike.
Also read: Traveling to Ladakh with Children
Protect your Electronics
This will include all your electronics including camera, chargers, phone etc. The worrying part is not just limited to either of it getting wet in the rain but it is rather the moisture that poses an even greater risk. Use water tight packing bags to pack it as securely as you can while it rains; and make sure that you do not leave them switched on while not in use.
Drive Carefully
I cannot stress the importance of this enough. Before you travel through a specific bad section of the road, slush for example, then stop for a minute and make the best judgement on how to get across. Same applies for water crossings as well. Along with all your spares, keep an extra pair of windshield wipers. Do not rush through anywhere. Take your time and drive slow to ensure a safe trip. If you are riding a motorcycle and it starts to pour down like crazy, then stop and let the rain pass. Continuing to ride when you can barely see anything ahead because of all the water can be very risky.
Please read Ladakh Driving Tips – How to Handle Tough Roads . I have listed a few driving tips here in this article that I am sure can be of help.
Have Buffer Days in your Itinerary
I always advise this to people irrespective of the time they are traveling in but it becomes of even more importance in Monsoon; because of all the risks above. Try not to tie yourself down to a very strict itinerary. Keep it a bit flexible with at least 2 days in addition to the overall plan. This way, if you ended up getting stuck somewhere then you will at least be able to do so peacefully. You will know that you can afford the delay without a risk of any major loss back home in your absence; getting criticized at job for extended leaves or missing your flight etc.
Monsoon time in Ladakh
Monsoon season in Leh Ladakh arrives sometimes towards end of July but then again, these are in my opinions rules now that do not apply anymore. It possibly can rain anytime these days but your highest chance of encountering rain is between 15th July to 31st August. Another thing that I would like to clarify here is that there is no "Ladakh rainy season" as such which lot of people ask me about. Ladakh is in a rain shadow area so it should actually rain here much. Rain will be a hassle on your way to Ladakh but once you arrive here, chances of a rainfall will be very less.
Conclusion
I hope the information above was of help. If you have any further questions; or would like to clarify any doubts about your upcoming trip to Ladakh in monsoon season; then please feel free to ask in the comments section below; or at our Community Forum; and I will be glad to answer.