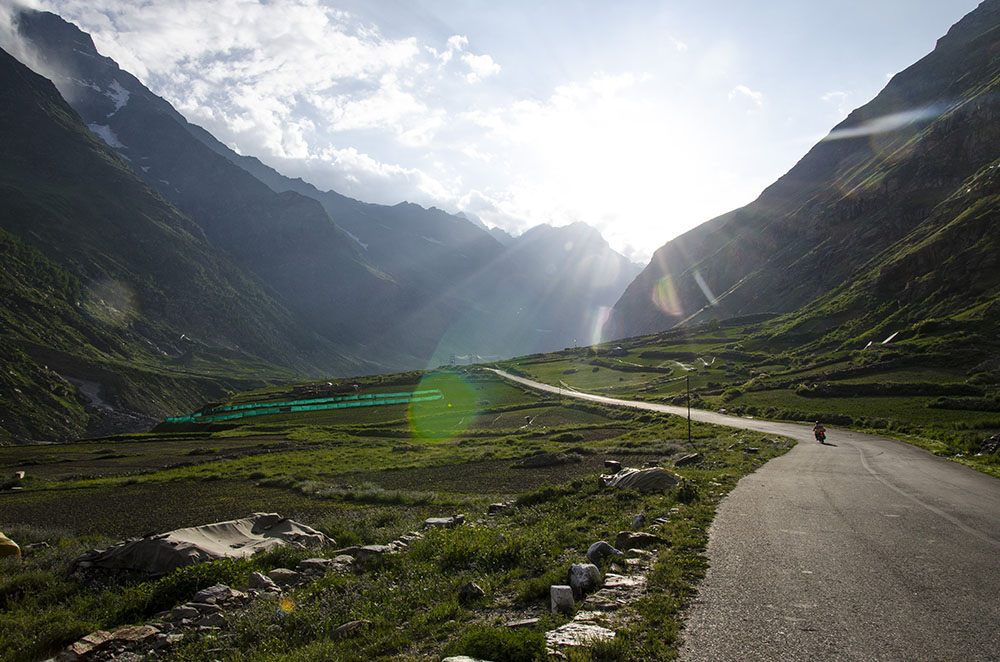 Manali Leh Highway or Srinagar Leh Highway? If you are planning a road trip to Leh, then I am sure you would be thinking about which of these two routes is better to travel on. Which one should you take to reach Leh and which route is better for the return trip? Can you take one of these highways completely out of your itinerary? In this article, I will try to explain both routes and hopefully give you an answer to these questions.
Also read: How to Plan a Trip to Leh Ladakh – Complete Travel Guide
An ideal itinerary for the trip would be to cover both the highways. It is just a matter of which one you should choose to reach there and which one to take for the journey back home.  Some other factors to consider are of the time you have in hand, how are you traveling and with who, and the nature of the trip you want to have.
Manali Leh Highway Or Srinagar Leh Highway?
The answer to Manali to Leh or Srinagar to Leh will depend on all of these reasons. Below is a small comparison of these two roads, based on which you can make your decision.
Natural Beauty
Let us first get this one out of the way. Any comparison between these two roads in terms of natural beauty is really unfair. Both these highways are equally beautiful and are worth taking a trip on. Landscapes change at every turn of the road and it is a feast for the eyes all the way.
If you are traveling from Manali to Leh, you will savor on lush green vistas of Lahaul Valley until Jispa. After Jispa, the greenery starts to vanish and gets replaced by the barren brown of Ladakh. The slow transformation of this scenery is really a sight to behold. You will surely be tempted to take breaks way too often.
On Srinagar Leh road, this transformation happens after Dras. As you approach Kargil, the mountains get stripped of the green; and you start to witness the beauty of the cold desert that Ladakh is.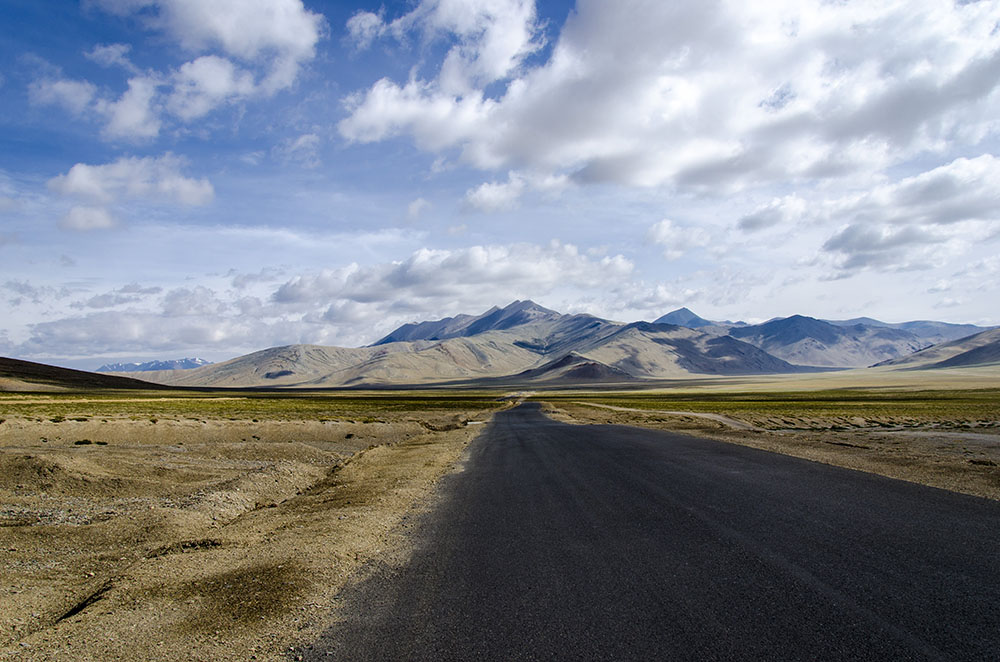 Altitude Sickness
Manali-Leh highway is tougher and higher in altitude. So if it is your first time at high altitudes or you are new to the entire road-trip thing, you should choose the Srinagar route to get to Leh.
Your body will get accustomed to high altitudes better this way and you would have less chance of suffering from Acute mountain sickness. To read more about this and to know what the symptoms are and how you can avoid it, please take a look at How to Handle Acute Mountain Sickness in Ladakh.
How is this beneficial? The altitude sickness may hit you on the Srinagar Leh route as well but the chances are way too less. You will also take longer to reach Leh by this road and by the time you get there, your body would have ample time to get acclimatized.
This will also make your journey to other higher altitude places like Pangong Lake and Tso Moriri much easier.
Traveling with Family
This one is more or less in continuation with the previous point. If you were traveling with your family including your parents or children, then it is always beneficial to approach Ladakh via Srinagar. You definitely do not want to put your family under the stress of altitude sickness and ruin their vacation. To know more, please take a look at How to Plan a Trip to Ladakh with your family.
Terrain
Now this one has actually two sides to it. Both the routes are equally adventurous but in this aspect, the road from Manali has a slight edge over the Manali Leh highway.
There are 5 high-altitude passes between Manali and Leh and they are all at staggering heights. Broken roads, water streams, sharp turns, and unpredictable weather conditions are just everyday norms on this highway.
The road from Srinagar also has 3 passes in between but with the exception of Zojila Pass, none of them is really that difficult. Road conditions also are much better, making the journey much easier.
So if adventure and off-roading are what you were looking for, you will get a better taste of it from the Manali side.
But at the same time, if you are new to driving on tough mountain roads, it is not the best of ideas to make the Manali Leh road your first. In this situation, you should go via Srinagar. It will brush up your mountain-driving skills a little better before you handle the Manali route.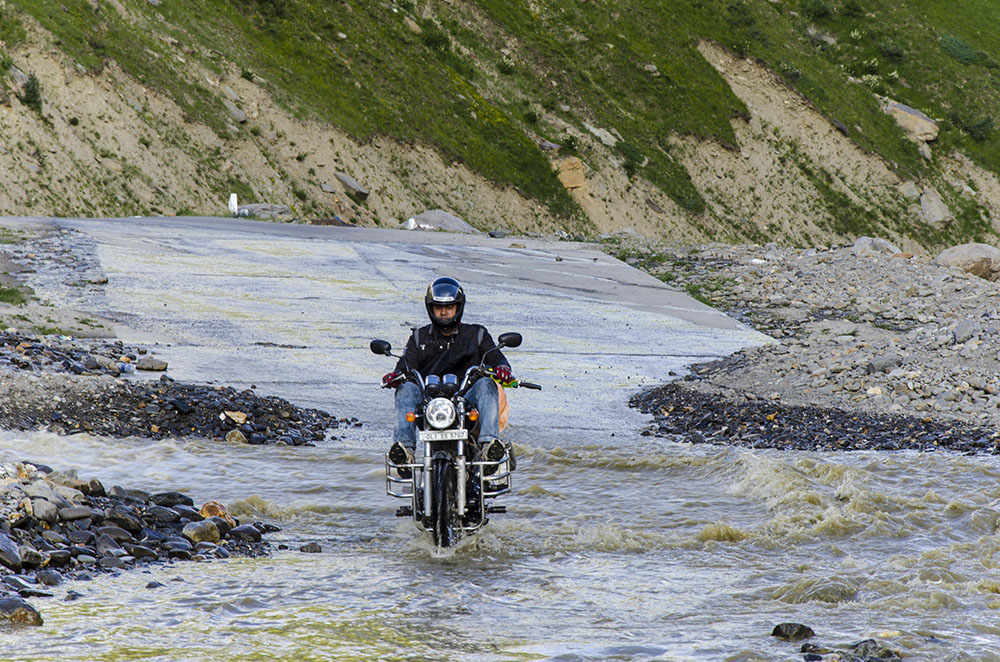 Time of the Trip
Srinagar to Leh route is open for longer a long period of time than the Manali-Leh route. It means that the road from Srinagar gets in better shape earlier than the one from Manali. It also remains drivable for a longer period of time.
This should not actually make much of a difference though; unless you are planning a trip in October or in June when the road from Manali has just opened.
If visiting in June, go from Srinagar. It will give you another week to 10 days and you can hope the Manali route to get in better shape by the time you return. If visiting in early October, take the Manali route first because it can start to snow any time on this road in October. There will a high chance of the road closing down for a few days or for the season towards Mid-October.
If you are planning a road trip to Ladakh in the month of May or after October 15th, you will have to keep out Manali to Leh route entirely. The road is not open in May and is not safe to travel on after October 15th.
Duration of the Trip
This will also be a deciding factor. If you were short on time, you may have to keep Srinagar to Leh route out entirely. For example, from Delhi, it will take at least 4 days to get to Leh via Srinagar. On the other hand, from the Manali side, you can easily complete this journey in 2 days.
So let us say if you had 8-9 days in hand (starting from Delhi), you can reach Leh from Manali. Then you circle back on the same road after visiting Pangong Lake and return to Manali only. This will save you a couple of days at least.
Itinerary Planning
Last but not least, your itinerary will also play a crucial role. If you intended on covering Changthang Valley as well (Chushul, Hanle, Karzok route) it will make sense to go from the Srinagar side. That way, after visiting Tso Moriri lake, you can just exit on Manali road near Pang. From there, you can continue back to Manali; without having to go to Leh again and add another day to the overall travel plan.
If Spiti Circuit was also on the plans with Ladakh, you should start from the Shimla side and exit on the Manali road just after Rohtang. In this case, Manali Leh road will be a more sensible choice to take first.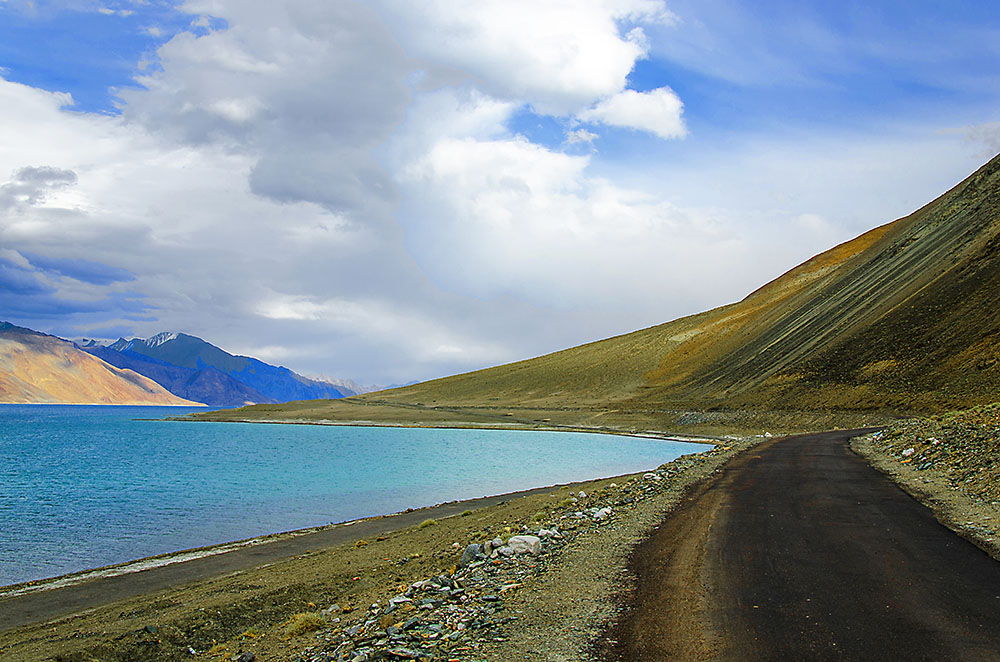 Manali Leh Highway or Srinagar Leh Highway?
If asked for an opinion, I would say that it all pretty much boils down to 2 factors, AMS and the region. If you have your family with you on the trip, then you must take the road from Srinagar first. It won't be as hard on their health from here as it would be if you took the Manali route first.
There is also the safety concern. If you have never driven or rode a motorcycle in hilly areas or tough terrains, then please go via Srinagar. You do not want to risk the safety of your own and anyone traveling with you.
However, if you are a skilled driver, confident of your vehicle, and have done high altitudes, It doesn't really matter which one you chose first; because at the end of the day, you should cover both.
Is Srinagar Leh Highway Safe?
Srinagar Leh highway is safe for tourists as long as you do not end up being at the wrong place at the wrong time. Keep a close watch on the news. If there are incidents of violence or curfew, make sure you avoid traveling towards Kashmir. By violence, I mean shooting, stone pelting, people dying and curfew for days altogether.
If things seem peaceful, you can surely travel through Kashmir. If you do not wish to spend a night in Srinagar, break the journey at Patnitop and then go straight to Sonamarg. For more details on this, please take a look at Is Kashmir Safe for Tourists Now?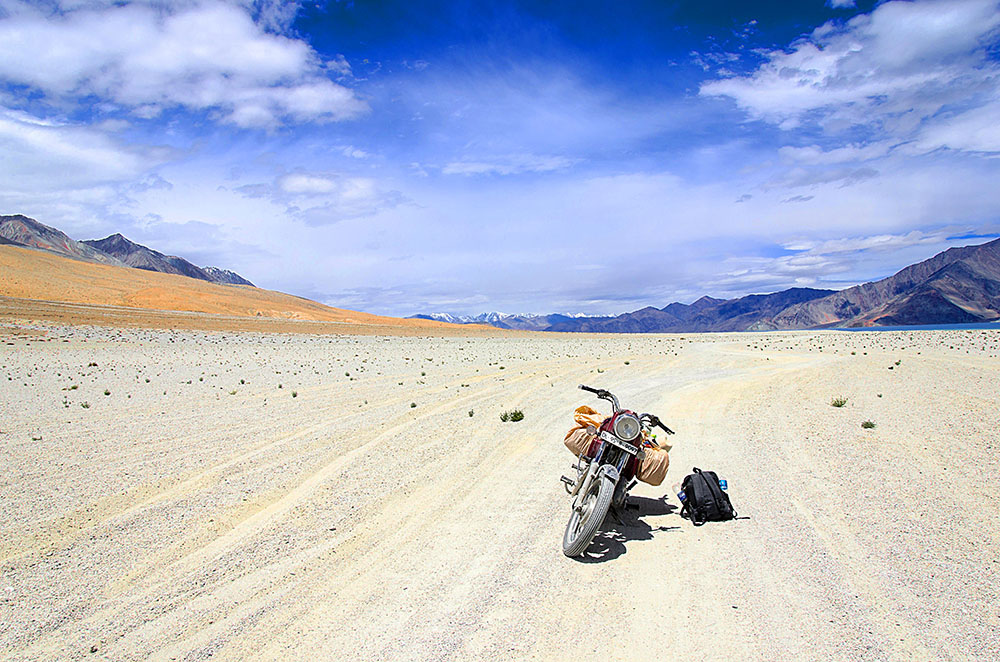 Srinagar to Leh or Manali to Leh?
So If I am to summarize the entire article, below are the main pointers.
For first-time travelers, taking the road from Srinagar to Leh first makes more sense.
If you are with family, then too go from the Srinagar side.
While traveling in either April, May, October, or November, then you will have to take the Srinagar Leh route only.
If there is news of any violence in the valley, then go via Manali and return the same way.
For someone who has been to Ladakh a few times before, and wants to cover areas like Changthang, Hanle, and Karzok specifically, Manali – Leh should be the preferred route.
If you are short on time and want to make a quick trip, then going and returning via Manali will save you a few days.
Manali Leh Highway or Srinagar Leh Highway – Conclusion
I hope the information above on the Manali Leh Highway or Srinagar Leh highway was of help. If you have any further questions, please feel free to ask in the comments section below, or at our Community Forum, and I will be glad to answer.