Posted below is a Manali to Leh road map with distance, elevation and some other important details about the road. Please feel free to save the map to your phone or take a print out in case you are planning to travel on this road in near future.
Manali to Leh Road Map With Distance
Please click on the image below to view the map in its full size. If you need the map in a better resolution, you may ask in the comments section below.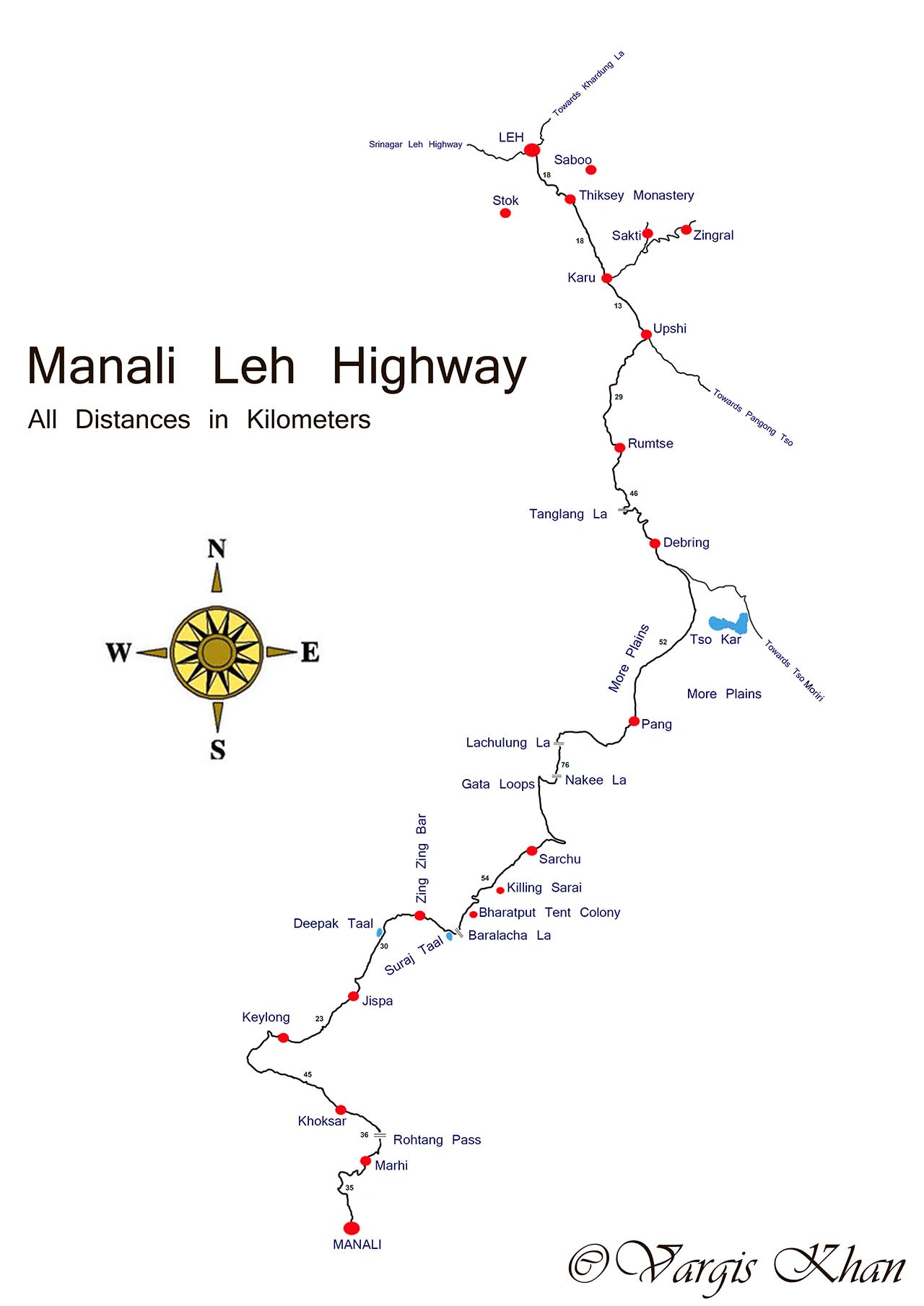 Some important facts about the highway.
The average elevation of Manali Leh highway is more than 4,000 m (13,000 feet), highest elevation being at Tanglang La pass at is 5,328 m (17,480 ft). The total length of the highway is about 490 km, of which  230 km is in the state of Himachal Pradesh from Manali to Sarchu and remaining 260 km is in the state of Jammu & Kashmir from Sarchu to Leh. The road was designed and maintained by Border Roads organization (BRO), a division of Indian Army.
Also read: How to Plan a Trip to Leh Ladakh – Complete Travel Guide
Manali to Leh Elevation:
Manali: 1950 Meters
Marhi : 3300 Meters
Rohtang La: 3980 Meters
Khokhsar: 3140 Meters
Sissu : 3170 Meters
Tandi: 2573 Meters
Keylong : 3080 Meters
Jispa: 3320 Meters
Darcha: 3360 Meters
Baralacha La: 4890 Meters
Sarchu: 4290 Meters
Gata Loops: 4190 Meters
Nakee La: 4740 Meters
Lachalung La: 5079 Meters
Pang : 4600 Meters
Moore Plains: 4730 Meters
Tanglang La: 5328 Meters
Rumste: 4260 Meters
Upshi: 3480 Meters
Leh: 3500 Meters
Passes on Manali Leh Highway
Rohtang Pass – Your first high altitude pass, about 51 kilometers from Manali.
Baralacha La – Second high altitude pass, after Darcha.
Nakeela
Lachulung La
Tanglang La – Highest point on Manali Leh highway.
You will come across several small water bodies on the way out of which two are well known lakes. Deepak Taal lies slightly before Baralacha La and after Darcha whereas Suraj Taal is located at the top of Baralacha Pass. Tso Kar is a little off the road and you will have to take a bifurcation from Debring to reach Tso Kar.
Also read: Manali to Leh detailed route explanation
Conclusion
The very name of Manali Leh highway creates an image of adventure in everyone's mind. Due to it's challenging nature, thousands of adventure enthusiasts and travel junkies traverse on this road.
I hope this information was helpful. If you have any questions, please feel free to ask in the comments section below or at our Community Forum and I will be glad to answer.