Planning a trip using public transport services is the cheapest way to travel to Ladakh. Any other way will cost you way more than what you will pay while travelling in public transport. A friend of mine once asked me as a joke about travelling on a bicycle and if that will cost less. My answer was again a No because for going to Ladakh on a bicycle, you will have to first buy a mountain bike which will again cost you more than what you will pay using public transport. Total expenditure is one of the biggest factor people consider while going to Ladakh and with a bit of information, you can easily plan a budget trip to Ladakh, keeping the total cost involved at a minimum.
When it comes to public transport services in Ladakh, the frequency is the biggest issue. There is a regular bus service to most of the tourist places in Ladakh but it is not daily. For most of the nearby places, the bus runs either once or twice a week or a few times in the month. However when and where there is no bus, the option of boarding a shared taxi is always open. If you are planning a budget trip to Ladakh, below is how you can do so by using public transport services. I will follow a most common itinerary as an example which if not precise, should still be able to give you an estimated cost of Ladakh trip.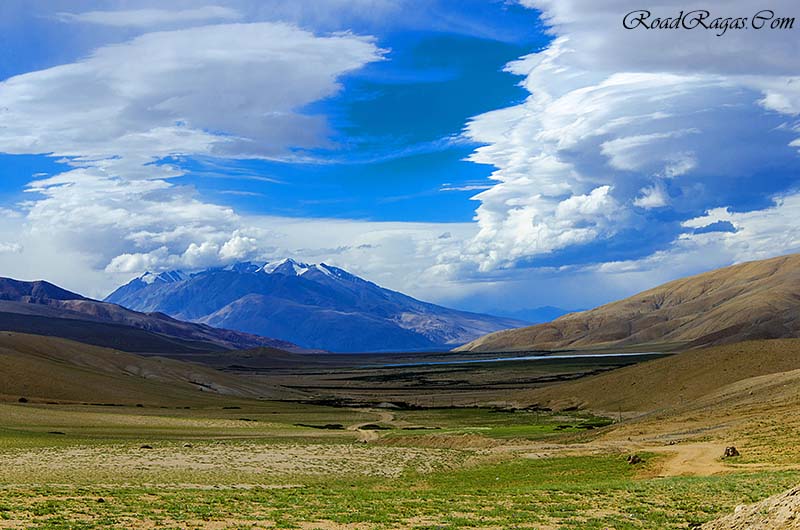 For the sake of this article, I will plan the itinerary from Manali and end at Jammu because if you are completing the entire Ladakh circuit, you will start from either of these two places and end at another. Depending on which part of the country you are travelling from, any cost incurred in reaching both these places will be in addition to what I will mention below.
Before getting further in this article, I would recommend that you read the article below that provides more information on Bus services in Ladakh, fare and schedule.
Bus Service in Ladakh : Frequency, Fare & Time Table
I will break the cost information in legs or segments that you can put together to form your own itinerary. I will mention the minimum charge that you will incur while traveling to that place and how much you may end up spending for accommodation and food. Depending on the number of days you have in hand and places that you are interested in covering, you can put together these segments to form your own itinerary.
How to plan a budget trip to Ladakh
You will stay at Manali for the night before starting the next morning towards Leh. Manali is a famous tourist destination and there are numerous hotels here fitting in every budget. You can easily find a place to stay for the night for as less as Rs. 500. Same goes for places to eat as well. You can have a good enough meal without shooting it over Rs. 100. Your total cost until Manali will be whatever you spent reaching there from your hometown and the night stay at Manali.
Leg 1 – Manali to Leh
There is a regular HRTC bus that plies on this route. This is a 2 days journey with night halt at Keylong. Fare of this bus is Rs. 500 per person approximately. Keylong has multiple hotels and you will have no trouble finding one in a price range of Rs. 500-700. If you are travelling in this bus, then your total expenditure would be Rs. 500 for bus fare plus Rs. 600 (approx.) for accommodation + meals.
A second way to do this journey is to catch the Delhi to Leh bus which starts from ISBT Delhi and goes all the way to Leh. Fare for this bus is Rs. 1365 per person. This bus does not halt at Manali but will halt at Keylong. If you are travelling in this bus, then your total expense would be Rs. 1365 + Rs 600 for accommodation + meal charges. However, this 1365 would save your travel charges from Delhi to Manali and your hotel rent for night stay in Manali.
Also read: Delhi to Leh Bus Service : Fare, Schedule & How to Book
Leg 2 – Leh
After reaching Leh, you may want to stay within the town for a day or more in order to rest your body, get acclimatized to high altitude and to arrange permits if you wish to visit any restricted areas. For moving around within the town, you will have no other choice but to rent a motorcycle. If you are low on budget, get an automated bike like Activa or Scooty, rent of which is Rs. 800 for full day and Rs. 500 for half day.
For accommodation in Leh, you do not have to worry about finding a moderately priced hotel. Like Manali, in Leh too you can get a hotel for a fare between Rs. 500 – Rs. 700
Finding a place to eat as well will be no problem. Several places here where you will not spend more than Rs. 100 for one person's meal.
For any day that you stay in Leh, your total cost incurred will be Rs. 800 for scooty (if you rent one) + fuel charges + Rs. 500 for hotel + meal charges.
Also read: Ladakh Motorcycle Rental Rates
Leg 3 – Leh to Nubra Valley to Leh
For travelling to Nubra Valley, you have three options available. First one is to travel in a bus but it will entirely depend on whether a bus is available on your day of travel or not. Same applies for your day of return as well. Bus service in Ladakh is not regular and it is usually once or twice a week. None the less, if you are able to plan your journey as per the schedule of bus service, then a ticket to Hunder or Diskit in Nubra valley would cost you about Rs. 350 per person. So travelling in a bus, a round trip to Nubra valley from Leh would be approximately Rs. 700 – Rs.800
This bus leaves from Leh main bus stand to Diskit at 8 am every Tuesday, Thursday and Saturday. The same bus returns from Diskit to Leh the next day morning so for return journey, it will be Wednesday, Friday and Sunday at 7 AM. There is also a bus to Sumur every Thursday and Saturday that leaves at 6 am from main bus stand and comes back to Leh the next day.
Second cost effective way of travelling to Nubra valley is in a public shared taxi. Yes, this is the taxi that locals here use. A great, more regular but highly inconvenient way to travel but if you are not able to find a bus, you can always board one of these shared taxis from either near Polo ground in Leh or from near Leh bus stand. Charge per person for this taxi is Rs. 400 – Rs. 500. So if you travel this way, then a round trip to Nubra would cost about Rs. 800 to Rs.1000
Third way to go to the valley is using a Tourist shared taxis. These are usually run by the local tour operators. If you can afford a bit more, then this will be your best bet. A round trip using this service would cost you anywhere between Rs. 1500 to Rs. 2000, Leh to Nubra and back. To avail this option, you will have to contact any of the numerous tour agents in Leh and they will book you a seat in there next taxi going towards Nubra valley.
For accommodation, you can easily find a hotel or guest house in Nubra valley ranging from Rs. 500 to Rs. 800
Meals however can be a little costly if you eat at the hotel. In order to save money, your best choice would be to take a walk in the town and eat at any local restaurant/Dhaba.
Leg 4 – Leh to Pangong Tso to Leh
Like Nubra valley, again three options to travel to Pangong Tso and cost too is pretty much the same. A bus ticket would cost your about Rs. 600 for a round trip, Leh to Pangong and Back. Public shared taxi would cost about Rs. 1000 and Tourist shared taxi about Rs. 1500 – Rs.200 (both ways).
The bus to Pangong leaves Leh every Saturday and Sunday at 6.30 AM. Another bus to Tangtse leaves at same time on Wed, Sat and Sun but doesn't go all the way till Pangong. Fare of this bus is Rs. 250 per person. Both these buses take the return journey to Leh the next day. So using this bus, you can go to Leh on Wednesday (till Tangste), Saturday and Sunday. For return journey, you can chose Thursday (from Tangste), Sunday or Monday.
A few other buses that you can board to reach Pangong Tso are the ones that travel towards Changthang valley. These buses take the same route that passes via Spangmik (Pangong Tso). Details of these buses are further in the article.
Accommodation at Pangong is tricky when it comes to within budget. There is just one cemented hotel here which is highly overpriced and booked months in advance so you are better off just forgetting about it. Camp sites would cost anywhere between Rs. 2500 to Rs.5000 per person so that too is not an option when on budget. Best choice however is the Chadar tent. These are just huge tents with beds lined up one after another. Here, you can easily find a bed to crash on for the night for as less as Rs.200 to Rs. 400 (depending on your negotiation skills, I managed to get one just for Rs. 100). Best part is that these Chadar tents are also Dhabas that will serve decent enough but reasonably priced food.
Also read: Accommodation at Pangong Tso : Hotels & Camp Sites
Leg 5: Leh to Tso Moriri to Leh
Travelling here is trickiest of all and you do not really have much of options except for Tourist shared taxis. The bus from Leh to Tso Moriri is only 3 times a month, on 10th, 20th and 30th of each month. Fare is Rs. 370 and it also takes the return journey the next day, means on 11th, 21st and 31st (or 1st of the following month). It leaves Leh at 6.30 am. So if you travel in this Bus, a return from Leh to Tso Moriri and back would cost you about Rs. 740 (could be slightly higher as well). It is a great option if your travel date is around the schedule of the bus. The only catch however is that it doesn't give you much time to spend at the lake.
Public shared taxis are not really that regular to Tso Moriri but if you are able to find one, then it would cost you anywhere between Rs. 1000 to Rs. 1500 for a round trip.
Coming to the best available option, a tourist shared taxi. Same logic applies that I mentioned above. Contact a tour operator and they can arrange a seat for you. Cost would be about Rs. 2000 to Rs.2200 for a round trip.
For accommodation, you can easily find a hotel at Karzok (Tso Moriri) for charges ranging between Rs. 500 to Rs.800. There are several restaurants / dhabas here where you can find food decent enough food without shedding too much money.
Also read: Guest Houses, Camp Sites and Hotels At Tso Moriri
Leg 6 – The Chushul / Hanle Circuit
There are really two aspects of journey towards Chushul. Either you just want to visit Chushul or Hanle or you want to travel from Pangong Tso to Tso Moriri directly. For visiting Chushul or Hanle there are several buses you can board.
Two buses from Leh to Chushul travel very week, One starts at 6.30 AM every Wednesday from Leh, fare of which is Rs. 345 per person, and reaches Chushul via Tangste, Chilam and Harong. Another bus starts from Leh every Sunday morning at 6.30 AM and reaches Chushul via Man and Merak. Fare of this bus is Rs. 356 per person.
There is a direct bus from Leh to Hanle every Saturday, fare is Rs. 492 / person, leaves at 6.30 am from Leh.
Apart from Hanle, there is another small village in Changthang valley called Koyul. A small road bifurcates at Loma check post towards Koyul, close to the point where you take the turn towards Hanle. A weekly bus to Koyul starts from Leh at 6.30 in the morning every Tuesday, fare of which is Rs. 415 per person. This is another bus you can take to reach Chushul but if Hanle is the desired destination, you will have to find another mode of transport from Loma to Hanle.
Another bus from  to Nyoma leaves at 9 AM every Monday and Thursday.This is good too if you want to go to Man, Merak or Chusul but for Hanle, the problem will again be of finding transport from Loma to Hanle.
There is another bus for Loma which actually goes to a small village called Mood. The location of this village is pretty much same as Loma and the bus will pass through the check post where you take the turn towards Hanle. This bus starts every Wednesday morning from Leh at 9 AM and the fare is Rs. 260 per person.
A bus from Leh to Tsagha leaves at 9 am every Friday, Fare is Rs. 312 per person.
However if Pangong to Tso Moriri direct is the idea, then it would be extremely difficult to do so by using public transport. There is no bus that goes from either Chushul or Hanle to Tso Moriri. There are no public shared taxis available as well on this route, and the ones that do run are extremely rare. Your best option to travel on Hanle circuit is to contact a tour operator and inquire if they have a cab scheduled on this rout that they can put you on.
Your only choice of option at Man, Merak, Chushul is of paying guest. You will need to talk to the villagers asking if they can let you stay, charges will be nominal at around Rs. 500 per person including meals. There is a guest house at Hanle where you can stay for the night. Finding accommodation at Loma, Nyoma, Mahe or Sumo will be extremely difficult so do not plan on staying at either of these places.
Leg 7 – Kargil to Padum to Kargil (Zanskar Valley)
Public transport services in Zanskar valley is difficult to find. There is only one bus that starts from Leh, halts at Kargil and goes to Padum the next day. There is no direct bus from Kargil to Padum however there is a regular bus from Kargil to Parakchik, Panikhar and Sankoo. From all these three places, in order to get to Padum, you will have to board a public shared taxi.
Visiting Zanskar using Public transport would be tricky. If you are however able to manage your timings as per the bus from Leh, then a trip from Kargil to Padum and back would cost you about Rs. 700 – Rs.800.
Using public shared taxis, this cost would go a bit higher to Rs. 1000. At towns of Sankoo, Panikhar and Parakchik, locals have a few Sumo cabs that they use to commute to either Kargil to Padum but these are very few in numbers. Best way to cover Zanskar is to try and match your dates with the bus schedule. That way you can reach Padum by bus. For return journey, you can either come back the next day using the same bus or you can board a shared taxi to Panikahar and take the bus to Kargil from there.
If you use a tourist shared taxi, the estimated cost would be around Rs. 2000.
There are several hotels that you can find at Padum between the price ranges of Rs. 500 – Rs.800
Leg 8 – Leh to Srinagar
This will be the last leg of the journey, returning to Srinagar and returning home from there. Multiple options are available to do this journey. You can either catch a normal bus, a deluxe bus, a semi deluxe bus or a shared taxi. Like Manali to Leh, this too will be a 2 days journey with night halt at Kargil.
Using a normal bus, fare per person would be Rs. 450. A semi deluxe bus would cost about Rs. 650 and a deluxe bus charge would be Rs. 1050. Private buses also operate on this route and their fare is Rs. 1000 – Rs. 1300 for Srinagar to Leh to Srinagar.
A shared taxi for Leh to Srinagar would cost about Rs. 800 per person.
For accommodation at Kargil and Srinagar both, you will have to hotel hunt a bit but should be able to find a hotel or guest house in price ranges of Rs. 600 – Rs. 1000. At Srinagar, I would suggest staying somewhere close to Dal lake.
 Leg 9 – Srinagar to Jammu
You will of course have to return to Jammu for your return journey so I will also include this in the article. There are regular and frequent buses running from Srinagar to Jammu, fare of which is approximately Rs. 500 per person. You can also travel in a shared taxi for Rs. 800 per person.
If you are staying in Jammu for the night, you will easily find several hotels near the bus stand itself, prices ranging between Rs. 600 – Rs.1000
Depending on how many days you have in hand and what all places you wish to visit, you can plan your itinerary with the cost estimates I mentioned above. So how much it will cost to visit Ladakh by Public transport? Overall, reaching Leh from Manali, visiting Nubra, Pangong and Tso Moriri, and returning via Srinagar in a 2 weeks trip would cost you somewhere close to Rs. 15000 including your travel, accommodation and meal expenses. I have not really stressed much about meals in the article because I believe that is highly dependent on an individual, like what you like to eat, where you like to eat and of course, how much do you like to eat (LOL).
I hope this information regarding a budget trip to Ladakh was helpful. If you have any further questions, please feel free to ask in the comments section below and I would be glad to answer. If you have travelled to Ladakh by public transport, please do share some further knowledge in order to help others.