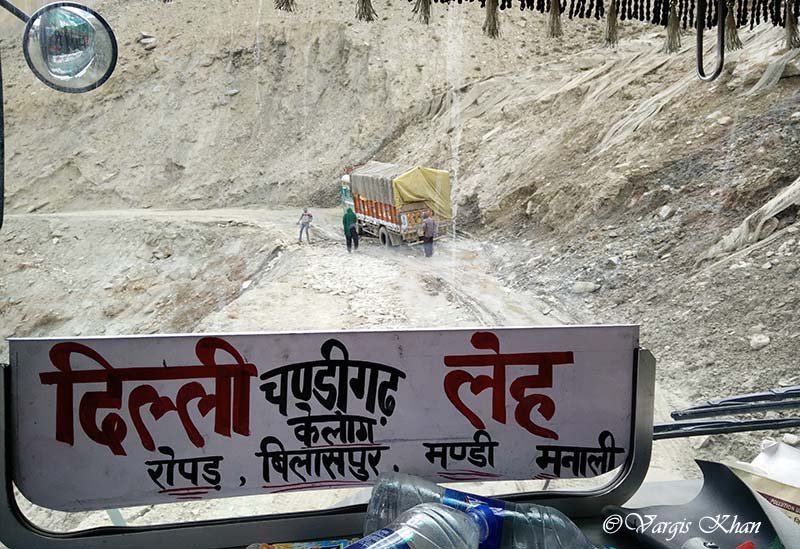 In this article, I will post a brief travelogue of my recent trip to Leh Ladakh by public transport. This travelogue details and provides necessary information on how you can go to Ladakh while completely depending upon Public transport like bus and shared taxis.
I have also shared information on where I stayed during his trip and how much it cost me. If you too are planning a budget trip to Ladakh by public transport, I am sure the information below will be of extreme help.
Ladakh, the very name entices and intrigues. I do not believe there is anyone in our country today that has even the slightest of interest in traveling and hasn't either been to Ladakh already or is not planning to do so.
Also Read: How to Plan a Trip to Leh Ladakh –  A Complete Travel Guide
What once was a mysterious land far away is now the dream destination of India. Each year, thousands travel to this piece of heaven on earth and return with long-lasting memories and tall tales of travel to cherish. I too was no exception.
My itinerary was as mentioned below.
Leh Ladakh by Public Transport
For most, Ladakh is a biker's paradise. A place where you proudly ride your motorcycle to. Others travel by car but the majority of the tourists go by their own vehicles only. But what do you do when you live in the other corner of India? Do you bring your own vehicle all the way from your hometown to the Himalayas; riding or driving through a boring journey through the plains? Or do you travel by air and miss the fun of a road journey? No, you mix a bit of everything; something that I ended up doing.
A trip to Ladakh means meticulous planning, a lot of research. It is not your usual weekend getaway where you just pack your bags and go to. This trip demands that you familiarize yourself with every aspect of the journey before you start.
When I say every aspect, I mean the places, the weather, connectivity, accommodation, possible challenges, and much more. Thinking back now, I am not even sure how many hours I spent in research, reading about Ladakh over the web, pages, and pages of information.
Is a trip to Leh Ladakh by public transport possible? Yes, it is. Read on to find out how.
Day 1 – Mumbai to Chandigarh to Manali
Monday, 24th July
I caught my flight from Mumbai and reached Chandigarh by evening. There wasn't much to do in the city here for someone staying just for an evening. I had no intention of staying or spending another day sightseeing in Chandigarh. So I proceeded straight to the ISBT bus stand at Sector 43, Chandigarh by Uber to board the next bus going towards Manali.
I had a long night of bus ride ahead of me. After a bit of walking around, I decided to have my dinner at the bus stand itself. Finally, the bus from Chandigarh to Manali started at around 10 PM. 
To my surprise, I also noticed a few people traveling to Ladakh with their families by Bus. If this was your plan as well, please take a How to Plan a Trip to Ladakh with Infants or Children. This article offers some tips to ensure that your children do not face any problem in a high altitude place like Ladakh.
Day 2 – Manali
Tuesday, 25th July
The bus reached Manali early in the morning at 6.15-6.30. I had a day of stay planned here for which I had booked 'Manali Comforts' for Rs. 850 per day. It is kind of a homestay close to Mall Road. Since I arrived early in the morning, I showed up at the homestay way before the actual check-in time. But the owner was kind enough to allow me an early check-in.
The guest house was just about OK for the price. I had the entire day here to myself so I slept for a couple of hours. After that, I freshened up and proceeded to do some sightseeing in Manali. I visited Hadimba Temple, Ghatotkach Temple, Vashishta Kund, Manu Temple, Indian Mountaineering Institute apart from Mall Road obviously.
I found Manali to be strictly okay. It was a bit too crowded for my taste really. In my opinion, it does not require a stay unless a journey break is required.
Also read: Mobile Phone Services in Ladakh and Data Connectivity
Day 3 – Manali to Keylong
Wednesday, 26th July
The plan for this day was to catch the HPTDC Manali to Leh bus that halts at Keylong for the night. I had already booked my seat in advance just to be on the safer side. The fare of the bus was Rs. 2900 per person. It included the night stay at Keylong, Dinner, and breakfast for the next day
We reached Keylong by evening and stayed at the HPTDC Hotel Chandrabhaga. It is a dormitory type accommodation with 4 or 5 beds in each room. It is a good option if you were traveling to Leh Ladakh by public transport on a limited budget.
The rooms and washrooms were clean, better than what I expected, so I was happy. The dinner was amazing too. I had no complaints about anything regarding the bus. We were scheduled to leave left early morning at 4.20 am the next day for the final lapse of the journey to Leh.
Day 4 – Keylong to Leh
Thursday, 27th July
Keylong to Leh is by the same HPTDC bus that brings tourists from Manali to Keylong. Unlike the HRTC Buses, you are not required to change and board a different bus. Your allotted seat remains the same throughout the journey; from Manali to all the way till Leh.
Breakfast in the morning was inclusive of bread omelet, one banana, and a cup of much required hot tea. The bus left at 4.20 am in the morning and reached Leh at 7.30 pm.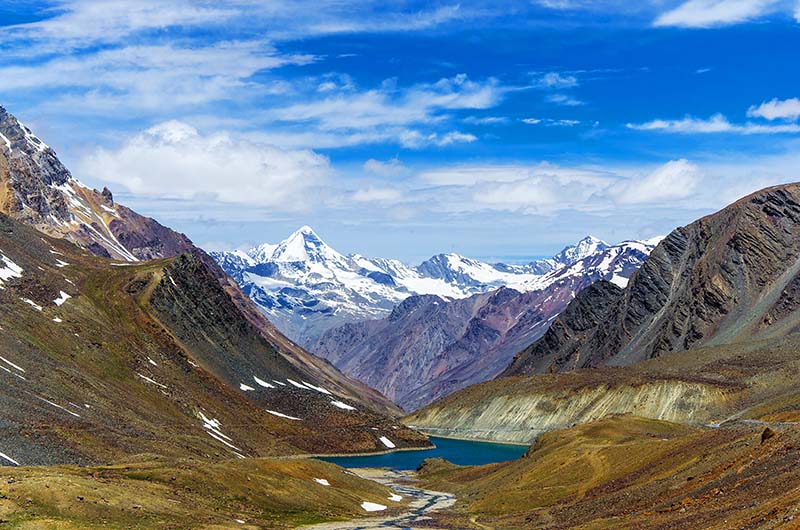 Since my network wasn't working, I couldn't call up or search around hotels to stay and went for the hotel where a family friend had stayed two weeks back; Gongma Guest House. Here, I had the first-hand experience of Ladakh hospitality and the warmth of the people. A father-son duo helped me navigate to the hotel by calling up the owner themselves and showing me the way. I am sure it was not in their regular way and they took rather a considerable detour.
Gongma was less of a guest house and more of a hotel. Rates are about 1500 for a double bedroom. I could get it at 1000 since I was a solo traveler. A bit on the higher side but I am bad at negotiation.
The rooms were good and the owners were very hospitable. I decided to stay all my nights at Leh in the same hotel so as to be comfortable. I carried two bags; one rucksack and a handbag. I used to keep the handbag in the hotel itself during my visits to places around.
Also read: 10 Reasons why you should NEVER visit Ladakh
Day 5 – Leh
Friday, 28th July
Please note that Inner Line Permit is now needed in order to visit areas like Nubra Valley, Pangong Tso, and Tso Moriri. Read How to Obtain Inner Line Permit for Ladakh for more details on the procedure and charges related.
A fellow solo traveler from Delhi (met him the in HPTDC bus) and I spent this day for some local sightseeing in Leh. We rented an Activa there for the purpose. We visited Leh Palace, Shanti Stupa, Hall of Fame, Zorawar Fort, and Leh market.
The more important task for the day however was to arrange the Inner Line Permit. Thankfully though, my hotel owners came to rescue with this task. For an additional Rs. 100 apart from the ILP charges, they arranged my permits without needing me to go to the DM office. This way I could spend the entire day visiting all the above-mentioned places in Leh.
Day 6 – Leh to Turtuk
Saturday, 29th July
The plan for today was to visit Nubra Valley. There is a direct bus from Leh to Diskit in Nubra Valley; available on Tuesdays, Thursdays, and Saturdays. The bus leaves Leh at 6 am for Diskit and the same bus returns to Leh the next day. It departs from Diskit at 7 AM.
However, the ticket for this bus must be booked in advance at least one day before. For booking, you will have to go to Leh Bus stand and buy a ticket from there. The next day you need to reach the Bus stand early in the morning to catch the bus.
Leh to Diskit
We were not aware of this and made the mistake of not booking tickets in advance. There were 5 other solo travelers I met at the bus stop who faced the same issue. Since we were not allowed to board the bus, we book ourselves a shared cab. You can easily find shared cabs for Nubra Valley near the Polo ground.
As a matter of fact, we found the shared cab on the way while we were walking towards the Polo ground. We were quoted a price of Rs. 400 per person, but we paid him 500 for staying a bit longer in Diskit and visiting the monastery.  We reached Diskit at around lunchtime and had lunch at the cafe adjacent to the shared taxi stand.
Diskit to Hunder
We then took another cab (all 6 of us) to Hunder at a total cost of 400. Ask anyone in Diskit for the shared taxi stand and any local will guide you. Shared taxis are available there for almost all other areas of Nubra Valley.
Also read: How to Deal with Acute Mountain Sickness in Ladakh
My plan was to go all the way to Turtuk. Of my 5 fellow travelers, I found out that 2 more people had the same intention. There is a daily bus service from Diskit to Turtuk that passes through Hunder as well. But since we were a bit late, we had already missed the last bus going that way.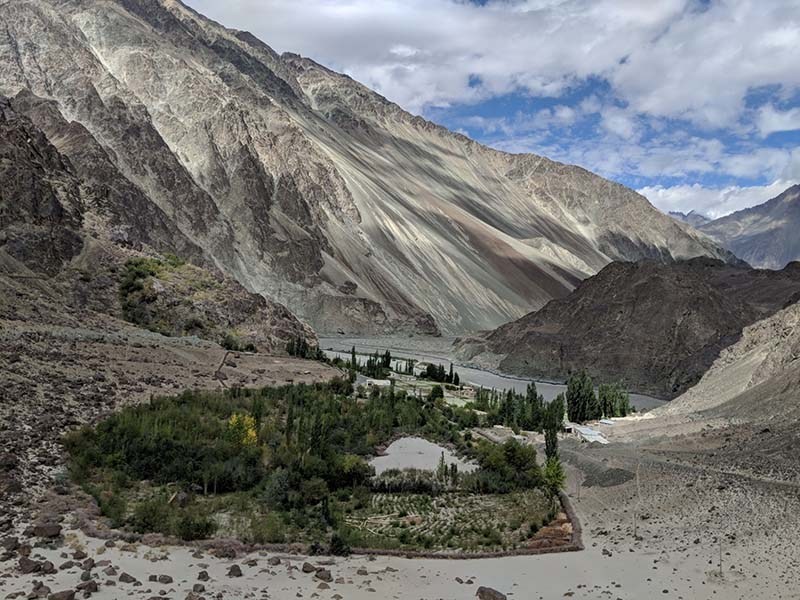 Hunder to Turtuk
This yet again left us with a shared cab as the only choice which actually so far had suited us very well. From Hunder, the 3 of us then proceeded to Turtuk for a  total cost of Rs. 3,100.
We reached Turtuk at around 7.30 in the evening. For the night, we stayed there at Balti Homestay for Rs. 500, including dinner. Owners of Balti Guest House in Turtuk, a gentleman named Abdullah and his brother, were very hospitable people. The food served was basic but surprisingly delicious.
For a price of Rs. 500 per person, I must admit that the stay was well worth the money. For more details, please take a look at How to Plan a Trip to Turtuk.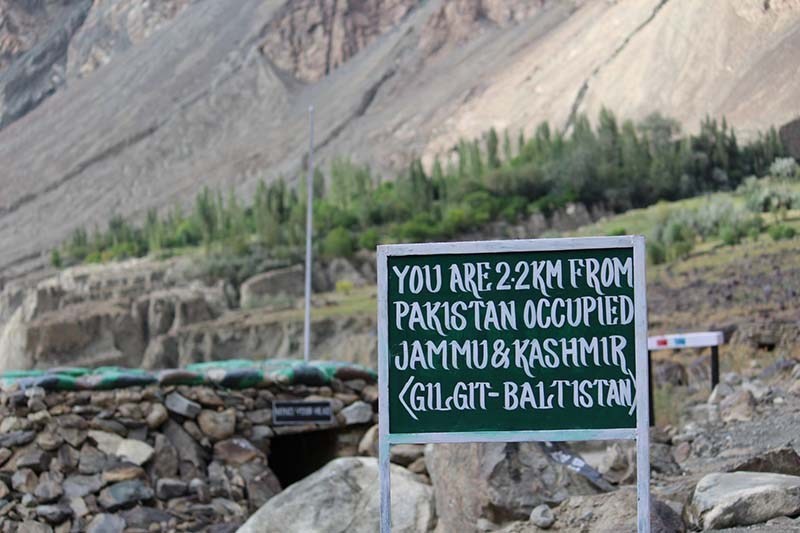 Day 7 – Turtuk to Panamik
Sunday, 30th July
There is a waterfall in Turtuk that I must recommend for everyone to hike up to. You will have to walk and climb a little bit but you will get a totally amazing view of the village from the top. I went there early in the morning at 5:15 am and returned back to the homestay by about 8.45 am.
My plan for today was to first go to Diskit and then continue to Panamik from there. However, yet again, I was late and missed the morning bus from Turtuk to Diskit. In peak tourist season, however, you will have no trouble hitchhiking. There will be a lot of people traveling in their own vehicles and they will be happy to give you a ride if they can.
I just started to walk along the road from Turtuk and quite soon, was offered a lift by a noble Delhi man.
I got off at Diskit and from there took a  cab to Panamik. The private cab was on a bit of the expensive side but luckily, I found a German solo traveler to share the cost with. He got off at Tiggur and I continued to Panamik where I stayed the night at Panamik Oasis.
The stay here was quite decent and reasonably priced, Rs. 500 including dinner. The rooms were just about okay but the staff and owners were hospitable. Dinner however was very delicious.
I took a leisurely stroll around Panamik. It didn't feel any different after going to Turtuk. It is just a normal sleepy village but the hot water spring here is definitely worth a visit. I took a bath in the hot springs which were amazingly refreshing.
Day 8 – Panamik to Leh
Monday, 31st July
The next morning I took a bus from Panamik to Sumur for Rs. 20 bucks. From Sumur, I boarded a shared cab to Leh for Rs. 400. In Leh, I went back to the same hotel that I checked in to when I arrived here. The remainder of the day was spent in Leh; randomly wandering, roaming, and going to the market.
One thing I must add here is that if you were visiting Leh Ladakh by public transport, then you cannot entirely rely upon buses. There are buses available on almost all the routes but the frequency is very less. So the best way would be to look for a shared cab rather than waiting for a Bus.
Day 9 – Leh to Pangong Tso
Tuesday, 1st August
The plan for today was to see the famous Pangong Tso. Unlike Nubra Valley, this time I made sure that I booked my ticket in advance. The bus starts from Leh at 7.30 in the morning and the fare is Rs. 270 per person. You will have to visit the Leh bus stand and book your ticket at least one day before or else you may not be able to board the bus at all.
The journey took about 7 to 8 hours and we arrived at Spangmik between 4 to 5 PM. Luckily for me, I met a person on the bus who owned his own homestay and camp in Spangmik. I decided to stay with him. It goes by the name of  Padma Homestay and Camp.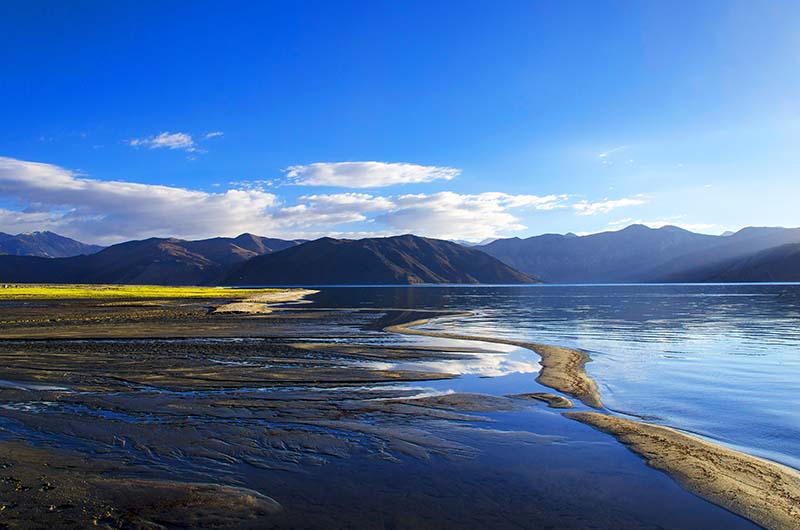 The place was good and the camp was especially quite close to the lake. Since I got a little friendly with the owner during our 7-8 hours journey, he offered me a discount. I got a camp with an attached washroom for Rs. 800; including dinner and breakfast.
The rest of the day was spent whiling away my time at the lake; wondering how beautiful its clear water on account of the blue sky makes it look. I had dinner at about 8 pm (which was indeed amazing) and slept at about 9 PM. For a person from Mumbai, the weather was very cold.
Also read: Clothes for Ladakh Trip – What to Pack?
Day 10 – Pangong Tso to Leh
Wednesday, 2nd August
The bus that brings you from Leh to Pangong returns the next day. It starts from Spangmik at 7 AM and the fare per person is Rs. 270. Traveling by the same bus, I reached Leh at around 3 PM.
I spent the rest of the evening in Leh randomly wandering, roaming, and going to the market. My plan for the next day was to visit Tso Moriri and so far I had no idea about shared taxis going that way.
So I started asking around with various travel agents that are on the market road, and especially on Changspa road. I was told that Changspa Road was a better chance for me to get a shared cab to Tso Moriri. Finally, I was able to book myself a seat in a shared cab going to Tso Moriri the next day morning.
Day 11 – Leh to Tso Moriri
Thursday, 3rd August
Taxis in Ladakh are indeed a costly affair and this was one of the reasons why I planned my entire trip to Leh Ladakh by public transport. The shared cab I booked was accommodating 4 people and yet cost us Rs. 3,400 per person for a round trip. We left Leh for Tso Moriri at 7.30 AM and arrived at 5:30 PM, after a long 10 hours drive. I had a Thali for Lunch at Chumathang for Rs. 80 which was extremely filling and delicious.
The skies weren't clear when we reached Karzok so didn't really have as good a view of the lake that it would ideally look. But I could imagine how beautiful this too would be. I spent the evening at the lake and stayed in a homestay in Karzok.
It did not have a board so I can't recollect the name but it was just ahead of Wangdu homestay. I paid Rs. 470 for the stay which also included dinner and tea. I will definitely have to come back to Tso Moriri once again during my next trip to Ladakh.
Also Read: How to Plan a Trip to Tso Moriri
Day 12 – Tso Moriri to Leh
Friday, 4th August
The next day I decided to stroll out early morning. I walked randomly behind Karzok for some time on serene, isolated roads. I decided not to go to the lake since the skies were just the same. There is also a small monastery in Karzok that I visited. It provides an awesome view of the lake.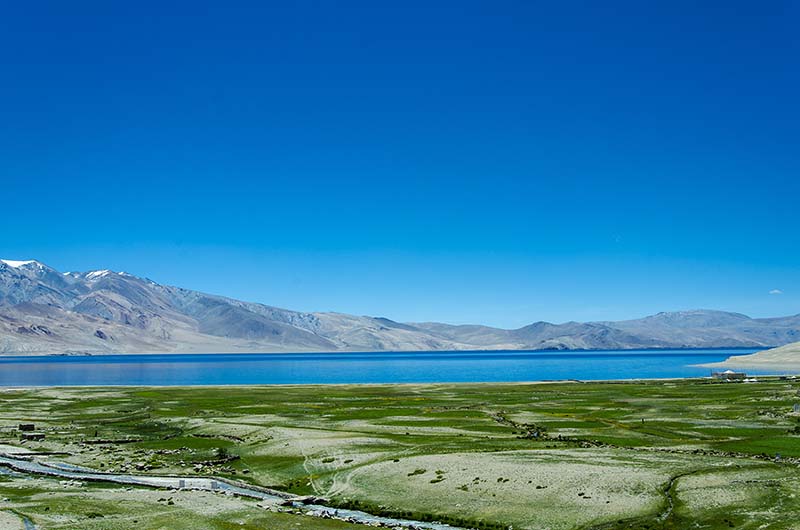 We left  Karzok at 8.30 AM for Leh. For the return journey, we took a different route via Tso Kar and Tanglang La.
I found Tso Kar to be an immensely beautiful lake. Though the lake was partly dried up, it was a fascinating beauty still. We had lunch Thali at Upshi for Rs. 90. The next stop was at Hemis monastery, before reaching Leh in the evening.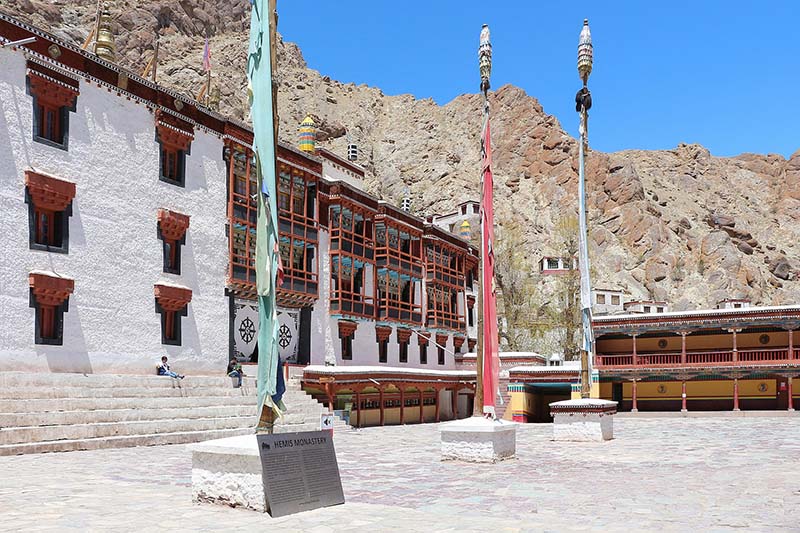 Day 13 – Local Sightseeing in Leh
Saturday, 5th August
This was my last day in Leh before I caught a flight back home. I booked a cab for Rs.1900 and explored about 30-40 kms of Leh Srinagar highway. It was more of a leisurely drive; I saw Indus Zanskar confluence (Sangam), Magnetic hill, and paid a visit at Gurudwara Patthar Sahib. My lunch too was delicious langar at the Gurudwara.
I returned to Leh by 2.30-3pm and took a short nap before venturing out in the Leh market in the evening. I bought packets of yak milk cheese and jars of apricot jam to take back home apart from the mandatory OM – Buddhist string of small flags that is tied to every car / bike (sorry, don't know what that is called).
Day 14 – Leh to Mumbai
Sunday, 6th August
And so was the end of an amazing trip to Ladakh, the land of Lamas and heaven on earth. I easily managed the entire trip to Leh Ladakh by Public transport, on a budget without any problem at all. To me that sounded like quite an achievement.
I took a cab from Gongma Guest House to Airport for Rs. 250 and caught my flight back home. How I killed my time during the flight? Well, I was preparing the list of places I will be visiting during my next trip to Ladakh. My plan included the following,
To-do for next year, randomly scribbled:
Hanle – Ladakh
Leh – Srinagar highway especially Joji La pass
Kargil halt when Leh – Srinagar
Turtuk again with a couple of nights
Tyakshi
Plucking apricots from the trees in Turtuk
Have yalk milk cheese and pizza with yak cheese – didn't do this since I was on diet in 2017.
Alchi monastery
Lahaul and Spiti Valley – Chandrataal, Kaza
Dha and hanu
Lamayaru monastery
Moonland
Kasaul / Kasol hp
Tso Moriri once again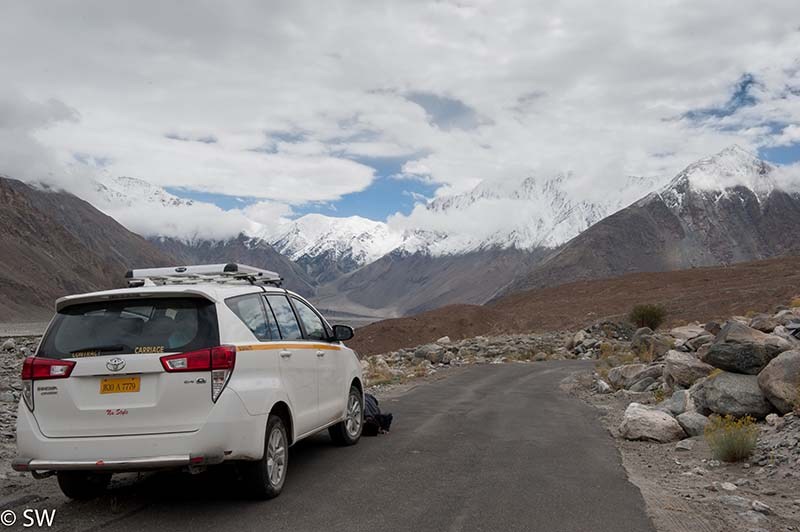 Leh Ladakh by Public Transport – Conclusion
I hope the details I provided above on visiting Leh Ladakh by public transport were of help. If you have any further questions or need any other details, please feel free to ask in the comments section below or at our Community Forum and I will be glad to answer.