Can you visit Leh Ladakh in June? The answer is a definite yes. The month of June actually in my opinion is one of the best times to be visiting Ladakh. The tourist footfall starts to happen in the region from April onward; but it is actually the month of June that gets the tourist season going in full swing. This is the month when all the hotels, guest houses; and tourism related activities get completely operational.  Roads get all open; weather turns warm; snow starts to melt; the small rivulets and waterfalls come back to life; lakes change their color from white to blue again; and the entire region becomes one grand celebration of vibrant colors and life itself. In short, it is a perfect time to be in Ladakh.
Also Read: How to Plan a Trip to Leh Ladakh – A Complete Travel Guide
Visiting Ladakh in June means you will be presented with a unique blend of adventure, weather and activities that no other month will offer. What these are; and how you can make the best out of your trip is what I will discuss in this post. I will summarize how things will be in Ladakh in June and suggest a few tops for a hassle free journey. Last but not the least, I will also suggest an itinerary that you can follow. All the roads leading to Ladakh and within remain open in June so I will try to keep the itinerary as comprehensive as I can. If, after reading the article, you have any other questions; please feel free to comment and ask.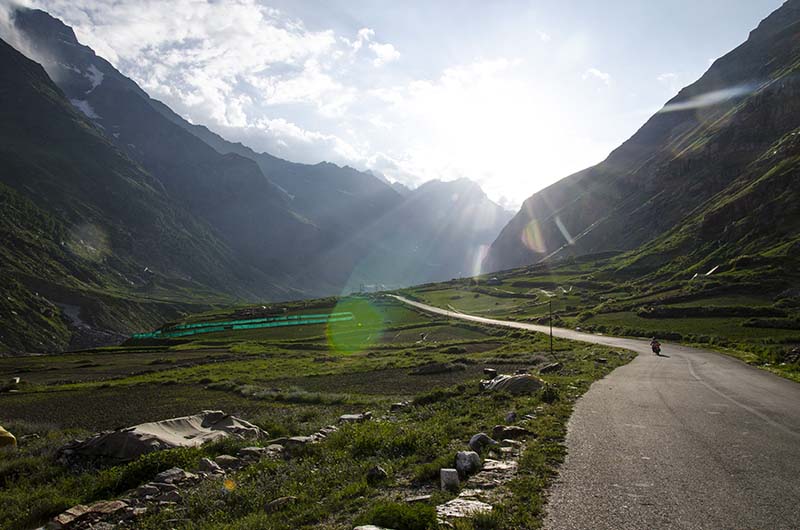 Is it safe to visit Leh Ladakh in June?
Yes it is safe to plan a trip to Ladakh in the month of June but there are a few tings that you would have to keep in mind which I will discuss in the article below.
Acute Mountain Sickness in Ladakh
Majority of the people visit Ladakh by their own vehicle but a lot many others either fly in; or get here by public transport; or by rented vehicles. If you are planning to board a flight to Leh; then the first thing you need to worry about is acute mountain sickness; better known as AMS in short. You are bound to suffer from it on your first day after you land in Leh; and possibly even on Day 2.
Slow gain in altitude is the best prevention against AMS which doesn't really happen in this case. One moment you are in plains and then a couple of hours later, you bring your body to a height of 3,500 meters in Leh. This is bound to trigger the symptoms of altitude sickness until your body acclimatizes. You will then have to resort to second best prevention; which is to rest in plenty and allow your body some time to adjust. Do not run around and stress yourself on Day 1. For more details on what AMS is, what its symptoms are and how you can handle it better; please read How to Deal With Acute Mountain Sickness in Ladakh.
Rented Motorcycles and Non-Local Taxis in Ladakh
If you were coming to Ladakh by rented motorcycle or car; then your biggest concern will be that vehicles rented outside Ladakh are not allowed for sightseeing here. And yes, this also applies to Leh city. For example, if you rented a bike from Manali or Srinagar, you can only use it to arrive in Leh City. Once you check into a hotel, you will then have to leave it parked at the hotel and rent another bike in Leh for local sightseeing; and visiting areas like Nubra Valley, Pangong Tso and Tso Moriri. This is a serious concern and please do not take this lightly. Locals put up barriers on these routes and if they catch you, you will be sent back on your way to the hotel. There also have been incidents of non-local rented vehicles being attacked, vandalized and forcibly taken.
For more details on this issue, please read Non-Local Rented Vehicles Banned in Ladakh
Ladakh by Public Transport
If you are coming by public transport, then you do not have to worry about any of this. Your biggest concern will then be the availability of buses and to match it to your itinerary. If a bus on a certain day is however not available, then you still have the option of boarding a shared taxi from Leh bus stand. These run on a daily basis and the fare is almost equal to that of the bus. For more details on the bus schedule, please take a look at the articles below.
Delhi to Leh Bus
Manali to Leh Bus
Srinagar to Leh Bus
Leh to Nubra Valley Bus
Bus Service from Leh to Pangong Tso
Leh to Tso Moriri Bus
Ladakh Inner Line Permits
No matter how you arrived in Ladakh though, everyone is required to obtain Inner Line Permit in order to visit areas of Ladakh. This permit is a mandate and without it, you will not be allowed to travel any further than Leh city. There are Army check posts in between the routes where you will have to submit photocopies of your permit. It can either be obtained in person from DM Office Leh; or applied for online. For more details; please read How to Obtain Inner Line Permit for Ladakh.
Mobile Connectivity in Ladakh
When it comes to mobile and data connectivity in Ladakh, it is pretty much limited to Leh city only. BSNL here has the widest coverage; but it is only Leh where you will get a stable connection with good voice clarity. All other networks will be dead the moment you leave Leh; but you will get intermittent BSNL connection in Nubra and Pangong as well. Voice clarity will be extremely bad but you will at least be able to send text messages if needed. For more information on this topic, please read Mobile Services in Leh and Other areas of Ladakh.
Is Ladakh Open in June



Yes Ladakh is definitely open in June. Most of the hotels and guest houses get functional by this time and several others tourism related activities too would already have started. Bike rental agencies, taxis and public transport services too all get available. internal roads in Ladakh leading to Nubra Valley, Pangong Tso and Tso Moriri are open as well. So once you reach Leh, you will have no problem finding a place to stay or going towards any other areas in Ladakh for sightseeing.
Srinagar to Leh in June
Srinagar Leh highway in June remains all open and completely operational. The road usually opens towards late April or early May and by the time June arrives, the entire route is completely stable. The traffic regulation at Zojila however may still remain in effect so please ensure that you check the traffic timings before starting your journey; or else you may be asked to wait by the road for several hours. Chances of finding snow on the road however will only be limited at Zojila. Snow from rest of the places would already have melted by June. Road condition however would be a mix of good and average. The worst section will mostly be limited around Zojila due to all the slush caused by melting snow.
Also read: Srinagar Leh Highway Route Guide & Road Map
Manali to Leh in June
Manali Leh highway in June is definitely open; but the exact date of opening heavily depends on the weather. For example, in 2017, due to heavy snowfall, the route remained closed well into the second week of June. On the other hand, it opened in May itself in 2018 as there was very little snow. In all probability however, if you were traveling after June 10th; then Manali Leh highway will definitely be open.
Be advised though that since the road would just have opened; it will not really be in a good condition. BRO will continue to work on the highway to stabilize it which may result in temporary road blocks. In early June, the road can sometimes get closed even for a day or two depending on the damage. A better way of the journey to Ladakh in June would be to go via Srinagar and return via Manali; thus allowing more time for the route to get stable. Chances of finding snow will be at several places but highest at either Rohtang La or Baralacha La.
Also read: Manali to Leh Route Guide and Road Map
Manali to Leh Bus in June
There are two types of buses available between Manali and Leh. The first one is operated by HRTC and the other one by HPTDC. The HRTC Bus may become available in the month of June but only after 15th. It could start earlier as well but chances of that happening are very rare. These are ordinary buses that ply between Manali to Keylong and Keylong to Leh. On the other hand, the HPTDC Bus is a luxury one but it only starts after 1st July. For more information on the topic, please read Manali to Leh Bus Service.
Ladakh Weather in June
Weather in Ladakh in June will be pleasant enough actually. Summer has arrived and days will be warm but nights will definitely still get cold. Temperature will hover between a pleasant 15°C to 20°C during day but will drop close to 5°C at night. However, even during the day, the breeze will still carry the winter chill and one may feel the bite if sitting in shade for too long.
Clothes to Wear in Leh Ladakh in June
Your regular cottons, some light woolens, gloves and a thick heavy windproof jacket is what you will need while visiting Ladakh in June. The trick is to bring clothes that you can wear in layers. There will be a major difference in the temperature at day and at night. Sun will be quite harsh while the wind will carry a chill so your clothing will also change accordingly. One moment you will be feeling warm and the next moment you will be cold as you step in the shade. So you need to bring clothes that can be worn or removed one by one in layers per your comfort. Do not bring all your thick woolens. For more details, please read Clothes for Ladakh Trip – What to Pack?
Leh Ladakh Bike Trip in June
June is definitely a great time to go on a bike trip to Leh Ladakh. Weather will be great, all roads will remain open, there won't be many people around and not a lot of water streams to cross. If you were going by Manali Leh highway in early June, it will actually be better to do so by motorcycle. A temporary closure in early part of the month is not that uncommon; and if that happens, taking a bike across sometimes becomes a lot easier than going by a car.
Public Transport
Since it is just the beginning of the tourist season, the availability of public transport may not really be that great in first half of June.
The bus from Srinagar to Leh will start in sometime early June.
Manali to Leh Bus in June: HRTC Bus will resume around 10th June; HPTDC bus will start after 15th June.
Delhi to Leh will begin by June 15th.
This however highly depends on the opening dates and condition of the roads and the weather. All internal buses within Ladakh however are well operational throughout June. Shared taxis too are all functional except for the first few days on Manali Leh route.
Also read: How to Plan a Solo Trip to Ladakh
Road Conditions in Ladakh in June
The road via Srinagar would already have opened by late April or early May and is mostly remains a mix of good and average. The worst part on this road is around Zojila; and by June, expect to find slush at this stretch. Snow would already have started to melt here and there will be a lot of mud and water streams caused by it.
Manali Leh highway will be in its worst condition since the road would have just opened. In the first few days it will be still be OK but as the snow will start to melt, water streams and slush will become a common sight on this as well. Temporary closures as BRO works to stabilize the road may happen. If you were planning to visit Ladakh in June, a better way would be to go via Srinagar and come back via Manali.
After you have reached Leh, roads towards Nubra, Pangong and Tso Moriri will be a mix of good and average. Bad sections will be limited to the top of Khardung La and Chang La. Presence of snow and water streams creating by melting of it will however be in plenty on these routes as well.
Also read: A Complete and Comprehensive List of Places to see in Ladakh
Accommodation Options
You will have no problem finding a place to stay on Srinagar Leh route or in Ladakh. All hotels and guest houses are completely operational and you will easily find accommodation per your taste and budget. The camp sites at Sarchu, Pang and other places on Manali to Leh route however may not be available in first half of June. Since the road opens in June itself, these camps get operational only after 15th.
Why Visit Ladakh In June
The first question that comes to mind is why visit Ladakh in June? I mentioned previously in the post that it is one of the best times to be in Ladakh and let me explain why.
The biggest reason would be that there won't be many tourists around if you were traveling in early part of June. Gone are the days when Ladakh used to be a place where not many people went. In peak tourist season, even this part of the country can now feel a bit crowded. The rush however starts to increase towards late June or early July and it won't really feel crowded if you were traveling there in first half of June.
Also read: When is the Best time to Travel to Ladakh from Srinagar
Second reason would be that the roads will be slightly better than what they would become in July Snow would not have started melting that much in June so there won't be a lot of slush or many water streams to cross. The risk of monsoon too and resulting landslides is almost non-existent in June. Since tourist season is just beginning, you have a better chance of getting a good deal on accommodation. The famed snow walls on high altitude passes will still be there. The peaks around will still have ample amount of snow and will present a great view against the barren brown of Ladakh and the deep blue of the sky.
Ladakh in June first week
If you were planning to travel to Ladakh in June first week, then you must reach there by Srinagar Leh highway. Depending on the total number of days and your itinerary, you may chose to return by Manali though. This however is the only clause applicable. Apart from this, you are free to travel to all areas as Ladakh will be completely open for tourism related activities.
Ladakh in June End
Ladakh in June end means that the tourist season is at its full swing; weather is warm enough and thousands of people have already traveled there. You can chose to go either by your own motorcycle, or flight or by public transport and will not face any problem at all. If you went by flight then you will easily be able to find taxis or motorcycles available for rent.
Ladakh temperature in June
Temperature in Ladakh in June will fluctuate highly. Day temperature will remain around 25 to 30 degrees and will drop to around 10 to 15 degrees at night. However, no matter how hot it gets, you will still continue to feel a certain chill in the wind at all times.
Places to visit in Ladakh in June?
All of Ladakh remains open in the month of June. Depending on the total duration of your trip and your mode of travel; you will be able to visit all major and remote tourist attractions in Ladakh. The only thing that can limit the number of places in your itinerary is the number of days you have in hand. Let me run down the list one by one to give a better understanding.
Manali Leh Highway in June
The road from Manali to Leh will remain open in June and you should be able to include it in your itinerary. Historically, the road opens sometime in late May but does get delayed sometimes. To be on a safer side, keep a check on the weather and road status before you finalize your itinerary. To check the status of the roads this year, take a look at the forum thread Manali Leh Highway Status.
Srinagar Leh Highway in June
Srinagar Leh highway gets declared open in May and will be fully functional by June. Since BRO would have had a few weeks to work on it till June, the condition of the road too will be slightly better.
Leh in June
Leh will be completely open for tourists in the month of June. All hotels and other tourism related activities will be up and running.
Nubra Valley in June
Nubra Valley is open in the month of June and accessible by tourists. You can reach here via Khardung La and travel as far as Turtuk or Warshi Villages. Activities like camel safari too will be available. If you weren't traveling by your own vehicle, you can either catch a Bus or shared taxi for Nubra Valley; both of which will be available from Leh Bus stand in the morning. Diskit is the most preferred place to stay in Nubra Valley but you can easily find hotels in other towns like Hunder and Panamik as well.
Pangong Tso In June
Like June, Pangong Tso too will be open for tourism in June. You can get here either via Chang La; or first travel to Nubra and then arrive at Pangong via Shyok road. Camp sites will be all operational in June and you will have no problem finding a place to stay. Spangmik is the preferred place to stay at Pangong but you can find guest houses and home-stays at the villages of Man and Merak as well. If you were not traveling by your own vehicle, you can find a bus or shared cab for Pangong from Leh Bus stand.
Tso Moriri in June
To get to Tso Moriri, you can either travel directly via Chumathang, or via Tso Kar or take the Chushul route from Pangong. All the roads will be completely open. There are several hotels, guest houses and camp sites that you can stay at for the night in Karzok. Like Pangong Tso, shared taxis are available for Tso Moriri as well from Leh Bus stand.
Zanskar Valley in June
Like all other areas, Zanskar Valley too is open in the month of June. It will take you at least two days to get to Zanskar from Leh via Kargil and then another two days to return. Public Transport from Leh to Padum too is rare and you will have to completely rely on shared cabs. Ideally, a trip to Zanskar Valley is best when incorporated with return journey to Srinagar from Leh.
Other Areas
Batalik Route: Open
Sham Valley: Open
Hanle: Open
Shyok Road: Open
Chushul Route: Open
Snow in Ladakh in June
There are two ways to look at it really. If you are asking about snow on the ground than you will find it at top of the passes. If you went in early June than chance are that you may even witness the famed snow walls on both sides of the road. However, if by snow, you mean a live snowfall in Ladakh in June then chances of that happening are next to none. It does not snow in Ladakh at this time.
Keep Buffer Days
This actually applies irrespective of your time of travel. A trip to Ladakh will always have an angle of uncertainty to it. You cannot travel to a region like this without keeping your dates slightly flexible. What I mean by this is that you do not bound yourself to strict timelines. If for some reason you had to stay back for a day or two, then you should be able to afford to do so.
Camping Choices
June is a great time for a camping trip as well. All the campsites will be operational and up for business. Weather will be pleasant but nights will still get cold. Campsites in Ladakh are in the form of both luxury ones and simple chadar tens. You can choose depending upon your budget and liking. If you are bringing personal gear, then you can pitch your own tent as well. My advice, however, would be to not do so in the middle of nowhere. Camp near an existing dhaba or another campsite after you have paid a small fee to the owner to give you a spot. In terms of site, Pangong and Tso Moriri are the best places to go camping. There are several spots on Manali Leh route too where camping can be a lot of fun.
Things to do in Ladakh in June
June is among the months of tourist season; and entire Ladakh at this time is brimming with activities that you can indulge yourself in; depending upon your choice, budget and time in hand. Biking, Motorcycling, attending local festivals, shopping, trekking, camping, Camel Safari, rafting, stargazing, and photography are some of the most common activities to do.
Festival in Ladakh in June
Saka Dawa, Yuru Kabgyat, Hemis Tsechu, Sachukul Gustor, Sindhu Darshan Festival, Silk Route Festival are some of the festivals celebrated in the month of June. Of all these, Sindhu Darshan is probably the biggest one for you as a tourist and is celebrated in Leh City itself.
Hospitals and Medical Assistance
The only place where a major hospital is located is the Leh City and it remains operational throughout the year. You can find some basic medical assistance in Nubra Valley too but just for minor ailments. Help at rest of the places is almost next to none. I would strongly advise that you bring some basic medicines along like for cold, fever, aches etc.
Visiting Ladakh for your Honeymoon
Can you plan your honeymoon in Ladakh? The answer is yes you can and a lot of people have recently started doing so. June would be an ideal month for it. Weather will be pleasant, hotels all available and routes all accessible. There are plenty of luxurious hotels in Leh City these days suitable for a honeymoon. I would strongly recommend that you book a private cab for the entire trip though and do so at least a few weeks before your honeymoon in Ladakh in June. With all the tourist rush, finding a cab during tourist season, which this month is, can prove to be a difficult task.
Leh Ladakh Bike Trip in June
June is among the best months for a bike trip to Ladakh, it is actually one of the recommended ones. Why? Because after June comes July and then August; which are the months of Monsoon. Not that it rains in Ladakh a lot but it definitely can on the way. In 2017, there was a flash flood on Manali Leh stretch that left tourists stranded on the road for over 24 hours. Landslides around Manali and incessant rains in Kashmir too are not an uncommon sight. If you were planning to ride your bike to Ladakh, then you can remove the risk of rain by either planning in June or then in September.
Time required for visiting Ladakh
This will entirely depend on where you were coming from and your mode of travel. But assuming Delhi as the starting point, 11 days is what I will recommend on the minimum side if you were coming by your own vehicle; either a car or a motorcycle. If you were thinking of public transport, then I would recommend a minimum of 14 to 15 days for a pleasant and convenient trip. The more the number of days you add to this, the better your journey will be.
Suggested Itinerary for visiting Leh Ladakh in June
Last but not the least, let me also share a few examples of itineraries that can be followed for this trip. For the sake of itinerary, I will assume Delhi as the starting point. However, even if you were coming from a different city, only the journey for first and last day will be different; rest of the details will still apply. I will suggest three different itineraries. First if you started from Srinagar, second if you started from Manali and third if you flew into Leh directly.
Itinerary for Ladakh Air Trip
If you caught a flight directly to Ladakh, your journey can be as mentioned below.
Arrive in Ladakh. Take rest and arrange permits – Day 1
Ladakh to Lamayuru to Ladakh (Sham Valley Tour) – Day 2
Leh to Diskit – Day 3
Diskit to Pangong via Shyok – Day 4
Pangong to Leh – Day 5
Leh to Tso Moriri via Changthang – Day 6
Tso Moriri to Leh via Tso Kar – Day 7
Buffer Day – Day 8
Fly Out – Day 9
Manali to Leh by Road in June
If you started from Delhi and reach Ladakh via Manali, your plan can be like the one below.
Delhi to Manali – Day 1
Manali to Jispa / Sarchu – Day 2
Jispa / Sarchu to Leh – Day 3
Leh – Day 4
Leh to Diskit – Day 5
Diskit to Pangong via Shyok – Day 6
Pangong to Hanle – Day 7
Hanle to Tso Moriri – Day 8
Tso Moriri to Leh via Tso Kar – Day 9
Leh to Kargil – Day 10
Kargil to Srinagar – Day 11
Srinagar to Jammu – Day 12
Jammu to Delhi – Day 13
Srinagar to Ladakh in June
If you went to Ladakh via Srinagar and came back via Manali, the the journey will be the other way around.
Delhi to Jammu – Day 1
Jammu to Srinagar – Day 2
Srinagar to Kargil – Day 3
Kargil to Leh – Day 4
Leh – Day 5
Leh to Diskit – Day 6
Diskit to Pangong via Shyok – Day 7
Pangong to Hanle – Day 8
Hanle to Tso Moriri – Day 9
Tso Moriri to Pang / Sarchu – Day 10
Pang / Sarchu to Manali – Day 11
Manali to Delhi – Day 12
Leh Ladakh in June
That mostly covers all that you need to know about visiting Leh Ladakh in June. I hope the information above was of help. If you have any further questions; or need any other details; please feel free to ask in the comments section below and I will be glad to answer. Alternatively, you can also post a query at our Community Forum; and I or any other member will be happy to assist in any way that we can.