If your upcoming ride will take you through a sparsely populated region; where a gas station may not be available for miles; then how to carry spare fuel on a motorcycle safely is one of the most important factors that you need to consider while preparing for the trip. This becomes even more critical if you are riding a large engine bike with lesser fuel efficiency. If the distance between two gas stations cannot be covered in one full tank then you have no other choice but to carry extra fuel for motorcycle.
I have been on numerous bike rides in the last decade. Some of the rides were long, lasting about 3-4 weeks and others were just short weekend getaways. I ride a Royal Enfield 500 CC and if I talk about India, the only place where I had the need to carry spare fuel was Ladakh. At the rest of the places, one fill of the tank was sufficient to get me to the next station. But it is not only the distance but sometimes also the quality and price of the fuel that may force you to carry a little extra.
Whatever the reason may be, if you are into long-distance motorcycle trips, carrying spare fuel is a reality that you will have to deal with sooner or later. How to carry petrol on motorcycle safely is what we will be discussing in this article.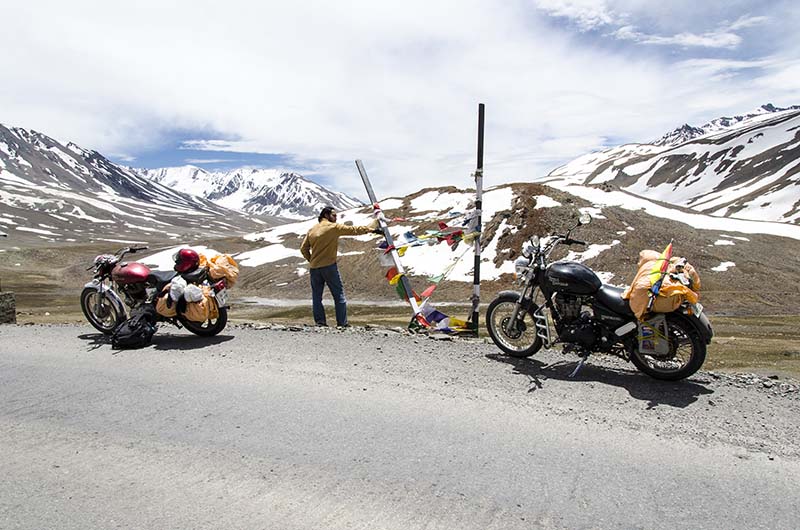 How to Carry Spare Fuel on a Motorcycle?
There are two aspects to determine this. The first one is to calculate the quantity of the fuel you will need to carry and the second one is how. Both of these factors, however, will depend on a third one, which motorcycle you own.
Fuel Calculation
Do you really need to carry spare fuel? This is the first question you got to ask and will have to do some calculation and research. You will have to consider the total distance you will be traveling without a gas station and your motorcycle's fuel efficiency.
Whatever distance your bike runs on a full tank in the city, take an estimate of about 10% less to be on a safer side. If you were going to be riding in the hills or on really bad roads, reduce this estimate to about 20% less than what you usually get. For example, if you get 500 kilometers with a full tank, assume that you will get somewhere between 400-450.
Next, you should do thorough research on the route you will be taking. Do some reading and find out about the gas stations en route. This information is easily available on Google Maps these days. Now calculate the greatest distance you may have to cover without a gas station in between.
Put together the distance with fuel average and you will know how much spare fuel you will need to carry.
Fuel Container
After you know the amount of petrol you will be carrying, the next step would be to determine the best container for it and how to mount it on the motorcycle. This is why I said that all of it will heavily rely on which kind of motorcycle do you ride.
If you own a bike that has a large fuel tank and gives excellent mileage, you may not need to worry about carrying fuel at all. Some other large engine bikes may not give a good gas mileage but are very comfortable to ride and easy to mount the luggage on.
A Jerrycan is probably the most popular choice of a container but there are a few other options as well that you can explore. Whether to get a luggage carrier or not is also a personal choice. It can be of great convenience but is not absolutely necessary. Read on to find out more.
Jerry Cans
Let us first talk about Jerry Cans. These come in various sizes and are a great choice when you need a large quantity of petrol, 5 liters or more. The best part about these cans is that they are easier to mount and can be tied securely. All that you need to do is get a good quality jerrycan and install a luggage carrier that has slots for fuel cans to be inserted. This allows you to carry a large amount of fuel in a safe manner.
I will strongly recommend getting a metal jerry can and not the plastic ones. These are available for purchase online as well; if you couldn't find anything in local shops. It may cost you a little more money but will ensure safety and peace of mind. Take a look at the link below to get it from Amazon. This is the safest way to carry fuel on a motorcycle.
Other Options
The next option is to carry petrol in 2 liters coke bottles. This is more like a temporary fix though. This is a good choice if you just need to carry a small amount of gas, 2 or 3 liters.
Another situation is that you have already filled up the jerrycans but the route was so long that you were still unsure if it would suffice. In that case, carry a little extra in coke bottles. I once had to ride close to 1000 kilometers without a gas station and was only carrying one 5 liter jerrycan. This is when I carried some fuel in coke bottles as well. I carried 4 of them in a bag and kept emptying the bottles one by one after every 50-60 kilometers.
Another choice is a flexible fuel bladder but these are not easily available in India and can be very expensive. You may have to pay as much as 10k for a fuel bladder of 3-5 liters. Aluminum Fuel bottles are also available in the market but they are more like a thermos and have very limited capacity.
How to Carry Petrol on Bike
Now let us talk about how to carry spare fuel on a Motorcycle. If you were traveling in a car, all that you need to do is to put the cans in the car, and you are done; but it gets a little tricky when you are on a motorcycle. With the entire luggage and the rider, the risk of carrying petrol increases several times, and hence, you must be extremely careful.
Best Way to Carry Petrol on a Motorcycle
The best way to carry petrol on bike is would be to get a luggage carrier installed and carry metal jerry cans. A carrier will have inbuilt brackets to fit in a 5 liter can easily.
If you were thinking of carrying plastic cans, then do not hang them on the sides. Even a small stone can puncture the can and spill the fuel. A better way is to find a way to rope them on the pillion seat or buy a saddle bag to put them in. Another choice can be to install a small carrier behind the pillion seat.
If you were bringing petrol in Coke Bottles, be very careful of where you are putting them. Find a safe spot and always keep them in an upright position.
Safety Tips
Below are some other safety tips that you must observe.
Keep checking the tank at regular intervals for any damage or leaks. As a habit, every time you take a break, check on the tank.
With a plastic can, you should also wrap it in a cloth or anything that can provide a little cushion. This will help prevent any punctures in the can during the ride.
Irrespective of how you were carrying the fuel, make sure you use plastic to seal the opening while closing the lid.
Do not fill up the container to its full extent. Always leave a little space to avoid a spill.
Never carry the fuel on you in a backpack, waist pack, hip pack, vest, or jacket. In case you took a fall somewhere and the fuel caught fire, you can imagine what will happen.
Even if you did not fall, the fuel may leak on you or catch fire due to the heat. Just don't do it, no matter what.
Only carry as much fuel as you need, do not go overboard with it. The more the fuel, the more the risk.
Coke bottles should the last option. These are not meant to be carrying petrol and should not be used as such. Opt for it only if you have no other choice.
If you are a smoker, make sure you light up the cigarette at some distance from your motorcycle and the spare fuel.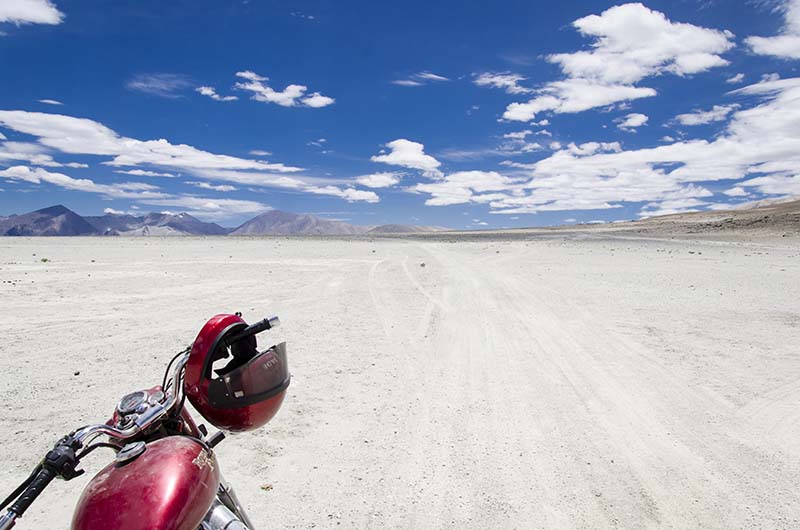 Do I need to carry extra fuel for Ladakh Trip?
Now let us talk about the two most popular motorcycle circuits in India; Ladakh, and Spiti. For Ladakh, whether or not to carry spare fuel will entirely depend on the circuit you intend to take and your itinerary.
If your itinerary was a simple one covering Srinagar – Leh – Manali highways and places like Nubra Valley and Pangong then you may need to carry fuel but not too much. The only stretch without a gas station here is Manali – Leh route where you go a total of about 335 kilometers between the gas stations at Tandi and Karu. Do a little calculation depending on your bike's tank size and fuel efficiency to determine how much petrol you may need to carry.
If you wanted to cover long stretches like Leh – Nubra – Pangong – Hanle – Tso Moriri together then yes, you will have to carry a lot of fuel. Total distance cover on this stretch will almost be around 700-800 kilometers without a gas station and you will carefully need to calculate how much fuel you need.
Do I need to carry extra fuel for Spiti Trip?
No, you do not need to carry spare fuel for Spiti Circuit. The entire stretch goes through well-populated regions of Kinnaur and Spiti Valleys. You will keep coming across fuel stations on a regular basis. The longest that you will go without a gas station is about 200 kilometers between Reckong Peo to Kaza and then Kaza to Manali.
In both these cases, one tankful should suffice unless you were riding a bike with a terribly small tank and extremely poor fuel efficiency.
Important Tips for Carrying spare fuel for Leh Ladakh Trip
The good news with Ladakh as well is that you do not have to absolutely carry petrol, irrespective of whether you were in a car or a bike. Petrol and Diesel both are available in black everywhere in Ladakh, including places like Nubra Valley, Pangong Tso, Hanle, Karzok, and at small dhabas on Manali – Leh or Srinagar Leh highway. Several hotels too keep it to sell to their customers.
The only catch is that fuel quality may be questionable. But since it is just onetime fill and not a regular thing, I did not worry much about it. I just carried a clean thin cloth to filter out any impurities and bought the petrol in black. Yes, it did cost me a little bit more but saved me a lot of hassle of carrying and managing spare fuel. I just thought that I was paying that extra money to remove the risk factor.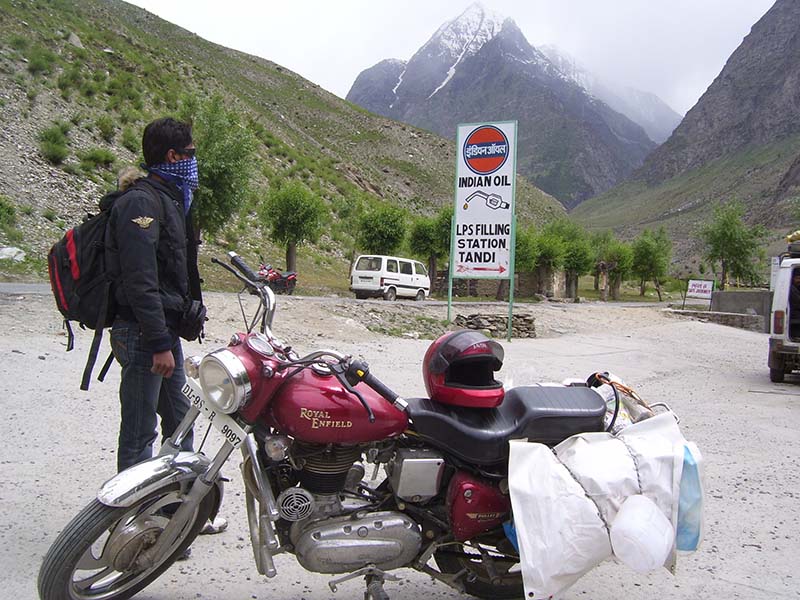 How to carry fuel on Ladakh Trip?
If you do decide to carry some fuel then I will recommend getting a metal jerry can and install a luggage carrier. Buy a 5 liters can and it will be sufficient; unless you were riding a scooter that has an even smaller fuel tank. Otherwise, just get a tankful at Tandi gas station, and fill the can as well.
Depending on your motorcycle's fuel efficiency, after you have ridden about 150 kilometers, empty the can in the motorcycle fuel tank. Do not keep it in the spare can all the way to Leh. It is safer in the bike's tank rather than the spare can.
While sightseeing in Ladakh, get a tankful done at Leh City and then in Diskit again in Nubra Valley. Get your spare can filled as well. From there, head to Pangong Lake and return to Leh the next day.
If you were heading towards Hanle and Tso Moriri from there, I will advise buying in black from Pangong and then again at Karzok. This will be sufficient for you to complete the circuit.
If you were renting a bike from Leh, Manali or Srinagar, ask the rental agency for one that has a luggage carrier installed so you can carry fuel easily. Also, due to the bikes being in bad condition, their fuel efficiency is usually very bad. For a Royal Enfield, for example, I will not assume more than 25 kilometers per liter to be on a safer side. Calculate the fuel you need to carry accordingly.
Is it safe to carry spare fuel with you on Ladakh or Spiti Trip?
Is it safe? No, it is not and that is why you must be extremely careful. The fuel may spill during the ride and cause a fire. If you took a fall, the tank may get punctured or burst. The list can go and on and this is why I recommended buying fuel in black rather than carrying it on you. Trust me; even if the fuel was impure, the little damage it may cause to your engine is far better than what may happen to you if something went wrong with the spare fuel.
How to carry Petrol on Motorcycle – Conclusion
I hope the information above on how to carry spare fuel on a motorcycle for Ladakh or Spiti Trip was of help. If you have any questions or need any other details, please feel free to ask in the comments section below, or at our Community Forum, and I will be glad to answer.