While a trip to Spiti Valley may sound like a farfetched idea, the fact is that it can easily be done with a little bit of preparation and some precautions. It is definitely not the best time to be here but surely has its own pros and cons. In fact, a lot of people do visit Spiti in April these days and if you were to be there, you will find that you were not the only tourist in the valley.
Also Read: How to Plan a Trip to Spiti Valley – A Complete Travel Guide
Contrary to the common belief, Spiti Valley actually remains connected to rest of the country throughout the year; even in months like January and February. There could be times when extreme snow could block the road for a few days but it usually gets cleared just as soon as the authorities are able to get to it. So in all reality, a trip to Spiti in April is actually not going to be that difficult. But at the same time, it is not going to be easy either.
In this article, I will provide details on how you can safely plan your trip to Spiti Valley in April, including details like how to reach, where to stay, what to see and some other safety tips.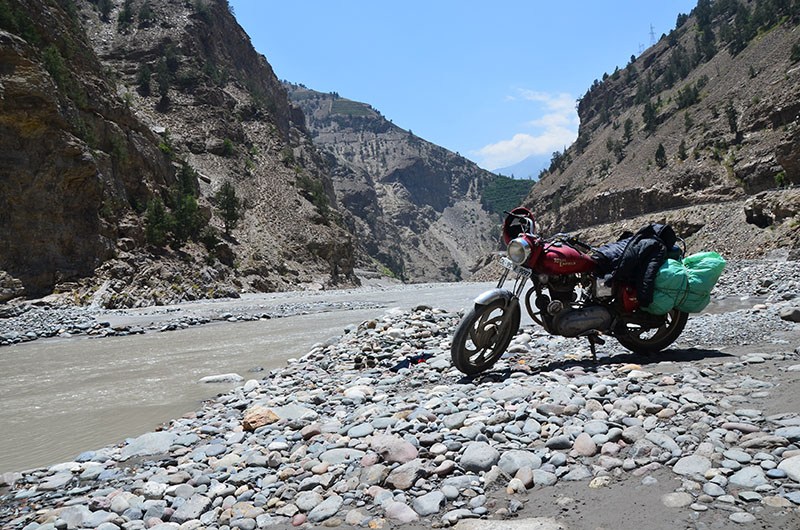 Is Spiti Valley Open in April?
Yes, Spiti Valley remains open and connected in the month of April. All of its roads will be accessible with an exception of Manali Kaza stretch that only gets opened after May end. You will be able to visit the majority of tourist attractions. Though it is the start of the tourist season, you will still not face any problem finding a place to stay as well.
The only catch is that a trip at this time is really one-sided; meaning that you will have to go via Shimla and come back the same way. Read on to get more details.
Also read: Spiti Valley Roads – Opening and Closing Times
How to Reach Spiti Valley in April
Spiti Valley, as you probably already know, can be reached from two sides. You can either start from Shimla and reach Kaza via Rampur, Nako, Tabo and Dhankar. Or you can start your journey from Manali and get to Kaza via Rohtang Pass, Batal, Kunzum Pass and Losar. An ideal way for this trip is to start from one point and exit at another. For example, you can start from Shimla and end at Manali or vice versa. This is what is commonly referred to as Spiti Circuit.
The catch, however, is that only one of these routes remains open in April, and that is the one via Shimla. The road via Manali crosses over two high altitude passes, Rohtang and Kunzum, in a short distance of just about 200 kilometers. Both these passes are notorious to receive a heavy amount of snow each year; sometimes as high as 50 ft. Due to this, the Manali Kaza route remains closed between late October to late May.
So in the month of April, you can reach Spiti Valley only via Shimla. You will start from Shimla, reach Kaza and then return the same way. That is why I said that a Spiti trip in April is only one-sided; because the other side of Kaza to Manali gets left out.
Let me explain this with the help of an itinerary.
Also read: What to See in Spiti Valley
How to Plan your Itinerary
I will begin by first laying out a sample itinerary followed by a brief explanation of the same. For the sake of this article, I will assume that you are starting from Delhi. If the point of origin for your trip is different than Delhi than only the 1st and last day of the journey will differ; rest will all remain the same.
Delhi to Narkanda – Day 1
Narkanda to Chitkul – Day 2
Chitkul to Nako – Day 3
Nako to Mud Village (Pin Valley) – Day 4
Mud Village to Kaza – Day 5
Kaza to Kibber / Komik / Langza / Hikkim to Kaza – Day 6
Kaza to Kalpa – Day 7
Kalpa to Sarahan – Day 8
Sarahan to Shimla / Chail – Day 9
Shimla to Delhi – Day 10
This is a sample 10 day travel but of course, not everyone can follow it to the last detail. Your final itinerary will depend on several other factors like how many days you have in hand and your mode of travel. However, the layout of the trip between Narkanda to Kaza and back to Shimla will pretty much have to be the same.
You can reduce or add days to this plan based on your preference. If you need my suggestion in doing that, feel free to comment and ask towards the bottom of this page.
Also read: Mobile and Data Connectivity in Spiti Valley
Itinerary Details
Following the above-mentioned plan, your destination for Day 1 will be either Shimla or Narkanda which can be done 8-10 hours from Delhi. On Day 2, start really early from Narkanda and reach Chitkul. I say early because from here on, roads will mostly be bad; and travel time between Narkanda to Chitkul can easily be up to 8-9 hours.
From Chitkul, you will reach Nako on Day 3 which again is about 8 hours of travel. The destination for Day 4 will be Mud village for which you will have to take the diversion from the Attargo Bridge after Dhankar.
You will reach Kaza on Day 5 and explore the nearby areas on Day 6 like Kibber, Komik, Langza, and Hikkim, etc.
On Day 7, you will take the long drive back to the small town of Kalpa from Kaza. This will easily be about 9-10 hours of journey so ensure that you get an early start again. Sarahan will be the destination for the next day after Kalpa and then you will continue back to Delhi via Shimla on Day 10.
If you cannot afford all 10 days, then you can remove a few days from the itinerary to make it a short trip. Pin Valley can be removed and you can get to Kaza straight from Nako. Exploring villages of Kibber and Komik can be removed as well if you cannot afford another day in Kaza. From Kalpa, you can easily make it to Shimla in a day so Sarahan can also be removed while returning back.
While making your own itinerary, there are a few things you must keep in mind that I will mention below.
Public Transport
If you were not traveling by your own vehicle, you can still plan a trip to Spiti in April. There is a daily bus from Shimla to Kaza that you can board and complete the journey. It starts from Shimla on Day 1 and halts at Reckong Peo for the night. On Day 2, it starts early from Peo and reaches Kaza by evening.
For places like Chitkul and Sarahan that are off the main highway, you will easily be able to find buses from Shimla, Reckong Peo, and Jeori. If not a bus, shared taxis also will easily be available. There is a direct bus from Shimla to Sangla that you can catch if you want to go straight to Chitkul from there. You can also board this bus from Narkanda.
The Shimla to Kaza bus travels through the entire Spiti Circuit. So no matter which town you stayed at for the night, you just need to make sure that you are back on the highway to board this bus when it crosses the town.
Since the Manali Kaza route will remain closed, there will be no public transport available going that way.
For more details, please take a look at How to Plan a Trip to Spiti Valley by Public Transport Services.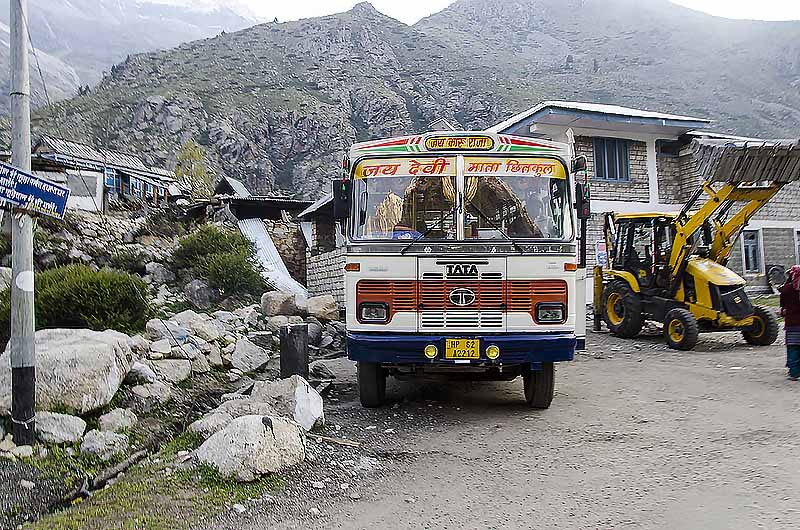 Acute Mountain Sickness
Will acute mountain sickness be a problem? In all probability no; since you will be starting from Shimla. Mountain sickness becomes a concern when the gain in altitude is sudden but in this case, you will be gradually ascending in terms of height so you may not face any signs of AMS in Spiti at all. The second factor is that the places where most people suffer from AMS, like Chandratal, will not be accessible in April anyways.
For more details on what AMS is and what its symptoms are, please read How to Handle Acute Mountain Sickness in Spiti.
Weather in Spiti Valley in April
April marks the arrival of the Spring Season in the valleys of Kinnaur and Spiti. Snow starts to melt in the month of March and is mostly all gone by April.
The weather at this time will not be on the extreme side but it will still be cold enough. You must remember that it will still be cold weather and prepare accordingly. Days will be pleasantly cold but nights will get harsh and freezing cold. During the day, you may just need your regular cottons and some light woolens but will definitely need to cover yourself well if you want to step out in the evening or morning.
Spiti Temperature in April
The day temperature will hover between 5 to 10 degrees Celsius. It will however definitely drop several degrees below zero at night; may even go as far below as -10 degrees.
Historically, the average maximum day temperature in Spiti Valley in April is 8°C and the minimum is -7°C
Clothes to Pack
It will really depend on how you are traveling and which part of the month. If you were planning a bike ride then you need to really windproof yourself, from head to toe.
The beginning of April will have you riding through some icy cold winds and you need to be prepared for it. Some good quality thermals, followed by cottons, light woolens and a heavy windproof jacket is a must for you. When you buy gloves, make sure that you test them and there is no wind getting in from anywhere.
If you were traveling by a car, then you need to pack clothes in layers. When I say layers, I mean clothes that can be worn on top of one another. The weather of Spiti can be a bit tricky and unpredictable. You will be feeling cold standing in the shade and feeling hot while standing in the sun, at the same time.
So you need to pack clothes that you can either put on or remove in layers as per your comfort. A heavy windproof and warm jacket is a must in case of a drive as well. Make sure that your jacket also has a hood to protect your head and neck. If not, then pack a muffler and monkey cap. Good quality gloves and warm socks will be required even if traveling by a car.
Some other necessary items to pack would be sunblock lotion (yes in April as well), cold cream, lip balm, moisturizer and a pair of sunglasses. For more information, please read What Clothes should you pack for Spiti Valley Trip.
Accommodation Choices



You will be able to find accommodation at all the places I suggested in itinerary easily. If you want to book in advance for your peace of mind, you may choose to do so; however I will not recommend it. Since it is just the beginning of the season, there will not be many tourists around and you will have no problem in negotiating an on the spot deal. If you booked in advance, you may actually end up paying more.
In villages like Kibber and Komik, paying guest will be your own choice of stay. In Chitkul as well, if you did not find a hotel, talk to the villagers for a night. The HPPWD rest house here also remains available for all 12 months.
Hotels in Narkanda, Kalpa, Nako, Tabo and Kaza will be all operational in April. If you want to stay at a monastery, you can do so in Tabo.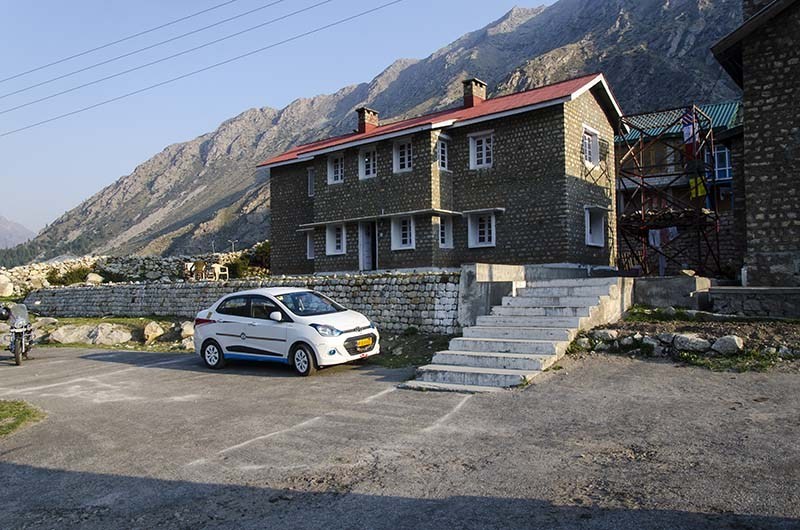 Sightseeing in Spiti Valley in April
In terms of sightseeing, pretty much the entire region remains open with an exception of Manali Kaza route and Chandratal.
Starting from Shimla, you will be able to visit all the major tourist destinations en route; including Narkanda, Sarahan, Chitkul, Kalpa, Nako, Tabo, Dhankar, Pin Valley and Kaza. You will also be able to make a trip to the local villages of Kibber, Komik, Hikkim, Langza etc near Kaza.
Chitkul may sometimes get temporarily out of reach if it snowed unexpectedly on the way but chances of that happening are a bit slim in April. Even if it happened, it will only be in the first half of the month.
You will be able to drive up to Losar after Kaza but no further. Kunzum Pass, Chandratal, Batal and the entire Manali Kaza road would have to be left out. It also means that you will not be able to visit Rohtang Pass as well.
For detailed information on this topic, please read Sightseeing in Spiti Valley | What to see in Spiti Valley.
Chandratal in April
This will be the biggest drawback of visiting Spiti this time. The road to Chandratal lake in April remains blocked and there is no way that you can reach here. The entire Manali Kaza stretch gets declared open sometime in May and then Chandratal road is cleared by early June. If there wasn't too much of snow, it may get opened sometimes in May as well but never in April.
The only way would be reach Chandratal in April is to hire a local guide and porter from Kaza and trek all the way to the lake. By road, you will not be able to visit and must keep Chandratal out of your itinerary. For more details, please read How to Plan a Trip to Chandratal.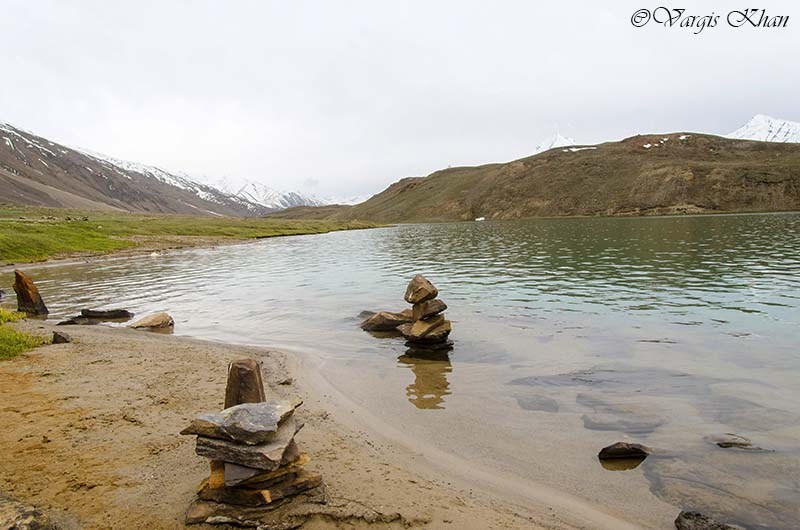 Pin Valley in April
Pin Valley remains open and accessible in April. Mud Village is the most popular destination here and to get there, you will have to take the diversion from near Attargo Bridge, just after Dhankar. There are a few hotels in Mud Village (also known as Mudh Village) where you can stay in Pin. But like rest of Spiti, to get to Pin Valley, you will have to travel via Shimla and cannot take the Manali route. For more details, please read How to Plan a Trip to Pin Valley.
Kunzum Pass in April
This is another place that would have to be left out of your itinerary in April. The only way to reach Kunzum Pass at this time is if you were ready to walk as far as possible from Losar. The top of the pass would be snow-covered so you won't be able to reach all the way to the top but go as far as you could safely.
Snow in Spiti in April
Will you get to see any snow? It is hard to predict to be honest and depends entirely on the weather. You will definitely find some snow on the ground if you went early in the month. This will however be limited to area around Nako to Kaza only. Or you could drive towards Kunzum Pass after Kaza and can find some snow there.
Snow around Shimla and Kinnaur valley is mostly all gone by April. As the month progresses, the remaining snow in Spiti as well starts to vanish fast. So if snow is what you are after, then ensure that you are traveling in first few days of the month.
If you were lucky and weather favored, you may even catch a live snowfall in Spiti valley in April. In fact I have witnessed a snowfall in Narkanda itself in first week of April.
Manali to Kaza in April
You cannot do Manali to Kaza in April and it is a straight no. Rohtang Pass opens towards mid April and then Kunzum Pass towards Mid May. So the earliest you can travel on Manali Kaza highway is in the second half of May, no earlier than that.
These are the only places that I wanted to mention separately. Rest all of the places that I mentioned in the itinerary above will be open and you can decide which ones to cover as per the time you have in hand. For local information on tourist attractions in places like Narkanda, Chitkul, Kalpa, etc, please read Sightseeing in Spiti Valley | What to see in Spiti Valley.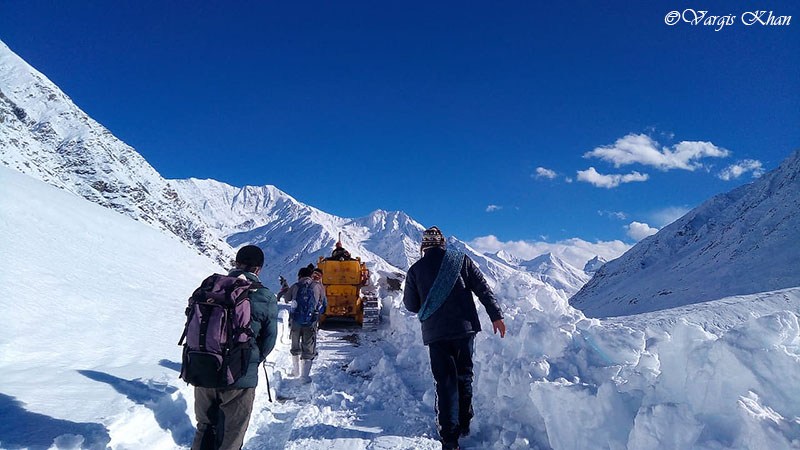 What to do in Spiti Valley in April
Other than visiting all the places I mentioned above, there is not much left to do actually. Just spend enough time sightseeing, enjoy the pleasant weather, see some snow, stay as a paying guest in remote villages, stay at a monastery if possible, take plenty of pictures and have fun; that should be the agenda for your trip.
Spiti Valley Trek in April
If you are into trekking, then there are a few trails that you can venture on in April. The most popular will be the ones connecting the villages like Kibber, Komik, Langza, Hikkim, Lhalung, and Demul, etc. There is one from Demul Village to Balari top that can easily be done in a day. You can also trek to Dhankar Lake which takes about 2 hours at most. Trek to Sopona Lake from Mane Village but I doubt you will find any water in this lake in April.
Trekking to Chandratal will entirely depend on the snow. If the snow was not way too much, you may find a local guide to take you to the lake. Do not attempt doing so on your own though.
Camping & Self Camping
Chandratal is the most popular camping ground in Spiti but that will remain off-limit. Other than that, you can find campsites around Chitkul but that too is not guaranteed so early in the season.
If camping was on your mind, then I will recommend that you bring your own gear. You will come across several spots that will be good enough to pitch your tent.
Spiti Valley Road Conditions in April
Starting from Delhi, the highway until Chandigarh is super smooth. Between Chandigarh and Shimla, there are a few bad stretches due to road widening work that is currently going on but apart from that, the road is good actually. From Shimla to Narkanda and Rampur, the road will be smooth enough however will start to deteriorate a little after that. You will come across some bad patches between Peo and Pooh.
From Pooh to Nako, the road is actually quite good, and then will be a mix of average and bad between Nako and Kaza. The stretch between Karchham and Chitkul is a mix of average and bad. The road towards Mud Village is a dirt trail completely.
Kibber, Komik, Langza, and Hikkim are all remote villages and roads to these villages are completely dirt trails. The road from Kaza to Kibber and then to Chicham is super smooth but not so good around other villages. For more information, please see Spiti Valley Road Conditions.
Bike Trip to Spiti Valley
If you were planning to ride to Spiti, I will recommend that you plan a little late in the month, unless it was the snow that you were after. Make sure you windproof yourself completely. Wear thermals underneath your trousers to protect the lower part of your body. But most importantly, you must know how to handle a motorcycle on mountains and tough roads and in snow as well if you were to encounter it along the way.
In terms of an itinerary, the plan I mentioned above will apply for a Bike trip as well. Even on a motorcycle, you will not be able to cover the Manali Kaza road.
There is really no best bike for Spiti as such. A friend of mine has done the trip even on a 125CC Discover. The only thing you need to make sure is that your bike is well maintained and properly serviced before the trip. Also, if you were going on a smaller engine bike, make sure that you are riding solo and as light as possible.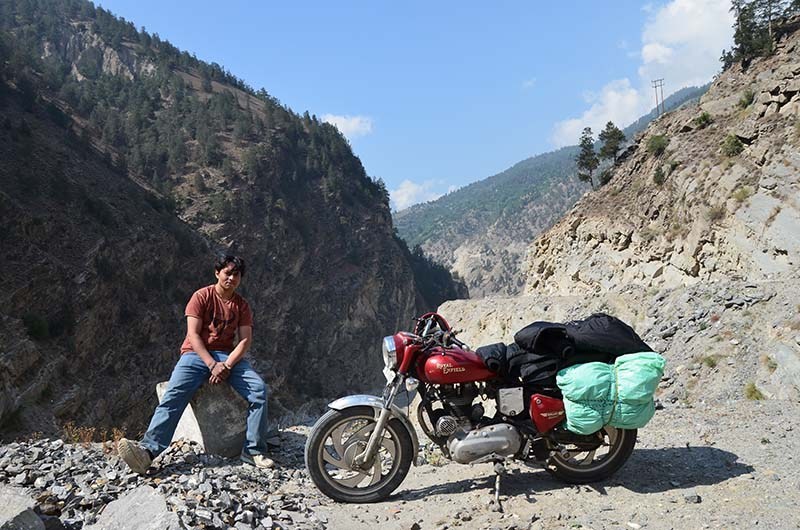 Mobile Connectivity
BSNL has the widest coverage in Spiti Valley followed closely by Jio at second and Airtel at the third spot. All networks will work fine until Reckong Peo but only BSNL will remain connected anywhere beyond that. The reception and the voice quality, however, will be bad but at least you will be able to send text messages.
Even BSNL will not work at places like Chandratal. In the remote villages around Kaza, you may or may not get a network on BSNL. In Chitkul, BSNL will work fine. For more details on this, please read Mobile Network in Spiti Valley and Data Connectivity. None of the networks will work anywhere in Pin Valley.

Permits for Spiti Valley
Indian citizens do not need to get a permit for Spiti Valley. You just need to carry a valid government-issued identity card like Aadhar Card and are free to travel anywhere in the valley. The only permit that an Indian may need is the vehicle permit to cross over Rohtang Pass from Manali side. But since Rohtang is not even open in April and you won't be going that way, even that permit is not required.
Foreign nationals, however, have to get an Inner Line permit for traveling between Reckong Peo and Kaza. Please read How to get an Inner Line Permit for Spiti Valley for a step to step guide on procuring the permit.
Challenges you May Face
Cold weather will probably the only challenged you will face at this time. Having to go back to Shimla and not being able to exit via Manali can be the next challenge coz it will increase the total duration of the trip. Since you are going via Shimla, altitude sickness will not be that big a problem.
If you were encountered snow anywhere on the route and weren't prepared for it, that could be a huge problem. In case it happens, make a sound call about whether you want to proceed further or return. If you decide to move ahead but weren't sure of your driving or riding skills, wait for a local vehicle to arrive and follow their lead.
Some other challenges could be as mentioned below.
No Running Water
This may be a challenge if you were traveling in the first few days of April. The temperature at this time can still be close to zero degrees which freezes water everywhere, even in the pipes. This means that there may not be any running water in the villages of Spiti.
Hot water will be provided in buckets which you will have to use conservatively. And yes, this also means that you may have to go without a shower for a few days. If that is something that you cannot live with, maybe you should plan towards the end of April rather.
Dry Pits
This could be another challenge in the first few days of the month. If the temperature was still close to 0 and running water was still scarce, it means that there will not be any water available in toilets as well. If that happened then you will have to do your morning business squatting over a dry pit.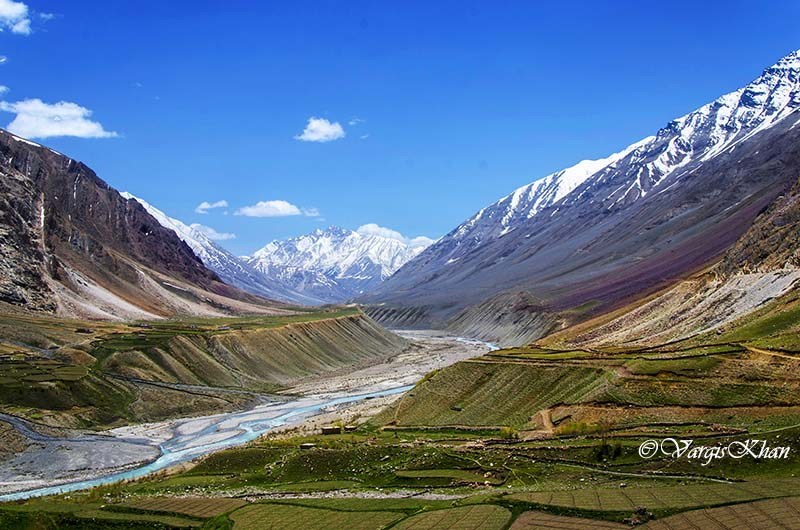 Other Tips
Mentioned below are some other tips that can be of help while traveling to Spiti Valley in April.
Start a Bit Late in the Day
And by late I do not mean like 10 or 11 AM but at least wait for the sun to come up. Though not so much but the threat of black ice still remains in the month of April as well. The freezing temperature at nights may cause black ice to form on the roads which will be a danger if you started really early.
Wait for the sun to come up and start at around 8 AM so that it is a bit warm for the ice to have melted off the roads. Some locals too would have traveled by then so chances of you encountering a sheet of ice on the road and skidding will be very less.
Keep Buffer Days
This will actually apply irrespective of your time of travel. When going to a place like Spiti valley, it is always wise to keep at least 1 day or 2 as a buffer. If you got stuck at any of the places for any reason, like a landslide for example, then you will at least be able to afford it. Do not tie yourself down to a very strict travel plan.
Car or Motorcycle?
Which then brings us to our next question. Should you plan your trip by car or motorcycle? This is really a personal choice and both are OK. A lot of people visit Spiti in April both by car and motorcycle. You just need to decide which one works better for you and plan accordingly.
Get your vehicle Ready
However you come though, the most important thing to remember is to get your vehicles ready. Mechanics in Spiti are scarce and since April is still the beginning of tourist season, you may not find too many mechanics around. Even a small problem can really upset your plans and cause great pains here.
A trip to Spiti is going to be challenging not just for you but for your vehicle as well. Get it serviced well in advance and then ride/drive around for a week before the trip to ensure that everything is working fine. Repair or remove anything that seems dicey. Take a look at How to Prepare your Car for Spiti Trip and How to Prepare your Motorcycle for Spiti Trip for details on how to prepare your vehicle and what spares to bring.
Until Reckong Peo, you will keep coming across several towns where mechanics are available. Once you cross Reckong Peo, the next mechanic will only be available in Kaza.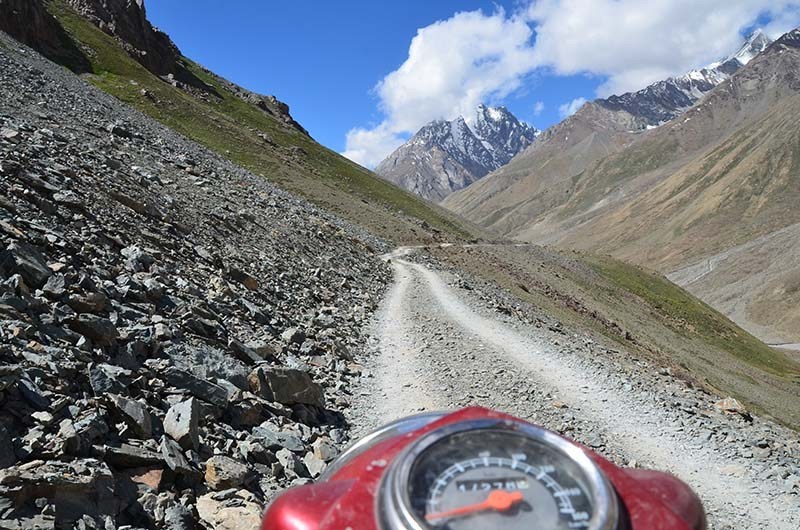 Petrol Pumps in Spiti



Like Mechanics, Petrol pumps too will be available at regular intervals until Reckong Peo. After Peo, the next gas station is in Kaza only which remains operational in April.
Lahaul Spiti in April
A common misconception is that Lahaul and Spiti are the same place. It is actually incorrect as both are different valleys. Spiti is the area around Kaza and Chandratal whereas Lahaul is the valley around Keylong, Jispa and Udaipur. While traveling in April, there is no way that you will be able to cover Lahaul and Spiti both as Kunzum Pass will remain closed. You will only be traveling to Spiti valley and not Lahaul.
Festivals in Spiti valley in April
For more information on festivals celebrated in Spiti Valley and their dates, please read Festivals in Spiti Valley – A Colorful Celebration of Life.
Spiti in April end
Visiting Spiti Valley is actually a great idea unless you were thinking of chasing snow. By the end of the month, the weather would have gotten warmer and will be more pleasant; which would be a great benefit if you were thinking of a bike ride. The availability of hotels would too have improved greatly by the end of April. If you were, however, hoping to find snow then April end is not a good time because the snow would mostly be gone by then, at least from the lower areas.
Conclusion
And that mostly is all that you need to know about visiting Spiti Valley in April. Keep the above mentioned things in mind and I am sure you will have a great trip. I hope the information above was of help. If you have any further questions, please feel free to ask in the comments section below; or at our Community Forum; and I will be glad to answer.