Lahaul valley, in my opinion, is one of the most underrated travel destinations in Himachal. It has a lot of tourist wonders that are yet to be explored. Among these are a couple of extremely scenic places of high religious importance that not many people know of. Both of these are located in the fertile Pattan valley. One is the extremely scenic town of Udaipur and the other one is the sacred Trilokinath temple; which is located just 10 km away and is one of the most important religious sites in the country.
Calling it beautiful would be an understatement, such is the sheer beauty of both these places. The journey to Trilokinath and Udaipur itself is quite exhilarating. The serpentine roads make way for quaint little fertile hamlets of Pattan valley and huge mountains perched in the backdrop will surely leave you mesmerized.
Udaipur
Udaipur is a quaint little hamlet situated at 2743 meters in Pattan valley. This picturesque town acts as a gateway to remote valleys of Pangi in Chamba District and Miyar valley in Lahaul. The town is surrounded by huge Pine and Deodar forests with beautiful snow-clad mountains in the backdrop. Apart from its scenic beauty, Udaipur is also known for the ancient temple of Mrikula Mata which at least is a few centuries old.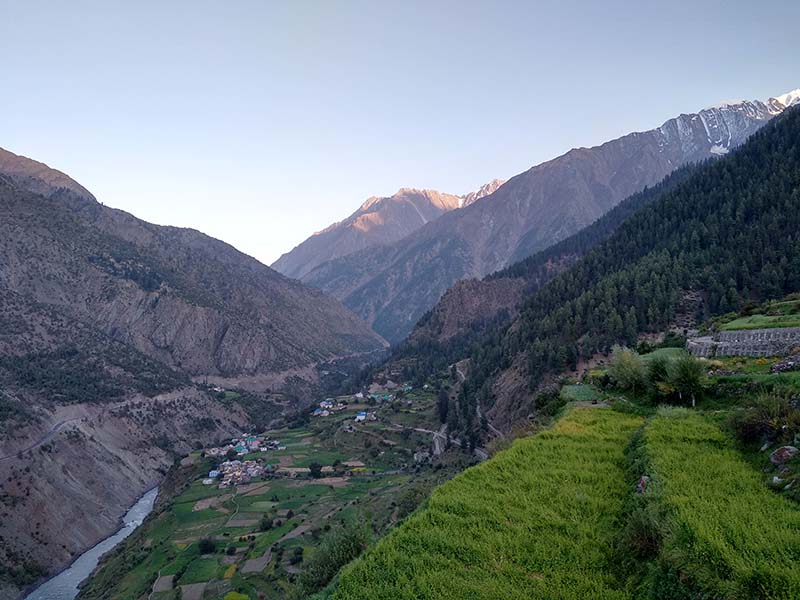 Trilokinath Temple
Trilokinath is one of the most important religious sites in India; considered sacred by both Hindus and Buddhists. It is one of the most revered places of worship for locals of Lahaul valley. The sheer beauty of this place is enchanting as the landscapes here are other-worldly. Perched at around 2760 meters, Trilokinath is just around 10 km from Udaipur.
Also Read: How to Plan a Trip to Spiti Valley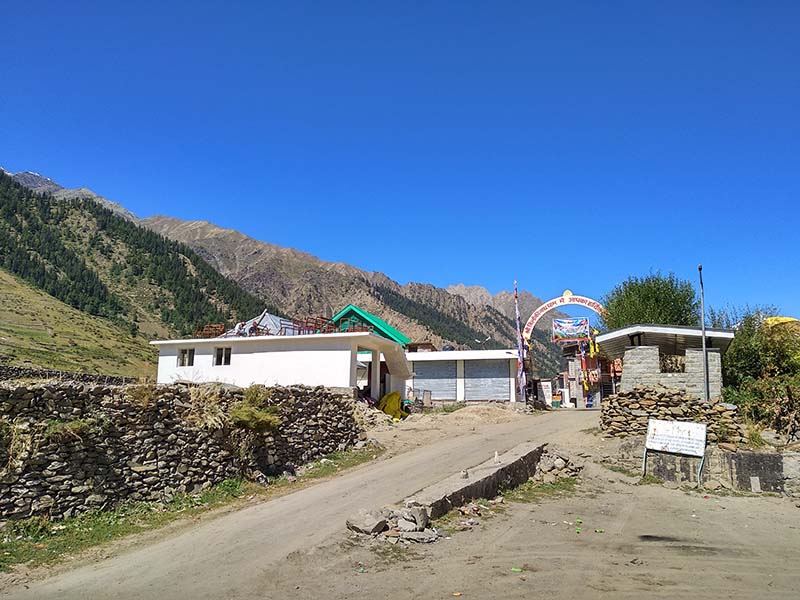 How to reach Udaipur and Trilokinath Temple
Udaipur is well connected to Keylong in Lahaul with buses plying between Keylong and Udaipur every hour. Many of the buses that go to Udaipur from Keylong also halt at Trilokinath. One can also reach Udaipur from Killar in Pangi valley which is in the Chamba district.
Also Read: Keylong Bus Stand Timetable
Via Lahaul Valley
You will need to get to Manali first in order to reach Lahaul. Many HRTC buses ply between Manali and Keylong in the first half of the day. Bus connectivity from Keylong towards Udaipur and Trilokinath is exceptional with buses almost every hour. Many of the buses which go towards Udaipur halt at Trilokinath.
In case the bus goes directly to Udaipur, then there are several buses available from Udaipur to Trilokinath throughout the day. It will take around 2.5 hours to reach Udaipur/Trilokinath from Keylong.
In case you are using self-driven cars or have hired private cabs then the route is pretty easy to follow. You would need to take the following routes to reach Udaipur or Trilokinath.
Route 1: Manali – Khoksar– Sissu – Tandi – Jahalma – Udaipur
Route 2 :Manali – Khoksar – Sissu – Tandi – Jahalma – Trilokinath
Also Read: How to Plan a Trip to Lahaul Valley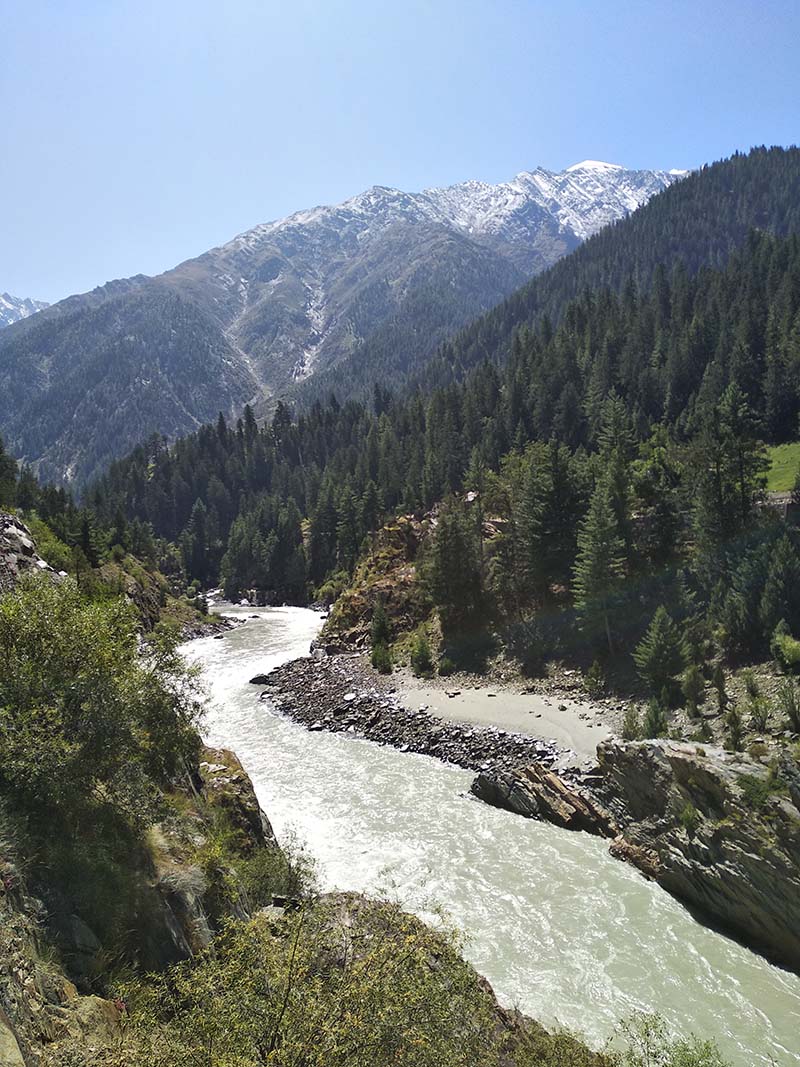 Via Chamba (Killar)
This route is the one from Pangi valley which is another remote high-altitude valley in Himachal. Reaching Killar can be a task in itself as one has to cross the mighty Sach pass to reach Killar. With limited bus connectivity between Chamba and Killar, it is a little inconvenient for the budget and solo travelers.
There is only one bus that plies from Chamba to Killar and the other way around from July to September. It leaves 6 am from both ends and reaches its destination by evening; and will cost you Rs. 450 per person.
But there are also shared cabs available between Chamba and Killar which makes things a lot easier.
Once you reach Killar, then it is pretty straight forward to reach Udaipur or Trilokinath as there is regular bus connectivity between all these places.
If you have your own vehicle or self-driven cars, then this journey should be pretty straightforward with the only problem being the terrible roads. You would need to follow this route coming from Pathankot.
Pathankot – Chamba – Tissa – Barigarh – Sach Pass – Killar – Udaipur – Trilokinath
Also Read: How to Plan a Trip to Chamba
Accommodation in Udaipur
Udaipur is the second biggest town in Lahaul, hence finding accommodation should not be that difficult. There are plenty of guest houses and hotels around Udaipur. One can easily get rooms from anywhere between Rs 500-1000. Though I didn't stay here, I noticed a lot of hotels, guest houses, and homestays around the Udaipur bus stand area. So finding budget accommodation as well will not be a problem.
But one should not expect fancy hotels around these parts. This part of Himachal is not yet affected by mass tourism and therefore you won't get big luxurious hotels in these parts. But the rooms available here are decent.
Hotels in Trilokinath
Trilokinath is a small hamlet with the temple being the main attraction. There are a few homestays offering rooms priced at around Rs 500. The rooms are basic but quite decent. Again, don't expect fancy hotels or guesthouses as this is not a touristy place.
For those looking for even cheaper options, the temple has a Dharamshala. One can get a bed in the dormitory room of the Dharamshala in the temple premises for a meager sum of Rs 80. This is best suited for those who are on a shoestring budget or are traveling solo. The temple also offers a private room for Rs 200 but there are not many of them.
The temple also offers Bhandara to the pilgrims two times a day which you should definitely try out. The food is basic but is very tasty.
What to do in Udaipur and Trilokinath
Udaipur acts as a gateway to remote valleys of Miyar and Pangi while Trilokinath is one of the most important pilgrimage sites in the country for both Hindus and Buddhists. Both of the places are so picturesque that you would just want to relax there and enjoy their sheer beauty. But there are plenty of other scenic places in and around Udaipur and Trilokinath that can also be explored.
Also Read: How to Plan a Trip to Manali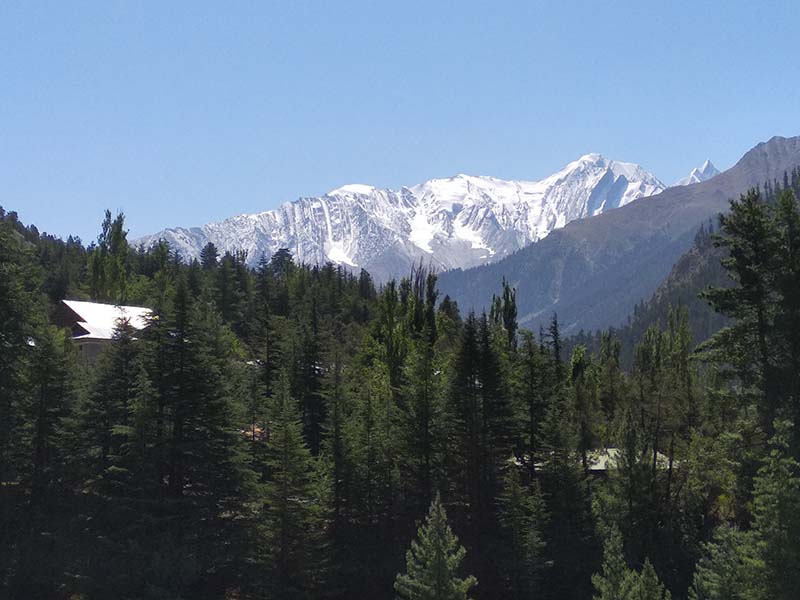 Mrikula Mata temple
This ancient temple of Goddess Kali is located in Udaipur and is a must-visit if you are in Udaipur. This temple is at least a few centuries old if not more and has a rich history related to Mahabharata.
Like most of the temples in Himachal, this temple is also made out of the wood and looks impeccably beautiful. The interior of the temple is carved out of wood and is so beautiful that it will surely leave you mesmerized.
As per the legend the carvings were made out of single pieces of wood which were carried by Bhim; one of the five Pandava brothers during their exile at the current location. The carvings also have said to been done by lord Vishwa Karma himself. The temple is very easy to reach and is just a 10 minutes' walk from the Udaipur bus stand.
Trilokinath Temple
This is one of the most scenic hamlets in Lahaul valley. The entire area is surrounded by Pine, Deodar forest with the snow-capped mountains in the backdrop. From here you can also spot the entire valley.
The Hindus consider the main deity as Lord Shiva while the Buddhists consider it to be lord Avalokiteshwar. As per the legend, the temple was originally a Buddhist temple, but nothing remains of the original site currently. There used to be a six-headed Idol of lord Avalokiteshwar which was stolen a few decades back.
As per another legend, King of Kullu once decided to take the idol but could not succeed in his attempt as the Idol became extremely heavy. You can also spot the mark on the right leg of the idol which is said to have resulted due to a sword blow by a Kullu soldier.
Also Read: How to Plan a Trip to Shimla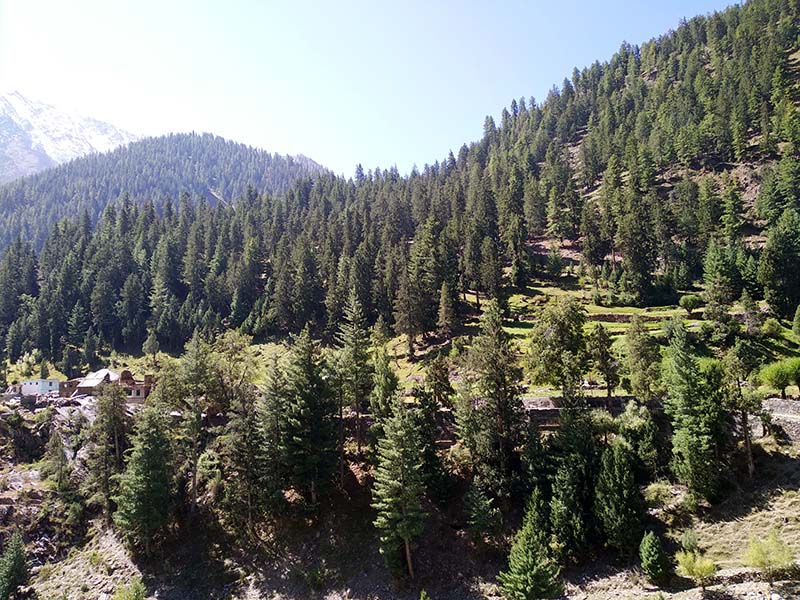 Head to Pangi valley
Udaipur acts as a gateway to the remote Pangi valley in Chamba district. Pangi valley is one of the most unexplored and beautiful regions of the state. With almost no tourist crowd, this is a perfect place for individuals who are looking to escape the crowd. Like Lahaul valley, the valley remains cut off from the outside world for 6 long months due to heavy snow on Sach and Rohtang Pass during winters.
Head to Miyar valley
Miyar valley is another high-altitude valley that is only accessible from Udaipur and remains cut-off for 6 months during winter. This place is a haven for trekkers and adventurers as it offers a lot of unexplored trekking trails. The terrain of this remote valley is extremely unique and unlike any other in the state, with lower reaches of the valley being lush green while the higher reaches start resembling Zanskar and Ladakh. To know more about this valley, you can read How to Plan a Trip to Miyar Valley.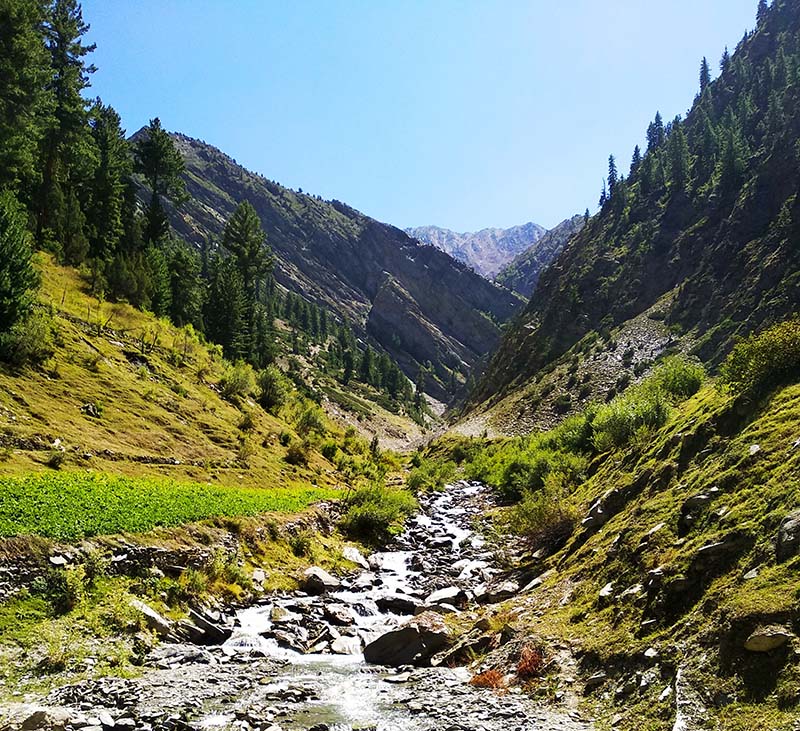 Best time to visit Trilokinath Temple and Udaipur
Both Udaipur and Trilokinath remain cut off from the outside world for almost 6 months due to long and extremely cold winters. Sach Pass and Rohtang Pass receive heavy snowfall during winters which completely cuts off Lahaul and Pangi valley until the next summer.
Though this may be about to change soon with the advent of Rohtang Tunnel which is aimed to give an all year- round connectivity to Lahaul valley. Soon traveling to Lahaul valley in winter will become a possibility with the Rohtang Tunnel to be thrown open for vehicular traffic in May 2020.
But as of now, one can only visit Udaipur and Trilokinath temple during a short window of 5 months from June to October. The opening of the passes is subject to how much snow it received during winters and when will it be thrown open by BRO.
Also Read: How to Plan a Trip to Rohtang Pass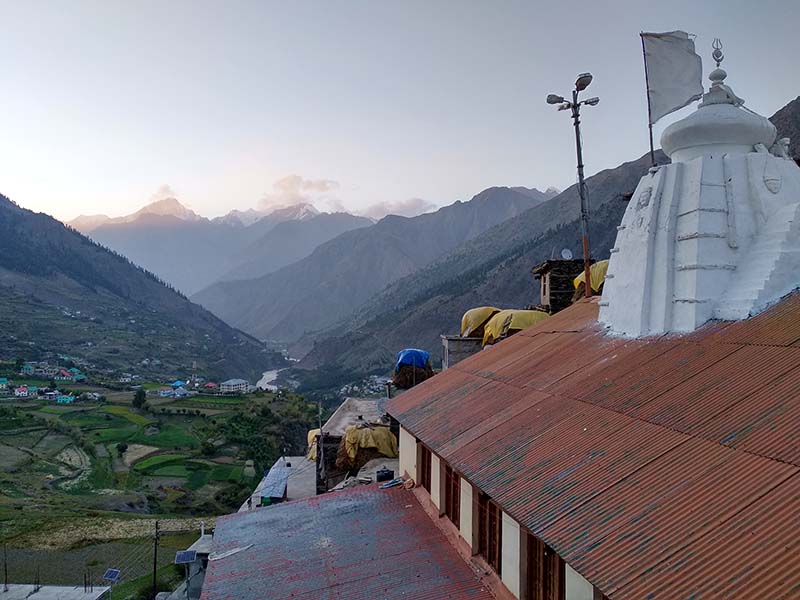 June (Summers)
This can be termed as one of the best times to visit as landscapes are truly surreal. As the summer sets in, everything starts coming back to life after long and brutally cold winters. There is however plenty of snow still left in the high mountains and at top of the passes which becomes an added benefit of visiting at this time.
July – August (Monsoon)
While the monsoon is in full flow in the lower hills of Himachal and rest of the country in these months, it doesn't rain that much in Udaipur and Trilokinath; though overcast conditions may prevail throughout the monsoon. The entire valley remains lush green during this period. Roads leading to Lahaul become landslide-prone during the July-August period so one has to be careful while visiting these places during monsoons.
September – Mid October (Autumn)
This, in my opinion, is one of the best times to visit any high-altitude valleys. Although most of the snow will be gone and only a little can be seen on the high mountains and glaciers, the skies are crystal clear during the autumn months and the temperatures are manageable as well.
Everything starts to turn golden brown as the winter months close in. The sky is lit with millions of stars at night and due to clear skies spotting milky way becomes easier. I visited the valley in September, and it was one of the best experiences I ever had with clear skies and mild weather.
Responsible Travel
Please do not litter around and dirty the places you visit. Though Udaipur and Trilokinath were clean as compared to some other popular places I have visited in Himachal, I could still find a few plastics lying around here and there. If possible, please bring your own bottles instead of buying plastic water bottles everywhere and just refill them in the homestays. Travel responsibly, do not litter around and keep the environment clean.
Also Read: How to Plan a Trip to Sach Pass
Mobile Network and Internet Connectivity
Only Airtel works in Udaipur and Trilokinath. Vodafone and Idea do not work at all. Even BSNL does not get network here, although it works almost in the entire Lahaul valley. So, if you are planning to go Udaipur or Trilokinath temple you must have an Airtel sim in case you don't want to lose contact with the world.
If you don't manage to get Airtel then, you can just ask locals and make a call to stay in touch with your loved ones. I am not sure about how well the Airtel 4G internet works or if it works at all. Being one of the remotest regions, the internet generally does not work very well in these parts.
Udaipur is the second biggest town in Lahaul might have Wifi in some hotels and guesthouses, but I am not too sure about it as I didn't stay in Udaipur. It is better to confirm with the hotels and guest houses beforehand.
Conclusion
I hope the information above on visiting Trilokinath Temple and Udaipur was of help. If you have any questions; or need any other details; please feel free to ask in the comments section below; or at our Community Forum; and I will be glad to answer.