When it comes to Srinagar to Leh highway, a common misconception is that it is not really that difficult; and that traveling on this route is easy. This further leads people to believe that they can do the entire journey from Srinagar to Leh in one day or vice versa; mostly by people who reached Leh by Manali and want to return via Srinagar. This however is not correct. In this article, I will provide details on what is the minimum required Srinagar to Leh travel time; how much should you dedicate to enjoy the journey to fullest; followed by an ideal Itinerary.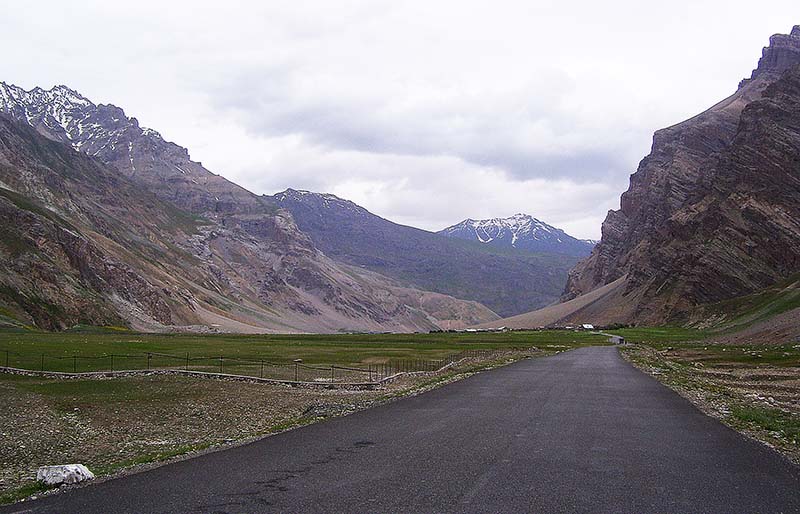 While a lot of this will depend on how you are traveling and what all places do you intend to cover; in my opinion a minimum of 2 days and maximum of 3 days should be spent while traveling from Srinagar to Leh or the other way around. A 2 day journey will ensure that you do not just rush through all the way and if you can spare a day more, you will be able to cover all major tourist attractions along the route. Another thing that you must consider is that Srinagar to Leh highway is not "easy". Even this road is one of the most challenging ones in our country; capable of making your heart jump in to your mouth at several places. This is not your usual highway where you can cruise at 100 kmph so you must plan your travel accordingly.
Also read: Srinagar to Leh Highway Route Guide and Road Map
I mentioned 3 days as maximum here but is is only from the point of view of someone wanting to visit Ladakh; just as an ideal Srinagar to Leh travel time; however if you want to explore Kashmir too, then by all means you can add as many days as you can afford.
Srinagar to Leh Distance
Total distance between Srinagar to Leh is approximately 425 kilometers. The road runs through the famous towns of Sonamarg, Drass and Kargil on the way. You will also be crossing three high altitude passes on the way; Namika La at 3,700 meters, Zoji La at 3,528 meters and Fotu La at 4,108 meters.
Srinagar to Leh route
Route of the journey will be as mentioned below.
Srinagar – Ganderbal – Kangan – Sonamarg – Zoji La – Drass – Kargil – Mulbekh – Namika La – Fotu La – Lamayuru – Khaltse – Nimmu – Leh
Also read: How to Plan a Trip to Ladakh with Children and Infants
Srinagar to Leh in One Day
Traveling from Srinagar to Leh in a single day is called a "Canon ball run". A lot people consider this in a hurry to either reach Leh or to reach back home after traveling to Ladakh. This option is quite common among the locals and in my opinion is best left for them only. The only way it can be completed is by getting aboard a shared taxi. It is neither possible nor recommended for a tourist to drive straight from Srinagar to Leh in one day on their own; however the local taxi drivers here do that on a regular basis.
This journey starts sometime at midnight from Srinagar from where you will be continuously traveling for next 16-18 hours, reaching Leh by next day evening. It will cost you anywhere between Rs. 2000 to Rs. 2500 per person.
Also read: How to Plan a Trip to Leh Ladakh
If it was me, I would simply call it a "bone breaking run" because you will be stuffed in a shared taxi with 7-8 other people (depending on which car it is) and will be traveling straight with breaks limited only to answer nature's call. You can however inquire at TRC Srinagar and I believe some taxi drivers do start this journey around mid day as well, making it a straight run to Leh; arriving next day morning.
The only upside to this is that you will reach Leh in a single day but there are several severe downsides. The first and the foremost is that you practically miss everything that you came to Srinagar Leh highway for. There is no time to enjoy the vistas and gaze upon the natural beauty of the region. You will only just be sitting inside a moving car and looking out of the window  which I do not think is a fun idea if it is going to last 16-18 hours.
Also read: Is Srinagar Leh Highway Safe for Tourists?
The second and a more serious issue will be acute mountain sickness which you are bound to suffer from if you take your body to such extreme heights in a matter of hours. For those taxi drivers and locals it doesn't matter because for them it is an everyday routine but for a tourist like us, it can cause some serious problems. Please read Acute Mountain Sickness in Ladakh to know what acute mountain sickness is, what it can do to you, what the symptoms are and how to handle it.
If you are traveling by your own car or motorcycle, please do not attempt this. It will take a toll on your body as well as the vehicle as well. You will be driving through some of the most challenging roads and you do not want to be behind the wheel here if badly tired.
Srinagar to Leh in 2 Days
This is the most preferred way of traveling from Srinagar to Leh. Majority of the people plan their journey according to two days; doesn't matter whether they are going to Leh or coming from Leh to Srinagar. I too will recommend this because of the following reasons.
Less tiring: This is the first and the foremost reason. A 2 day journey will ensure that you do not travel for long hours, do not rush and in the process do not tire yourself.
Not too many days: Let us put it this way that 2 days is just the adequate amount of time. You do not rush through but also do not spend too many days here, in case you are short on time.
Better planning: You will be able to plan better for unseen events. Since there is no rush; in case you run into trouble, you will have some time in hand to handle the situation.
Enough breaks: The road you will be travelling on is filled with such mesmerizing beauty that you would want to stop at every turn. A 2 days journey will give you ample time to do that.
Enough photography: Click all that you want, doesn't matter if you are a photography enthusiast or just a cell phone photographer because you have time in hand to do that.
Less chances of AMS: This will be the most important reason. The increase in height will be a little gradual and chances of suffering from AMS will reduce significantly.
Also read: Hotels and Guest Houses on Srinagar Leh Highway
The next question here is of where to stop for the night on Day 1. There are several major towns on Srinagar Leh highway. As per your convenience, you can chose to stay at either of them but you need to balance it in a way that your travel time gets divided in Day 1 and 2 equally.
Sonamarg: This is the first major town you will come across after you start from Srinagar. Road distance between Srinagar and Sonamarg is about 80 kilometers which you can easily cover in 2 to 3 hours. You should not stop here because if you do so then your journey for Day 2 will be way too long. You will have to start by first light of the day from Sonamarg on Day 2, rush through the journey and then you can hope to reach Leh before dark.
Drass: Distance between Srinagar to Drass is about 142 kilometers. You can reach here from Srinagar in about 5 – 6 hours but if you halt here for the night; your travel time on Day 2 will be exactly the double of Day 1 because Leh is another 282 kilometers from Drass. However, if you are on a budget trip and looking for a cheap accommodation; then you should halt at Drass for night. Hotels in Kargil are quite expensive however in Drass, you will easily find a room for as less as Rs. 300 – Rs. 400.
Kargil: Majority of the people chose to break their journey here on Day 1 because it is exactly the midpoint of Srinagar Leh highway. Srinagar from here is 209 kilometers and Leh at a distance of 213 kilometers. I too will recommend to halt here for the night.
Lamayuru: A lot of people consider staying at Lamayuru as well but I will advise against it. Problem will be the same as with Drass. If staying at Lamayuru, on Day 1 you will cover 308 kilometers in 10-11 hours of travel while on Day 2 you will only travel 115 kilometers in 3 hours.
Also read: Banks, ATMs, Petrol Pumps and Mechanics on Srinagar Leh Highway
Based on my inputs above; it would be wise to travel from Srinagar to Kargil on Day 1 and Kargil to Leh on Day 2. This will give you ample amount to enjoy your journey without tiring yourself. If you are traveling by your own vehicle, you can travel as per your own convenience. Bus service from Srinagar to Leh takes two days as well, halting at Kargil for the night.
Srinagar to Leh in 3 Days
A 3 days journey on Srinagar Leh highway is an extended and more relaxed version of 2 days journey. It is not really required but if you can spend a day more; then by all means do it. It will give you plenty of time to experience the real beauty of Kashmir. In case of 3 days, you can plan the journey in following manner.
Day 1 Srinagar to Sonamarg: Start early from Srinagar and you will reach Sonamarg within 3 hours. This will give you entire day for local sightseeing. Check into a hotel and visit Thajiwas glacier.
On Day 2, travel from Sonamarg to Lamayuru. Stretch this day a little. Start early from Sonamarg and reach all the way till Lamayuru.
Day 3 Lamayuru to Leh: It will take you only about 3-4 hours to reach Leh from here so you have the entire day in hand. Spend this time in visiting Lamayuru monastery, lunar landscapes, Indus Zanskar River confluence, Gurudwara Patthar Sahib and Magnetic hill while on your way to Leh.
Also read: Best time to Travel from Srinagar to Leh
So far I have explained this from the point of view of someone traveling from Srinagar to Leh; but the same actually applies the other way around as well; traveling from Leh to Srinagar with the exception of an alternate route. If you went to Leh from Srinagar via Kargil route and returning back to Srinagar again; then you can do your return journey via Batalik. Route in this case will be as below.
Leh – Nimmu – Khaltse – Skurbuchan – Dha – Batalik – Kargil – Drass – Zoji La – Sonamarg – Kangan – Ganderbal – Srinagar
So for your return journey, Itinerary can be as mentioned below.
Leh to Batalik – Day 1
Batalik to Drass / Sonamarg – Day 2
Drass / Sonamarg to Srinagar – Day 3
Please note that for visiting Batalik, you need to obtain Inner line permit from DM office Leh, the same permit that you need to Nubra Valley and Pangong as well. So you cannot really go to Leh via Batalik but can return to Srinagar this way. On Day 1, reach Batalik from Leh and stay there for the night. Since you would already have stayed at Kargil while going to Leh; you should consider spending the night at either Drass or Sonamarg on Day 2; from where you will return to Srinagar on Day 3.
Also read: When is the Best time to Visit Ladakh
Srinagar to Leh Travel Time By Road
In the end, I would like to summarize this by saying that a one day journey on Srinagar to Leh road is not at all recommended. You should give it a minimum of two days but if you have more time; you can spend three days as well allowing yourself more time to explore the beautiful Kashmir valley.
I hope this information on Srinagar to Leh travel time was helpful. If you have any further questions, please feel free to ask in the comments section below; or at our Community Forum and I will be glad to answer.