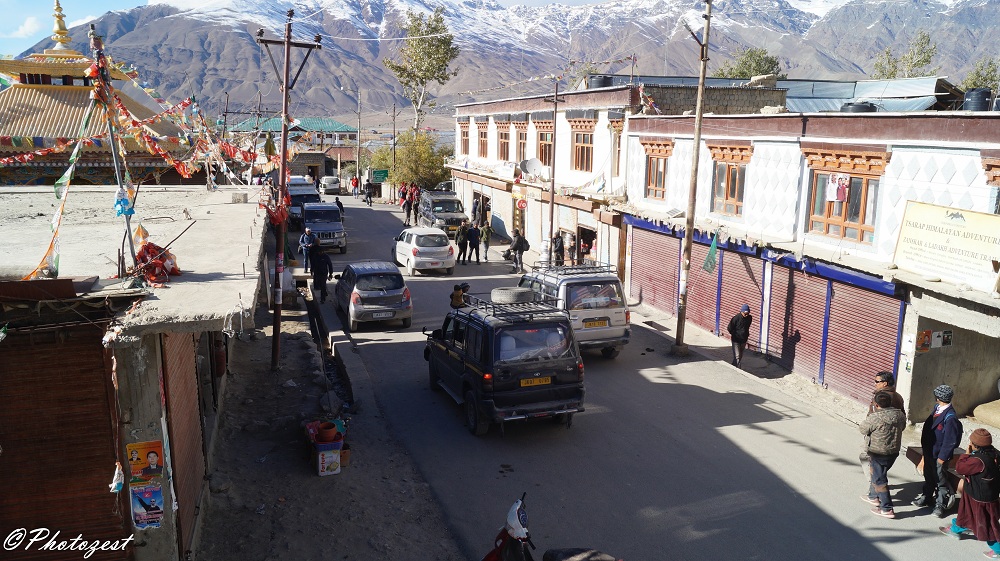 Padum usually gets considered only as a stopover during the Zanskar trip. People only think of it as that last place in the valley that can be reached by road. It is usually the drive from Kargil to Padum that people look forward to and Padum as the end of that drive.
But is that all there is to Padum really? Most of the Zanskar itineraries I have seen would have a person arrive at Padum from Kargil and be on their way back the very next day. Very few people tend to spend time here because most are either rushing towards Ladakh or are returning from Leh and now rushing home.
I would however highly recommend that you keep at least one day for sightseeing in Padum. There are several here that are definitely worth a visit which I will be talking about in this post.
About Padum
The town of Padum is named after Padmasambhava who was an 8th-century Buddhist master.  It is the only town and administrative center in Zanskar. Historically it was one of the two main capitals of the Zanskar Kingdom, the other being Zangla.
People often confused Padum, and the entire Zanskar for that matter, to be a part of Ladakh which it actually is not. Zanskar is in fact a subdistrict or tehsil of the Kargil district and not Leh.
Padum is located at the center of the tri-armed Zanskar valley, at an altitude of 3,657 meters (11,998 feet).  The town is mostly inhabited by people of Tibetan descent but there is also a sizable Muslim minority living here. The nearby Suru Valley on the other hand is completely a Muslim majority region.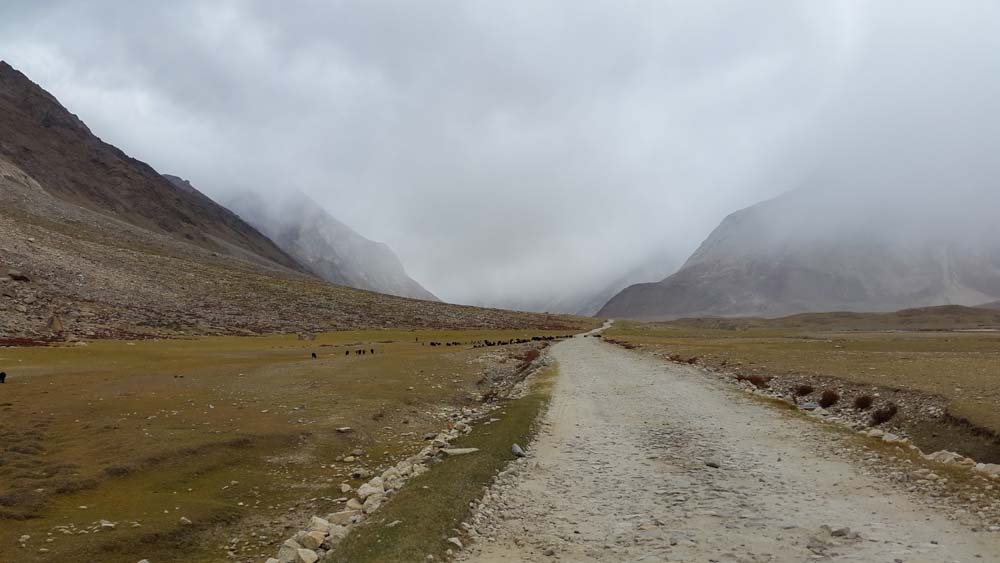 How to reach Padum
Padum can only be reached by road from Kargil by a 230 kilometers link road from Kargil. The road is open for about 6 months a year. You can either drive on your own or use public transport. As of now, this is the only road connecting Padum and Zanskar Valley to the rest of the country.
Currently, there are two more roads under construction. One will connect Padum to Darcha or Keylong in Lahaul Valley across the Shinku La Pass. It is known as Darcha Padum road. The road has been carved out in the mountain but can only be driven across by a 4X4 vehicle right now.
Work on the third road from Padum to Nimmu is also under work that will keep Padum connected to Leh for all 12 months.
By Car / Motorcycle
From Kargil, the condition of the road is good until Sankoom, for about 40 kilometers. After that, the condition of the road starts to deteriorate and it eventually turns into a dirt road. Tar remains missing until you get closer to Padum. Because of the condition of the road, the journey from Kargil to Padum can take an entire day, even though the distance is not that great.
With that being said, it is also not terrible to drive on. You will be able to maintain a modest enough speed. The road passes through Suru Valley and enters Zanskar after crossing Pensi La Pass. On the way, there are plenty of sightseeing spots that will keep you interested all the way.
I have explained this journey in detail in a different post Kargil to Padum Travel Guide that I will urge you to read if you are planning to drive to Padum.
By Bus
There is a bus service by J&K SRTC to Padum from Leh and Kargil. This bus will stop at several places for sightseeing and is a good budget option to travel.
The only catch is that the frequency of the bus service from Leh is just once a week. There is a daily bus from Kargil but it only travels as far as Sankoo. After Sankoo, there is no other bus and you will have to either rent a private taxi or find a shared one.
For more details on this topic, please take a look at Public Transport Services in Zanskar Valley.
By Taxi
If you are planning to hire a taxi, please keep in mind that the taxi you hired from either Srinagar or Leh will not be allowed to travel to Zanskar valley. For this, you must hire a local cab from Kargil itself. The same logic applies to renting a bike as well. For the taxi rates, please take a look at Zanskar Valley Taxi Rates – Updated Rate List.
Shared taxis are possibly the most frequent mode of travel in the valley. Because the bus frequency is not that high, even the locals move from one place to another using shared cabs. You can find those on daily basis from all villages on the way.
By Flight
The nearest airport is in Srinagar, at a distance of 430 kilometers. From Srinagar, you will have to reach Kargil by road and travel to Padum from there.
By Train
The nearest railway stations are in Jammu or Udhampur. From both these places, you will first have to get to Srinagar by road, then travel from Srinagar to Kargil and finally arrive in Padum.
From Lahaul Valley
The Jispa to Padum road that runs across the Shinku La pass has been carved out but is difficult to drive on. For the most part, it is a narrow and very steep dirt trail. If you are planning to drive to Padum from Jispa or Darcha, you really need to have a 4×4 SUV with high ground clearance.
The work on this road has been underway for a few years now. The way things are, it will be another couple of years before it gets completed and the road becomes accessible for all kinds of vehicles. There is currently no public transport available on this route.
From Nimmu
The direct road from Leh to Padum via Nimmu has also been an ongoing project for several years now. The road is still not complete and will be a few years before it is. As of now, you cannot travel from Nimmu to Padum.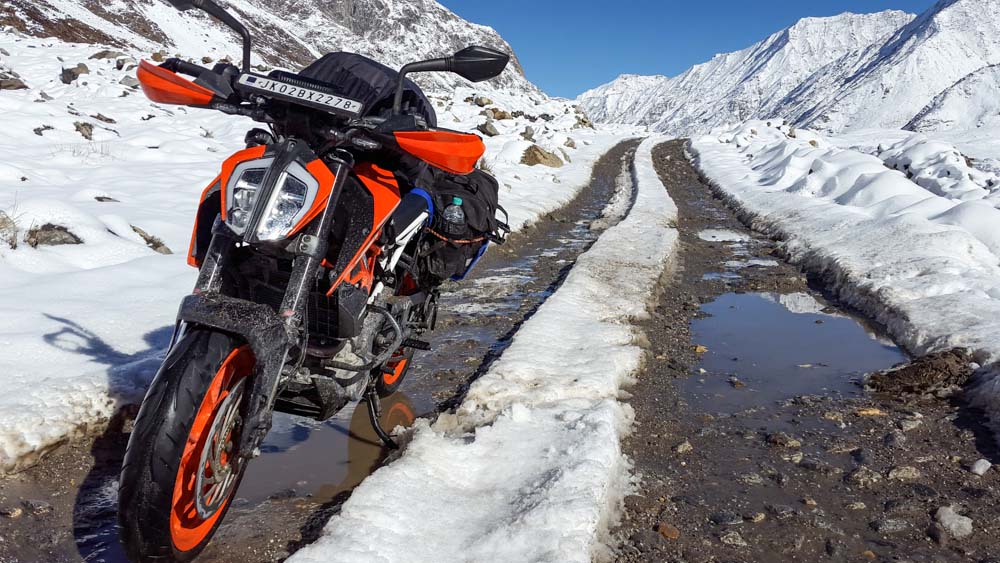 Best Time to visit Padum
The best time to visit Padum is the months of June and September. The road from Kargil to Padum is only open between May to September. So a trip would have to be planned in this limited time only.
BRO finishes snow clearing operation on Srinagar Leh Highway someone in April. After that, Kargil to Padum road also gets declared open by early to Mid May. This however entirely depends on the weather conditions.
The valley continues to receive snow in May as well. So there is always a high chance that the road may get blocked again or the opening can get delayed. Hence, a safer time to plan a visit will be after June only.
If you wanted to see snow en route, traveling early in June or late in September will be a good time. Other than that, you can travel to Padum in July, August, or September as well. The weather at this time is pleasant and all hotels in the valley remain functional.
In July and August, the monsoon hits the Kashmir valley and sometimes things can get extreme. It is strongly advised that you call ahead and inquire about the weather conditions before planning your trip. For more details on this topic please take a look at When is the Best time to visit Zanskar Valley.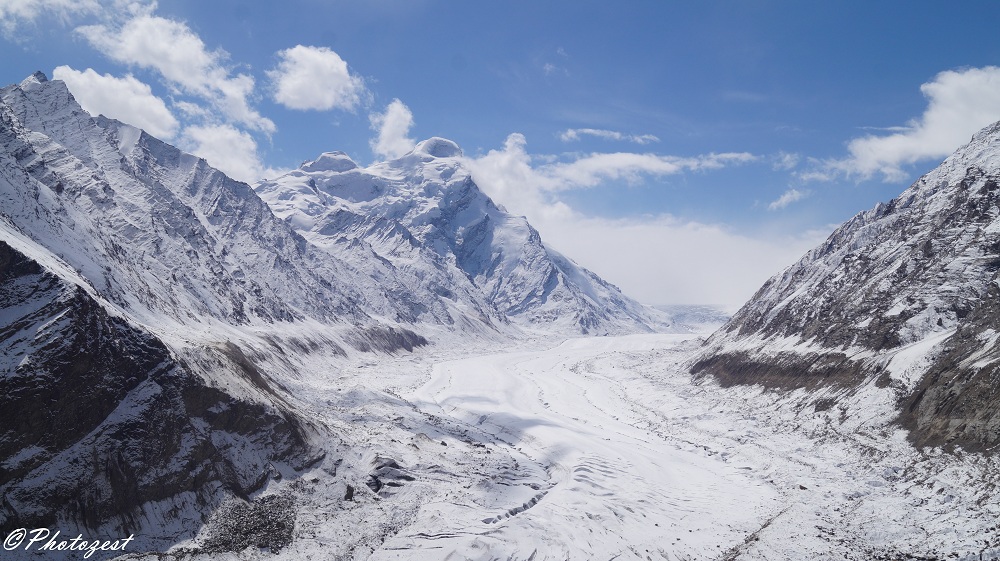 Places to visit in Padum
Now that you have arrived in Padum, let us briefly talk about local sightseeing in the town and areas nearby. Below is a list of places that you can visit while staying in Padum. Some of these are with the town itself while others are at a small distance and may require a bit of a drive or walking.
I will first list down the places, and then provide a little information about all of them.
Dzongkhul Monastery
Sani Monastery
Sani Lake
Zangla Palace
Bardan Monastery
Karsha Village & Monastery
Pibiting Monastery
Stongdey Monastery
Let me also provide a brief summary of what these places are and how you can reach them here.
Dzongkhul Monastery
Located near the village of Ating in Stod Valley, this monastery is famous for murals believed to be painted more than 300 years ago. It also offers mesmerizing views of the valley leading to Umasi La Pass.
The foundation of the monastery is attributed to Naropa, a celebrated Indian Buddhist yogi, mystic, and monk. Even today, His footprint can be seen in the rock near the entrance to the lower cave. Impressions of Naropa's ceremonial dagger and staff are also said to be in the rocks in his meditation cave.
The total distance between Padum and Dzongkhul is 37 kilometers which will take you about 2 to 3 hours to complete due to the bad conditions of the roads.
To get to the monastery, you will first drive back on Kargil road 17 kilometers to Tungri. After the bridge, a road will bifurcate to your left, driving on which you will reach the village after about 20 kilometers.
Sani Monastery
Considered to be the oldest religious site in the whole region of Ladakh and Zanskar, this monastery is located at a distance of 6 kilometers from Padum in the village of Sani.
Said to be founded by the famous Kushan emperor, Kanishka, it belongs to the Drukpa Kargyu school of Tibetan Buddhism. It is the only monastery of this order in Zanskar that has nuns.
Sani Lake
There is also a small lake in the village of Sani near the monastery. It is a great spot to sit down and relax for a while. With the mighty Himalayas in the backdrop, the lake also offers great photography opportunities.
Also Read: Road Trip to Zanskar Valley – An Adventurous Ride
Zangla Palace
A 35-kilometer drive from Padum will bring you to the village of Zangla. It used to be the second capital of the kingdom of Zanskar in ancient times. The road is mostly good till Zangla and the vistas also are stunning.
The three-story palace of Zangla is mostly in ruins now and sits on a crag surveying Zangla village and the valley. It is a good spot to catch sunrise or sunset views if you stayed for a night at Zangla Village.
Since there isn't much tourist movement here, the fort mostly remains locked and its keys remain with the headmen of the village. Who is the headman? He is the current king of Zangla. No, I am not kidding. He is the direct descendant of the rulers of this region. Below is a picture of him.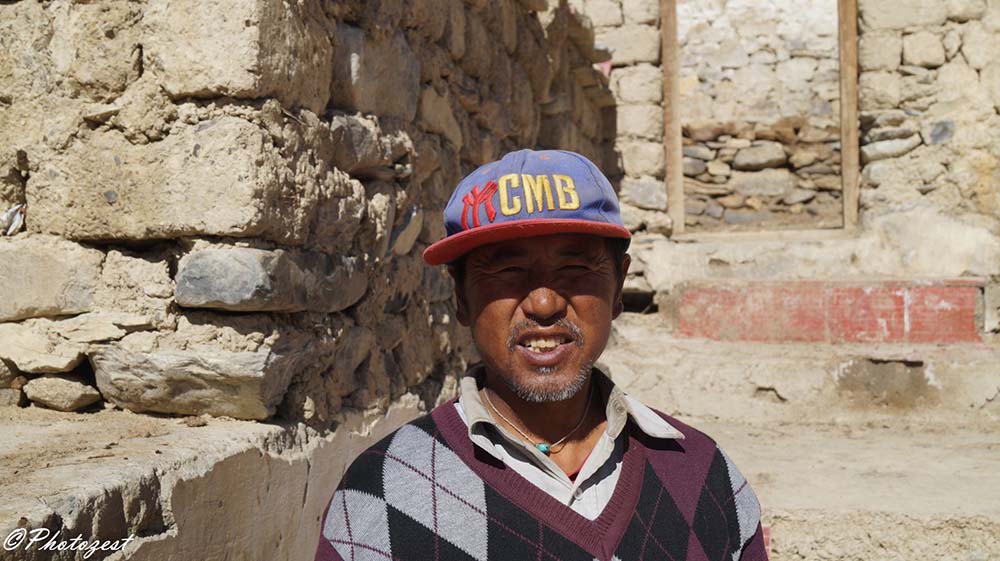 Don't forget to take the keys before you climb up the stairs to the fort. There is also a popular tourist spot on the way where the Zanskar river takes a complete U-Turn.
Bardan Monastery
Located approximately 12 kilometers from Padum towards Reru, it is a 17th-century monastery. The location of this monastery is quite scenic, on a huge rock right next to the river.
The monastery consists of a large Dukhang or assembly hall which has some grand statues of Buddhist figures and several small stupas in clay, bronze, wood, and copper.
Also Read: Cost of Zanskar Valley Trip – Plan your Budget for Zanskar
Karsha Village & Monastery
Karsha is the largest and the most important monastery in Zanskar. It is directly under the control of the younger brother of the Dalai Lama. There are ancient rock carvings at the site and several wall paintings from 958-1055 AD.
It also houses the relics of Dorje Rinchen. 100 monks reside in this monastery. The popular festival held in the monastery precincts is called the Gustor festival, celebrated between the 26th and 29th day of the sixth month of the Tibetan calendar. Events such as the sacred masked cham dance take place during the festival.
Rafting facilities in the Zanskar River are available in the village at the base of the monastery.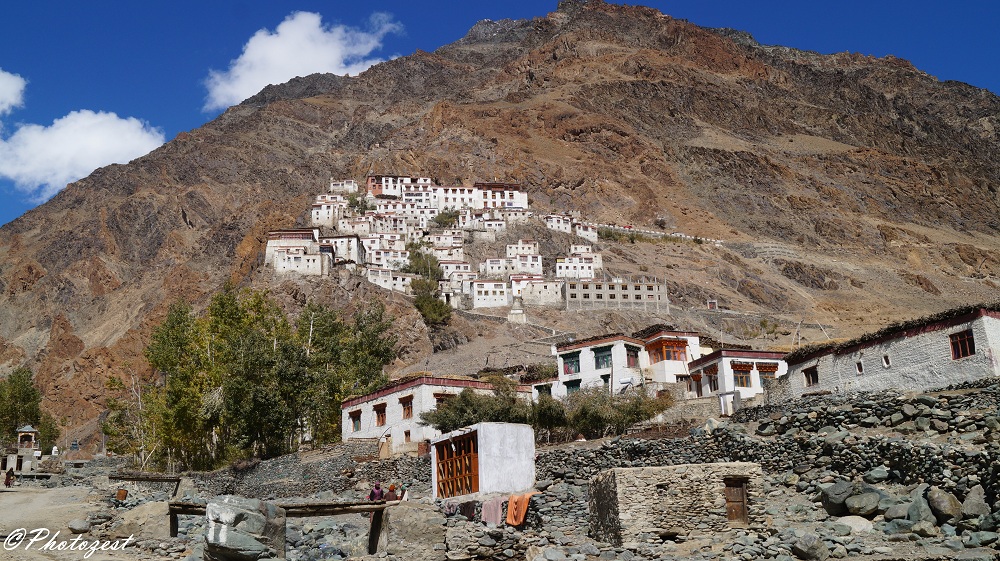 Pibiting Monastery
This is another ancient monastery located near the village of Pibiting, on the road towards Hanumil. The confluence of Zanskar and Lungnak rivers at Pibiting too is a beautiful sight.
Stongdey Monastery
Also known as Stongde, Stongday, Tonday or Thonde, this monastery is located approximately 18 kilometers from Padum on the road to Zangla.
It is believed to be founded in 1052 AD and is the second-largest monastery in Zanskar. The monastery also provides accommodation for tourists in case you would like to stay here for the night. It is located at a stunning spot proving a 180 degrees view of the entire valley around.
Phuktal Monastery
Also known as the cave gompa, this monastery is an almost 4 to 5 hours walk from the village of Anmu. It is a 14th-century monastery famous for 700-year-old mural fragments in the Alchi style.
The view of the surrounding valley from this monastery though is its greatest appeal. This monastery also offers rooms for tourists. So you can plan to trek here, stay for the night and return to Padum the next day. For more details, please take a look at How to Plan a Trek to Phugtal Monastery.
All of the above-mentioned places. can be covered in a couple of days of stay unless you plan to trek to Phugtal Monastery. That will take another couple of days more.
Even if the idea of visiting a monastery did not interest you, it is the drive to all these places that definitely will take your breath away. You will explore through the beautiful Zanskar valley and see all that there is to see. The locations of some of these monasteries are quite stunning location.
Sightseeing on Kargil to Padum Route
The list that I mentioned above is of places that are located in and around Padum only. It does not include places that you will cross while traveling from Kargil. For those, I will recommend that you take a look at Kargil to Padum Travel Guide.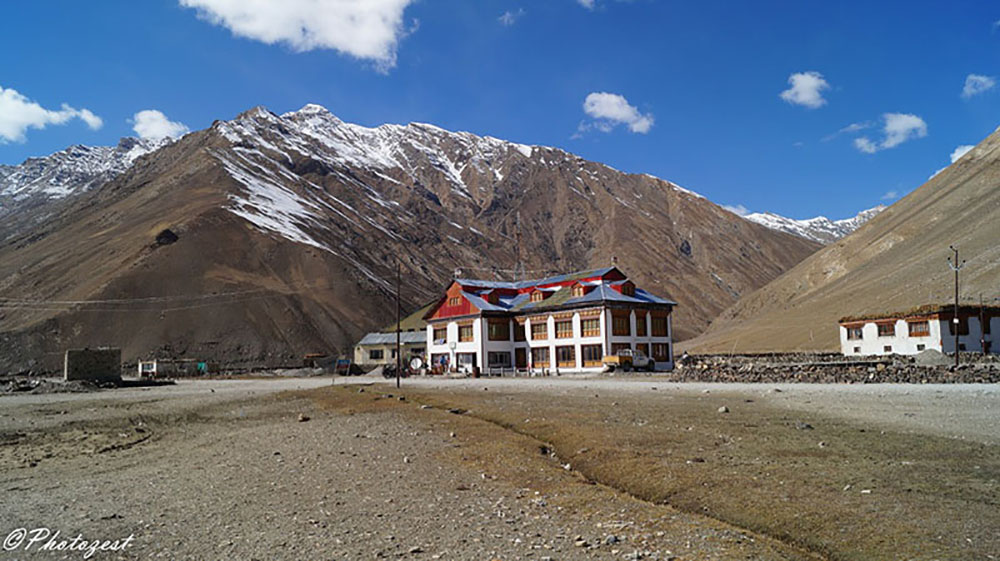 Hotels in Padum Zanskar
Padum is the largest town in Zanskar Valley. As such, there are several hotels and guest houses here that you can stay at. Hotel Geyskit in the main market is my favorite place to stay but you can look at others as well. I have covered this topic in great detail in another article Accommodation in Zanskar Valley that you can read through.
Other forms of accommodation like camping and paying guests can also be managed but I will not recommend that for Padum. Out here, it is best to stay at a hotel or guesthouse only.
If you would like to camp, in my opinion, Suru Valley is the best place to do so. If you would like to stay as a paying guest and get a taste of the local life, then you should try that in the neighboring villages.
Karsha Monastery is the best place to stay if you want to stay at a monastery and experience the lives of the monks.
Medical Assistance in Padum
In case of a medical emergency, the only hospital in the region is Community Health Center in Padum. The hospital surprisingly is well equipped considering the location.
Also Read: Zanskar Valley Road Map
Mobile Connectivity
Only BSNL / MTNL postpaid phones will have connectivity in Padum. The rest of the networks will not work at all. There is also a phone booth in Padum from where you can make STD / ISD calls.
Banking Facilities in Padum
J&K bank branch has a branch in Padum but it does not have an ATM. For a trip to Zanskar, the best thing to do is to withdraw enough cash from Kargil that can last for the entire trip. Cards are also not accepted and all your transactions would have to be in cash only.
What & Where to Eat
Kambhir is a local Zanskari Roti made out of wheat and eaten for breakfast. While you are here, it is one of the dishes that I will recommend trying. It is mostly served with some Jam and Butter. Ask your hotel owner about it and they will gladly serve.
Since the people living here are of Tibetan descent, it is a great place to try some good Tibetan food. North-Indian dishes are available at all hotels and restaurants as well.
Geyskit Hotel in Padum is a good place to eat. It has a restaurant manned by friendly and efficient staff and was the preferred place for hanging around for a lot of locals, foreign tourists, trek guides, and school children alike.
Also Read: Zanskar Valley by Bus & Shared Taxi – How to Plan a Trip
Shopping in Padum
There aren't a lot of shopping choices. It is just a small town but you can try buying some local handicraft items. Other than that, there isn't much to shop in Padum. For that, you should try the local market in either Kargil or Srinagar.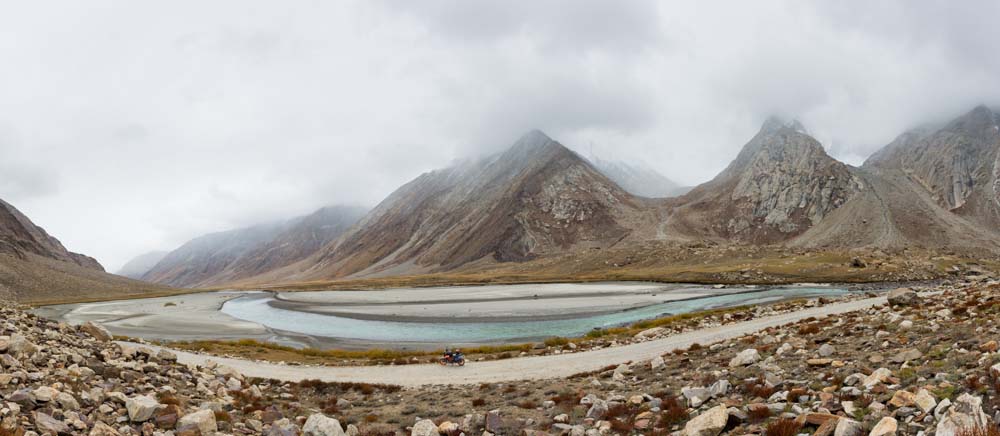 Conclusion
Even if it wasn't for a particular place, the entire town of Padum is very scenically located with all basic amenities available. There are few comfortable and guest houses here where you can stay for a couple of days.
It will give you a nice break in the journey that you were on while exploring the beautiful vistas of Zanskar. You can visit the beautiful ancient monasteries, take a walk across the village or just relax at the hotel. No matter how you spend it, staying for a day in Padum definitely comes recommended.
I hope the information above on traveling to Padum in Zanskar Valley was of help. If you have any questions or need any further details, please feel free to ask in the comments section below or at our Community Forum, and I will be happy to answer.