Nubra Valley to Pangong Tso via Wari La is a route that does not get many visitors. Even among people who have been to Ladakh more than once, very few would have had driven on this road. It is one of the lesser-explored areas of Ladakh and definitely a very adventurous one. In this post, I will provide details on how you can travel from Nubra Valley to Pangong Tso via the Wari La route, without having to go back to Leh.
Please note that in this post, I will only discuss the Wari La road. If you need to know more about visiting Ladakh, I will recommend taking a look at How to Plan a Trip to Leh Ladakh – A Complete Travel Guide. In this post, I have covered pretty much everything that you need to know before going to Ladakh.
Nubra Valley to Pangong Tso via Wari La
Wari La is a high-altitude pass in the Ladakh region, situated at an altitude of 17,400 feet. It is one of those lesser-known passes that has nowadays started to get some attention. It is one of the two direct roads that you can take to travel from Nubra Valley to Pangong Tso Lake or vice versa.
Earlier, people used to return to Leh from Nubra and reach Pangong the next day. However, these days almost everyone wants to head straight to Pangong from Nubra and save 1 day on their itineraries.
How tough is Wari La though? When does the pass open? What kind of vehicle should be used to cross Wari La, and can it be done on motorcycles? What are some of the precautions you should take while attempting Wari La? Hopefully, by the end of this article, you will have an answer to all these questions.
Also Read: How to Plan a Trip from Leh to Pangong Lake
Wari La Pass
One thing about Wari La that you should know is that it is not your usual high altitude pass that you would have covered so far in your trip to Ladakh. The name of the pass, if I spell it as 'Worry La', aptly describes its climb and difficulty.
This pass is different and way more difficult. The last 20 km of the ascent is so steep that it will have you pop open the bonnet of even a 4×4 vehicle; allowing it to cool down once you reach the top. To add to this, there are several water crossings involved and the road is considerably bad. At the end of the climb, your vehicle would whimper and you would sweat, no matter how cold it is.
The climb is even tougher when you do it from Nubra valley's side. You would rarely find anyone traveling on this road and for most of the journey, you would be all by yourself. There is no village where you can even get something to eat after Khalsar until Sakti, after crossing Wari La.
If your vehicle breaks down, you would definitely be in trouble so take a very calculative risk. Below is a map of the route you would be taking to cross Wari La. Click on the image below to view in full size or right-click and save it to your hard disk.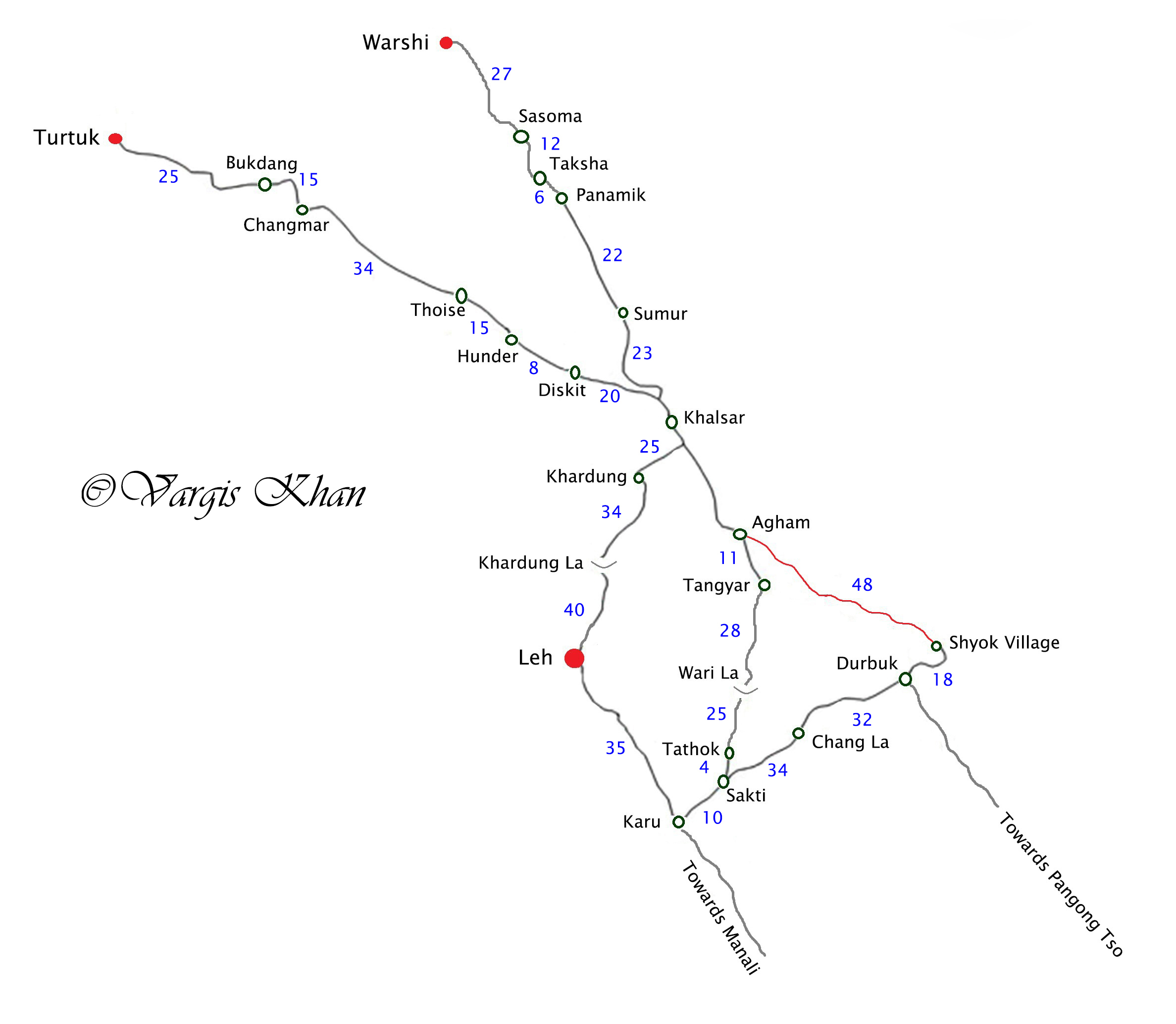 Wari La Route
Now let us talk about how you can travel on this route. For this part, I am assuming that you are already in Nubra Valley and are now planning to travel to Pangong Lake. Depending on where you stayed in Nubra Valley, you will have to travel back on the Khardung La road and arrive in the village of Khalsar.
After crossing Khalsar village, you need to take the road towards Agham Village. Do not take the upper route going towards Khardung La. That will take you back to Leh City. Below is a picture of the road towards Agham.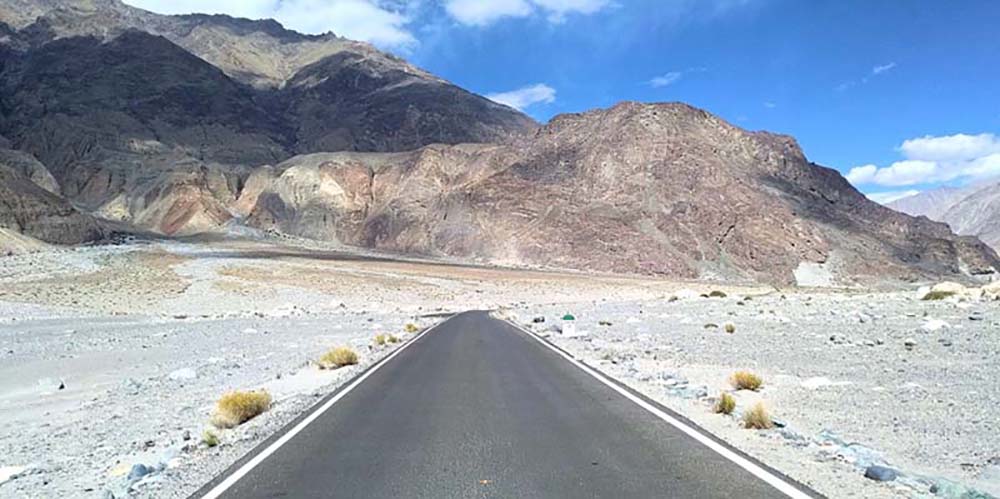 Once you reach Agham, you will be at a bifurcation where the road left would take you to Shyok village. The road towards your right is the one you need to take to reach Wari La. Below are a couple of pictures of the diversion. These were taken from inside the car so I am sorry about the clarity.
Take the road to your right and a little while later, you will be driving uphill towards Wari La pass. For the initial part, the climb will be easy to moderate. But it is the last 20 kilometers that get challenging. On the way, there is the small village of Tangyar. Do not be surprised though if you did not notice it at all and just drove by.
Also Read: Which is the Best Bike for Leh Ladakh Road Trip
Sakti & Pangong Road
Once you were at the top, take a break, relax and allow your vehicle to cool down. You will then start driving down and will cross another small village called Tathok on the way. On the other end of the pass, you will exit just after Sakti Village, on Pangong Road.
After Sakti, the climb of Chang La Pass will begin and after that, it is a straight run for the beautiful blue lake of Pangong.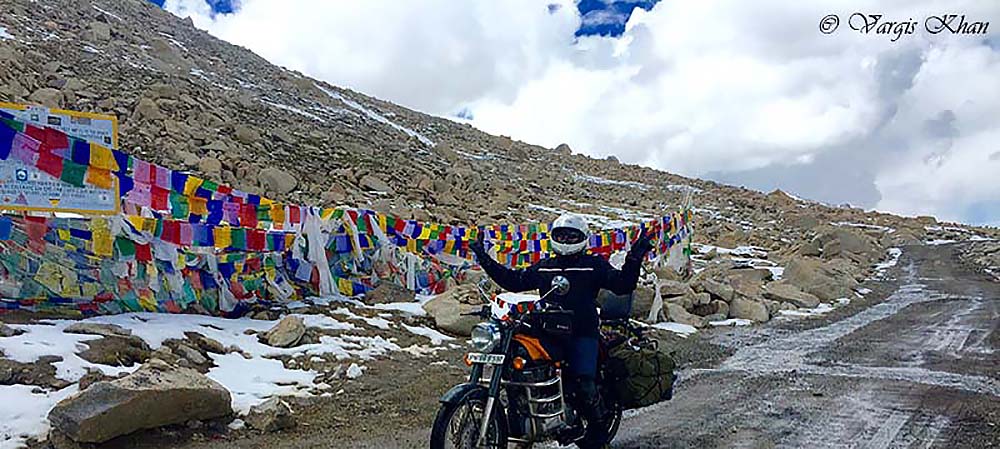 Distance & Time
The thing about the Wari La route is that it will take you almost the same time that it would have taken if you went back to Leh instead. As a matter of fact, it may in fact take you longer due to the tough climb. The difference in the distance is also negligible.
So why would you want to take this road? The answer is that you would have already traveled on Khardung La road while traveling to Nubra Valley from Leh. So rather than making the return journey on the same road again, you can add a different route to your travel plans and explore more of Ladakh.
Of course, it will also mean that you also crossed one of the difficult high-altitude passes of Ladakh and added another feather to your hat. Please ensure that you take an early start from Nubra Valley though. This journey will definitely take you all day to complete.
Other Tips
Your biggest worry when it comes to Wari La is the steep ascent. You would have crossed several passes so far in your Ladakh trip so make your best judgment.
If your vehicle struggled at any of the previous passes, then you need to give up the idea of attempting Wari La. If you are traveling in a hatchback or a sedan then do not even think about taking this route. For Wari La, if you have a 4×4 vehicle then nothing like it but for a 2×4 drive, you really need an SUV with high ground clearance. Even that would struggle at several places.
You also need to be confident in your driving skills. If some of the roads you encountered so far made your face turn white, you are better off not crossing Wari La at all. If you have a front-wheel-drive SUV, chances are that it would definitely huff and puff to climb up all the way.
For motorcycles, you really need an Enfield 350 or 500 CC for this road. At least I haven't seen any other bike on this road. I came across a couple of guys on FZ and Pulsar 220 going back to Agham because after a certain point their motorcycles just refused to climb any further.
Read Wari La Pass – An Unforgettable Ladakh Experience to read the first-hand experience of someone who crossed the Pass on a newly bought 500CC Enfield.
Even with a Royal Enfield, travel solo and travel light. Do not carry a pillion leave your extra luggage back at the hotel at Leh if you can. If you are on a rented bike, the rule is plain and simple, Do not go towards Wari La.
When is Wari La Open?
The next question is, when does Wari La open? It is one of the passes that receive snow almost the entire year due to which it opens very late and closes pretty soon. It usually is declared open towards mid or end of June and remains so until late September or early October.
If you are traveling before June or after September, please find out in advance either in Leh or Nubra whether the pass is open or not. If it is closed or you are unable to get confirmed news, it would be better to skip Wari La and take the Agham Shyok road; which is also much better and shorter. Read How to reach Pangong Tso from Nubra Valley via Shyok Road for more details.
Permits for Wari La
Do you need a permit specifically for Wari La? The answer is No. You do not need any additional permission and your regular ILP will do for this route as well. All that you need is a solid vehicle, good driving or riding skills, nerves of steel, and an Inner Line permit for Nubra and Pangong both.
Nubra Valley to Pangong Tso via Wari La – Conclusion
I hope the information above on traveling from Nubra Valley to Pangong Tso via Wari La Pass was of help. If you have any questions or need any other details, please feel free to ask in the comments section below or at our Community Forum, and I will be glad to answer.