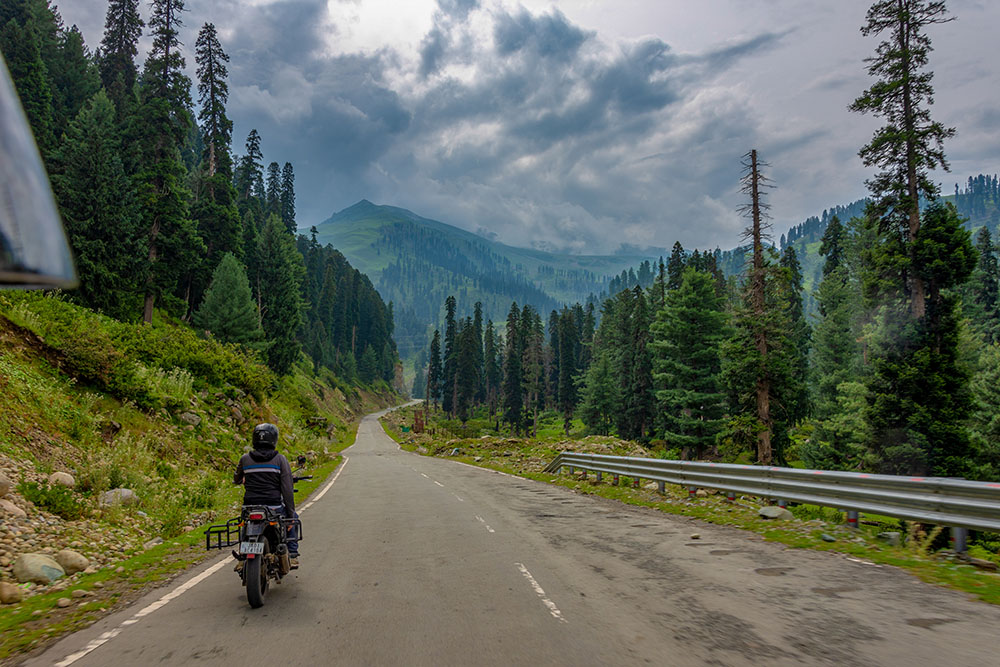 Not many people would know about the Mughal Road. Srinagar Jammu National Highway, also known as NH44, is often considered to be the only road connecting the cities of Jammu and Srinagar. It is true that it is indeed a better maintained, wider, more traveled upon, and shorter way to travel between the two places but it is definitely not the only one.
There actually exists another route that is far more scenic, less crowded, takes you through some internal parts of Kashmir, and has existed for far longer than the regular NH44 highway. Yes, I am talking about the historical Mughal road.
It is my preferred way to reach Kashmir and definitely a route that is worth experiencing. How you can plan your journey on the Mughal road is what I will be providing details on in this article.
For all other details on Kashmir like mobile connectivity, public transport, taxi services, and several other tips, please take a look at How to Plan a Trip to Kashmir – A Complete Travel Guide.
For getting the best hotel rates, and taxi charges, and to organize your trip to Kashmir, you can speak with Kunal @ 9910 402 252. Give him my reference and you will surely get a discounted rate.
Mughal Road
For a brief overview, Mughal Road is the road between Bafliaz, a town in the Poonch district, and Shopian. The road is about 97 kilometers long and passes over the Pir Panjal Mountain range, at an altitude of 3,500 meters (11,500 ft).
It makes for an alternative road route to Kashmir valley, other than the overcrowded Jammu-Srinagar NH 44 through Jawahar Tunnel. The road passes through Akhnoor, Sunderbani, Naushera, Rajouri, Bafliaz, Peer Ki Gali Pass, and Shopian.
It is the route that was used by Mughal Emperor Akbar to conquer Kashmir. His son, Emperor Jahangir, also died on the Mughal road near Rajouri, while on his way back to Delhi.
For a visual presentation of the road, its condition, and places en route, you can take a look at the video I shot while traveling on the route recently.
Mughal Road Distance
The total length of Mughal Road is 97 kilometers but that is just the distance between Shopian and Bafliaz. The 97 kilometers between the two towns crossing Peer ki Gali is the stretch called Mughal road.
However, the distance between Jammu and Srinagar via this route is far greater, a total of 330 kilometers. From Jammu, you will first reach Bafliaz via Rajouri covering a total of 177 kilometers. You will then enter Mughal Road and travel 97 kilometers to Shopian.
At Shopian, the Mughal road will end and you will travel another 65 kilometers to reach Srinagar. The same journey will follow the other way around if you were traveling from Srinagar to Jammu.
Off-late however, this entire stretch of 330 kilometers has started to get referred to as Mughal Road rather than the actual 97 kilometers long stretch between Shopian and Bafliaz.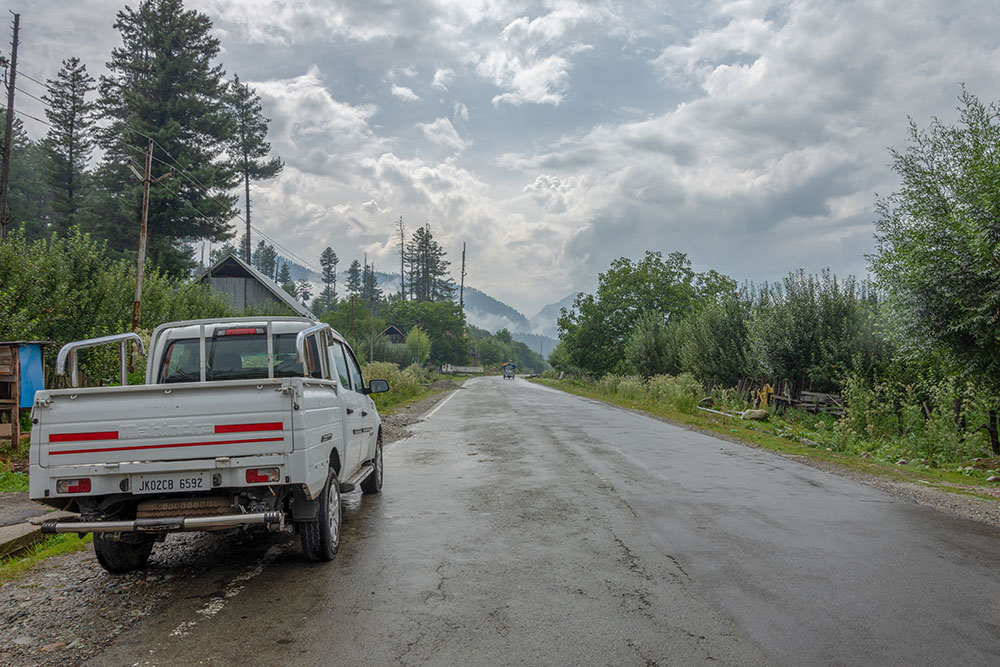 Mughal Road Map
Below is the route map of the Mughal road route. The route highlighted in grey is the usual NH44 passing through Udhampur, Patnitop, and Anantnag. The one highlighted in blue is the Mughal Road route.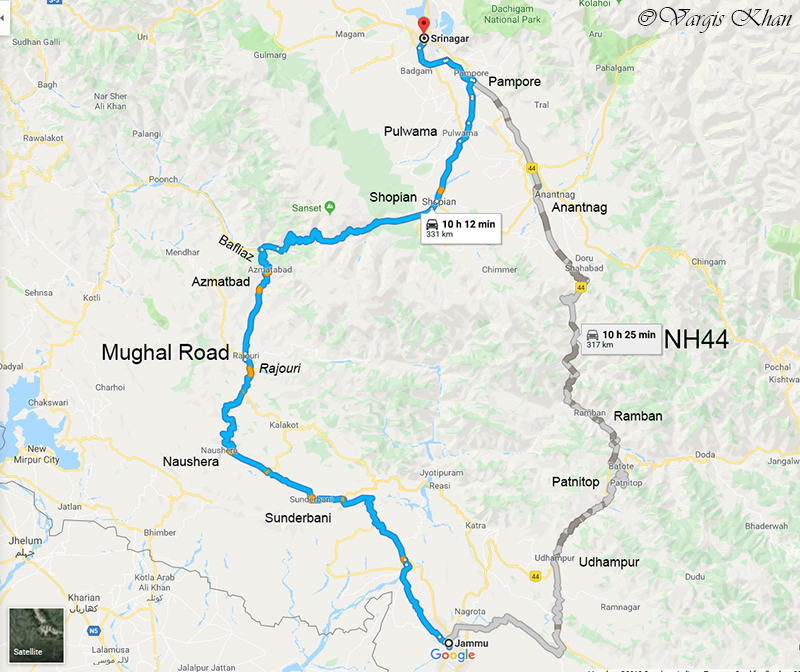 Mughal Road Route
The route from Jammu to Srinagar via Mughal Road will be as below. The same route will be followed the other way around if you were traveling from Srinagar to Jammu.
Jammu – Akhnoor – Sunderbani – Naushera – Rajouri – Thanamandi – Bafliaz – Peer ki Gali – Shopian – Srinagar
Let me talk about this in a little more in detail.
Jammu to Akhnoor – 29 kms
Starting from Jammu, your first destination will be Akhnoor. The total distance is about 30 kilometers only but given that you will have to cross through Jammu City, it can take you some time to reach.
My recommendation is that you start as early as 6 am from Jammu. That way, you can at least avoid the city traffic. There has been some construction work going on on this road so expect to pass through some really bad stretches.
Also Read: Tourist Places to Visit in Srinagar City
Once you are on the outskirts of Jammu, you will take the narrow road towards Akhnoor. You will not have to really enter Akhnoor town though and can bypass it. Just before Akhnoor, the road will bifurcate.
The one to your left will take you into the town and the one on the right will go towards Rajouri. Turn right and Sunderbani will be the next town on the way.
Akhnoor to Sunderbani – 49 kms
Sunderbani is about 50 kilometers from Akhnoor. The road will remain a single lane and a mix of good and bad, mostly average though. Travel time will be slightly over an hour. The journey is nothing remarkable and through a plains area.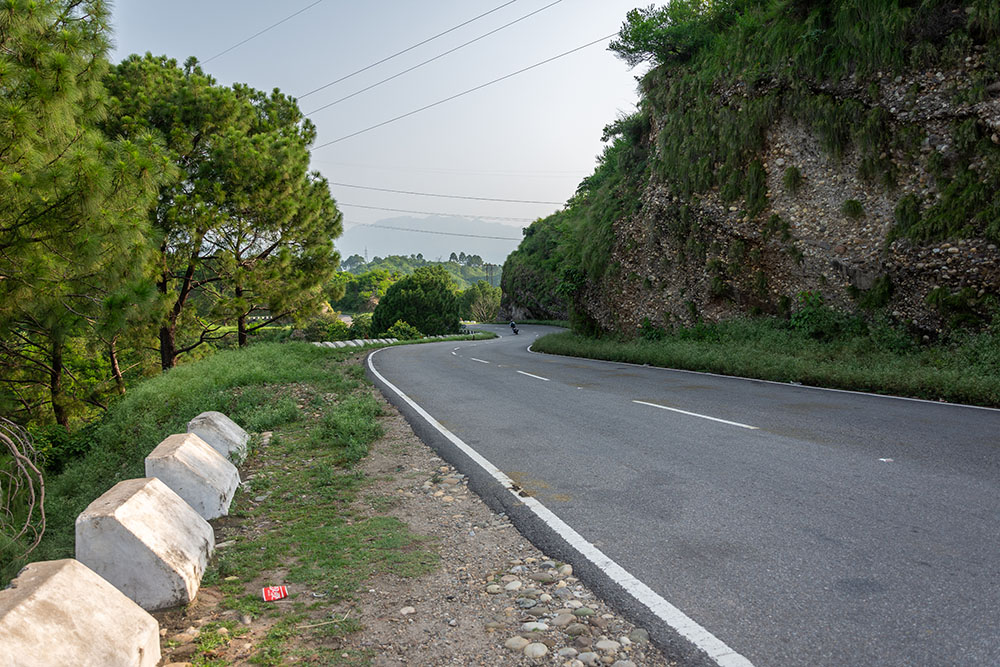 Sunderbani to Naushera – 31 kms
The condition of the road will improve tremendously after Sunderbani and the drive will get more pleasurable. You will also start noticing an increase in military presence. Naushera is about 30 kilometers from Sunderbani.
You will not enter the village though. Just before Naushera, the road will turn right towards Rajouri.
Naushera to Rajouri – 42 kms
The condition of the roads will remain good for the most part till Rajouri. The scenery will also continue to improve.  The distance between both the towns is about 43 kilometers and the travel time will slightly be over an hour.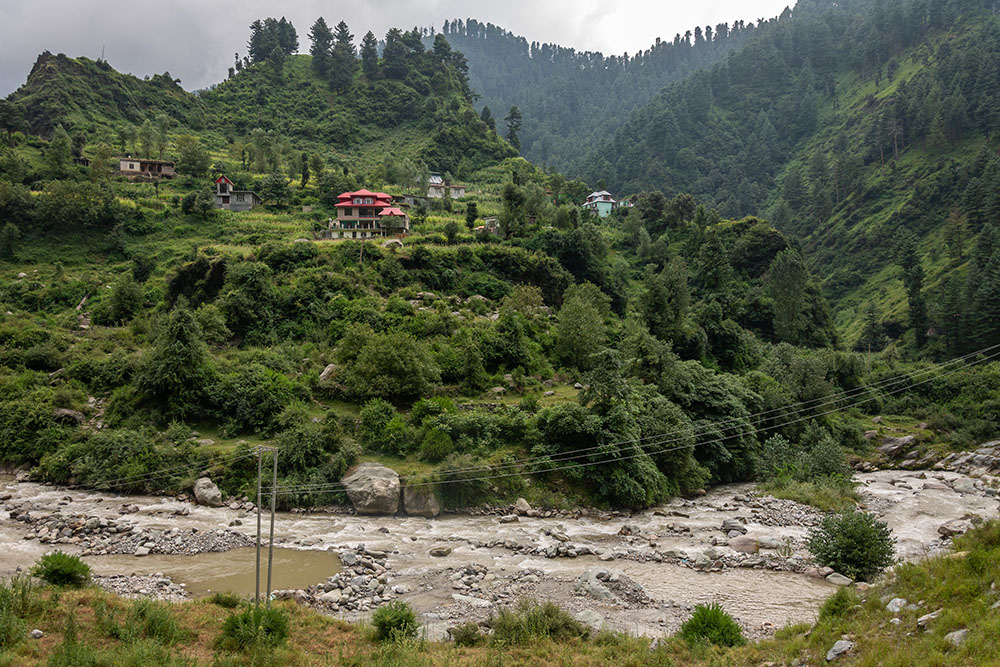 Rajouri to Thanamandi – 22 kms
Now, this is where the drive will turn nightmarish and I really fail to understand this. As you will start getting close to Rajouri, the road will turn from good to bad and then absolutely terrible. You will also notice that Rajouri is a fairly large town and I have no idea why the roads here are so badly broken.
You will crawl through Rajouri, making your way to Thanamandi. For about 30 kilometers around Rajouri, it will be a surprise if you are even able to do 10 kilometers an hour. This is how bad it is. Expect the travel time to be anywhere between 90 minutes to 2 hours for this.
Also Read: Clothes to Pack for a Kashmir Trip
Thanamandi to Bafliaz – 9 kms
You will find Tar on the road near Thanamandi, but it will also get really narrow and steep. Your speed will continue to remain limited because of this. The good part however is that even though narrow, the road is actually good on this stretch.
First, you will drive up on a steep climb and then drive down to Bafliaz Bridge.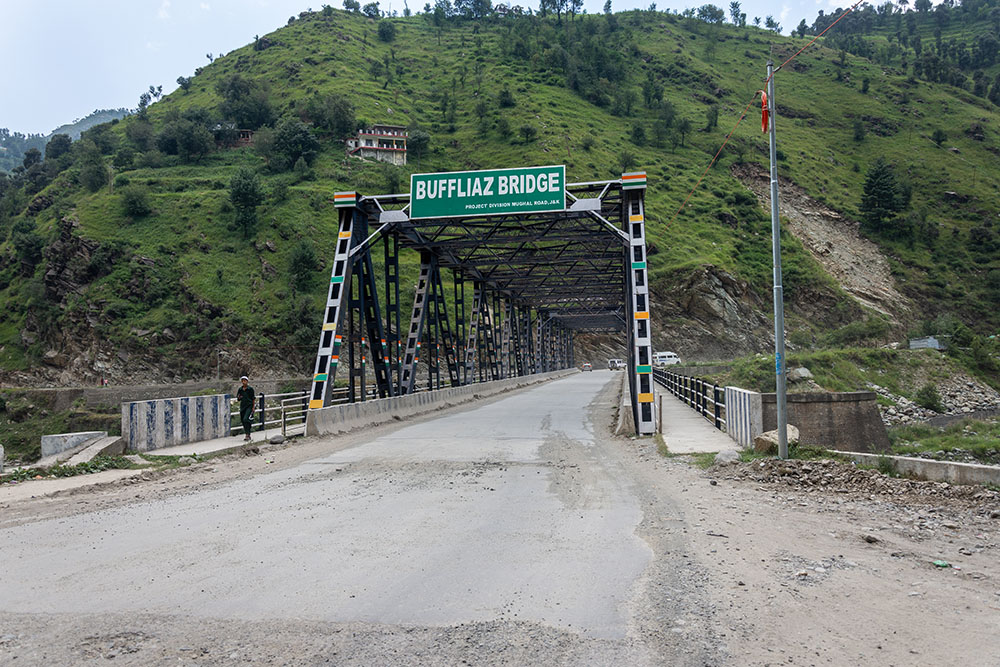 Bafliaz to Peer ki Gali Pass – 57 kms
Bafliaz is where the Mughal road starts. You will cross the bridge and start driving up towards Peer ki Gali. The road condition will remain good and you will enjoy the drive. There are some bad stretches in between and you will also find road construction work going on at several places.
Even in Rajouri, the last time I traveled on this route, construction work was happening on the road. So, in the coming years, you can expect this stretch as well to be tarred.
Peer ki Gali, also spelled as Pir Ki Gali, is the highest point on Mughal Road. It is a Pass at an elevation of 3,485m (11,433 ft). It is named so after a local saint, Pir Baba Sheikh Karim, and 'Gali' meaning 'pass'.  To know more, please read Peer ki Gali – The Heart of Mughal Road.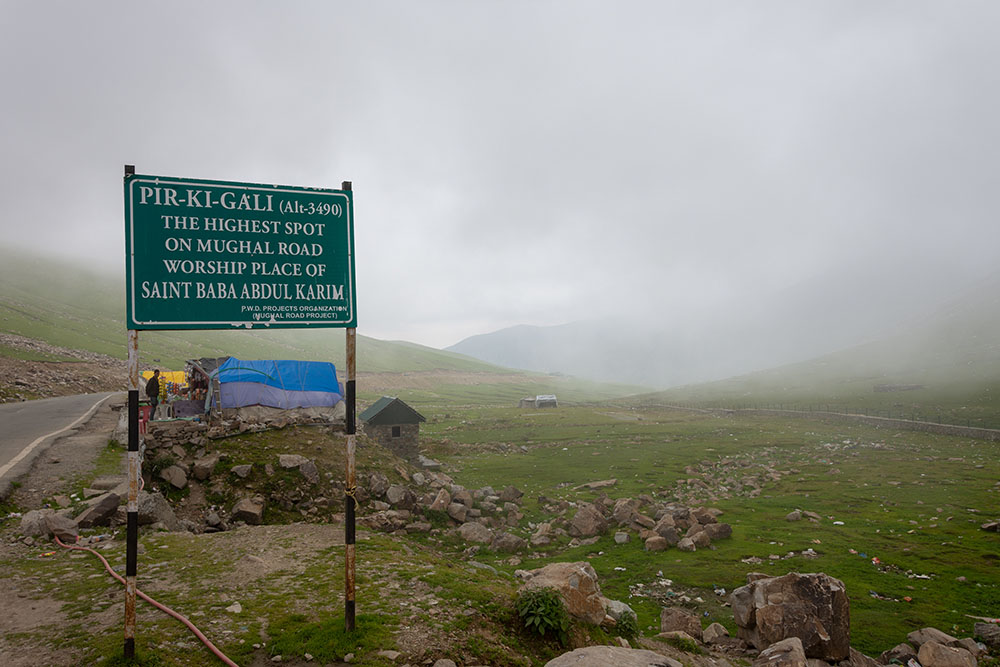 Peer ki Gali to Shopian – 40 kms
Spend some time at the top of the pass and enjoy the beautiful scenery.  There is a shrine at the top of the pass where they serve some amazing Kahwa as 'prasad'.
I am not sure if it is even Kahwa because it tastes very different than the Kahwa that you will taste elsewhere in Kashmir. Nonetheless, it tastes delicious and definitely worth having a cup of.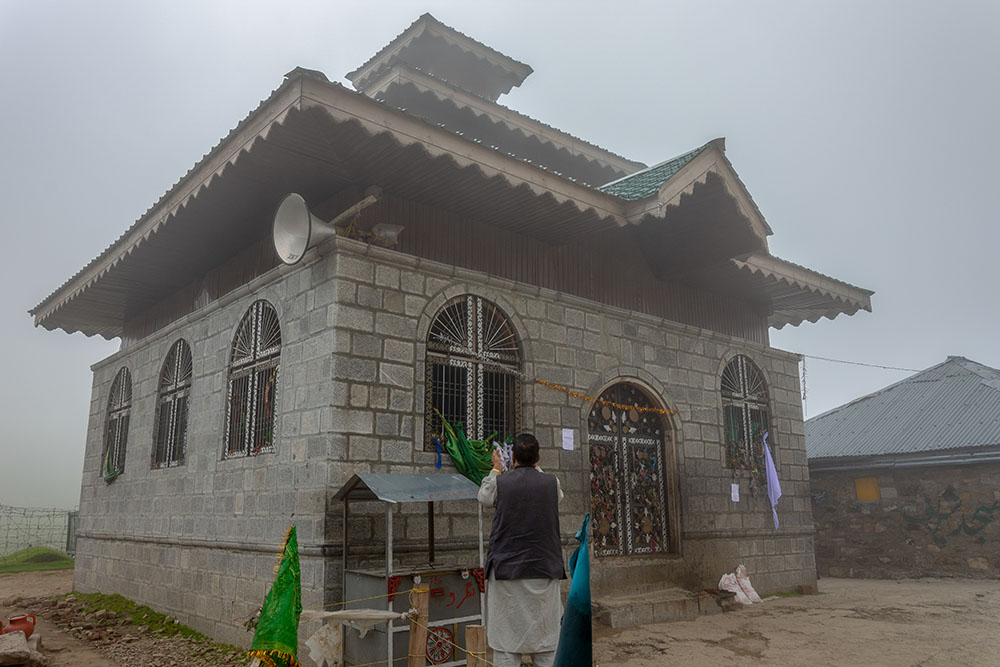 After Peer ki Gali, you will start driving down to Shopian. There is a waterfall in between which is another good spot to click some pictures. The condition of the road will remain good all the way to Shopian.
Shopian to Srinagar – 56 kms
Shopian is famous for its apples. In fact, the entire town is known as Apple Town. You will be greeted with an endless series of Apple Orchards. This is also where the Mughal road ends.
Just before Shopian, the road to Aharbal waterfall bifurcates to your right. So if you made it to Shopian in time, by around 2 or 3 pm, you can also cover Aharbal on the way. To know more, please read How to Plan a Trip to Aharbal Waterfall.
The same spot where the road bifurcates to Aharbal is also a good place to see an amazing sunset. If you reach Shopian in the evening, take a break here and capture the beautiful view.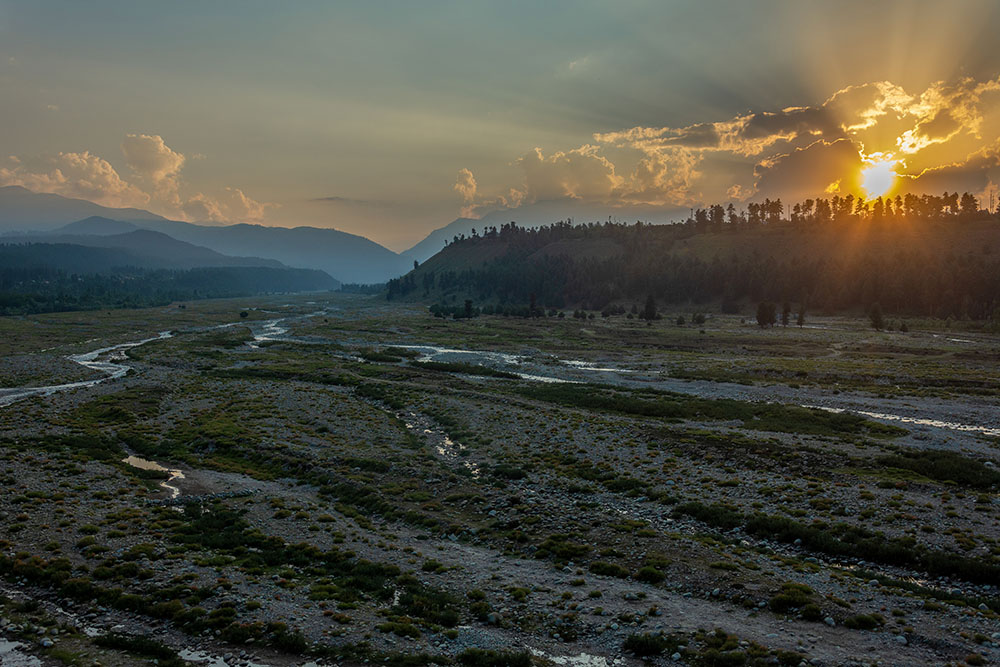 The distance between Shopian to Srinagar is about 56 kilometers. But from here on, the road is a single lane with two-way traffic.
Do not take the route via Pulwama and Nowgam. That is an internal road and will take you much longer to complete. Rather, after Shopian, head straight towards the Jammu Srinagar highway and exit near Pampore. From there, it is a straight run to Srinagar.
Irrespective of which route you take though, your travel time will remain between 2 to 3 hours.
Also Read: Doodhpathri – A Comprehensive Travel Guide
How to Plan a Journey on Mughal Road?
Now there are two ways that you can plan the journey on this route. First is that either you traverse from Jammu to Srinagar or vice versa; or you just travel on the Mughal road from Srinagar, making it a single-day journey.
For people traveling by their own vehicle, I will recommend that you take Mughal Road to reach Srinagar. Then for your return journey home, you can travel via NH44, Jammu Srinagar Highway.
This way, you will not have to travel on the same road twice and also explore a region of Kashmir that not many tourists would have seen.
For people who plan to fly in and out of Srinagar, you can make a day's journey to cover the Mughal road from Srinagar.
Also Read: Srinagar – How to Plan your Trip and Explore?
Srinagar to Mughal Road
If you do not want to complete the entire Jammu to Srinagar journey or do not have time for it, then you can just cover the 97 kilometers of Mughal road from Shopian to Bafliaz. But for this, you will have to start really early from Srinagar, say by 6 AM.
You will first travel to Shopian which will take you about 2 hours. From Shopian then, climb up to Peer ki Gali Pass, spend some time there, continue descending on the other side of the pass, and reach Bafliaz. Take a break at Bafliaz, eat something, and then travel back on the same route to Srinagar via Peer ki Gali and Shopian.
What you can also do is start from Srinagar early and go straight to Bafliaz via Shopian and Peer ki Gali. Then while on your way back, take the turn towards Aharbal from Shopian and cover that as well.
Read How to Plan a Trip to Aharbal Falls for more details on covering Mughal road in this manner. This is where the road to the waterfall bifurcates to the left.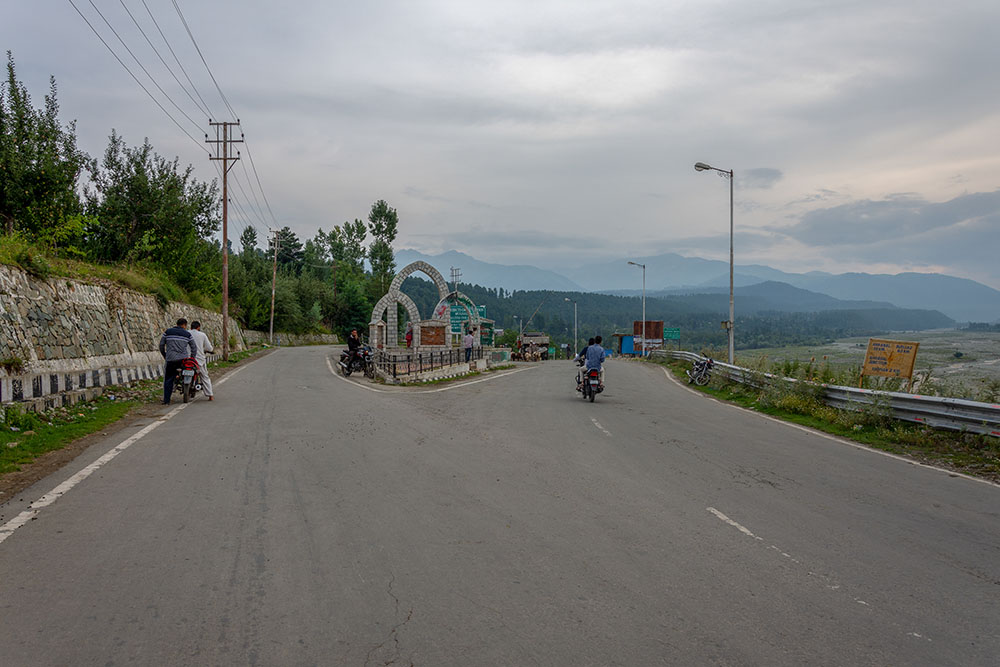 When will Mughal Road Open?
 The route remains accessible only between April to September. It gets snowed out completely in the winter season. You can attempt it in October and March as well but I will not recommend it. A safe time to plan a journey this way is only from April to September.
Road Conditions
Mughal Road is a mix of good, bad, and average. It is a two-lane highway with no divider in between so yes it does get a bit narrow at places with traffic coming from both sides. Below is the current condition of this road.
Jammu to Akhnoor – Bad
Akhnoor to Sunderbani – Average
Sunderbani to Naushera – Good
Naushera to Rajouri – Good but turns as bad as you get closer to Rajouri
Rajouri to Thanamandi – Very bad
Thanamandi to Bafliaz – Good but narrow
Bafliaz to Peer ki Gali – a Mix of good and bad but mostly good
Peer ki Gali to Shopian – Good
Shopian to Srinagar – Good
This was the most recent update I had on this road. But the situation changes every year and it may be different at your time of travel.
Also Read: How to Plan your Trip to Alpather Lake?
Best Vehicle
There is really no best vehicle for planning a journey on Mughal road. The road never gets too tough to climb and never too bad to cross. I have seen locals traveling around on it in Maruti 800 so you can imagine the difficulty level of it.
The only time when you are actually going uphill a bit steep is when you are approaching Peer ki Gali, either from Shopian or Thanamandi. The rest of the time, all the way between Jammu and Srinagar, the journey remains smooth.
As long as your vehicle is well-serviced and decently maintained, it will easily be able to cross Mughal Road. It applies to both cars and motorcycles.
The badly broken dirt trail near Rajouri can be a little tricky to handle if you were in a low GC car. But again, the locals over there drive hatchbacks on it all the time. You will just need to cross it slowly and very carefully.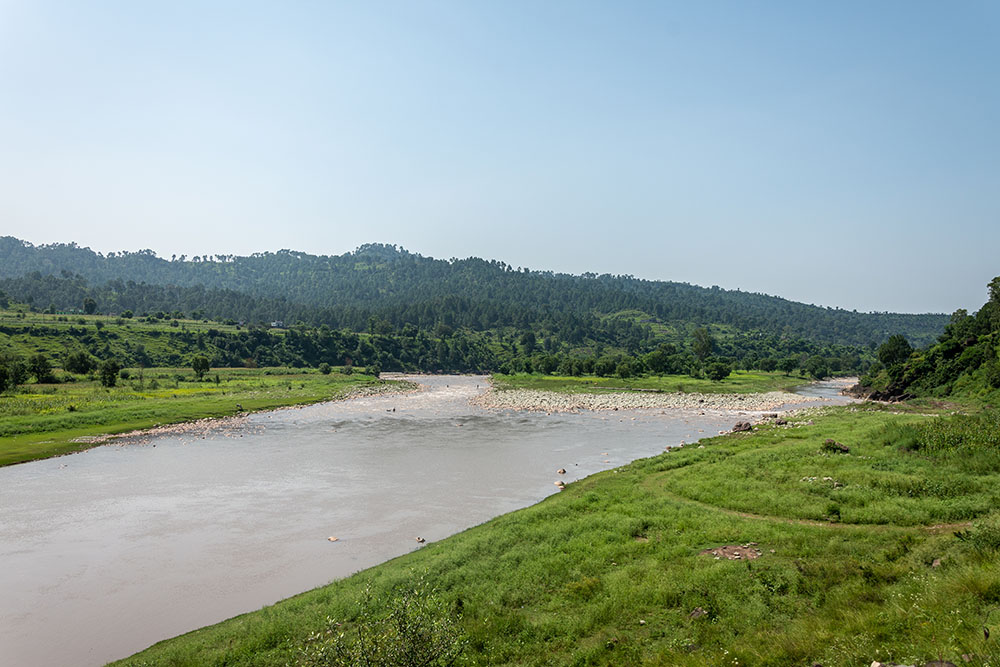 Private Taxi
You can book a taxi for traveling on the Mughal road from either Jammu or Srinagar, depending on where you were coming from. The problem however is that not many taxi drivers agree to take this route and will try to get you to travel via NH44. If a driver agrees, expect the cost to be around Rs. 10,000 for a drop.
The hatchback will be most probably an Etios or a Maruti Hatchback. SUV will either be a Bolero, Scorpio, Sumo, or Innova. Charges will be inclusive of fuel and the driver.
There will however be no AC in the vehicle. If you need an AC Cab then you will have to pay more. In my opinion, though, you don't really need an AC taxi when you are traveling through Kashmir.
Also Read: When is the Best time to Visit Gulmarg?
Bus Service on Mughal Road
It will be very difficult to complete this journey by public transport. I have rarely seen any buses on this route and it is mostly shared cabs that locals travel in.
If you were however traveling by Bus then your journey will have to be broken into two parts. There is no direct bus from Jammu to Srinagar via Mughal road. From Jammu, you will first have to catch a bus to Rajouri, and then from Rajouri, you will have to find a bus to Srinagar.
If you were traveling from Srinagar to Jammu, then you will have to first board the Srinagar to Rajouri bus and then from Rajouri to Jammu. The frequency of these buses, however, is not that great and the timings may not match yours.
For example, you may arrive in Rajouri to find that there is no bus for Jammu or Srinagar until the next day. In this case, a shared cab will be your only option. For booking tickets and to confirm the timings of these buses, you can call 0194-2502290 and 0194-2483689.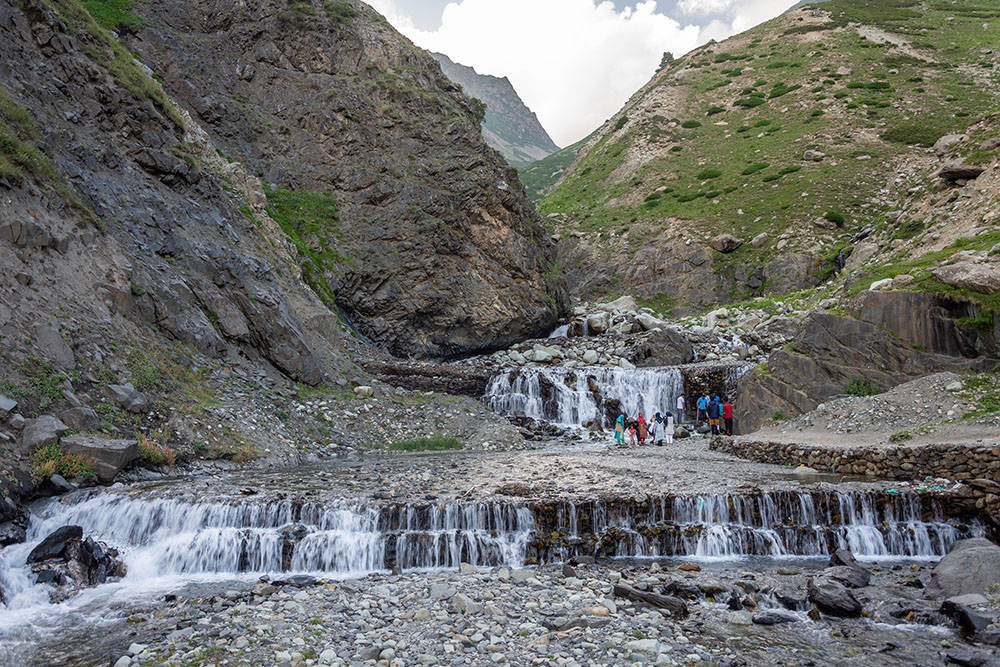 Shared Cabs
These are available on these routes in plenty and will be the best choice for anyone traveling by public transport. In most cases, these cabs are either a Sumo or a Bolero.
From Jammu, you can reach Rajouri by the JKSRTC bus. You will have to then catch a shared cab to Shopian from Rajouri and then another shared cab from Shopian to Srinagar. Same way, traveling from Srinagar, you will first have to board the daily Srinagar to Rajouri bus and then look for a shared cab for Jammu.
This is however the situation in an ideal world and will be rare to complete it this way. In all probability, you will just be jumping from one shared cab to another for the next town or hitchhiking.
My honest suggestion will be that you only attempt Mughal road by either your own vehicle or private taxi. If you were traveling by public transport, it will be best to leave the Mughal road out of your itinerary.
Mobile Network on Mughal Road & Data Connectivity
The first thing that you must remember in terms of mobile connectivity on Mughal Road is that only postpaid connections work in Jammu and Kashmir. If you were on a prepaid phone, it will stop working as soon as you enter Jammu.
But if you had a postpaid phone, it will work on the majority of the Mughal Road. The only part where you may lose network is on and around Peer ki Gali Pass. At the rest of the places, there will be a stable network. You will get 4G data at all the places except for Peer ki Gali.
This stands true for Airtel and Jio. Vodafone and Idea may not work so well on the entire stretch. With BSNL, you will have a good network but the data speed will be a little slow.
Also Read: The Best Foods to Try in Kashmir Valley
ATM / Banks
This road passes through some major towns like Sunderbani, Rajouri, Bafliaz, and Shopian. They all have Banks and ATM facilities.
Petrol Pumps / Mechanics
Like Banks and ATMs, gas stations also are available at regular intervals. Mechanics are also available in all the towns I mentioned above.
Accommodation Choices
I could be wrong in this aspect but as far as I know, there are no hotels anywhere on this route. You will either find one in Srinagar or Jammu. A friend of mine told me that there are a couple of hotels in Rajouri but none that I could spot. All that I can tell is that once you leave Jammu, the next hotel you will see is around Srinagar only.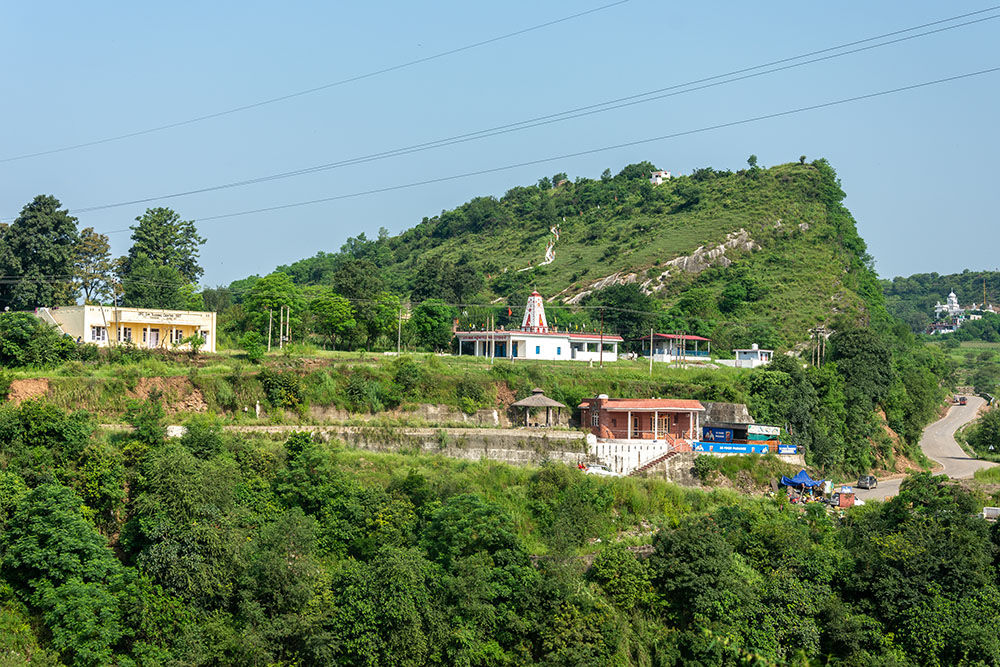 Time Needed for Mughal Road
One day is all that you need to cover the Mughal road and I wouldn't recommend any more time than this unless you want to stay in any of the towns in between and explore some remote areas of Kashmir.
The last time I was on this route, it took me 15 hours to reach Srinagar. We started at 6 AM from Jammu and arrived at our hotel in Srinagar by 9 pm.
Food Options
The road passes through a well-populated region and you will find several small dhabas on the way. There will be several groceries shops as well where you can buy snacks from.
Also Read: How to Plan a Trip to Yusmarg in Kashmir
Mughal Road Status
The road is open for civilian traffic from April to September but even at this time, there can be temporary closures due to unrest, landslides, or bad weather. It is also advised to inquire beforehand and confirm that the road is indeed open before starting the journey.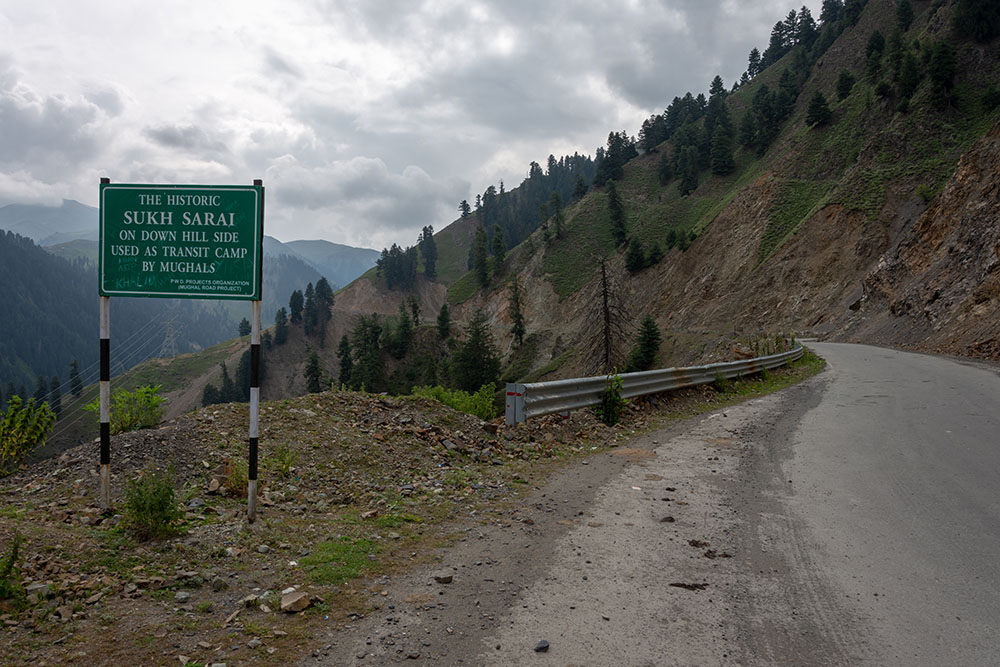 Tourist Places on Mughal Road
There are really no specific tourist places that you can cover while you are on your way. Your sightseeing on Mughal road will mostly be around the natural beauty of the region and stunning landscape.
The journey from Jammu to Srinagar via this route will actually easily take you about 12 to 13 hours so you will not have much time for sightseeing; unless you were planning to do the journey in 2 days.
The natural beauty of the route is its biggest attraction. As I mentioned previously in the article, you travel through the actual Kashmir region and get a true taste of it. You pass through Kashmiri towns and villages rather than staying on a busy highway behind trucks.
Peer ki Gali Pass is the biggest attraction on this route and also the most scenic stretch. For more details, please read, Peer ki Gali – The Heart of Mughal-Road.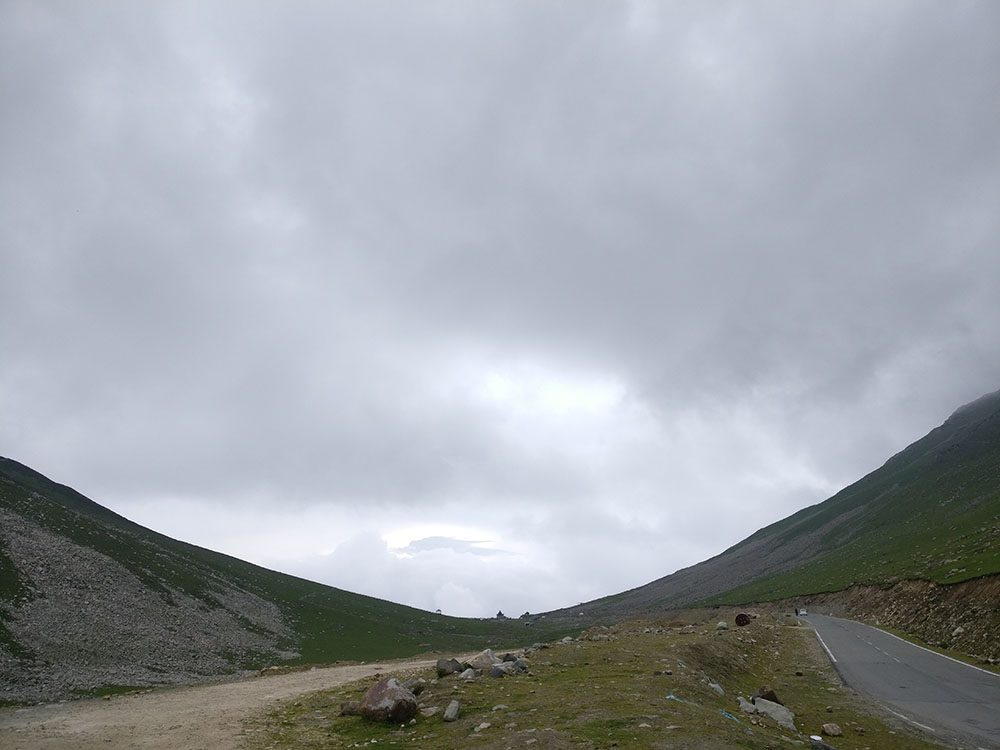 Places to Visit on Mughal Road
With the above being said, there are a few places on the way that are worthy of note. Below is a list.
Peer ki Gali Pass
The Shrine at the top of the Pass
Mughal Road Waterfall: There is a small waterfall as you start to drive down towards Shopian. I do not think it has a name yet and I just call it Mughal Road waterfall (picture posted above).
Sukh Sarai: This is an ancient building that was used by the Mughal armies as a stopover, hence the name Sarai. I could not find a way to get down to the Sarai though. It is in the valley, on the slope of the mountain, and not exactly on the road.
Bafliaz Waterfall: There is another waterfall just after Bafliaz as you start driving up towards Peer ki Gali. This one is also an unnamed one and it actually falls from quite a height. See the picture below. This spot in fact is a picnic ground for the locals. But to get here as well, you will have to leave the main road and drive about 5 kilometers to get to the fall on the narrow road that you can see in the picture below. The fall is in the narrow gorge between the mountains.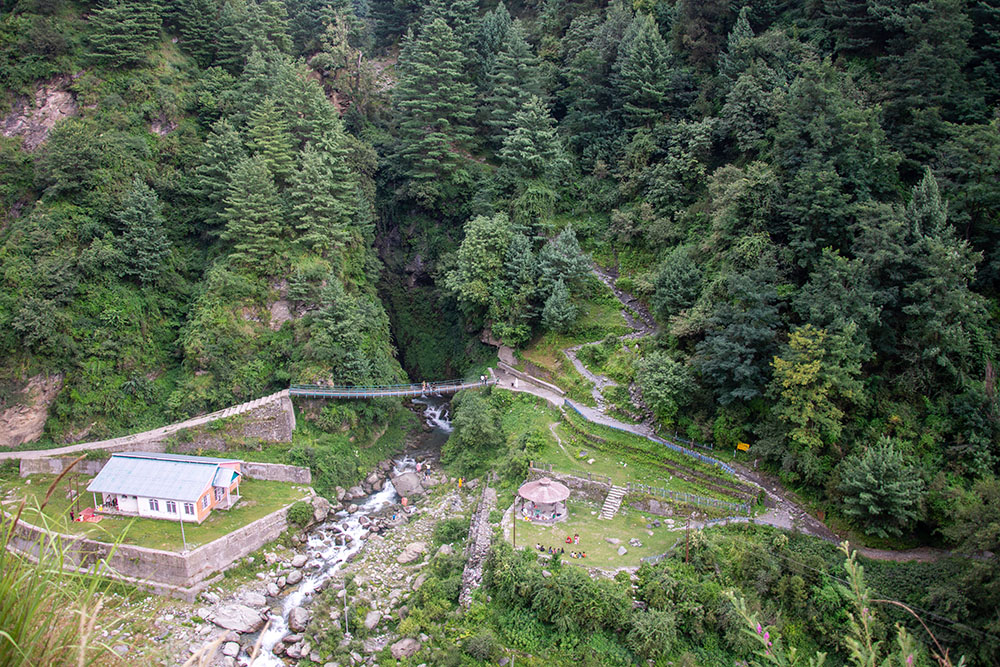 Why is it Called Mughal Road?
This was the route that was first taken by Akbar to cross over into Kashmir and conquer it. After Akbar, the same road was used by Jahangir, Shah Jahan, and Aurangzeb to travel here. While returning back from Kashmir to Delhi, Jahangir as a matter of fact died on this route near Rajouri.
Rebuilding this road was proposed in the 1950s, with the intention of improving the economy of the valley of Kashmir. It however remained on paper for a long time; until then Chief Minister Sheikh Abdullah took up this project in 1979 and named it "Mughal Road" due to all the history related to it.
Though the route was in use by locals forever, an official road on it was not completed on paper until 2010 because of all the delays due to terrorism and protests related to wildlife.
Also Read: How to Plan a Trip to Doodhpathri from Srinagar
Why Travel on Mughal Road?
So why chose Mughal road over NH44? There are a few reasons actually. The first reason of course is that it is far more scenic and takes you through some internal Kashmir areas.
It gives you a real taste of what Kashmir is all about rather than keeping you on a highway and rushing through the journey. The scenic high-altitude pass of Peer ki Gali that you will cross on the way is a sight to behold. The second reason is that it is never crowded whereas NH44 has a history of long traffic jams and an endless line of trucks waiting to get by.
There is no toll required on Mughal road so that could be another reason to plan a journey on it. Do note though that it is a two-lane highway at some places so you cannot really rush or fly on it. It takes you through some villages and towns and you will have to drive carefully.
Is Mughal Road Safe to Travel?
Now let me talk about the question that always gets asked when someone talks about visiting anywhere in Kashmir. Is Mughal Road safe to travel on?
Do your homework before you start the journey. Keep an eye on the news and if there is any word of unrest or ongoing protests in the valley, then you are better off postponing your trip until things have cooled down.
Please understand this, there is absolutely no one that can guarantee anything about Kashmir. Things out there can change in a matter of hours.
So whether or not should you plan your trip must be your own judgment based on your observation of the current situation in Kashmir. You must not go by anyone's word about it.
If you were however talking about safety in terms of terrain then yes, the road is safe in that manner too. It does get a bit narrow and steep in a few places. But as long as you have some experience in driving and know how to maneuver your vehicle then you will easily be able to handle it.
Also Read: How to Plan a Trip to Gurez Valley
Best Time to Visit Mughal Road
The best time to travel on Mughal Road is anytime between April to September. It receives a heavy amount of snow in the winter season and remains closed. You can try to visit in March and October as well but a safe time is between April to September only.
During the months from late June to early September, the region gets hit by the monsoon. There could be landslides caused by incessant rains. If you are traveling at this time, it is best to inquire in advance about the road conditions and the weather ahead.
Conclusion
I hope the information above on planning a trip on Mughal Road was of help. If you have any questions, you can contact me on Instagram and I will be happy to answer. You can also consider subscribing to my YouTube channel and asking a question there.