This article is in continuation with the previous one and a part of my solo woman trip to Ladakh. This part details my travels in Nubra valley, from Leh to Turtuk, Diskit, Hunder, and other parts of the valley.  I spent the first four days of my trip sightseeing in Leh town and then arrived in Nubra Valley on Day 5. To read the previous parts of the travelogue, please click on the link below.
The Journey so Far: Day 1 to 4 – Arrival in Ladakh and Exploring Leh Town
Turtuk is a place that can be termed as a hidden jewel of Ladakh and you will be right in calling it so. I read somewhere that Ladakh will keep surprising you and one of my biggest surprises was the village of Turtuk. The lush green village sitting in the barren of Ladakh is a beauty in itself. The people of the village are Balti Muslims and are very warm and hospitable.
Turtuk is in sharp contrast with almost everything in Ladakh. Even the culture of the village is so different. Ladakh is majorly Buddhists and Muslims but the culture of the Muslims I met in Turtuk was a little different than the rest of the region.
The village sits very close to the border and was in fact a part of Pakistan until 1970. The Indian Army took control of the village and the region during the Indo-Pakistani War of 1971. For more details, please take a look at Turtuk Village – A Complete Travel Guide & Itinerary.
Leh to Turtuk Village and Panamik – Exploring Nubra Valley
I got up early and checked out of the hotel as I was told that the buses and shared cabs for Nubra valley leave early in the morning. There was really no set plan that I had in mind about how I was going to spend my time in the valley. I wasn't even sure how many days I was going to spend there or what would I be seeing. The only thought in my mind was to board a cab or a bus for Nubra Valley and then go with the flow.
Day 5 – Leh to Panamik by Shared Taxi



The shared public taxi stand in Leh is next to the Polo ground. Most taxis leave between 7 – 8 am every morning to Diskit or Panamik. The fare is Rs. 400 per person.
The taxi I boarded started at 7.45 am for Panamik. A shared taxi is extremely comfortable if you don't mind sitting in close contact with people. I had no hassle. I am a minimalist and enjoy local people's company, therefore thoroughly enjoyed them.
The driver was very friendly as he tried to humor a 4-year-old Ladakhi girl throughout the drive while her mother happily slept off having found someone to entertain her daughter. And finally, I listened to some Ladakhi songs too.
The taxi crosses Khardung La Pass and you can ask the driver to stop for a short while. Actually, my driver stopped himself a little further from Khardung La top. I was hesitant to ask him to stop as it would delay other local people. That is why I don't have the mandatory photograph at Khardung La!!
It was snowing on the top and was pretty cold. I had a slight headache on the ascent which vanished on its own as we descended to Khardung village. The cab stops at a dhaba in Khardung village for breakfast (Rs.50-80) at around 11 am. The drive from there was enchanting with well-laid waterways to the fields and the wonderful landscaping by Shyok River.
Baltipa Homestay in Panamik
The taxi reached Panamik around 1.30 pm. The driver helped me to Baltipa homestay on the main road. Its price was Rs.600 including breakfast and dinner. They welcomed me with tea and homemade biscuits.
I got along very well with the young teenage daughter of the house who accompanied me to Hot spring. In the Spring, the water is diverted into bathrooms and it can be used by paying Rs.30. it is being maintained by the women of that village.
The girl also took me around the village, Siachen River, their old house, and fields. On their own initiative, they made me wear the local dress – Goncha and Perak – and clicked photographs. It might have been inspired by my curiosity about their cultural practices.
The lady of the house cooked the local dish Chutagiee for the dinner on my request. It is made of wheat and home-grown vegetables all cooked together. I was my first homestay and I was overwhelmed by their warmth and generosity. No amount of money can ever buy that experience. My initial thought was to travel from Leh to Turtuk but I ended up in Panamik instead; but in the end, I was glad that I did.
There is also a small lake Yarab which is 2-3 kilometers away which you can walk up to if you feel like. I was too tired to do it that day.
Day 6 – Panamik to Diskit to Turtuk



I boarded the daily morning 7.30 am bus to the Diskit monastery along with my host from Panamik. The monastery had asked the local people, mainly women, to come with their hoes to prepare the place for the visit of Dalai Lama in the month of July.
The bus was full of women who were carrying their hoes and chatting happily. It is a beautiful drive as the Siachen river changes its spread. The turn on the bridge took us to the other side of the Nubra Valley to Diskit. The landscape changes as I encountered a few kilometers of a long flat road surrounded by sand. The bus went up until the monastery.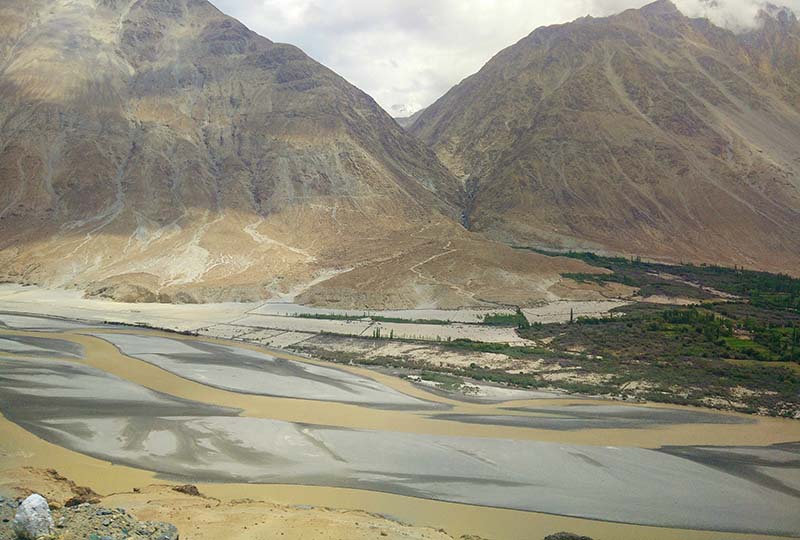 The monastery is still at a height so I climbed up to visit it. It houses the mummified arm and head of a Mongolian soldier. I felt it is a rather grotesque thing to put up in a peaceful monastery, a symbol of violence in the abode of non-violence.
The remnants of Mon religion are all visible in the monasteries as their local stories and Gods have been co-opted during the indigenization of Buddhism in Ladakh. Right opposite the monastery is a large statue of Maitreya Buddha which is constructed in the last 10 years before only.
Also Read: Tourist Attractions in Nubra Valley – What to See and Things to Do
As I sat outside the monastery to pen my trip memoirs, a local person suggested me to go to Turtuk, a beautiful place to write 'stories'. It finally firmed my initial decision of Leh to Turtuk and spend at least a night there.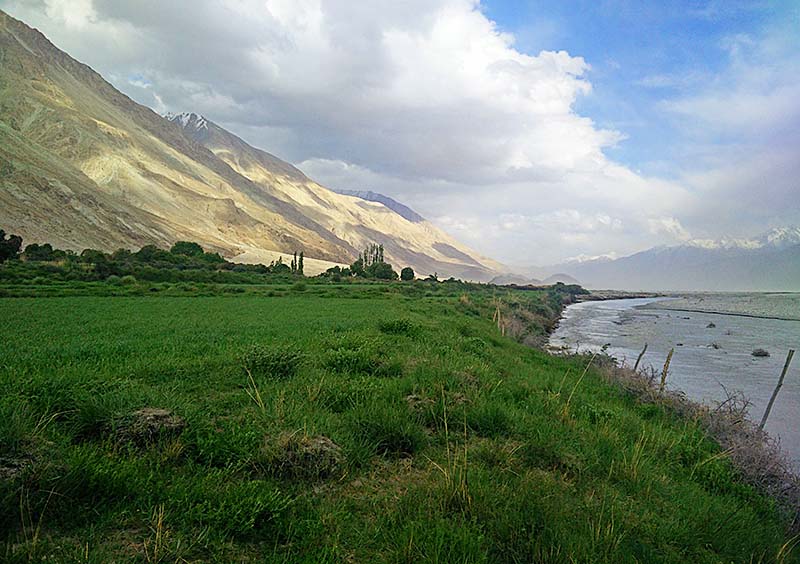 Sightseeing in Diskit
The Diskit bus stand was down in the town from where the bus to Turtuk leaves at 2.30 pm. I thought it is the same bus that travels all the way from Leh to Turtuk via Diskit but I was wrong. This bus actually starts from Diskit every day at 2.30.
I started the climb down and a local person offered the drive down graciously. He also shared that we 'Indians' are to be thanked as road conditions have changed in the last 10 years due to them. Earlier they had only foreigners which did not bring much change in infrastructure. They may soon have an airport at the army camp at Thoise.
The local shared taxis to Leh go from the bus stand. The last taxi leaves around 10 am depending on whether they have enough passengers to fill the cab. I bought my ticket in advance to Turtuk for Rs.100 so as to get a better seat. They happily agreed to keep my bag on the bus as I wanted to walk around in Diskit. It is a small town and most houses were closed since people had gone to work.
Like in Delhi and other cities, I see that people have made small religious structures in every street of the town! So I walked through the main market of the town. Eating lunch was an interesting experience as the individual shopowners made me shuttle between a couple of eateries so that I finally reached one which served Thukpa for Rs. 80.
The shop is being run by a Nepali woman. There are many small eateries here but nothing worth mentioning. People are nice and would just let you sit and read if you wanted to!!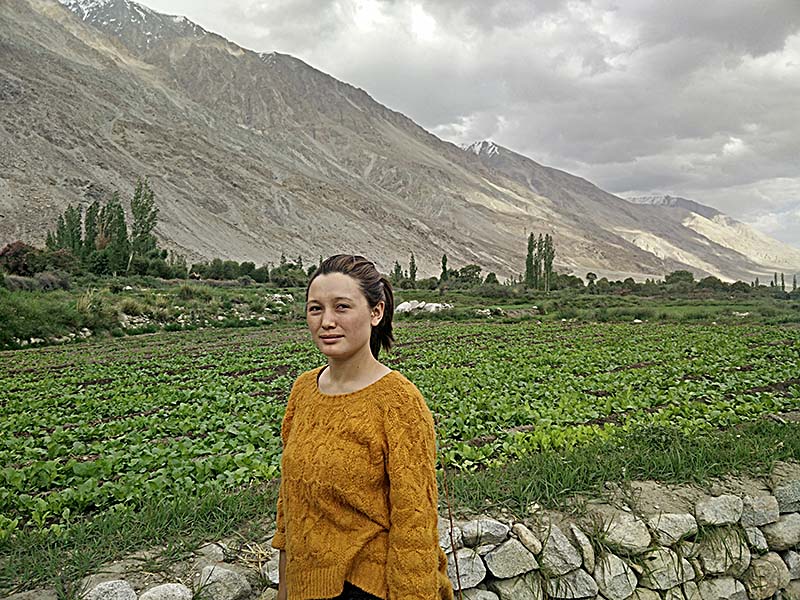 Diskit to Turtuk
The bus ride from Diskit to Turtuk was awe-inspiring – mountains changing their hues at every turn. It is more adventurous to go by bus as the road is really narrow and the bus takes quite many breath-stopping, sharp turns. The bus played Hindi songs which was a surprise.
There are not many villages on the way. The bus also acts as a courier service for local people as many handed over goods to pass on to people in other villages on the way. People would be waiting on the road to just handover their parcels or receive their parcels. There is quite a bonhomie that exists between the bus staff and the local people. Before Bogdang village, the bus stops at a checkpoint where one needs to submit the permit to visit Turtuk.
The bus reached Turtuk at 6 pm after covering around 80 km. You have to walk up to the wooden bridge and cross it over to reach Phurool village where homestays are available. I befriended three young girls who guided me to Khan Homestay where I stayed for the night. The fare was Rs.600 including dinner and breakfast with common bathrooms.
Also Read: How to Plan a Trip to Ladakh with Family
Khan Homestay in Turtuk
The room was dusty. On being asked, the owner cleaned it up while I chatted with him and he provided me information about its history and places to visit in the village. Also, I made some overtures to the women of the household and finally had food in their kitchen.
I could experience a stark difference between the women in Buddhist–dominated towns and the Balti women here. In other places, the homestays were run by women and they interacted freely. But here the men were more in control of the money while women do farming, cooking, and other household work. Even my host Sher Khan also told me men don't do anything. Only after farming they take the product to market.
I also met a government school social science teacher posted in Turtuk from Stok village who was also part of the household. She shared that people in Turtuk have better community ties than her village in Stok as their people have more modern jobs. For people like us in cities, even that is far superior to the relationships we have with our next-door neighbors.
Also Read: Magnetic Hill of Ladakh – The Myth and the Reality
Sightseeing in Turtuk
My window opened to the lush green fields, brown mountains, and a river song. I went up the monastery in the morning and enjoyed the silence of the valley and the roar of the river. The army helicopter like a screechy bird could be heard patrolling above.
There is also a waterfall after a little climb which can also be explored. I could not visit it as people advised me not to go alone as I may get lost. And the children had all gone to school! So trudged back to the homestay and a nice breakfast of Khisir, a local wheat bread made at home served with raita.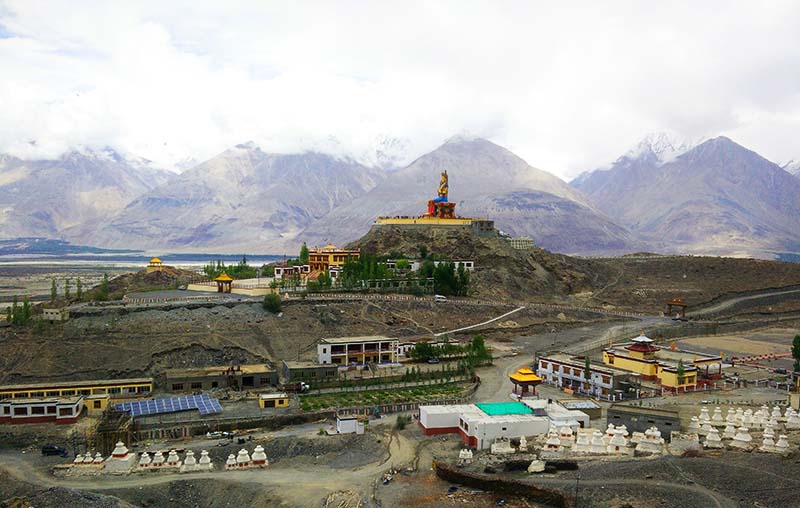 I visited the local museum in Diskit run by a descendant of the former Baltistan king. The wooden bridge needs to be crossed over to reach the Koul village where the museum is located.
Sometimes the streets may be deserted if it is noontime with no one around to guide you. This is what happened to me! The museum can be identified by a big iron bird perched on a wooden door. The doorknob can be turned to enter unlike me who has to loudly bang doors to gain entrance!
It is actually the personal collection of his forefathers that has been put up for exhibition in the palace which had been substantially destroyed by the receding Pakistan army in 1971. Before that, it was part of Pakistan occupied Kashmir.
The curator is very gracious and takes you down the history of his family. Apparently, the government does not even know the existence of such a place though he was full of praise for the Indian Army.
Also Read: How to Handle Acute Mountain Sickness in Ladakh
Day 7 – Turtuk to Hunder
The lunch in the only café in Turtuk was pretty ordinary chow mein for Rs. 100-120. Other varieties of food are also available including the ubiquitous Maggi. Since the only bus to Diskit leaves daily at 6 in the morning, I decided to try my luck and waited on the main road where the bus had dropped me.
A shop owner graciously let me sit in the shade of his shop. He asked me to wait inside but I did not want to take any chance. In half an hour, a Mumbai family generously accommodated me in their car.
Notwithstanding their generosity towards me, they were usual tourists with scant regard for local geography. They tried to throw the water bottle out of the window when I promptly intervened or taking photographs of prohibited places.
My bus ticket really helped as they checked the permit on the return also. They keep a track of people crossing over to the border village.
Skizling Homestay In Hunder
I home-stayed at Skilzing in Hunder where the initial offer was Rs.1200 and negotiated for Rs. 800 including dinner and breakfast. This was a bigger room with an attached bath. Other homestays had common bathrooms. Hot water in all homestays comes in a bucket separately generally for a solar water heater unconnected to any tap. The water is filled manually in it.
I saw the famed double-humped Bactrian camel in the opposite house. Meanwhile, the host's 10-year-old daughter and one of her friends became friendly and got permission from their mother to walk till sand dunes. It took us almost an hour to reach there on foot.
I have not met any child in Delhi who would so readily agree to it!! We claimed one dune and slid down and climbed up it till the sky turned to ash. In between, we lost one footwear in the sand. Then we dug around everywhere for some time till we found the lost shoe!
They also told me local folklore and a story about a rugged hill on the opposite side as being scratches of a monster defeated by their God. On return, we went through a shortcut route back home behind the camps and found a stream to quench our thirst! We were all very tired of walking and again hitched a hike from tempo to reach home.
Also Read: Clothes for Ladakh Trip – What to Pack
Leh to Turtuk Distance
The total distance between Leh and Turtuk is about 200 kilometers and it can easily be covered in 9-10 hours. If you started really early from Leh, you will easily make it to Turtuk by evening with stops at Diskit and Hunder in between.
Leh to Turtuk Itinerary
I believe 3 days is a good enough time to explore Nubra valley. Any less than that and you will have to skip a couple of places or rush through the journey. How do you use that 3 days time is completely your choice. You can come to Diskit on Day 1, Turtuk on Day 2, and Panamik on Day 3. Or you can follow the itinerary the way I did in the travelogue above.
If you were short on time, you can go straight to Turtuk from Leh via Diskit and Hunder and stay there for the night. On Day 2, you can go to Panamik while including some sightseeing in between. On Day 3, you can return to Leh or go straight to Pangong Lake as I did.
Leh to Turtuk Bus
The only bus between Leh and Turtuk runs on a weekly basis, every Saturday which I found a little surprising. But it is not that difficult to go to Turtuk from Leh by bus irrespective of your day of travel. You will just have to break your journey into at least 2 parts.
First, you will have to board a daily morning bus to Diskit and then the noon bus from Diskit to Turtuk. If not bus, then you will easily find a shared cab for Diskit near the Polo ground in Leh.
Diskit to Turtuk Bus
There is a  daily bus available from Diskit for Turtuk. It starts from the Diskit bus stand at 2.30 pm and reaches Turtuk by 5.30 pm.
Turtuk to Hunder is a total of about 83 kilometers in distance. If your stay in Nubra valley was at Hunder, you can make a day trip to Turtuk without having to stay there for the night.
Conclusion
I hope the information above on traveling from Leh to Turtuk and other places in Nubra Valley was of help. Please click on the link above to continue reading the next part of this travelogue. If you are planning a trip to Ladakh and have questions, please feel free to ask in the comments section below or at our Community Forum and I will be glad to answer.