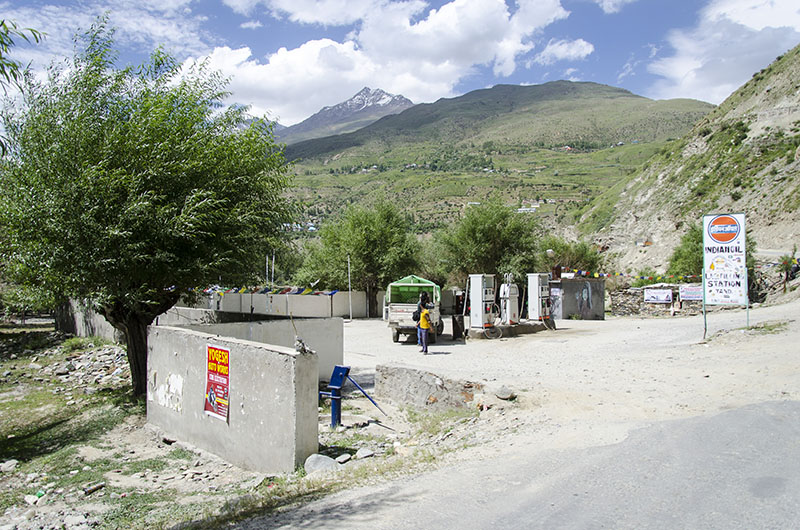 Until a few years ago, fuel availability in Leh Ladakh was one of the most crucial parts to worry about while planning a road trip. If you were going via Manali, then the last petrol pump will be at Tandi and the last mechanic at Keylong. From the Srinagar side, your only hope of finding a mechanic or fuel was only at Kargil. If going sightseeing towards Nubra, Pangong, or Tso Moriri, the only fuel station was in Leh City and that was pretty much it.
But then those were the days when not many people went to Ladakh. These roads were occasionally used by either the locals, the Indian Army, or bikers. Ironically enough, it was never really the scenic beauty of Ladakh that used to draw tourists here back then. It was actually the remoteness of the region which was the real charm of Ladakh.
Also Read: How to Plan a Trip to Leh Ladakh – A Complete Travel Guide
The tough roads, challenging terrain, harsh weather, non-availability of basic amenities for miles is what attracted people here.  But all that is now in the past. Everything in Ladakh is different now.
Fuel Availability in Leh Ladakh
With the increasing number of tourists, facilities in Ladakh are now getting better too. Road conditions have gotten smoother, new hotels come up each year, more areas are getting opened to tourists, and connectivity by public transport has greatly improved. Among all these, the availability of fuel in Leh Ladakh also is now pretty much everywhere.
Surprised? Do not be. The tourism industry in Ladakh is flourishing and everyone here is trying their best to get the largest piece of this cake. There are no new petrol stations though so let me first clarify that. But Locals here have worked a way around it.
Almost on every major tourist route, you will easily get fuel either at the Dhabas, or Chadar tents or small shops. The surprising part however is the unlimited supply that the villagers have. If you drove in with a 45 liters Diesel tank empty, they will still have enough to fill it all the way to the top so you really got nothing to worry about.
They of course will add their margin to it so expect the price of the fuel to be anywhere between Rs. 100 – Rs. 125 per liter. This applies to both Petrol and Diesel.
Let me break it down by areas and mention where you will be able to find fuel.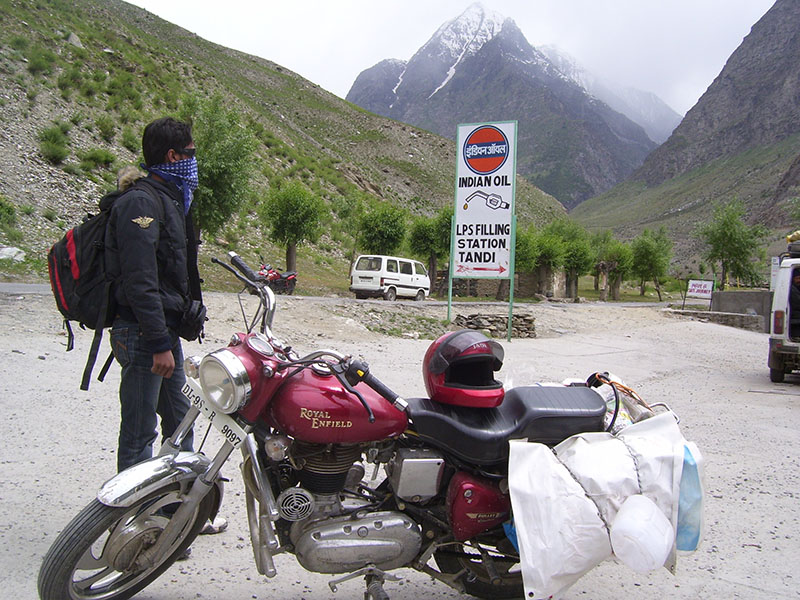 Petrol Pumps on Manali Leh Highway
The only petrol station between Manali to Leh is at Tandi and then at Karu as you get closer to Leh.  The total distance between Manali to Leh is about 473 kilometers. Tandi lies at a distance of about 110 kilometers from Manali and Karu is about 35 kilometers before Leh. So this leaves you about 330 kilometers to tackle without a petrol pump on the Manali Leh route.
This may have been a problem until some years ago but not anymore really. Apart from Tandi Petrol Pump, you will also easily find fuel at the several Chadar tents in between, including the ones at Sarchu and Pang. The Karu Petrol Pump also remains completely operational during the tourist season.
If you are however not too keen on buying fuel in black, then you will of course have to carry some spare. The first thing to do is to know what is your bike's fuel tank capacity. If it is 15 liters then you may not even carry any fuel at all. Just get a tankful done at Tandi and it will see you until Leh easily.
If you are riding a bike like KTM Duke which can only carry 10 liters when full, then get a couple of 2 liters Pepsi or Coke Bottles and get those filled up at Tandi. Keep these bottles safe with the rest of your luggage. After every 50-60 odd kilometers, keep emptying these bottles one by one in the tank. Carry 3 such bottles and your job is done.
A safer way to carry petrol on the bike however will be in metal jerry cans. For more details, please take a look at How to carry Fuel Safely on a Motorcycle.
Petrol Pumps on Srinagar Leh Highway
There are petrol stations on the Srinagar Leh route at several places. From the Srinagar side, the last one is a little before Sonamarg. From the Leh side, it is at Khalsi, about 90 kilometers from Leh.
Srinagar Leh highway runs a total of about 420 kilometers. Sonamarg is about 80 odd kilometers from Srinagar. The distance between Sonamarg to Kargil is 125 kilometers. Kargil to Khalsi is 122 kilometers and Khalsi to Leh is about 96 kilometers.
So as you can see, you never really go too great a distance without a gas station. So fuel is not really a concern while plying on this route. Just keep getting a tank full at each of these petrol pumps and you will easily reach Leh without carrying any spare. Apart from the petrol pumps, you can also get fuel in Black at Sonamarg, Drass, and Lamayuru.
Also read: How to Prepare your Motorcycle for Ladakh Trip
Petrol Pump in Leh
I think this goes without saying but there is definitely a petrol pump in Leh city. You will find it operational irrespective of the time you arrive here. The other one nearby is the Karu Petrol Pump located about 35 kilometers from Leh City.
Petrol Pump in Nubra Valley
There is a hand-operated Petrol Pump in Diskit which happens to be the only Petrol Pump in Nubra Valley. There is no petrol pump in Hunder, Panamik, Turtuk, or any other village in Nubra Valley.
However, you will still get fuel in Black at all these places at small grocery or tea shops. Turtuk however is an exception where you may or may not get it. The petrol pump in Diskit will charge you at the regular price though, not in black.
Diskit is at a distance of 116 kilometers from Leh and Turtuk at 205 kilometers. The distance between Leh to Panamik is 141 kilometers and Diskit to Panamik is about 55 kilometers.
What I am getting at with this is that unless you were planning to head straight to Pangong from Nubra Valley, you do not actually have to worry about fuel while visiting Nubra Valley. One tank full at Leh will do the job for a round trip unless your bike has a really small fuel tank. In such a case, the petrol pump at Diskit will come to rescue.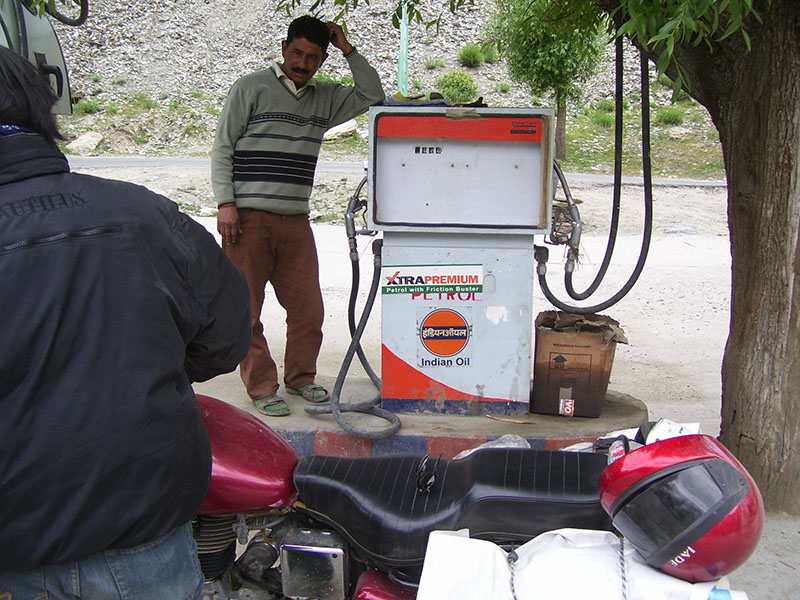 Petrol Pump Near Pangong Lake
There is really no petrol pump near Pangong Lake. The closest one would be at Karu, about 190 kilometers away. There is no other petrol station at any of the villages en route including Sakti, Tangtse, Durbuk, Lukung, and Spangmik.
This statement however is only for a petrol pump. You will easily find fuel sold in black at almost everywhere on this route. Even the small Dhabas on the way will have it.
Also read: Mobile Services and Data Connectivity in Ladakh
Pangong is about 225 kilometers from Leh so a tankful at the city petrol station will safely see you arriving at the lake. Once you reach Pangong, ask at the Chadar tents right at the beginning of the lake. You will definitely find fuel there selling for Rs. 100 – 125 per liter.
Petrol Pump on Shyok Road
If you are traveling straight from Nubra to Pangong, you will not find fuel selling anywhere on Shyok road, even in Black. You will have to buy it from Diskit Petrol Station and then the next option is the Chadar tents at Pangong.
Petrol Pump on Chushul Route
If you were traveling on the Chushul route, going straight to Moriri from Pangong that is; then you will find fuel selling in black at Loma, Nyoma, Mahe, Hanle, and Karzok. The only sure shot option that I can confirm is the Padma Homestay at Hanle. They keep a limited fuel supply during the tourist season. Apart from this, you will find surely fuel selling at small shops at Nyoma and Karzok as well.
Petrol Pumps on Chumathang Route
I cannot really say this for sure but I think you will be able to buy fuel on this route as well, near Chumathang. You will not really need to though. One tank full from Leh will be enough to last till Karzok, about 211 kilometers in total. At Karzok, you can then again buy for your return journey if you were not carrying spare.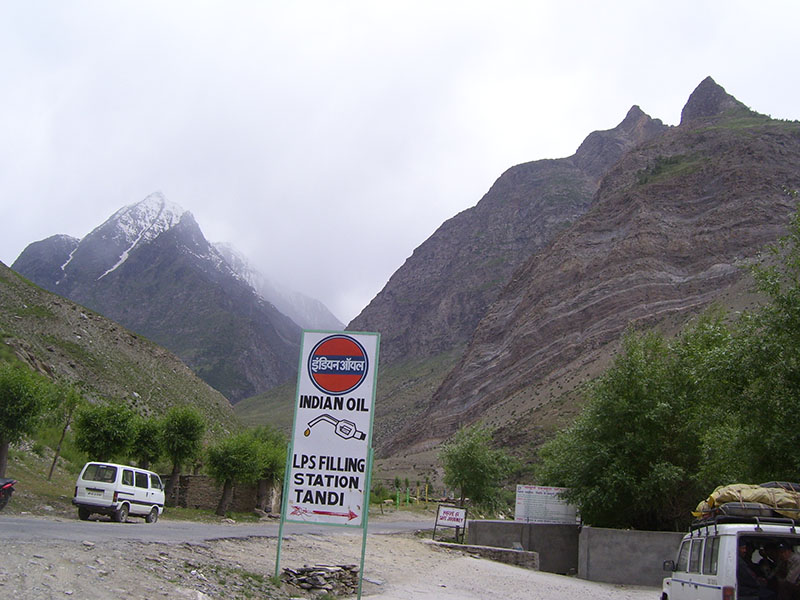 Petrol Pump in Zanskar Valley
On the Zanskar side, there is a hand-operated petrol pump in Padum. Apart from this, the small shops at Sankoo, Parkachik, Panikhar, and Rangdum sell it in black. The Zanskar valley is not visited by all the tourists that come to Ladakh so availability here may sometimes become a problem. For Zanskar, I will still recommend that you carry fuel in spare from Kargil.
Also Read: Checklist of Things you must carry for Ladakh Trip
Conclusion
Things are definitely getting better in Ladakh and planning a trip here is now way easier than it was a decade ago. I hope the information above regarding fuel availability in Leh Ladakh was helpful. If you have any further questions, please feel free to ask in the comments section below, or at our Community Forum; and I will be glad to answer.