I recently went traveling to Kashmir; and Srinagar was my base for a few days to explore the nearby areas of Gulmarg, Pahalgam, Gurez, Sonamarg and several others. For all of these areas, I made it a day trip; meaning that I used to start early from Srinagar and return back by evening. In Srinagar, I was staying at this wonderful place called Hotel Grand Valley Inn; and in this post, I want to share how my experience with this hotel was. I will provide more details and a few pictures in the article below but to summarize it all, I will highly recommend this hotel to anyone traveling to Kashmir. My stay here was very pleasant; and I know for sure that every time I go back to Srinagar, this is where I will be staying.
I must first admit though that I did not quite came across this hotel all on my own. Faisal runs his motorcycle rental agency in Srinagar and we have been good friends for quite some time now. He is always my go to person when it came to anything about Kashmir; and it was him who recommended Hotel Grand Valley Inn to me. I stayed here on his advice and I must say that I am glad I did.
Hotels in Srinagar City
Srinagar is one of the most visited tourist destination in our country and as such, hotels here are in abundance. The entire Dal Lake is actually filled with hotels in form of houseboats. Come to Srinagar anytime and you can be sure that you will have no problem finding a place to stay. Common thing among all good hotels is that all have nice clean rooms with good smelling bed sheets and towels. That is more like a given factor because without it, they won't survive in the industry too long. But what sets a hotel apart in my experience is how the people over there treat you.It is the service that really makes a difference.
Also Read: Hotel Affarwat – A Good Place to Stay in Gulmarg
Hotel Grand Valley Inn
This hotel is fairly new and not really a large establishment. That in my opinion was one of the greatest factors. The owner of the hotel is a great gentleman; a very humble and soft spoken person. They live nearby and it is the family itself that runs the hotel so you know that you are in good hands. He will personally be listening to you and will ensure that you are well taken care of as long as you stay with him.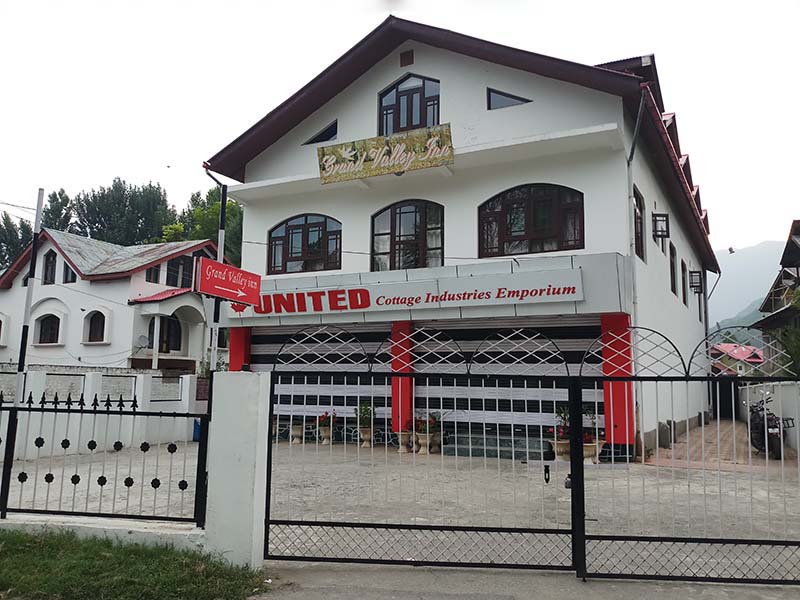 Location
This will be the second best thing about Hotel Grand Valley Inn. Dal Lake, Nishat Bagh and Shalimar Bagh are 3 biggest attractions of Srinagar and they are all located in a close proximity. From the hotel, Shalimar Bagh is merely a 2 minutes walk away; and Nishat Bagh and Dal Lake are 10 minutes away. Other tourist places like Pari Mahal, Nigeen Lake, Tulip Garden etc too are just a short drive away.
Another added benefit is that this hotel is located away from traffic or crowded areas. While staying here, you can be sure that there will be no continuous honking of horns coming through your window. It is in a very peaceful locality, perfect for staying with families.
Also Read: Tourist Attractions in Gulmarg, Kashmir
Rooms
Rooms were all very spacious and clean. Bed was very comfortable and large enough for even 3 people to fit in easily. Bathroom too was very clean with an English style toilet seat. Running hot water was available. Bed sheets were all very clean and blankets quite warm.
Service
Service at the hotel was very great. Food was quite delicious. Even if you do not want to eat at the hotel, Shalimar Bagh is merely 2 minutes away and there is a huge market right in front of it with several restaurants where you can eat. The owner was a great host who will personally ensure that all your requirements are very well attended to. They are very humble people who live nearby so even if there was any problem in Srinagar, they will ensure your safety even if it meant accommodating you in their own home.
Final Verdict
My final verdict would be that Hotel Grand Valley inn is a great place to stay in Srinagar and I highly recommend it. You can contact them at 9906571500 to book your stay. I hope the information above was of help. You can see more pictures of the hotel at the Forum Post. If you have any other questions, please feel free to ask in the comments section below; or at our Community Forum; and I will be glad to answer.