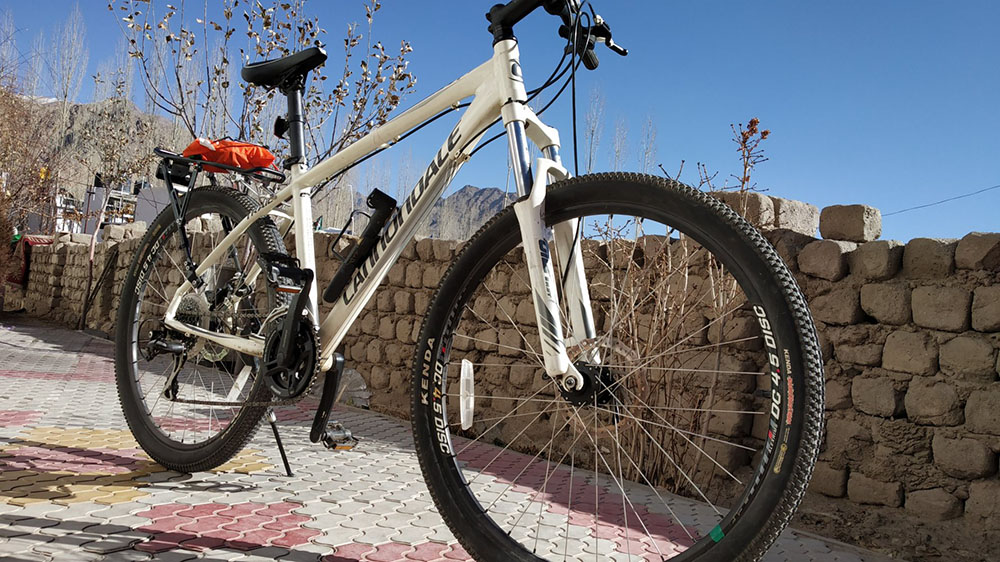 Are you planning a cycling trip from Manali to Leh? Well, you definitely will not be the only one. The highway is the dream destination of every biker and cyclist in the country right now. As long as you have the stamina for it and carefully plan your journey, you can definitely achieve this experience of a lifetime. In this post, I will provide a detailed Manali to Leh cycling itinerary that you can follow for the trip.
Please note that this article is in continuation of a previous one. In the last post, I talked about how to prepare yourself for a Manali to Leh Cycle Trip that I will also urge you to read. The previous post gives an insight into the preparation before the journey and this post gives a day by day account of the trip.
Manali to Leh Cycling Itinerary
What really makes a journey on Manali to Leh route interesting is the unpredictability of almost everything. The road opens for only about 5 months a year and presents a wide array of challenges that any adventurous soul would love to tackle. The endless kilometers of nowhere, harsh weather, tough roads accompanied by mind-blowing scenery is surely every biker's dream.
Also Read: How to Plan a Trip to Leh Ladakh – A Complete Travel Guide
But with that being said, there are of course several things that you will have to keep in mind to ensure that your journey is a safe one. Cycling from Manali to Leh is way different than cycling anywhere else. I have been cycling for almost 15 years now and have been on several biking routes all over the country. So I am actually speaking out of my personal experience. Manali Leh is a different beast altogether and you will have to be very well prepared to tame it.
You will need to know a safe distance to travel each day, challenges you may face, accommodation, food options, and risks involved. I will cover all these points in detail in the post below. I completed the journey in a  total of 10 days and will recommend that as an ideal and safe time. If you are able to give more time, it will just make the trip even more enjoyable and easier.
Let us take a look at an ideal Manali to Leh cycling itinerary and how your daily journey will look like. For this part, I am assuming that you have already arrived in Manali on Day 0.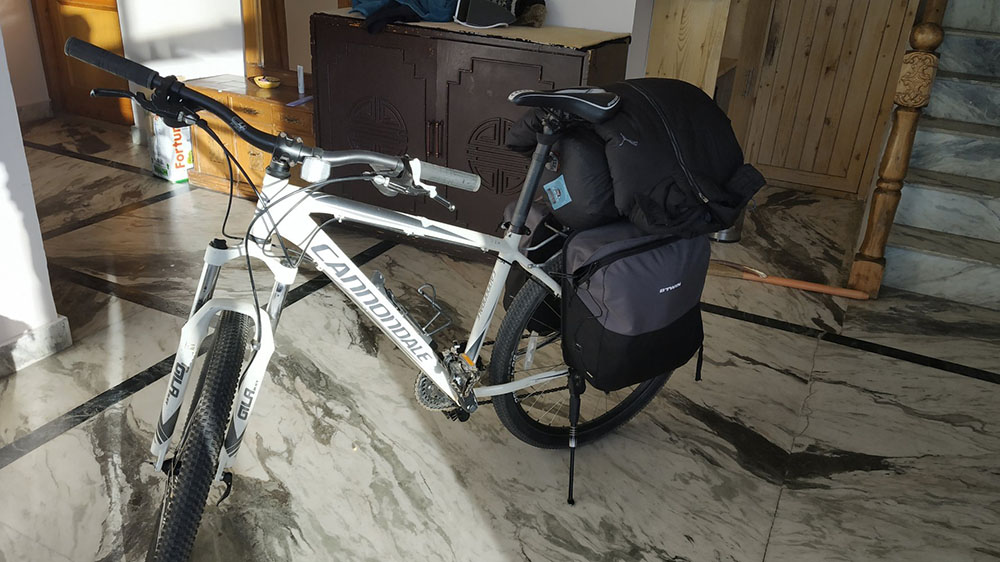 Day 1 – Manali
I will highly recommend spending at least 1 day in Manali before starting the journey. This will be beneficial in several ways but most of all is the acclimatization ride.
Manali Leh Highway runs over an average altitude of 14000 feet and almost everyone faces symptoms of altitude sickness during their journey. You are going to be cycling and the lack of oxygen will make it much more difficult. Hence it is extremely important that you prepare your body for the tough journey ahead and give it some time to acclimatize.
Most of the bikers go to Solang Valley on this day as a practice run and I will recommend that for you as well. Solang is at a distance of 14 kilometers from Manali so it will be a total of 28 kilometers (14 downhill). This will give you a good taste of what is to come ahead and will also be a check on the bike. If you find anything not working properly, get it fixed.
Go to bed early and avoid any drinks the night before. A friend of mine actually stayed for 2 days in Manali for practice runs. If you had time to do that, it will be greatly beneficial. If you want, you can even cycle from Manali to Solang on Day 1 or 2 and stay there for the night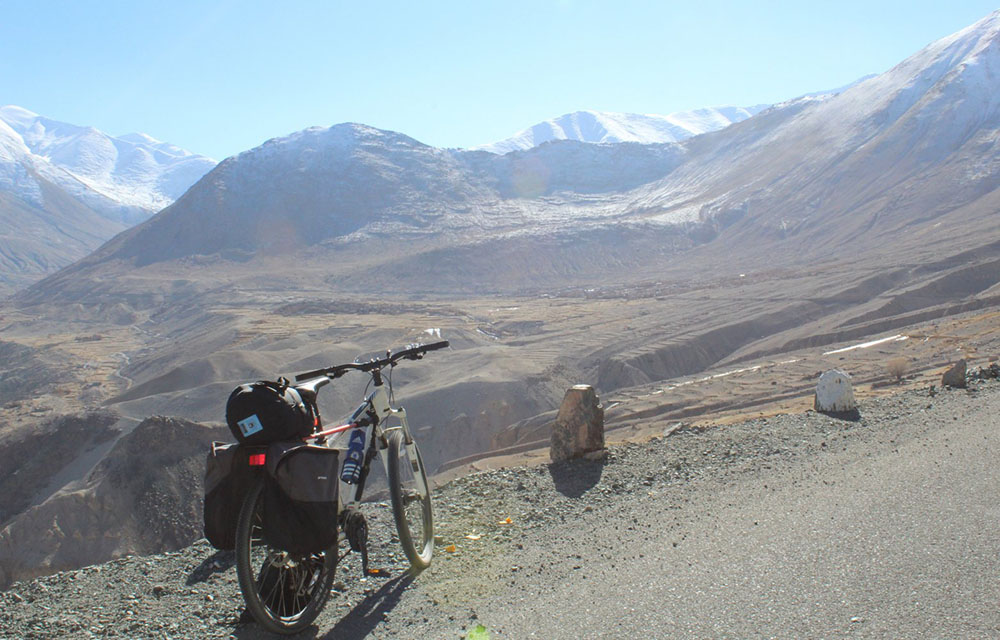 Day 2 – Manali to Marhi
Distance: 35 kilometers
Elevation Gain: 1600 meters
Your destination for the day will be the village of Marhi. Actually, it is not even a village and more of a group of Dhabas and chadar tents. The place is 35 kilometers from Manali and a major stop point during the tourist season. Almost everyone traveling to Rohtang stops here for a break and it remains alive with people all day long.
The ride from Manali to Marhi is uphill all the way and steep at several places. You will climb for the entire 35 kilometers and cross a lot of hairpin bends. The good part however is the views. Riding through a lush green valley while viewing several natural springs, waterfalls and a misty landscape will make up for all the hard work.
The only downside will be the traffic and a non-stop line of vehicles at several places. This will probably be the most crowded stretch in your entire journey. Local taxi drivers in Manali rush on the stretch and don't be surprised if you even see a couple of accidents in between. Ride very carefully and keep a careful eye on the traffic.
Take an early start from Manali to beat the traffic rush. Carry plenty of water and keep ourselves dehydrated. There will be several small eateries on the way where you can take a break. Look for accommodation at any of the Dhabas at Marhi. On average, you will pay about Rs. 250 per person for accommodation here.
Even if you reached Marhi in time with plenty of daylight left, do not push any further and break your journey for the day.
Day 3 – Marhi to Rohtang Pass to Sissu
Distance: 51 kilometers
Elevation Gain: 900 meters
The ride today will be broken into 3 parts. The first will be a 16 kilometers uphill ride to Rohtang Top. Then you will ride downhill for 20 kilometers till Kokhsar and then mostly flat for about 15 kilometers till Sissu. The highest altitude will be 3,978 meters at the top of Rohtang Pass.
Take an early start again from Marhi to beat the Rohtang Traffic as much as you can. It will eventually catch up with you but you will not be tormented as much if you started by the first light of the day.
Take a break at the top of the pass and enjoy the mesmerizing views of the peaks and the glaciers all around. After Rohtang, the ride till Kokhsar will be downhill on a mix of good, bad, and ugly roads. The traffic will reduce significantly once you are on the other side of the pass but the views will keep getting better and better.
There is a checkpoint at Kokhsar where you will need to register yourself. From here, the ride is mostly flat and straight.
Sissu has a few small hotels, guest houses, and homestays where you can spend the night. You can get a room for Rs. 500 – Rs. 700 here. There are also a few good spots for self-camping if you were carrying the gear. A lot of people try to make it to Keylong on this day but I will advise against it.
Carry a refillable water bottle. You will find several natural springs on the way where you can fill some water. There is also a mechanic in Kokhsar that can also do a check on your bike.
Day 4 – Sissu to Jispa
Distance: 53 kilometers
Elevation Gain: 900 meters
The ride today will be much easier as compared to the previous two days. There will be no steep climbs involved and most of your cycling will be on a flat road with a negligible climb.
But do not get me wrong. It will be nothing like riding a bike in the city. You will still be gasping for breath at several places and will definitely be all spent by end of the day.
The destination for the day will be the small town of Jispa, about 53 kilometers from Sarchu. The total gain in elevation will be about 900 odd meters and you will also cross Keylong on the way, the largest town of Lahaul Valley.
The road between Sissu and Jispa is also the most beautiful stretch on the entire Manali Leh highway. You will be riding along the Chandra River until Tandi and then Bhaga River between Tandi and Jispa. Near Tandi, you will also witness the confluence of these two mighty rivers to form the Chandrabhaga River that later gets renamed as Chenab River before flowing into Pakistan. There is also a waterfall and a lake in Sissu that you will see.
Accommodation in Jispa is available in the form of a few hotels, wooden huts, and a couple of campsites where you can stay for the night. If you wish to stay at a hotel, I will recommend Padma Lodge, otherwise stay at the campsite near the river. If you were carrying your own gear and reached Jispa in time, you can also continue another few kilometers ahead to Darcha and camp there.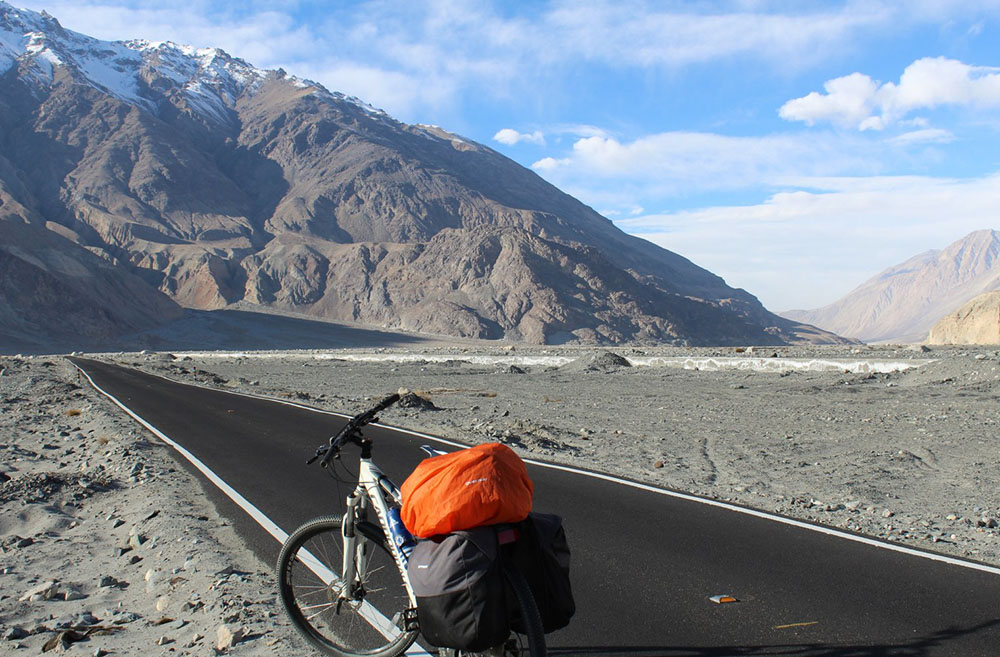 Day 5 – Jispa to Zingzing Bar
Distance: 30 kilometer
Elevation Gain: 970 meters
I have no idea why or who named it such but Zingzingbar is a Border Roads Organization road-building camp and a tea house way-station on Manali Leh highway. There are a few dhabas and chadar tents here which make it a major stop point before Baralacha La Pass. The temporary shelters are used by trekkers, truckers, and bikers for accommodation.
Zingzingbar is 30 kilometers from Jispa. After this, you will cross Baralacha La Pass, and then there is pretty much nothing until Sarchu, except for a Dhaba on the other side of the pass. Hence it is important that you break the journey here for the day and do not push any further.
The total distance between Jispa and Zingzing Bar is only about 30 kilometers which may not seem much but will surely test you. After Darcha, the road turns into a steep climb and the weather will start getting colder with a chill in the wind. The wind too will pick up the pace making it even difficult to continue pedaling.
The landscape will now also start turning from the lush green of Lahaul to the barren brown of Ladakh. On the way, you will also cross the small but beautiful lake of Deepak Tal which is also a good spot for self camping.
Points to Note
Accommodation at Zingzing Bar will cost about Rs. 200 per person. It is really a large ground type area so you can go pitch your own tent as well.
The most important thing to remember at Zingzing Bar is to not get carried away with the name. Do not get drunk, it is as simple as that. The place also gets terribly cold so keep yourself warm and protected.
The Dhabas here rely on solar charges for lights and chargers. So if you wanted to charge your phones and cameras, do not waste time and get it plugged in as soon as you arrive.
Also Read: What Clothes should you pack for Ladakh
Day 6 – Zingzing Bar to Baralacha La to Sarchu
Distance: 45 kilometers
Elevation Gain: 650 meters
The journey today will take you across Baralacha La, the second high altitude pass on Manali Leh Highway. At an altitude of 4,890 meters, it remains buried under snow for most of the year. It is the last pass to open between Manali and Leh and the first one to close.
The destination for the day is Sarchu, another tent colony that serves as the border between Himachal and Ladakh. There are a few campsites at Sarchu and Chadar tents where you can break your journey for the night.
You have a long ride ahead of you today and quite a bit of climbing to do as well. Hence an early start is highly recommended. The first 22 kilometers is completely an uphill and steep climb to the top of Baralacha La. You will make your way through a long line of trucks and freezing weather. Dry cold winds will greet you and it will keep getting colder by the minute.
Take a break at Baralacha La and relax as the hardest part of the day is now over. There is a small lake at the top of the pass called Suraj Tal, which is also the source of the Bhaga River. Click a few pictures and be on your way. It will take you about 4 hours to reach Baralacha La. Depending on your breaks and speed, it could even be more.
After the pass, the ride is mostly downhill or flat until Sarchu. You will also be tackling a few water crossings on the way. The road will be a mix of good, bad, and ugly. There will be a few dhabas on the way where you can take a break and get something to eat. Be very careful around the water streams and inspect those carefully before crossing.
Accommodation
For your stay, you can either opt for the Dhabas at Sarchu which is cheaper, or the campsites which will be a little on the costlier side.  You will start noticing camps on both sides of the road as you approach the border. If the budget was not a problem, you can stay at the luxury camps. Otherwise, just keep riding; register yourself at the check post and cross the border.
On the Ladakh side, there are several Dhabas where you can get a bed for the night for as little as Rs. 200 per person. This is where we stayed because it seemed livelier and we anyway just needed a place to crash for the night. You can also do self-camping but I will highly recommend doing so close to the dhabas.
The Army camp in Sarchu has a satellite phone that you can use to make phone calls at the rate of Rs. 2 per minute.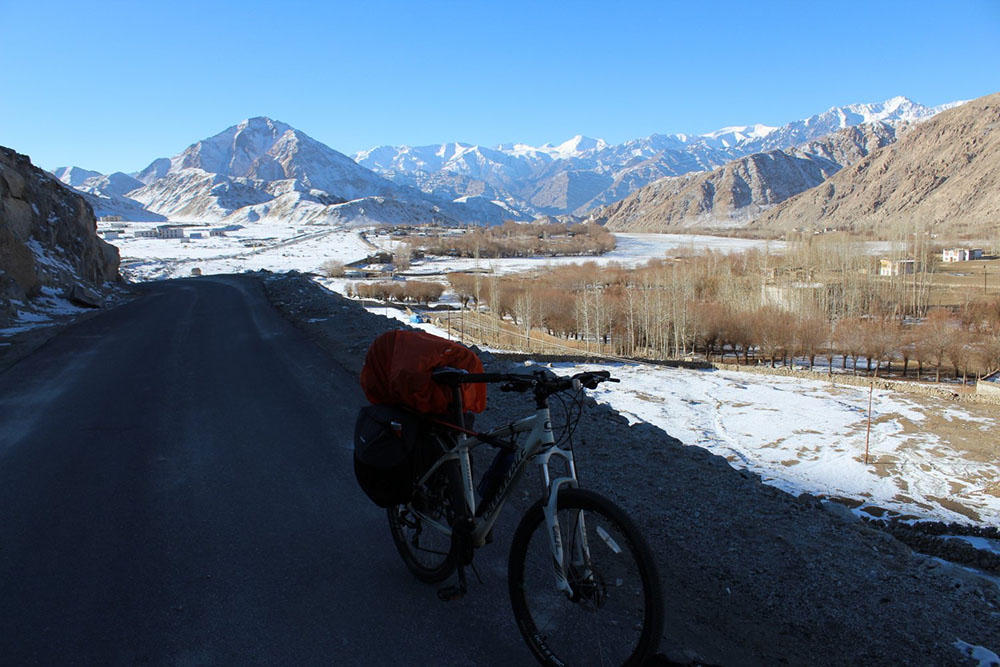 Day 7 – Sarchu  to Nakee La Pass  to Whiskey Nallah
Distance: 54 kilometers
Elevation Gain: 900 meters
The first part of the ride today will be a somewhat easier and pleasant one. From Sarchu, you will first ride 38 kilometers on an almost flat road to the base of the Gata Loops.
Gata Loops are a series of 21 hairpin bends that take you to the top of Nakee La, the third high altitude pass on the Manali Leh route. The climb will be a strenuous one and will definitely take it out of you. Nakee La is at an elevation of 4,739 meters (15,547 ft). One by one you will ride up the bends and keep gaining tremendous amounts of altitude. There is also a  ghost story related to this pass that you can read about at The Ghost of Gata Loops.
Do not stress yourself and ride this stretched at a relaxed pace. Take as many breaks as needed as exerting yourself may trigger symptoms of altitude sickness.
The road after Nakee La will be downhill and you will arrive at Whiskey Nallah. There are a few dhabas available here that will charge you Rs. 200 per person for the night. You can also do self-camping here and can eat at the dhabas, thus saving yourself the need for cooking.
There is no place to eat at between Sarchu and Whiskey Nallah. So ensure that you are carrying sufficient water and some snacks before you start. Please also do not leave water bottles at the loops for the so called ghost as it will just be littering the area.
Day 8 – Whiskey Nallah to Lachulung La to Pang
Distance: 27 kilometers
Elevation Gain: -300 meters
Pang is another tented accommodation like Sarchu and one of the major halt points on the Manali Leh route. The majority of the tourists will either stay at Pang or Sarchu while traveling on the highway. Accommodation here is available in the form of dormitory type chadar tent or private tents.
The ride today is really a relaxed one and not that difficult. From Whiskey Nallah, you will ride up to the top of Lachulung La Pass, your fourth high altitude pass of the journey. The climb is not that steep and a short one as well for that matter.
After Lachulung La, you will ride downhill until Pang. The real challenge on this stretch will be the bad roads that will limit your speed. Ride carefully, take plenty of breaks, enjoy the views, and arrive at Pang.
Depending on your preference, you can get accommodation at Pang for Rs. 200 to Rs. 300 per person. There is also an Army camp at Pang that has satellite phones. From here, you can make local calls to your family for around Rs. 2 per minute. There is no mobile connectivity at Pang. In fact, after Jispa, you will not have network reception at all until you reach Leh.
Day 9 – Pang to More Plains to Debring
Distance: 47 kilometers
Elevation Gain: 300 meters
There are three things to note about this day. The first is that the ride will take you across More Plains which will really be the highlight for this day.
More plains, originally called Kiang Chu Thang in the local language, is a plateau on the Leh–Manali Highway. The name of the plains literally means a plain where the kiang (Tibetan wild ass) does not find water. The plains area starts about 4 kilometers after Pang and then stretches for 40 km towards Tanglang La pass. The plateau has an average elevation of 4,800 meters and is one of the biggest attractions of the Manali Leh route.
The second thing is that the winds in the plains will make the riding way more difficult, even though it will be on a flat road. The third thing is that the landscape will be one of the best that you have ever seen and you should spend time enjoying it.
Your destination for the day will be Debring where you will stay at the Dhaba for Rs. 200 per person. It is really nothing but just a BRO site with a few dhabas. The Dhabas can be seen right from the highway and you will have no problem noticing them. The same road that these Dhabas are on in fact goes to Tso Kar Lake.
You may encounter some dogs in this area. Just ignore them, keep riding slowly and they will give up the chase eventually. Do not go any further after Debring because up ahead is the pass of Tanglang La and then nothing until Upshi.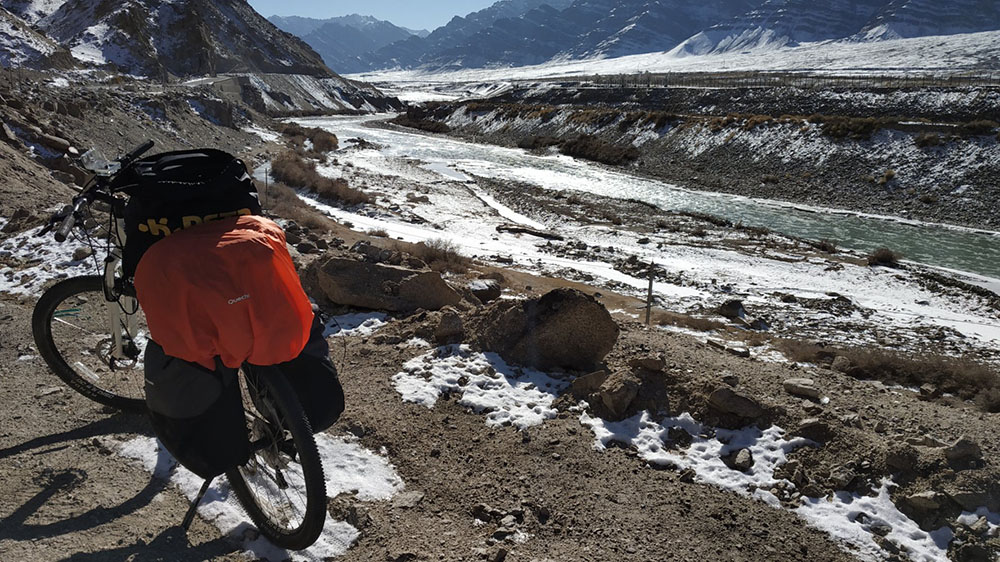 Day 10 – Debring  to  Tanglang La to Upshi
Distance: 81 kilometers
Elevation Gain: 700 meters
Now you are approaching the end of your awesome journey on one of the most challenging and famous highways of our country. The highlight for today will be the high altitude pass of Tanglang La. Standing tall and proud at an elevation of 5,328 meters (17,480 ft), it was once incorrectly famed as the world's second-highest motorable road. That title may now have been lost but crossing this pass on a cycle is still an accomplishment in itself.
From Debring, the top of the pass is at a distance of about 20 kilometers. The road conditions around this part of the highway are almost always bad. The entire 20 kilometers is a steep uphill climb and will take you some time to complete.
Spend some time at the top of the pass and then ride downhill to Upshi. Here you will have two options. If you reached in time, you can push the last 50 kilometers and make it all the way to Leh. A friend of mine did this. I however decided to break the journey in Upshi and complete the remaining distance to Leh the next day. It will all depend on your personal choice and the time you arrived at Upshi.
The wind between Debring and Tanglang La will really make it a challenge to keep climbing. The condition of the as well is not really that good. On the downhill, keep control of your bike as there are a few sharp turns on the way.
Upshi has several hotels, guest houses, and homestays where you can spend the night. Upshi is at an altitude of 11840 ft which is just slightly more than Leh.
Also Read: How to Plan a Bike Trip to Leh Ladakh
Day 11 – Upshi to Leh
Distance: 50 kilometers
Elevation Gain: – 280 ft
Between Upshi and Leh, you will ride along the beautiful Indus River. The feeling of accomplishment will fly high and you would have achieved what only a few have. It is really a relaxed ride on a mostly flat road. The only part that would seem difficult is the last 4 to 5 kilometers where the road climbs steadily until Leh.
There are several hotels in Leh and you can spend some time finding one that suits your needs and budget. Your phones would already have started working in Upshi but if it didn't you will surely get reception after reaching Leh. If you started early from Upshi, you will easily reach Leh before noon.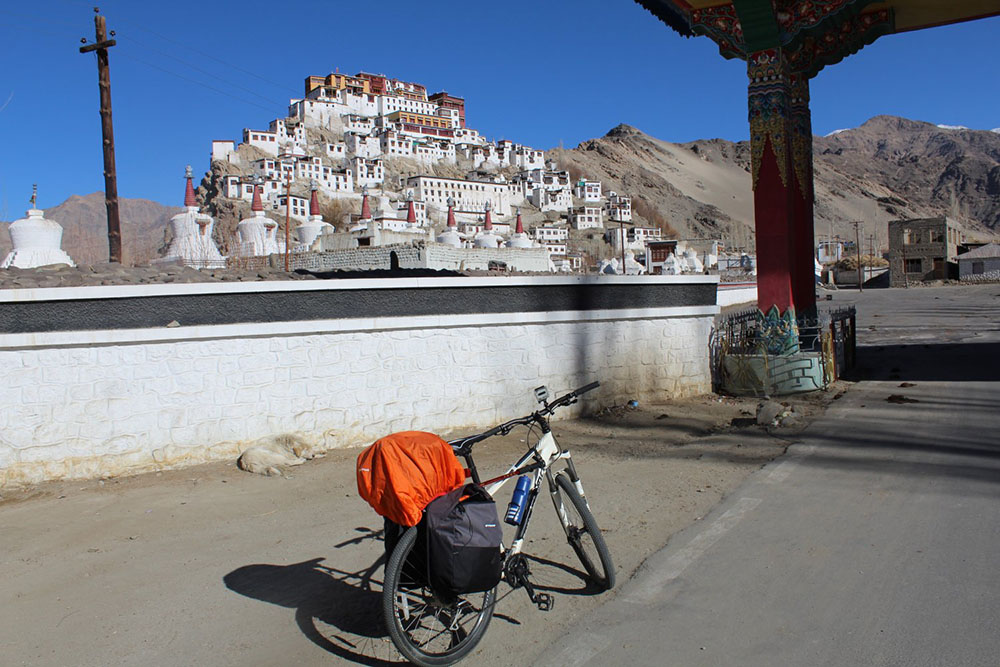 Manali to Leh Cycling Itinerary – Conclusion
I hope the details above on Manali to Leh cycling itinerary were of help. If you have any questions or need any other details, please feel free to ask in the comments section below or at our Community Forum and I will be glad to answer.