Yes I am using the word "Drama" here but that is what visiting Rohtang Pass has become lately. Another word that describes it perfectly is "hassle". Much of it is attributed to the recent traffic restriction enforced by NGT; but the main cause of course is the huge number of tourists that visit Manali and Rohtang Pass each year. A trip to Manali is no longer your typical vacation that you go on in order to relax and enjoy. It is now more of an inconvenience. The one that you will have to plan for yourself; then pay for it; and in the end deal with very annoying set of people to finally accomplish.
If you were thinking of visiting Manali and Rohtang in near future; then let me run you down step by step on how you will finally succeed and win this battle.
Rohtang Permits
OK so every battle needs planning and strategy. For your battle of Rohtang, you will have to carefully think of your action plan. The first step is to obtain the permits which is very crucial because it will mean winning half the battle. Problem with the permits however is that these are not very easy to obtain. There is a daily restriction on the total number issued and these largely are kept booked by the local taxi drivers for days in advance. So if you were visiting by your own car, you will definitely face problem in securing a permit for your visit.
Also Read: How to get Permit for Visiting the Pass
Taxi for Rohtang
If you were thinking about hiring a taxi from Manali for Rohtang Pass, then be ready to pay a hefty amount for it. In peak tourist season, the charge can go up to even Rs. 15,000 for a single day trip to the pass in a Maruti Alto. "Daylight Robbery" is what I call it but that is how it is. The only thing these taxi drivers haven't done yet is to rob tourists at gunpoint; rest is pretty much accomplished. Heck, you can actually buy a motorcycle by paying that amount as down payment and come visit Rohtang on that motorcycle.
Bus Service to Rohtang
Another cost effective way to visit Rohtang is to go there by Bus which is available from main bus stand near Mall road. It is a daily bus service every morning that brings tourists to the top of the pass; waits there for two hours; and then returns to Manali by afternoon. Problem however is that even the tickets for this bus are sold out for several days in advance. So you will actually have to think about it days before your trip and buy the tickets online to avoid last minute hassle. It is like booking a show for your favorite movie before it was even released.
The Traffic Jam
So let us assume that you secured the permit and are finally ready to visit the pass; a trip that you have been long waiting for. But wait, even that is not going to be an easy task. The notoriety of the traffic at Rohtang Pass is not for no reason. In fact, the situation has worsened so bad in last few years that people have started to leave from their hotels as early as 3 AM for Rohtang. When you are in Manali, you will find cars returning to Manali even at 12 midnight from Rohtang.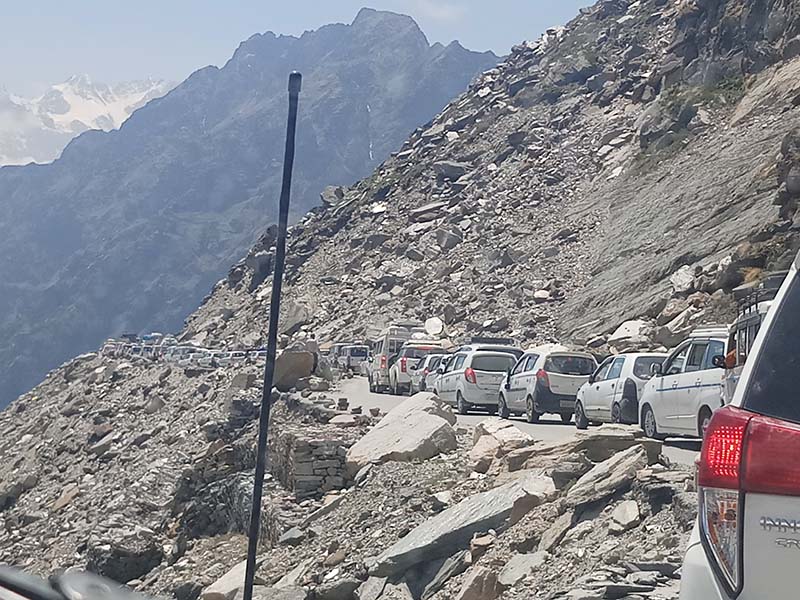 While returning from Spiti this year, I got stuck in traffic near Rohtang top and was standing at the same spot for 2 hours before it finally got moving. It took me about 4 hours to reach Rohtang top from Chandratal and then it took me another 6 hours to reach Manali. We were standing at Rohtang top at 1 PM and when I finally checked into a hotel in Manali, the clock showed 7 PM. What was ideally a 2 hours journey at most took my 6 hours to complete.
Gulaba Check Post
And it is not just the long line of cars and tempo travelers causing the delay. It is also the check post at Gulaba where you have to submit your permits. The usual wait time at the check post itself is about 2 hours before you finally cross it.
Kumbh ka Mela
That is how you will feel when you finally reach Rohtang top. True that it is very scenic and there will be snow all around. Yes your kids will be very excited but you will be surprised to see the huge number of people there. There will be tourists as far as the eye goes; or as far as people can go without falling off the mountain. You will have trouble getting a single picture with only you in it. Once you get to the top, you will be looking for a place to park your car because there will just not be any space anywhere. In the end, you will give up the idea of staying at the top and then drive further downhill, away from the crowd.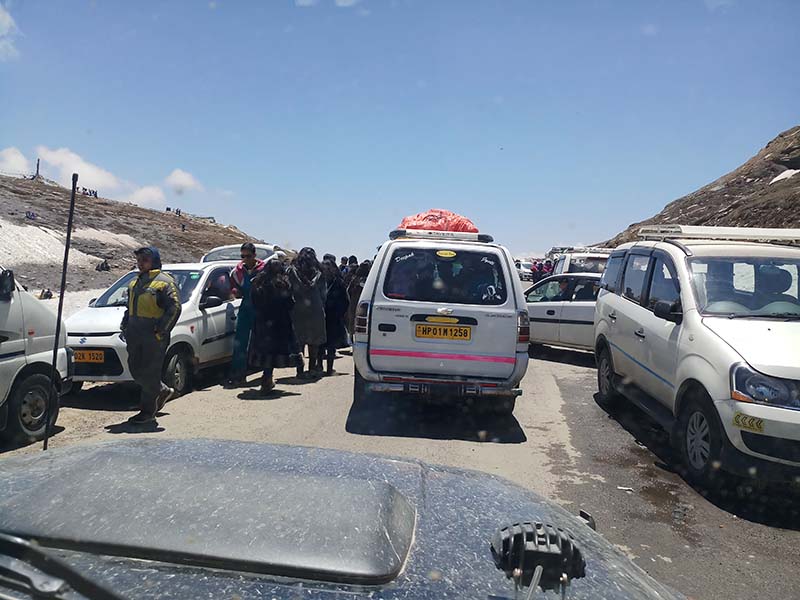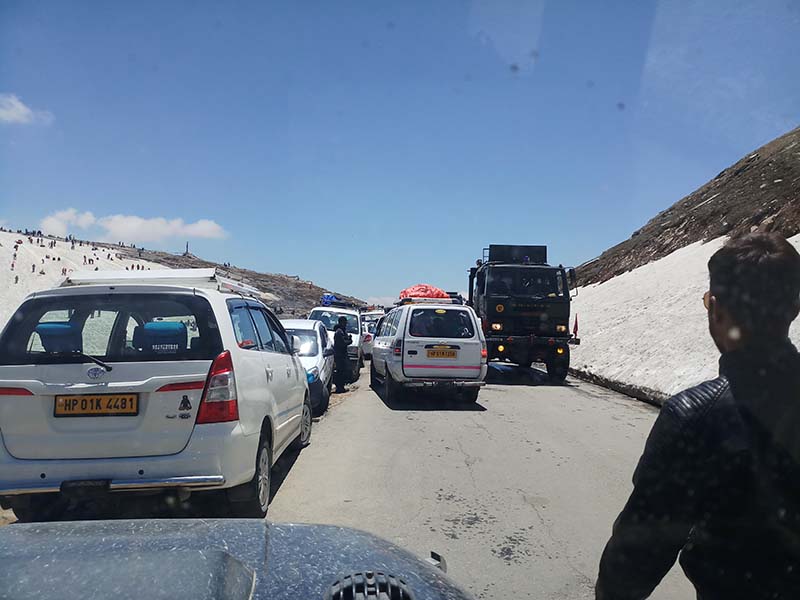 Conclusion
I have nothing against people visiting Manali and Rohtang but to be honest, I feel it is just highly over rated. There are numerous other places in Himachal and Uttarakhand that are less populated, less expensive and way more scenic. Just google for an offbeat destination and you will get plenty of results. This is just my opinion though that you may or may not agree with. please do feel free to share your views either at our Community Forum or in the comments section below.