For anyone who has traveled on Manali – Leh highway, Baralacha La is a name way too familiar. It is a high altitude pass in the Zanskar range; connecting Lahaul district of Himachal Pradesh to Ladakh in Jammu Kashmir. It is 4,890 m or 16,040 ft high at the top and is considered to be one of the most treacherous passes due to the heavy amount of snow it receives each year.
Baralacha La opens only for a few months in summers. Even then, there is always a risk that it can snow at the pass at any time of the year, closing down the road. People have often gotten stuck on Manali Leh highway because of unexpected snowfall at Baralacha La. It is one place where you can always expect to find snow, no matter which month of the year.
Also read: How to Plan a Trip to Leh Ladakh
At the top of the pass is a large hall type building which now stands in ruins with a stone marker in front of it reading "Shaheed Sainik Bhavan". Everyone who has taken the adventurous journey from Manali to Leh would have noticed this hard to ignore and standing in the middle of nowhere building. But only a very few are aware of the interesting and rather peculiar story behind.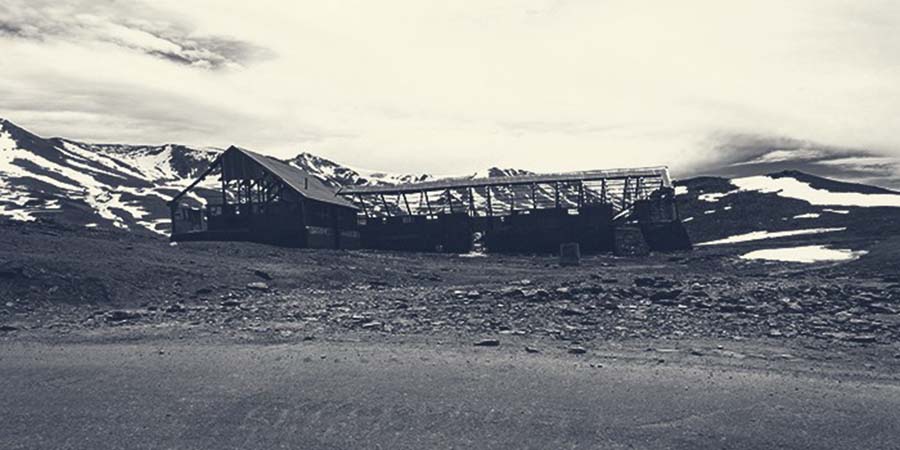 Baralacha La & The Ghost Story

During one of my trips to Ladakh, I was taking a stroll on the banks of Pangong with my Nikon DSLR in my hands. It was early morning and the sun had just started to come up from behind the hills; presenting a mesmerizing sight with its rays reflecting on the blue waters of Pangong.
The other three of my fellow travelers were fast asleep in their beds at the camp. I wanted to get a few early morning shots of the lake so I was up and out early and alone.
After walking around for almost an hour, I sat down near the lake to take a quick breather. I was pretty much all by myself with not even a single soul in sight. My only other companions that morning were Brahmi Ducks, who were giving me a real tough time to take a few good photos of them.
Then from a distance, I noticed three soldiers walking towards me. From the looks of it, it looked like they were just patrolling the area. I lit a cigarette and turned my attention towards the beautiful calm lake and the Brahmi ducks floating on it.
Also read: The Ghost of Gata Loops
The Soldiers
"Do you have another one?" The sudden question almost made me jump. Sitting there, I was so lost in myself that I didn't even see the soldiers walking up right behind me.
"I am sorry?" I asked.
"Do you have another cigarette?" One of them asked.
"Sure" I took the cigarette packet out of my pocket and handed it to him.
I didn't have a lighter on me, just a matchbox. Lighting a cigarette in early morning winds at Pangong was quite a task in itself. The guy I handed over the packet took a cigarette out but was really having trouble keeping a matchstick burning long enough. Stick after stick he kept trying and I started to worry that he was going to burn them all.
"Here" I put my camera down on the sand and took the matchbox from him, "Let me help you"
While I was lighting the match stick for him, another soldier picked my camera up and started to look at it with curiosity.
"It must be expensive," He asked me.
"It is indeed" I replied with a smile keeping the matchbox back in my pocket after successfully completing the operation "light a cigarette".
"Did you get some good shots?" He asked me but his eyes were fixed at the camera LCD and fingers fumbling with the buttons.
It was obvious that he was trying to see some pictures but couldn't figure out how to turn the camera on.
"Yes I did" I replied and took the camera out of his hands gently, "Let me show you"
The Pictures
We were all standing in bright sunlight and it was a little difficult to see the LCD so all three formed a circle around me in order to block the rays so they could see the photos.
"Those are some good shots," One of the remarked as I started to shuffle between the pictures on my LCD.
Also read: The Heroes of Rezang La
I thought they just wanted to see a few captures of the lake but I was wrong. They just stood there with me, looking at the LCD until I reached this picture of Baralacha La.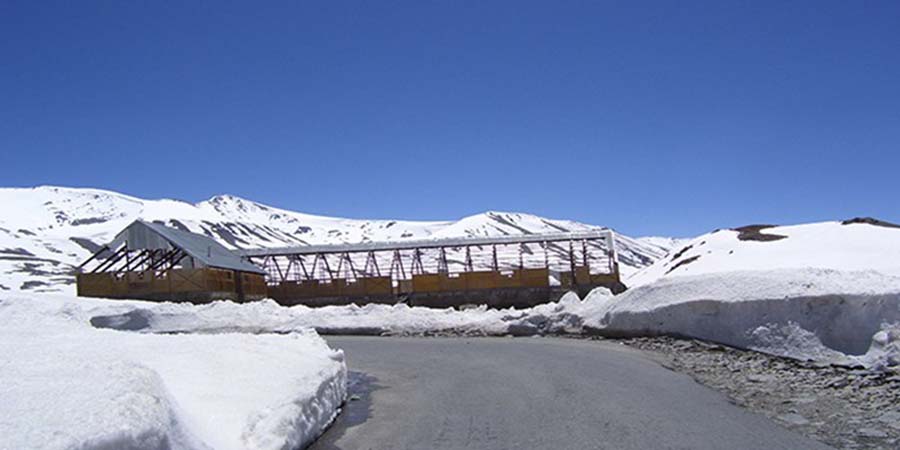 "Ha" One of them chuckled the moment they saw this shot.
"What?" I asked in surprise.
"Did you go in?"
"Go in where?" I said.
"In there" He pointed at the ruins of whatever it once was.
"Why would I go in there?"
"You should have, maybe you would have met the ghost," One of them said laughingly.
"Or get eaten by the ghost" Other one joined him in the laugh.
I was clearly confused and a "What?" is all I could manage, looking at their laughing faces.
"You do not know?" They continued laughing and asked.
"Know what?"
"That place is haunted. Some soldiers died there"
"How did they die?" I sounded curious, "In the war with China?"
"There was no war here at Baralacha La. They were killed and eaten by a local man"
I was sure I heard it wrong but still thought to confirm.
"Did you say eaten?"
"Yes. A man killed three soldiers in there and ate them"
"You are kidding, right?" I asked.
"No I am serious" He replied.
"But why would someone eat the soldiers?" I was still confused.
Shaheed Sainik Bhawan
"There used to be a post there at the top until about a few years ago. All the high mountain passes have military posts and so did Baralacha La. But the post here was the toughest one because of heavy snowfall at the pass. In winter, it was almost impossible to get to the post for months so soldiers used to stockpile their rations."
"I think they do that at all the posts, don't they?"
"Yes, but Baralacha La was different" He continued, "At other posts, it is still possible to clear the snow and reach the top. That is how we keep the roads here open in winter, for the military. But the post at Baralacha La used to remain cut off for weeks and the only way to contact the soldiers was over the radio"
"Ok" Now I really wanted to know where it was going.
"One winter, there were three soldiers posted at the top of the Pass; right where this Shaheed Sainik Bhawan now is. In the months of January and February that year, the weather was really terrible. They said that it was the heaviest snowfall ever recorded.
So the three soldiers posted at Baralacha La were stranded for a good 2 months. Even the radio contact in those months was bare minimum. After the weather eased down a bit in March and BRO was able to clear roads for Military vehicles, a patrol went up to the post in order to supply rations but what they saw over there was beyond belief"
Also read: The Beasts of Changthang
The Cannibal of Baralacha La
"What did they see?"
"They found a man sitting inside the post eating what seemed like parts from a human body"
"What?" Again, this is all I could say.
"No one had any idea who he was but all the three soldiers were dead and their bodies were half-eaten. The moment the patrol reached there, he ran towards them with a knife in his hand but was shot down before he could hurt anyone else"
For a few seconds, there was complete silence.
"Did they find out why he did it?"
"No. He died before anyone could talk to him. Army inquired at the nearby villages but no one could recognize his body"
"That is weird and really creepy", I finally managed a smile, "What happened after that?"
"They maintained the post for a couple of more years after that incident but finally it was abandoned"
"Why?"
"Primarily because it was tough to maintain a post at Baralacha La. Earlier there used to be Army posted on all these passes on Manali Leh highway. But over the time it kind of felt unnecessary to keep soldiers there. It is not really a border area. So eventually all the posts were finally removed. But with Baralacha, it was an entirely different story"
"Someone else died there too?"
"No, but the soldiers started to complain about witnessing strange happenings" one of them replied.
"Like what?"
The Haunting of Baralacha La

"Like hearing strange whispers, as if an animal was growling near their ears. Sometimes they would step out and would find the post ransacked upon return; with no one else in sight and no idea about who did it. Some of them even mentioned seeing a strange man with a knife.
Some complained about hearing painful cries of soldiers like someone was butchering them. Initially, these stories were ignored but almost every soldier posted there afterward complained the same. A few of them even stranded their posts and went to a nearby one."
Also read: Is Ladakh Safe for Tourists?
"Did any of the locals experience the same?"
"There are no locals there nearby. The nearest village is Darcha which is miles away. However, some truck drivers and even some tourists reported a man running after their vehicles with a knife in his hand. A few others reported seeing blood-stained soldiers waving at passing by vehicles and asking for help; especially near the time when Baralacha was about to close or was just reopened. "
"When there was still snow left over there and the weather was still cold?"
"Exactly"
"Did anyone stop?"
"A few mentioned that when they stopped their vehicle and stepped out, the soldier was no longer there. As if he just vanished in thin air"
"Wow, that is strange indeed. And no one knows why he killed and ate the soldiers?"
The Why Factor
"No. Strange part was that all the ration and food at the post was still intact so it wasn't like that they ran out of food and started to eat each other. Food was still there but he still chose to kill and eat another human. What is even stranger is that he managed to kill three trained soldiers alone. It is said that even today if you looked closely, you can find pieces of bones of the dead soldiers in there"
"Why do they call it Shaheed Sainik Bhawan then? They were not really martyrs in a war?"
"What would you call it then, "Swadisht Sainik Bhawan"? They did die at their post, safeguarding it. They were here in a harsh winter doing their duty and were killed by a maniac, that makes them martyrs"
"True" I nodded my head in agreement.
I didn't know what to think of the story I was just told, whether to believe it or disregard it. All of the three soldiers seemed to know about the story and kind of took turns to narrate the events to me.
The only way to confirm its validity was to talk to the Indian Army but that was not really an option. Further, if such a thing indeed happened here, what is the certainty that the Army would talk about it and spread the word?
Conclusion
Truth or not, it remains for a fact that a building like this standing all alone on top of a hills does present a ghostly picture. That year we took the Srinagar Leh highway for our journey back home so I did not get to see the haunted Shaheed Sainik Bhawan again.
But one thing that I knew for sure was that the next time I cross Baralacha La, I am stepping in to find out if there are bones left indeed. If you have been to Baralacha La; have seen this haunted building and have an experience to share, please do so either at our Community Forum; or in the comments section below.