We often ponder and worry if we should take our little ones (as young as 2-year-olds) to high-altitude destinations. I hope this travelogue will help many parents who are in a similar dilemma and want to travel to places like Ladakh and Spiti with their young kids. We went on a Family trip to Spiti Valley with our daughter. She was not even 2 years old when we started from Delhi. We celebrated her 2nd Birthday at an altitude of 3,700 meters during the trip.
We received many words of encouragement and also some raised eyebrows when we were planning a road trip with our daughter to the upper Himalayas which would include crossing and staying at high altitude destinations. The first thing that I did was consulting fellow travelers. The response was generally positive and hence I proceeded and met our pediatrician for further advice.
For more details on this topic and how to prepare for it, take a look at How to Plan a visit to Spiti Valley with Kids & Family.
Family Trip to Spiti Valley
We were advised by the doctor that it is fine to take the kid to this high altitude as a baby (provided she is older than 3 months) will have the same response to the altitude as the adults. However, we were also advised that it is necessary to gradually go up the altitude with several night halts in between.
Since our doc is also a seasoned traveler and knows the circuit, he immediately advised us to go via Shimla and not Manali to avoid sudden altitude gain. He prescribed certain medicines for the kid (including for AMS) and also asked us to be informed about the nearest army posts if any help is required on the way.
After much thought and preparations, we decided to explore the Kinnaur and Lahaul-Spiti districts of Himachal Pradesh in the month of June. Our daughter's 2nd birthday would also fall during the trip. Me, my wife, and our daughter were also joined by my sister in Law and two friends from Bengaluru.
Day 1: Delhi to Matiana
We left at around 5:30 AM from New Delhi in our Renault Duster. The destination for the first day of our family trip to Spiti Valley was Matiana Village (19 km before Narkanda). However, after a massive traffic jam at Kumarhatti due to the widening of the highway, we crossed Shimla a bit later than we expected.
Crossing Shimla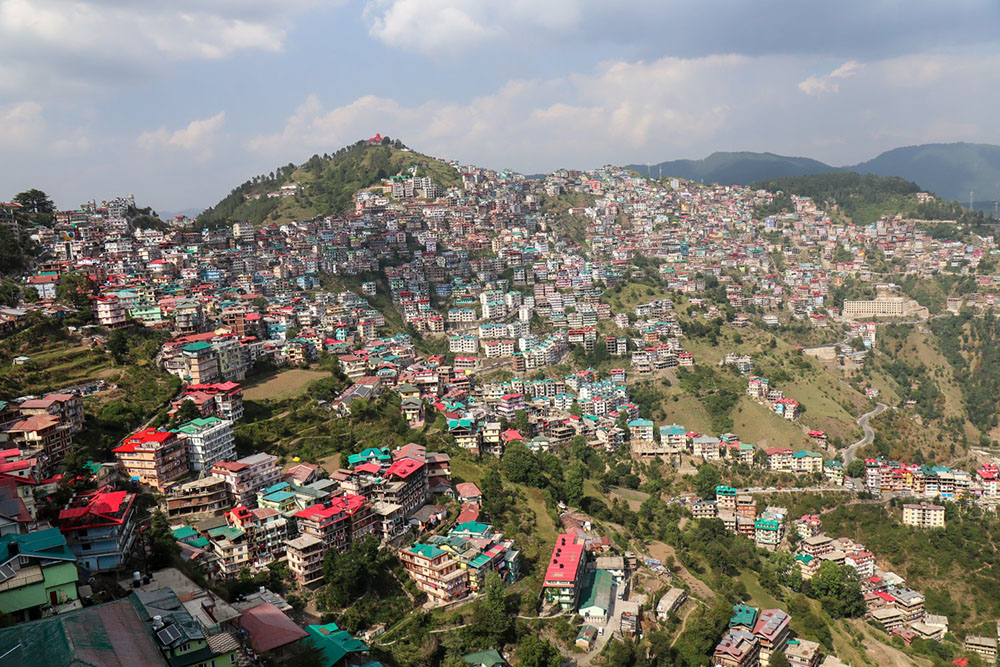 After having lunch between Solan and Shimla, we thought of taking ample breaks until we reach our hotel in Matiana. The heat was gone and the air felt fresh. One can gaze at colorful Sanjauli for hours from this point while crossing Shimla towards Kufri.
We reached our destination for the day (Matiana Village) around 6 PM. We spent the rest of the evening strolling along the streets and interacting with localities. The people there were very friendly and even invited us to their home! Our daughter met lots of kids who she played with as we enjoyed the views from this little village.
We stayed at Hotel – Backpackers Homestay, Matiana. The hotel is new and has clean rooms with this view. The food is also good.
Apple orchards amidst dense forest are sprawled all across the Narkanda region. It got a bit windy and chilly as the sun touched the horizon. After roaming around the village and interacting with the locals, it was time to relax a bit while gazing at this peaceful yet lively sunset.
Day 2: Matiana to Kalpa
We started pretty early from Matiana as we wanted to spend ample time exploring Kalpa (our destination for the day). The landscape from Matiana (a few Kms before Narkanda) to Kalpa is diverse.
After Narkanda, there is a steep descend towards Kingal and Rampur and then the road moves along the mighty Satluj river until Powari after which you climb up for Reckong Peo and Kalpa.
Also Read: Spiti Valley with Family – How to Plan a Safe Trip
Fluttering flags at Shongtong Bridge. Our daughter was ever excited to see so many fluttering flags! Her excited screams and laughter are something that will always be cherished!!! Indeed it was a task to get her back in the car as she didn't want to let go of her colorful flags!!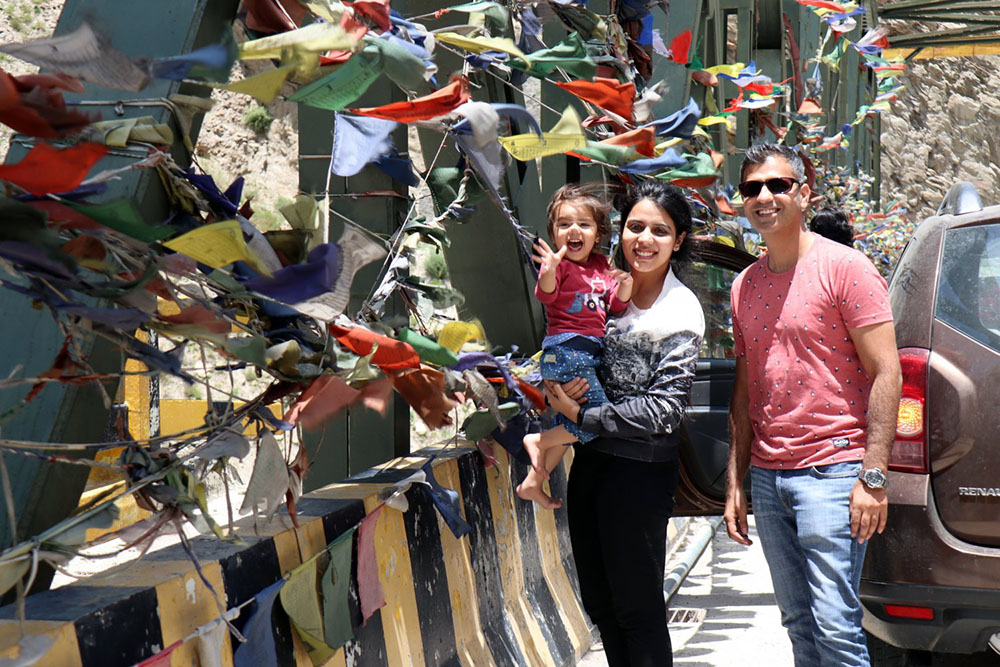 Kinnaur Kailash Cottages.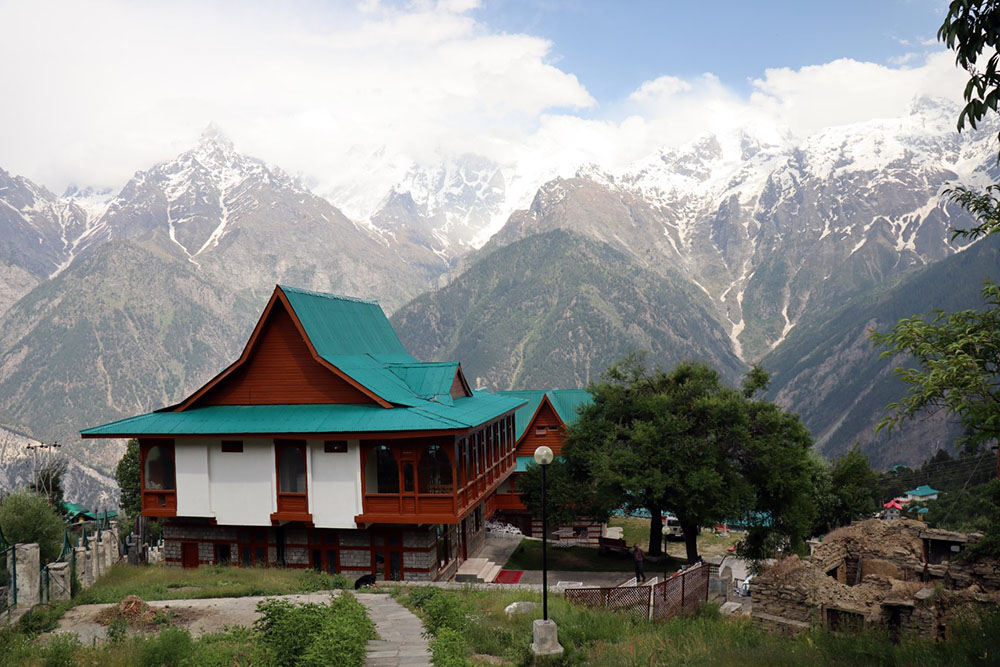 Kalpa
We reached Kalpa at around 1:30 PM. We had prebooked the Kinnaur Kailash Cottages (HPTDC Kinner Kailash), a couple of minutes away from the town. Being a government property, it offers the best views of the Kinner Kailash ranges overlooking Kalpa town.
It was drizzling all through the afternoon which called for hot coffee for everyone. The rooms are inexpensive, clean, and come with a great view.
After having lunch, we went on to explore the Kalpa town for rest of the day. The town center is some 10 minutes of descent by stairs from HPTDC Kinner Kailash.
For more details on sightseeing in this little town, take a look at How to Plan a Trip to Kalpa. We explored the Kalpa Monastery, Chandika Devi Temple, and the streets of the town. It was cold and raining incessantly. However, we did enjoy the weather with chai offered at the temple and hot momos of Kalpa. Our daughter was amused meeting local children of her age and rotating the prayer wheels at the monastery.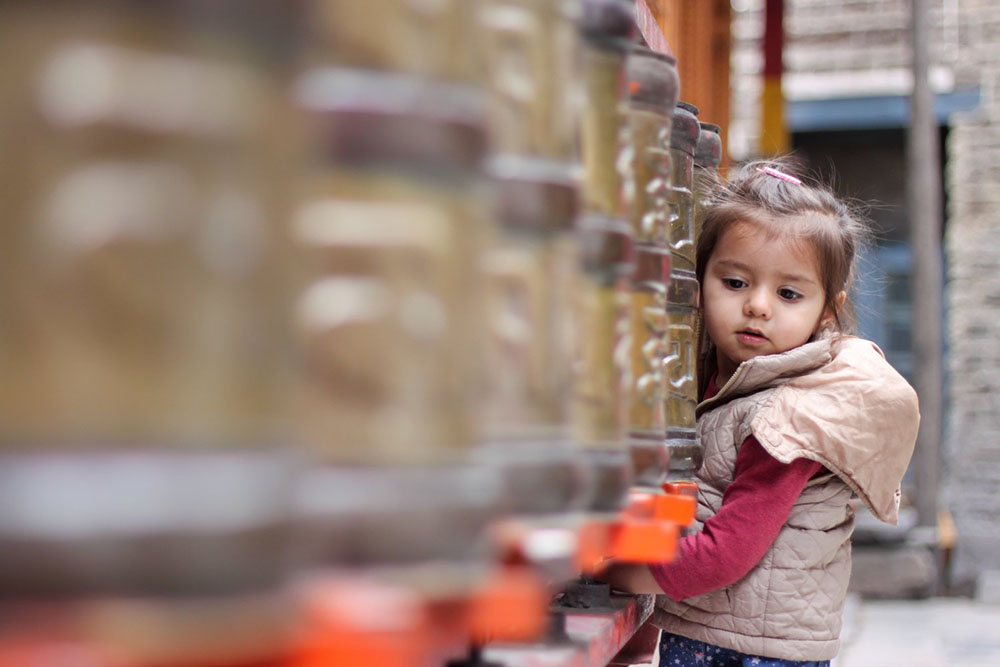 Day 3: Kalpa to Nako
It was truly a grand and wonderful day for us as it was our daughter's second birthday. For quite some time, she wanted to have ice cream. On her birthday, we had to arrange one for her.
Fingers crossed, we left for Nako from Kalpa in the morning with a plan to stop and find some ice cream in Reckong Peo. Luckily, we could find the ice cream in downtown Peo and hence the celebrations had begun.
The route from Reckong Peo to Nako is beautiful and dramatic. Within a short distance, you see the lush green valleys transforming into a cold desert.
Arriving in Nako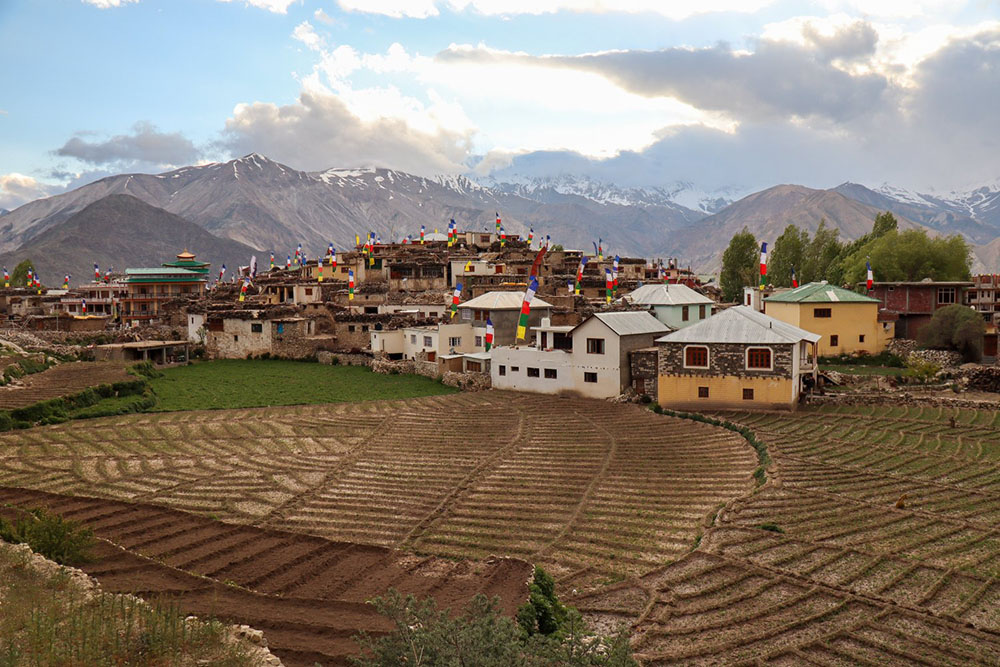 Nako is situated in the picturesque Hangrang valley at an altitude of around 3,700 meters. The village also has a small lake in the middle of the cold desert. For more details, please take a look at How to Plan a Trip to Nako Village.
Nako Village
It was chilly as well as windy when we arrived in Nako. The altitude gain is sudden after Khab (the confluence of Satluj and Spiti rivers) and a cocktail of lowering oxygen level and windy conditions on these winding roads may make you feel a bit dizzy.
Nevertheless, we had big plans for the day. Explore the village, spend some time at the lake, take a hike to Buddhist Chortens, taste local cuisines, and most importantly, celebrate the Birthday!!
After checking into the hotel, we decided to go for a quick hike to Buddhist Chortens and a giant prayer wheel visible from the village. The place offered really good views of the lake, village, and the entire Hangrang Valley.
Nako Lake – An oasis in the cold desert.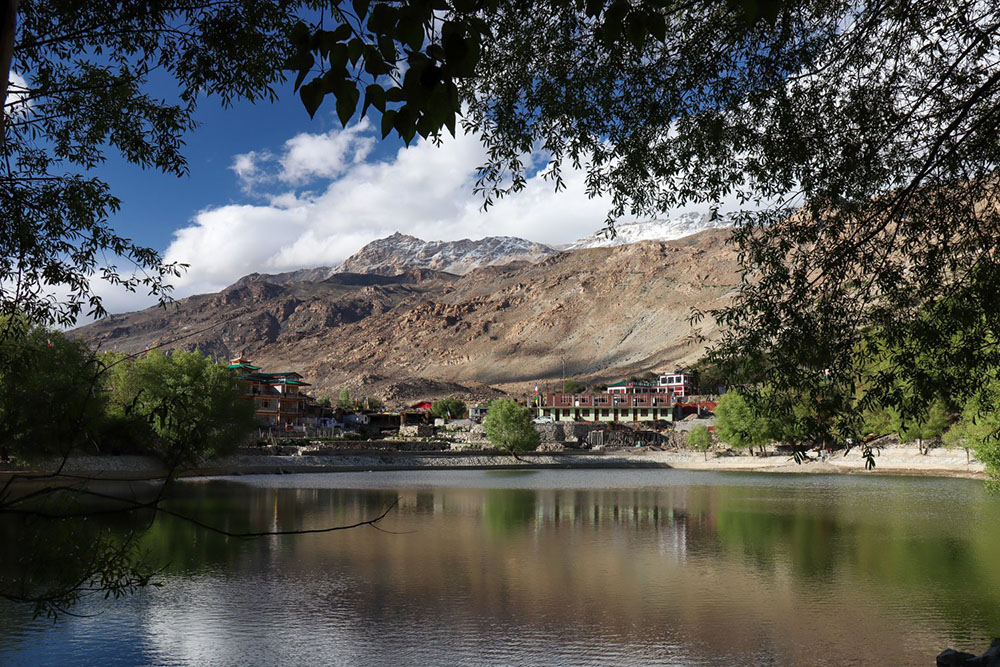 A full circumference of the lake takes only a few minutes and offers a great view of the village and nearby mountain ranges.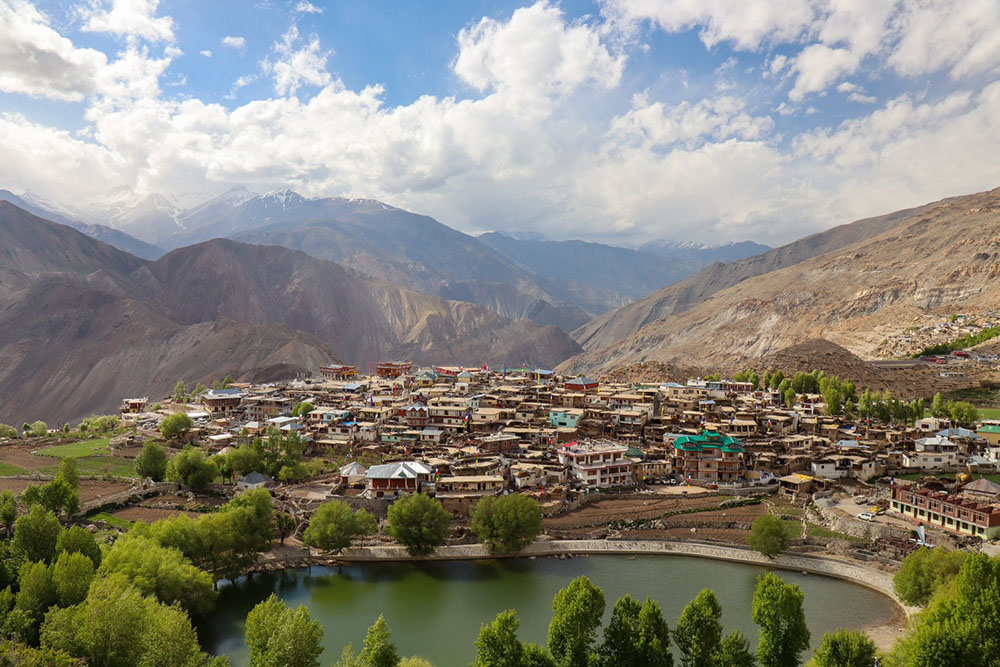 Day 4: Nako to Tabo
We left pretty early from Nako, even though our destination for the day was Tabo making it only an hour and a half of drive for the day. So why leave so early? To visit Gue village on the way and explore Tabo in leisure.
I visited Spiti in 2010 and there was a notorious Malling nallah right after Nako that everyone was afraid to cross. However, in 2019, I was glad to see that the nallah was now covered and you won't even notice when you drive past it. So this makes a very smooth drive from Nako to Samdo which is a checkpoint upon entry to Spiti Valley.
Gue Village
After stopping for a while at Sumdo, we decided to take a detour to Gue which is some 13 km away from the main road. The road is not tarred but also it is not too much trouble as it is leveled with loose gravel. Gue is very close to the Indo-Tibetan border and is famous for its unique mummy lama temple.
Mummy lama temple, Gue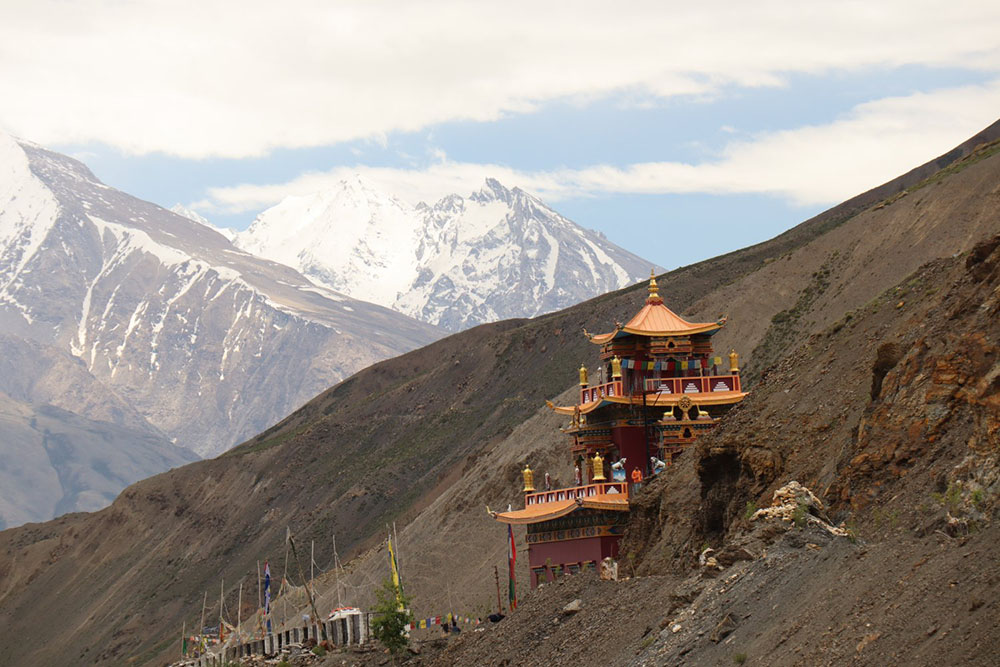 Tabo
We reached Tabo around lunchtime and checked into the Maitreya guest house which is supposed to be one of the best (but not too expensive) stays in Tabo. After checking in, we had our lunch in the guest house itself and set out to explore the town on foot. For more details on Tabo, please take a look at How to Plan a Trip to Tabo Village.
Tabo monastery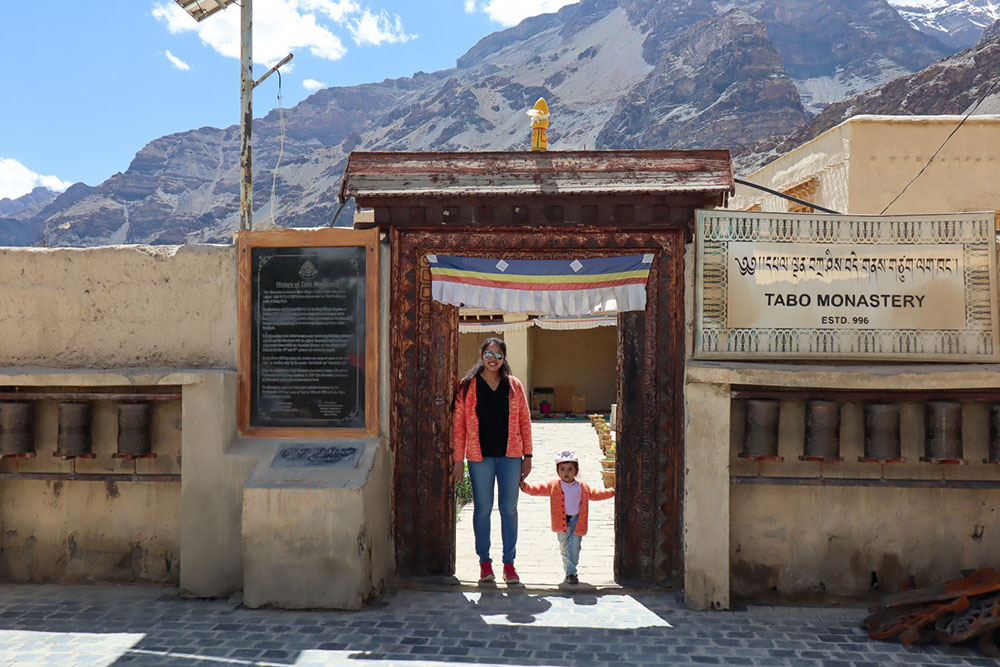 After spending some peaceful time at the monastery, we decided to explore Tabo caves which are on the other side of the highway on a hill facing Tabo town. It was a serene place with no tourists apart from us. Mostly because it required a small trek of half a kilometer or so.
Tabo caves – entry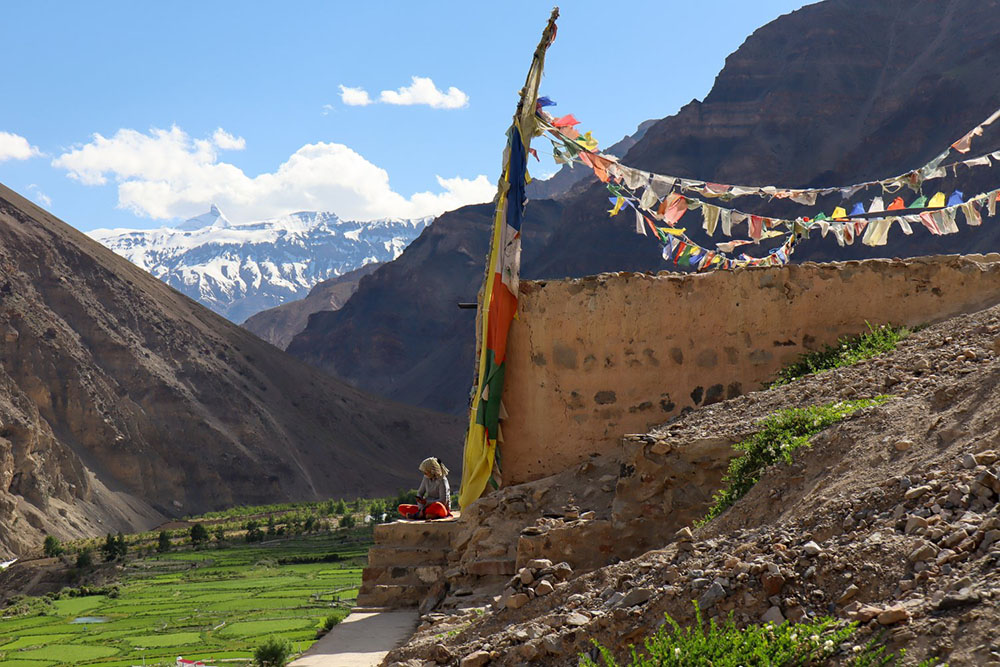 We spotted some beautiful Chortens from the caves which were further ahead and you could reach it only after a hike of some 2-3 km. But the effort was worth the rewards as it offered a panoramic view of Tabo town from above.
Tabo town from Tabo Chortens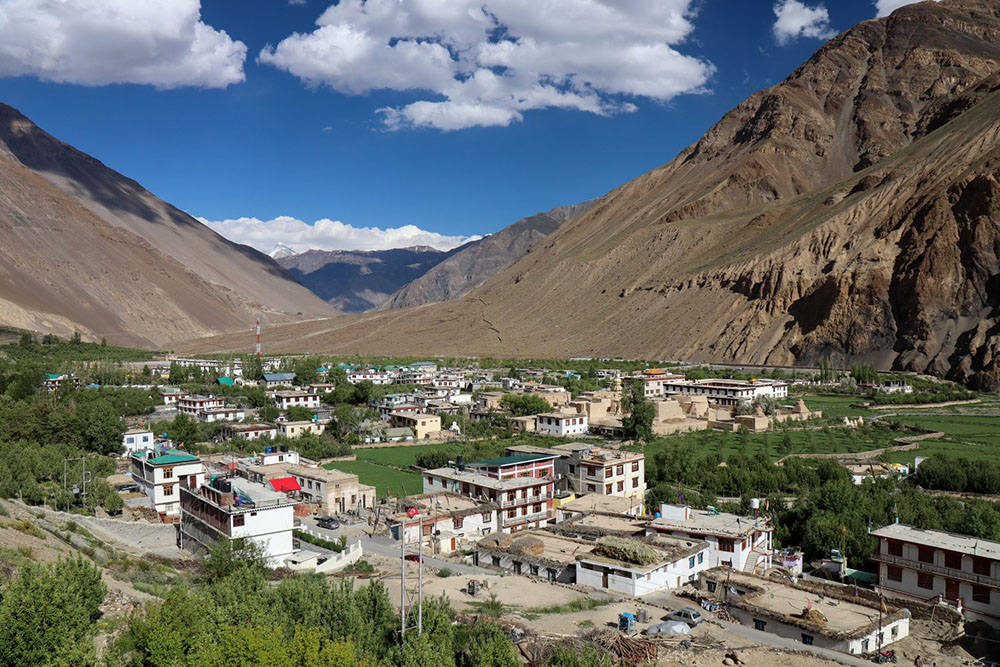 Day 5: Tabo to Kaza
Even though we were keeping the pace of the trip slower than usual with the kid with us, this was supposed to be a long day. The plan was to visit Dhankar Monastery in the morning and reach Kaza by afternoon. In the second half of the day, we planned to visit Hikkim, Komic, and Langza villages. Late in the evening, the plan was to explore the Kaza town.
Dhankar Village & Monastery
So, we left pretty early and decided to have our breakfast at Dhankar village itself. Dhankar monastery is not very far from Tabo but the climb involves a winding road with many hairpin bends. The monastery itself is hanging on a steep cliff and offers a stunning view of the confluence of Pin and Spiti rivers. For more details, take a look at How to Plan a Trip to Dhankar Village.
Dhankar Monastery (Gompa)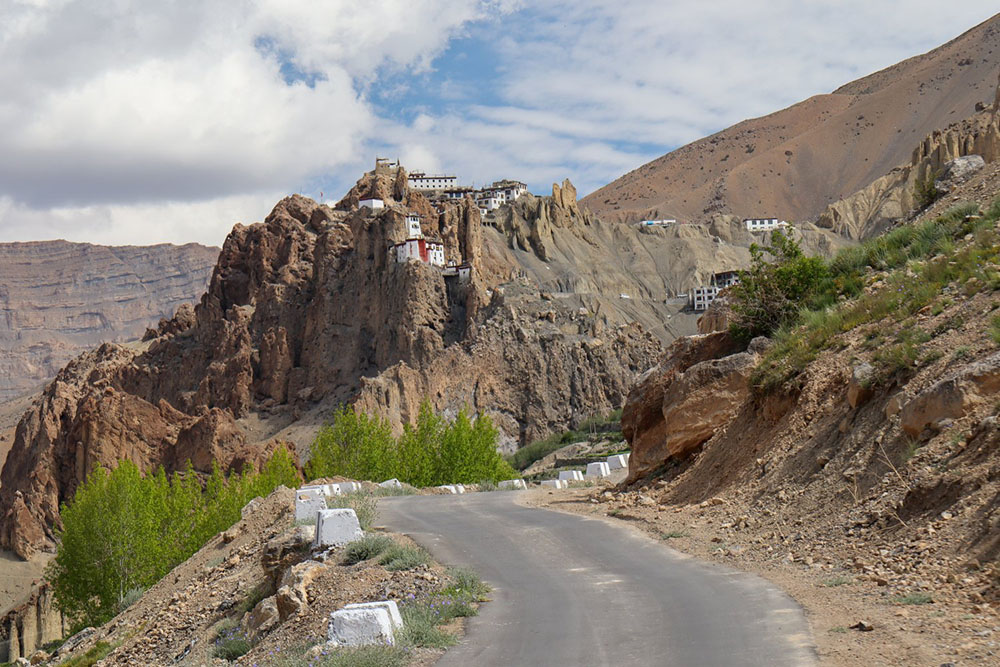 Kaza & Nearby Villages
We reached Kaza well before lunchtime. We had booked the HPTDC hotel which is on the outskirts of the town. After quickly checking into our hotel, we decided to head towards Hikkim.
Hikkim Village has the highest post office in the world and it is quite an experience to post a letter to your family from there. We did that too. Komic is just 3 Kms ahead of Hikkim and is known to be the highest village in the world connected with a motorable road. It is a dirt road, but all cars and motorcycles can do it. Even the ones with low ground clearance.
Kaza town from the road to Hikkim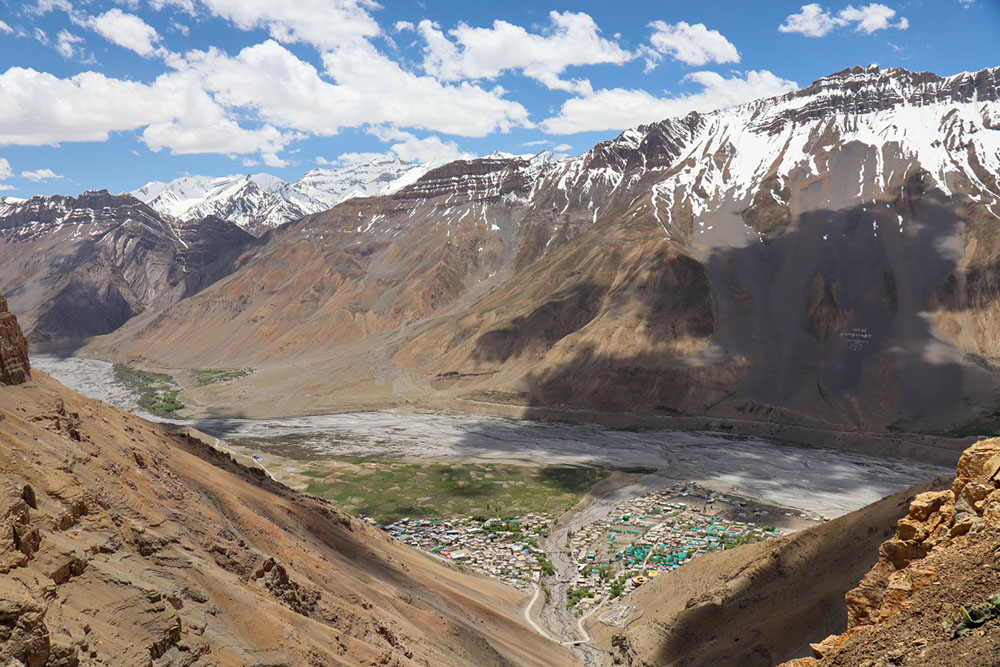 The highest post office in the world at Hikkim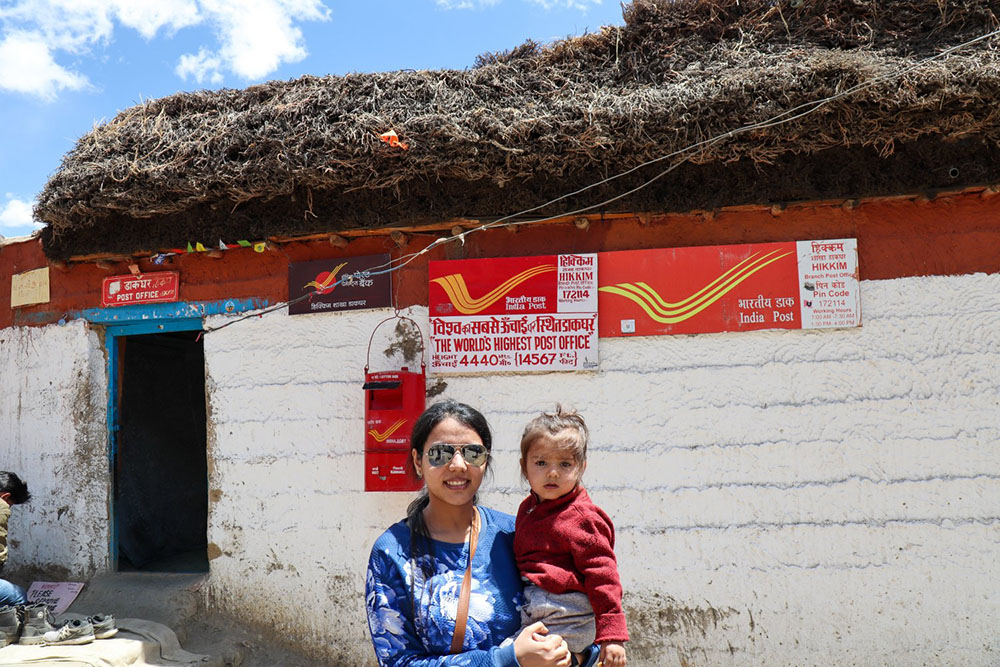 Komic – The highest village in the world connected with a motorable road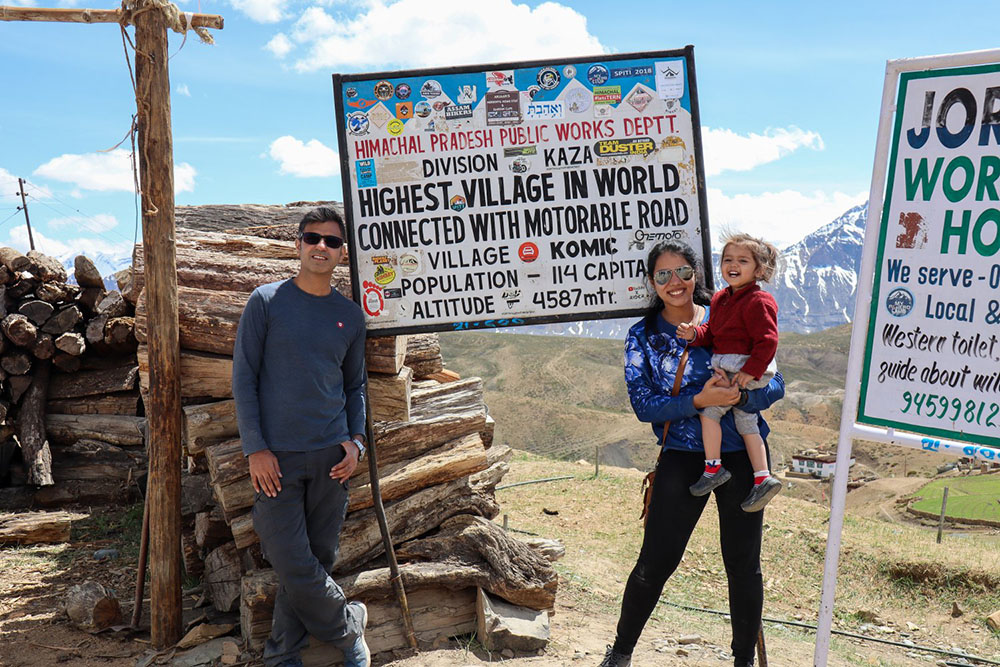 Komic Village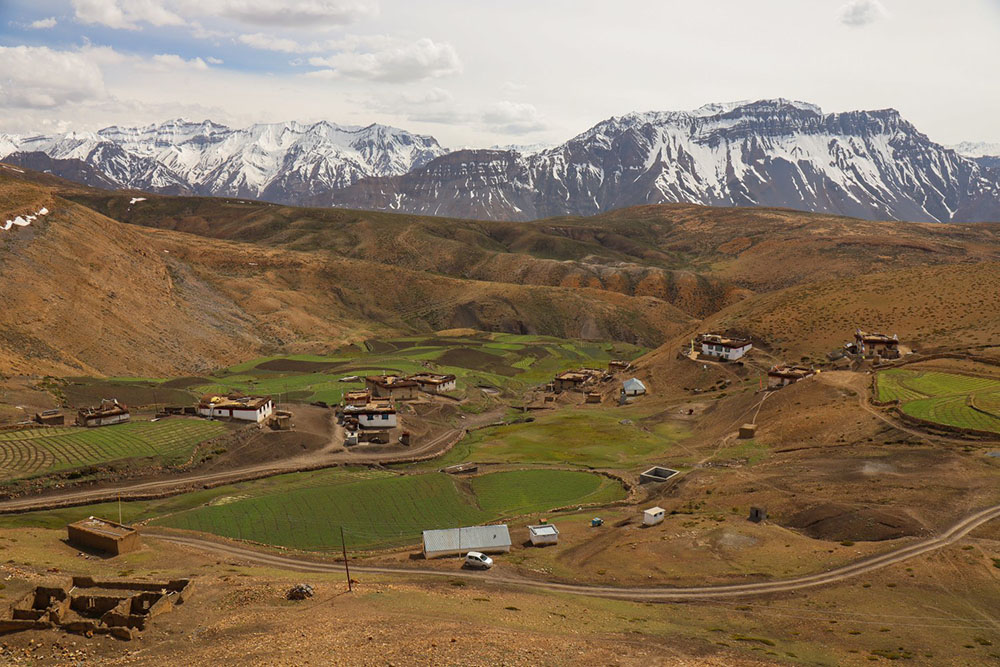 After having our lunch at Komic, we headed straight to Langza Village which is a slight detour on the road back to Kaza. The blue skies were gone by now and the weather had become cloudy.
Langza village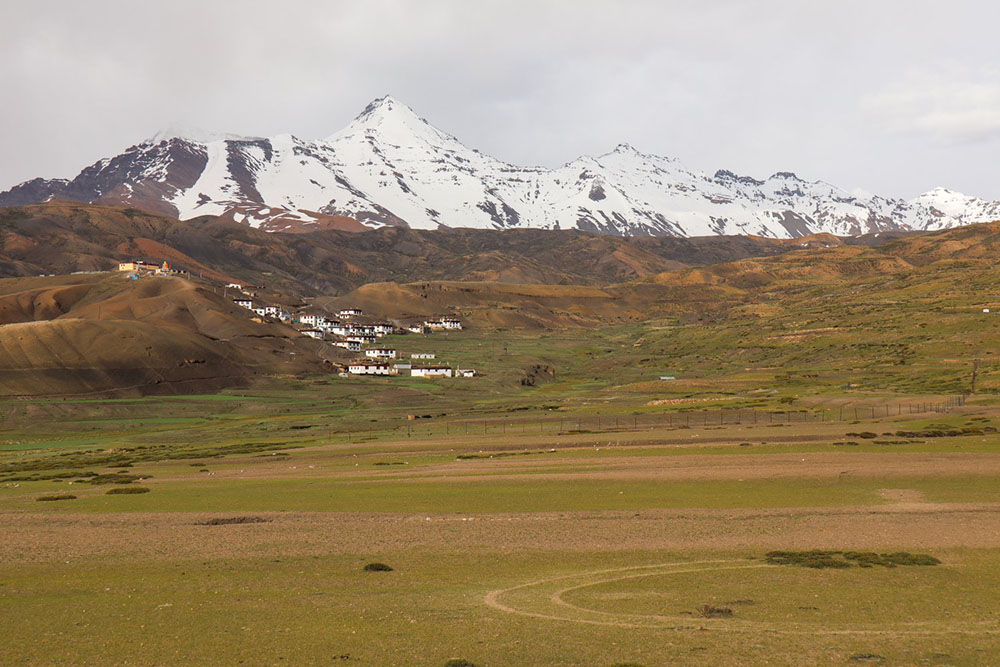 We were a bit tired when we reached back to Kaza but still, we had the spirit left to explore the town. So, we drove to a bend near the town and explored the market on foot for the rest of the evening. We had our dinner included in our stay, so we decided to head back to our hotel to eat.
One suggestion. Do not include your dinner when booking HPTDC Kaza. Not that the food was bad, but you will be served with typical north Indian food like chapati, paneer, and dal. Instead, we recommend that one should try some authentic Spitian cuisine when in Kaza as there are plenty of options for that in the market.
Day 6: Key Monastery, Kibber, Chicham, Tashigang, and Gette Villages
We had this day to our leisure. Our family trip to Spiti valley so far had consisted of traveling every day so we wanted to rest in Kaza for a while before moving on. The plan was to visit Key (or Kye or Ki) Gompa and nearby villages of Kibber and Chicham. Since we had some time to explore, we ended up visiting Tashigang and Gette as well.
Key Gompa
Key Gompa has been one of my favorite places in the world since I last visited it in 2010. It was quite a refreshing experience visiting it again with family this time. There is a small school within the monastery complex. A yoga class was being conducted when we entered.
We decided to join the kids in that class for some time. Key Gompa is not my favorite place because of its unique design and stunning views from there, but also because of the hospitality of the lamas there. We were offered a hot Spitian tea inside the monastery and were shown all its chambers with patience and personal touch.
We hiked for half a kilometer from the monastery on the train to Gette for that panoramic view of the monastery with the Spiti river in the backdrop.
Yoga lessons at Key Gompa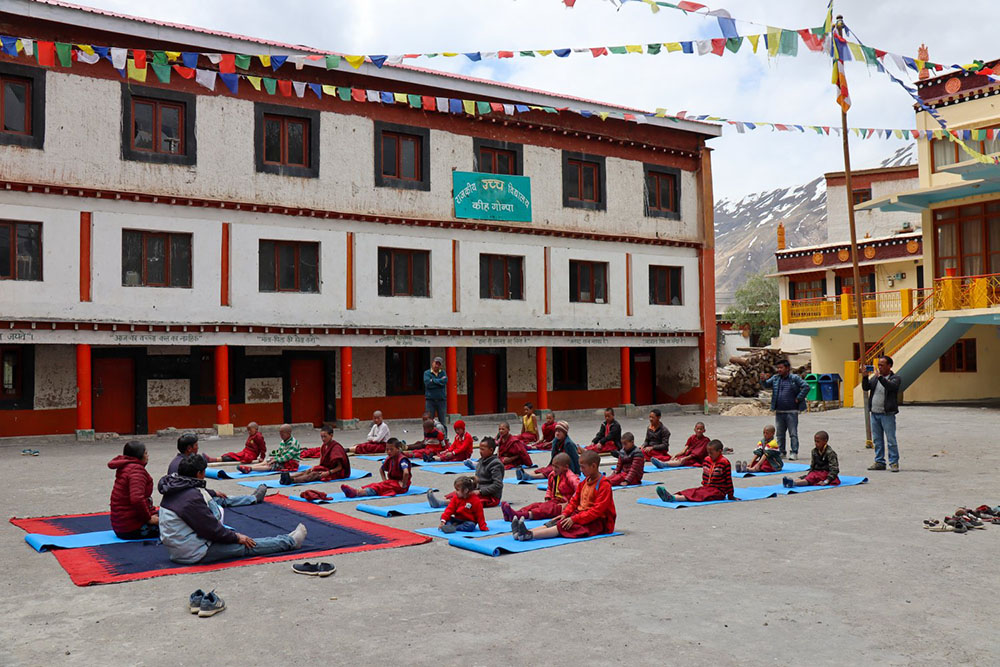 Key Gompa. One of my favorite sights from our family trip to Spiti Valley.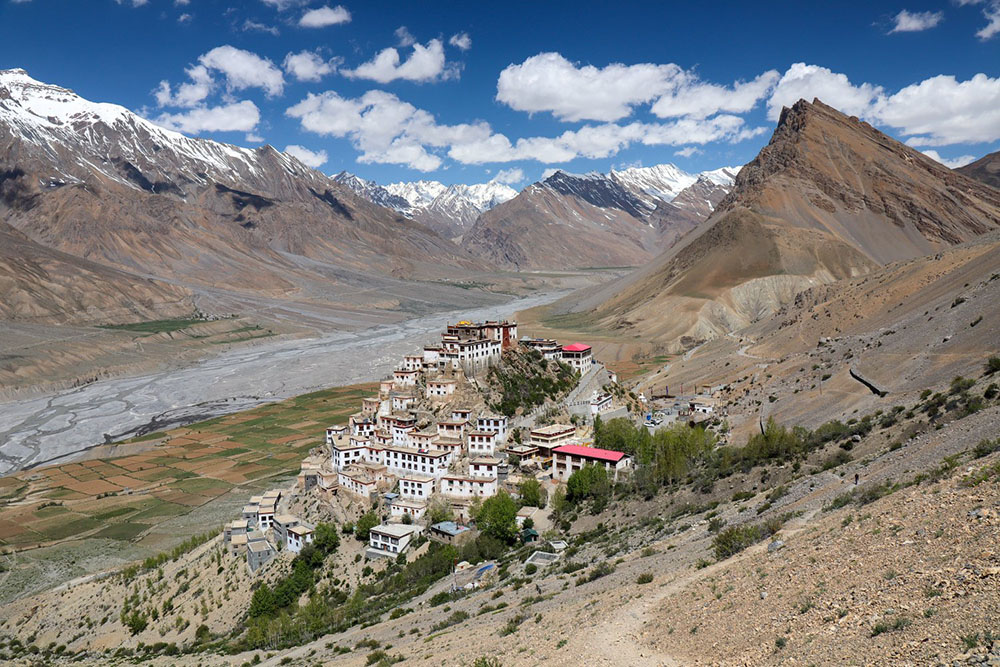 Kibber & Chicham Villages
We crossed Kibber and the newly constructed Chicham bridge to reach Chicham village. The village was not connected with the road until 2017 when the Chicham bridge was constructed. We were exploring the village and its fields on foot when we met a farmer. She was working on her pea crop when Advika also joined her to help.
Also Read: Clothes for Spiti Valley  – What to Pack
Looks like both of them enjoyed each other's company. We were strolling in the fields when, to our surprise, it started snowing. In summers! And started to snow so hard that we had to seek shelter in a nearby house where we were offered some tea as well.
Chicham village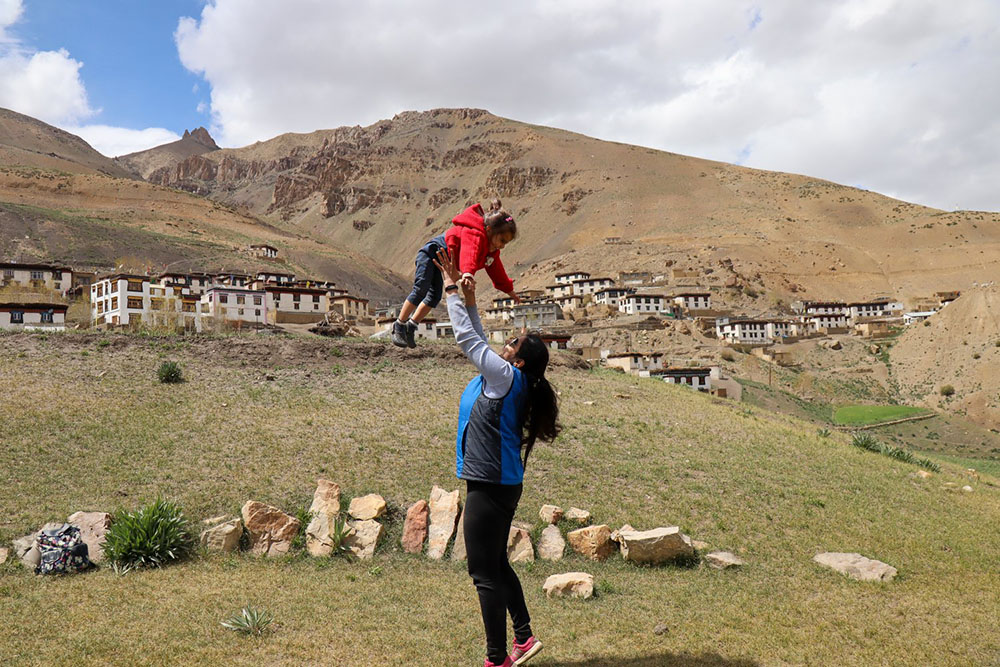 Farming lessons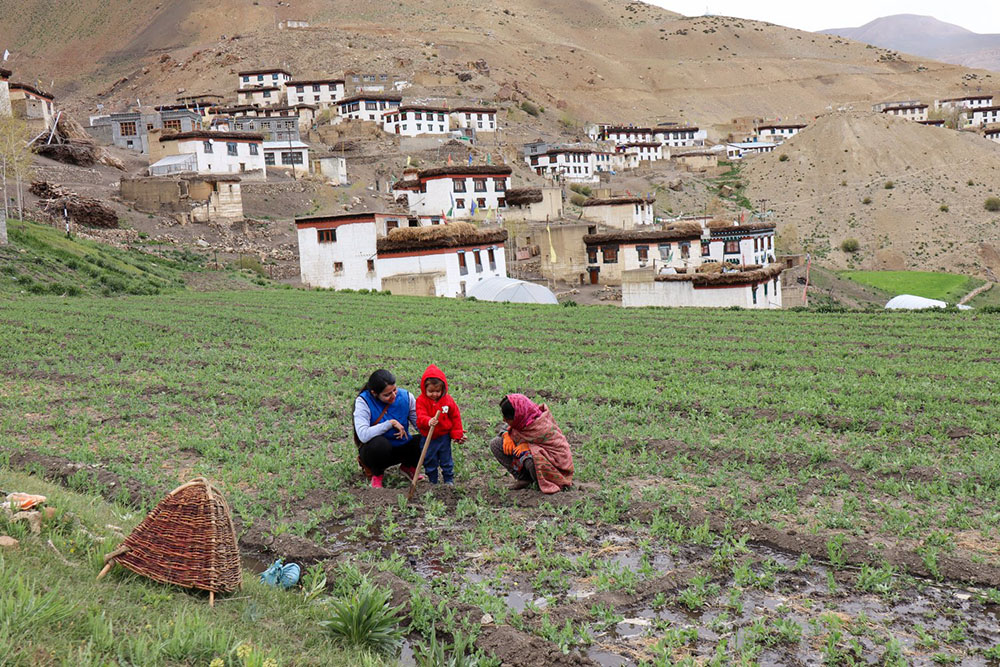 Gette Village and Lakes
We left Chicham and reach back to Kibber Village around lunchtime. We decided to have our lunch in Kibber and tried some local cuisine. While having our lunch, we got to know about some hidden lakes in Gette and immediately decided to explore them. The lakes require a bit of trekking from the main road. Though there were supposed to be three lakes, we could only find two.
Kibber village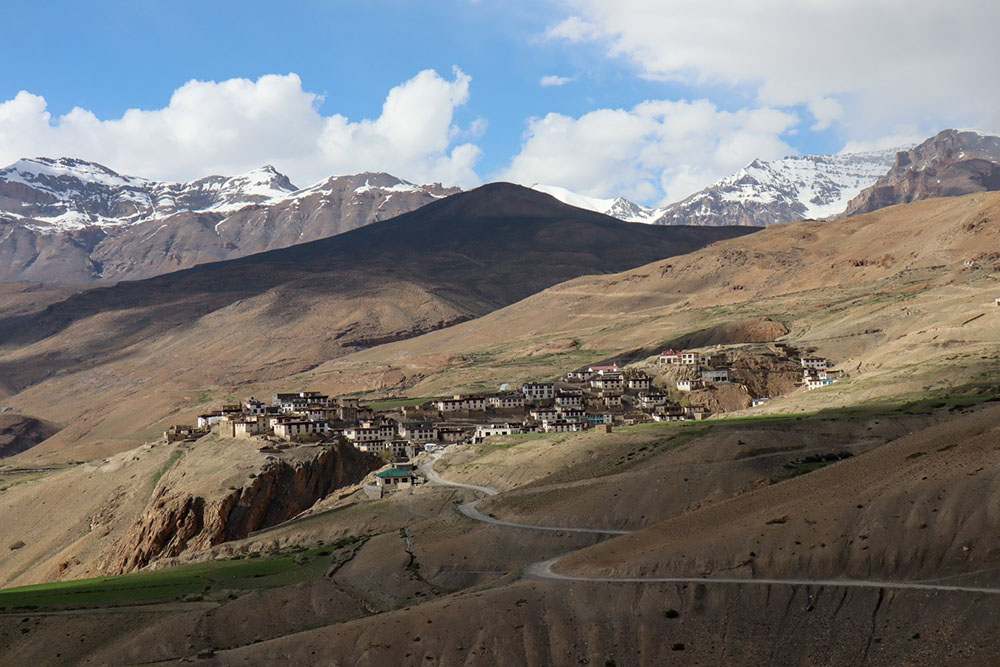 Trek to Gette lakes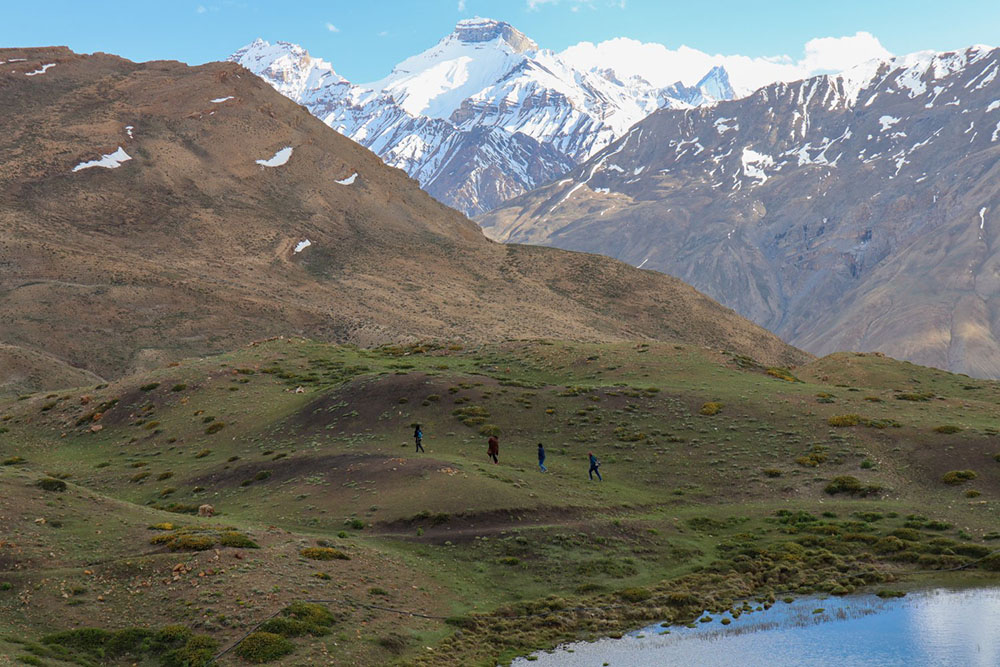 Twin lakes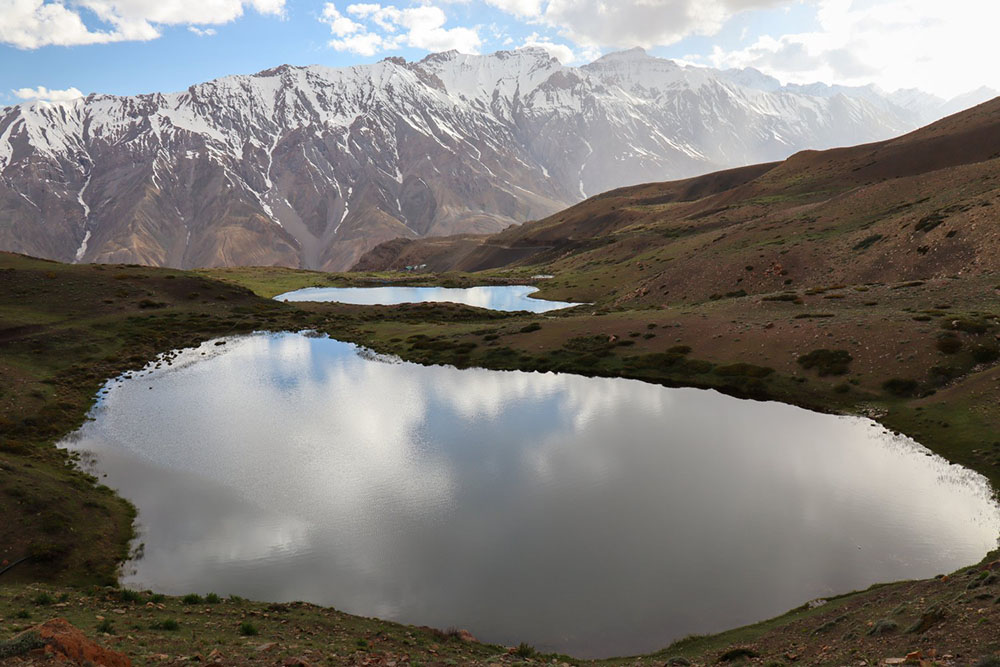 Road to Gette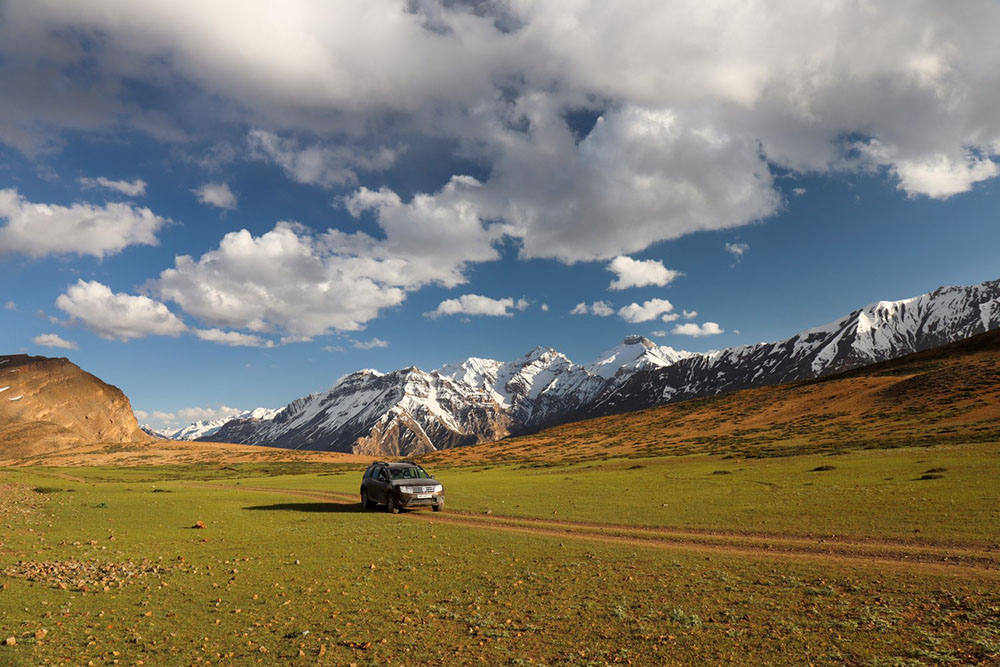 Day 7: Kaza to Losar
This was one of the most exciting days of the trip. This was the day when we will visit the mighty Kunzum Pass, standing tall in front of the Bara Sigri Glacier, the largest glacier in the state of Himachal Pradesh and the second longest glacier in the Himalayas after Gangotri glacier.
We had our booking at Nomad's cottage in Losar and specially booked the glass rooms overlooking Losar village. There are two routes to go to Losar from Kaza. One is the old route going Rangrik and another one the new road passing through Chicham. Both the roads meet near Kiato just a few km before Losar.
Also Read: How to Handle Altitude Sickness in Spiti Valley
We decided to go through the old route via Rangrik and come back through the new one via Chicham. Initially, our plan was to cross Kunzum Pass and reach Manali but since it had snowed heavily that year, the Batal-Gramphu road was closed due to snow. Nevertheless, we were glad that we were able to visit the Kunzum pass as that was also closed until a few days ago.
Kunzum Pass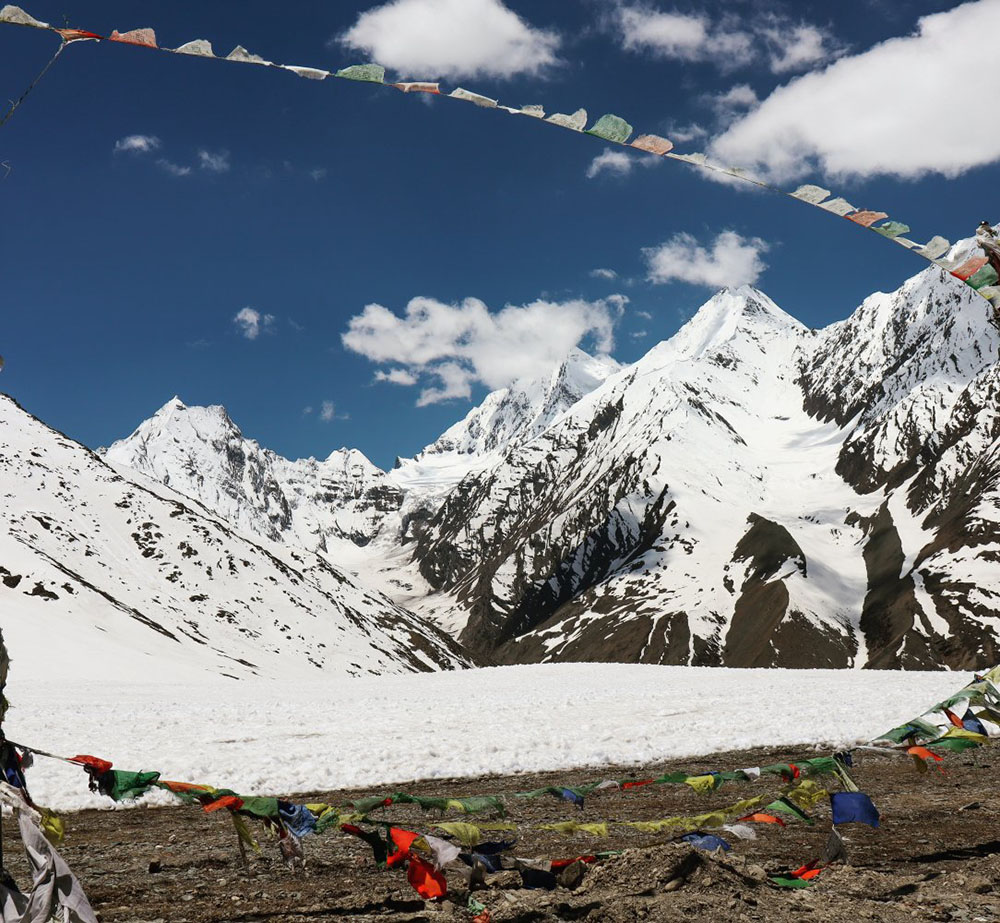 Bara Shigri glacier in the backdrop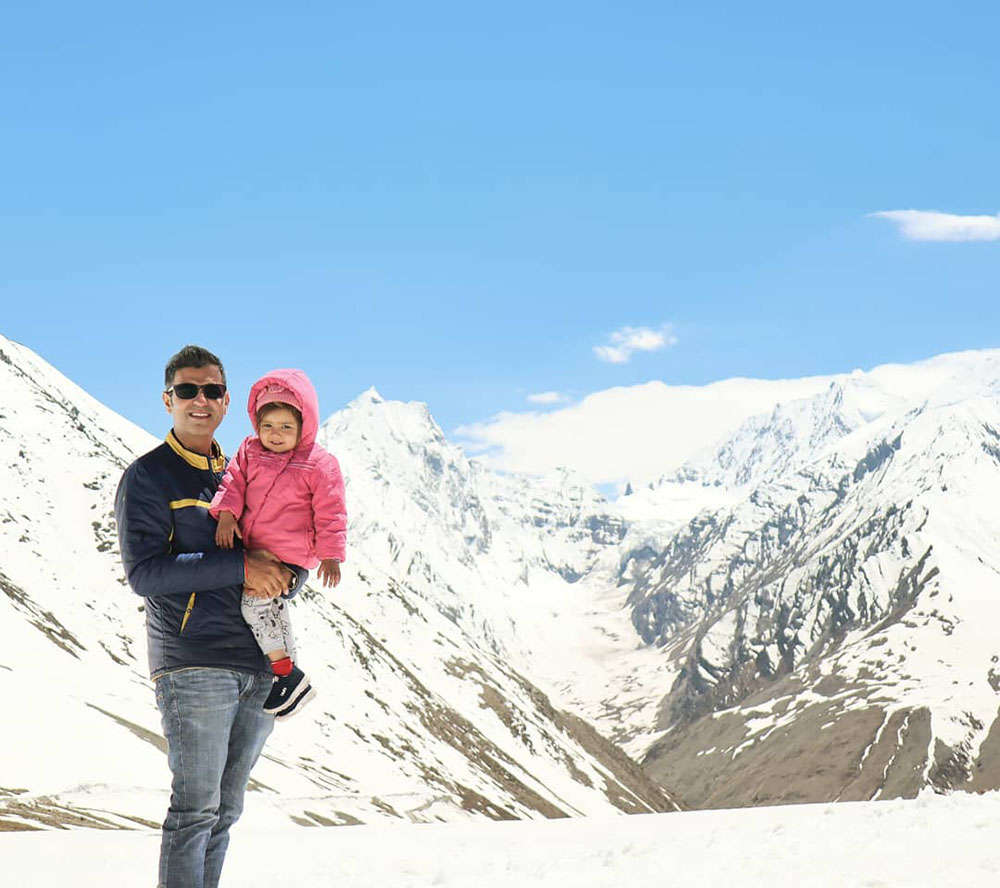 Road from Kunzum pass to Batal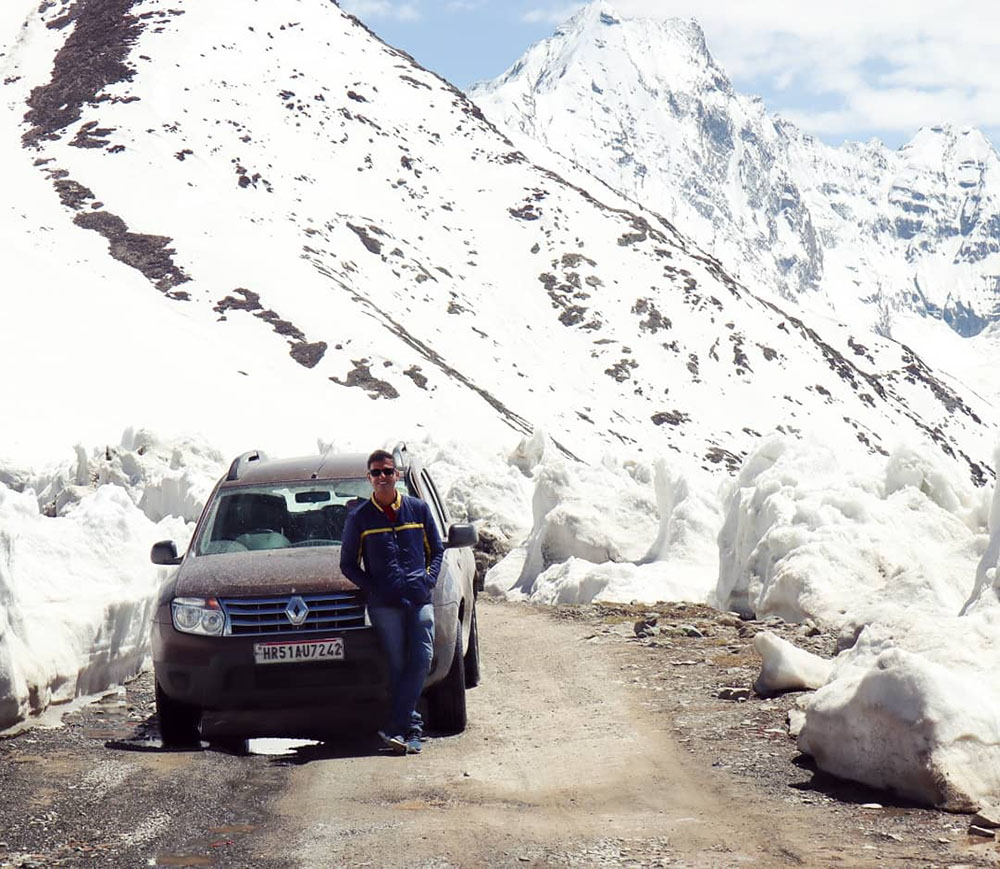 The road between Loasr and Kunzum pass is rough and includes many water crossings. It is recommended that you attempt this stretch with caution and only in daylight.
Losar
After spending a leisurely day at Kunzum Pass and playing in fresh snow, we headed back to Losar. It was now the time to pan the return journey.
If we could cross the Batal-Gramphu stretch and reach Manali (which was just 125 km away), the return journey could have been much shorter. But alas! Weather gods did not permit us. Instead, we now had to travel the entire stretch through the same route we came, which was way longer than the route through Manali.
Glass room, Nomad's Cottage, Losar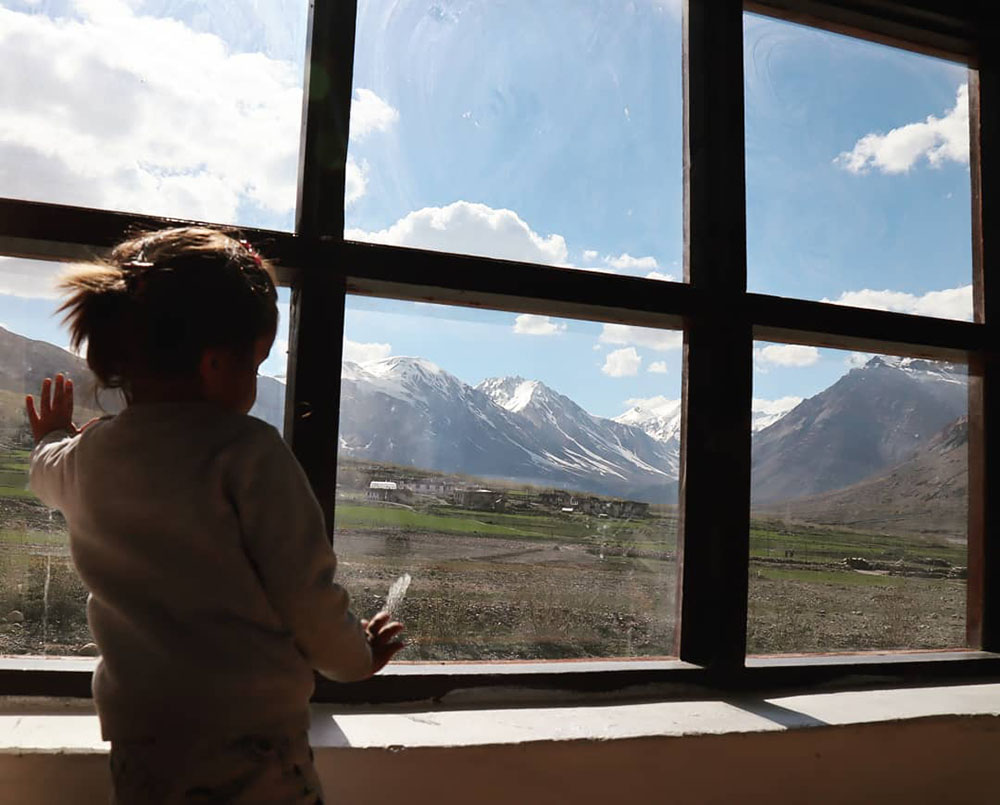 Day 8: Losar to Nako
Since our original plan of completing the circuit through Manali could not be realized due to heavy snow accumulation on the Batal-Gramphu stretch, we had to go back the same way we came. Initially, we planned to drive all the way to Kalpa from Losar, but it could have been a very long drive in the hills and I was not in a favor of driving after dark in these remote areas.
So, we decided to halt at Nako for the day. However, since we were going back through Chicham-Key route, we decided to take another hike to the Key Gompa-Gette trail. It was all sunny and bright and we also decided to visit Demul village. Demul is a detour of some 20 Kms from Lidang on Kaza-Tabo highway. For more details, please take a look at How to Plan a Trip to Demul Village.
Even though this road was tarred, it was as steep as it could get. You won't be able to apply second gear even for a moment on this route and even in first gear, your car will struggle to climb. Getting down on this steep road is another task altogether! Do not attempt to drive to Demul if you are new to driving in the mountains.
Chicham Bridge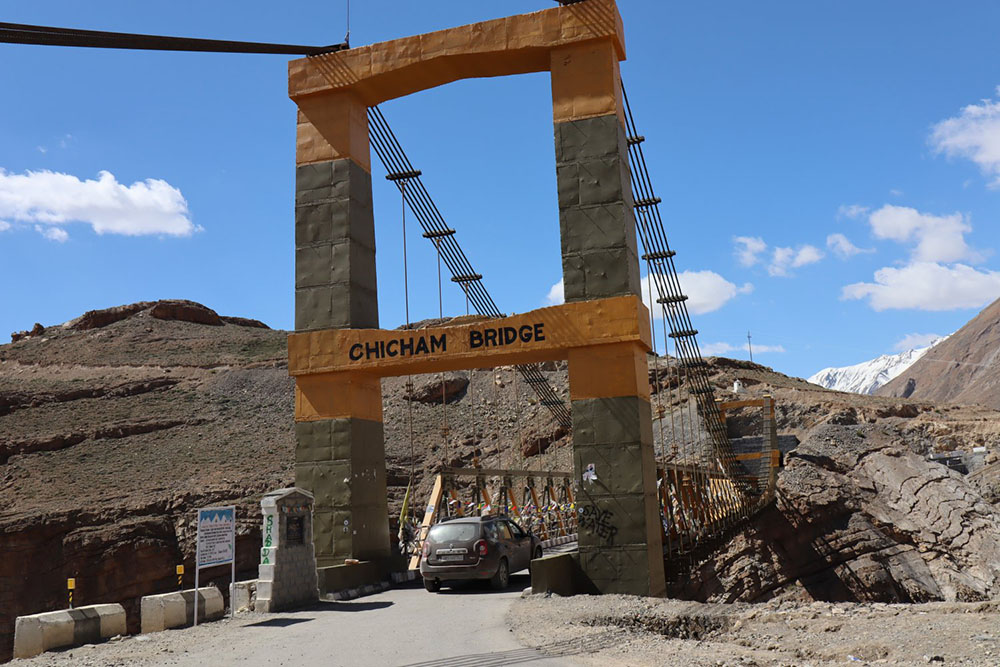 On top of the ridge, before Demul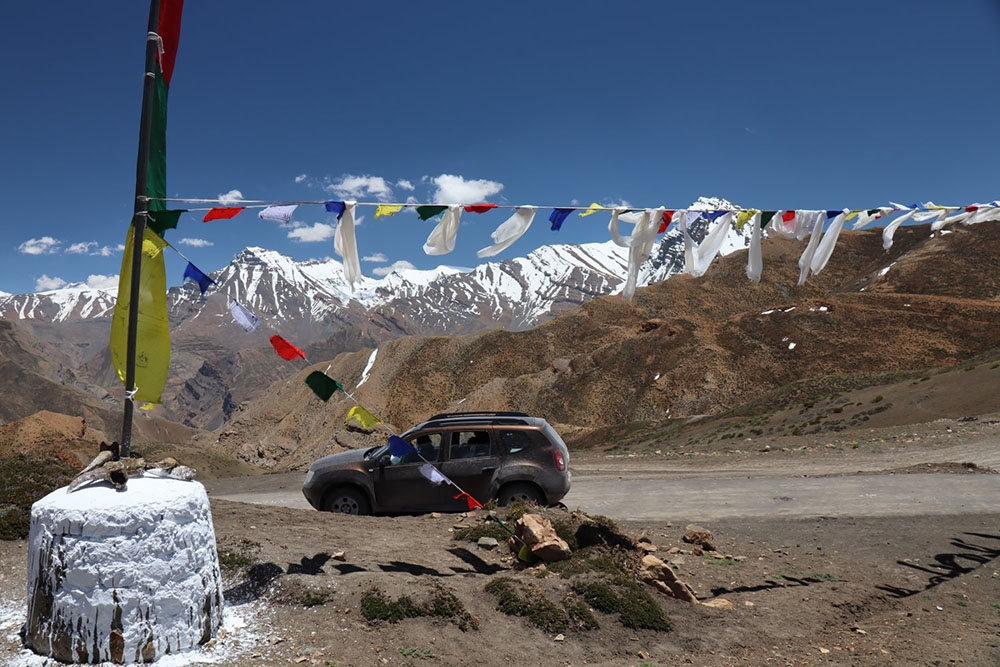 Demul Village
Demul is a pretty village that sits on the other side of the ridge and the views are different from the ones in Spiti valley. We were lucky enough to spot many Bharal (Blue Sheep) on the way to Demul. We planned to have our lunch in the village but there were no people in the village at all. For more details on this village, please take a look at How to Plan a Trip to Demul Village.
Apparently, there was a local festival in some other nearby village where all the villagers from Demul had gone. So, we ended up exploring a village with no people in it.
Demul village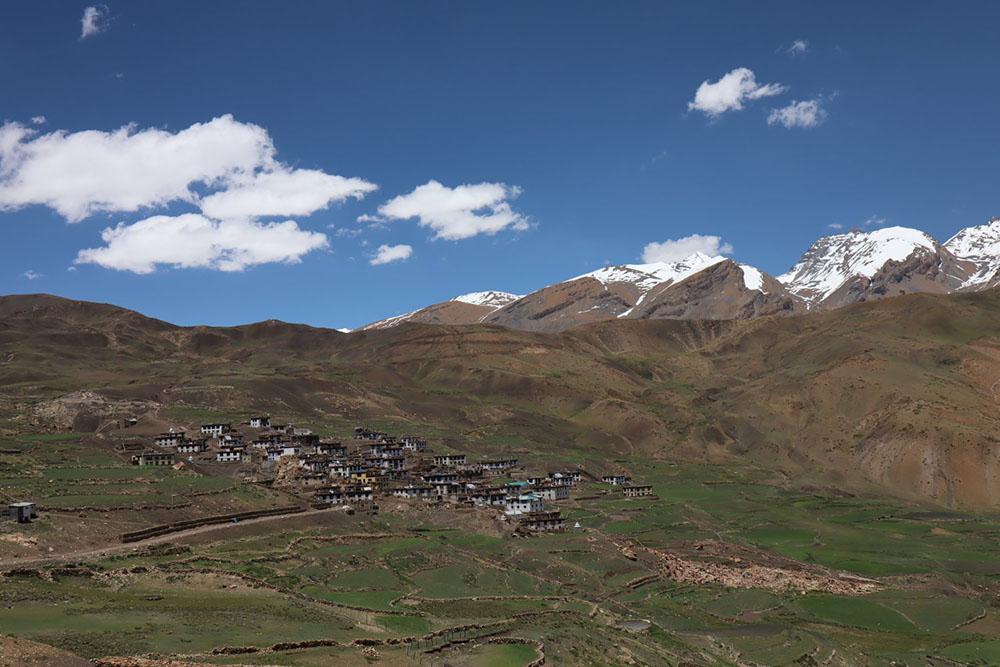 We reached Nako in the evening and stayed in the same guest house we stayed at a few days back (Hotel Lake view). Nice view of Nako lake from there. Do try their Thupka if you stay there.
Day 9: Nako to Sarahan
We woke up and spent our morning in leisure at Nako. Our destination for the day was Sarahan. It is a small village famous for Bhimakali Temple and also known as the gateway to Kinnaur. For more details, please take a look at How to Plan a Trip to Sarahan.
We left Nako and expected to reach Sarahan pretty early. But all doesn't go as planned. First, we had to stop before Pooh for a couple of hours because of blasting for road widening work. Then there was a massive traffic jam near Jeori because of a landslide. On top of it, it was raining hard and GPS was also not working well.
We could not find the proper way to Sarahan and instead took a dirt road to reach there which had actually become a muddy road in that rain. After some struggle, we finally reached Sarahan and decided to visit Bhimakali temple the same day.
It was still raining when we reached. Initially, we waited for the rain to stop but when there were no signs of it stopping, we went to pay a visit to the temple while it was still raining.
Day 10: Sarahan to Shimla
Instead of taking a usual route via Jeori, we decided to take an alternate route. We took the Sarahan-Bushahar-Mashnoo-Kothi-Rampur road which was a bit longer, but more beautiful. Also, it passed through many tribal villages and had no traffic at all. A beautiful waterfall on the way surprised us. We even attempted a little hike along a rivulet on this road.
We reached Shimla early in the afternoon and decided to spend the day on the mall road. It was summer and peak tourist season, so it was really crowded in Shimla that day. Nevertheless, we had our mandatory ice cream, visited a book fair, and spent some leisurely time at the ridge.
Day 11: Shimla to Delhi
This was the day when we were to reach Delhi and mark an end to our family trip to Spiti valley. So we decided to start late and spend some more time in Shimla instead. We had our lunch near Chandigarh and left the Himalayas behind us!
Family Trip to Spiti Valley – Conclusion
I hope the travelogue, pictures on information on planning a family trip to Spiti valley were of help. If you have any questions or need any other details, please feel free to ask in the comments section below or at our Community Forum, and I will be glad to answer.