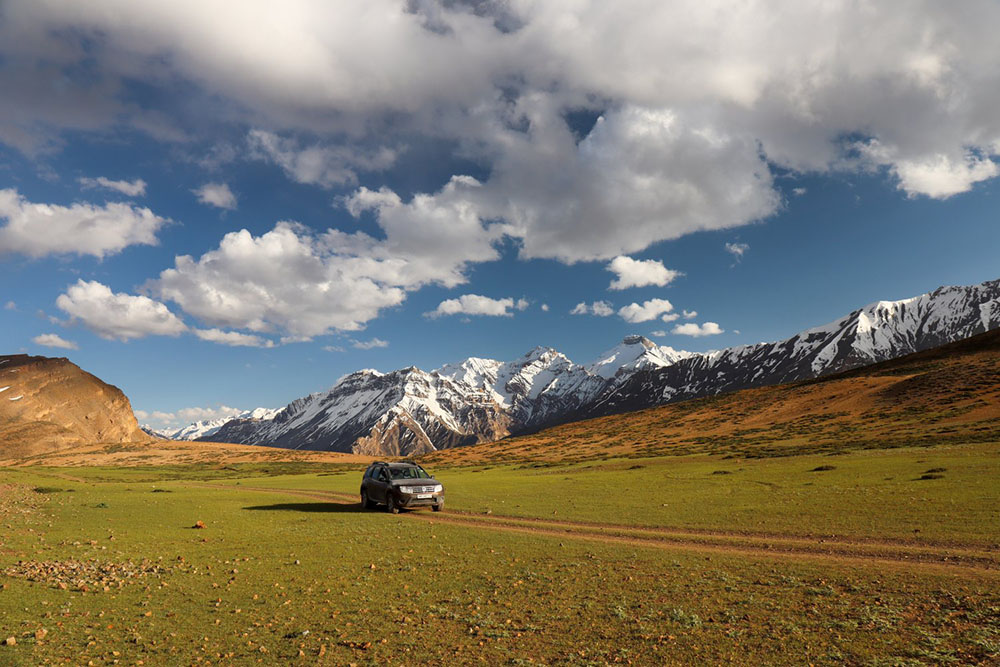 As the last installment in my series of remote villages of Spiti Valley, in this post, I will talk about Chicham Village and Tashigang Village. Both these places are the newest entries in the list of tourist attractions of Spiti Valley and have started to receive tourists only recently. Nonetheless, they are both are highly scenic, accessible by road, have the option of accommodation, and are definitely worth visiting.
A trip to the villages around Kaza is done in the form of a day trip. You stay for the night in Kaza town, start early in the morning, cover all the nearby villages and return to the town by evening. Recently, however, homestays have come up in these remote places and a lot of travelers have started to stay here for the night.
How should you plan it? It entirely depends on the time you have in hand actually. If you were short on time and can just afford one day, then plan a day trip. If you, however, had 2 days or more in hand then I will highly recommend staying for the night. Read on to find out more.
For a complete travel guide on visiting Spiti Valley, please read How to Plan a Trip to Spiti Valley.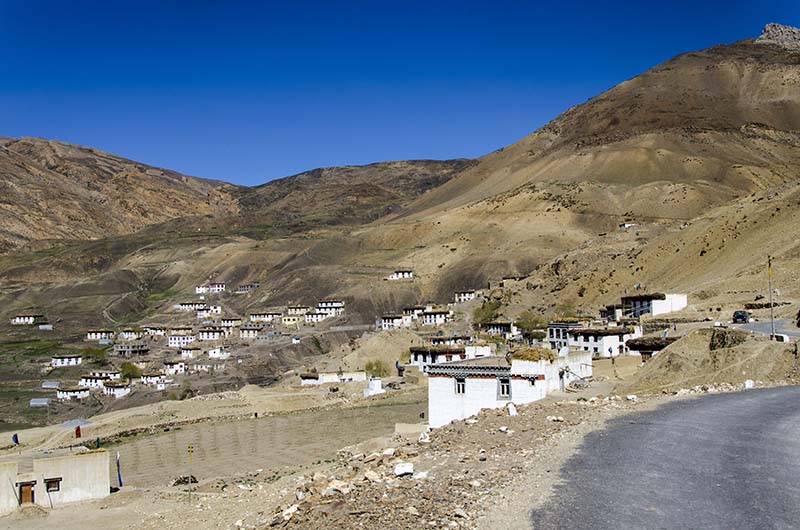 Chicham Village
Chicham Village is a small village located about 22 kilometers from Kaza, at an altitude of 4150 meters (13,615 ft). It is located right next to Kibber Village, across a deep gorge called Samba Lamba Nallah. Because of the gorge, there was earlier no way that you could go from Kibber to Chicham (or vice versa) by road. Kibber was connected by a road from Kaza and Chicham was connected by a road from Kiato.
Also Read: How to reach Spiti Valley by Road, Bus, Air or Train
So if you were in Kibber and also wanted to cover Chicham, you will first have to drive down to Kaza, then go to Kiato and drive up to Chicham from there. Due to this, while a lot of people visited Kibber, tourism in Chicham was next to none. However, a few years ago, things changed with the completion of Chicham Bridge.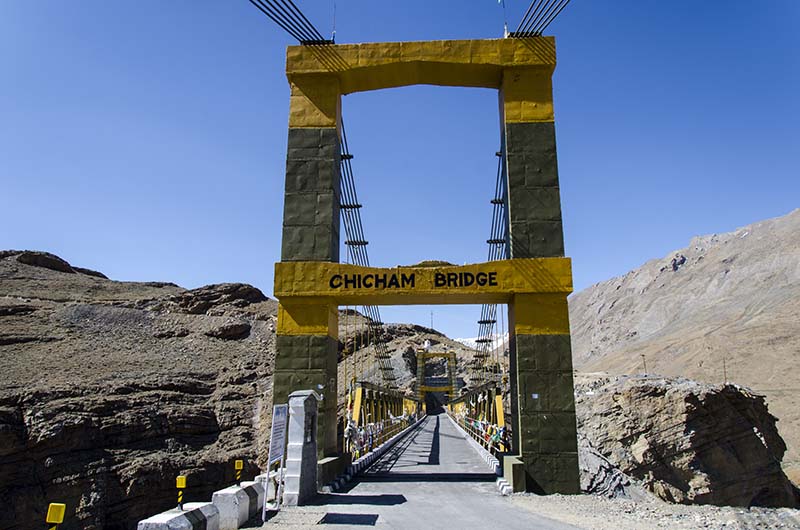 About Chicham Bridge
Chicham Bridge is a suspension bridge that is now built over the gorge that separates Kibber and Chicham Villages. It is one of the most spectacular bridges in India and that is why it is so well known as well. It remained under construction for a total of about 14 years and was finally inaugurated on 15th Aug 2017.
The bridge is 114 meters long and was built with an estimated cost of Rs. 485.5 Lacs. It is often credited as Asia's Highest Bridge which is actually incorrect. What it certainly is, however, is a marvelous sight and definitely worth a trip while you were in Spiti Valley.
Why they named the canyon or the gorge 'Samba Lamba Nallah' is a mystery. I asked around while I was in the village but nobody could tell me that.
Also Read: What Clothes should you pack for Spiti Valley Trip
How to reach Chicham Bridge
There are two ways that you can reach Chicham Village and the bridge. The first is from Kaza via Kibber and the second road bifurcates from the highway near Kiato.
Let me explain with the help of a map.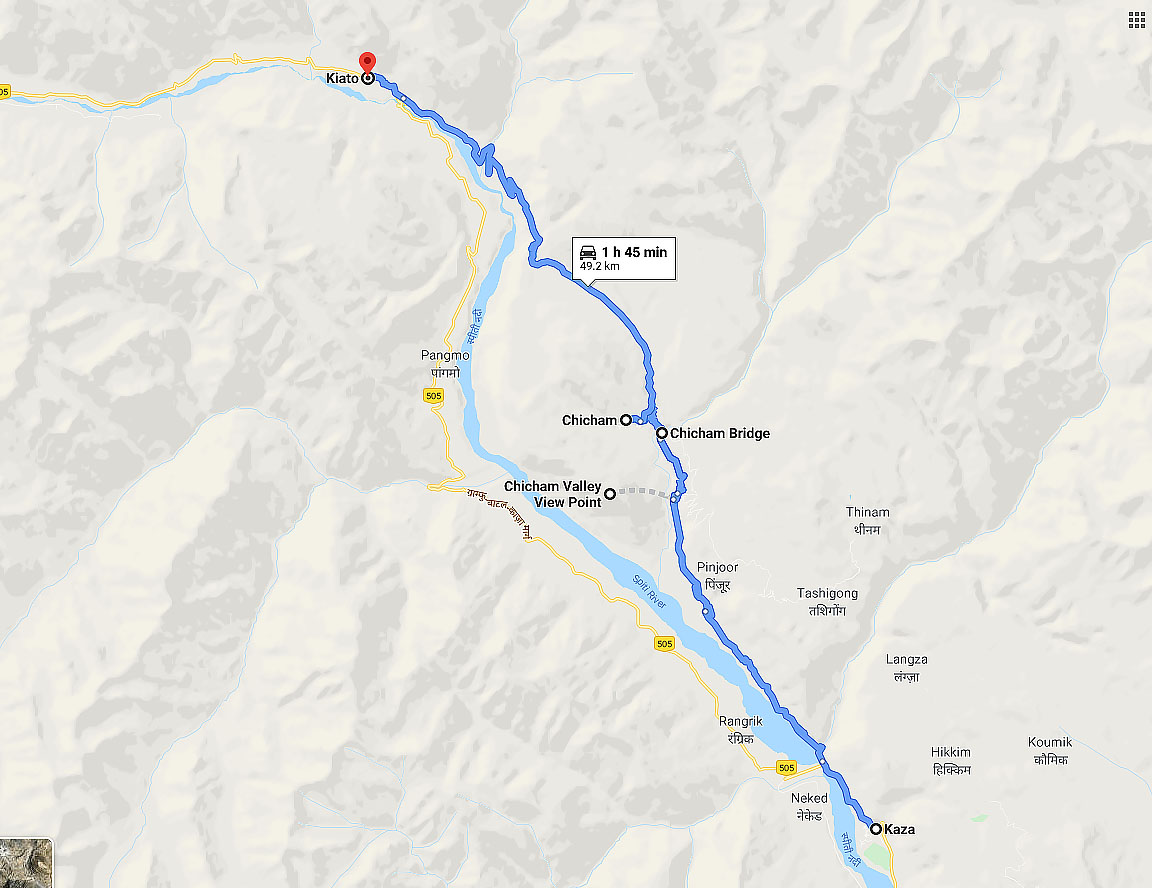 In the map above, the yellow line is the Kaza Manali Highway. After Kiato, that road further heads to Manali via Losar, Kunzum Pass, Batal and Rohtang. On the Kaza side, this road further heads towards Shimla via Nako, Rampur, and Narkanda. The blue line on the map is the one that connects Chicham Village to the highway.
Also Read: Sightseeing in Spiti Valley | What to see in Spiti Valley
Kaza to Chicham Bridge
So in order to reach Chicham Village, you can start from Kaza, go to Kibber, cross Chicham bridge and visit Chicham village. After that, you can return to Kaza either via the same route or you can drive down to Kiato and return taking an alternate route.
This entire circuit is slightly above 100 kilometers and a journey from Kaza to Kaza will take you about 6 hours, including road time, breaks, and sightseeing.
Another way could be that you visit these places while going to Manali. Rather than taking the highway, drive up from Kaza to Kibber and Chicham, drive down to Kiato and be on your way to Manali or Chandratal.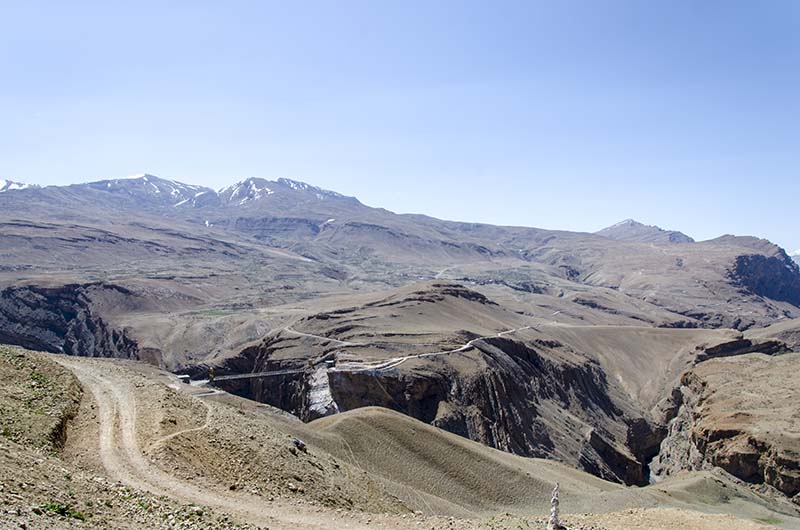 Where to Stay in Chicham Village
There are no hotels or guest houses in Chicham Village. The only choice of accommodation you have available is of a homestay. You stay with a local in their home as a paying guest for a nominal charge.
Please note that these are very small villages and simple villagers. Your stay will be warm and comfortable but you should also not expect a 'luxury hotel' kind of treatment.
Tara Homestay is the one I have stayed in. It is owned by a gentleman named Chhering Angrup. He was a very hospitable person and did his best to ensure that we did not face any problems while we were there. You can contact him at 094186 46714.
Other than this, there are a few other homestays. Just talk to the villagers and they will either point you in the direction of one or take you to their own home. You can contact Welcome Bodh homestay at 08988230849. There was another one called Tenzin Homestay that I noticed.
You can also take a look at the accommodation choices in Kibber Village that is only a 15 minutes drive away.
Where to Eat
There are no eateries or restaurants here and you will be eating at the homestay only. The food provided will be simple but delicious. Talk to your homestay owner and see if they can cook a local dish for you.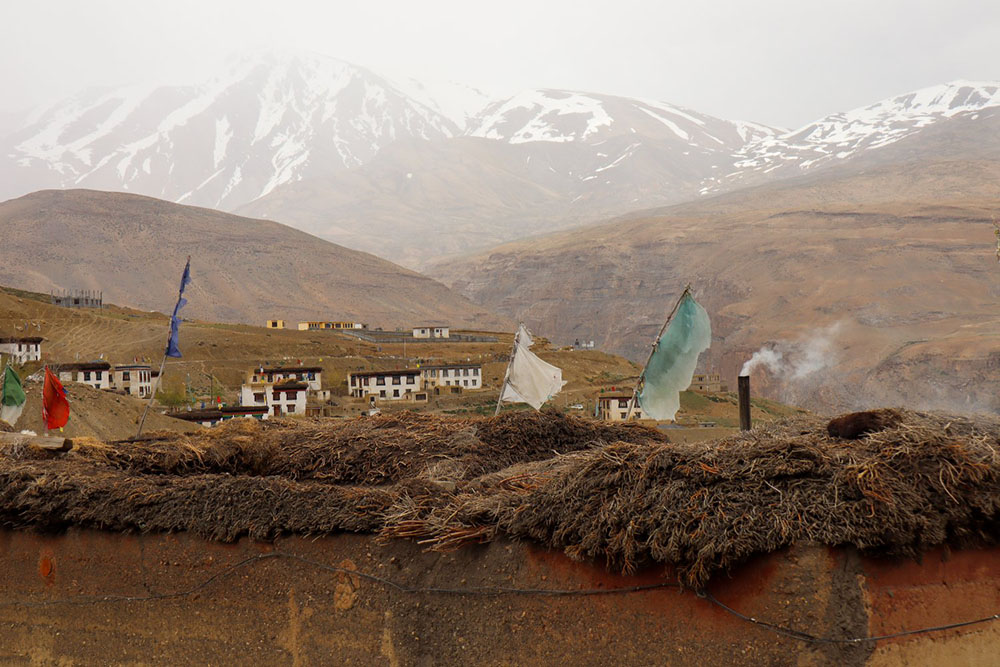 What to see in Chicham Village
Chicham is just a small village and as such, there is no long list of tourist attractions here. The natural beauty of the place is its prime attraction. The views you get on the road between Kiato and Chicham are simply amazing. The serenity and peace of the place would come next in line. It is a place perfect for doing some soul searching and spending some time relaxing.
Other than this, the only two tourist places that can be called within Chicham Village itself are the Chicham Bridge, which we just discussed, and Chicham Valley viewpoint. It is a spot slightly ahead of the village and gives an awesome view of the entire valley. I have highlighted this spot on the map I posted above.
One place that you will cross while coming to Chicham is the Key Monastery that falls a little out of Kaza village. Also known as Key Gompa, it is the largest monastery of Spiti Valley and a religious training center for Lamas. The monastery is located at the top of a hill at an altitude of 4,166 meters (13,668 ft) and built like a fort.
The village of Kibber is right next to Chicham and can also be termed as a tourist attraction. A little ahead of Kibber Village is the Kibber Wildlife Sanctuary, home to the mysterious snow leopard. There is also a monastery in Kibber Village which is worth visiting due to its location at the highest point in the village.
Last but not the least; this entire region was believed to be underwater in ancient times. There are a lot of marine fossils that are found here till date. The villagers here have these on display and can even sell you for a small price.
Tourist Places in Chicham Village
So in short, listed below are the tourist attractions in Chicham Village.
Natural Beauty
Amazing Landscape
Chicham View Point
Chicham Bridge
Kibber
Kibber Monastery
Marine Fossils
Kibber Wildlife Sanctuary
To read more about the places in Kibber, please read How to Plan a Trip to Kibber Village and What to See.
What to do in Chicham Village
Nothing really. You do not go to a place like Chicham to do tons of things. You rather come here to do nothing at all and relax while enjoying tons of natural beauty. It is a place where you sit down with a cup of tea in your hand and sip on it with an amazing landscape right in front of your eyes. Just spend some time in peace, take a stroll, talk to the villagers and learn about their lives.
Photography is something that will really come to you naturally in a place like this and you will truly enjoy it. It does not matter whether you were carrying a huge professional DSLR or just a cell phone camera, you will have loads of fun clicking hundreds of pictures here. From Landscape to wildlife to people, this entire region is capable to cater to a wide range of photography enthusiasts.
You should also be ready to be amazed by the pollution-free sky you see here; at how it turns dramatic during the day and at how it lights up with millions of stars each night.
Other than this, a few other things that you can do as listed below.
Fossil Hunting
Spot a Snow Leopard
Kibber Snow Leopard Expedition
Parang La Trek
To know more about this, please read What to do in and around Kibber Village.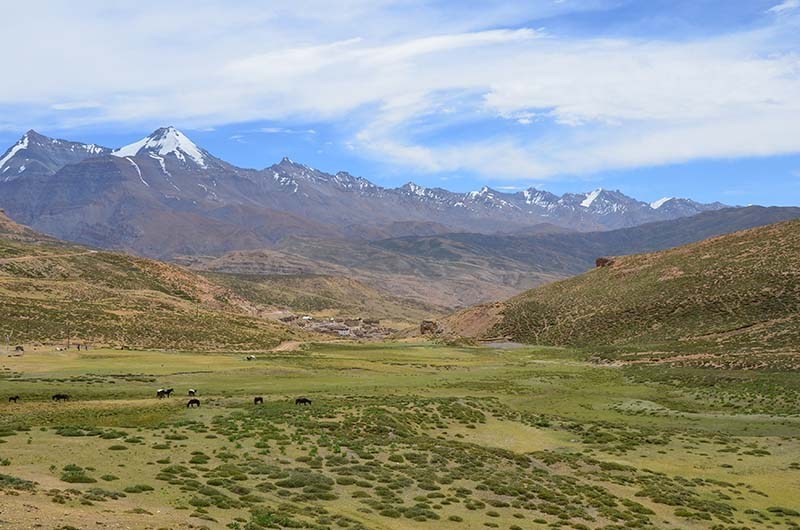 Tashigang Village Spiti
Located at a distance of about 15 kilometers from Kibber and 21 kilometers from Chicham is an even smaller but equally beautiful village of Tashigang, also known as Tashigong Village. It is at a height of 4650 meters and only has a handful of houses. It is among the smallest villages of Spiti Valley with only a few families calling it their home. What does make it special however is that it now has the world's highest polling station.
Until recently, Hikkim Village is where the polling station was located. Hikkim was even recorded in the Limca Book of world records as such. This polling station was then later moved to a primary school in Gette village. During the winter season, however, snowfall caused heavy damage to the school building, after which, authorities were forced to move the poll booth to a two-story Tourist Reception Centre in Tashigang.
Also Read: How to Handle Acute Mountain Sickness in Spiti Valley
How to reach Tashigang Village
Let me explain this as well with the help of a map.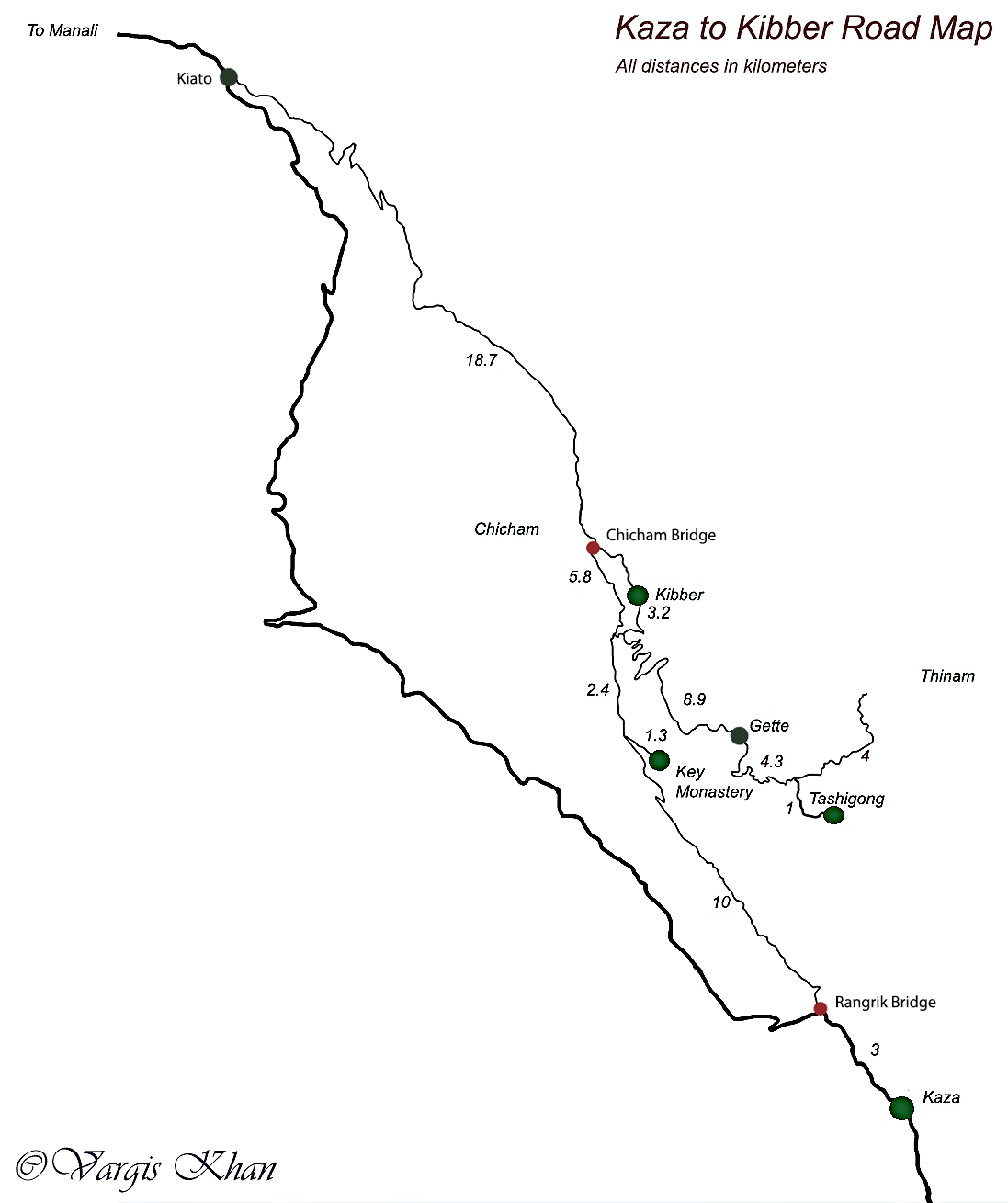 Kaza to Tashigang
From Kaza, you will start driving on Manali Leh Highway. At Rangrik Bridge, rather than crossing it, you will continue on the road straight towards Key Monastery. If you had some time, take a short break and visit the monastery, it is definitely worth it.
After the monastery, you will come across a road climbing up to your right. Turn on it and then drive for a few hundred meters. After that, you will reach a point where the road straight will continue to Kibber and the one to your right will get you to Tashigang. Turn on the one to your right.
Or you can continue straight to Kibber and Chicham first and then cover Gette and Tashigang on your way back.
Please note that while the road towards Kibber is now a little better, the one towards Gette and Tashigang is still a dirt road.
What to see in Tashigang
Tashigong is only a group for houses of about 10 families, and that is it. The only thing that puts it on the map is the recent world's highest polling station that is located here.
But one thing that this place has in ample amount is natural beauty and serenity. You should visit Tashigang to enjoy the calm of the place and nothing else.
Marine fossils are found here as well. This entire belt of villages, in fact, is rich in marine fossils. But you wouldn't really know how to identify one unless you know what exactly to look for. To the eyes of people like you and me, they will just look like normal rocks. If you were staying overnight, talk to the locals and they will definitely like to show you or even sell you some of these fossils.
The village also has a small monastery by the name of Somang Monastery that is worth visiting.
Also Read: How to Plan a Trip to Kinnaur Valley
Where to stay in Tashigang
There is only one homestay here by the name of Blue Sheep Homestay. Considering that it is just a tiny village, you will have no problem finding it. Just take a walk and ask around.
Where to Eat
There are no eateries or restaurants here. You will be eating at your homestay only.
Weather
The weather of these villages is always cold, due to its high altitude. The only thing that changes during the year is whether it was pleasantly cold or harsh cold. From May to September, the weather usually remains enjoyable with warm days and moderately cool nights. The day temperature at this time ranges between 10 to 20°C during the day and 5°C during the night.
Winters here are however very harsh. The temperature at this time drops down to -20 and the entire region remains buried under a thick sheet of snow. The roads from Kaza and Kiato too sometimes can get blocked and may not open for days.
Best time to Visit
The best time to visit these villages will be between May to September, which is also the best time to visit Spiti Valley. The weather at this time will suit the majority of the visitors and you will really enjoy the trip. With both the Manali and Shimla routes being open, you can reach here easily and cover all of the tourist attractions in Spiti Valley.
A winter trip to Spiti is possible as well but as your second or third visit. If you were planning to come in the winter season, it would be better to travel either in February or March to enjoy a white Spiti.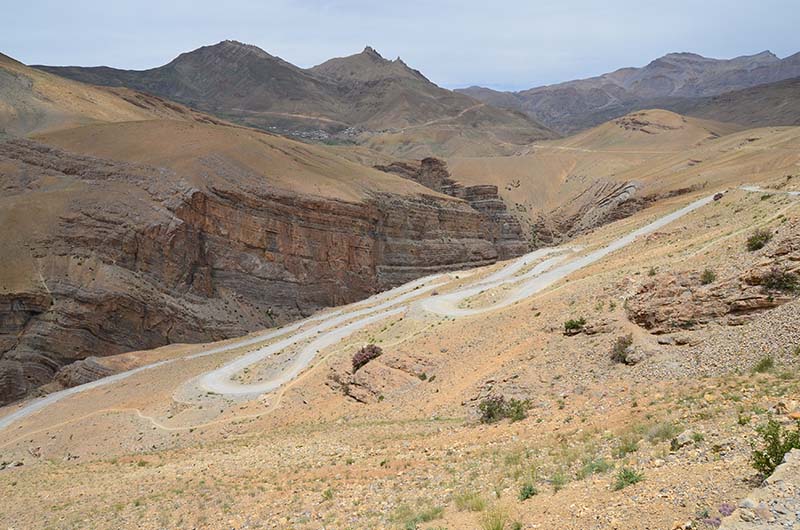 Mobile Network
There is absolutely no mobile coverage here. BSNL has the largest coverage in Spiti Valley but even that does not work here. If you were on BSNL, Airtel, or Jio networks, your phones will work find in and around Kaza but will die a couple of kilometers out of the town.
Banks / ATM
There is no Bank or ATM here. The nearest one is in Kaza.
Can you visit Chicham and Tashigang in Winter?
The answer is that yes you can. The entire region gets covered with a thick sheet of snow and the valley changes the color from brown to white. A lot of people have started to visit Spiti in the winter months as well. The only catch is that the road between Kaza to these villages can sometimes get closed after heavy snowfall. So there is a high chance that you were in Kaza and couldn't go to the villages. Or that you were in any of the villages and the road got closed leaving you stuck there.
Conclusion
I hope the information above on visiting Chicham and Tashigang villages was of help. If you have any questions or need any other details, please feel free to ask in the comments section below, or at our Community Forum, and I will be glad to answer.