The last time I traveled from Srinagar to Dawar in Gurez Valley, the condition of the road was extremely bad. After Bandipora, it was a dirt road all the way to Razdan Pass. From Razdan to Dawar, the road deteriorated even further proving the journey to be a long and backbreaking one.
At that time, hardly anyone used to go that way. Gurez Valley was yet to be highlighted as a tourist destination. In the last couple of years though, things changed and a lot of tourists started to include Gurez in their itineraries.
With this change, I was hopeful that the condition of the road may also have improved. I inquired and received a positive word but not very convincing.
Journey So Far:
So to be on the safer side, I planned to start as early as we could from Srinagar so that we could reach Dawar well in time for some sightseeing as well. Our stay for the 2 nights in Dawar was at Kaka Palace Guest House and a funny incident preceded the journey.
Kaka Palace Guest House
During my first trip to Gurez, Kaka Palace Guest House was the only decent and functional hotel and that is where we stayed. A few things were not to our liking and it left me annoyed greatly.
I actually do not even blame the owner of the hotel for that. Tourism was a new thing for Gurez back then and for its residents as well. They were still getting to know how to run a hotel and cater to their guests.
Nonetheless, a few things during our 2-day stay at that time left me and my friends dissatisfied with the hotel. So when I returned, I posted a negative review about the hotel. At that time, I never really imagined that I would ever return to Gurez gain.
But as luck would have it, a second trip was on the cards. It was a weekend. On Saturday, we intended to travel from Srinagar to Dawar and stay there for the night.
On Sunday, a drive to Chakwali and some local sightseeing in and around Dawar was the plan. After spending the weekend in Dawar Gurez, on Monday, we were to return to Srinagar.
Where to Stay in Gurez Valley
The question was where to stay in Dawar this time. From my last experience, I was a little apprehensive about Kaka Palace. I also knew that with the increase in tourism, a few more hotels had now come up in Gurez Valley.
I thought about calling other hotels to book our stay but then for reasons unknown to me as well, I ended up calling Kaka Palace only.
The biggest reason behind this was that in my heart, I knew the owner was a nice guy. I also noticed how desperately he was trying to promote tourism in Gurez the last time I was there and I respected him for that.
So I called him again and inquired about the availability of a room. He confirmed our stay for two nights. I wasn't sure if he would even remember me but I gave it a try and mentioned my name.
To my surprise, he immediately recognized me, after all those years. He went on to say how my posts helped promote tourism in Gurez and how after reading my review, he realized his mistakes and learned how to cater to guests properly.
I didn't even know what to say. This was possibly the first time I was getting credit for so many things.
To be very honest, after listening to him talk so greatly about me, I was very embarrassed for writing that negative review. I think this was the only time in my life that I was embarrassed for being honest.
Nonetheless, our booking was confirmed and the plan to drive from Srinagar to Dawar on Saturday was on.
About Dawar in Gurez Valley
Gurez valley is divided into two districts, Dawar and Tilel. The area between Razdan Pass and Dawar is Dawar District whereas the region from Dawar to Chakwali is Tilel district.
Dawar is the largest town and pretty much the heart of Gurez. This is where you will find hotels, banks, schools, an ATM, and all basic amenities. The rest of Gurez is mostly just small villages, some of them as small as 10-15 houses.
Also Read: How to Plan a Trip to Kashmir – A Complete Travel Guide
Srinagar to Dawar Distance
The total distance between Srinagar and Dawar is about 137 kilometers. The route of the journey is as mentioned below.
Srinagar – Bandipora – Razdan Pass – Dawar
This road remains open from April to October and is closed in winter. Razdan Pass receives a heavy amount of snow from December to January and crossing it during these months becomes impossible and not safe.
If you wanted to travel from Srinagar to Dawar in the winter season, you will have to board a helicopter from either Srinagar or Bandipora. This will cost you Rs. 3000 per person. For more details, please take a look at How to Plan a Trip to Gurez Valley.
In the summer months, you are free to travel by road but make sure that you are bringing your Aadhar card along. Due to security reasons, you will be asked to register yourself at the Army check-posts en route and will be asked to produce your Aadhar Card.
Bus service and shared cabs are available as well. From Parimpora in Srinagar, you will first board a shared cab or bus for Bandipora which will cost Rs. 150 per person.
From Bandipora, you will then board another shared cab for Dawar which will cost Rs. 350 per person approximately.
Srinagar to Dawar
Coming back to the travelogue, with all the arrangements done, we were ready to start our journey from Srinagar to Dawar early in the morning.
So far in the trip, it was the 4 of us exploring the valleys of Kashmir. But Shoaib and Maddy caught a flight back home to Delhi last week and it was only Gunjit and myself left now.
We started from our hotel in Srinagar at around 7 am. After about 5 kilometers, I realized that I forgot my Aadhar card back in the hotel in Srinagar. So we turned around, picked up my Aadhar card, and were on our way to Dawar.
We drove non-stop for the first couple of hours. On the way, we crossed Mansabal and Wular Lakes and the town of Bandipora where took short photography breaks.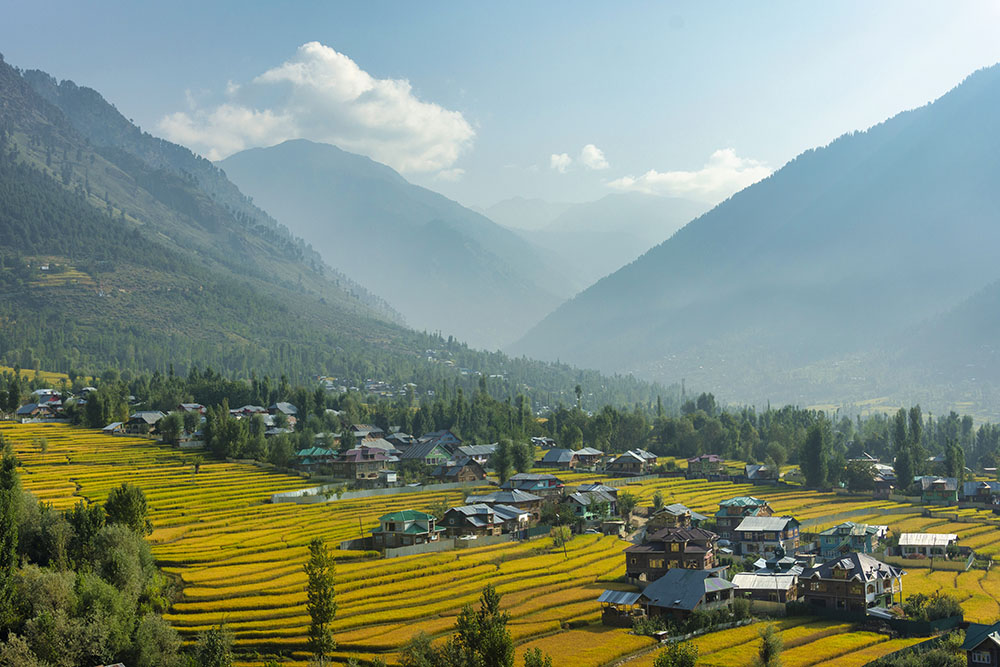 Razdan Pass
Pretty soon we were driving up on the ascent of Razdan Pass. All this while, I was waiting for the road to turn bad but surprisingly, it never happened. The drive remained smooth on a good tarred road.
At about 9.30 am, we took our first break at a Dhaba just before the top of Razdan Pass. We were both hungry by now since we started from Srinagar without having breakfast.
With our bellies full, the journey resumed and we were soon at the top of the Razdan Pass.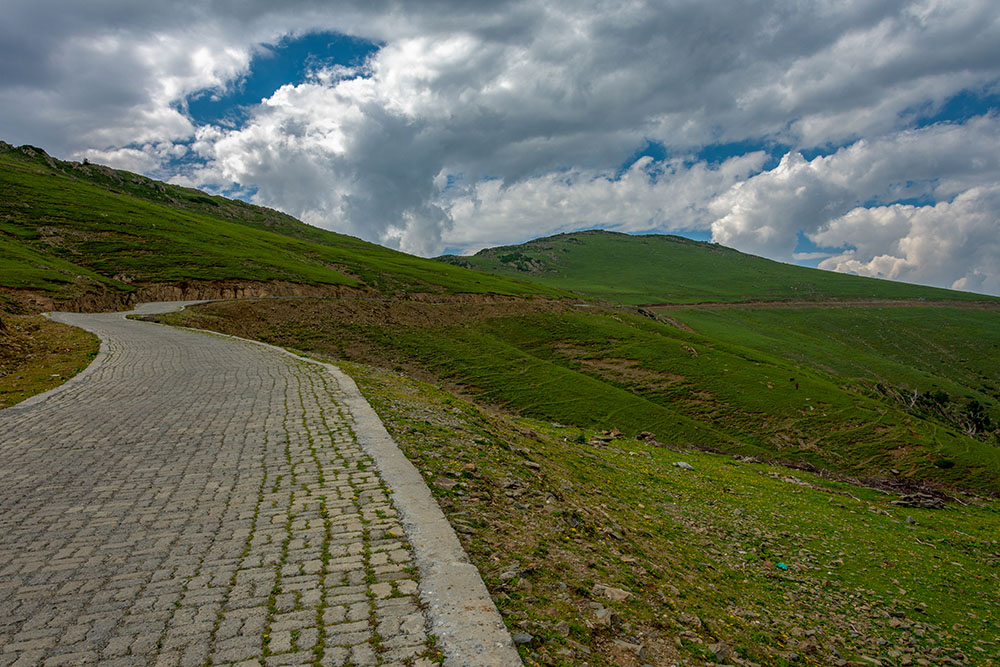 To my complete surprise, the road still remained good. The last time I was on it, it was full of potholes. But this time, it was tarred and with the beautiful views around, a pleasure to drive on.
As we got down on the other side of the pass, that is where the road turned bad, and I mean really bad. Potholes were back again and our speed dropped down to just about 10-15 kilometers an hour.
We got our first view of the dam on the Kishenganga river.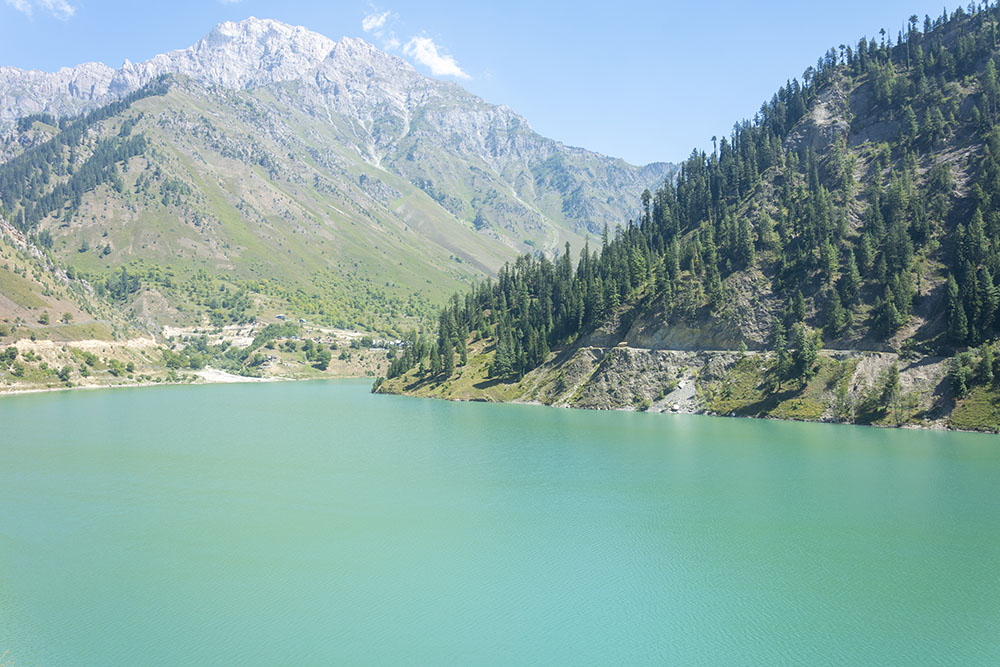 Thankfully, the bad section of the road only lasted for about 10 kilometers. As we entered Gurez Valley and got closer to Dawar, the road once again turned smooth. We registered ourselves at the Army check posts in between and reached Dawar.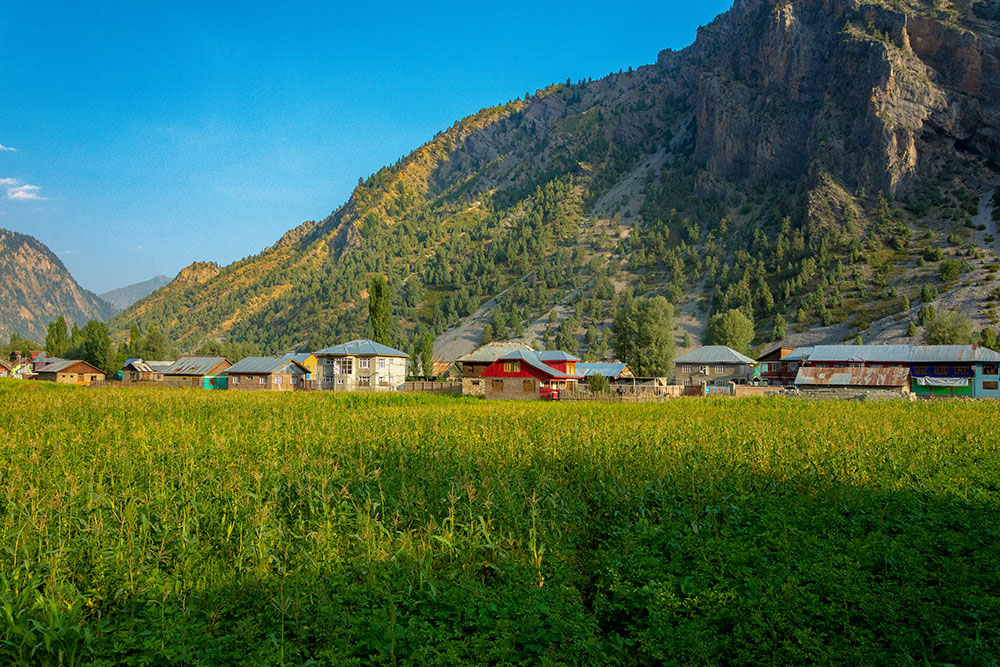 Dawar
We entered the town of Dawar a short while later. Another set of surprises awaited me here. The town that I saw last was devoid of any tourists or developments related to tourism. But the Dawar I was looking at now had changed entirely.
There were several small hotels and more were coming up. Construction work was happening all around. Navigating our way through its busy streets, we reached Hotel Kaka Palace.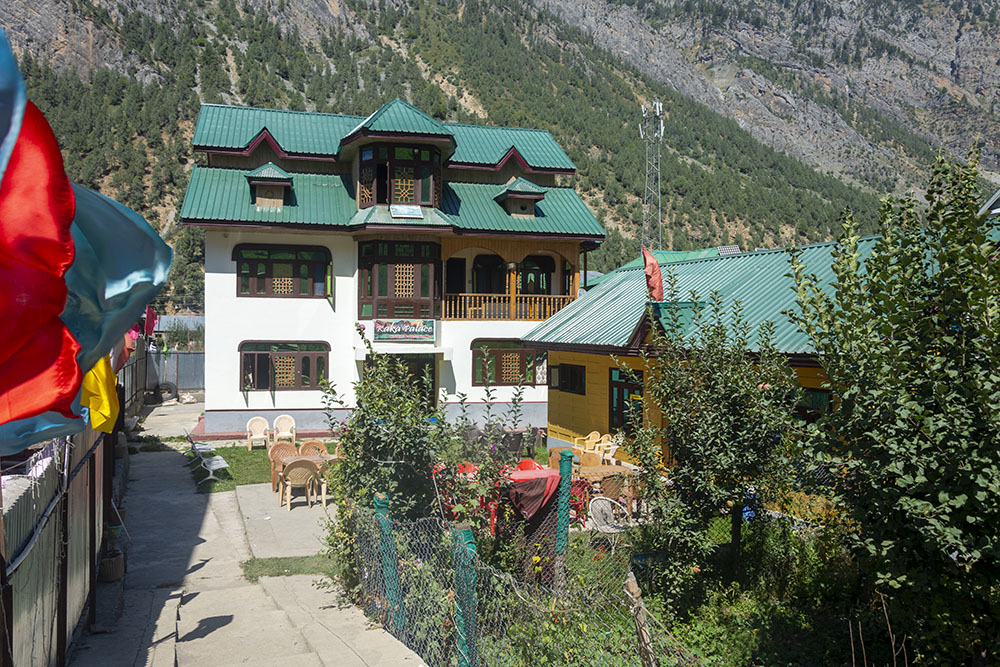 As expected, the owner was waiting for us and we received a very warm welcome. The hotel too had changed tremendously and looked amazing. There was a new dining hall on the lawn and the entire setup had changed to please more tourists.
It was the month of September and I was surprised by how hot it was in Gurez Valley. The sun was quite harsh and it was very difficult to stay outdoors.
Mobile Network
The last time I was in Gurez, only BSNL and Jio had connectivity here. That too was poor and intermittent. We were not even getting 2G data speed.
This time, however, the service of Jio had improved tremendously. The network was strong, the call quality same as what you get in big cities and the data speed was 4G.
The peak of Habba Khatoon and the small waterfall in its shadow is one of the great tourist attractions of Gurez Valley. After resting for an hour, we decided to visit the waterfall first.
Habba Khatoon peak has quite a bit of history related to it. It is named after Habba Khatoon, a famous poetess of Kashmir who has a lot of influence on Kashmir literature. To know more, please take a look at The Life & Legend of Habba Khatoon.
The last time I was in Gurez, I only saw the waterfall from the other side of the river. It did not look like anything special so we did not go all the way to the waterfall. But this time I wanted to get a closer look.
Habba Khatoon Waterfall
The road to the waterfall can get a little confusing. The best thing to do is to ask the local villagers for directions which is what we did.
We drove for about 15 minutes and reached a dead end. We crossed a small bridge and the road ended in a wide parking-like area. There was no one around and no waterfall either. We got out of the car but had no idea which way to go.
Thankfully, 3 little kids appeared out of nowhere. They were just playing around and noticed my Thar. Curious about which car it was, they approached us and I asked them about the waterfall.
Not only did they point us in the right direction but also decided to walk with us there. It was a short trek of about 10 minutes and we reached the waterfall.
It is actually incorrect to call it a waterfall even. What you see is just a stream of underground water that emerges from the base of Habba Khatoon peak and flows down a few meters into the Kishanganga river.
There were two unique things about its water though. It is possibly the coldest flowing water I have ever touched in my life.
The second thing was its taste. I know that the water is tasteless but the way the water of this stream feels in your mouth is really good and refreshing. Try it out when you are there and you will know what I mean.
We spent about 30 minutes at Habba Khatoon and paid the little kids some amount of money for being our guides. They wanted to eat some chocolates and kept asking us for them. Since there was no shop nearby, I handed them some money so they could buy it themselves.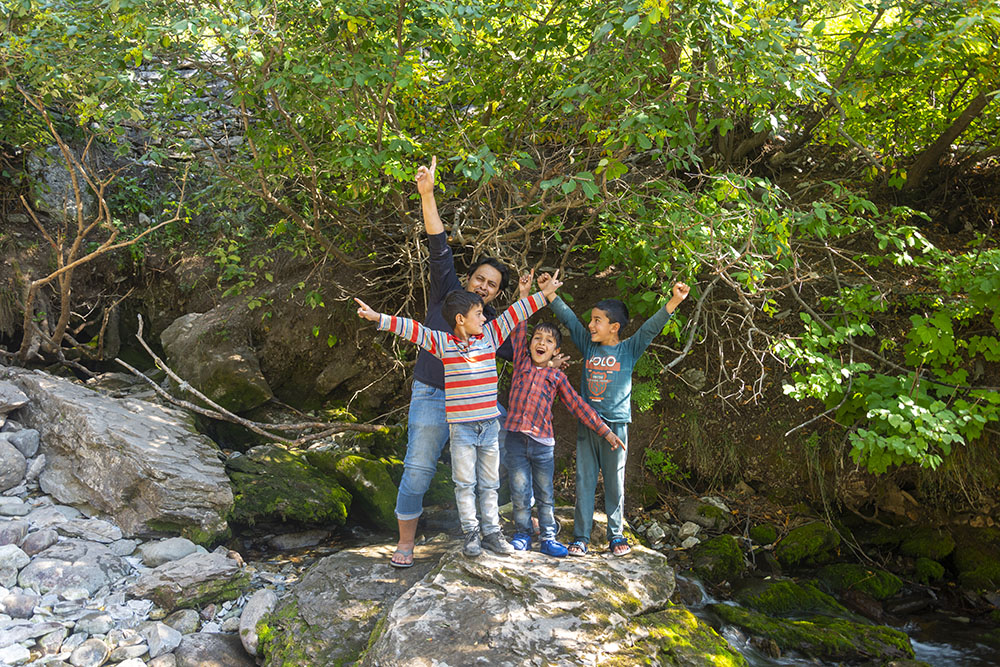 Army Wet Canteen
We drove back to the hotel and spent the next couple of hours indoors since it was very hot outside.
In the evening, as the weather cooled down a bit, we stepped out and I reached the Army wet canteen. During our last trip, it was our favorite place to get some tea. At that time, it was just a small shop selling tea, snacks, and some other day-to-day items for the soldiers posted in Dawar.
What now stood in its place however was a small cafe that was no less than the ones you see in metropolitan cities. Let me post some pictures for comparison.
This is what we saw a few years ago.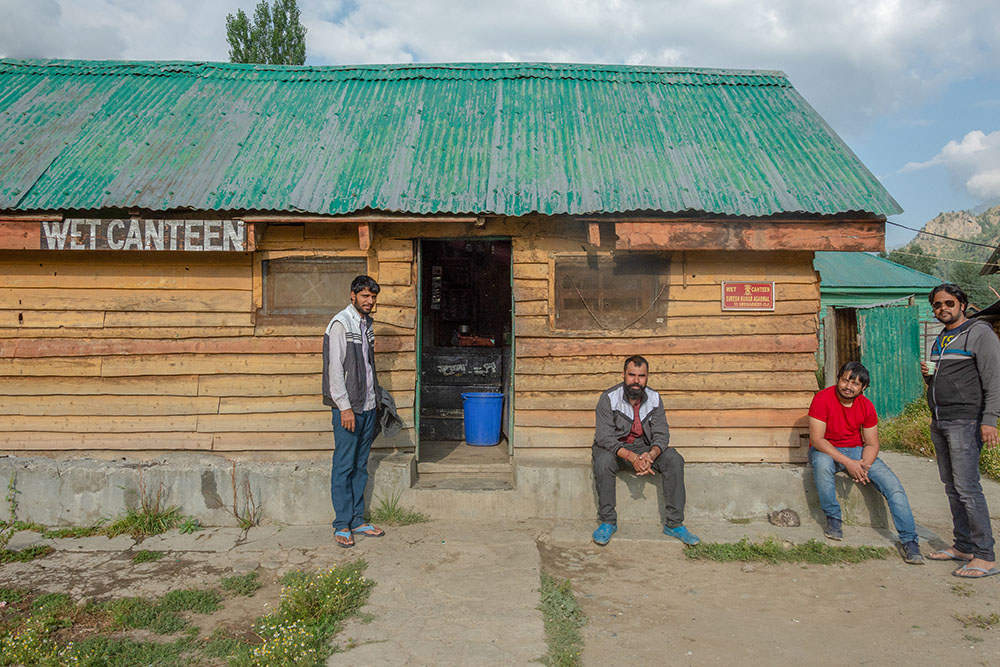 This is what we saw now.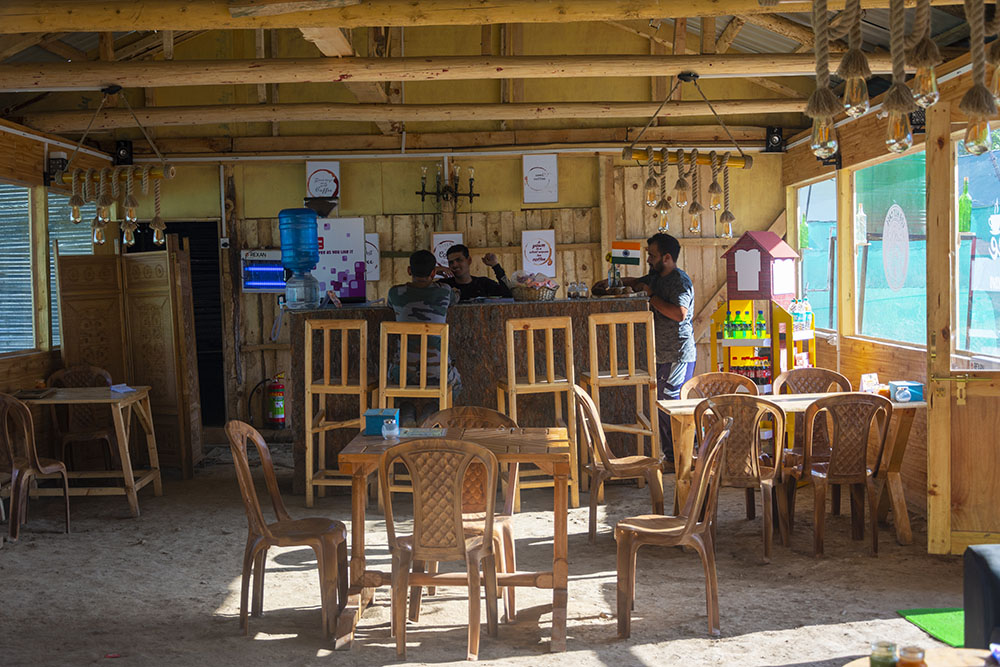 This small cafe had turned into a favorite place for the people of Dawar to hang out. In the evening, you may not even find a place to sit here, that is how crowded it can get.
On the downside, the quality of their tea and coffee took a nosedive. We ordered a few items to eat as well but everything just tasted flat, very average. This was disappointing because the tea I had here during our last trip was superb.
The Marsh
I am not sure if the word marsh is the right one to use but it does seem like it. On the other end of Dawar, there is a certain area that remains flooded because of the dam on the Kishenganga river.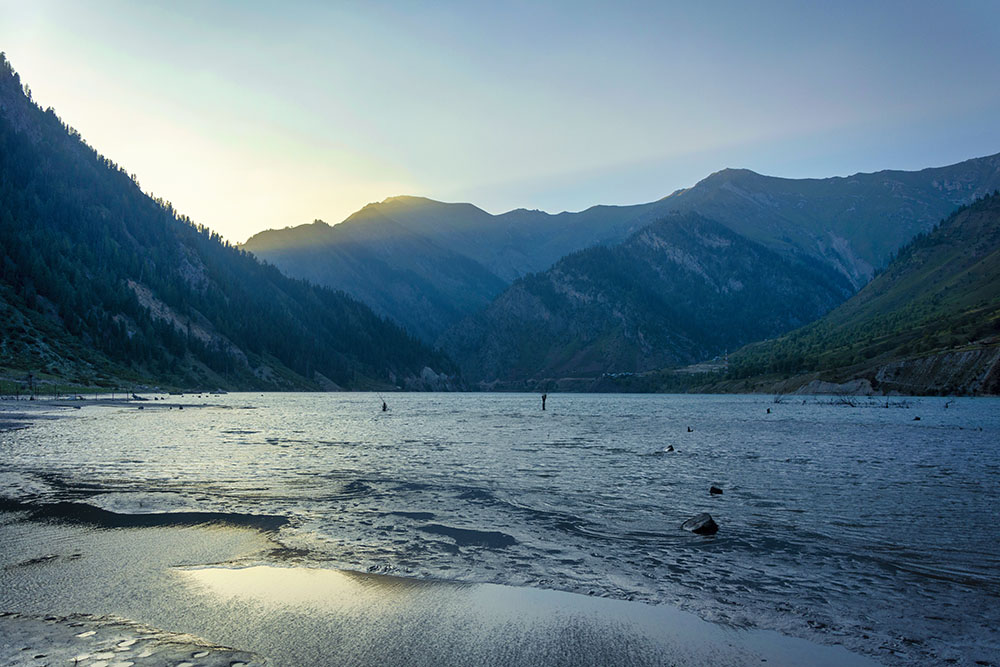 This area was once a part of Dawar town but after the flooding, the houses were relocated. What you see here now is the river and a marsh-like area which is a good spot to spend an evening with your friends. That is where we went next.
It is also a good place for photography. Walking around in the mud with our shoes off was a lot of fun.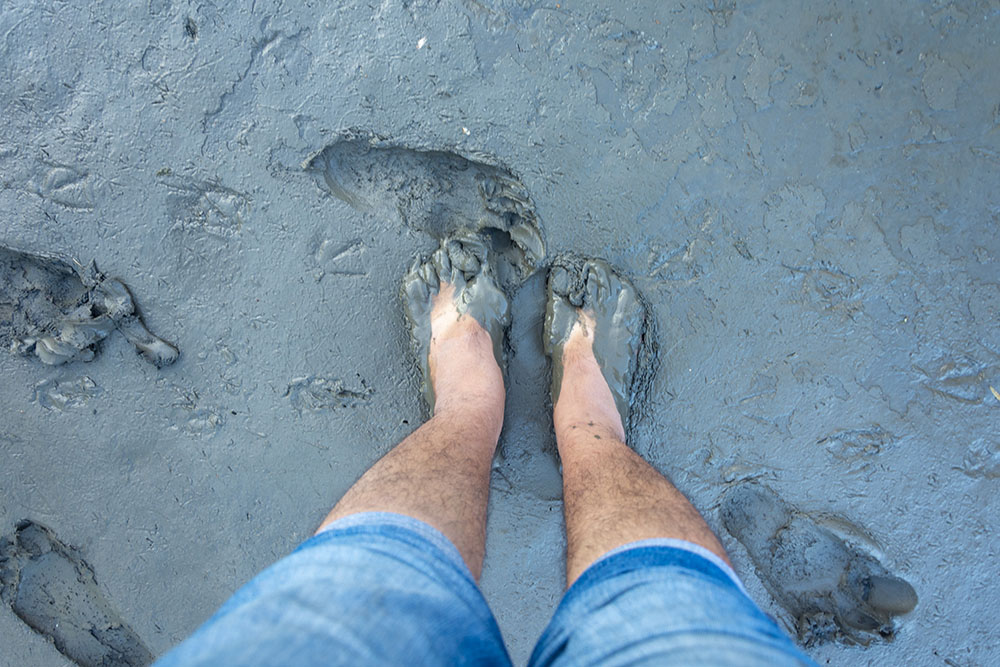 We spent some time there and returned to Dawar after the sun went down and the moon came up.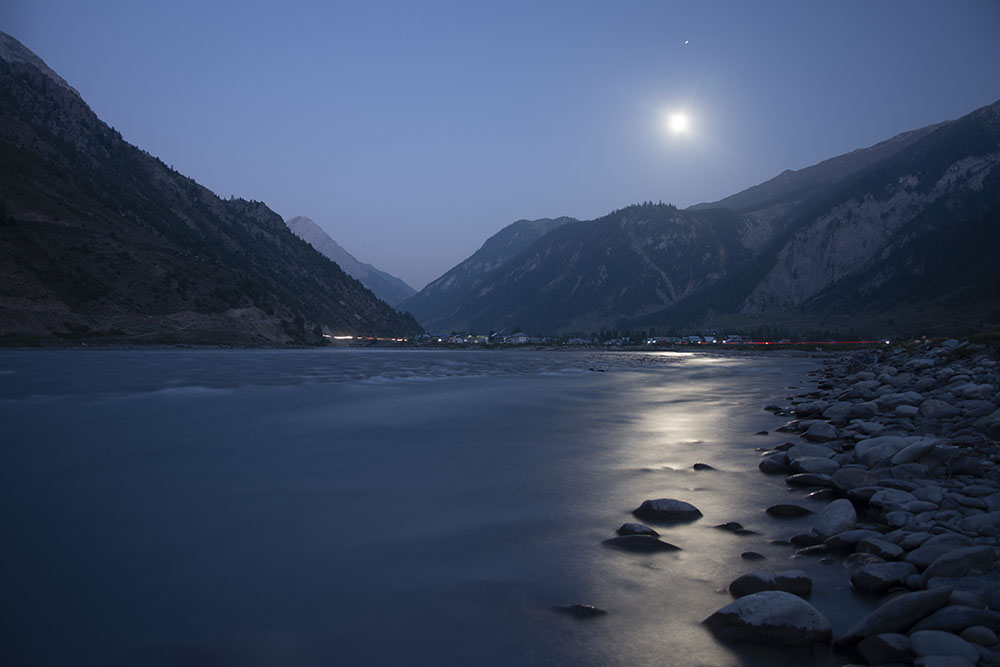 On the way, we again stopped at the Army cafeteria briefly. The plan for tomorrow was to drive to Chakwali. I had been there once before and knew that extremely bad roads awaited us there.
The good part however is that the scenery while going to Chakwali is very beautiful. I had already seen it once and was excited to see it again tomorrow.
We had an early dinner at the hotel and retired to our room. Please click on the link above to continue reading the next part of the travelogue.
Srinagar to Dawar Gurez – Conclusion
I hope the travelogue, pictures, and information on traveling from Srinagar to Dawar in Gurez Valley were of help. If you have any questions, you can contact me on Instagram and I will be happy to answer. You can also consider subscribing to my YouTube channel and asking a question there.