I was expecting this day to be like the previous one, all rainy and gloomy, enough to ruin our journey from Srinagar to Doodhpathri. But surprisingly, we woke up to clear skies all around. The black clouds that ruined our Saturday and made us change our plans for Sunday were all gone.
We arrived in Yusmarg the day before and stayed at the JKTDC Yusmarg resort overnight. The day turned out to be a disappointing one though. The cottage we stayed at was in horrible condition and to make things worse, it rained all day long.
We were just trapped in our cottage, unable to step out for sightseeing in Yusmarg. The only good part was the views that turned heavenly after all the rain. To read the previous parts of this travelogue, please follow the links below.
Journey So Far:
Thankfully, this day turned out to be a much better one. The rains were all gone and the weather was clear. For a moment, I even regretted canceling our plans for camping in Doodhpathri because the weather looked favorable for that. But there was nothing we could really do about it now.
Srinagar to Doodhpathri
Before I move on with the travelogue and our story for the day, let me provide details on how you can plan your journey from Srinagar to Doodhpathri or Yusmarg to Doodhpathri.
Srinagar to Doodhpathri Distance
Doodhpathri is at a distance of around 37 kilometers from Srinagar, depending on where you start from in Srinagar. The route passes through the busy towns of Badgam and Khan Sahiba and it will take you around 2 hours to reach Doodhpathri.
How to reach Doodhpathri from Srinagar
There are a couple of different routes that you can take from Srinagar to Doodhpathri. The best one will be as mentioned below.
Srinagar – Badgam – Khan Sahib – Doodhpathri
The distance between the two places is not that great, only about 37 kilometers. But because of the narrow roads, traffic, and uphill drive, it will easily take you about 2 hours to get to Doodhpathri from Srinagar.
An important thing to remember is to not follow Google Maps for Doodhpathri. I am not sure why but I think it routes you to some other remote village called Doodhpathri. We got lost because of this once.
If you were following Google Maps, look for either Doodhpathri Entry Point or TRC Doodhpathri Tangnar. Or else, just follow Google Maps until the town of Khan Sahib but after that, ask locals for directions. Do not follow Google Maps all the way.
Also Read: How to Plan a Trip to Kashmir – A Complete Travel Guide
Srinagar to Doodhpathri Taxi Fare
A private taxi for a round trip to Doodhpathri from Srinagar will cost you about Rs. 2500. For just a drop, it will cost Rs. 2000.
Srinagar to Doodhpathri Bus
There is no direct bus available from Srinagar to Doodhpathri. You will have to break your journey and change buses at several places. From Srinagar, you will first have to find a bus for Magam, then for Badgam, then Khan Sahib, and finally a shared cab for TRC Doodhpathri.
From TRC Doodhpathri, it will be very difficult to find public transport and you may even have to rent a private cab. If you were able to find a shared cab though, the total bus fare to Doodhpathri will come out to be around Rs. 150-200.
Srinagar to Doodhpathri Shared Taxi
You will not find a shared cab from Srinagar to Doodhpathri. As I mentioned about the buses, the journey will have to be followed in a similar manner. From Srinagar, you will first board a shared cab for Magam, then Badgam, and then Khan Sahib.
From Khan Sahib, you will then look for a shared cab to drop you at Doodhpathri. There is a high chance that you may not find a shared cab for this part of the journey either.
If not, then look for a shared cab to drop you near the TRC Doodhpathri junction. From there, you may need to rent a private cab if shared ones were unavailable.
Completing this journey by public transport will really be a hassle and will eat up your entire day. I will highly recommend just booking a private cab.
Yusmarg to Doodhpathri Distance
The distance between Yusmarg and Doodhpathri is about 60 kilometers
How to reach Doodhpathri from Yusmarg
The route of the journey will be as mentioned below.
Yusmarg – Charar-e-Shariff – Nagam – Chadoora – Khan Sahib – Doodhpathri
The travel time on this route will easily be close to 3 hours, due to narrow roads and traffic. Public transport is available in the form of shared cabs and there is no set timing or schedule for those.
You will be following the route above and just asking around in the towns in between about where can you find a bus or a shared cab. As I mentioned previously, these are offbeat areas of Kashmir, and visiting here by public transport will just be a hassle in the end.
Sightseeing in Yusmarg
Coming back to the travelogue, the plan for today was to travel from Yusmarg to Doodhpathri. But before that, we had to finish our sightseeing in Yusmarg. Thankfully, the weather looked favorable enough to do that.
There was no intercom in our cottage and the kitchen and reception area was a bit far away. None of us wanted to walk all the distance to order breakfast.
So we just got ready, packed our bags, and reached the reception area to check out. The payment was already made online so I just had to let the caretaker know that we were leaving.
The skies were clear and the day was going to be sunny. I called Faisal asking if he made the arrangements for camping in Doodhpathri but he said no since I told him not to do so yesterday and he also thought it would rain today.
So the plan remained to be to drive to Doodhpathri, spend a few hours there, and return to Srinagar by evening. But before we did leave Yusmarg, we decided to do some sightseeing first.
There isn't a lot to see in Yusmarg though. The natural beauty of the place is its prime attraction. The rest are just treks that lead out of Yusmarg to the surrounding forests and a couple of nearby lakes. For more details, please take a look at How to Plan a Trip to Yusmarg.
For regular tourists, the meadow in Yusmarg and Doodhganga river are the prime attractions. We already did a lot of walking around in the meadow yesterday so only the Doodhganga river was left.
We drove as far as we could and then walked down a steep set of stairs to finally reach the river.
Yusmarg to Doodhpathri
The views around the Doodhganga river are simply amazing. It is a good spot to sit down with friends, have fun and click loads of pictures. That is exactly what we did.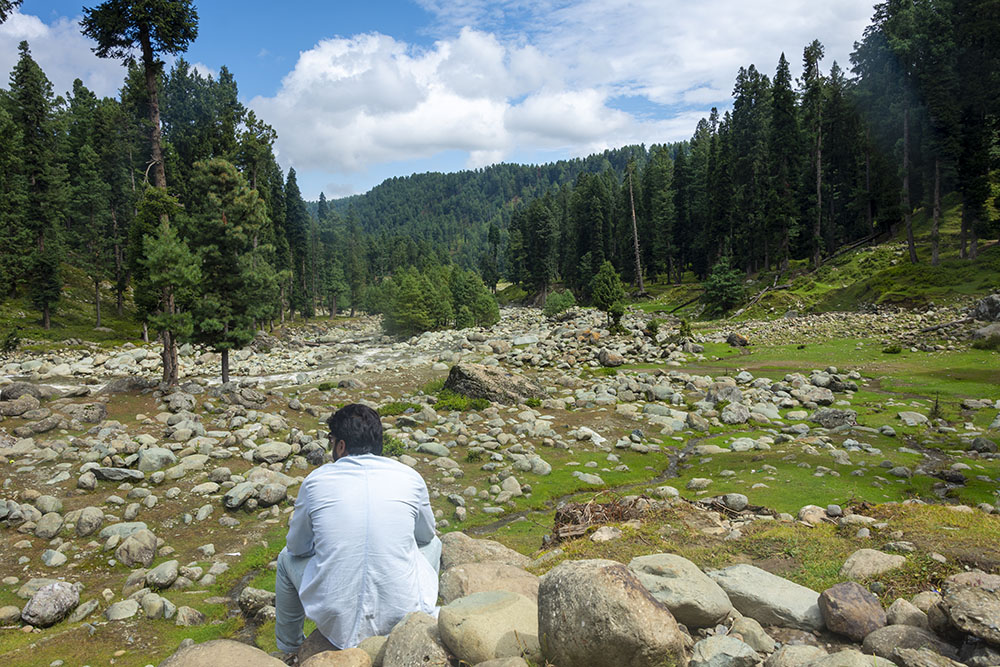 We spent about an hour just walking around and clicking pictures and returned to the car. Climbing back up was really way more difficult than trekking down to the river.
After that, we drove out of Yusmarg and started our journey to Doodhpathri.
There is not much to write about the first part of the journey. We reached Nagam and then took the turn towards Doodhpathri. It was somewhere near Khan Sahib that we took a wrong turn and ended up getting lost.
I had Google Maps on all the time and did not realize that it picked the wrong location for Doodhpathri. It had us drive through some very narrow roads of remote Kashmir villages to god knows where.
It was my second trip to Doodhpathri and I was expecting to cross the town of Khan Sahib to reach the TRC junction. But neither did we reach Khan Sahib nor the TRC.
The narrow broken dirt roads and the remote villages made us realize that we were lost and Google brought us to the wrong location.
We asked the locals but even then we were getting confusing directions. After an hour of driving aimlessly and circling in the same area, we finally managed to reach Khan Sahib town and made our way to Doodhpathri.
This is why I said at the beginning of the article to not follow Google Maps for traveling from Srinagar to Doodhpathri.
Accommodation in Doodhpathri
Nonetheless, we finally reached our destination. The last time I was in Doodhpathri was 3 years ago and the place sure had changed a lot since then.
There was some development done here to bring in tourists and we found a lot of them, mostly Kashmiris though. It was a Sunday and there were a lot of Kashmiri families out in Doodhpathri for outings and picnics.
We drove past the meadow towards the Shaliganga river. The idea was to first spend some time at the river and then stop for a while in the meadow.
There was now a large parking area, several tea stalls, and an entry gate just before the river point. We paid another Rs. 100 to bring our car to the other side of the gate and stopped at a tea stall to get something to eat.
This is when I noticed a few JK tourism cottages. By the looks, these looked much better than what we saw in Yusmarg. I bounced the idea of staying in Doodhpathri for the night and the others agreed.
We spoke to the caretaker. He first quoted Rs. 2000 per cottage but then agreed to Rs. 1700. We checked out the cottages and they were beautifully built.
There are two types of cottages available to stay in in Doodhpathri, the igloo ones, and the wooden ones. We stayed at the wooden one because it was better and larger. For more details on this, please take a look at JKTDC Doodhpathri Resort Review.
This was anyway our plan from the start. The only change was that we wanted to camp at first but will now be staying in a cottage.
Now with our stay in Doodhpathri decided, we then drove to Shaliganga river and spent some time sitting by its waters.
Sightseeing in Doodhpathri
Soon the sun started to go down and the weather got colder. We drove back to the parking area and then decided to visit the meadow. On the way, we reached this point which looked perfect to see an amazing sunset.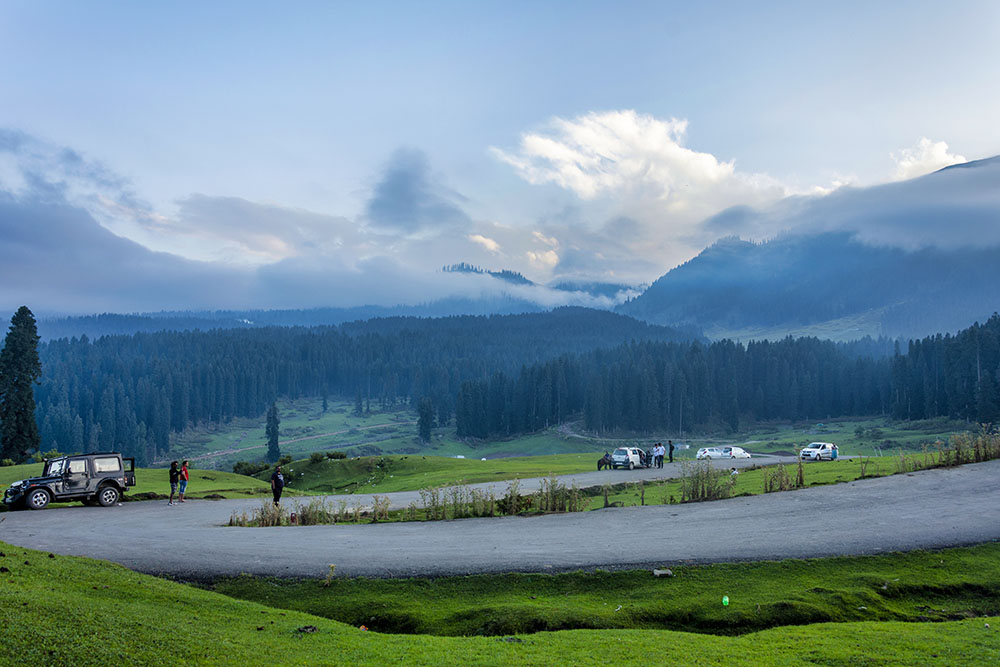 A funny incident happened here. Other than the four of us, there was another car parked there that belonged to some local Kashmiri guys. I asked one of them if he wouldn't mind clicking our picture together and he gladly said yes.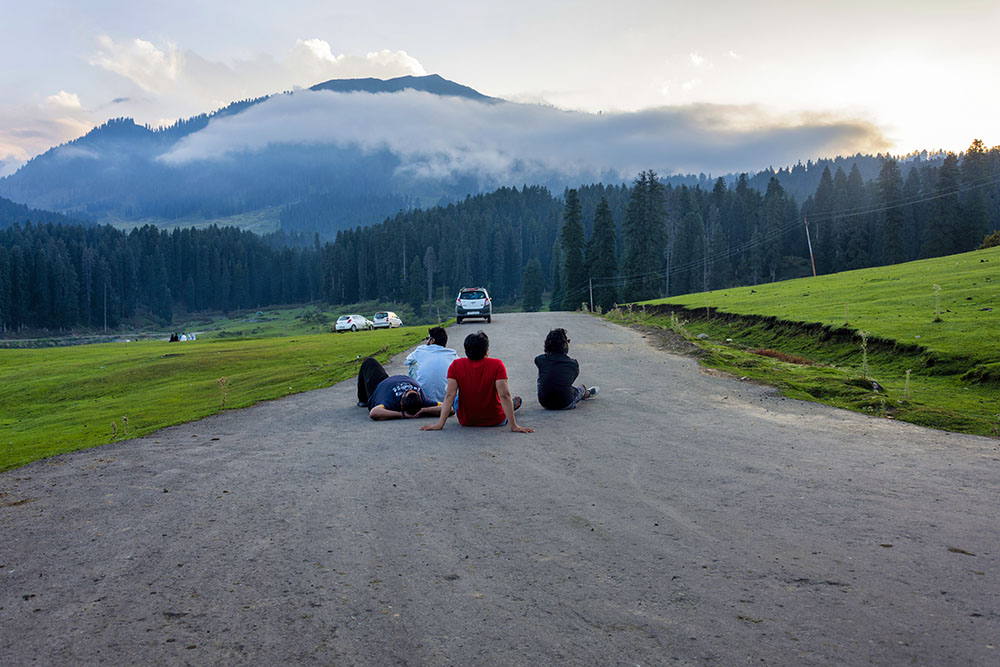 After he was done clicking our pictures, he then asked if I would click a picture of him. I thought he wanted me to do so with his camera but I was wrong.
They had a point-and-shoot camera whereas I was carrying a large DSLR. So he wanted me to click a picture of him with my camera and then send it to him on Whatsapp.
I did not mind doing so but what followed was amusing. The guy went for a complete photo shoot. He clicked 2 pictures of all of us and in return, had me click at least 20 of his, in different poses.
For the next 10-15 minutes, I became his personal photographer. He went to different spots, posed in different ways, and even climbed on my car asking me to take his pictures. All this while, my friends watched us from distance, getting amused and laughing at me.
Once he was satisfied with the pictures, he took my phone number and provided me with his. For the next week, he kept following up with me almost every day until I sent him his pictures on Whatsapp.
Doodhpathri Meadow
We came to the meadow and walked around for a bit.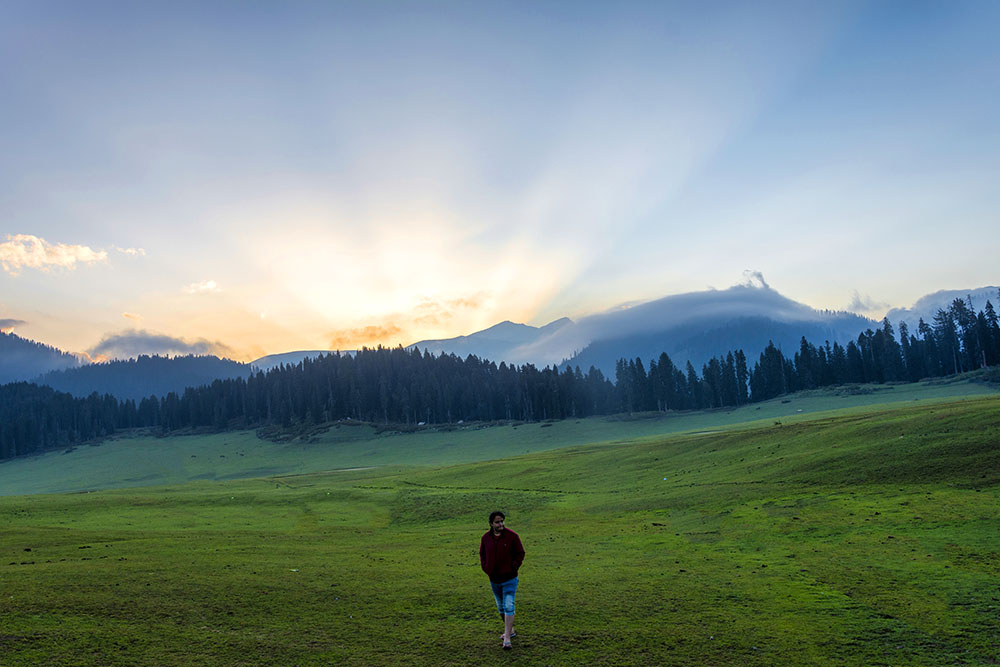 There were a few snacks and tea stalls near the meadow that were getting ready to wrap up for the day. We ordered tea and something to eat for all of us and another surprise awaited us.
I think we had 3 cups of tea, 1 cup of Kahwa, 2 bread omelets, and a couple of bows of Maggie in total. For all this, the final bill I paid was close to Rs. 700, can you believe it?
They scammed us for not asking the price before we ate. I was shocked at the least but there was nothing we could do other than to pay the bill.
So a word of advice. If you are going to eat anywhere here, ask the price first or it will get doubled later.
JKDTC Doodhpathri Resort
We returned to our cottage and the rest of the evening was just spent relaxing and playing cards. There was no TV at the cottage and mobile network reception was very weak. Even to make phone calls, we had to step out and walk a bit to the parking area.
Maddy, Gunjit, and I drove to a nearby restaurant called Zaika to have dinner. Shoaib wasn't hungry so he just stayed back. As expected, even this restaurant was way overpriced for below-average food.
That was the end of our day. In the end, we did end up doing what we wanted to do, to stay at Doodhpathri for the night. Tomorrow we were to drive back to Srinagar and stay there for the next 5 days, logging in and working every day since we were not on complete vacation.
Our destination for the next weekend was not decided yet but it turned out to be Gurez Valley. Please click on the link above to continue reading the next part of the travelogue.
Srinagar to Doodhpathri – Conclusion
I hope the travelogue, pictures, and information on traveling from Srinagar to Doodhpathri were of help. If you have any questions, you can contact me on Instagram and I will be happy to answer. You can also consider subscribing to my YouTube channel and asking a question there.