Our trip was far from over. In fact, it had just started. It was only the first of the several weekends we were going to be spending in Kashmir. But still, when we were leaving from Sonamarg to Srinagar, it really felt like we were going back home after a trip.
It was a Monday morning. The idea was to drive back to Srinagar and stay there in our hotel until Friday because we also had to be working. We were not completely on vacation and were carrying our office laptops along.
Pahalgam was the destination for the next weekend but before that, the next 5 days were to be spent in Srinagar, logging in and working as a normal working day.
Journey So Far:
For a while, I thought to stay back in Sonamarg and work from there. There were 2 problems with that. The wifi in Sonamarg, while stable enough, was a BSNL one and for some reason, I just could not bring myself to trust it entirely.
The second reason was that it was only I who brought my office laptop to Sonamarg. Maddy and Shoyab left their laptops in our hotel in Srinagar so we really had no choice but to return.
So much we all liked our time in Sonamarg that going back to Srinagar for the next 5 days felt as if we were going back home after a trip.
Sonamarg to Srinagar
I got up early in the hope of catching the sunrise and getting some pictures. Catch the sunrise I did but it was nothing spectacular. I just spent the morning idling around and enjoying the cold weather. Mohsin joined me a short while later and tea was ordered.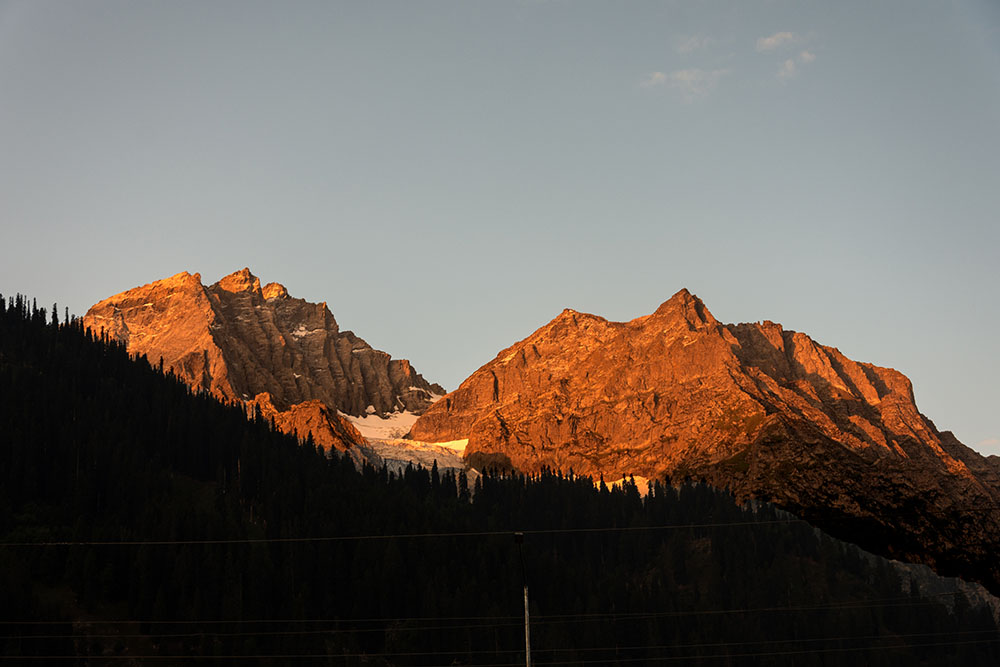 Not much really happened after that. Shoyab and Maddy woke up and several more cups of tea were consumed in the next hour while we packed and got ready to be on our way back.
Also Read: How to Plan a Trip to Kashmir – A Complete Travel Guide
Sonamarg to Srinagar Distance
The total distance from Sonamarg to Srinagar is 80 kilometers, depending on where you were staying in Srinagar. Our hotel, Grand Valley Inn, was near Shalimar Bagh and the distance needed to be covered was about 75 kilometers.
Because of this, we were in no hurry. The journey was hardly going to take 2-3 hours at most. We all worked night shifts and had to log in only in the evening. So we had the entire day to ourselves.
How to Travel to Srinagar from Sonamarg
The distance between the two places, as I mentioned above, is about 75 kilometers. The road for the most part of it is in good condition. The route of the journey is as mentioned below.
Sonamarg – Gund – Kangan – Wayul Bridge – Ganderbal – Nagbal – Srinagar
Between Sonamarg and Wayul Bridge, it is a broad highway and the drive is a very enjoyable one. After you cross the Wayul Bridge, the road turns into a very narrow one for the last 25 kilometers to Srinagar.
The condition of the road continues to remain good but there is always a lot of traffic on this stretch. You pass through the markets of Ganderbal and Nagbal and can even sometimes get stuck in traffic. It is this stretch that increases the travel time from Sonamarg to Srinagar to almost 3 hours.
Sonmarg to Srinagar Bus
The bus from Sonmarg to Srinagar starts at around 8 AM from the Sonamarg market area. It reaches Srinagar after a journey of about 5 to 6 hours and will drop you at either Batmaloo or Parimpora in Srinagar. The fare of this bus is around Rs. 150 per person.
Sonmarg to Srinagar Taxi Fare
If you did not want to travel by bus, you can also look for a taxi in Sonamarg. If you rented a private taxi, you will pay about Rs. 2000 for a drop in Srinagar at any place of your choice.
If you did not want to pay that much, you can also look for a shared cab. For this, you will first have to board a shared cab for Kangan from Sonamarg. From Kangan, you will then have to catch another shared cab for either Hazartbal or Jahangir Chowk in Srinagar.
Shared cabs run all day long on this route and can easily be found. The fare per person will be around Rs. 190 to 200 per person.
Sonmarg to Srinagar Airport Distance
The distance between Sonamarg and Srinagar airport is 88 kilometers. To get to the airport, you actually have to travel through the entire Srinagar city and the travel time increases significantly by almost an hour.
If you headed straight to the airport, the total travel time between Sonamarg and Srinagar can be close to 5 hours.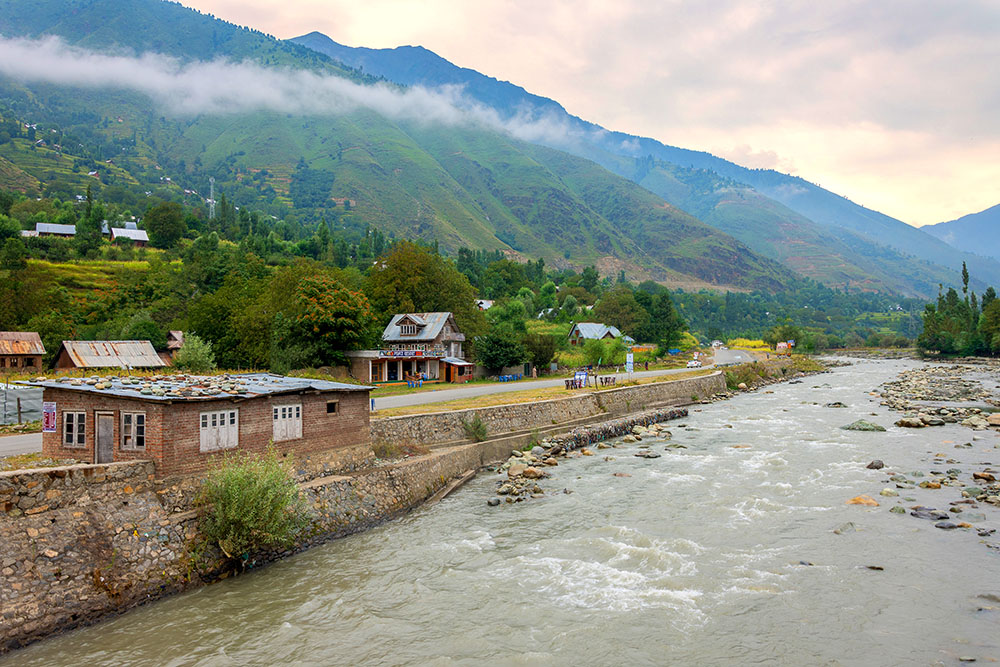 Journey Back
Finally, at around 9 AM, we started on our way back. This was the same route that we had traveled just 2 days ago so the breaks were kept to a minimum. The journey was a monotonous one except for a small incident when a hatchback car almost ran into us.
It was nothing alarming. The hatchback in front of us was a local and we had been following it for a little while tackling a bad section of the road.
At a certain point, the road was a little broken, and to avoid it, the driver of the hatchback went to the right side of the road leaving plenty of space on the left for me to take over.
The broken part of the road was nothing that a Thar could not handle. So I accelerated a little to overtake the hatchback. I know I should not have overtaken from the left but I did not anticipate that driver to suddenly steer left which he did.
We both applied brakes and nothing happened. We were hardly at about 10-15 kms an hour so nothing could have happened anyway. What made the incident interesting was that the driver of the other car started to yell at us, asking us to stop.
For a minute I actually thought to stop and confront him. But then I just ignored him and continued on our way. The day was going well and I did not want to ruin it by getting into a fight unnecessarily.
More than that, he was a local and I knew that confronting him like that may just get nastier and invite more confrontations with other people he may call. It would all have been unnecessary trouble that we neither wanted nor had the time for.
Break Time
We stopped at a Dhaba to get something to eat. A little later, that other car also arrived. They were an entire family and I guess that guy also did not want any more trouble. We all noticed each other there eating peacefully but no one said anything.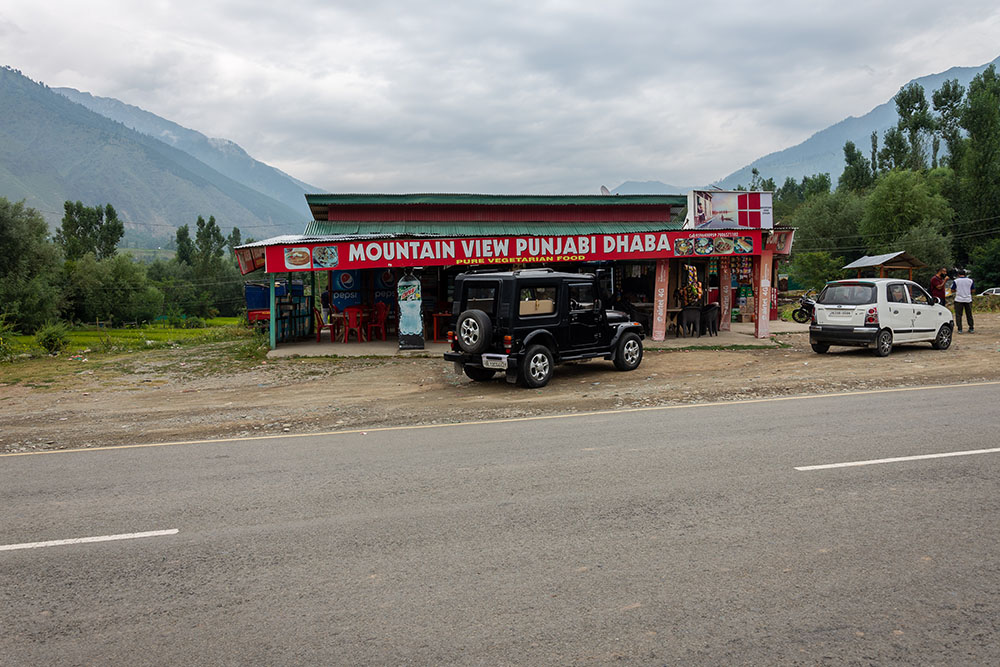 We reached our hotel in Srinagar by 12 noon. There was a car wash close to our hotel and Thar was sent for a much-needed wash.
We rested for a while and by evening, we were all logged in, staring at our laptops and working. The next 5 days were to be spent like that before we could go to Pahalgam the next weekend.
Sonmarg to Srinagar Itinerary
Our visit to Sonamarg was over a weekend, so a total of 2 days. The itinerary that we followed was as mentioned below.
Saturday: Srinagar – Sonamarg – Zojila Top – Zero Point – Sonamarg
Sunday: Trek to Thajiwas Glacier. Spend the evening relaxing in Sonamarg
Monday: Sonamarg to Srinagar
Please click on the link above to continue reading the next part of the travelogue detailing our visit to Pahalgam.
Sonamarg to Srinagar – Conclusion
I hope the pictures and information above on traveling from Sonamarg to Srinagar were of help. If you have any questions, please feel free to ask in the comments section below. You can also follow me on Instagram and chat with me live or subscribe to my YouTube channel and ask a question there.