The clock showed 3:00 am. It was time to be on our way from Delhi to Jammu by road. It was time to finally start our trip to Kashmir that we had been planning for so long. All my bags were packed and loaded already in my Mahindra Thar. Maddy called me to inform me that he was already on his way to my place.
This post is in continuation with a previous one and a part of my Kashmir Travelogue. Please take a look at the following link to read the previous part of this log.
I gave my room a final look to ensure that I did not miss anything. I had already done this at least 10 times before. But the doubt in my head still persisted. I still kept thinking that I missed something but didn't know what.
Finally, I gave up and stepped out of my house. A few minutes later, Maddy arrived and we loaded his bags in Thar. By 3.20 am, we were on our way from Delhi to Jammu by road.
Delhi to Jammu by Road
Maddy was surprised by the number of bags I had packed. He kept his packing brief to avoid a scolding from me for bringing too many things along. But one look at all the items that loaded in the car and he immediately started regretting leaving a few things behind.
The luggage of just the two of us took up most of the room in the car and I was thankful that it was only two people traveling by road.
Had Shoaib and Lavish agreed to tag along, it would have been impossible to fit 4 people and so much luggage in, especially when the journey was going to be so long.
We were standing on the main road outside my house and fitting in the bags properly. Just as we were about to step in the car and start, a guy approached us on a bike and asked for some money.
Apparently, his bike had run out of fuel and he was out of money. Not knowing how to say no, I took out a Rs. 200 note and handed it over to him.
He took my number and promised that he will pay it back as soon as he reaches home. That has not happened to date, of course.
A click of my odometer. By the time we returned home, another 6000 kilometers were added to this total.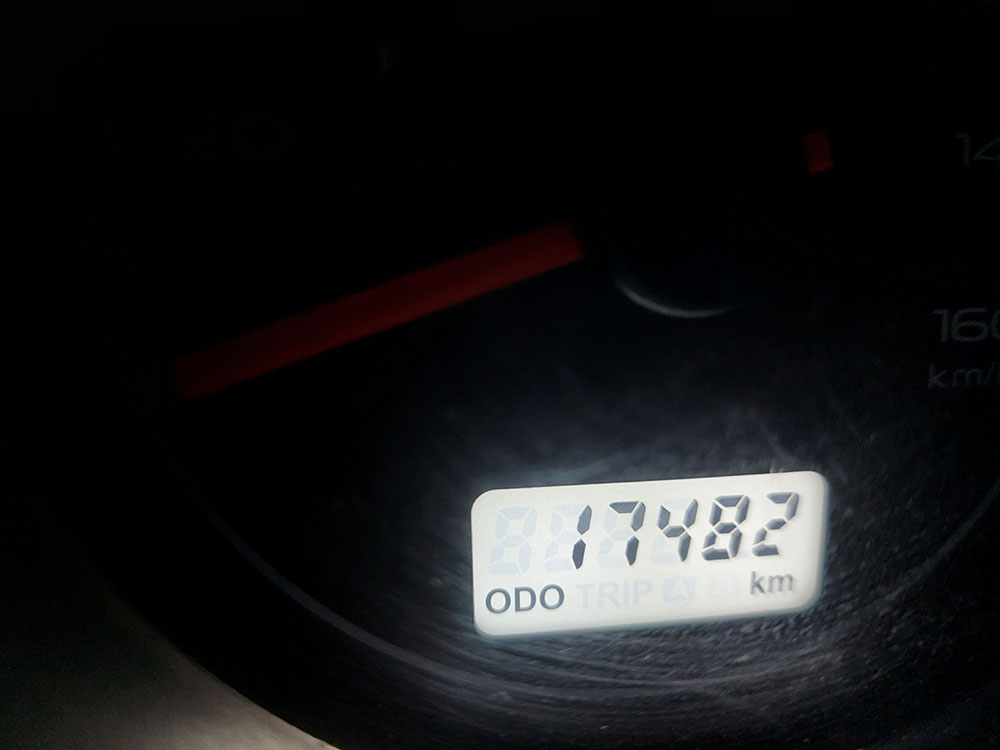 It was early in the morning and the traffic was almost next to none. Soon we crossed Delhi and were on GT Karnal Road. But then came something that neither of us thought about or was prepared for.
Also Read: How to Plan a Trip to Kashmir – A Complete Travel Guide
Sonipat
Famer's protest was in full swing at this time and the highway near Sonipat was blocked. There was a huge traffic jam and the vehicles were being diverted through the narrow streets of Sonipat and surrounding villages.
I totally forgot about this or else would have taken either the Eastern or Western Peripheral roads to avoid the traffic here. Nonetheless, it was too late to do anything but crawl through a long line of cars and trucks.
At one point, while going through a narrow street, I got stuck at one place with a truck to my right and an electric pole to my left. There was just not enough space for us to pass through.
With bumper-to-bumper traffic, backtracking was not an option either. Slowly and carefully, we managed to squeeze through but not without my dearest Thar getting rubbed by the steps in front of a house that I got too close to in order to make space for the truck.
It took us over an hour to finally cross Sonipat. Then came a break at one of the Dhabas to get some tea and stretch our legs.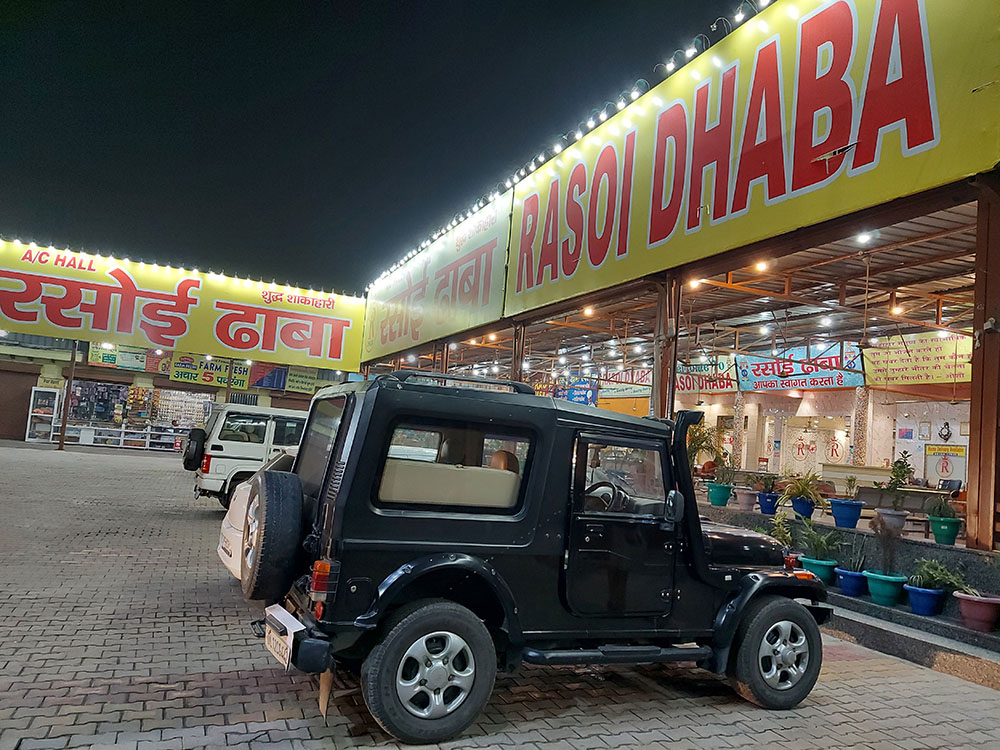 The journey after this was mostly smooth until Ludhiana with not much to write about. We maintained a decent enough speed with some good music and amazing weather. Somewhere in between, it also rained for a while. In short, we were enjoying the drive.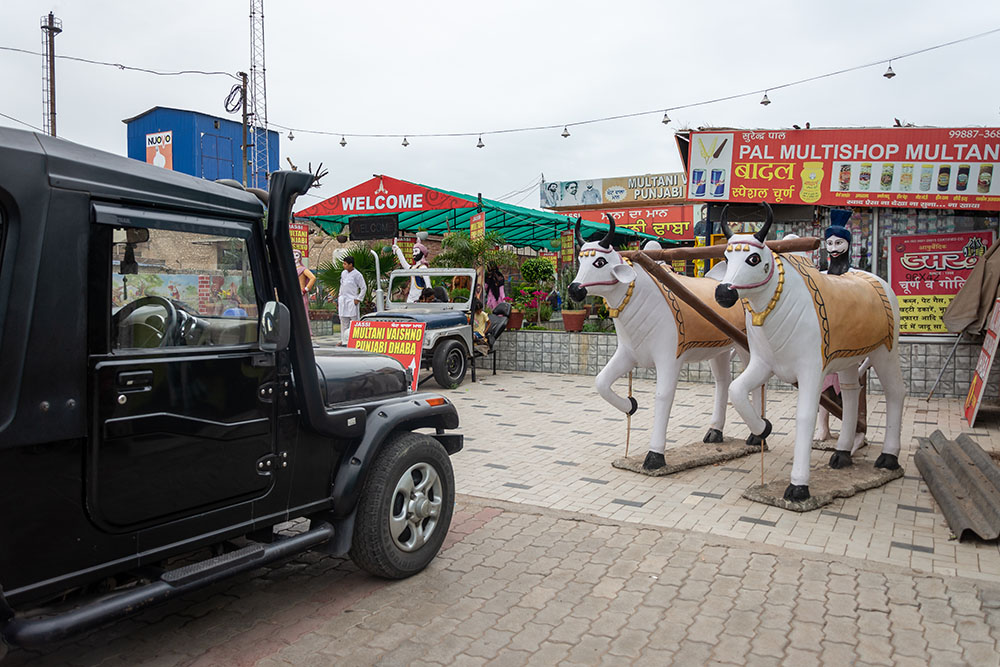 Ludhiana
Neither of us had slept the night before since we work in night shift and started soon after our office hours. For a while we were Ok but then the long hours started to take their toll.
I was gulping down a Red Bull almost at every break we took. Maddy on the other hand decided to catch some sleep and crawled in between all the luggage on the back seat.
Just before Ludhiana, we were stopped by a bunch of cops at a checkpoint. One of them wanted to check our luggage and he literally checked all of it. If you are traveling from Delhi to Jammu by road, you should be ready for this.
I think he was expecting to find some booze hidden somewhere which of course he couldn't because we didn't have any. The only thing that came out of it was a delay of 15-20 mins and Maddy being forced to come out of his slumber.
Also Read: How to Plan a Trip to Gulmarg
Phagwara – Jalandhar – Hoshiarpur
Things went smoothly for a while again until Phagwara. There again, a section of the highway was blocked due to farmers' protests, and the traffic was diverted through the city. It took us again almost an hour to cross Phagwara after being stuck in traffic and at a railway crossing.
We came back on the highway after Phagwara but couldn't stay on it for long. The road was blocked at several places and the traffic was slow.
I asked a cop and he advised us to go via Hoshiarpur as there were more blockades ahead on the highway. This would mean adding another 30-40 kilometers to the journey but there was not much that we could do.
We took the road towards Hoshiarpur, reached there, and then circled back to the highway near Dasuya. The good part was that the road was smooth and there wasn't a lot of traffic. So the drive was not as long as I expected it to be.
Lakhanpur – Jammu
After that, thankfully we did not encounter any more blockades and soon crossed Pathankot. I wanted to meet a friend of mine, Jitender Pathania, on the way. Near Pathankot, I called him to ask where he wanted to meet up and we agreed on Lakhanpur.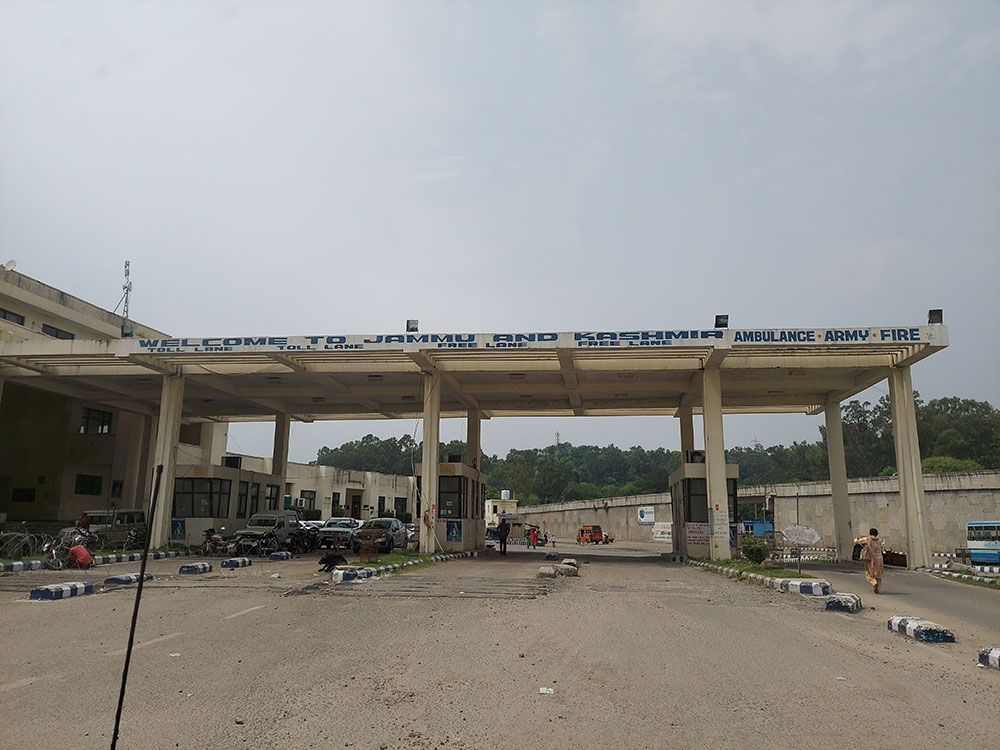 The drive remained smooth. We were stopped near Lakhanpur to check our RTPCR reports and were let go. Jitender was waiting for us near a Dhaba in Lakhanpur and there we took a much-needed break.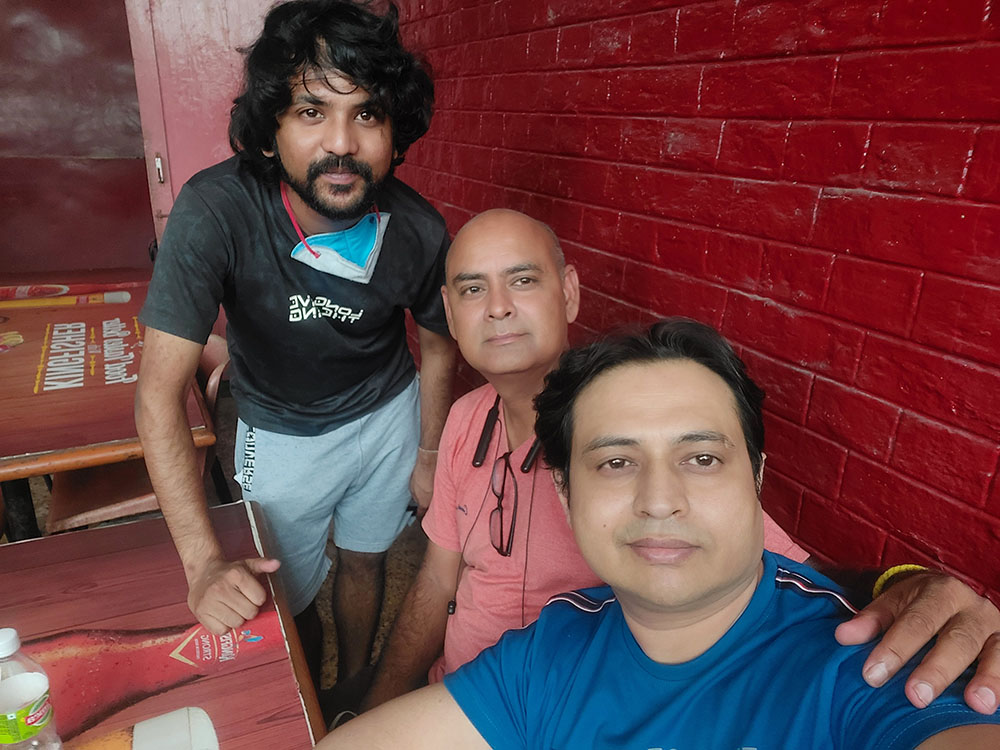 It was around 2.45 pm when we started from Lakhanpur and reached Jammu by 4 pm. It took us about 14 hours to complete our journey from Delhi to Jammu by road.
I wanted to stay somewhere close to the highway as we were going to be on our way to Srinagar the next morning.
Just before Jammu, I stopped and Googled One Earth Trinetar which Jitender had suggested. It was showing nearby, just on the other side of the road. We took a U-turn and reached the hotel.
One Earth Trinetar
The first question that we asked was if they had Wi-Fi available and checked its speed which was good enough. The next question was about their rates. They quoted Rs. 2000 but agreed on Rs. 1800. Looking at the hotel, 1800 sounded like a good deal and we took it.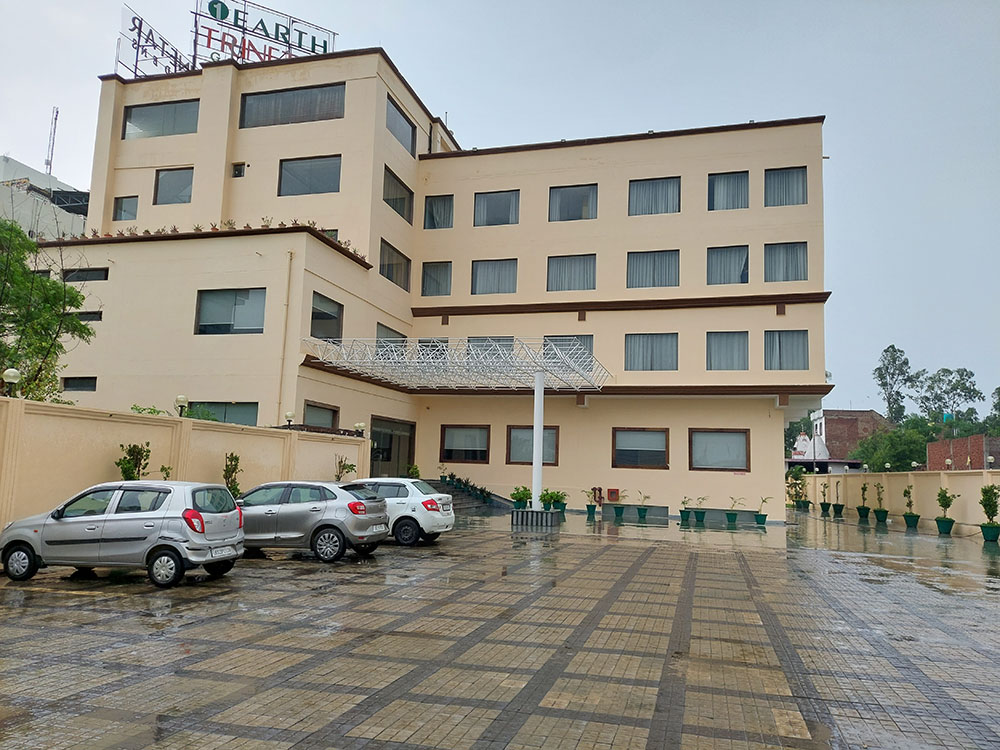 It was a Friday, so a working day for us. By 5.30 pm, both of us were logged in and working from our room.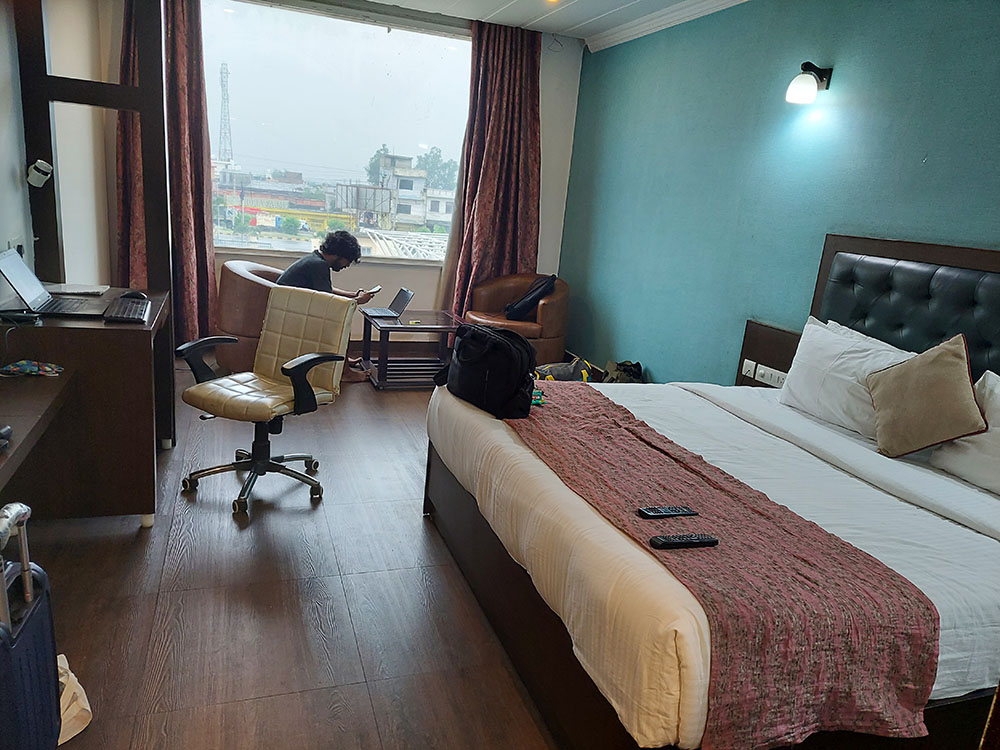 I however could not keep up for long. I was now up for almost 29 hours. 12 hours from that were spent driving. I decided to lie down for a while but was soon snoring away.
Maddy woke me up at around 8.30 pm asking about dinner. I was in no mood to leave the bed and wanted to go back to sleep but he was persistent. First, we thought to order something from the hotel but looking at their rates, decided otherwise.
We stepped out hoping to find a dhaba nearby but to our surprise, everything was shut down and closed by 9 pm. Not even a single shop was open.
Also Read: How to Plan a Trip to Srinagar
Pahalwan's Food Mall
Luckily, I had already inquired about the eating options in the area from a nearby shop in the evening when we were checking in.
Going by the directions that the shopkeeper had given me, we reached Pahalwan's Food Mall on the other side of the road. It was just 5 mins of a walk from the hotel.
I ordered an Indian Thali and Maddy ordered a Chinese platter, a bowl of soup, and Samosas. Their food was good and reasonably priced.
The seating arrangement, hygiene, and overall ambiance of the place were decent enough. If you are staying in One Earth Trinetar or somewhere near, I will definitely recommend eating at Pahalwan's restaurant.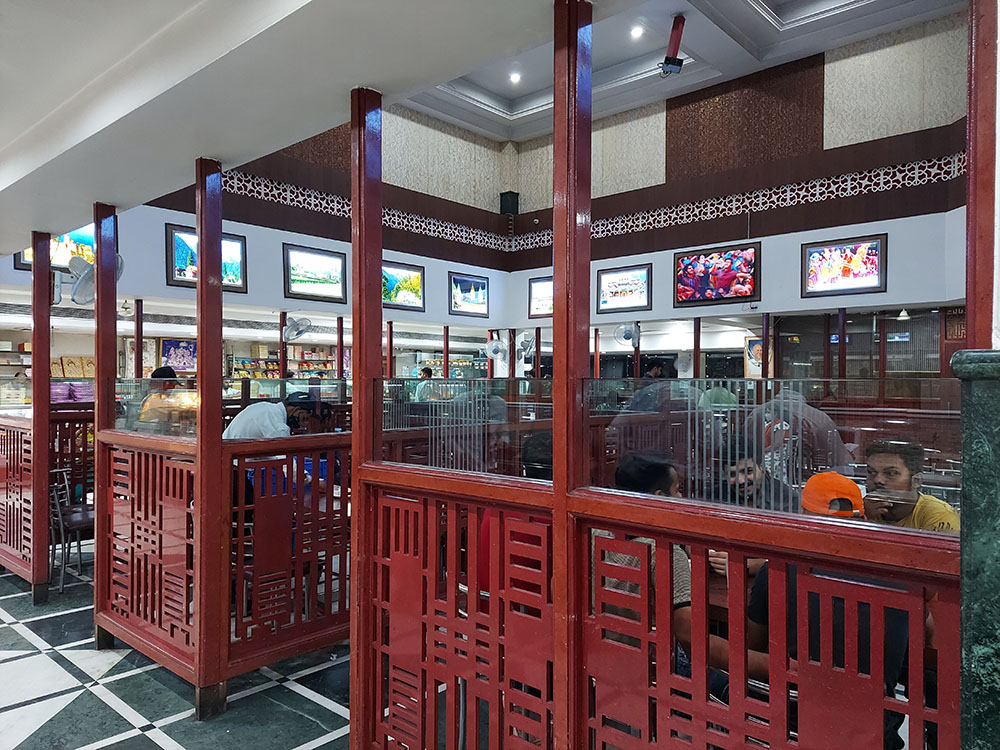 Maddy of course could not finish anything that he ordered. We ended up sharing the Indian Thali that I ordered because it came first.
By the time the Chinese platter arrived, Maddy was done. So most of the platter was left uneaten, the bowl of soup remained untouched and the Samosas were packed to be eaten at the hotel later.
I crawled under the blankets the moment we reached our room. Maddy continued working for a while after that. The plan for the next day was to start early by 6 am and take the Mughal Road to reach Srinagar. Please click on the link above to continue reading the next part of the travelogue.
Jammu to Srinagar by Road Distance
The total distance we covered between my home and One Earth Trinetar was slightly over 600 kilometers.
Jammu to Srinagar by Road Travel Time
It took us about 13 hours to complete our journey from Delhi to Jammu by road. This of course included about 2 hours of break time and all the traffic we got stuck in. If I removed all of it, I think I could have easily managed the journey in about 10-11 hours.
Conclusion
I hope the travelogue, pictures, and information on traveling from Delhi to Jammu by road were of help. If you have any questions, you can contact me on Instagram and I will be happy to answer. You can also consider subscribing to my YouTube channel and asking a question there.