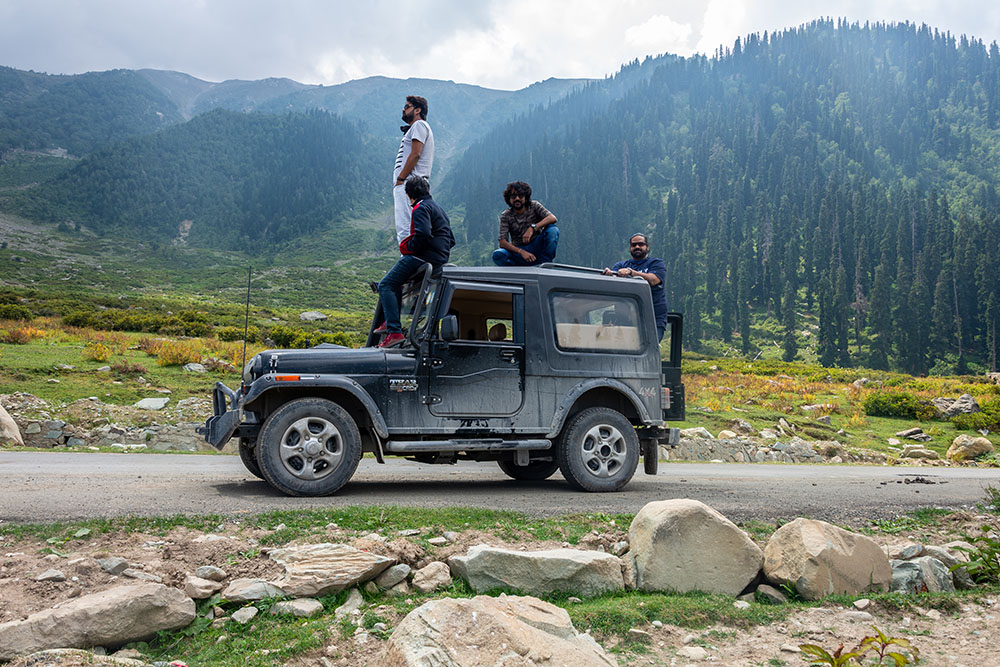 Bota Pathri, also spelled as Botapathri,  is a meadow in Gulmarg. It is located at a distance of about 10 kilometers from the golf course area and was opened to tourists about a decade ago. The road from Gulmarg to Botapathri passes through a lush green pasture, and dense forest, and is largely unexplored due to its proximity to the border area.
Most of the tourists in Gulmarg do not go that way because of two reasons. The first is that not many people know about it. The second reason is that it is not completely open and you need to get permission from the J&K police and the Indian Army to go there.
It was the only place in Gulmarg that was still left for me to see and the reason why I planned on visiting Gulmarg once again.
Journey So Far:
Is the place worth the hype and the time? Should you plan a trip from Gulmarg to Botapathri or should you just skip it? Is it worth spending all the money and going through all the hassle? Read on to find out.
You can also take a look at the following video of Gulmarg that I shot during one of my winter trips. You can see how beautiful the place looks after the snowfall.
Gulmarg to Botapathri
We arrived in Gulmarg early in the morning and checked into Hotel Green Park. Neither of us was keen to go for a Gondola ride. So the plan was to walk in Gulmarg and cover the rest of the places for the rest of the day.
If you want to know about the Gondola Ride and all of the other tourist places in Gulmarg, you can read the Travelogue from one of my earlier Trips.
Since Bota Pathri was my only reason to come to Gulmarg again, I wanted to be done with that first. I knew that permission was required to go there but wasn't sure of the entire procedure. So I asked the owner of the hotel. There were two things that he added.
You will not be allowed to go to Botapathri alone and need to have a local guide to accompany you.
You need to get permission from J&K Police.
This was a little surprising for me as I thought the only thing needed was permission from the Indian Army. Nevertheless, I asked him about the guide first.
Guides in Gulmarg
From my previous visits, one thing that I learned about Gulmarg was that the entire guide system is just a scam. There is nothing in Gulmarg that you need a guide for. You can walk around and cover the entire town in 3 to 4 hours and do not have anyone to point you in any direction.
As expected, the price quoted for a guide was simply outrageous. He asked me for Rs. 1500 which I did not agree to. It did not make sense to pay someone Rs. 1500 just to accompany me for a couple of hours.
His reason was that once I book a guide, he will remain with us the entire day which I, of course, did not want. I just needed a local for a couple of hours to go with us to Botapathri.
After a lot of negotiation, ifs, and buts, the deal was closed at Rs. 500. There was, of course, a condition applied that if I was happy with the guide, I can pay him another 300 bucks after our visit.
Also Read: How to Plan a Trip to Kashmir – A Complete Travel Guide
Permission for Botapathri

With that done, all of us squeezed ourselves in my Thar and we drove to Gulmarg police station to get the so-called permission. As expected, another scam awaiting us there. This is how the story unfolded.
The guide asked us to wait at a dhaba while he would go and get permission. For some reason, we started walking with him instead. The gate of the police station was closed. The constable there refused to let us all in which was really surprising. It was a police station after all and not some restricted area.
Anyway, he asked us to wait outside and would only let the guide go inside. We found a few chairs in front of a nearby tea stall and ordered something to eat while waiting for the guide.
We saw him walking around in and out of the police station a few times with a blank paper but had no idea what was going on.
About 20 minutes later, he came back with the paper still blank. It was supposed to have been signed and stamped, granting us permission to go to Botapathri but there was not a single word written on it.
Local Taxi for Bota Pathri

A new angle was now added to the story. As per the guide, private vehicles were not allowed anymore to go that way and we will have to hire a local taxi from Gulmarg. The charges for the taxi were Rs. 2500.
So we were being asked to pay a sum of over Rs. 3000 for a drive of hardly 7 to 8 kilometers, and a round-trip that won't last even an hour. No way I was falling for that.
I already knew that this was nothing short of a scam. Everyone was in on it to get the money out of the tourists. We all firmly said no to the guide and told him that we will drop the idea of Botapathri and would rather spend our day in Gulmarg only.
When the guide saw that the entire plan was falling apart and he was also going to lose his 500 bucks with it, he came up with a new idea. He said that he will bring us to the Army check-post and then we can talk there on our own.
We will have to request the Army to let us go. We agreed, got back in our Thar again, and started driving towards Botapathri.
Bota Pathri Road Gulmarg
The road to Botapathri is the same that goes along the golf course, and children's park, and then turns right towards Strawberry Valley near the Army area.
If you went straight on it, it will take you to Botapathri. There is an Army check post there that prevents people from going any further.
This road, if you were to continue driving on it, passes through the forest, Botapathri, and then climbs uphill to Alpather Lake, near the Gondola phase 2 station. From there, it goes to other villages along the border.
Of course, you cannot go that way. From the Army check post, you are allowed to drive as far as 3 to 4 kilometers only and then will have to return.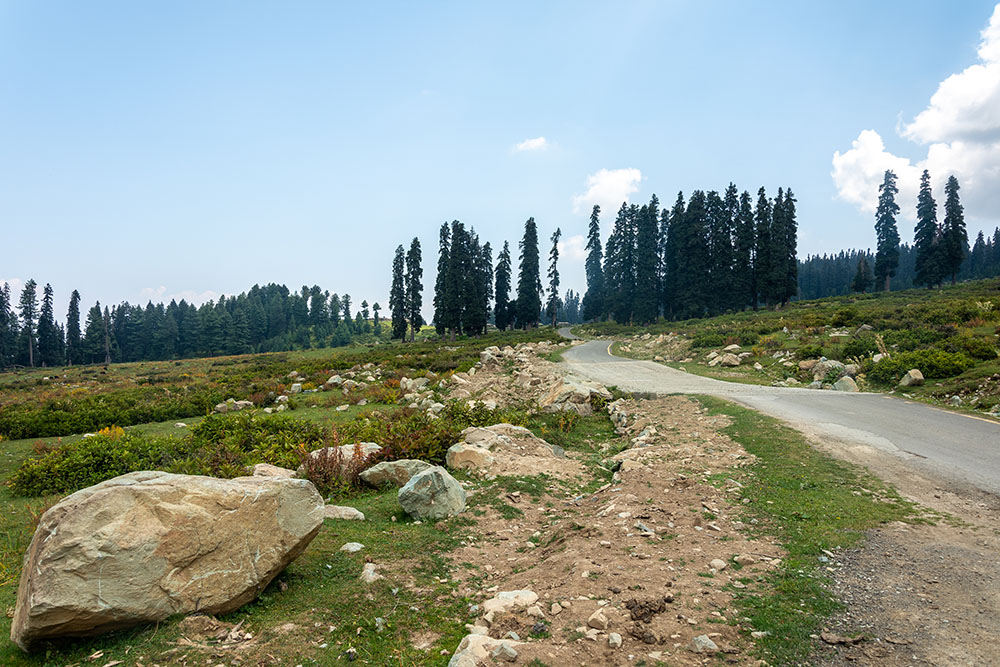 The Check Post
So with the guide, we arrived at the check post and parked our car. Only one person was allowed to go talk to the person in charge. We waited with the car while Gunjit and the driver went on to have a word.
What followed was a conversation of about 10 minutes. In those 10 minutes, several local cabs came with the tourists, made their entry into the register, and moved on. I also noticed some private cars with J&K registration that were allowed to go.
The entire thing hardly took 10 minutes. The Armyman posted at the check post was a little apprehensive about letting us go in our own car but then allowed it.
We made our entry in the register and moved on. What waited for us now was a complete disappointment.
Bota Pathri
After a short drive of about 4 kilometers, we arrived at the last point where tourists could go. There was absolutely nothing there. Just a water stream flowing down in the middle of the forest.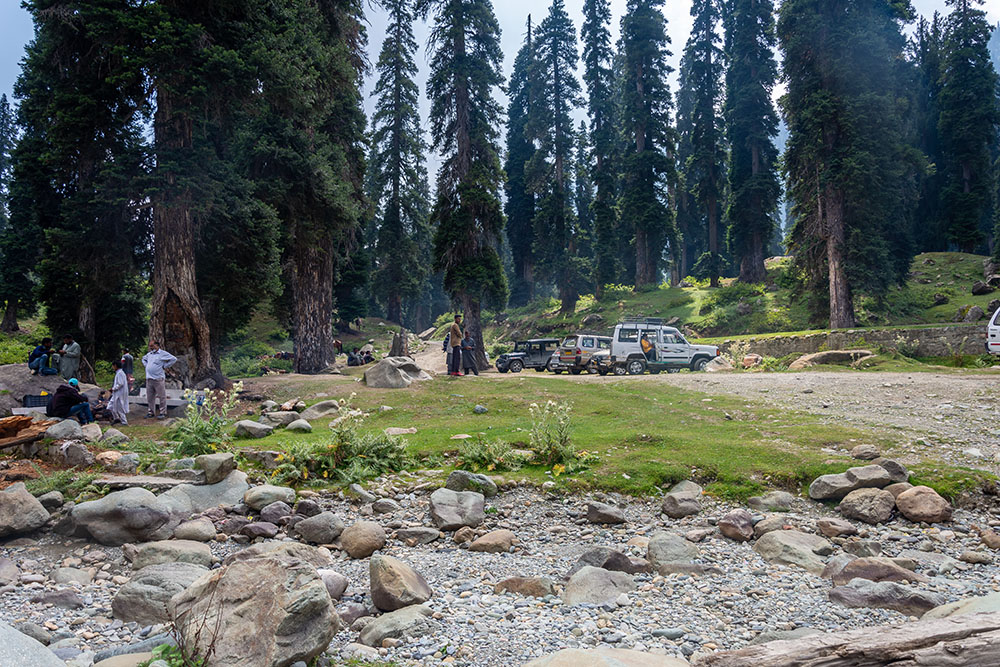 We got down from the car and just stared at each other. I could not believe that this is what we were trying so hard for. It was just a forest and a small water stream.
The guide kept calling it a waterfall but it was nothing like a waterfall. Even the 500 bucks I paid the guide started to pinch me at that moment.
I really have no idea how to describe it all in words. So I will just let the pictures do the talking. This is the so-called and much-hyped Botapathri.
We spent about half an hour sitting there at Bota Pathri and started on our way back. There was a certain spot that I really liked while we were going to Botapathri. So while returning, we stopped there for a few minutes to click some pictures.
Strawberry Valley Gulmarg

We came back to Gulmarg, made our return entry in the register, and took a left turn toward Strawberry Valley.
What is strawberry Valley? It is another meadow-like area in Gulmarg where they grow strawberries in the season. Don't expect it to be vast fields of strawberries though.
Just a few small fields on the slopes of the mountains that the place is named after.
We were visiting in September so there were no strawberries of course. We just walked around, did a bit of off-roading, and came back to the hotel. The clock was showing slightly past 12 noon. We still had a lot of time left to explore Gulmarg.
We told our guide that we would like to do a little bonfire after the sun went down and asked him to make arrangements. With that done, we stepped out of the hotel and went for a walk in Gulmarg.
What was supposed to be a short walk turned out to be much longer instead. We went in a full circle around the entire Gulmarg for the next 4 hours and my friends hated me for it.
I really have no idea of the distance we walked but we did cover pretty much the entire Gulmarg, including St. Mary's Church and Maharani Temple.
Playing Golf in Gulmarg
Our long walk ended at the Golf Course, after having lunch at one of the dhabas on the way. As expected, one of the guys at the golf course immediately approached us and asked if we wanted to play.
He offered it at the rate of Rs. 350 per person for 45 minutes, so a total of Rs. 1400 for 4 people.
We were not very keen on playing golf as none of us had done it before. Sensing our apprehension, he slashed the price in half. We could play in pairs of two and use only 2 golf clubs. So a total of Rs. 700 for 45 minutes.
There wasn't much left to do in the day anyway. I wanted to stay on the golf course to get some sunset pictures so we took the offer. The next hour or so was spent learning how to play golf and enjoying a few friendly games amongst ourselves.
Maddy and I played against each other while Shoaib and Gunjit competed between two of them.
The sun soon went down and we were all completely exhausted by then. We had been on our feet and walking around for almost 5 hours now. But there was still one thing left to do.
The Evening Walk
There was one spot in Strawberry Valley that I noticed could be good for some long exposure shots around sunset, by the water stream.
I asked if anyone wanted to accompany me there. As expected, the answer was an immediate no because that would mean walking another at least 4-5 kilometers more.
My mind was already made. So I picked up the camera and started walking alone and at the last minute, Gunjit joined me as well.
We took the long walk and headed for strawberry valley, for the second time in the day. Shortly after we started walking, Maddy joined us as well but Shoaib decided to go back to the hotel.
We reached the strawberry valley and I got some pictures.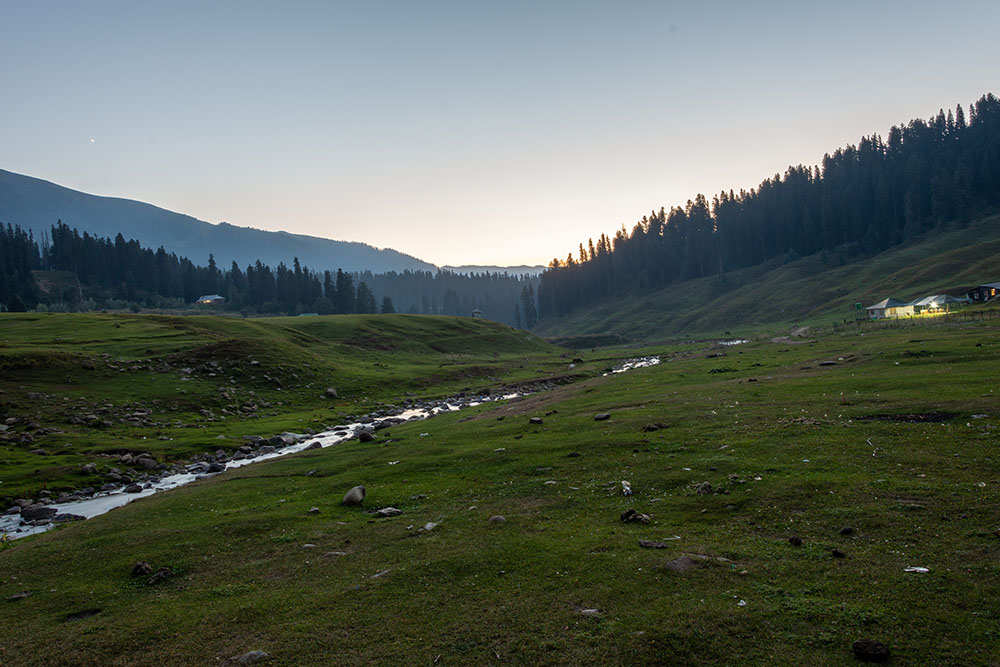 By the time we reached back our hotel, it was already dark. Now the only thing left to do was to sit down by the bonfire, have some tea, and enjoy the evening.
The 500 bucks (and another 500 for the bonfire wood) that we paid the guide finally paid off at the end of the day. He arranged for a bonfire at the top of a small hillock near the hotel and it turned out to be the best time of the entire day.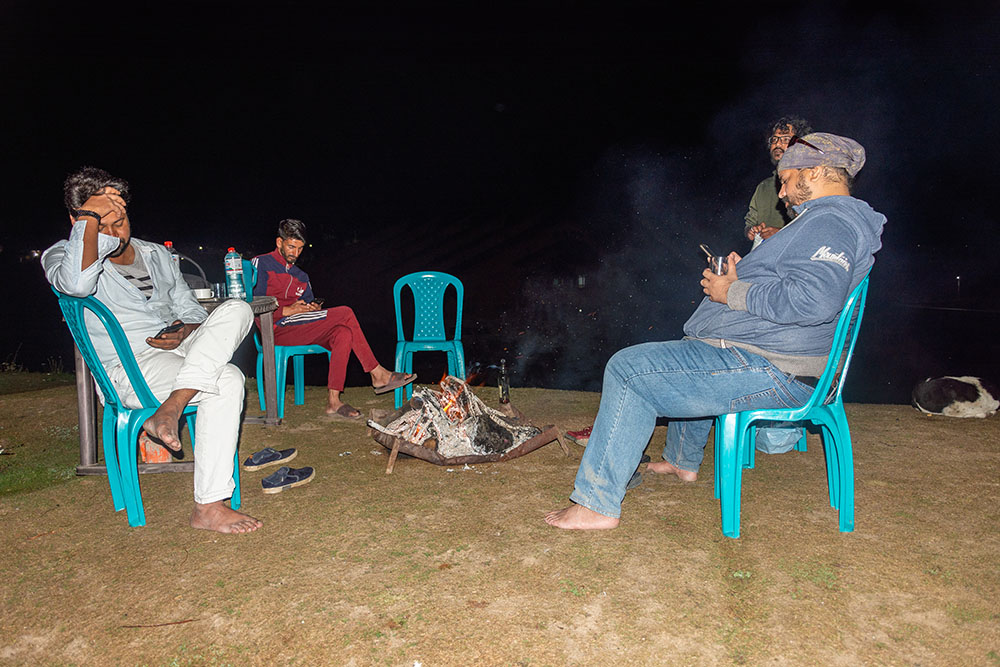 We sat by the bonfire for almost 2 hours, had dinner after that, and called it a day, retiring to our respective rooms.
The day turned out to be a good one. While Bota Pathri was a little disappointing, playing Golf and then sitting by the bonfire made our day.
The plan for tomorrow was to go back to Srinagar and then decide which part of Kashmir to explore next. Please click on the link above to continue reading the next part of the travelogue.
Bota Pathri in Gulmarg – Conclusion
I hope the travelogue, pictures, and information about Bota Pathri were of help. If you have any questions, you can contact me on Instagram and I will be happy to answer. You can also consider subscribing to my YouTube channel and asking a question there.
This error message is only visible to WordPress admins
Error: No feed found.
Please go to the Instagram Feed settings page to create a feed.