Pahalgam is one of the four most visited places in Kashmir and that was our next destination. The plan for the weekend was to travel from Srinagar to Pahalgam on Saturday, stay there for the next 2 days, and return on Tuesday.
In this post, I will narrate our journey and provide details on how to reach Pahalgam from Srinagar by road, bus, private taxi, or shared cab.
There was really no set itinerary in mind about what we were going to do in Pahalgam. I knew about the top places to visit there but how and when we were going to go there remained undecided. We just kind of went with the flow and everything was decided only at the last minute.
The initial plan was to use one day to trek to Sheshnag Lake and camp there for the night. But the rest of the group did not seem eager on doing that so we decided to take it off our itinerary.
There was however another reason why we did not have a set plan for Pahalgam and why it got changed from what we decided on initially.
Journey So Far:
We were all carrying our laptops together and the trip was more like a workcation. We would work from Srinagar from Monday to Friday and use the weekends to explore the areas around Srinagar.
For the first two weeks, everything went smoothly and there were no hiccups at all. Things however changed toward the end of the second week of the trip. You can also take a look at the video below from my trip to Pahalgam.
Thursday
It was the Thursday of our second week in Srinagar. I woke up at around 9.30 am and stepped out of my room. Maddy and Shoyab were still fast asleep. The three of us were the only guests in the hotels.
I walked to the reception area, picked up the intercom there, and called Mubashshir (the caretaker) downstairs, asking him to get me a cup of tea.
I sat down on the sofa in the reception area waiting for the tea. This is when I realized that the internet was not working. The wifi router was installed near the reception, right in front of me, and I could see that it showed connected. The net however was still not working.
I switched off the router and switched it on again. A couple of minutes later, all the green lights were still blinking but nothing changed.
There was still no connectivity. This baffled me a little bit because I had an important office call at 11 am that I needed to attend.
Also Read: How to Plan a Trip to Kashmir – A Complete Travel Guide
Internet Shut Down
Just then, Mubashshir walked in with the tea kettle. I told him that the wifi was not working and that is when he dropped the news on me. Internet services in Kashmir were shut down the night before and nothing was working, including our phones.
I immediately picked up my phone and he was right. There was no mobile data and no calling service available either. For a minute I could not believe it. I was logged in and working till 2 in the morning and everything was fine. What changed in the last 7 hours?
I asked Mubashshir and he told me that a political leader called Geelani had died the night before.
He was an old man who died of natural causes but to make sure that the peace in the valley was not disrupted, authorities decided to shut down the internet, mobile services, and TV sometime last night.
So there I was, sitting in a hotel in Kashmir with no way to communicate with anyone at all. Shoaib and Maddy woke up a few minutes later and I broke the news to them. They also immediately checked their phones but nothing was working.
What Now?
This put us all in a very tricky situation. It was a Thursday, a working day. In less than 30 minutes, I had an office call to attend but there was absolutely no way that I could do so. We had no idea about what to do now.
I asked Mubashshir if the landlines were working but he didn't know. We were completely baffled and not knowing what to do, we just stepped out of the hotel to ask around.
I was hoping that at least the landlines will be working and I may just be able to place a phone call to my Boss and my family, letting them know of our current situation.
We got into our car and started to drive slowly, looking for a phone booth but there was none. All the shops were closed.
There wasn't a curfew imposed but none of the shops were open either. A little later, we arrived at a police check-post in front of Nishat Bagh.
BSNL to the Rescue
I parked my car to the side, walked up to the cops, and asked them if there was any way that I could make a phone call. Finally, we received a word of good news in that situation of utter desperation. BSNL phones and internet services were still working.
I have no idea why it is this way. All the private phone companies were barred but for some reason, BSNL was not. So anyone who had a BSNL phone and internet was still connected.
Even though this was a ray of hope, the problem was that none of us had a BSNL phone. We were carrying Airtel and Jio connections and those weren't working.
Seeing us in despair, a gentleman who was sitting in front of a shop near the Police check-post walked up to us and offered his BSNL phone that was still working.
I didn't know how to thank him for the kind gesture. I immediately called Gunjit in Gurgaon informing him of the problem and that I would not be able to work today. From that conversation, another ray of hope appeared.
One of our friends, Asrar, was a Srinagar local and he knew that we were all visiting Kashmir. He had a BSNL phone and internet and had already called Gunjit in the morning to ask about us.
He informed Gunjit that he should ask us to go to his place near Dal Gate if we needed any help.
This was a great relief. We now had at least some information about the current situation and a way to get connected. We thanked the gentleman who offered us his phone and drove back to the hotel.
Plan Ahead
In the moment of desperation, when we stepped out of the hotel, none of us picked up our masks and had to pay a fine for that while on our way back. This was the second time I was paying a fine for not wearing a mask in the last 2 weeks.
We came back to the hotel and now had no idea about what to do. Phones were out of service, there was no internet, nobody we could call and even the TV was not working.
All the channels were barred from broadcasting. We just sat there in the hotel for the next couple of hours looking at each other's faces with nothing to do at all.
There was really no way of knowing how long this situation will last. Internet and phone could be gone for several days altogether and that was not something we could afford.
After discussion, we decided that we will wait until the next day, Friday. If the situation didn't resolve, we will cut our trip short and drive back to Delhi over the weekend.
The next few hours were spent doing nothing. We just had a lot of cups of tea and wandered in the hotel aimlessly, like a bunch of ghosts in a horror movie.
We were the only guests and had the entire hotel to ourselves. So we just paced around in the corridors, analyzing the situation and speculating our next steps.
Salvaging the Situation
At around 3 pm, we picked up our laptops and decided to go to Asrar's place. I knew he lived somewhere near Dal Gate and had his address on the visiting card he gave me when we met him last week.
We drove to Dal Gate and after a bit of looking around, found his place.
He was right. BSNL phones and the internet were both working fine. We connected our phones and laptop to his wifi.
Whatsapp calls were made to friends and family letting them know of our well-being. Office laptops were switched on and we set out of office messages in Outlook.
Gunjit was supposed to fly to Srinagar the next day and join us on the trip. Looking at the current situation, I was assuming that he will cancel his trip.
But to my surprise, when I spoke to him, he was still set on his plan. He still wanted to come even if it meant that we may have to drive back the very next day.
We were to pick him up from the airport but that now was not going to happen. Vehicles were not allowed to go to the airport for security reasons. So I gave him the address of the hotel we were staying at and told him to catch a cab after his arrival.
Finally, after all was said and done, we finally caught a breath of relief. Asar, if you are reading this, you really were our hero in that moment of despair and I just do not know how to thank you enough.
Bored
We spent a few hours at Asrar's place and drove back to our hotel in the evening. There was still nothing to do and only a few shops were open. Not much happened after that.
Clicked this picture while driving back. Houseboats lined up near Dal Gate.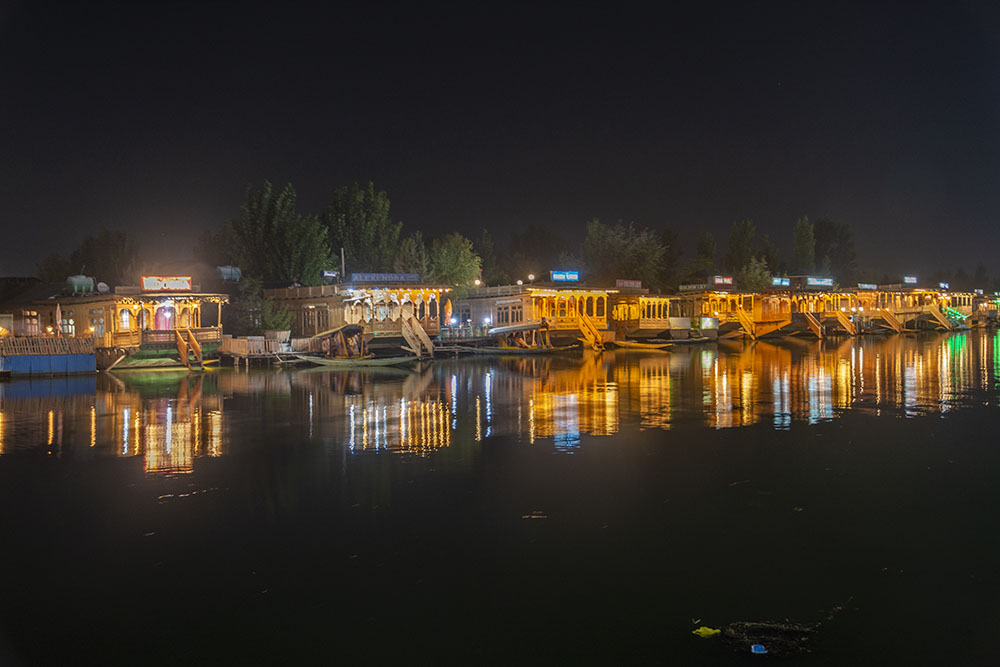 We bought a set of cards from a shop and even that turned out to be a bad one. The entire set was messed up with a lot of duplicates and missing cards. The only game we could play was bluff and even that is no fun with only 3 players.
Anyway, the entire evening was spent idling around in the hotel and shuffling through the TV channels, hoping to find one still working.
Trust me, we were so bored that we would have watched anything, just about anything. But unfortunately, not even a single channel was broadcasting.
Sometime between 9 and 10 pm, Mubashshir served dinner. After that, we just decided to call it a day and crawled under our blankets.
Friday
Friday was no different than Thursday. We woke up to find everything still out of order. Phones were not working, the internet was still gone and there was nothing on TV.
The first few hours of the day were spent doing absolutely nothing. There was actually nothing we could have done. We just walked around, had a few cups of tea, and asked a few people how long will the current situation last.
Everyone had a different opinion on the matter. Some said that phone services will be restored by evening, some said a couple of days, and a few quoted a week.
Not much happened during the day. Gunjit arrived by noon. We just sat down, talked a bit, and went to Asrar's place at 2 pm. Our lunch was hosted by Asrar and by 5 pm, we were back at the hotel.
Astanmarg
Not knowing what to do, we decided to go to Astanmarg. Maddy and I had already gone there when we arrived in Srinagar and we thought to spend the evening there.
It is a viewpoint on the outskirts of Srinagar that offers a great view of the city, surrounding mountains, and Dal Lake. To read more, take a look at Astanmarg – One of the Best Viewpoints in Srinagar.
The problem was that we used Google Maps to navigate the way to Astanmarg through the narrow streets of the villages on the way.
Google Maps of course was not working since there was no mobile data so we had to rely on the old way of navigation – stop and ask a passerby.
To make things worse, the road that we last took to go to Astanmarg was closed by the cops. So we had to take an entirely different route, that we had no idea about.
After about 45 minutes of driving around pointlessly and being pointed in different directions by people, we gave up the idea of Astanmarg and returned. Surprisingly, not a lot of people knew where Astanmarg was. Some people had no idea of the place we were asking about.
Nishat Bagh
We came back to Dal Lake and went to Nishat Bagh. The only good part about the day was the sunset view we got from there that day, it was really stunning.
Once the sun went down, we came back to the hotel. By now, the entire plan of Pahalgam had changed. I wanted to trek to Sheshnag Lake but could not call anyone in the last couple of days to make arrangements.
Thankfully, our stay at a hotel was already booked there so we at least knew where we were going to stay.
At around 10 pm, while we were sitting playing cards, our phones suddenly started to ring. Messages were getting delivered on both phone messaging and Whatsapp.
We all breathed a sigh of relief. Phone services were finally restored and so was the internet. Mobile data however was still not working.
This was really something that we welcomed with joy. Otherwise, I was really double-minded about whether to go to Pahalgam tomorrow or start driving back to Delhi.
With the phone and net services restored, our trip was back on track and we were all set to go to Pahalgam tomorrow.
Saturday
So enough with that story and sorry if I dragged it a little longer than needed. It was a beautiful Saturday morning and we were all set to start driving to Pahalgam.
We wanted to start as early as 6 am from Srinagar to give us enough time for sightseeing in Pahalgam. But we all knew that was not going to happen. Neither of us was going to get up that early.
So by the time we did start our journey to Pahalgam, it was slightly past 7 am. Phone services were restored but mobile data was still not working.
We drove to Dal Gate, stopped at a gas station to get Diesel, asked for directions to Pahalgam, and were soon driving out of Srinagar city.
How to reach Pahalgam from Srinagar
The journey from Srinagar to Pahalgam is a pretty straightforward one. The total distance is about 100 kilometers, depending on where you started from in Srinagar, and can easily be covered in 3 hours with sufficient breaks in between. The road, for the most of it, is in good condition.
Sringar to Pahalgam Route
The route of the journey is as mentioned below.
Srinagar – Qasim Bagh – Pampore – Awantipora – Anantnag – Mattan – Hassan Noor – Aishmuqam – Pahalgam
This is the most commonly used route for the journey. From Srinagar, you drive through the city, cross Qasim Bagh, and reach NH44 (Jammu Srinagar Highway). From there, you start driving towards Pampore.
You will not actually have to drive through Pampore but will stay on the highway to drive past the town.
After Pampore, you will soon cross Awantipora. As you get closer to Anantnag, you exit the highway and take the single-lane road to your left. You will then drive through the busy towns of Anantnag, Mattan, and Hassan Noor to reach Aishmuqam.
Aishmuqam is the place where the famous qawwali 'Bhar do Jholi Meri' in Bajrangi Bhaijaan was shot. The dargah sits on the top of a hillock and is visible from the road. If you had time in hand, you can actually take the uphill road to the shrine and pay a visit.
After Aishmuqam, continue driving along the Lidder River to reach Pahalgam shortly after.
Alternate Route
There is actually another route that exists for this journey. You will have to ask around a bit for this as it is not easy to locate and Google Maps by default will take you through Anantnag.
To travel by the second route, you leave NH44 about 15 kilometers before Anantnag and take a road to your left. This will have you avoid traveling through the busy and congested Anantnag roads and exit straight near Hassan Noor. It also shortens the distance by about 10 kilometers.
My suggestion would however be that you stick to the main Anantnag road. It is easier to navigate and in better condition.
If possible, start from Srinagar as early as 7 AM. This way, you will get past Srinagar and Anantnag before the traffic built up and the markets open.
Srinagar to Pahalgam Bus Service
Traveling by bus to Pahalgam gets a little trickier and I will not recommend it. If you were a tourist and using public transport, an easier mode of commute will be shared taxis, which I will talk about further in the article.
The direct bus between Srinagar and Pahalgam is available only during Amarnath Yatra. This is a government bus that you can board from Dal Gate. It is however available only when Amarnath Yatra is on and stopped as soon as the Yatra is over.
For the rest of the year, you will have to break your journey into two parts. From Dal Gate, you will first board a Bus for Anantnag and then catch a second bus for Pahalgam from there. These are all private buses operated by the locals.
Srinagar to Pahalgam Bus Timings
The bus service actually remains available throughout the day. There is really no set timing to it. Since these are privately operated, they start as soon as they have enough passengers.
Srinagar to Pahalgam Bus Fare
The total bus fare for traveling from Srinagar to Pahalgam is around Rs. 120.
Srinagar Airport to Pahalgam Bus Fare
There is no direct bus from Srinagar airport to Pahalgam. You will have to find either a bus or shared cab for Anantnag and then find another mode of transport for Pahalgam from there. Or you can first reach Dal Gate and go to Pahalgam from there.
The total fare will remain to be between Rs. 100-150 for the bus. If you rented a private taxi from the airport to Dal Gate, it will cost you about Rs. 1000 for a drop.
The total distance from Srinagar to Pahalgam by bus is around 100 kilometers as it takes the same route via Anantnag.
Srinagar to Pahalgam Taxi
Now let us talk about the taxi service. These can be of two types, a private taxi or a shared taxi. If within budget, a private cab will definitely be the best option to travel anywhere in Kashmir. But for someone looking for a budgeted option, shared taxis will be the best way to travel.
Srinagar to Pahalgam Taxi Fare
If you rent a private taxi from Srinagar to Pahalgam, it will cost you around Rs. 2500 for a drop. For a return journey, in a 2 days trip, the fare will be around Rs. 4500.
The most important thing to remember here is that a taxi from Srinagar can only drop you at Pahalgam. You cannot use it for sightseeing within Pahalgam.
For example, once you reach your hotel in Pahalgam and want to visit Betaab Valley or Aru Valley, you will need to rent another taxi in Pahalgam to go there.
The local taxi union of Pahalgam does not allow Srinagar cabs to take tourists sightseeing at any of the local attractions.
To know how much that is going to cost you, please take a look at Local Taxi Rates in Pahalgam.
Srinagar to Pahalgam Shared Taxi
Shared cabs travel much like the local bus service. These are mostly either a Tata Sumo or a Bolero. You will not find a shared cab for Pahalgam from anywhere in Srinagar. The journey will have to be broken into two parts.
From Dal Gate in Srinagar, you will first board a shared cab for Anantnag. From Anantnag, you will then have to look for another cab for Pahalgam. These cabs are easily available at both Dal Gate and Anantnag.
The fare per person will be between Rs. 150 to Rs. 200.
Srinagar to Pahalgam Train
There is no train service between Srinagar and Pahalgam. Traveling by road is your only option.
Srinagar to Pahalgam Distance and Time
The total distance between Srinagar and Pahalgam is about 100 kilometers which can easily be completed between 3 to 4 hours.
Srinagar to Pahalgam by Car
Now coming back to the story of the day once again. I am sorry that I drift away and start talking about other details but hopefully, the information above can be of some help to anyone planning a trip to Pahalgam from Srinagar.
So we started from our hotel in Srinagar at around 7.30 am, bought Diesel from a petrol pump near Dal Gate, and were soon on our way to Anantnag. There was a lot of police and military presence around and we were crossing police check posts every few kilometers.
Soon we were on the highway and cruising at a moderate speed. There was hardly any traffic around since it was early in the morning. Not much happened and within a couple of hours, we had crossed Anantnag.
We were stopped at a few check-posts by the cops for regular security questions. Those pretty much were the only times when we actually stopped and drove non-stop for the rest of the time.
I wanted to cross the Anantnag market area before the traffic built up and the market opened. We were successfully able to do so and reached Aishmuqam slightly after 9.
Aishmuqam
We actually did not realize that we reached Aishmuqam. It was a tea shop that we noticed. It had just opened and the owner was still setting up the chairs and tables in front of the shop.
None of us had tea since morning and it looked like a good spot to get something to eat with the tea shop on one side of the road and Lidder river on the other.
We asked the shop owner if we could get some tea and he replied positively. We parked the car, and got down and that is when I noticed a shrine sitting on top of a small hill.
I asked the tea-shop owner about it and he told us that it was Aishmuqam, the same dargah where the Bhar Do Jholi Meri song from Bajrangi Bhaijaan was filmed.
We were told that a road goes all the way to the shrine and if we wanted, we can actually drive up there. For a while, we played with the idea of visiting but then decided to cover it while on our way back.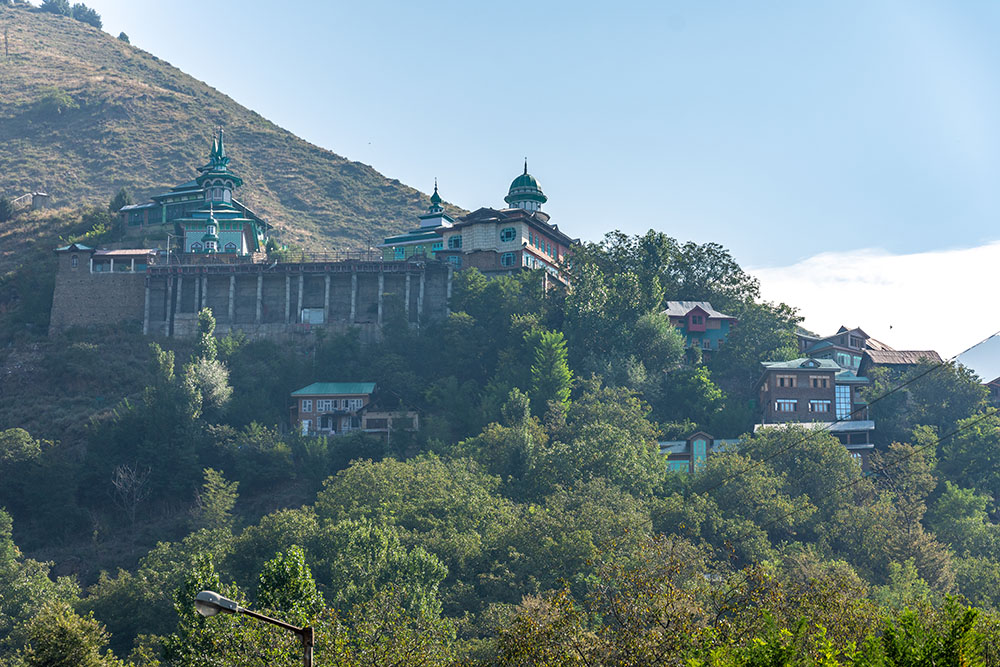 We all had a cup of tea and some biscuits with it and continued our journey. After about another 30 minutes of a drive, we had entered Pahalgam.
Pahalgam
My first impression of Pahalgam was really a disappointing one. There was nothing special about it. We paid the entry fee at a gate, I think it was Rs. 50, and continued to drive.
Every minute, I was expecting to see something spectacular which will justify why Pahalgam was so famous. But there was absolutely nothing. It is not even at a height or on the top of a mountain. The town sits in an almost plains-like area with the Lidder river flowing right through it.
There were ponies all around, of course, those can be found everywhere in Kashmir. More than the cool wind and the gentle breeze of the mountains, it was horse dung that we were smelling, forcing us to roll up our windows and switch on the AC.
Nevertheless, the disappointment continued. We crossed Pahalgam and nothing seemed too great about it. For a minute, I actually started to wonder if we made a mistake coming here and should have used our days to visit some other places. But what was done was done. We were already in Pahalgam so might as well explore the place.
Our stay was booked at a hotel called Iceland. It was recommended to us by Mohsin, the owner of the Barzman Hotel in Sonamarg where we stayed the last weekend.
We had some difficulty finding the hotel. Thankfully, the phone services were restored and we were able to call the owner of the hotel to help us locate it. After a few wrong turns and asking the locals for directions, we finally arrived at the hotel.
Hotel Iceland
Then came the next disappointment. It was nothing like what we saw in the pictures. Or maybe it once was when it was new. What now stood was really an old building that was beaten badly over time.
The only saving grace was the location of the hotel. It was right next to the Lidder River and the view it offered was really awesome. It also looked perfect to me for some late evening long-exposure shots of the river.
We had to climb down a steep set of steps to get to the hotel from the road. We checked in and then came the third disappointment.
I was told that the hotel had wifi with great speed. But when we asked the caretaker and the boys at the hotel, they told us that the wifi wasn't working. It wasn't so because the internet was not working in Pahalgam but because the owner did not recharge it.
Our initial idea was to spend a few days in Pahalgam and work from there. That is why I inquired about the wifi services and we all brought our office laptops along. But one look at Pahalgam and we knew that it just wasn't worth staying and bothering about getting the internet up and running.
So we did not stress too much about it. The clock showed 11 AM which meant that we had the entire day to ourselves. After talking to the staff at the hotel, we decided to visit Betaab Valley first.
Please click on the link below to continue reading the next part of this travelogue. I decided to continue it on a different post otherwise this one page would have become too long and heavy to load.
Srinagar to Pahalgam – Conclusion
I hope the travelogue, pictures, and information on traveling from Srinagar to Pahalgam were of help. If you have any questions, you can contact me on Instagram and I will be happy to answer. You can also consider subscribing to my YouTube channel and asking a question there.