It was a Monday morning and our plan was to travel back from Doodhpathri to Srinagar. The weekend was indeed a very happening one and we fully enjoyed our night stays at both Yusmarg and Doodhpathri. The cottage we rented in Yusmarg was a little disappointing but the overall experience was fun nonetheless.
The night in Doodhpathri was a very cold one. I remember that we literally wrapped ourselves in blankets when we stepped out to have dinner that night. Despite the heavy blankets, we still had to sleep with our woolens and jackets on.
Journey So Far:
The next 5 days were now to be spent in our hotel in Srinagar. It was a working week and we all needed to log in every day. There was still no set plan in mind for the next weekend and we were juggling a few ideas about where to go next.
Good Morning Doodhpathri
I was the first one to wake up because I wanted to get some sunrise shots. Though I mustered enough courage to get out of the blankets, I still could not get myself to step out of the cottage, because of the cold weather.
For a while, I just peeked out of the windows trying to determine whether or not the sunrise was worth the trouble. I really tried all of the windows but none was able to give me a clear view of what was happening on the horizon outside.
Baffled and annoyed, I finally picked up my DSLR and came out on the lawn. This is the view that greeted me.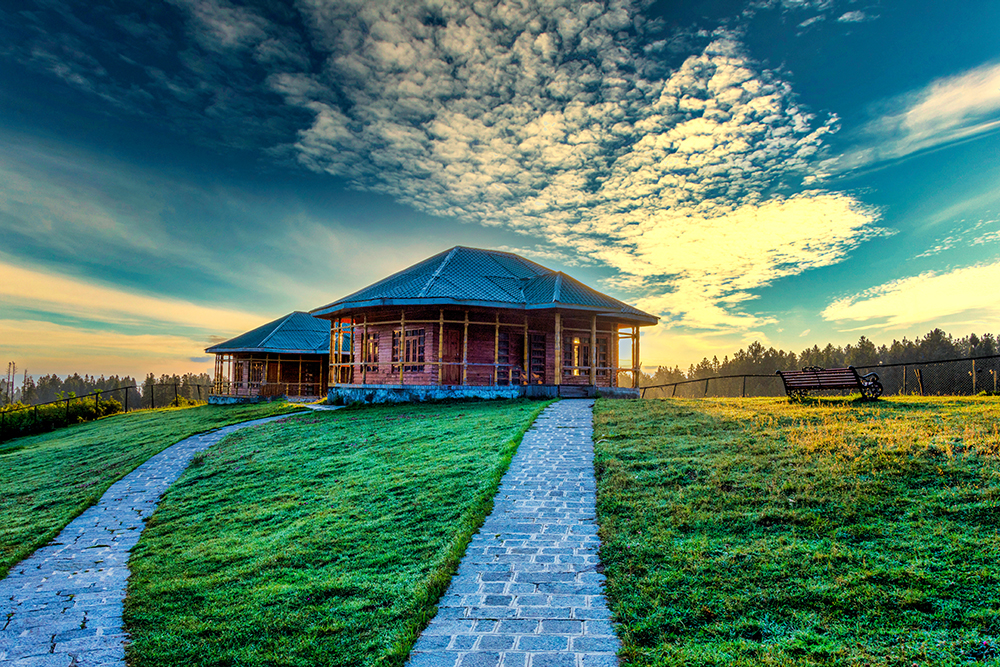 My friends woke up a little later and breakfast was soon served in one of the most beautiful settings I have ever eaten in.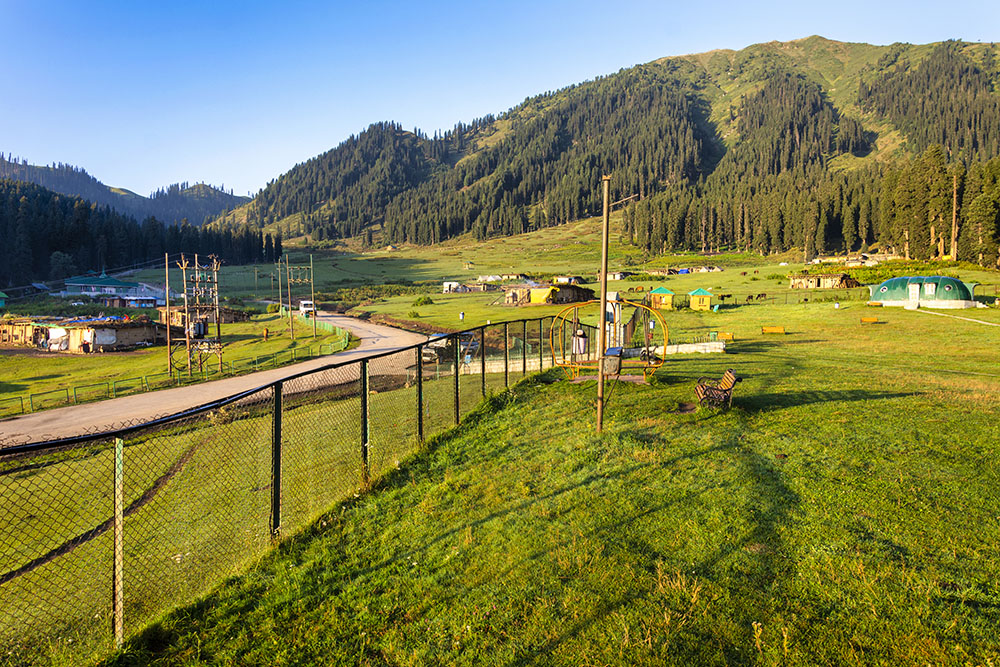 We packed up our bags and it was now time to say goodbye to Doodhpathri. We drove back to the meadow and decided to enjoy a bit of horse riding.
Our plan was also to visit Pal Maidan on our way back. But then a couple of calls later from the office, we just drove straight back to our hotel in Srinagar and started working.
Doodhpathri to Srinagar
Here is a brief overview of how you can travel from Doodhpathri to Srinagar by road.
The distance is only about 40 kilometers in total and can easily be covered in 2 to hours. The roads are a mix of good, bad, and average.
There is no direct bus available from Doodhpathri to Srinagar. You will have to look for a mode of travel from one town to the next in the following order.
Doodhpathri – TRC Doodhpathri – Khan Sahib – Badgam – Magam – Srinagar
In all probability, your journey by public transport will be in a mix of both buses and shared cabs. The total fare you will pay will be around Rs. 200 to Rs. 300.
The best way of course is to hire a private cab for the trip. A drop from Doodhpathri to Srinagar will cost you around Rs. 2000. For a return journey from Srinagar to Doodhpathri and back, it will be around Rs. 2500.
Plan for the Next Weekend
Not much happened in the coming days. Gunjit and I were planning to stay for a couple of weeks more but Maddy and Shoaib were unable to afford any more time for the trip. After a few discussions and persuasions from us to stop them from doing so, they booked their return tickets.
We continued working for the rest of the week. Maddy flew back to Delhi on Thursday followed by Shoaib on Friday. From a group of 4, we were not limited to just the two of us.
The next destination chosen for the weekend was Gurez Valley. Please click on the link above to continue reading the next part of the travelogue.
Doodhpathri to Srinagar – Conclusion
I hope the travelogue, pictures, and information on traveling from Doodhpathri to Srinagar were of help. If you have any questions, you can contact me on Instagram and I will be happy to answer. You can also consider subscribing to my YouTube channel and asking a question there.