The distance between Srinagar to Sonamarg is only 80 odd kilometers. From Dal Lake and the hotel we were staying in, it was just 75 kilometers that could easily be covered in slightly over 2 hours. We however still decided to start a little early because I wanted to avoid the traffic on the Srinagar Kangan stretch.
Journey So Far:
All three of us had been on this road before and the route was not new to any of us. Most of the time, however, it was while traveling to and from Ladakh. The destination on those days was Kargil and not Sonamarg.
For me, it was the second time that I was only headed to Sonamarg and not beyond that. For my fellow travelers, it was their first time and we were all pretty excited about the journey.
Srinagar to Sonamarg – Zojila Pass – Kargil War Memorial
It was our second weekend in Kashmir. Maddy and I had arrived in Srinagar from Jammu via Mughal road the previous Saturday. Since we were not on leaves and were carrying our office laptops along, the entire week was spent working from Srinagar.
During the day, we would go for a little sightseeing for a couple of hours and return to the hotel by evening to start working. The internet was pretty stable in Hotel Grand Valley Inn with a 100 MBPS data speed.
We faced no problem logging in every day and doing our jobs. It was more like we were carrying our work from home along to have small vacations over the weekends.
Shoaib joined us and arrived by flight on Friday. The first destination that we chose to explore on the weekend was Sonamarg. But a few things were needing to be taken care of before we could be on our way.
Where to Stay in Sonamarg
The first one was to decide where to stay. I spoke to my friend Faisal who runs a motorcycle rental agency in Srinagar and he recommended Hotel Barzman. I was not aware of this hotel at all but on Faisal's recommendation, we booked our weekend stay there.
This also took care of my second concern; the weekend rule that applies to tourists traveling to Sonamarg on weekends. Since it is a short distance from Srinagar, a lot of locals make a day trip over the weekend to Sonamarg. This can result in a lot of crowd in the small town.
Also Read: How to Plan a Trip to Kashmir – A Complete Travel Guide
Srinagar to Sonmarg Day Trip
Saturdays and Sundays are usually considered 'off-days' in Sonamarg. What this necessarily means is that you will not be allowed to go to Sonamarg unless you were either staying there for the night or moving on towards Kargil or Leh.
If you just want to make it a day trip and return to Srinagar by evening, you will have to do it between Mondays to Fridays.
Faisal sent me the hotel booking confirmation and this problem was taken care of. I asked about the internet connectivity in Barzman and was told that they indeed have Wi-Fi available.
What I actually wanted to know was if we could extend our stay in Sonamarg and work from there for a few days, rather than coming back to Srinagar on Monday.
But since I could not get a confirmation on the internet speed, we left this part open and to be decided upon our arrival.
With the entire plan set, we started from Srinagar early on Saturday morning. I actually wanted to start as early as 6.30 AM but we could only make it out of our hotel by 8 AM.
Also Read: Places to Visit in Sonamarg & Things to do in Sonamarg
Srinagar to Sonamarg Distance
The distance between Srinagar to Sonamarg is 80 kilometers but it also depends on where you were starting from. If your hotel was near Dal Lake, the distance will be about 70-75 kilometers. It will take you about 2.5 to 3 hours to complete the journey.
Srinagar to Sonmarg Road Condition
The condition of the road between Srinagar and Sonamarg is a mix of good and excellent.
The first 25 kilometers of the road to Sonamarg from Srinagar is a single-lane road with heavy two-way traffic. It passes through Nagbal, Ganderbal, and Wayul before it finally opens up and turns into a broad enough highway.
One passes through crowded markets and can even get stuck in a traffic jam here.
If you started a little late in the day, these 25 kilometers can take as long as 90 minutes to 2 hours to complete. But if you started from Srinagar before the traffic built up, it can easily be done in 45 minutes to an hour at most.
After Wayul, the road is very wide and excellent in condition. There are a few short bad stretches in between but the road remains to be good for the most part.
To know more in detail about how to travel from Srinagar to Sonamarg and where to stay, you can also see the video below and hear me talk about it.
Srinagar to Ganderbal
That is why I wanted to start early but 8 AM was a bit late for that. There was already a lot of traffic before we hit the road. It did not bother us much though because we had the entire day to ourselves.
Our plan in fact was to not check into the hotel immediately. We wanted to go as far as Kargil War Memorial after Dras and return to Sonamarg by evening.
Our first stop was at a gas station where we got a tankful done. The second stop, unfortunately, came when some cops waved us to stop. This turned out to be the first time in my life that I ended up paying a fine by myself, willingly without anyone asking for it.
The Mask Episode
The entire episode was in fact a little weird. There were a few cops by the side of the road, wearing masks and waving the cars to stop. They would then peep inside the vehicle to check if the passengers inside had their masks on or not.
What made this weird was that everyone else around them was walking by without any masks at all. There were a lot of people on the road and no one was wearing a mask, except for the cops and they comfortably turned a blind eye to that.
It was as if they were incapable of seeing anyone else around them except for the people in the cars they stopped.
Anyway, for some reason, the idea of pulling our masks up did not hit either three of us when we saw the cops ahead. One of them stopped our car, saw us without masks, and asked us to pull our car to the side of the road.
I pulled up a little ahead of the check post, expecting the cop to walk behind us to the car. But the exact opposite happened. Rather than coming to us, he went in the other direction and went inside the small police chowki.
Not knowing what to do, we just sat there in the car for a couple of minutes expecting someone else to come to us but no one did.
"Should we just drive away?" I asked
"I think we should not. They may have other check posts ahead and radio about us" said Shoyab.
Though I highly doubted it, what he said made sense. It was Kashmir after all. There were bound to be more check posts on the way ahead.
Also Read: When is the Best time to Visit Sonamarg
A Challan I Asked For
After waiting for another minute of no one approaching us, I stepped out of the car and walked back to the check post myself.
There was an inspector there, sitting on a bench, and handing out Challans to other people who were stopped. He was busy talking to passengers of another car that was stopped after we and I stood there for a few more minutes waiting.
"Yes?" He looked at me and asked after he was done dealing with the other passengers.
"That guy stopped us," I told him, pointing in a direction.
"Who?" He looked toward where I was pointing. There was of course no one there because that guy had already walked away.
"There was a cop there. He asked us to stop"
"Why?"
I did not know what to say to that for a few seconds but then remained honest.
"He said we didn't have our masks on"
"Did you not?"
"Mine was slightly pulled down a bit but I had it on" This time I lied.
"So?"
"He said I have to pay a fine for that" Now I was highly confused. Did I just ask him to fine me myself?
"How many people in the car?" He asked
"Three," I said
"None of you had the mask on?"
"All of us did. Mine was just pulled down a bit" I lied again
"Ok. Pay Rs. 100," He said
I paid the fine, he handed me a receipt and I walked back to the car, still confused about what just happened.
Ganderbal to Kangan
Anyway, I got back in the car and we started driving again. Soon we crossed Wayul, drove across a narrow bridge, and finally hit the highway.
The narrow road turned into a well-tarred broad one and driving became pleasant. Our third break came at a Dhaba for some tea and Aaloo Parathas.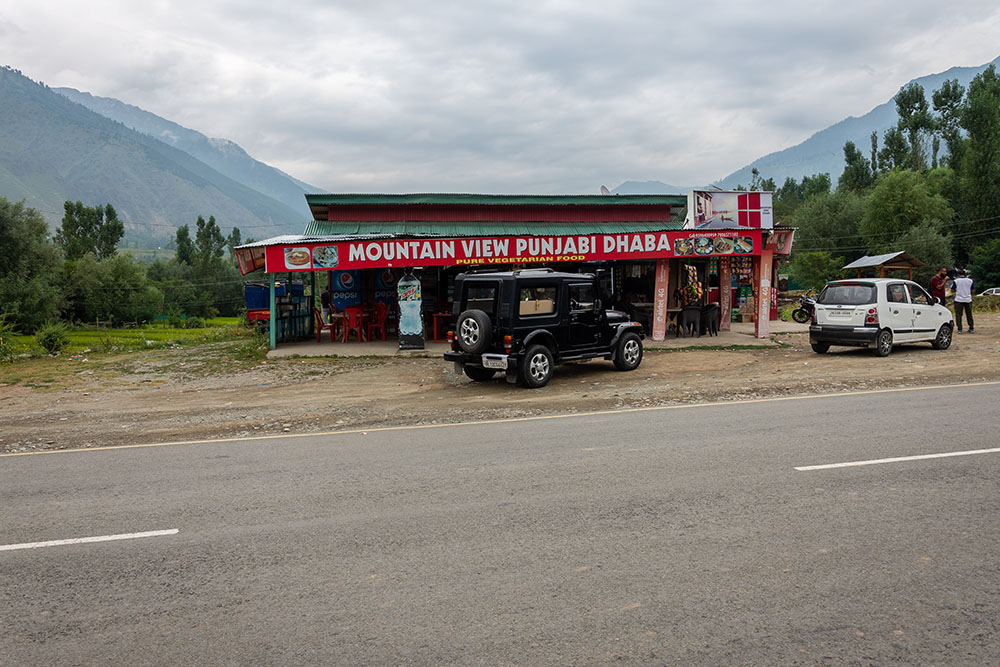 With our bellies full, we started driving again. Since the morning, the clouds were hovering in the sky and it felt like it could rain anytime.
Actually, we were rather enjoying the mild weather. Ever since our arrival, it was pretty hot in the day with harsh sun. But the weather suddenly changed the night before and had been cloudy since the morning.
A little after our break, it started to drizzle. Our next break came shortly after at this scenic bridge where we stopped to click some photographs.
The drive after that was eventless. It continued raining and we took several other short photography breaks.
Kangan to Sonamarg
As we got closer to Sonamarg, we noticed another checkpost ahead and immediately pulled our masks up. The cops again stopped us but the question this time was different.
"Where are you going?" A constable walked up to my side of the car and asked.
"Sonamarg" I replied
"Turn your car around and go back"
"Why?"
"You cannot go to Sonamarg on a weekend. It is an off day"
Thankfully, I knew this could happen and was prepared for it. I told him that we were planning to stay overnight in Sonamarg and this was not a day trip.
I showed him the email that Faisal had sent me as booking confirmation, to prove that we were indeed staying in Sonamarg for the night. He read through the email and let us go.
Just before Sonamarg, a couple of kilometers from the town, we were again stopped by a few cops and the same conversation took place yet again. I told them the name of the hotel we planned to stay at, showed them our booking confirmation, and were let go.
Also Read: Taxi Rates in Sonamarg
Sonamarg to Zojila Pass
Finally, we arrived in Sonamarg at about 11 am. For a minute, I thought to check into Hotel Barzman but then drove past it since we wanted to go to Dras first and return by evening.
We crossed Sonamarg market and started driving our way up to Zojila Pass. It had been a few years since I was last on the road to Zojila but not much had changed.
It was still a scary drive up, negotiating the twists and turns and the steep climb, and navigating our way through an endless line of trucks and other vehicles.
In all my years of traveling, I have been on numerous high-altitude passes but Zojila is still the one that still makes me a little nervous. I think it is mostly because of the heavy traffic on this pass that makes the drive a little difficult.
Zojila Pass
Nonetheless, we crossed the top of the pass and stopped at Zero Point to get some tea and snacks.
By now, the idea of reaching the Kargil War memorial started to seem a little dicey. It was already 2 pm by the time we made it to Zero Point. We still had a long way to Kargil War Memorial and then a long journey back to Sonamarg.
Moreover, we were told by the dhaba owners at Zero point that the war memorial was closed for the last few days. I started to play with the idea of returning but upon Shoyab's persuasion, decided to continue to Dras.
We however could not continue for long. A few kilometers after the pass, we reached another check post where everyone was being tested for COVID.
I asked the cop there if our negative reports from 10 days ago will work to which he replied negatively. There was no other way but to get ourselves tested before we could go any further.
Return to Sonamarg
The time was well beyond 3 pm by now and there were a lot of other travelers in the queue. Getting a test done there would have meant spending at least another 30 to 45 minutes.
This we could not afford since we also had to come back before dark. All three of us by now knew that reaching the war memorial was not a possibility.
Then there was also the doubt that it could also be closed, as the Dhaba owners had informed us. Even if it was open, chances are that it would get closed by the time reach there since the official times of visiting the memorial are only till 5 pm.
Unanimously, we all decided to return to Sonamarg and turned our car around.
We found this scenic spot and drove the car to the river bank, trying a bit of off-roading. We clicked some pictures and while we were trying to turn the car around to go back, I failed to notice a huge rock to my left, right next to the tire.
As I tried to move the car, the front tire hit the rock and slid underneath the car. The first rock near the rock. That was the one that went under as I tried turning.
The rock was quite a big one and it was in fact touching the belly of the car. I knew that trying to drive over it may result in some damage. So out I was, on my own belly on the ground, trying to pull the rock out.
Zero Point
It took quite an effort to get it out but finally, I managed to, after some tiring efforts. We then drove all the way back to Zero point and stopped at the same dhaba for some more tea.
A natural car wash on the way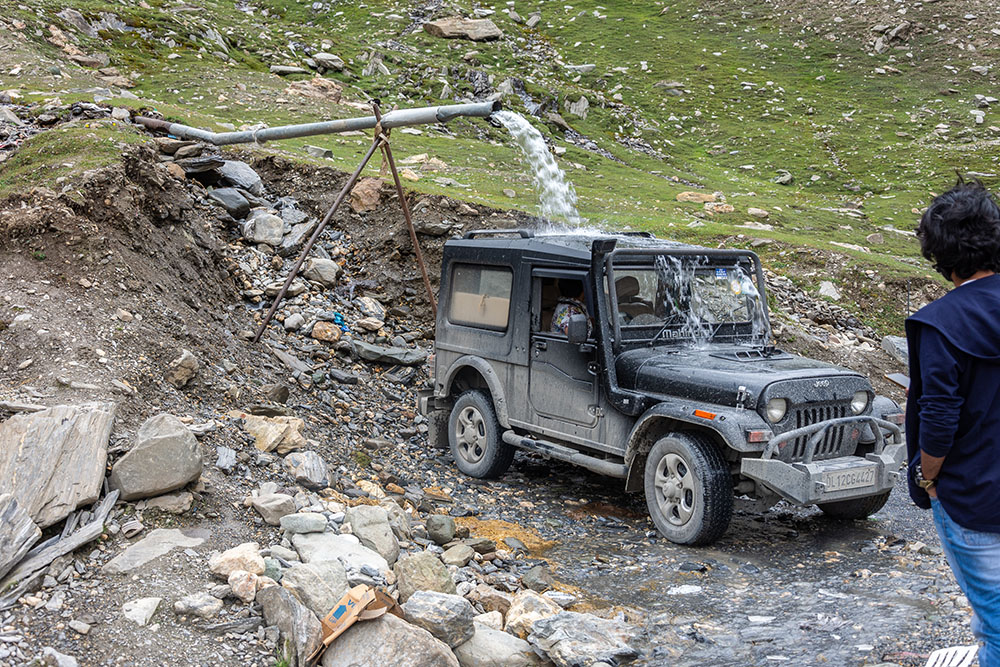 Zojila War Memorial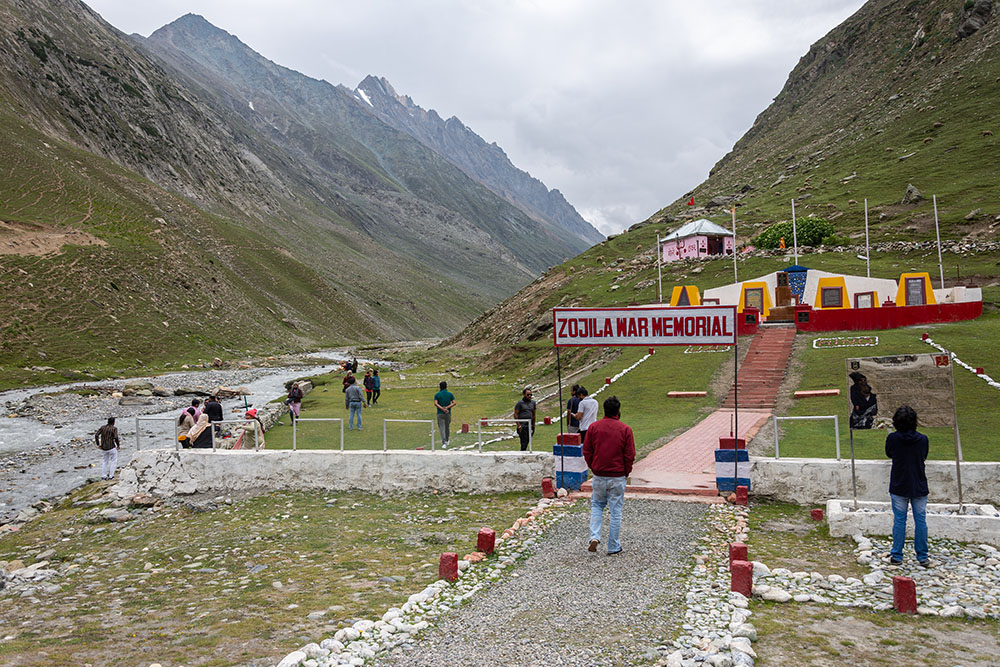 Just when we were about to go, the Dhaba owner asked me if I would mind dropping his cousin to Sonamarg. We could afford another person in the car and he hopped on.
The rest of the way was spent again navigating our way through numerous trucks. Both Maddy and Shoyab nodded off soon after. I was feeling sleepy myself but that was not really an option for me.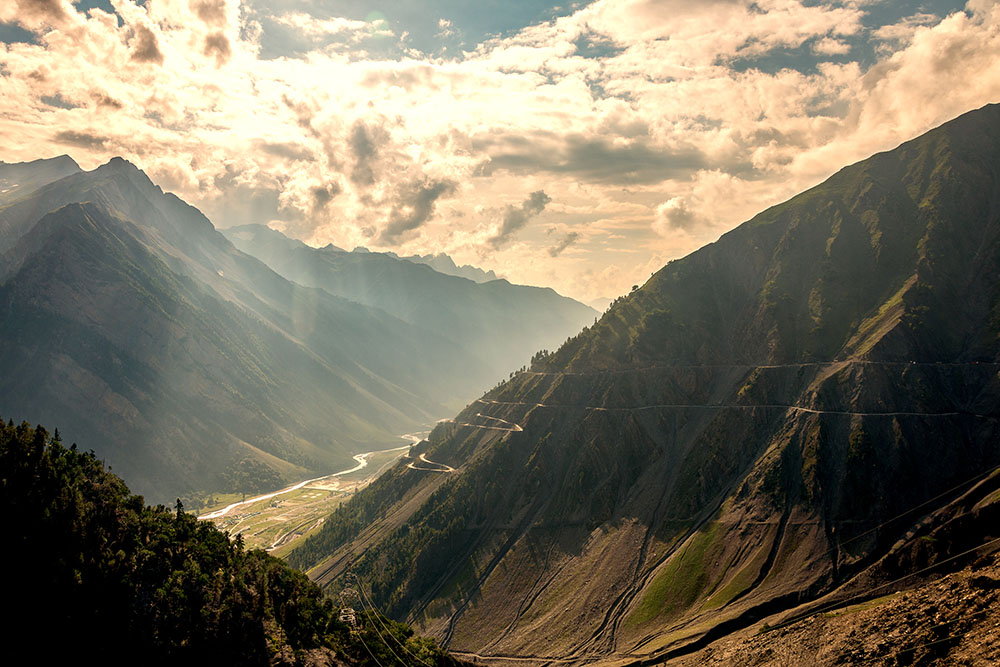 Finally, we made it back to Sonamarg with still some light left in the sky and checked into Hotel Barzman. The next couple of hours were spent walking around the hotel, and the river, clicking some pictures and just having a good time.
Hotel Barzman
Hotel Barzman is one of the best hotels in Sonamarg and is the one that I will definitely recommend. It is owned by a very friendly gentleman and a good host by the name of Mohsin. You can read a detailed review at Hotel Barzman – The Best Hotel to Stay in Sonamarg.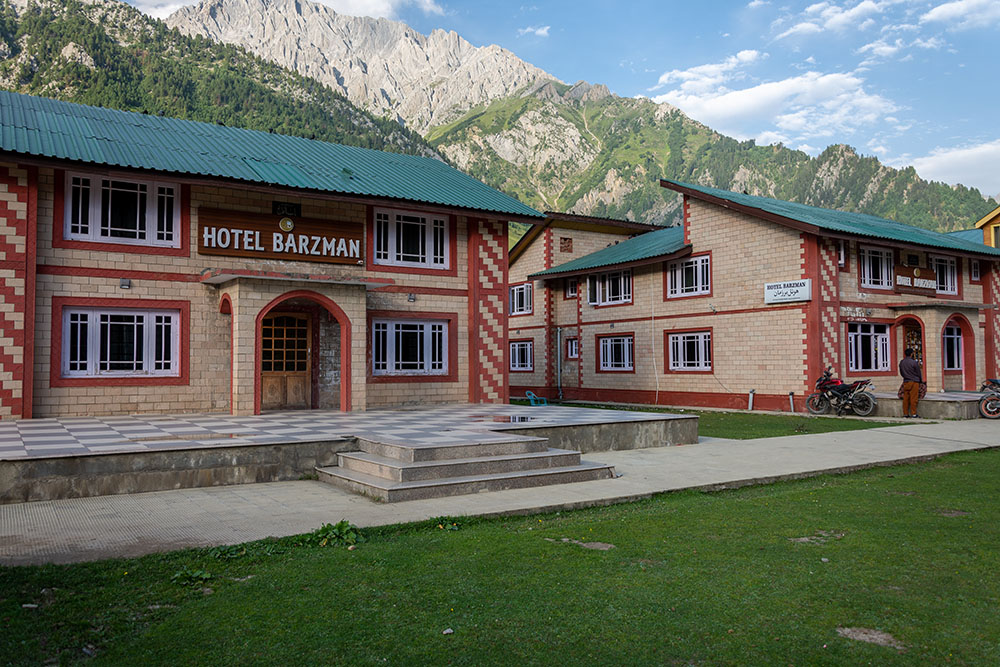 For dinner, we decided to walk to the market and try some restaurants there. Mohsin recommended Hotel Lolabi as the best to try Kashmiri Wazwan at affordable prices.
As it turned out, his information was not incorrect. The food at Lolabi indeed was great. If you are a non-vegetarian, this is the restaurant you must try eating at.
We returned to the hotel with our bellies full and I also withdrew some cash on our way back. After a bit of TV and chit-chatting, we decided to call it a day and crawled under our blankets.
The plan for the next day was to trek to Thajiwas Glacier. Mohsin asked us to start by 8 AM for the trek so we also had to get up a little early.
Mentioned below are some other details that can be helpful in planning a trip to Sonamarg from Srinagar. Or you can click on the link above to continue reading the next part of the travelogue.
How to reach Sonamarg from Srinagar?
In order to reach Sonamarg from Srinagar, you can either drive by your own vehicle, board a shared or shared cab or you can rent a private taxi for the trip.
Srinagar to Sonamarg Taxi Fare
A private taxi for Sonamarg will cost you between Rs. 2000 to Rs. 3000, depending on the type of cab you chose. The charges are for a drop to Sonamarg. If you booked it for a return 2 days trip, the total charge will be about Rs. 5000 approximately.
Srinagar to Sonmarg Shared Taxi
There is no direct shared cab that you can get from Srinagar all the way to Sonamarg. You will have to break your journey into 2 parts.
From Srinagar, you will first board a cab for Kangan and then another cab from Kangan to Sonamarg. The same rule applies if you were looking for a shared cab from Sonamarg to Srinagar.
In Srinagar, the cabs start from Jahangir Chowk and Hazratbal Shrine both. In Kangan, you can easily find a cab from the main market area itself.
The fare is approximate Rs. 190 per person which makes it a great choice for a budget traveler. A journey by shared cabs will take about 4-5 hours to complete.
Srinagar to Sonamarg Bus
There is a daily bus available from Srinagar for Sonamarg. The starting point of this bus actually keeps changing. It starts either from Batmaloo or Parimpora in Srinagar and completes the journey in about 5 hours. This bus usually remains available from late May to early September.
Srinagar to Sonmarg Bus Fare
The total fare for a journey by this bus is Rs. 150 per person.
Srinagar to Sonmarg Bus Timings
The bus starts in the morning between 8-9 am from Srinagar and reaches Sonamarg after about 5-6 hours.
Sonmarg to Srinagar Bus
There is a daily bus available for Srinagar from Sonamarg as well. The details and fare will be the same as I mentioned above. This bus starts from Sonamarg market in the morning.
Srinagar to Sonmarg Itinerary
An ideal itinerary for a trip to Sonamarg can be like below.
Srinagar to Sonamarg. Check into the hotel and visit Zojila Pass zero point on Day 1
Trek to Thajiwas Glacier on Day 2 in the morning. Spend some time seeing the market and walking around in the village. If you were short on time, you can return to Srinagar on Day 2 itself in the afternoon.
Return to Srinagar on Day 3
Srinagar to Zero Point Sonmarg Distance
Zero-point is actually located a few kilometers from Zojila top, towards Kargil. Coming from Srinagar, the total distance to the zero point will be about 105 kilometers.
Please click on the link above to read about our next day in Sonamarg when we went trekking to Thajiwas Glacier.
Srinagar to Sonamarg – Conclusion
I hope the pictures and information above on traveling from Srinagar to Sonamarg were of help. If you have any questions, you can contact me on Instagram and I will be happy to answer. You can also consider subscribing to my YouTube channel and asking a question there.