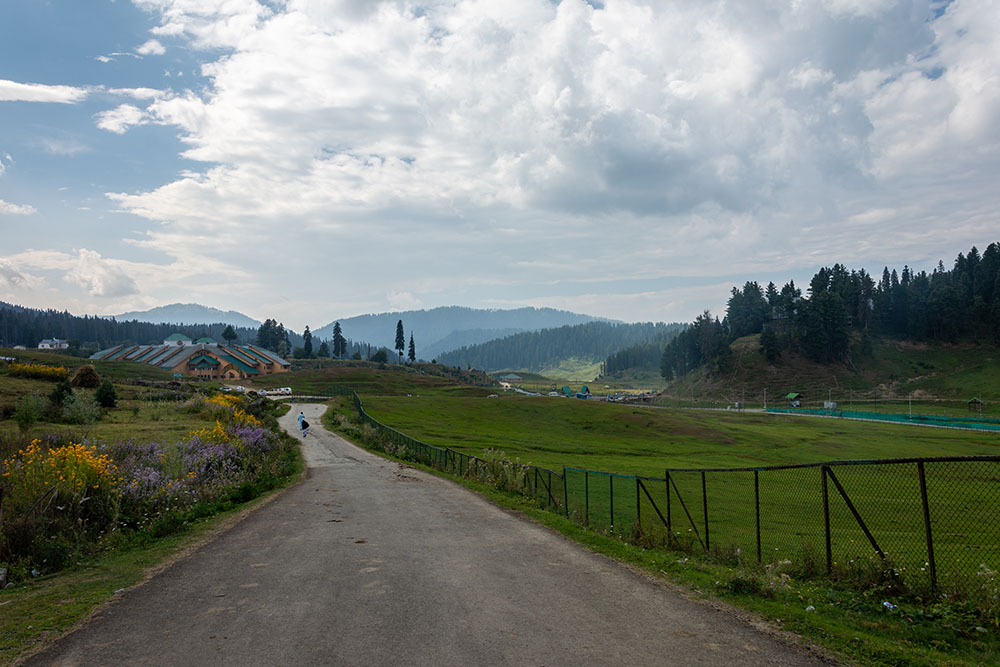 Our trip to Pahalgam underwent several last-minute changes. We first decided to spend 3 days in Pahalgam. But then we changed it to just 1 day and go straight from Srinagar to Pahalgam to Gulmarg.
That plan however also changed and we ended up staying in Pahalgam on Day 1 and returning to Srinagar on Day 2. Now on Day 3, we were all set to drive to Gulmarg.
Throughout our trip so far, we decided to start early on almost all of the days but were never able to do so. This I think was the first time when we thought to start early and were actually able to do so.
The biggest reason behind that was the news of possible unrest in the valley. More to follow on this later in the post.
Journey So Far:
We were told by a couple of other tourists staying in the hotel that there could be some protests in Srinagar City on the day we were to go to Gulmarg. They were told so by their own driver and were advised to leave Srinagar as early as possible and go to the airport by 5 am.
Though no one else at our hotel could confirm this news, we also decided not to take a chance and start our trip to Gulmarg as early as we could.
Srinagar to Pahalgam to Gulmarg
Let me first post a little information that can be of help to others who want to travel directly from Srinagar to Pahalgam to Gulmarg. If that was your plan, then yes, it can be done but it depends on how you were traveling and how much time you have in hand.
You can also take a look at the following video of Gulmarg that I shot during one of my winter trips. You can see how beautiful the place looks after the snowfall.
How to Reach Gulmarg from Pahalgam
The first thing that you should remember is that there is no direct route between Pahalgam and Gulmarg. You will have to come back to Srinagar and without it, you cannot reach the other place.
Pahalgam and Gulmarg are both in opposite directions from Srinagar and the fastest route between the two places is via Srinagar only.
Also Read: How to Plan a Trip to Kashmir – A Complete Travel Guide
How Far is Gulmarg from Pahalgam
The total distance between Gulmarg and Pahalgam is 140 kilometers. The journey will take you approximately 5 to 6 hours to complete, depending on your speed and breaks.
If you are traveling by your own vehicle, the journey is an easy one. The condition of the road is good, for the most part of it. If you started early, you may even be able to avoid the traffic and reduce travel time.
Pahalgam to Gulmarg Bus Service
There is no direct bus between Pahalgam and Gulmarg. In fact, there is no direct bus from Srinagar to Pahalgam or from Srinagar to Gulmarg as well. The same is the case with shared cabs as well.
To reach Gulmarg, you will first have to get to Tangmarg by shared cab and then go to Gulmarg from there. For Pahalgam, you will first have to find a mode of transport for Anantnag and then find another shared cab for Pahalgam from there.
So if you were to travel directly from Pahalgam to Gulmarg, you will first have to board a cab from Pahalgam to Anantnag. From there, you will board another cab for Dale Gate in Srinagar.
From Dal Gate then, you will have to look for a cab for Tangmarg. Finally, from Tangmarg, you will catch a shared cab for Gulmarg. If you were going from Gulmarg to Pahalgam, then the same journey will have to be followed the other way around.
This is the reason why I am saying that it is better to plan the journey on different days. If you were traveling by public transport, the journey will get a little tricky and my recommendation will be that you break the day in Srinagar.
First, go to Gulmarg or Pahalgam, come back to Srinagar, stay for the night, and then move on to the next place the next day.
Pahalgam to Gulmarg Taxi Fare
The fare of the private taxi will depend on your itinerary. If you booked a cab from Srinagar to cover both of the places, then the rent per day will come out to be around Rs. 2000.
That way, you will rent the cab for 3-4 days and the driver may charge you a little less, kind of a packaged deal.
If you however hired a cab from Pahalgam or Gulmarg for a drop to another place, this charge may go up to Rs. 3000 for a drop.
By shared cab, the total fare will be around Rs. 400 to Rs. 500.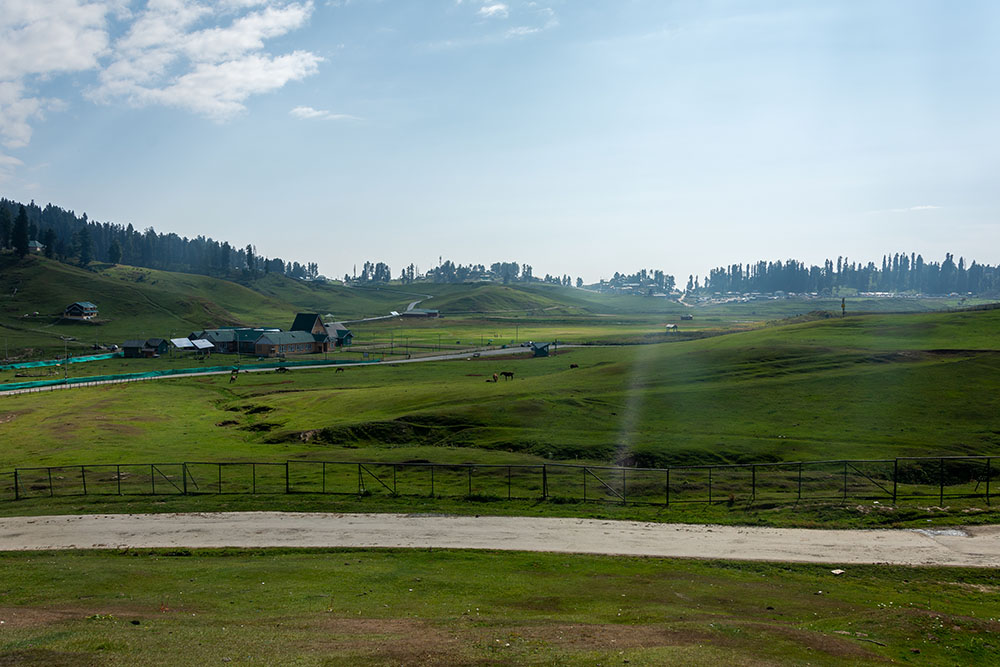 Pahalgam to Gulmarg Itinerary
If you have read the previous parts of this travelogue, then you would already know how our itinerary was. But in case you jumped directly to this page, let me also talk about how this itinerary can be planned.
I did not find Pahalgam to be that good, to be honest. The place was nothing like how I imagined it to be and I was really a little disappointed. This is why we reduced our stay in Pahalgam to just 1 day from the 3 days that we originally planned.
Pahalgam
For itinerary planning, if you started on Day 1 from Srinagar early in the morning, you will easily make it to Pahalgam by 10 am at most. Places like Betaab Valley, Chandanwari, and Aru Valley are all within short distances from Pahalgam and can be covered in a single day.
So you can visit all these places on Day 1 itself and then stay for the night in either Pahalgam or Aru village. My recommendation will be that you stay in Aru. It is much more scenic and hotels are also much cheaper.
On day 2, you can trek to Baisaran hills which is about 6 kilometers from Pahalgam. It will be a trek of about 4 hours in total and then you will reach back Pahalgam. Stay for the night in Pahalgam. If you were short on time and did not want to trek, skip this day.
Gulmarg
On day 3, start early from Pahalgam and you will reach Gulmarg by 11 am. Check into a hotel and visit places like St. Mary's Church, Maharani Temple, Golf Course, and other tourist attractions in Gulmarg. Stay for the night there.
On day 4, go for a Gondola ride. It starts at 9 am. So if you were there in time, you will finish the ride and be back in Gulmarg in a couple of hours. Have lunch in Gulmarg, check out of your hotel, and return to Srinagar.
Pahalgam and Gulmarg Which is Better
This now brings us to the next question. Which of the two places is better? In my opinion, Gulmarg is much more scenic than Pahalgam. If you were short on time and had to pick one of the two, you should prefer Gulmarg.
But if you could add one more day, then yes, add Pahalgam as well. It can easily be covered in a single-day trip from Srinagar.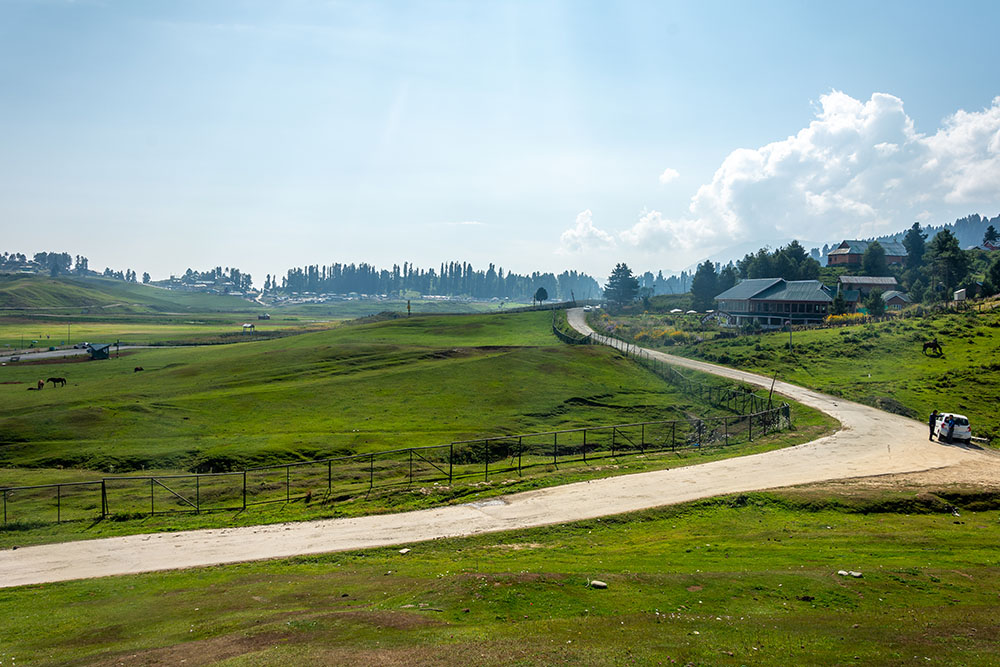 Srinagar to Gulmarg
Coming back to our travel story, we started from our hotel in Srinagar at around 7 am for Gulmarg. There was hardly any traffic around and we crossed Srinagar City in no time.
In about half an hour, we were already there in Magam. I called a friend of mine in Srinagar to ask if there was any news of any protests anywhere but there were none.
It was quite possible that this was all just a rumor. The driver who informed that couple of such a possibility could actually have been lying.
They were to catch a flight to Delhi and the driver actually picked them up from the hotel at 5 in the morning, several hours before their flight.
So I think the whole trick was to scare them by saying there could be protests in the city, drop them at the airport as soon as possible in the morning, and then get some other customers. You will come across a lot of such scammers in Kashmir.
Nonetheless, we crossed Magam and little after, were stopped by traffic cops. What followed was definitely one of the funniest conversations I have ever had with traffic police.
A Funny Incident
This is how the entire incident unfolded. We were gestured by the cops to stop and park our car on the side of the road which we did. There were a lot of traffic policemen around and they were asking almost every car to stop and show the paperwork.
So we stopped and waited for one of the traffic policemen to walk toward us as it happens anywhere else in the country. But no one actually did. We were just sitting there waiting. There was a cop standing just a few meters ahead of us but he ignored us completely.
After a few minutes of waiting and not knowing what was happening, I rolled down the window and called out to the cop who was standing near us. He just asked me to wait and went back to whatever he was doing.
We waited for another 10 minutes and no one came to us. I started to wonder if we should just drive away. It was as if we went invisible to those policemen after they asked us to stop. After about 15 minutes of waiting, I stepped out and walked up to a cop myself. This is how the conversation went.
Policeman: Yes?
Me: We were asked to stop and we are waiting.
Policeman: You are from Delhi?
Me: Yes
Policeman: Do you have all the papers?
Me: Yes
Policeman: RC, DL, Insurance, everything?
Me: Yes
Policeman: Are you sure?
Me: Yes
Policeman: You are telling the truth?
Me: Yes, I am
Policeman: Ok Go
He didn't ask me to show any of my car's documents. He only asked me if I had all the paperwork, took my confirmation, and let us go.
Tangmarg to Gulmarg
We continued driving and reached Tangmarg shortly. Tangmarg is where you actually start driving uphill. Until Tangmarg, the road is pretty straight and goes through a plains-like area.
We started driving up and after another 20 minutes, reached Gulmarg. The entire journey hardly took 90 minutes and we were there in Gulmarg by 8.30 am. Even all the shops and the dhabas were not yet open there.
This was my third visit to Gulmarg. The first two times I stayed in Hotel Affarwart but this time, their prices were a little high for our budget. So instead, we booked our stay in Hotel Green Park. There, we were able to get 2 rooms for Rs. 1200 each.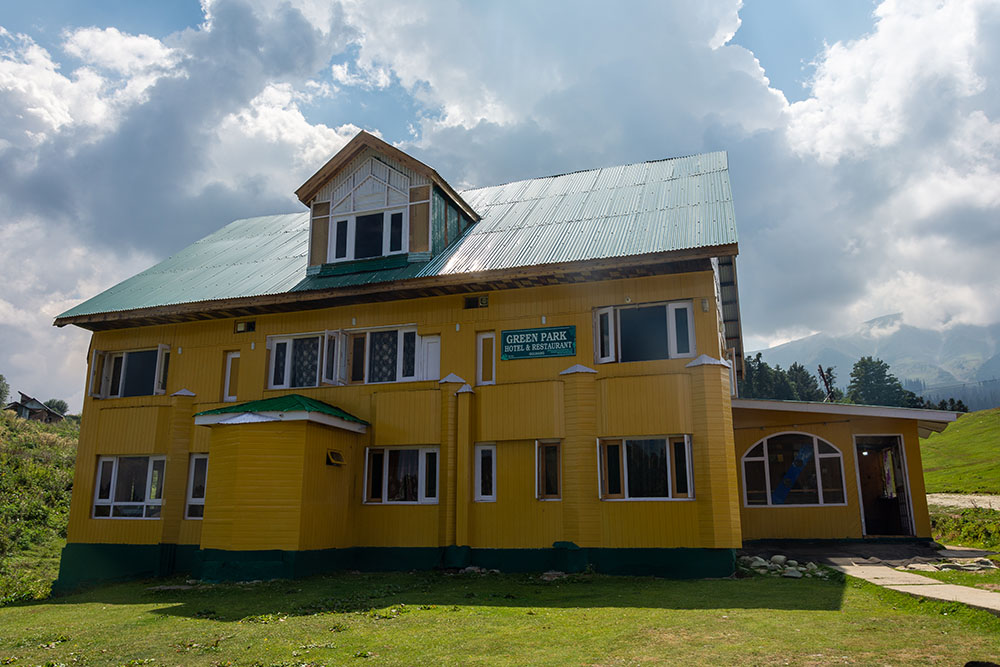 Hotel Green Park Gulmarg
You can read about our experience in detail at Hotel Green Park Gulmarg Review. But for a brief overview, the hotel was decent enough and is a good choice for anyone traveling on a budget. It is located right by the Gulmarg Meadow and offers really great views.
The rooms were large enough, the washrooms were Ok and the food was good enough.
Gulmarg was not new to me really. I had already seen all that there was to see in Gulmarg with the exception of one place, Bota Pathri.
It was the only tourist place in Gulmarg that I had not been to and was my only reason to come back there a third time. So the first place I wanted to visit was definitely Bota Pathri.
I asked the hotel owner about Bota Pathri and were soon on our way along with a local guide. Please click on the link above to continue reading the next part of this travelogue.
Conclusion
I hope the travelogue, pictures, and information on traveling from Srinagar to Pahalgam to Gulmarg were of help. If you have any questions, you can contact me on Instagram and I will be happy to answer. You can also consider subscribing to my YouTube channel and asking a question there.