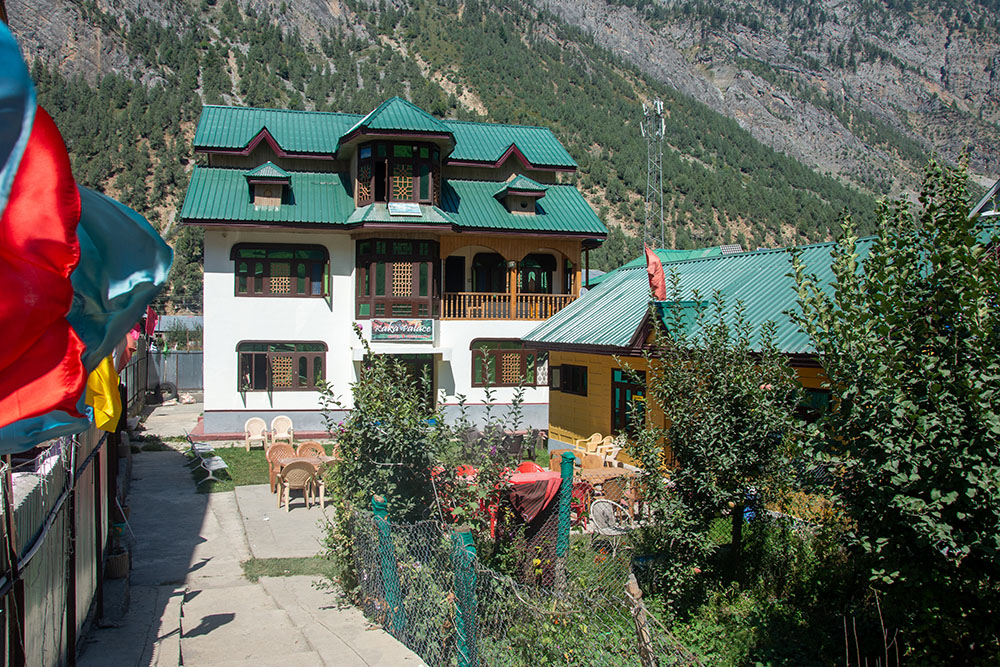 Kaka Palace guest house is a hotel located in Dawar town of Gurez Valley. It is run by a family that lives right next door and the owners are two gentlemen called Younis and Ejaz Lone.
I have stayed at this hotel more than once and what I am going to write below is a completely honest opinion and review of the place and its owners.
Gurez Valley has changed a lot over the last few years. When I visited here the first time, Kaka Palace was the only hotel available.
But with the recent increase in tourism, a lot of other hotels have come up and several others are under construction. There is even a campsite by the Kishanganga river now.
Also Read: How to Plan a Trip to Gurez Valley?
But if you are going to be visiting Gurez, my advice is that you stay at only Kaka Palace. Your stay here will be a pleasant one, you will be treated well, will be served mouth-watering delicious food. You can contact either Younis at 9419600027 or Ejaz at 9682101577.
But most of all, you will stay with people who can be given full credit for promoting and bringing tourism to the valley. They know the place very well and if you asked, will guide you very well on how to explore the valley and make the most of your time.
Continue reading for a more detailed version of this information.
Srinagar to Gurez Valley
When I visited Gurez Valley for the first time, I knew in my heart that I was not going to be there ever again. I think it was because of the extremely bad condition of the road from Srinagar all the way to Dawar, the central town in Gurez Valley.
The road was so bad indeed that the rear shock absorber of my bike developed a crack in it. Back then, I stayed in Gurez for 2 days and as I rode out of the valley on Day 3, I knew that this was the last I was seeing of it.
Fate however would have it differently. Due to the ongoing Pandemic situation, we were all working from home for over a year and a half. When the situation got a bit under control towards August and September of 2021, I decided to visit Kashmir and work from there for a while.
I stayed at a hotel in Srinagar, would work from there Monday to Friday, and explored the other parts of Kashmir on Saturday and Sunday.
On one such weekend, I decided to visit Gurez Valley again. During my first trip, I stayed at Kaka Guest house for 2 days and my experience was not all that pleasant.
In fact, when I first posted this review in 2018, it was negative but now, after being there for the second time, I am compelled to change my opinion altogether.
The condition of the road from Srinagar to Gurez has improved tremendously, which was the first pleasant surprise I got. It was no longer a badly broken dirt road but rather a smooth drive all the way.
Except for a 5-kilometer stretch after Tragbal, the rest of the road is a good tarred one and you will enjoy the drive.
Kaka Palace Guest House
Now coming to the hotel, even though my first review was not good, I called Younis again asking if I could stay at Kaka Palace.
I knew there were other hotels in Gurez now but for reasons unknown to me as well, I called him only. I think it was because I knew in my heart that he was a nice person and what happened during my first visit was not entirely his fault.
To my surprise, he remembered my name and he in fact had read my first review as well. I was expecting a little hostile response considering that was I wrote earlier was negative but he welcomed me with open arms and heart.
It is really hard to find such warm-hearted people to be honest. He openly admitted that he took my criticism from the first review in a positive manner and further improved the level of his service based on what I wrote.
Also Read: The Life and Legend of Habba Khatoon
Rooms
I will let the pictures below do the talking in terms of how the rooms are. They are all large, spacious, and can easily accommodate up to 4 people. You will get one double and one single bed. There is plenty of space with a large almirah to keep your luggage.
The rooms are all very clean, have comfortable mattresses and the carpets on the floor really give it a nice touch. You will be provided with clean sheets and blankets and will have nothing to complain about.
All the rooms have an attached washroom which is again very clean. There is running hot water available in all rooms. It may not be available at all the time but will definitely be provided on request.
Food
The hotel has a dining hall out front on their lawn. It has a good ambiance and the food is really delicious. Even people who were staying at other hotels because they could not find a room in Kaka Palace came to eat here only. The prices also are all reasonable.
Also Read: When is the Best time to Visit Gurez Valley?
Electricity
Electricity is not available in Gurez Valley all the time. I think there is a set time in the day when the town gets power. But the owner of Kaka Palace has a generator installed in the hotel.
That is why I said that you may not find hot water in the washroom all the time. But if you asked, they would not mind switching on the generator and getting you some hot water.
Also Read: What to See in Gurez Valley
Location & View
The hotel has a good view of the surrounding mountains and the Kishenganga River flows right behind it. You can walk to the river in the evening or in the morning within two minutes.
Owners
Now coming to the best part about the hotel. The owners are two brothers, Younis and Ejaz. If I am being asked, I think it was the two of them who did all that they could to bring tourism to the valley.
They are very well connected with the Army, Police, and other government officials in the area. In fact, when I drove further in the valley towards Chakwali, they called the Army major posted there and informed him of my visit.
But that is really not why I am speaking so highly of them. It is rather because they are both really good people and true gentlemen. Not even for once they made me feel bad and had any complaints about what I wrote earlier.
They will always speak with you with a smile on their faces. All your needs will be personally attended to, and they will do all that they can to ensure that your stay in Gurez is a pleasant one.
They are both locals from the valley and know each and every part. They can guide you to all the good spots and can be excellent tour guides as well.
Kaka Palace Guest House – Final Verdict
If you are visiting Gurez, the Kaka Palace guest house is the place I will recommend for an overnight stay. Just call a little ahead and book your stay to avoid any last-minute hassle.
You can contact either Younis at 9419600027 or Ejaz at 9682101577. Give them my reference and you will definitely get a discounted rate. Visit Gurez, stay at Kaka Palace and you will definitely fall in love with the valley.
I hope the information above on the Kaka Palace guest house in Gurez Valley was of help. If you have any questions, you can contact me on Instagram and I will be happy to answer. You can also consider subscribing to my YouTube channel and asking a question there.