To be honest I am not really sure how to write this review. I mean I know what to write; but I am not sure whether I should write while giving an overall positive feel; or if I should make it sound all negative. There is a part of me that wants to make it appear as bad as possible; but then another side of me says that it wouldn't be fair. So I will just mention the proceedings as they happened. It is more like an account of what we went through; and I will let the reader decide themselves how to take it. I really do not want to pass a verdict about this hotel. I don't want to claim it as the best place to stay but at the same time, it wasn't all that bad either.
Also Read: How to Plan a Trip to Gurez Valley?
Kaka Palace is a hotel located in Dawar town of Gurez Valley. It is run by a family that lives right next door and the owner is a gentleman called Younis Khan. Actually it wouldn't be wrong to say that it is the only hotel in Gurez Valley. The other two that I noticed were still under construction; and looked far less in quality than Kaka Palace. Third choice would be the J&K Tourism Dak Bungalow but it was closed when we reached its gates. My guess is that you too are going to find it shut for reasons that I will mention further in the article.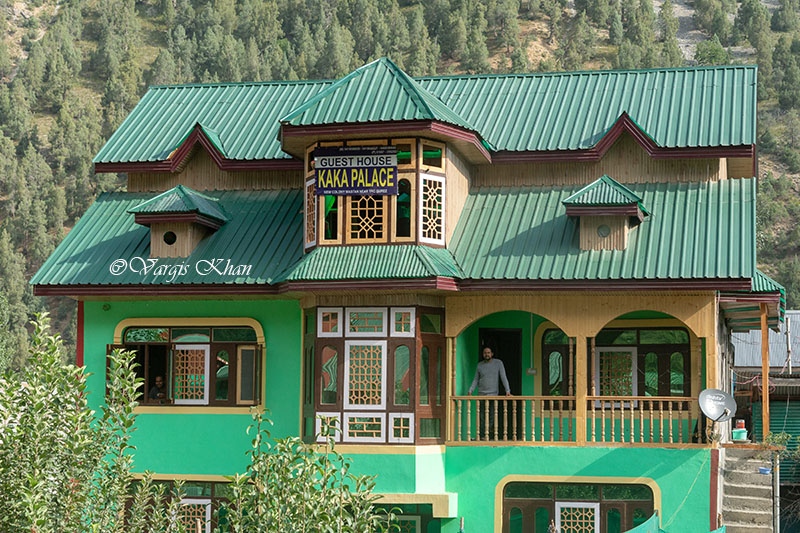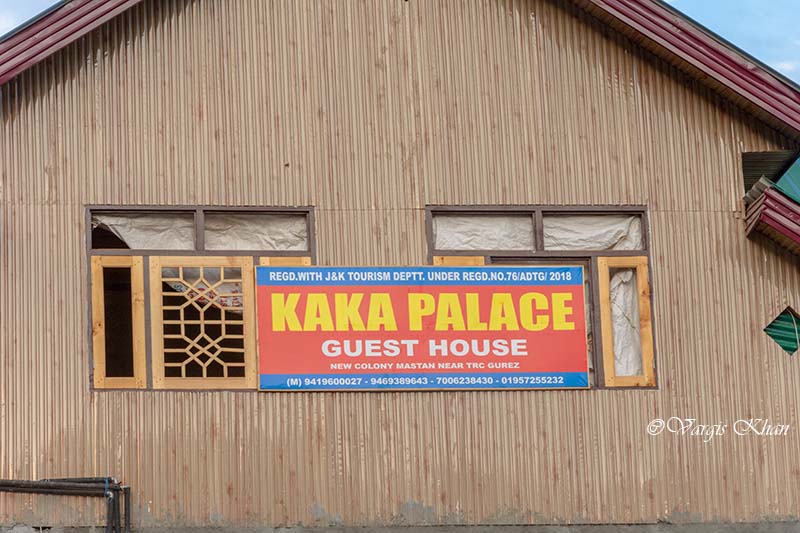 Kaka Palace Guest House
We arrived in Dawar after a day long ride from Srinagar. Due to roads being in extremely bad condition, the ride actually proved to be a tiring one. As far as I knew, there was only a J&K Tourism Dak Bungalow in Gurez so that is where we went straight after asking a couple of locals. To my disappointment though, the Dak Bungalow was closed and there was not even a single person around to ask. What caught my attention immediately however was a big building right in front of the Dak Bungalow. It read Kaka Palace Guest.
Since staying at the tourism Bungalow was not an option anymore, we asked for rooms at the Kaka Palace. We were showed a few rooms and decided on one that had a double and a single bed; since we were in a group of three. Price quoted was Rs. 2,500 which we tried to negotiate down but failed. So Rs. 2,500 it was for a room of three and we checked in.
Also Read: The Life and Legend of Habba Khatoon
Rooms
No complaint in terms of the room. It was large and spacious enough with a balcony out front. Bed and the mattresses were comfortable and we slept peacefully. Blankets he provided were warm and clean. Overall a nice experience in terms of the room and the bed. I will post a few pictures of the room and the corridor in front. The price of Rs. 2,500 for this did sound a bit steep though.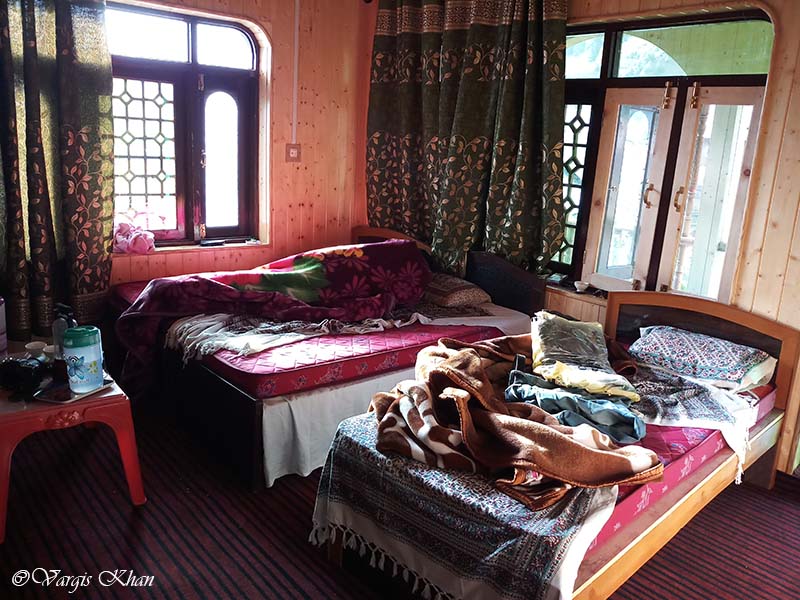 The TV Episode
No we were going to stay in Gurez for a couple of days, just relaxing and exploring the valley. There was a small LCD TV in this room, right where that water jug and stool in the above picture is. I asked the owner specifically whether or not the TV was functional and he said it was. We checked in, roamed around the town and came back after it was dark. Now there was really nothing else to do anymore so we switched on the TV. Dish TV was not working as it was out of balance. It actually showed that it was last charged 5 months ago. We asked the owner and he said he will get it charged immediately.
We waited, asked him a couple of times more and the TV remained dead. His response was the same that he will call the cable guy and get it recharged but it did not happen. Next day we went roaming around in Gurez and came back by evening only. Surprisingly, the TV was still dead. We again asked him, reminded him but he just kept saying that he will get it done. In the end we realized that he did not intend to spend that money for a couple of guys staying for a night. As a resolution, finally we called one of our friends in Delhi and asked him to do a recharge of Rs. 100; giving him the Dish TV account number. TV came back on only after our friend recharged.
Also Read: When is the Best time to Visit Gurez Valley?
The Food
We happened to arrive in Gurez in the same week that Eid; was so the staff at a lot of hotels that we came across elsewhere in Kashmir was on leave. Same thing happened at Gurez as well. The owner of this hotel was managing everything on his own as his staff was on leave (or at least that is what he told us). He was getting the food prepared at his own home but the both days that we stayed there, it was only after 11 PM that they served us dinner. Food was OK in taste but the wait until so late was just torturous. There was just no one in the hotel actually. Even for a glass of water we had to stand in the balcony and wait for someone to show up and get us some water.
The Bathroom
It was clean and hot water too was available but the seat on the toilet was missing. This made taking a dump in the morning an acrobatic task with all the balancing the butt and everything. I will post a picture again.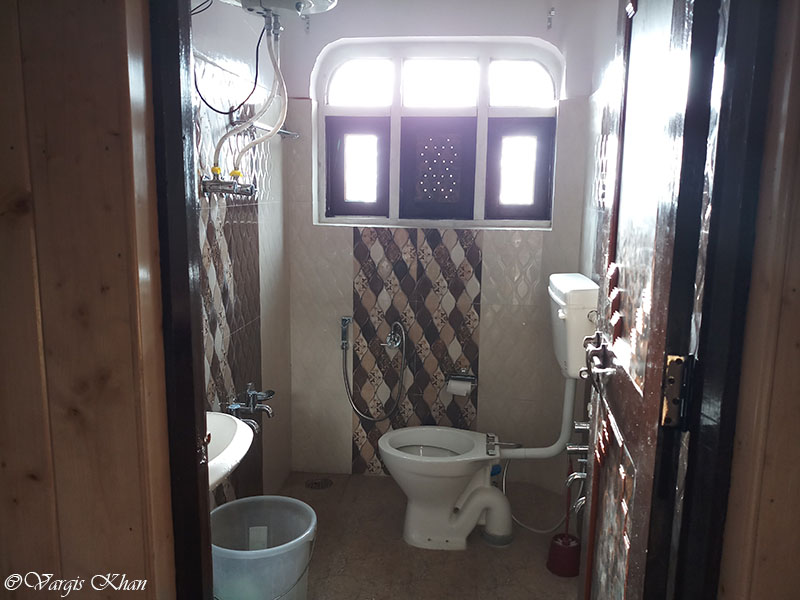 The Twist
Now due to the entire waiting for dinner and the TV episode, we were quite annoyed and decided to check out the J&K Tourism Bungalow again. To our surprise, it was closed on Day 2 as well. When we asked a few locals about the caretaker, we were told that the father of the owner of Kaka Palace was in fact the caretaker himself. The old man is fondly known as Kaka in Dawar and that is why his son, Younis, named this hotel as Kaka Palace. So now, they keep the tourism Bungalow locked and have all the tourists stay in their own personal hotel at a steep price.
Also Read: What to See in Gurez Valley
The Owner
Despite all this, why was I feeling bad writing this review? Because the guy kept requesting me to write a good review when he learnt that I was a blogger. He kept apologizing saying that all this difficulty was because his staff was on leave. He in fact called me a few days later in Delhi requesting me to post a good review on his FB page.
One thing that I liked about this guy was that he was trying his level best to promote tourism in Gurez. He in fact records a video of all his guests and then posts it on his FB page. More like asking people to visit Gurez and stay at his hotel.
Final Verdict
There is really no final verdict here because unless a few other hotels come up in Gurez Valley, Kaka Palace Guest House is your only choice of stay. They are going to keep the tourism Bungalow locked anyways. I did notice a couple of other hotels by the name of Hotel Noorani and Hotel Sikander but they looked a bit too low on quality. So if you are going to be in Gurez, take a look around first.  See a few other hotels too if you find any, otherwise stay at Kaka Palace. My stay here wasn't a pleasant one but not horrible either.
I hope the information above was of help. If you have any other questions, please feel free to ask in the comments section below; or at our Community Forum; and I will be glad to answer.