When you think of visiting Gurez Valley and search for a list of tourist attractions there, the name that will come up the most is that of the peak of Habba Khatoon. But when you visit Gurez, you realize that it is not actually a tourist attraction at all. It is just another among the thousands of other Himalayan peaks all around. There is nothing different about it; and there will be times when you may even get confused about which one is the Habba Khatoon peak. It is just a gigantic mountain; a huge assembly of rock standing tall and overlooking Dawar, the central township of Gurez.
So what is it that makes it so special then? Nothing at all to be honest. There is not even anything beautiful about it. But then it is not the mountain that is famous. It is the person that it has been named after that is an important part of Kashmiri history. It is Habba Khatoon the woman that people know and talk about, not Habba Khatoon the mountain. She is the one that people of Gurez so fondly remember. The mountain is just their way of making sure that she remains planted firm in their memories; that she remains spoken of. And that the name is not forgotten over a period of time.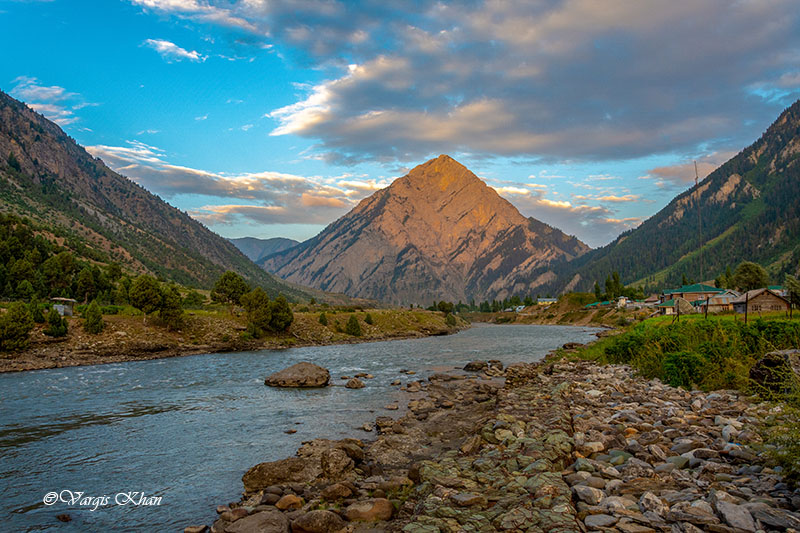 The place in the picture above is the amazingly beautiful Gurez valley. The peak in the center is Habba Khatoon; the houses on the right is the town of Dawar; and the stream of water is KishenGanga River. It flows through the Gurez valley before finally merging into Jhelum River near Muzaffarabad in Pakistan. In Pakistan it is known as the Neelum River and forms the beautiful Neelum Valley.
Also Read: The Life and Legend of Baba Reshi
Habba Khatoon
So who was Habba Khatoon? She was a 16th century Kashmiri poetess who is also known as 'Nightingale of Kashmir'. She was born in 1551 (or 1554) in in the small village of Chandhara near Pampore; and in her childhood was named as Zoon (the Moon) because of her immense beauty.
There are several stories related to her and she is a popular figure in Kashmiri literary history. Her life was a difficult one and it is said that the influence she has exerted over the popular imagination had much to do with the difficulties she herself faced in her life. She was born a peasant girl and lived in poverty with very little education. Her first marriage was to a local peasant boy an in early age which ended in a divorce soon after. Her husband, an illiterate peasant, could not really understand her and after a few years of a troubled married life, left her. It was after this divorce that Zoon started to write and sing songs in Kashmiri.
Also Read: When is the Best time to Visit Gurez Valley?
It is said that Yusuf Shah Chak, who later on went to become the ruler of Kashmir, was out hunting one day when he heard Zoon singing under a Chinar tree. Upon hearing her melancholic melodies, he stopped and went looking for the woman singing in such beautiful voice. He found Zoon sitting under a tree and was stunned by her beauty. It was love at first sight for both of them and they decided to get married soon after. After marriage, she changed her name to Habba Khatoon.
Akbar's Conquest of Kashmir
For a while everything was all romantic and dreamy. Yousuf Shah Chak became the king of Kashmir and Habba Khatoon was the queen. But then came Akbar and his conquest of Kashmir. Chaks were a tribe of fighters from Gurez Valley who continued to rule Kashmir until 1589 AD, when it was annexed to Mughal Empire. They were formidable fighters of huge structure and had successfully resisted the attempts of Babur and Himayun to conquer Kashmir. When Akbar became the king, Chaks still remained to be a problem for Mughals when they defeated Akbar's Army twice. This made the Mughal emperor realize that taking Kashmir by force may not be the best way out; hence he invited Yousuf to Delhi for a peaceful resolution.
Habba Khatoon did not like this idea even a bit. She is said to have a considerable control over her husband, the king. Sensing Akbar's offer as a bait, she tried to stop Yousuf the best she could. The king on the other hand knew that their Army will not be able to stand a third attack from Akbar. They have been fighting Mughals for a while but this is as far as it could have gone. Another attack by Akbar's Army would have resulted in a massacre of his own people in the battlefield. He himself knew that he was walking into a trap; but had little choice other than to comply with Akbar's offer and hence went to Delhi for talks.
As Habba Khatoon feared, Yousuf was captured on his arrival in Delhi and imprisoned in Bengal. He was later shifted to Bihar where he died and where his grave remains. Three years later, Akbar conquered Kashmir and annexed it to Mughal empire with little to no resistance.
The Poetess & The Ascetic
The day Yousuf left for Delhi was the last that Habba Khatoon saw of her husband. A few days later, the news of Yousuf's capture came and she never got to be with the love of her life again. This broke her completely and she took up an ascetic life. All her poems and songs were in memory of her estranged husband; and are so full of sorrow that it will break your heart. She moved back to Gurez valley and spent most of her remaining life here. She died in 1609 near Athwajan (on Jammu-Srinagar national highway) where her tomb is located till date.
Also Read: Tourist Attractions in Gurez Valley
And that was the story of Habba Khatoon. She was a remarkable poetess and is accredited for introducing "lol" to Kashmiri poetry. The word "lol" is equivalent to the English 'lyric', conveying a brief thought. Her lyrics on love and romance still captivate the Kashmiri people. The mighty development in Kashmiri literature during 1500 – 1800 AD is accredited to the works of Habba Khatoon along with several other great poets and poetesses.
Alternate Version
There also exists a different version of the story of how she came to be known as Habba Khatoon. It is said that Habba was actually the name of the boy she got married to the first; and upon suggestion of a "peer", got her name changed to Habba Khatoon, after her husband. But since she spent most of her time in poetry and singing, Habba started to mistreat her. Yousuf who was then the emperor of Kashmir noticed this village girl once. Taken by her beauty, he got her divorced and then married her.
Also Read: How to Plan a Trip to Gurez Valley
There was also a movie planned on her life starring Dimple Kapadia in leading role but it was never filmed.
Conclusion
So when you are standing in Dawar in Gurez valley and you look up to this huge and enormous mountain, do not just see a pile of rocks. Remember the woman that it has been named after. Habba Khatoon, a poetess, a queen and most of all, a woman who lived her entire life wandering the valleys of Kashmir in memory of her lover. It is in fact said that she still wanders around this mountain here in Gurez valley, still searching for the one she so deeply loved.