This was not really my first road trip to Kashmir. I had been there before and had already seen most of the places. Sometimes, it was either while going to or coming back from Ladakh and sometimes it was a trip to Kashmir only. This trip however was still a lot different and one that I was really very excited about.
What was initially a plan of 2 weeks turned out to be much longer. We spent quite some time in Kashmir, exploring its beautiful valleys, enjoying its good food, and meeting its warm people. What we thought would be a good trip turned out to be an amazing one, probably the best of our lives so far.
Also Read: How to Plan a Trip to Kashmir – A Complete Travel Guide
In this article and the ones that will follow in this series, I will talk in detail about our road trip to Kashmir. I will cover places that we visited, routes we followed, hotels we stayed at, foods we enjoyed, the restaurant we ate at, and several other details that can be of help to anyone planning to visit Kashmir.
Road Trip to Kashmir
The plan to visit Kashmir started to take shape sometime in June 2021; when the COVID cases were starting to slow down a little. I had been working from home since March 2020 since the outbreak and had not been anywhere during this entire time.
The idea of going out somewhere did pop up in my head several times in between but never materialized, primarily because I did not want to take the risk of COVID.
Then in the summer of 2021, I seriously started to consider going somewhere and working from there for a while, rather than just sitting at home. The idea was to bring my office laptop along and explore the place whenever I get time while continuing to work as well.
This was not really anything original and I knew that a lot of people were already doing this. Even a lot of hotels in Manali and a few other places were offering this kind of package.
So after a lot of thinking and discussion, I and my friends decided to do this while we still could. Where to go was the next question. To be honest, Kashmir was not really the first place that came to mind. But after some serious consideration, it was the one that we narrowed down to.
There were however still several things that needed to be taken care of before we could actually finalize the plan.
Internet
The most important aspect of this trip was to first ensure that we were going to have a stable internet connection. I called my friend Faisal in Srinagar. He confirmed that we could get Airtel or Jio fiber in the city and their services were pretty good and stable.
This kind of confirmed our plans and I requested him to get a Fiber wifi connection installed in the hotel we were planning to stay at.
Hotel
During my previous trips to Srinagar, it was Hotel Grand Valley Inn where I stayed. It is a great hotel with comfortable and spacious rooms but the best part about it is its location.
It is located 2 mins from Shalimar Bagh and merely 5 mins away from both Nishat Bagh and Dal Lake. The place is surrounded by greenery all around with an amazing view in its backdrop. See the picture below.
I confirmed my stay in Grand Valley again and Faisal confirmed that they will get Airtel Fiber installed with 100 Mbps data speed. This was more than sufficient for me. This way, I could comfortably explore Kashmir without any disruptions in my work.
Planning
Now came the planning part. How long was the trip going to last and what were the places on the itinerary? This was really what excited me the most about the trip.
Since we were not going to be on leaves and could continue working from Srinagar, there was really no set timeline for the trip. All that we had on our minds was to first go there and then see how long we could stay.
The Machine
Every time I visited the valley before this by my own vehicle, it was either while going to or coming from Ladakh when we just traveled through Srinagar. During those trips, the focus was on Ladakh. Kashmir was just the region we passed through while riding on the Srinagar Leh highway.
A few times when I did visit Kashmir only, we caught a flight to Srinagar and rented bikes there to explore other places.
But this time was different. The plan for this trip was to drive all the way from Delhi to Srinagar in my Mahindra Thar and cover as many places as possible.
The Men
A total of 5 people, including me, were in for the trip. As per the original plan, Shoaib, Lavish, Maddy, and I was going to reach Srinagar by road. Gunjit was to join us by flight later for a few days.
But as it always happens, after several last-minute changes, Lavish dropped out completely and Shoaib had to delay his arrival. So in the end, Maddy and I were going to be driving to Srinagar, and Shoaib and Gunjit were to catch a flight later.
This I think worked for the best for two reasons. The first is that we all work in the same organization. Now the two of us could first go and confirm our ability to work before the other two join.
The second reason was that Mahinda Thar is not really the best vehicle for 2 days of continuous driving if you are going to load it with 4 people and all their luggage. It can really get uncomfortable for the 2 people sitting in the back on top of all that luggage.
The Time
This plan was originally planned for the month of July. But then due to the monsoon and news of landslides from all over the Himalayas in June and July, we pushed it to early August. This then got changed to the latter part of August and the 20th was the date finalized for departure.
RTPCR
COVID was still not gone completely and restrictions were still in place in several places. You were required to produce a negative COVID test report before entering Jammu, near Lakhanpur. This report could not be any older than the last 96 hours.
So, on the 18th of August, Maddy and I both visited a lab near my place. We got our tests done so we could have our report by the 19th. Surprisingly, we got the results back the same evening and to our relief, it was negative indeed.
I got my Thar serviced and readied a couple of weeks before the trip. So there we were, about to embark on a trip of a lifetime. This kind of a journey where we were carrying our office laptops and were going to be working as well as new to all of us.
Phone Connection
I had an Airtel prepaid connection which I knew will not work anywhere in Kashmir. A few before the trip, I got that converted to postpaid and ask Maddy to do that as well, since he was also on a prepaid phone.
But the day we met to get the RTPCR done, he told me that he had completely forgotten about it.
We still had a day before we were to leave so I asked him to do it now. Somehow, he was not too eager about it. As it turned out later, he did not get it converted and remained on a prepaid phone throughout the trip.
Camping
Another plan and preparation for the trip that got left out was the camping part. We all had been discussing it and agreed to bring our own camping gear since we wanted to pitch tents wherever possible. The responsibility was passed on to Maddy.
On the day we met for RTPCR, he also informed me that he forgot about arranging the camping gear as well.
Mughal Road
None of us had any timelines in our minds. All we focused on was the places we wanted to visit and the things we wanted to do. The first place that was on my mind was the famous Mughal Road.
I really hate traveling on the Jammu-Srinagar highway and wanted to take the Mughal road for the journey from Jammu to Srinagar.
A couple of calls and I got the word that the road was indeed open. There were no COVID-related restrictions anywhere on the route.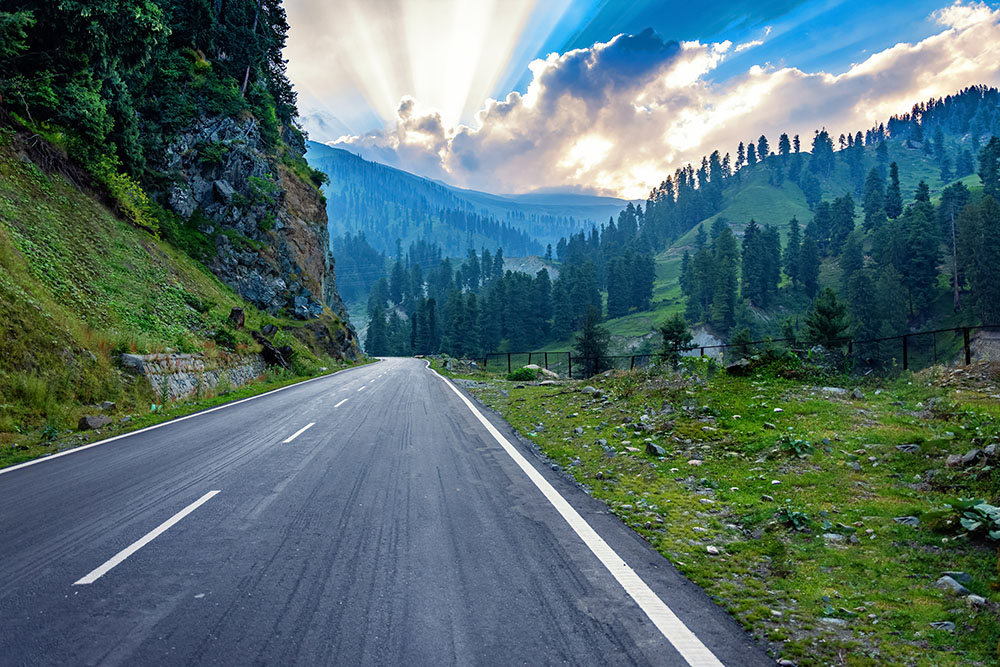 The last remaining bit was our stay in Jammu. Like always, I left it to be decided on the spot. A friend of mine, Jitender Pathania who is a local from the area, suggested booking Hotel One Earth Trinetar but I left this part open.
Finally, D-Day arrived and Maddy and I were all set to leave for Srinagar. Please click on the link above to continue reading the next part of this travelogue.
Road Trip to Kashmir – Conclusion
Did we face any problems and was it safe? Except for 2 days in between, our road trip to Kashmir remained completely hassle-free. We enjoyed our time to the fullest.
If you have any questions, you can contact me on Instagram and I will be happy to answer. You can also consider subscribing to my YouTube channel and asking a question there.