The first time I went to Yusmarg, our Srinagar to Yusmarg itinerary was only a few hours long. We planned to ride to Yusmarg, do some local sightseeing, and return to Srinagar by evening. The plan this time however was a little different.
Accommodation at Yusmarg is available in the form of JK tourism cottages. I did not know this the first time and only noticed the cottages while I was there. After spending a few hours in Yusmarg, I loved the place and made up my mind to spend at least one night here.
That became the plan for my second trip to Yusmarg. We were to reach there on Saturday, stay for the night, and go to Doodhpathri the next day. Little did I know that the weather also had a plan of its own.
Journey So Far:
The plan did not go quite as expected. The stay at Yusmarg was a little disappointing but our night in Doodhpathri was an amazing one. To read the previous parts of this travelogue, you may click on the links above.
Srinagar to Yusmarg Itinerary
Before I move on to the travelogue, let me first talk a little about how you can plan your Srinagar to Yusmarg itinerary.
The distance between Srinagar and Yusmarg is about 50 kilometers. The journey can easily be completed in 2 to 3 hours, depending on the traffic in between.
The majority of the tourists plan a one-day visit to Yusmarg. You start early from Srinagar by 9 and will get to Yusmarg before 12 noon. Take a break, get something to eat, walk through the meadow, trek down to the Doodhganga river, and return to Srinagar by evening.
If you wanted to though, you can spend a night in Yusmarg and stay at the JKTDC cottages, which is what we did. But keep in mind that most of your time will be spent just walking around and enjoying the natural beauty of the place.
There are no tourist attractions in Yusmarg as such. It also serves as the base for several treks that lead further into the mountains and into the forest. To do that, you will need to spare at least 3 to 4 days and make prior arrangements.
For regular tourists, it is either a day visit to Yusmarg from Srinagar or 2 days trip at most with a night halt at JKTDC Yusmarg Resort. For more details like how to reach and public transport, you can take a look at How to Plan a Trip to Yusmarg.
JKTDC Yusmarg Resort
Since we planned to stay overnight, I checked the prices of the JKTDC cottages online. They were a little higher than I expected. It cost us nearly Rs. 3600 only for a night's accommodation, meals not included.
The only saving grace I think was the fact that it was a cottage with 2 bedrooms and could accommodate all four of us.
The cottages can be booked at the JK Tourism online portal which I did. Now that I have been there, I think it would have been better if we just arrived in Yusmarg and negotiated an on-the-spot deal with the caretaker.
But because I did not want to take a chance to ruin the plans by getting turned away by the caretaker, I ended up booking online and paying more.
Nonetheless, the bookings were completed and confirmed 2 days in advance and we were all set to spend our weekend in Yusmarg.
The weather however changed surprisingly on Friday. It was the month of September and the monsoon season was officially over. Thursday was all sunny and bright whereas Friday changed into a gloomy and cloudy one.
Clouds kept hovering over the sky all day long. It did not bother me that much because we were traveling in a car this time and had our stay planned.
I thought even if it rained, it will do so for a few hours and will be all over, giving us plenty of time to do some sightseeing in Sonamarg.
Also Read: How to Plan a Trip to Kashmir – A Complete Travel Guide
Srinagar to Yusmarg
As expected, the morning on Saturday was an equally cloudy one. Black clouds were hovering over the sky and it seemed that it may start to rain cats and dogs any minute.
Keeping our fingers crossed, we started from our hotel at around 7.30 am. The first stop came at Dal Lake to get some pictures which unfortunately did not turn out to be that good.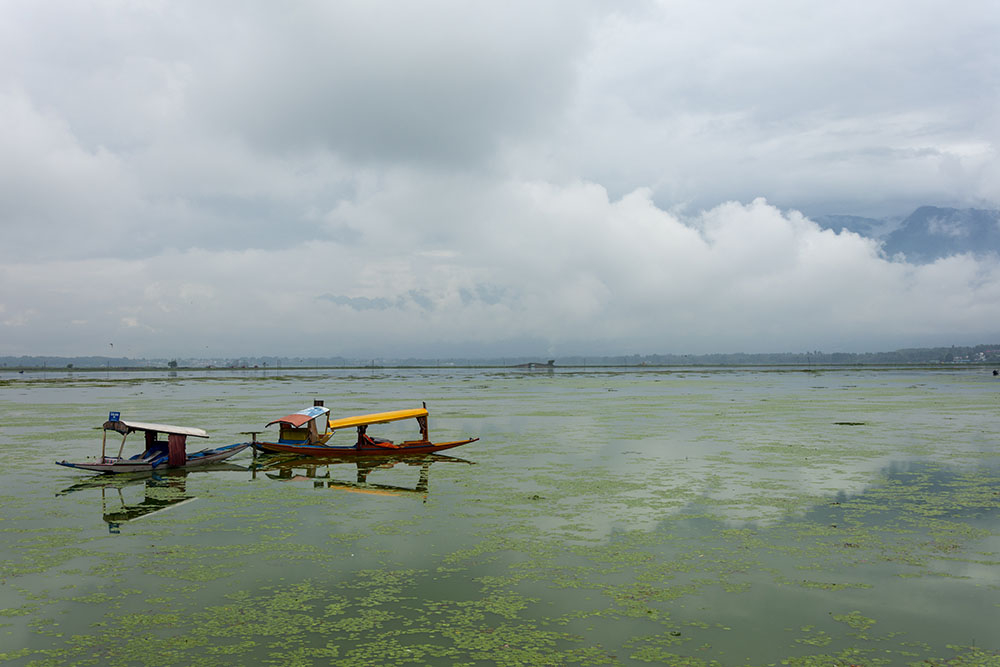 The first hour of the trip was eventless. We drove non-stop and took our first break just before Charar-e-Shariff. The weather by this time was starting to clear up and for a while, it was even sunny.
Our plan for Sunday was to drive from Yusmarg to Doodhpathri and camp there for the night. I had asked Faisal, a friend of mine in Srinagar, to make the arrangements. He was to get everything ready and meet us in Doodhpathri on Sunday.
When we stopped near Charar-e-Shariff, I called Faisal and asked him about the camping plan. He confirmed that he will go and arrange the camps but also gave us a piece of bad news.
As per the weather forecast, it was going to rain the entire weekend in the region. The weather was going to be bad in Doodhpathri and it will be difficult to camp for the night.
I looked up at the sky while talking to him and it all seemed clear and sunny. I told him the same but he was still a little apprehensive.
Nonetheless, we still decided to stay with the plan and Faisal confirmed that he will make all the necessary arrangements for camping in Doodhpathri.
Also Read: How to Plan a Trip to Doodhpathri
Yusmarg
We crossed Charar-e-Shariff shortly after. It is a small town located 32 kilometers from Srinagar and famous for the shrine of a Kashmiri Sufi saint Nund Rishi. It was built in 1460 to pay homage to the saint and is one of the oldest and sacrosanct shrines in Kashmir.
I had already visited the shrine the first time we went to Yusmarg. So we skipped it this time and continued straight to Yusmarg.
God I think was waiting for the right moment. We arrived at Yusmarg and paid the entry fee of Rs. 50 at the gate. The moment we crossed the gate, it started to drizzle.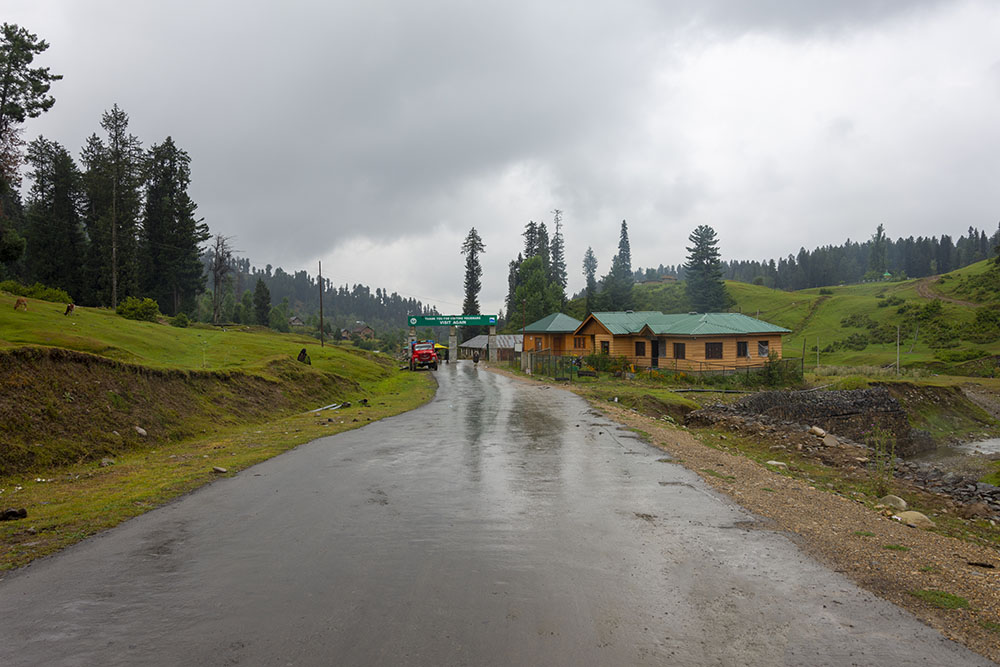 At first, it was just a light shower. We drove for the last couple of kilometers and reached the small market area of Yusmarg. We parked the car near a shop, went inside, and ordered some tea and snacks.
While we were eating, all hell broke loose and it started to rain as if there will be no tomorrow. I think we remained trapped inside the shop for almost an hour, unable to step out because it was raining so hard.
Maddy getting some Pakodas in the picture below when the intensity of the rain reduced a little. Pakodas were a disaster on another level. Felt like we were biting down on pieces of wood.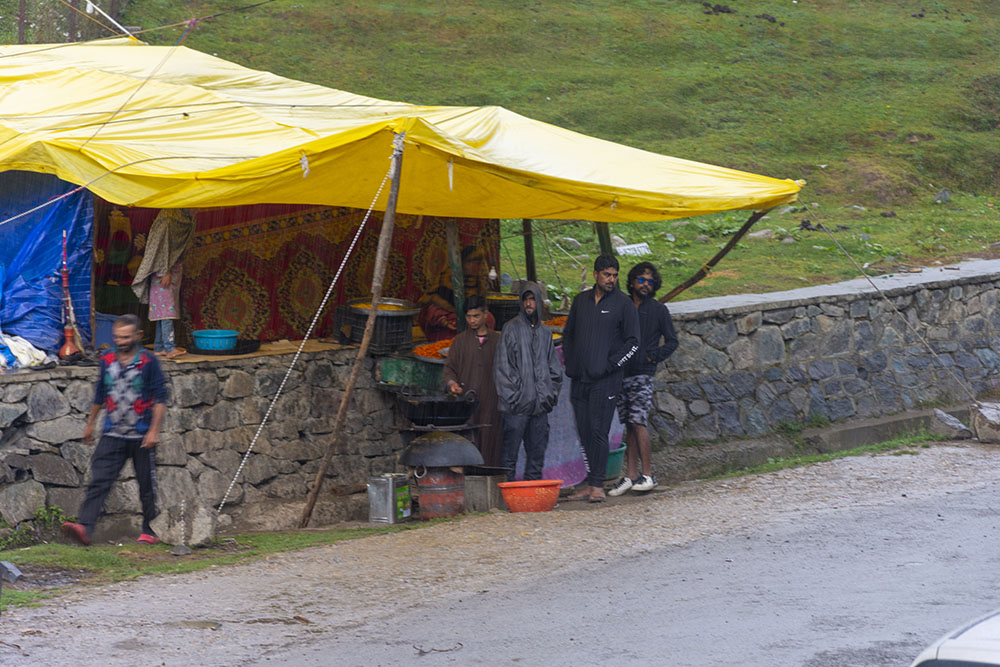 After an hour, we realized that the rain was not going to stop. We stepped out, got into the car, and reached the JK tourism cottages to finalize accommodation, the first part of our Srinagar to Yusmarg itinerary.
The entire reception area and the dining hall were filled with school kids and college girls. I think there was some picnic organized and there were over a hundred kids in the reception area, trying to escape the rain.
Accommodation in Yusmarg
The first task was to find the caretaker which I was able to do after a bit of asking around. He was a very soft-spoken and warm fellow. He joined us in the car, gave us directions and we finally reached our cottage.
The cottage that was allotted to us was a few minutes walk from the parking area. Since it was raining furiously, the caretaker took us to the rear area of the property, had us crawl through the broken wires of a fence, walk through thick bushes and reach the cottage.
What we saw as soon as he opened the gates can only be termed as a disappointment at best. I think I have never seen a tourist property so badly managed. It felt like we had booked a Bhoot Bungalow for the weekend.
The furniture was so old felt like it was left there by the English in 1947. Taps and flush in the toilets were either broken, not working, or on the verge of collapse. The grass outside the cottage was I think cleaner than the carpet inside.
In short, it was a very poorly managed property which I think is because not many tourists come to Yusmarg. The ones that do make it only a day trip. It is very rare that someone stays here for the night.
The cottages I think were built here a few years ago but never renovated because Yusmarg never saw the expected boost in tourism.
The disappointment was visible on all of our faces. But there was nothing that could be done now. We had already paid for the cottage so might as well make use of the money since we were already there.
A Dull Day
The only problem was the rain. It just was not stopping and had us trapped inside our cottage.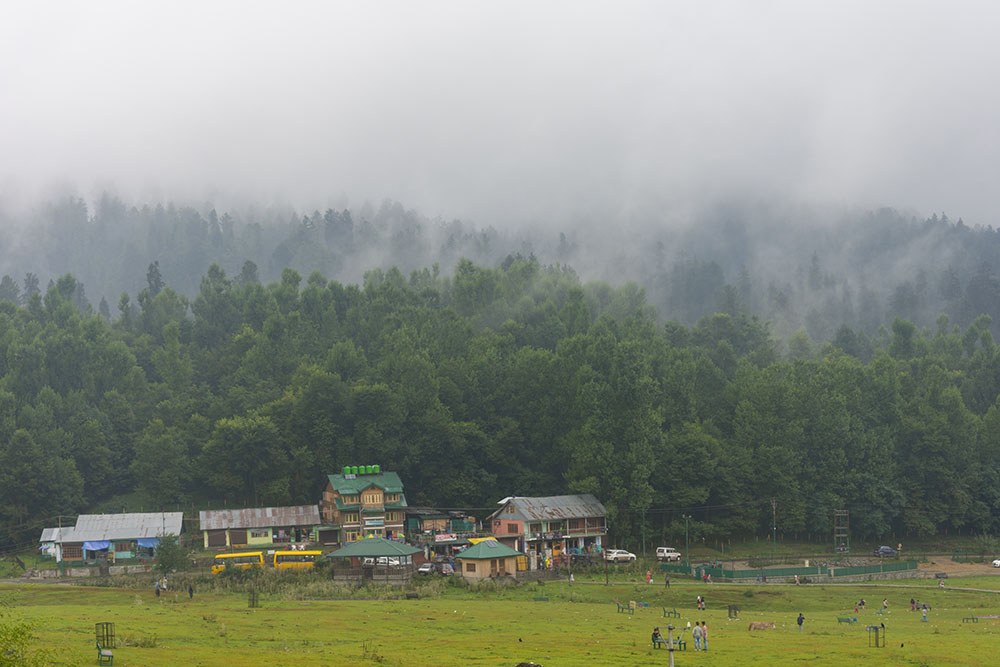 The entire day was spent like that. There was of course no TV there. The mobile network was intermittent and we had to actually walk to the balcony of the cottage next to us to get reception strong enough to make a call.
The Internet was of course not working. Mobile data was very weak. I tried sending some pics to my family on Whatsapp and even one picture was taking over 30 minutes to get sent.
So in short, it was an extremely dull day that was spent just sitting on the porch, staring into the rain. Our Srinagar to Yusmarg itinerary got limited to just enjoying the views.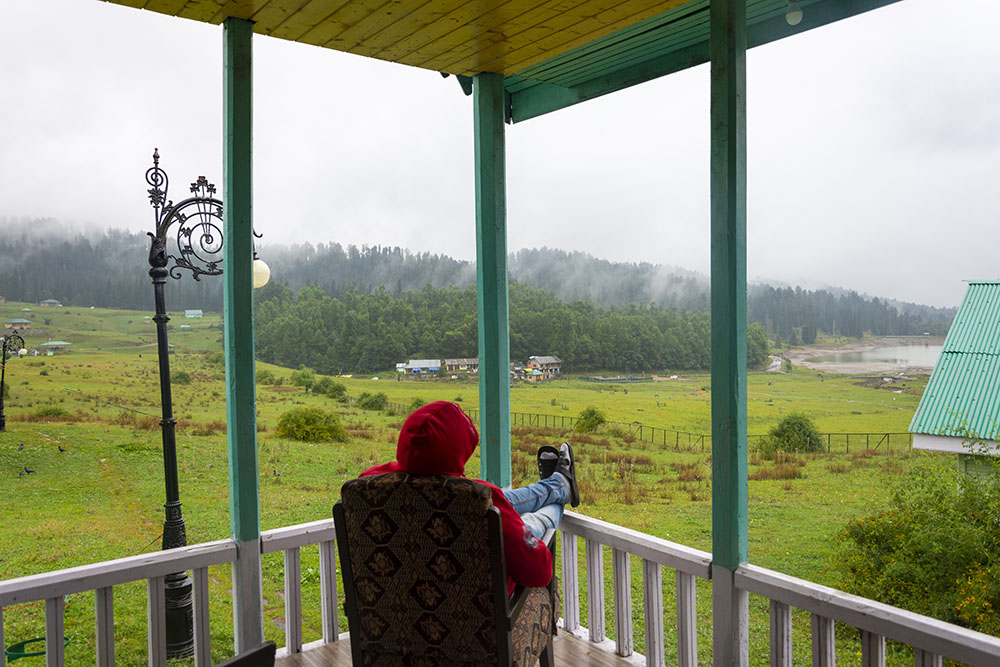 There was also an upside to all of this. Because of the rain and the weather, the entire scenery in front of our eyes turned heavenly. It was just so beautiful all around.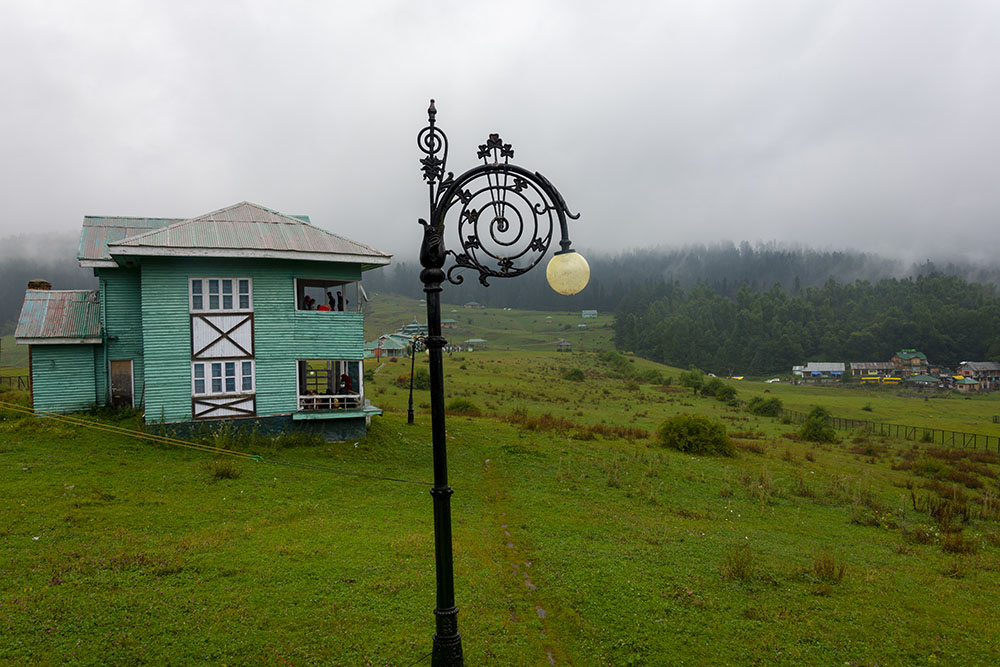 We stepped out to walk around every once in a while when the rain stopped, mostly it was to order tea or food. There was no intercom in the cottage so every time we wanted to order something, one of us had to run to the reception area.
It was located at the far end in the picture below.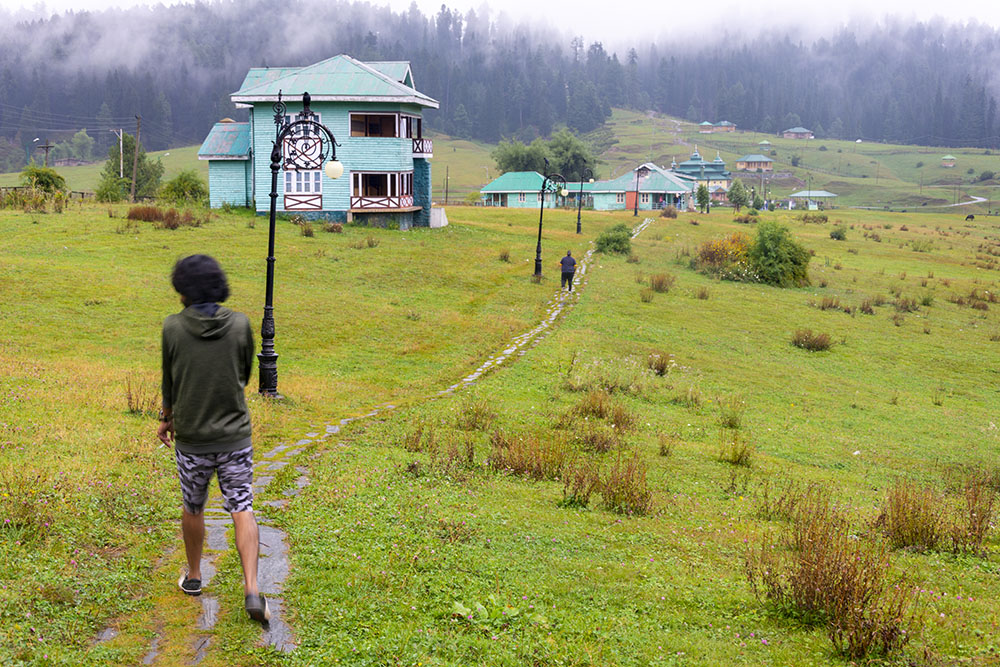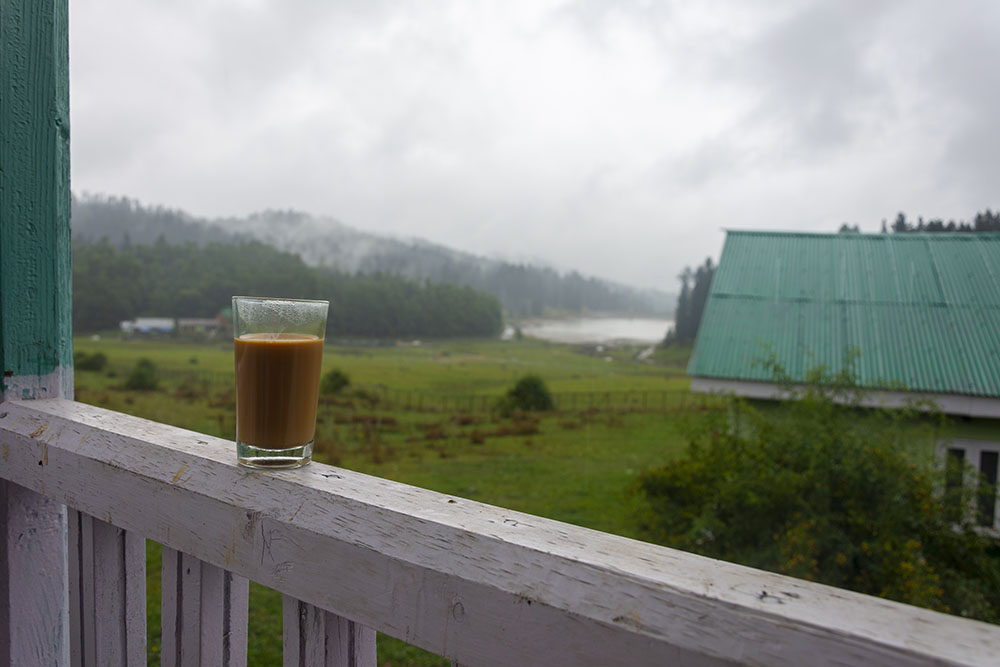 There were some other better-managed properties as well but they never rent those out to tourists. These properties are reserved for government officials only.
For a while, the rain subsided. We went out for a walk in the beautiful meadows. There was this small shop where we had some tea and maggie.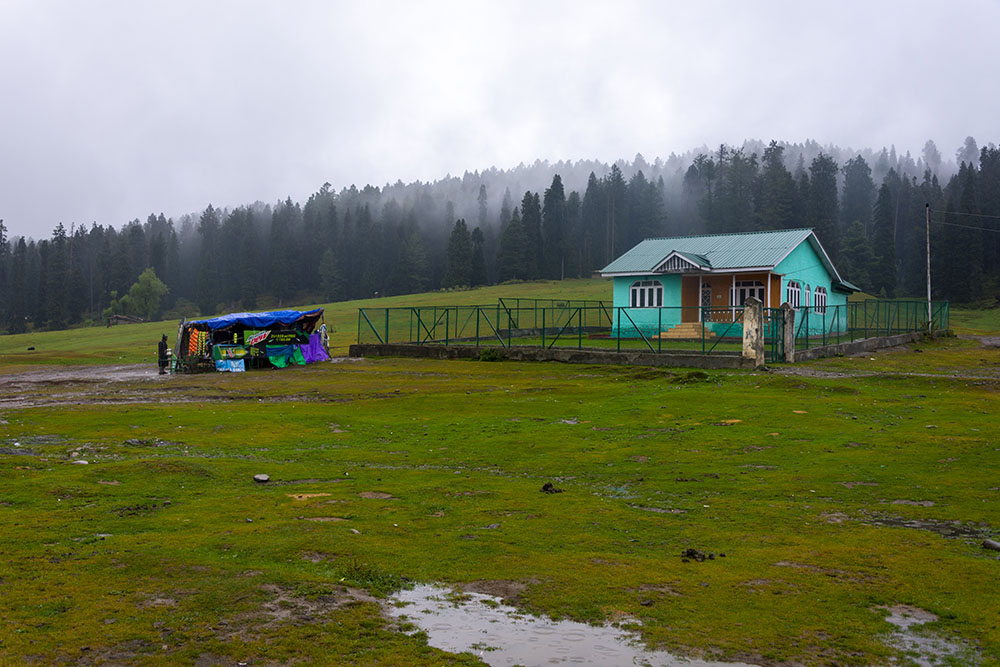 A Drive in Yusmarg
Cars are not allowed to cross the entry gate of the Yusmarg meadow. All vehicles must be left at the entry gate and then you can either walk down to the river or hire a pony.
But since we were staying for the night and the caretaker had to take us to the rear area of the property because of the rain, we were on the other side of the gate. If it wasn't raining, we would have had to leave our car in the parking area and walk to the cottage.
But since we were already in, we thought to make some use of it and drive around. We reached as far as the road went and took a short break here at this gazebo.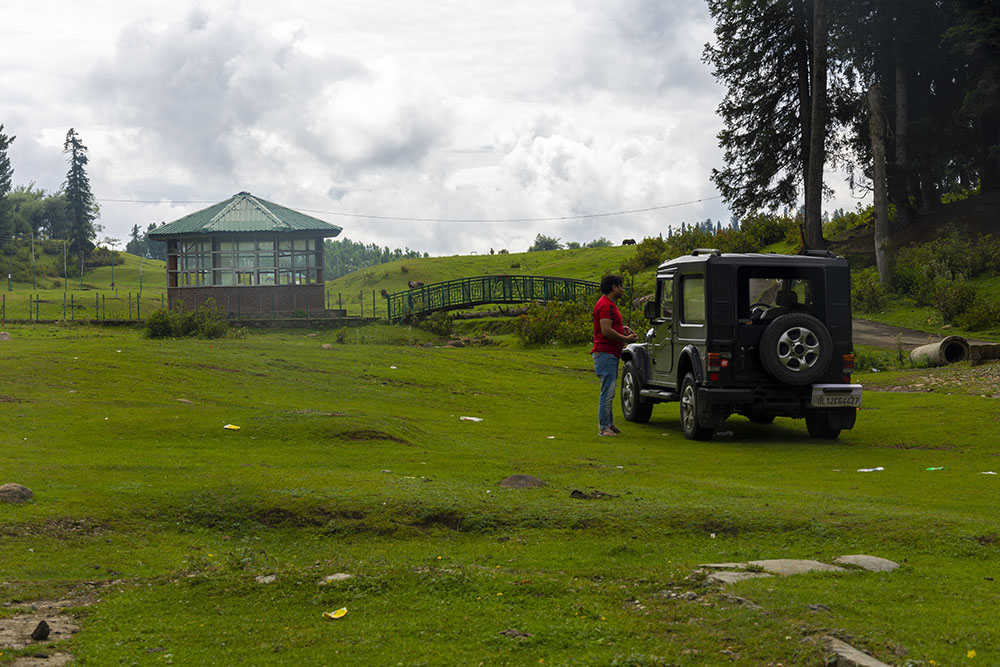 Soon it started to rain, once again, trapping us inside the gazebo.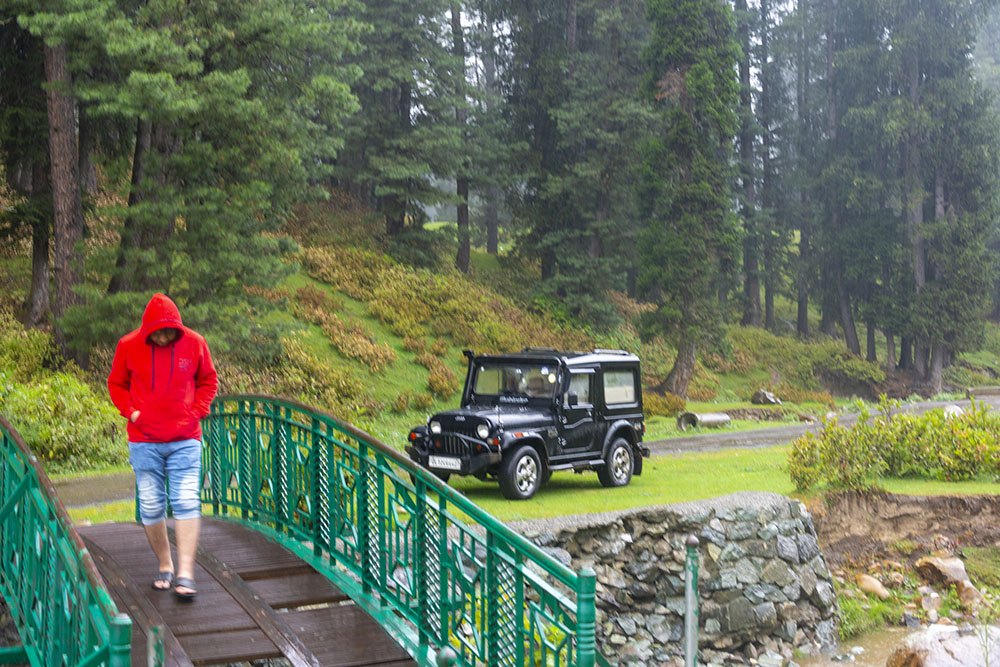 The entire day was more or less spent like this only, either sitting at the cottage or wandering around aimlessly. It continued to rain all day long until it started to get dark.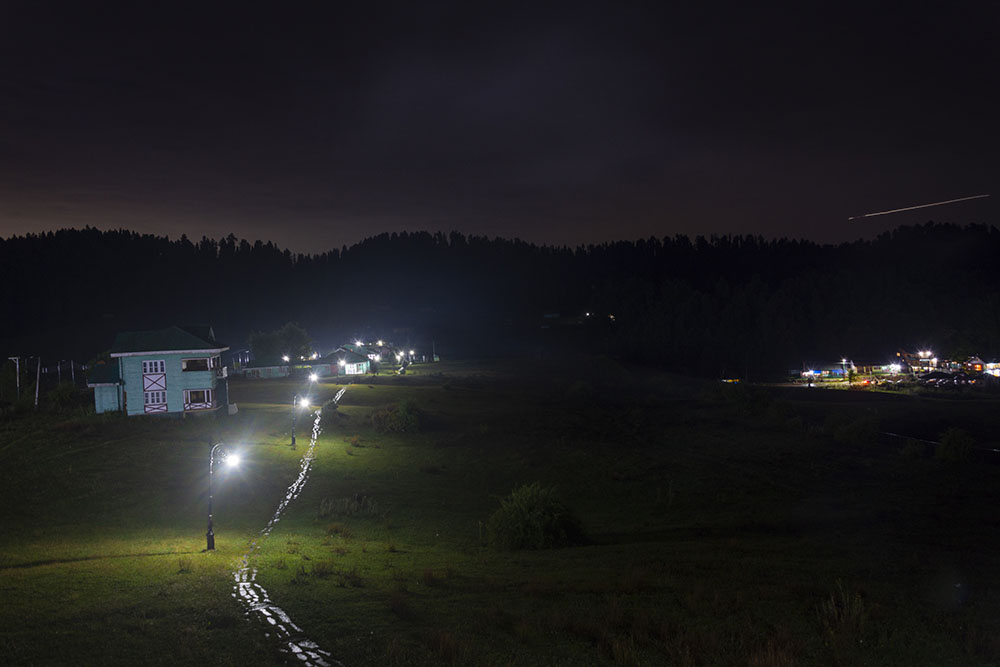 That is when we realized that Faisal was right. It was going to rain tomorrow as well and there is no way that we would be able to camp in Doodhpathri.
With a heavy heart, I called him in the evening and canceled the idea of camping. Now the plan was to drive to Doodhpathri tomorrow and then return to Srinagar by evening.
But that plan also changed at the last minute and we ended up spending our next night in Doodhpathri. Please click on the link above to continue reading the next part of the travelogue.
Srinagar to Yusmarg Itinerary – Conclusion
I hope the travelogue, pictures, and information on planning a Srinagar to Yusmarg itinerary were of help. If you have any questions, you can contact me on Instagram and I will be happy to answer. You can also consider subscribing to my YouTube channel and asking a question there.