I woke up by the sound of my alarm and looked at the watch. It was 4 am. The plan for this day was to travel from Jammu to Srinagar via Mughal Road. I knew that this was going to be a long journey and wanted to start as early as possible, hence the alarm for 4 am.
I got out of bed and looked outside the hotel window. It was pitch black all around. I turned around and looked at Maddy. He was still fast asleep, snoring away to glory. I was about to wake him up but then decided otherwise.
Maybe it was a little too early to start anyway. Maybe we should delay it by an hour. I picked up my cell phone, changed the alarm to 5 AM, and went back to sleep.
Journey So Far:
This article is in continuation with a previous one and is a part of my Kashmir trip log. Please click on the link above to read the part of the travelogue detailing our preparation and journey from Delhi to Jammu.
Jammu to Srinagar via Mughal Road
There are two ways that you can travel between Jammu and Srinagar. The first, preferred, and most traveled route is the Jammu Srinagar highway, via Patnitop.
The majority of tourists and travelers opt for this road and it remains open for all 12 months, barring occasional temporary road closures caused by snowfall in the winter season or landslides in the monsoon season.
There however exists another route that is actually way older than the famed Jammu-Srinagar highway. It runs from Jammu to Srinagar via Akhnoor, Rajouri, Bafliaz, Peer ki Gali Pass, and Shopian.
This pass can only be traveled between April to September and remains closed during the winter season.
Mughal Road is a part of this route. The 98 kilometers long stretch between Shopian and Bafliaz across Peer ki Gali Pass is known as Mughal Road.
This is the route that Mughal emperors, army, and traders in ancient times took to reach Kashmir from Delhi or other parts of the country.
To read more about it in great detail, please take a look at How to Plan a Trip on Mughal Road. If you would like to hear me talk about this route and also see a video of it, please take a look at my YouTube video at the link below.
Good morning Jammu
My alarm went off again at 5 AM. For a moment, I thought to push it again by an hour and change the time to 6 AM. The last day's long journey from Delhi to Jammu was a tiring one and was urging me to go back to sleep.
To add to it, I was up for almost 30 hours when we arrived in Jammu the day before.
My body was crying out loud that it wasn't rested enough and that I should catch some more sleep but I decided otherwise and got out of bed.
The next hour was spent getting Maddy out of the bed, freshening up, packing and loading our luggage in the car, and checking out of the hotel. By 6 AM, we drove out of the hotel's gate.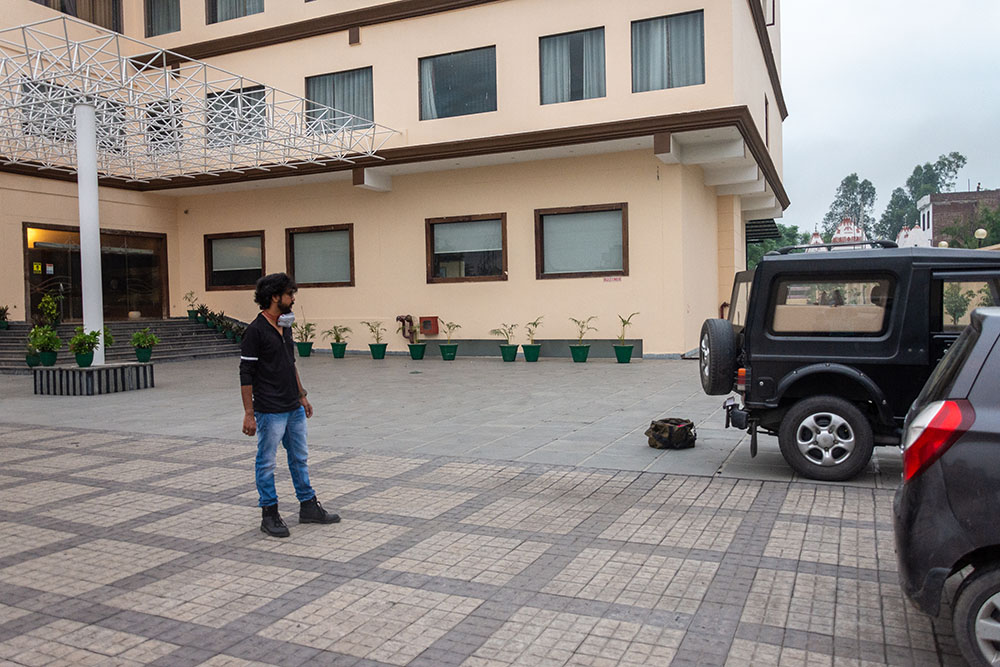 I had been on Mughal Road before but never in its entirety. The first time I attempted it was a few years ago and had to return from Rajouri after I got word from a friend that the road ahead was closed. Locals that I asked on the way also confirmed the same.
The second time, we rode from Srinagar to Peer ki Gali but that was just a short trip and the idea was to only go to Peer ki Gali, not cover the entire route.
So this was the first time that I was going to cover the entire route and was very excited about it.
Also Read: How to Plan a Trip to Kashmir – A Complete Travel Guide
Jammu to Akhnoor
The first destination for the day was Akhnoor. It was still very early and the traffic was sparse. Once out of the hotel, I turned on Google Maps to navigate through Jammu to Akhnoor but was surprised to see that there was no internet.
I had absolutely no idea why since I had a postpaid connection and the phone was working fine.
It never occurred to me to check if the mobile data was turned on or not. This is something that I noticed later in the day that it was in fact turned off and that is why there was no internet.
Anyway, with no Google Maps to guide, the first 10 minutes of the journey were based on guesswork. Maddy's phone was anyway not working since he had a prepaid connection.
Luckily, shortly after we started from the hotel, I got a call from Jitender Pathania asking me to stop the car. He was right behind us on our tail.
Jitender was a local from the area and even had relatives living on Jammu-Akhnoor Road. He knew that I was going to travel toward Akhnoor this morning and as fate would have it, he also happened to be going in the same direction.
He in fact had checked at our hotel as well first but we had already checked out by then. Luckily, we were not too far ahead and he caught up with us.
This was really a blessing in disguise. For the next 30 minutes, he became our navigator. We followed him through Jammu and he guided us all the way to Akhnoor.
A journey that could have taken much longer was completed with no trouble at all and by 6.45 am, we were having breakfast at a Dhaba near Akhnoor.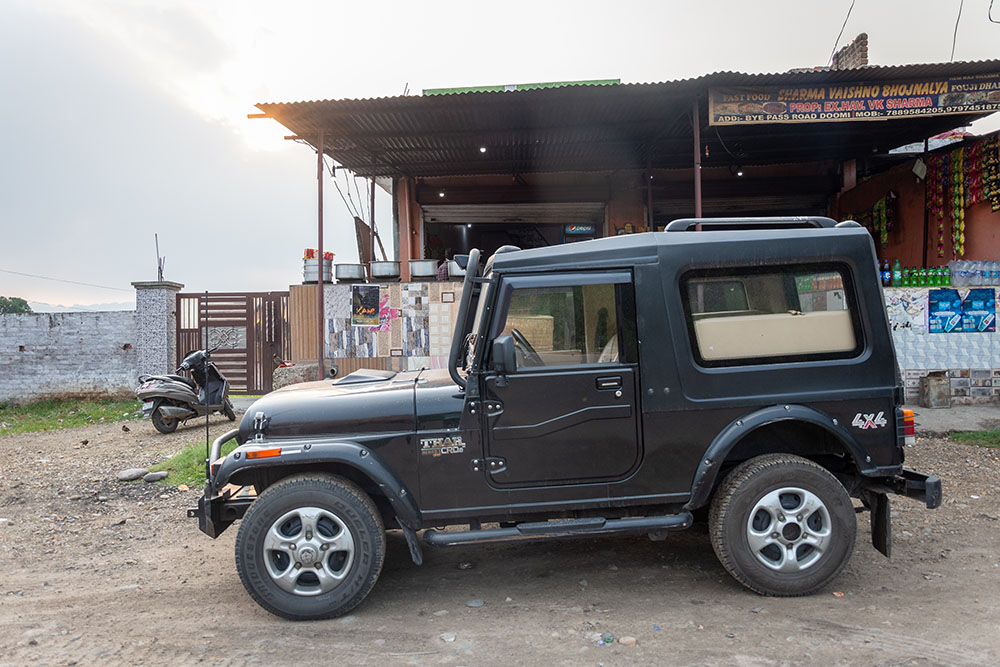 Setting up the GoPro
This trip was the one when I actually decided to start Vlogging as well. I created a YouTube channel several years ago but never really got the time to post videos as well of my trip.
This time, however, at the urging of a few friends, I decided to give this a try and even bought a new GoPro just before the trip.
So far, the GoPro has remained inside the box. It was at the Dhaba at Akhnoor that we finally set it up on my Car's bonnet so that we could also shoot a video of the route. This trip was also the one when I finally decided to get active on Instagram.
With the GoPro cam firmly fixed on the car, we started on our journey toward Rajouri. The distance between Akhnoor and Rajouri is about 120 kilometers.
The owner of the dhaba told us that it will take only about a couple of hours to complete since the road is in good condition. As we were to learn later, this information was not even remotely correct.
Akhnoor to Naushera
The road between Jammu to Akhnoor is not in a good condition at all. There is a lot of construction work going on en route and with the traffic added, this 30 kilometers can take a long time. I will strongly recommend that you start from Jammu as early as possible to avoid any traffic and delay.
After we crossed Akhnoor, the first 50 kilometers of the journey to Sunderbani was a mix of average and bad roads. It is a single-lane road so you can never really speed up. Some stretches in between are really bad that can limit your speed.
After Sunderbani, the road conditions improved tremendously and soon we crossed Naushera.
Naushera to Rajouri
The road condition remained to be good even after Naushera. But the single-lane road and two-way traffic kept our speed limited.
At around 11 am, we reached Rajouri, taking us 4 hours to complete 120 kilometers, as opposed to the 2 hours that the Dhaba owner told us.
There is not really much to write about this part of the trip. The drive was somewhat monotonous. We crossed several small villages of Kashmir and tried to keep our breaks limited.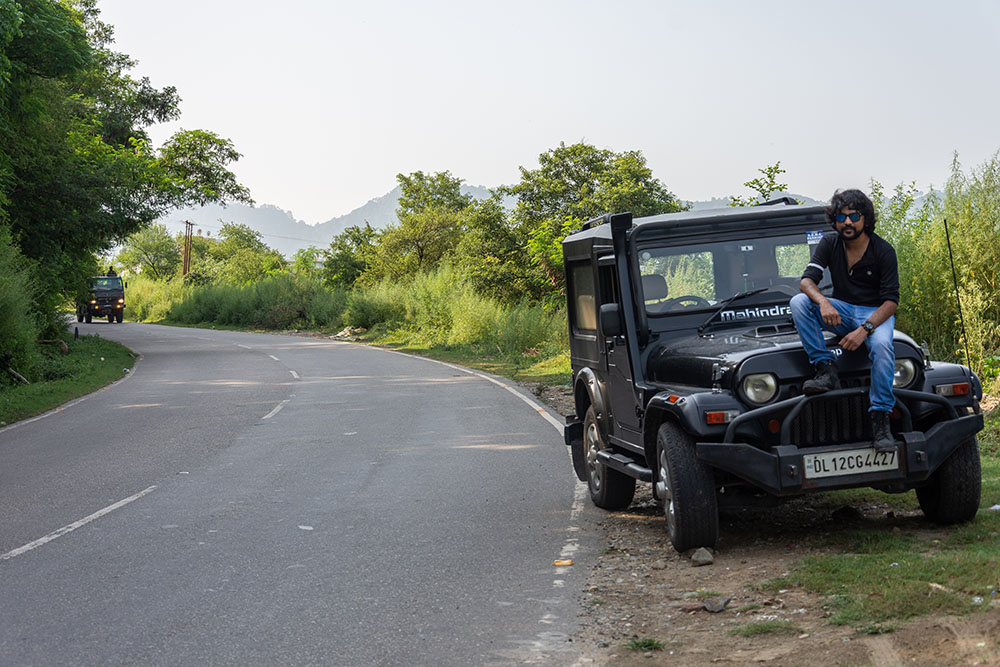 Aharbal is a small village located near Shopian and the place is best known for its beautiful waterfall. I had been to Aharbal waterfall once before and since we were anyway going via Shopian, I wanted to visit it again on the way.
So this was really important that we have enough time in hand and that is why we tried to limit our breaks as well.
Rajouri to Thanamandi
All plans however went down the drain as soon we reached Rajouri. The road condition went from good to nightmarish in a split of second.
It was a badly broken dirt trail with potholes large enough to swallow a truck. What surprised me the most was that Rajouri is actually a fairly large town and such terrible roads did not make sense at all.
We literally crawled through Rajouri. The speedometer needle was not even touching the 10 kms mark at some places. That is how slow we were going. It remained so for the next 22 kilometers until Thanamandi.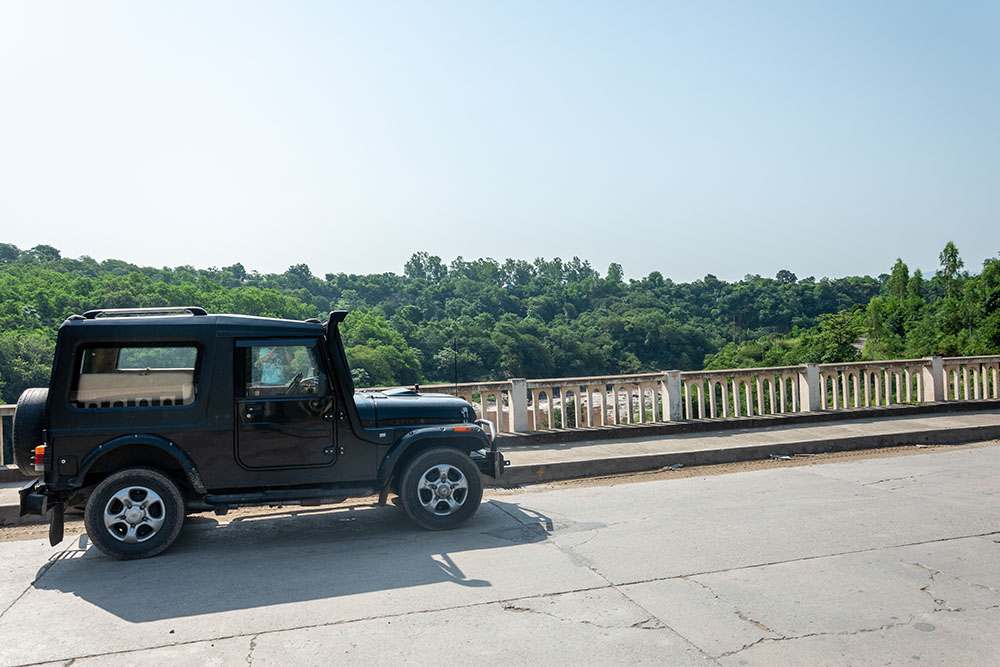 Thamandi to Bafliaz
The road condition improved after Thanamandi but it became very narrow all of a sudden. From Thanamandi to Bafliaz, it is a narrow section of the road for about 8 kilometers that is also very steep with a lot of twists and turns.
Here as well, our speed remained limited. Finally, we made it to Bafliaz Bridge at around 2 pm.
Between Rajouri and Bafliaz, it took us almost 3 hours to cover, with a few breaks to relax our aching butts and legs.
Bafliaz to Peer ki Gali Pass
The scenic part of the journey starts after the Bafliaz bridge. Between Jammu to Bafliaz, the scenery is ok but nothing spectacular. There are no good views as such that will force you to stop and gaze. But after Bafliaz, you are in for a treat.
Peer ki Gali is the only pass located on Mughal road. It gets buried under several feet of snow in the winter season forcing the Mughal road to get closed for a few months. The top of the pass is about 58 kilometers from Bafliaz Bridge.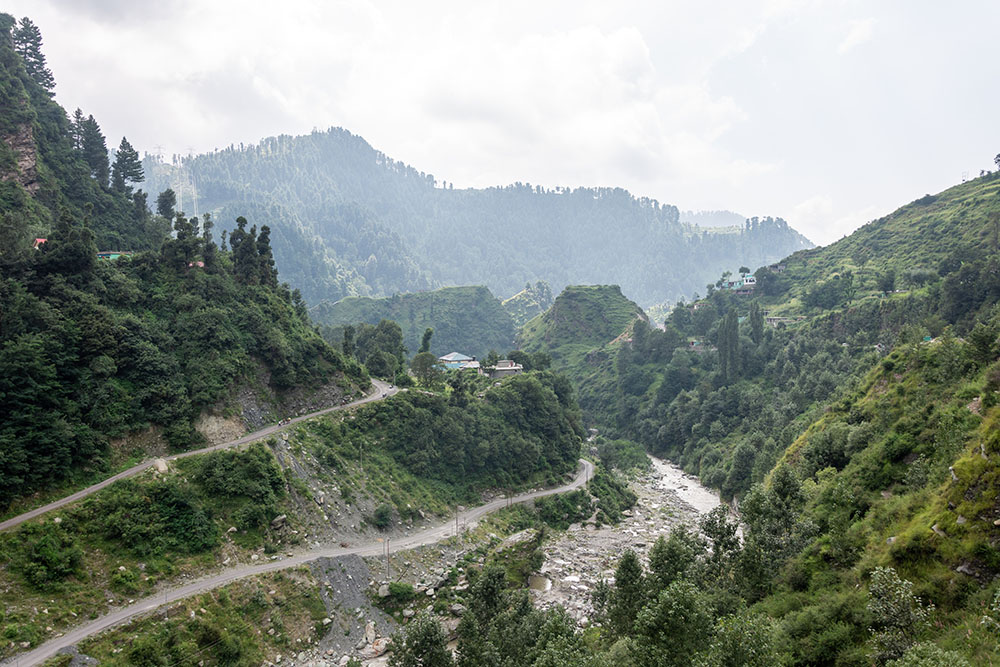 There are a few bad short stretches in between but for the most part, the road is in good condition. We took our lunch break at a dhaba on the way. I forgot its name but the food they served was really delicious.
Peer ki Gali to Shopian
We reached Peer ki Gali by 4 pm and took a break. The first thing to do was to drink Kahwa at the Mazaar. I am not really sure if it's Kahwa they serve because it is very different than the usual Kahwa you drink elsewhere in Kashmir.
During my last trip to Peer ki Gali, there was hardly anyone around but this time, there were a lot of people at the Mazaar. We in fact had to get in a queue to get a cup of Kahwa.
After spending some time at the top, we started on our way to Shopian. Saw this beautiful waterfall on the way and decided to take a photography break.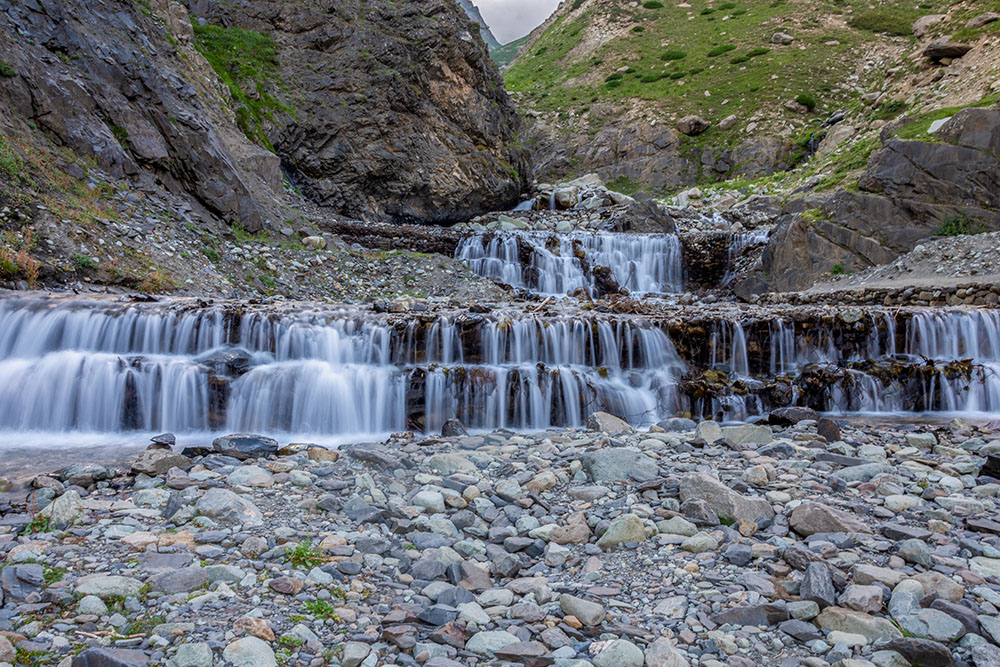 The was now setting down fast and I knew that a visit to Aharbal would now have to be left out. By the time we reached Shopian, it was already 6 pm and the sun was starting to set.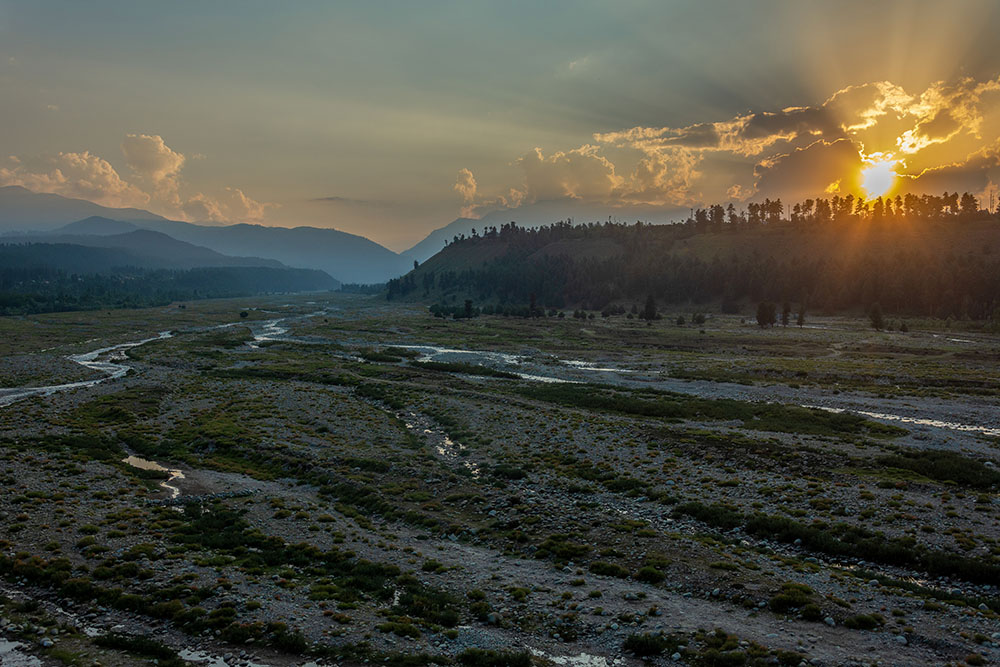 Shopian to Srinagar
Surprisingly, it was the journey from Shopian to Srinagar that tired us the most. We encountered heavy traffic on the route and it remained to be so until Srinagar.
The single-lane road ran through places like Pulwama and Nowgam and with two-way traffic, it took us over 3 hours to finally reach Srinagar.
What surprised me the most on this stretch was the way Kashmiris drove. It was like no one had road sense or traffic sense at all.
Anyone would stop just about anywhere, with no respect for the traffic. Everyone had their headlights on high beam and it almost drove me crazy tackling the traffic on this stretch.
Jammu to Srinagar via Mughal Road Distance
The entire distance between Jammu to Srinagar via Mughal Road is about 330 kilometers. It took us about 15 hours to complete this journey even though we kept our breaks limited.
Srinagar
Anyway, we arrived in Srinagar and drove straight to Grand Valley Inn near Dal Lake, the hotel that we were going to be staying at. The owner of the hotel had already called me twice before in the day to inquire where I was and greeted us at the hotel.
We happened to be the only guests in the hotel at that time. The first thing that we did after checking in was to check the internet's stability and speed.
We were going to be also working from Srinagar from Monday to Friday and will only have weekends to explore.
So it was of utmost importance that the internet remained stable. Thankfully, it was an Airtel Fiber connection with 100 Mbps speed, more than sufficient.
The day was long, tiring but rewarding as we covered one of the most beautiful routes in all of Kashmir. We freshened up and stepped out of the hotel to get something to eat but I already knew that it was a bit too late.
It was close to 9.30 pm and most of the shops in Kashmir would close by this time.
We only found a vegetarian restaurant open and on his recommendation, ordered a couple of Kashmiri Dosa. Yes, they have a Kashmiri version of Dosa over there. It was nothing great though. You can try it out but I didn't really like it.
We returned to the hotel, crawled under the blankets, and called it a day, ending our journey from Jammu to Srinagar via Mughal road. The plan for tomorrow was to do some local sightseeing. Please click on the link above to continue reading the next part of the travelogue.
Jammu to Srinagar via Mughal Road – Conclusion
I hope the travelogue, pictures, and information on Jammu to Srinagar via Mughal Road were of help. If you have any questions, you can contact me on Instagram and I will be happy to answer. You can also consider subscribing to my YouTube channel and asking a question there.