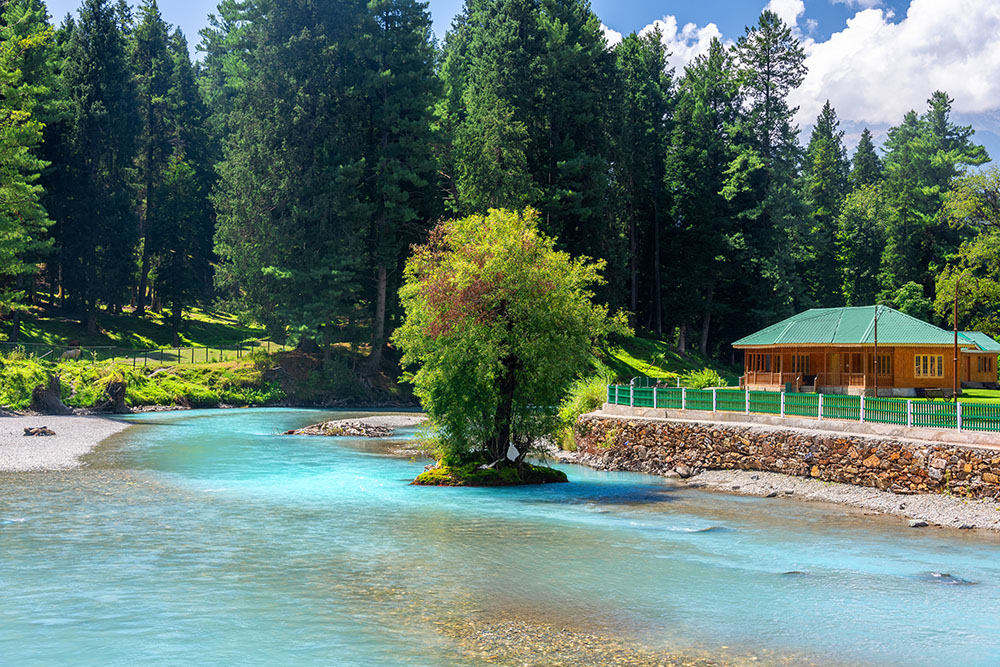 The distance from Pahalgam to Betaab Valley is merely about 7 kilometers. The journey can easily be completed in about 15 to 20 minutes on a narrow, steep but tarred road. The route passes through a dense jungle and the only people you come across will either be the tourists or the local shepherds.
It was my first time in Betaab Valley and I really had no idea about what to expect. All I knew was that the place was among the top tourist destinations of Pahalgam and almost everyone who comes this way goes to Betaab Valley.
We drove up the winding road and gained height significantly in a short period of time. Lidder river was flowing down the mountains, and through the forest, and was a charming sight. The views overall were great.
Journey So Far:
The only painful thing was the harsh sun. It was the month of September and I couldn't believe how hot Pahalgam was. We could barely stand in the sun for 5 minutes before starting to look for shade.
You can also take a look at the video below of our trip to Betaab Valley.
About Betaab Valley
I think there are two things that make Betaab Valley famous. The first is its name. It just sounds a little intriguing and exotic. When one starts to search why is it called that, one will find out about the Sunny Deol starrer movie Betaab which was shot here. That is the second reason.
Betaab Valley Original Name
The real name of Betaab valley was Hagan Valley before it was chosen as the preferred spot for shooting Betaab in 1983. The movie went to be a hit and the song 'Jab Hum Jawan Honge' gained even more popularity than the film itself.
In popular culture and I think also to attract tourism, the valley itself got renamed after the film. The name Hagan was almost forgotten and everyone started to call it Betaab Valley.
So what exactly is Betaab Valley then? With no effort to glorify it, like you would find many other internet posts trying to do, it is basically a meadow that has now more or less taken the shape of a large park. The picture below should give you an idea.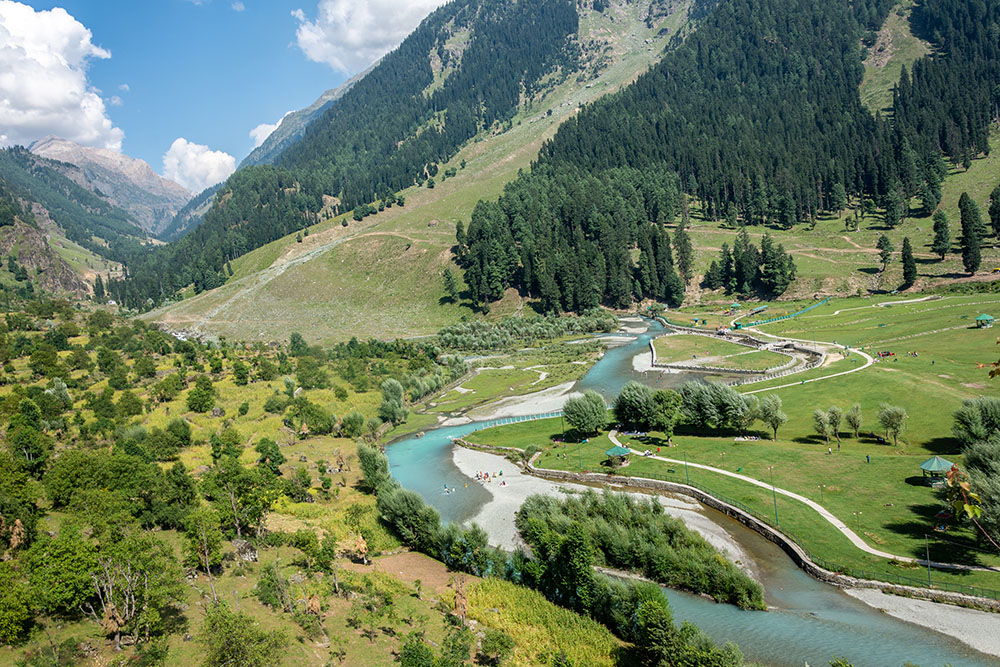 How to reach Betaab valley from Pahalgam
Betaab Valley is well connected to Pahalgam and can easily be reached by road if you were traveling in your own vehicle. There are no buses or shared cabs available. So if you were not in a vehicle of your own, the only other option is to rent a private taxi in Pahalgam.
The important thing that you should remember is that a taxi from Srinagar will only drop you in Pahalgam. It will not take you anywhere for sightseeing in Pahalgam, like Betaab Valley, Chandanwari, or Aru Valley. For that, you will have to rent another taxi in Pahalgam.
Pahalgam to Betaab Valley Taxi Fare
A taxi from Pahalgam to Betaab Valley will cost you anywhere between Rs. 1000 to Rs. 1500 for a return journey. For more details, take a look at Local Taxi Rates in Pahalgam.
The local taxi union of Pahalgam does not allow the Srinagar cabs to take tourists sightseeing to any of the nearby areas and that is why you will need to rent another local cab.
Srinagar to Betaab Valley
The total distance from Srinagar to Betaab Valley will be around 120 kilometers, depending on where you started from in Srinagar. The journey will take anywhere between 4 to 5 hours.
A lot of people make a day trip to Pahalgam. They start early in the morning, and drive all the way to Chandanwari while crossing Pahalgam and Betaab Valley on the way.
On their way back, you can also take a detour and visit Aru Valley. But do keep in mind that this will be a rushed trip and most of your time will be spent on the road, moving from one place to another.
A better way will be to plan at least one night's stay in Pahalgam.
Distance Chart
Pahalgam to Betaab Valley Distance: 7 kilometers
Betaab Valley to Aru Valley Distance: 19 kilometers
Betaab Valley to chandanwari Distance: 9 kilometers
Srinagar to Betaab Valley: 120 kilometers
Betaab valley Exact Location
After about 45 minutes of driving, with a couple of short photography breaks in between, we arrived at Betaab Valley. At first, I had a little trouble locating it.
I was expecting the views to suddenly open and turn from a forest to a vast meadow but that never happened. Instead, what we reached was an entrance gate to a park or zoo-like area.
The narrow path to the gate bifurcates from the main road to the right and is a steep downhill drive. I didn't realize that it was Betaab Valley and we in fact drove a few meters ahead.
But then we noticed all the other tourists driving down that narrow path and a few other cars coming up. That is when we realized that it was in fact the entrance to the valley. We took a U-Turn, drove down the path, and reached the parking area.
Also Read: How to Plan a Trip to Kashmir – A Complete Travel Guide
So-Called Guides
As it happens pretty much everywhere in Kashmir, before we could even step out of the car, we were already surrounded by 3-4 so-called guides. By now, we all knew that the best way to deal with them was to just ignore and that is what we exactly did.
We started walking to the entrance gate. The guides started following. Offers were made to show several viewpoints that no one knew about. We politely refused and started walking.
The guides gave up but soon there were other people following. Some were trying to sell something, others asking for money, and a few others with animals like rabbits and birds in their hands, offering us to click photos with their pets.
The huge DSLR hanging around my neck attracted them even more.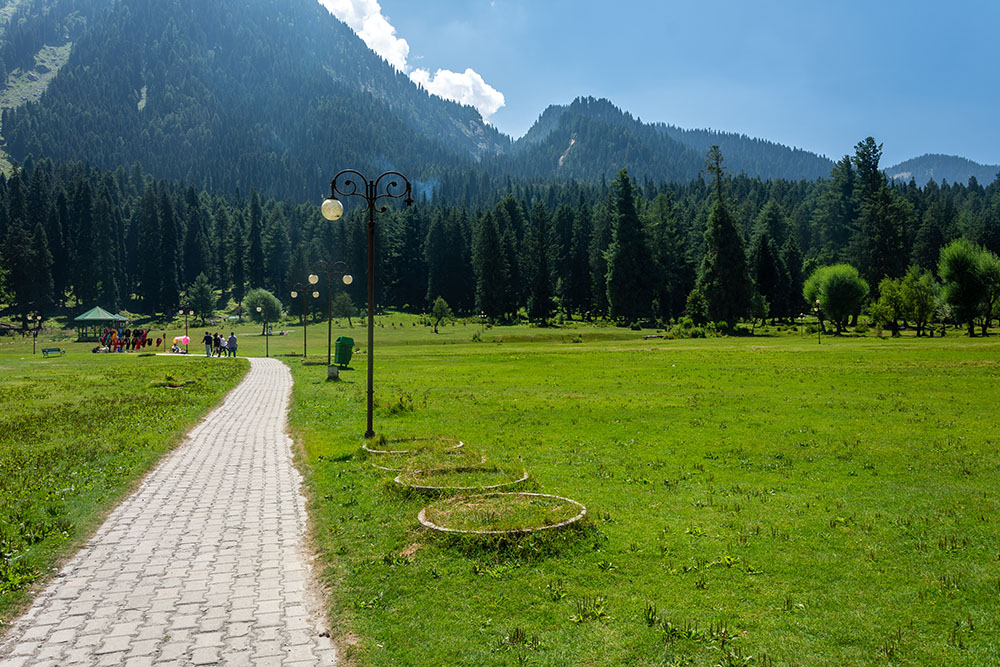 Betaab Valley Entrance Fee
There is an entrance fee of Rs. 100 for Betaab Valley. This amount is different than what you will pay for the parking, which I think was Rs. 50 for a car and Rs. 30 for two-wheelers.
Betaab valley tickets price baffled me a bit. I mean, you do not expect to buy a ticket to see a mountain, a river, or a valley.
But that is what exactly happened and by now, I was quite sure that the place was over-rated and just hyped because of the movie. Much like the rest of Pahalgam, I knew it was not going to be anything spectacular.
A Walk in the Valley
Nonetheless, we bought the ticket and started walking on the path into the valley. Contrary to our hopes, what we reached and entered was actually a park.
It must have been a meadow or a valley once upon a time but after the place started to attract tourists, authorities fenced it and developed it into a park.
There were families picnicking, kids playing around, and stalls selling tea and coffee. Do not get me wrong. It was still all beautiful, not just what I was expecting.
The place still had a charm of its own. It was surrounded by mountains, and a dense forest, and the curves of the beautiful Lidder River were adding to the overall beauty and the charm.
It was mid-day and the sun was painfully harsh. Even the photos I clicked at that time did not turn out to be that great because of the sun. The pictures that I am sharing here actually do not do justice to the place.
More people followed us, trying to sell items like shawls, saffron, and whatnot. There were two things I noticed at that time.
The first was that about 90% of the tourists in Betaab Valley at that time were the local Kashmiris. Only a handful of people were non-Kashmiris. The second thing was that the sellers were specifically targeting the non-Kashmiri people.
Things to do in Betaab Valley
There is not really much to do in Betaab Valley. It is in itself a tourist attraction of Pahalgam and a fenced park. The only thing to do is just to sit down, relax, click a few pictures and spend some time in peace. It is a perfect place to visit with your family and kids.
It kind of reminded me of places like India Gate in Delhi which you visit in the evening to have a good time with your family, have some ice cream, sit down on the grass, talk and have a few laughs.
The pony owners and the guides will approach and offer to show you some other spots. If you were up for walking and or a pony ride, you can try that. I already knew that most of what pony owners offer is just a scam.
They just take you through the forest, give you a view of the valley from certain spots and then bring you back. I think there is a waterfall nearby in the forest but I cannot confirm it. A couple of guides mentioned it but I never took them up on their offer.
Best Time to Visit Betaab Valley
The best time to visit Betaab Valley is the months of April and September. This is when the valley is lush green. But irrespective of the month of travel, you should try and be there either in the morning or a little late in the day.
Why am I saying that? It is because of the harsh sun. The place is at an altitude and it gets surprisingly hot. If you were staying in Pahalgam for a day, plan your trip in a way that you are there in the evening. I think you will like it better then.
Betaab Valley in Winter
Betaab valley remains open in the winter season as well. The road from Pahalgam to Betaab Valley is steep and also narrow. If there was heavy snow, it may even get closed completely.
Authorities try to keep it open and clear the snow but during the peak winter, it does get closed for a while in January and February. In March, it remains open and you will definitely find snow there.
In the months of November and December as well, the valley remains open. But it may get closed towards the end of December if it was snowing heavily.
In April, the valley definitely remains open but there may not be any snow left.
Betaab Valley Opening Hours
Betaab Valley is open from 8 am to sunset. You will find posts reading that it remains open till 8 pm but I do not think you should do that.
You anyway have to drive through the forest on a narrow road to get there from Pahalgam. So it is better to be on your way back and reach Pahalgam before it got dark.
Betaab valley Hotels
There are no hotels near or in Betaab Valley. The nearest hotel is in Pahalgam only.
So, coming back to the story, we walked around a bit, clicked a few photos, and were done in about an hour. There was really nothing else to do and nowhere else to go.
We were all hungry by now. There was a tea and coffee stall that we noticed and Maddy suggested that we should go and get something to eat there.
I on the other hand noticed that the place was surrounded by people trying to sell tourists several items. I knew that it will be tough to sit there and eat in peace. So I suggested that we step out and eat at another tea stall near the parking area.
But Maddy liked that place better and wanted to sit there only. So I agreed. We ordered some tea, coffee, a cup of Kahwa, and Maggie. Just as I anticipated, within minutes, we were surrounded by 3 or 4 people, either trying to sell us stuff or asking for money.
The next 15 minutes were spent us trying to ignore them and eat in peace and the sellers continuously nagging us to buy something from them. As soon as Maggie was done, we picked up our tea and coffee cups and walked away from that place as fast as we can.
Car Problem
We came to the parking area and got inside our car, which was hot as an oven by now. The next destination was Chandanwari. I turned the key in the ignition. The car sputtered and coughed but refused to come to life. I tried again, and again but nothing happened.
I had no idea what suddenly happened. She was fine so far and gave us no trouble anywhere. There was no help nearby and the nearest mechanic was 15 kilometers away in Pahalgam.
I said a prayer in my heart and turned the key again. This time, the engine roared back to life and I sighed a breath of relief. I really had no idea what happened.
Was it because of the sun and the fact that the car was too hot? Was it the AC because it was turned on ever since we entered Pahalgam? Or was it something else?
Nonetheless, hoping that we will not face the problem again, we exited the parking area, came back to the main road, and started driving towards Chandanwari. Please click on the link above to continue reading the next part of the travelogue.
Conclusion
 I hope the travelogue, pictures, and information above on traveling from Pahalgam to Betaab Valley were of help. If you have any questions, you can contact me on Instagram and I will be happy to answer. You can also consider subscribing to my YouTube channel and asking a question there.