The total distance from Pahalgam to Chandanwari is about 15 kilometers in total. The road passes through a dense forest, beautiful valleys, and continues to climb steeply throughout its entire distance.
From Pahalgam, you will first arrive at Betaab Valley, after about 7 kilometers, and then continue driving up another 8 kilometers to arrive at Chandanwadi, where the road ends.
So what exactly is there in Chandanwari? A simple and honest answer to this question is nothing. There is actually nothing there except for a few tea stalls and dhabas. Chandanwadi is the starting point of the Amarnath trek and that is all it really is. The 15 kilometers journey, on the other hand, is really an experience in itself.
Journey So Far:
So why is it so famous then? That is because of the natural beauty around. The place sits in the middle of a forest, right next to the Lidder River.
The road from Pahalgam ends here and the trek starts. So a journey to Chandanwari is really just going as far as the road goes and enjoying the views on the way.
You can also take a look at the video below from one of my winter trips to Pahalgam. You can see how beautiful the place looks after the snowfall.
Betaab Valley to Chandanwari
We roamed around in Betaab Valley for about an hour. The sun was shining bright and it was surprisingly hot for Kashmir in September.
The moment we exited Betaab Valley and started on our way to Chandanwari, the AC in the car was switched on again. Yes, you read it right. We were traveling to Pahalgam in September and the AC in our car was turned on the whole time.
The road between Srinagar and Pahalgam is an excellent one. It is well-tarred, broad, and really a pleasure to drive on, except for the part in and around Anantnag.
On the other hand, the road between Pahalgam and Chandanwari is narrow and also very steep. It is tarred and good in condition but the narrow turns and twists can make the drive tricky at a few spots.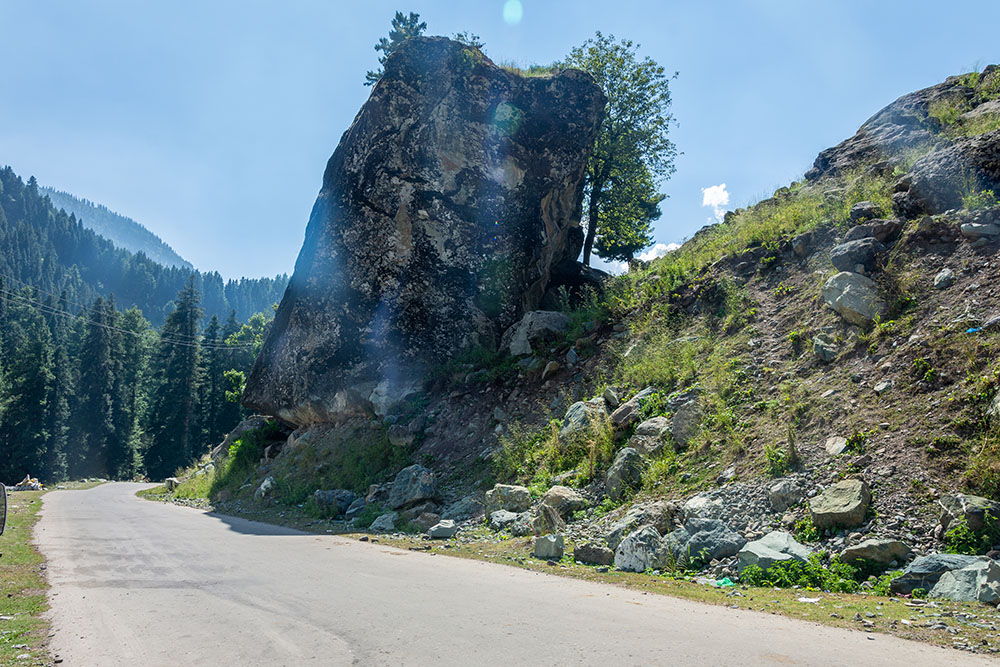 Chandanwari, as I mentioned, is the starting point of the Amarnath trek and different signs of it can be seen throughout the journey. The Yatra takes place in the months of June and July and that is when this place really comes alive with devotees and other visitors.
In September, it all seemed deserted. There was hardly anyone around except for a handful of tourists. Even the majority of the tourists return to Pahalgam from Betaab Valley and only a few go all the way to Chandanwari.
We did not take any breaks on the way and after a non-stop drive of about 20 minutes, we reached Chandanwari. The series of disappointments in Pahalgam continued here as well.
Also Read: How to Plan a Trip to Kashmir – A Complete Travel Guide
About Chandanwari
So let's first talk a little about Chandanwari and let me elaborate on why I said there is nothing here. When you read anywhere on the web or if you search for places to visit in Pahalgam, the name Chandanwari will always come on the top.
It is one of the two starting points of the Amarnath Trek, the other being Baltal near Sonamarg.
If you want to start the trek from the Pahalgam side, you will drive up to Chandanwari, start trekking, visit Amarnath Cave, and end the trek at Baltal. Or you can do it the other way around – start from Baltal and end at Chandanwari.
So the point where this road ends is marked by a few tea stalls and dhabas. I am sure that this area must be very crowded in the months of June and July but after the Yatra gets over, it all just looks very deserted.
Do not get me wrong. I am not saying that the place is not scenic because it actually is. It is just that after reading all the other articles on the web, my expectation I think was incorrect.
I was expecting it to be a valley or a meadow, like Gulmarg, Yusmarg, or Doodhpathri. But when the road abruptly ended at a few dhabas in the middle of nowhere, the only question I had in my mind was, "Is that it?"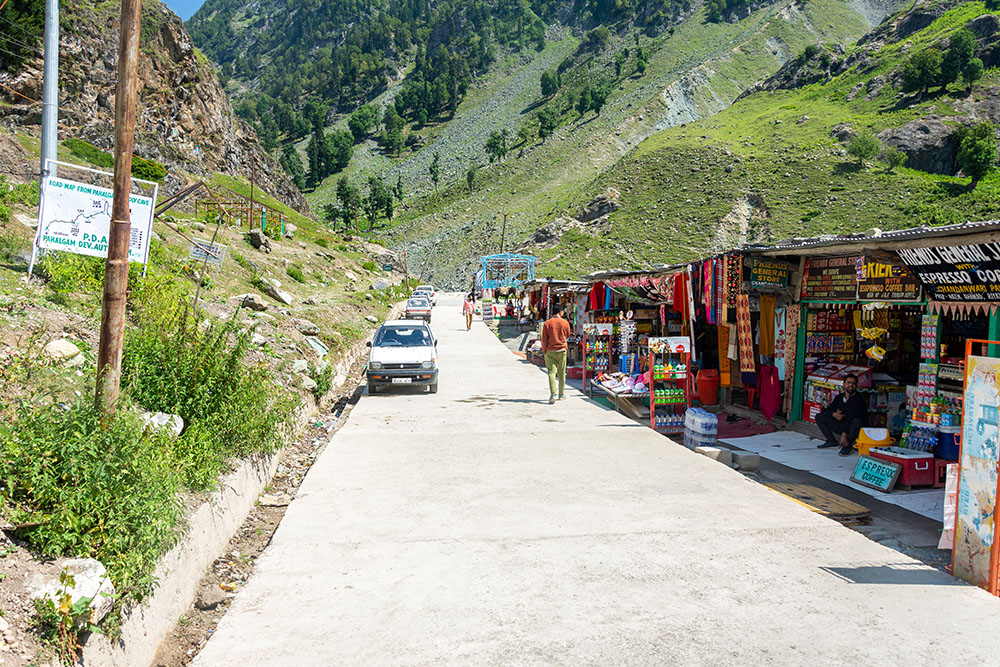 Betaab Valley to Chandanwari Distance
The distance between Betaab Valley and Chandanwari is 8 kilometers. This journey, in my opinion, is an even better experience than Chandanwari itself.
There are a few spots on the way that give an amazing view of the entire valley, thick forests, and snow-capped mountains in the backdrop with the Lidder River flowing down through the middle of it all.
Nonetheless, coming back to the story, we parked our car and stepped out. As expected, we were immediately surrounded by pony owners and the so-called guides.
For the next 10 minutes, we were continuously followed and repeatedly asked for hiring a pony and go for a sightseeing tour.
Some offered us a 6-point tour, others a 10-point tour, and a few of them wanted to take us to a waterfall. I already knew that all this sightseeing will be nothing but a pony ride through the jungle and that will pretty much be it.
So they kept asking and we humbly kept refusing. After 10 minutes, they left us alone and we found shelter in a tea shop. The disappointment was visible on all four of our faces, even though I was the only one who was vocal about it.
I think other than the place itself, it was the extreme heat and the harsh sun that were not letting us enjoy the journey properly. I ordered a cup of tea while the other three immediately asked for cold drinks.
Things to do in Chandanwari
Pony riding and photography are possibly the only two activities that you can do at Chandanwari. There is a small waterfall in the jungle somewhere nearby that the pony owners can take you to. I have never been there so I cannot comment on how big or small that waterfall is.
The road ends near the Dhabas but you can actually walk a little further to the river. Then along the river, you will see a set of steps going up which is where the trek starts.
If you were feeling adventurous and wanted to explore a bit more, you can trek a little further up. We were in no mood of walking up the hill in such heat. So we just clicked a few pictures and returned from that point.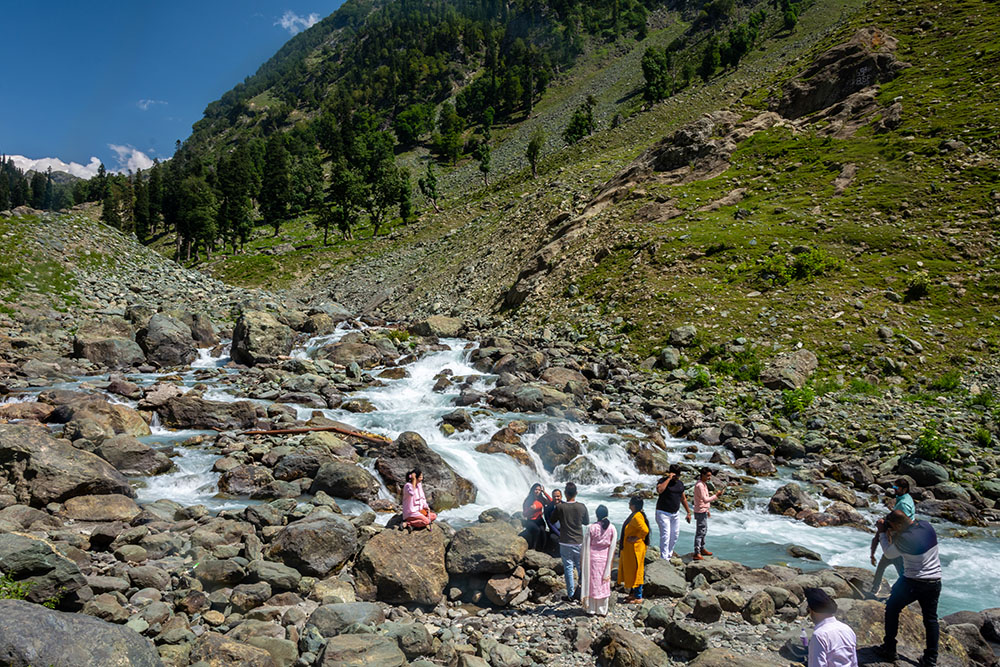 Chandanwari in Winter
Chandanwari remains closed in winter, in the months of December, January, February, March, and April. This entire road, as I mentioned, is a narrow one and gets blocked after the region starts to receive snow.
The snow-clearing operation is limited only to Betaab Valley and even that can sometimes get closed.
The road is not cleared of snow between Betaab Valley and Chandanwari. It is only after the snow melts in April that the road opens.
Depending on the weather, sometimes it can be in early April or sometimes as late as May. There have been times when it did not snow too much and the road was opened in late March.
We spent about 45 minutes in Chandanwari and not much happened. Shoaib, for most of the time, was just sitting in the tea shop, refusing to come out.
Maddy and I explored a bit more and clicked some pictures. Gunjit was more interested in what all the Dhabas were offering to eat.
A Cup of Kashmiri Tea
The only incident worth mentioning was when Gunjit ordered a cup of tea. The stall owner asked him if he wanted regular tea or Kashmiri tea. Gunjit did not know what Kashmiri tea was and he inquired about it.
The Tea-stall guy just replied saying that he will know only after he has had a cup of it. So Gunjit, excited to find out more, ordered a cup of Kashmiri tea.
I knew what was going to happen because the same thing happened to me in Doodhpathri during my first trip to Kashmir. I was asked to try Kashmiri tea and it just turned out to be a salty one.
Yes, the Kashmiri version of tea has no sugar in it but salt instead. I really have no idea how they manage to push it down their throats.
Anyway, I kept quiet and said nothing. I just wanted to see Gunjit's reaction which really was an amazing one. The poor guy said nothing but the very expression on his face was enough to make it clear that he hated it.
On the other hand, the tea-stall owner kept looking in his direction asking how it was. So he really had no choice but to actually drink it all and show his fake appreciation of it by smiling, no matter how much he hated it.
Chandanwari to Pahalgam
After spending some time at Chandanwadi, we started our journey back. I was praying for the car to not give any starting trouble as it did in Betaab Valley and thankfully, it did not.
We took a couple of breaks in between but could not really enjoy the views properly because of the heat and the sun. After a slow drive of about an hour, we reached back at our hotel in Pahalgam.
Not much really happened after that. The hotel we were staying at was right next to River Lidder. We found a spot from where we could reach a large rock right in the river.
We all climbed up the rock one by one and that is where we stayed until the sun went down, eating and chit-chatting.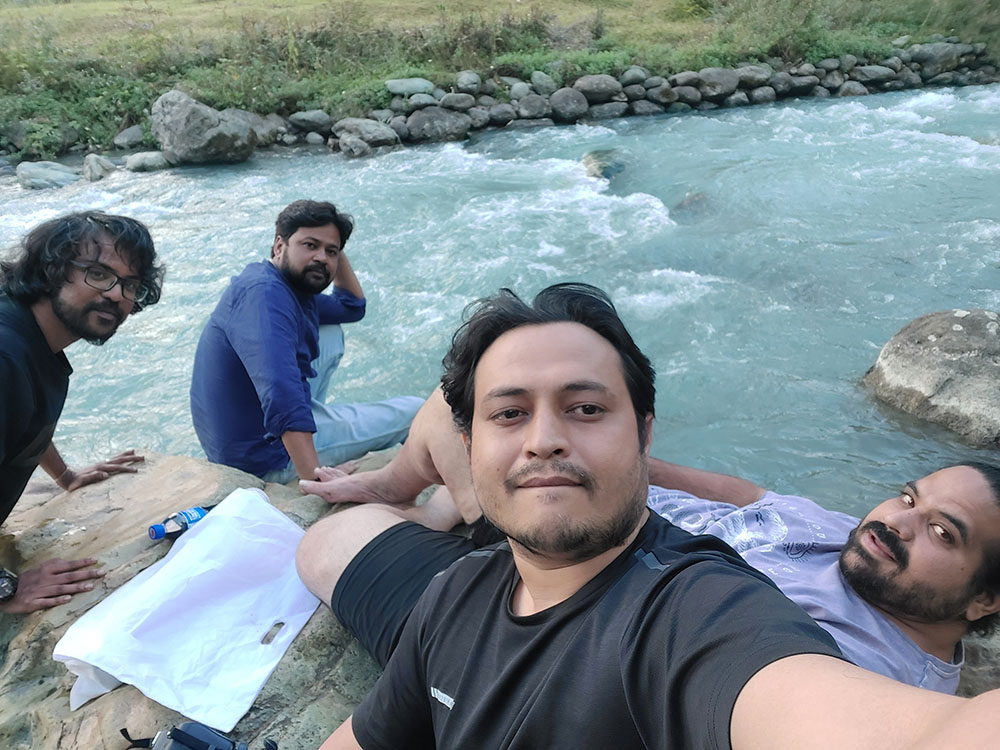 Change in the Plan
Now, this is when the plan started to change. We were scheduled to stay in Pahalgam for the next two days, Sunday and Monday, and go back to Srinagar on Tuesday.
But there was nothing to do. None of us liked Pahalgam that much and even if we stayed there, we would just be sitting inside the hotel.
The only two places left to see were Aru Valley and Baisaran Valley, both of which could be covered in a matter of few hours from Pahalgam.
The golf course was within a walking distance of our hotel. Another place to visit in Pahalgam is the amusement park but neither of us was interested in visiting that.
We all talked about what to do while sitting on the rock in the river. The unanimous decision was to go back to Srinagar the next day and then go to Gulmarg on Monday. Shoaib suggested it and the rest immediately agreed.
The Photography Incident
After it got a bit dark, I picked up my camera and tripod and went looking for a spot to get some long exposure shots of the river.
I walked through a patch of grass that was a bit wet and slippery. I could see the water flowing down through that area and walked through it very carefully.
Finally, I found a spot to get some pictures and clicked a few of them, like the ones below.
Now while going back, it was completely dark and I forgot about the slippery area on the grass. What happened next I guess was inevitable. A few steps later, I slipped and found myself flat on my back, in the mud and the grass.
The staff from the hotel and my friends rushed to my aid. It was not a terrible fall, just a slip so I was not hurt at all. My camera however went down with me in the mud and got covered in it entirely.
The lens, viewfinder, screen, buttons, nothing was spared. There was mud in everything.
So the next hour or so was spent cleaning the camera. No matter how hard I tried, I could not really get rid of the mud entirely. It was only after I came back to Delhi and got it serviced is when it was completely clean.
How to reach Chandanwari in Pahalgam
Let me now also give a few other details on Chandawari that can be of help to anyone planning a trip that way.
Pahalgam to Chandanwari Taxi Fare
We were traveling by our own vehicle but for anyone traveling by taxi, the important thing to remember is that your Srinagar taxi cannot take you all the way to Chandanwari. The locals in Pahalgam do not allow it.
A taxi from Srinagar can only bring you as far as Pahalgam. But for visiting places like Betaab Valley and Chandanwari, you will have to rent another taxi in Pahalgam. There is really no way around it and you will have to do it.
A taxi from Pahalgam to Chandanwari will cost anywhere between Rs. 1200 to 1800, depending on the type of cab, the time of your travel, and your negotiation skills. For more details, please take a look at Local Pahalgam Taxi Rates.
Bus Service
There is no bus service available on the route. In fact, there is no direct bus from Srinagar to Pahalgam as well. You will first have to board a bus for Anantnag from Dal Gate and then another bus from Anantnag to Pahalgam.
Likewise, there is also no bus available from Pahalgam for either Betaab Valley or Chandanwari.
Shared cabs are also not available. So hiring a private taxi is your only choice.
Srinagar to Chandanwari Distance
The total distance from Srinagar to Chandawari is 115 kilometers, depending on where you started from in Srinagar. If you wanted to make a day trip, you could do so but for that, start as early from Srinagar as possible.
For example, if you started at 7 AM, you will comfortably reach Pahalgam by 9.30. You can then cover Betaab Valley, Chandanwari, and Aru Valley in a few hours. By 4 or 5 PM, start your return journey and be back in Srinagar by 8 or 9 pm.
Pahalgam to Chandanwari Distance
The distance between Pahalgam and Chandanwari is 15 kilometers.
We were up till late that evening. We were the only guests in the hotel so the hotel staff also joined us at the dinner table for food and gossip. Talks were made, and stories were told almost till midnight. It was only after 11 pm that we all finally decided to retire and called it a day.
The plan for the next day was to visit Aru Valley and Baisaran Valley. From there, we would return to Srinagar and then go to Gulmarg. Please click on the link above to continue reading the next part of the travelogue.
Pahalgam to Chandanwari – Conclusion
 I hope the travelogue, pictures, and information above on traveling from Pahalgam to Chandanwari were of help. If you have any questions, you can contact me on Instagram and I will be happy to answer. You can also consider subscribing to my YouTube channel and asking a question there.