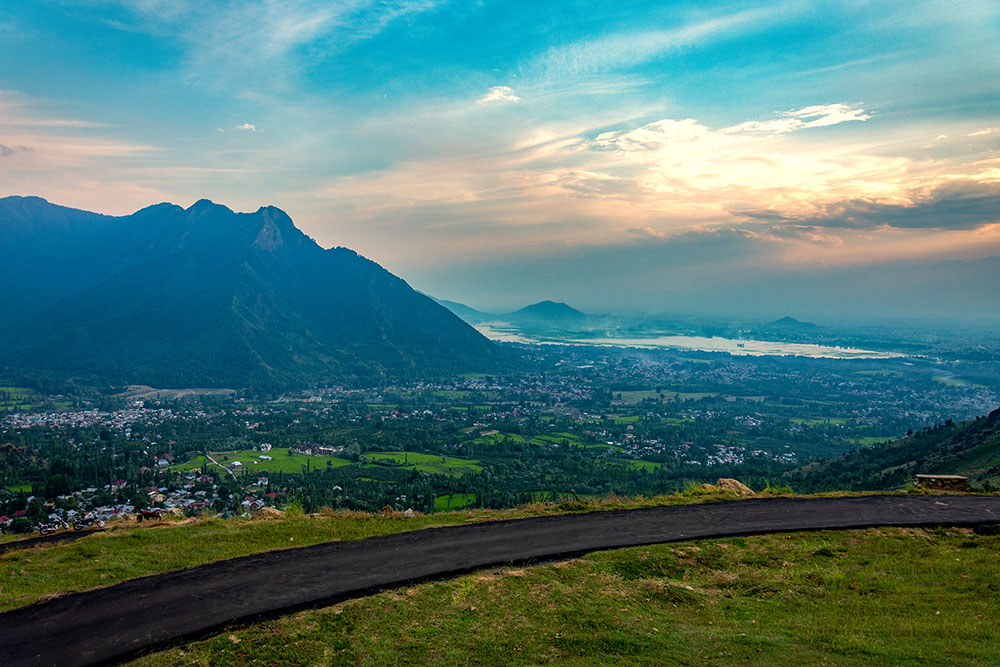 The original plan for this day was to drive to Gulmarg and return by evening or stay there for the night depending on the mood. But all thanks to the long drive from Delhi to Srinagar in the last 2 days, I was in no mood to get back in the driving seat. Hence, we decided to spend time in the city only, do some local sightseeing and drive from Srinagar to Astanmarg in the evening.
My first night in Srinagar was not really a very comfortable one. I think it was mainly because of the long 15 hours of drive that we made the day before, from Jammu to Srinagar via Mughal Road.
Or maybe it was because of a new place and a new bed. Whatever it was, I did sleep for a few hours but it was not a sound one. As a result, I was up early by 7 AM.
Maddy and I were the only guests in the hotel. The rest of the rooms were all vacant and locked. I stepped up, called the kitchen, and ordered a cup of tea.
The next few hours were done doing basically nothing. Maddy finally got up by 9 AM and we stepped out to have some breakfast. We came back to the hotel half an hour later, freshened up, and started working on the day's plan.
Journey So Far:
This article is in continuation with a previous one and is a part of my Kashmir trip log. Please click on the links above to read the parts of the travelogue.
Nishat Bagh
The first thing that we decided to do was to go visit Nishat Bagh, which was hardly 3-4 minutes of a drive from the hotel we were staying at.
From there, we will go and meet Faisal, a friend of mine who runs a motorcycle rental agency in Srinagar. After that, we will come back to the hotel, have lunch, relax for a while and go to Astanmarg.
We stepped out of the hotel a little after 11 am and reached Nishat Bagh in a few minutes. To our utter surprise, there was a rapid COVID test mandatory for entering Nishat Bagh.
They had set up a small platform near the ticket window and everyone was being asked to take the test first.
We had our COVID negative reports from 4 days ago in Delhi. We had gotten the test done before starting on the trip to Kashmir.
I asked the guy at the counter if my negative report would do but the answer was negative. Irrespective of any reports, we would have to get the test done at the entry gate.
Honestly, I wouldn't have minded it but the problem was the huge crowd. It was a Sunday and there were a lot of people there, trying to get the test done as soon as possible. There wasn't even a proper queue and everyone was just trying to push their way in.
We dropped the plan for Nishat Bagh for now. It's not like we were short on time. We were going to be in Srinagar for a couple of weeks and could visit Nishat Bagh anytime, considering that it was a short distance from our hotel.
We got back in our car and started driving towards Lal Chowk to meet Faisal.
Liberty Cafe
Kashmir Travelogue is the best motorcycle rental agency in Srinagar. I came in contact with its owner, Faisal, a few years ago through my blog. He is a very warm-hearted and honest person and is always ready to help anyone visiting Kashmir in any way that he can.
Also Read: How to Plan a Trip to Kashmir – A Complete Travel Guide
A short drive later, we both reached Lal Chowk where Faisal's office was located. After some chit-chat and catching up, we all went to Liberty Cafe, located in the same building as Faisal's office.
I really liked Liberty Cafe. The place has a great ambiance and serves amazingly delicious food. We had a Pizza over there and trust me, it was possibly the best pizza I ever had.
If you are visiting Kashmir, I will highly recommend paying a visit to Liberty Cafe and having food there.
After Liberty Cafe, Faisal then took us to another place where we had some delicious Kabas. While we were going there though, I ran into another friend of mine and it was a completely unexpected encounter.
Asrar used to work with us in Gurgaon but quit the job a few months ago. I knew he was from Srinagar but we had not spoken ever since he quit the job.
Surprisingly, while we were driving around in the city, he noticed my Thar and me in the driving seat. He waved at me to stop and both of us were equally surprised to have met each other like this in an unexpected manner.
Srinagar to Astanmarg
We returned to the hotel at around 3 pm and relaxed for a while. At a quarter past 4, we started on our way to Astanmarg, one of the very best viewpoints in all of Srinagar.
I had absolutely no idea where Astanmarg was. I had read about it on the web a few days before the trip and really liked the pictures of the place. It provides a panoramic view of the entire Srinagar City and Dal Lake with the mountains of the Zabarwan range in the backdrop.
Since we were unaware of its location, Google Maps became our guide. From our hotel near Shalimar Bagh, it was showing at a distance of about 10 kilometers and a travel time of 20 odd minutes.
The first 4 kilometers of the drive until Harwan Garden was smooth. After that though, the last 6 kilometers were nothing less than an adventure.
The entire road to the top of Astanmarg passes through the narrow streets of the outskirts of Srinagar and is a very steep climb.
We were blindly following Google Maps and it really had me questioning at a few places if we were in fact going in the right direction. Some of the streets we passed through were barely wide enough for one car with a very steep incline.
At one spot, I really doubted the way we were going and had it not been for Maddy's persistence to keep moving ahead, I would probably have returned.
Below is a video of our drive and visit to Astanmarg.
Astanmarg
Nonetheless, the pain and excitement paid off in the end. We arrived at the Astanmarg viewpoint and what we saw from there was nothing less than amazing.
We spent about an hour at the viewpoint taking some pictures and shooting videos. As the evening started to get darker, we started to drive down.
On our way back, we realized that there was in fact a different road that we could have taken and could have avoided the narrow streets. Google by default shows the shortest route first and as a result, had us driving through those confined spaces.
We came straight back to Chhalli point at Dal Lake. Asrar was supposed to meet us there. We clicked a few pictures and he arrived about 20 minutes later.
There was not much to write about for the rest of the day. We spent some time there with him, got something to eat at the Chhalli point, and came back to the hotel.
Srinagar to Astanmarg – Conclusion
That was the end of our first day in Srinagar and the third day of the trip. We were not only just on vacation. We were carrying our office laptops with us and the next 5 days were to be spent working from our hotel in Srinagar.
The next destination in our mind was Sonamarg but that was not going to happen until the next weekend.
I hope the travelogue, pictures, and information on Srinagar to Astanmarg were of help. If you have any questions, you can contact me on Instagram and I will be happy to answer. You can also consider subscribing to my YouTube channel and asking a question there.