The plan for the day was to first drive from Pahalgam to Aru Valley, then to Baisaran hills, and then go back to Srinagar. In short, it was a leisurely day with neither a lot of driving involved nor the need to rush through it.
So far, the trip to Pahalgam was nothing like what we expected it to be and I was really hoping that at least Aru Valley will live up to the hype.
I was the last one to get up that morning. I think it was at around 8 am that I finally got out of bed and joined my friends on the hotel lawn for a cup of tea.
Our travel plans were discussed again and Shoyab suggested heading straight to Gulmarg from Pahalgam rather than going back to Srinagar. But then after a bit of further discussion, we decided to stick to the original plan only.
Journey So Far:
The next hour or so was spent packing and getting some breakfast. By 9 am, we were all ready to check out of the hotel and move on. The first destination of the day was the famous Aru Valley.
You can also take a look at the video below of our trip to Aru Valley. This can give you an idea about the place and help you decide whether or not you should include it in your itinerary.
About Aru Valley
So let me first talk about what Aru Valley actually is without trying to glorify the place unnecessarily. Aru is basically a small village.
The local pronunciation of the place can be both Aru and Adu. It is located at a distance of about 12 kilometers from Pahalgam.
This village is the starting point of several treks that lead out of Pahalgam, most of them lasting a few days. The trek to Tarsar – Marsar lakes also starts from here.
When you are in the village, more than the regular tourists, you will actually find trekkers either ready to start or returning from their trek.
All the places that you see in the pictures above are in the forest around the Aru Village. You will have to trek to all these places and Depending on which part you want to cover, the trek can last from 1 day to several.
The village consists of a few shops, some houses, dhabas, and a few decent enough hotels. On one end of the village is a large meadow-type area, a ground that also serves as a picnic spot for a lot of locals.
That is all Aru Valley or village really is. In all honesty, it is probably the best place to visit in and around Pahalgam. The drive from Pahalgam to Aru is on a narrow and very steep road but is also very scenic.
How to Reach Aru Valley from Pahalgam
The road to Aru Valley is located right at the start of the Pahalgam town, near the Pahalgam Police Station, to your left. If you weren't sure, just ask any of the locals and they will point you in the right direction.
By Car / Motorcycle
If you were traveling in your own vehicle, the journey is a fairly easy and enjoyable one. Coming from the Srinagar side, you will enter Pahalgam and reach Lidder View Park.
From there, take the turn to your left, and a few kilometers after, the road will start going uphill.
The drive from Pahalgam to Aru Valley is on a narrow, winding, and steep road. In fact, the road is barely wide enough for one car in some places. So, drive carefully.
The views on the entire 12-kilometer-long stretch are simply awesome. I actually enjoyed this drive more than I liked Aru itself.
The road is tarred and for the most part of it, it is in good condition. Depending on your speed and breaks, you should be able to complete the journey in about 30-40 minutes at most.
By Bus / Shared Cabs
There are buses or shared cabs available for Aru Valley. Your only option is to either travel by your own vehicle or hire a private taxi in Pahalgam.
Pahalgam to Aru Valley Taxi Fare
The first thing you should remember is that a Srinagar taxi cannot take you to Aru Valley. The local taxi drivers of Pahalgam do not allow that.
So, if you hired a taxi from Pahalgam, it will take you as far as Pahalgam. But for visiting places like Aru Valley or Betaab Valley, you will need to hire a local taxi from Pahalgam only.
Depending on the type of cab, time of travel, and your negotiation skills, a taxi from Pahalgam to Aru Valley will cost you anywhere between Rs. 1000 to Rs. 1500 for a return journey. For more details, please take a look at Local Pahalgam Taxi Rates.
Aru Valley in Winter
The road from Pahalgam to Aru Valley, as I mentioned, is a very narrow and steep one. The valley receives a considerable amount of snow in the winter season and this entire road gets blocked in the months of January and February.
The road here is not like the one to Gulmarg which is very wide. Gulmarg also receives a lot of tourists in the winter season, mostly skiing enthusiasts, so there is a regular snow-clearing operation on that stretch.
On the other hand, tourists in Aru Valley are mostly trekkers that arrive during the spring and summer seasons. Due to this, the snow is rarely cleared from this road and the village gets completely cut off after it starts to snow heavily.
A safer time to visit Aru Valley in winter will be the month of March after the snow starts to melt. You may find a taxi driver to take you there in the peak winter season as well but I will not recommend it.
Looking at the incline of the road and the fact that it is very narrow, the drive will definitely be a risky one.
Pahalgam to Aru Valley
So, coming back to the story, we checked out of our hotel in Pahalgam and a shock awaited us when I was paying the final bill. We stayed there for just a night. I was recommended the hotel by a friend and he was able to get us a good deal in terms of the tariff.
But what they discounted us in tariff was charged back with dinner. We ended up paying twice the amount of the tariff for just dinner, a light breakfast, and a few cups of tea.
To be honest, I was shocked not because of the bill amount but because the hotel was suggested to me by a friend, who knew the owner of the hotel.
So, I was not really expecting them to charge me so much. The hotel, as well as the food, was not really that good and that is why it pinched me to pay so much.
But on the other hand, Kashmir actually is an expensive place, irrespective of where you go. The prices of pretty much everything here will surprise the hell out of you.
Anyway, we paid the bill, no matter how much I did not want to pay all that money, and checked out of the hotel. We asked a few locals, drove back a few kilometers, and took the turn toward Aru Valley.
Also Read: How to Plan a Trip to Kashmir – A Complete Travel Guide
Aru Valley Altitude
I am not really sure of the altitude of Aru Village. I looked up the web and the answer I got doesn't really sound right. If you search Google, it will tell you that Pahalgam is at an elevation of 2730 meters and Aru is at 2414 meters.
But when you travel from Pahalgam to Aru Valley, you will realize that these numbers cannot be right.
The incline in the road was really significant and it remains that way for its entire length. So, it is not really possible that Pahalgam is at a higher altitude than Aru.
I am not really sure of the exact height of the place but I can definitely tell you that it is higher than Pahalgam.
We drove up and at a few spots, I actually had to stop at a wide enough area because there was a car coming from the other direction. At some stretches, it is just not possible for two vehicles to cross each other because the road isn't wide enough.
We took a couple of breaks in between and finally reached Aru Village.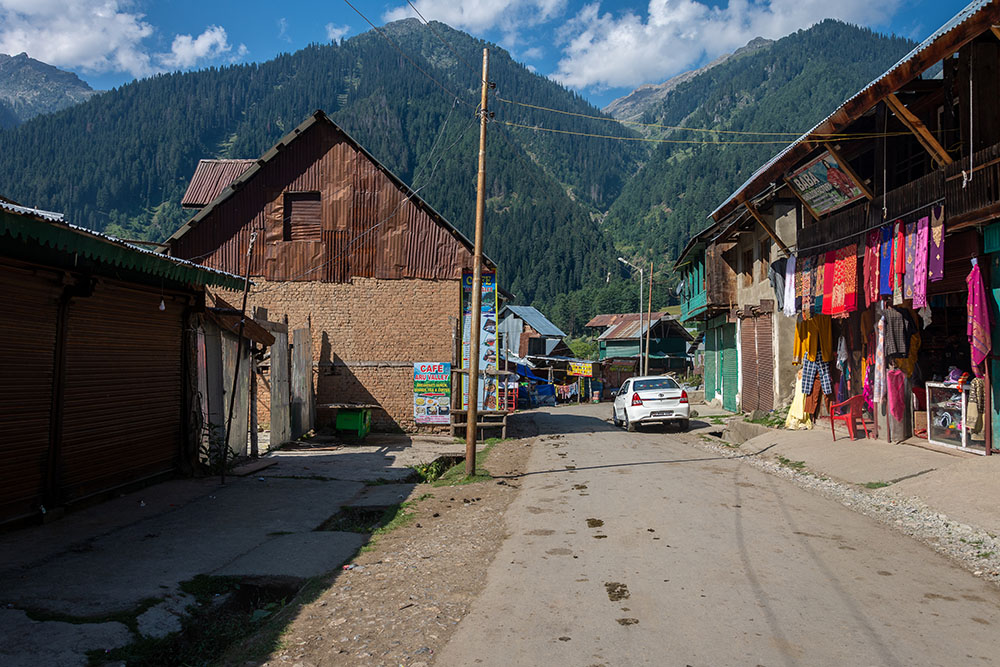 Aru Village
So far, nothing in Pahalgam was how I imagined it. The trend continued in Aru Village as well. The road ended at the village and we parked our car in front of a few shops and got down.
The question that came to mind then was what now? We were there in Aru Valley but where from here? Not knowing which way go to, we stepped into a nearby tea shop and ordered tea. Standing there, I started talking to a few locals and contemplating our options.
Aru village serves as a base camp for trekkers to the Kolahoi Glacier, the largest glacier in the Kashmir Valley. The treks to Lidderwat, the Vishansar-Kishansar lakes, Tarsar-Marsar lakes, and the Katrinag valley also start from here.
As a result, the majority of the people we saw there were trekkers. Some were getting ready to start their treks and others were returning. The entire village was bustling with pony owners and guides along with the trekkers.
We had our tea and started to walk in the village. The sun has come up by now and like the previous days, it was starting to get really hot. The entire village is barely a kilometer in length and within a few minutes, we were at the other end of it.
It is not really large enough to be called a meadow but there is a ground-like area on the other end of the village. I am sure it must be a very pleasant sight in the morning and evening but while we were there, the harsh sun was really making it difficult to walk around.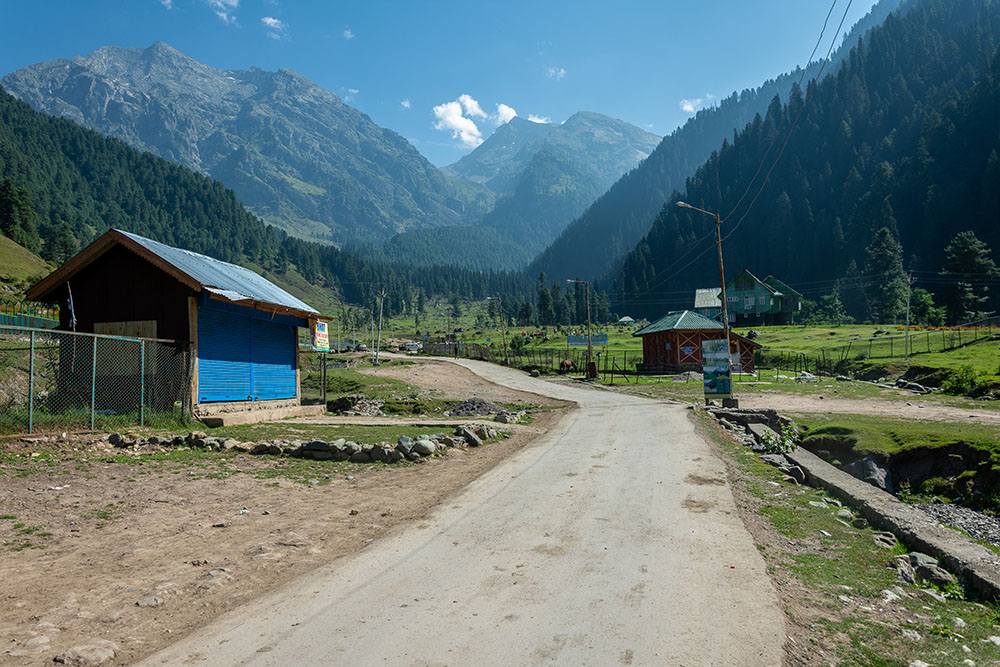 Where to Stay

Now let us briefly talk about the different accommodation choices you have in Aru Valley.
Hotels in Aru Valley
One thing that I noticed was the hotels in Aru Valley. I asked around and rooms were available for as low as Rs. 600 to Rs. 800 per day.
This was really a pleasant surprise because the hotels in Pahalgam were really on the expensive side. It will be hard to find a hotel in Pahalgam for under Rs. 2000. Even if you negotiated, they won't budge a Rupee less than Rs. 1500.
On the other hand, Aru Valley is much cheaper and, in my opinion, a much better place to stay. While we were strolling around, I knew in my heart that the next time I am in Pahalgam, Aru Valley is where I will be staying.
It is without a doubt a much prettier location than the main Pahalgam town.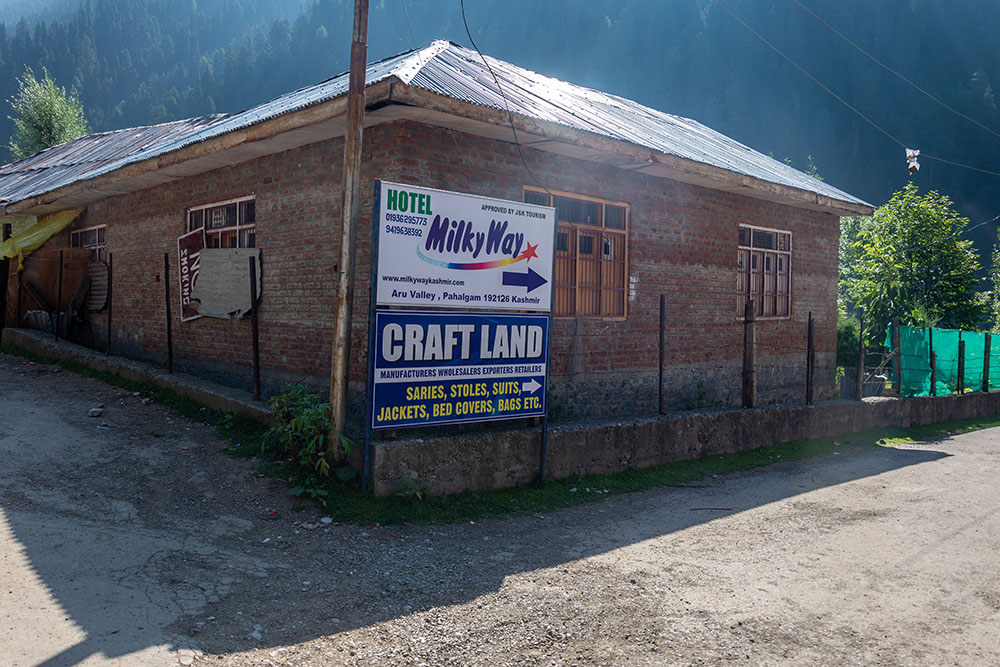 Aru Valley Homestay
There are no homestay options in Aru Valley or at least none that I know of. I asked around about it when I was there but no one confirmed a homestay. But the difference between a hotel and a homestay here is minimal.
It is the villagers only that are running these small hotels and are more or less the same deal as a homestay.
Aru Valley Camping
There are no campsites in Aru Valley but camping can be arranged by the locals or travel agencies if you notified them in advance.
Places to Visit in Aru Valley
The peaceful environment and scenic beauty of Aru Valley are what you should come here for. It is a haven for trekkers but even for regular tourists, it is a great spot to spend a couple of days in peace, away from the crowd.
There is a meadow in the village and a few others around the village. On the way, you also cross a couple of waterfalls and water streams.
In short, if you are not a trekker, there is not much to see or do in Aru Village itself but the location of the place is perfect.
Rather than staying in Pahalgam, I will strongly recommend that Aru is where you should stay. You will pay much less for accommodation and will like it better than Pahalgam itself.
Aru Valley Paragliding
I was told that Paragliding takes place in Aru Valley but I did not see any options for that. There were no agencies offering paragliding and I did not see anyone doing that either.
It could be an option but I think you will have to book this in advance in either Srinagar or Pahalgam. There is no option readily available.
Skiing
Skiing is one of the winter activities that happen here during the winter season. But the majority of skiing enthusiasts prefer to go to Gulmarg for that. The meadow in Gulmarg offers much better slopes for skiing than Aru Valley or Pahalgam.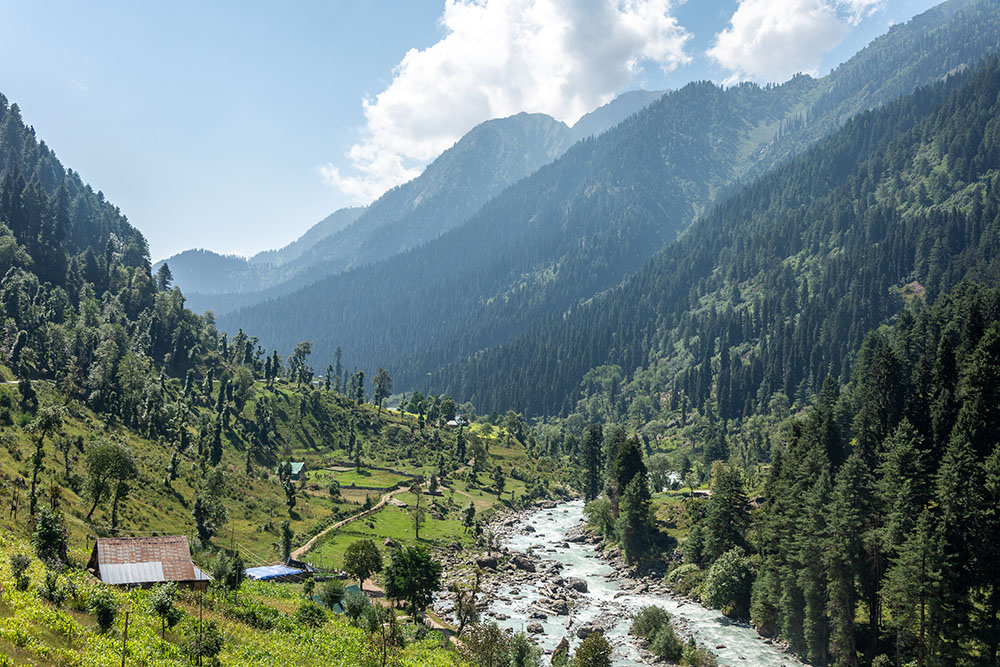 Srinagar to Aru Valley
The distance between Srinagar and Aru Valley is about 113 kilometers, depending on where you started from in Srinagar.
So for example, if you started early on Day 1 from Srinagar, you will make it to Pahalgam by 10 am most. Take a break, get something to eat, and continue on your way to Betaab Valley.
Spend some time in Betaab Valley and then move on to Chandanwari. From there, drive back to Pahalgam and then reach Aru Valley. Covering all these places, you will easily make it to Aru by 4 pm at most.
Walk around the village in the evening and spend the night there. The next day, drive back to Pahalgam and be on your way to Srinagar.
While returning, you can also pay a quick visit to Aishmuqaam Dargah, the place where the song Bhar do Jholi from Bajrangi Bhaijaan was shot.
This way, you can easily wrap up your Pahalgam visit in two days and that is the maximum time I will recommend.
If you wish to visit Baisaran Valley, which is a 4-5 hours trek from Pahalgam. You will start in the morning, walk 6 kilometers to Baisaran and then walk back to Pahalgam. So it is a total of 12 kilometers of trek some part of which can be covered by road.
Aru Valley vs Betaab Valley
Aru valley and Betaab valley are both among the top tourist attractions of Pahalgam and you should cover both. But if you have to pick one among the two, Aru Valley will be a better choice because of its scenic beauty and the availability of hotels.
But in my opinion, if you were thinking of Aru valley or Betaab valley, you should actually cover both and do not need to pick one.
Both of the places can easily be covered in a couple of hours. In fact, you can cover all of them in a single-day visit from Srinagar.
Betaab Valley is basically a meadow that now looks like a park. Lidder river flows through the valley and it is a good place to spend some time and walk around. Aru on the other hand is a village and there are a lot of hotels around.
Below is a picture of Betaab Valley.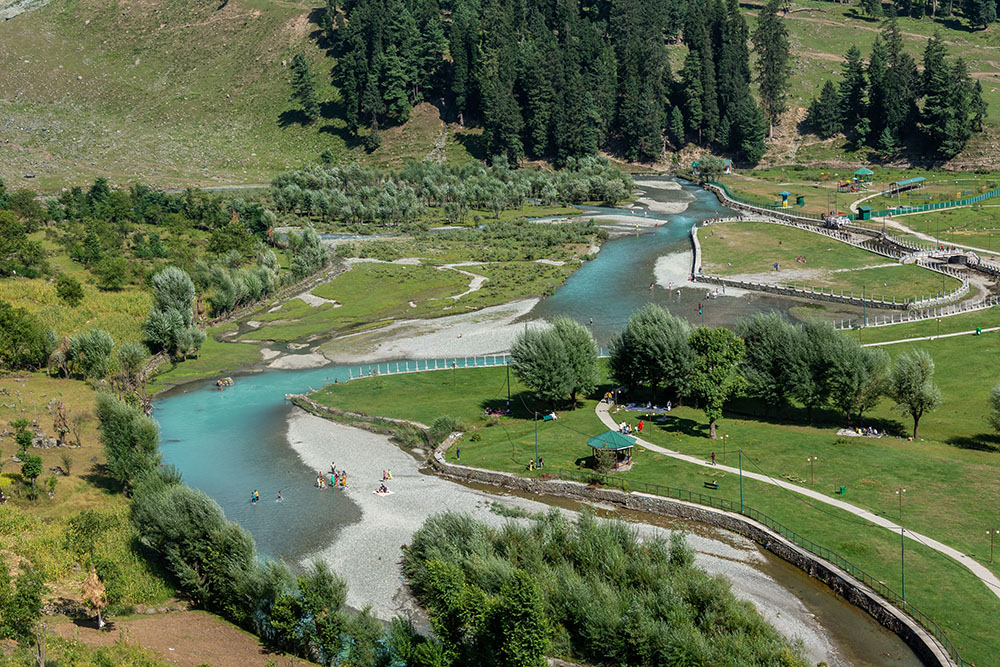 Aru Valley Betab Valley & Chandanwari from Pahalgam
As I explained above, you can visit Betaab Valley, come back to Aru, and stay there for the night. Now let us assume that you just have one day in hand and must return to Srinagar by evening. In this case, also, you can cover all of these places easily.
Start from Srinagar by 6 or 7 AM. You will reach Pahalgam by 10 am at most. Go to Betaab Valley, Chandanwari, and come back to Pahalgam. You will return by 3 pm at most.
Then drive up to Aru Valley, spend some time there, and return to Pahalgam by 5.30 PM. Start driving back to Srinagar and you will easily reach your hotel by 9 pm at most.
Aru Valley Entry Fee
There is no entry fee for Aru Valley. It is the Betaab Valley that you have to pay Rs. 50 as an entrance ticket.
Aru Valley Closing Time
There is no closing time for Aru Valley. It is a village that always remains open. Betaab Valley on the other hand opens at 8 or 9 AM and is closed by Sunset.
Aru Valley to Betaab Valley Distance
The distance between Aru Valley and Betaab Valley is about 19 kilometers in total.
Aru valley to Chandanwari
Chandanwari is 8 kilometers ahead of Betaab Valley. So, the distance between Aru Valley and Chandanwari will be around 27 kilometers. A round trip from Aru Valley to Chandanwari and back will take about 3-4 hours.
We spent about an hour in Aru Village and then started driving down to Pahalgam. There were a couple of beautiful spots on the way, perfect for photography, where we took short breaks.
We reached back Pahalgam in 30 minutes and started our return journey to Srinagar. Now, this is where our plan changed again. We were also planning to go to Baisaran Valley but then after talking to a couple of locals in Aru Village, I decided to give it up.
Baisaran Valley
We will talk more about Baisaran Hills or Valley in the next post but let me briefly mention why we canceled it.
I was under the impression that Baisaran is more or less the same deal as Thajiwas Glacier in Sonamarg. I thought of it as a 2-3 kilometers walk but as it turned out, it was a 6-kilometer long trek.
So this is where the confusion happened. I know Baisaran was 6 kilometers from Pahalgam but I thought most of that distance can be covered by road. You drive as far as you can and then walk the last couple of kilometers to explore the area.
As I found out in Aru Village and verified later, the entire distance of 6 kilometers to Baisaran Village is actually a trek. So if we were to go that way, we will trek about 12-13 kilometers in total. This further meant that we will have to stay another day in Pahalgam.
So in the end, we decided to give up the idea of Baisaran Valley. Now the plan was to reach Srinagar, stay there for the night, and then go to Gulmarg the next day. Please click on the link above to continue reading the next part of the travelogue.
Conclusion
I hope the travelogue, pictures, and information on traveling from Pahalgam to Aru Valley were of help. If you have any questions, you can contact me on Instagram and I will be happy to answer. You can also consider subscribing to my YouTube channel and asking a question there.