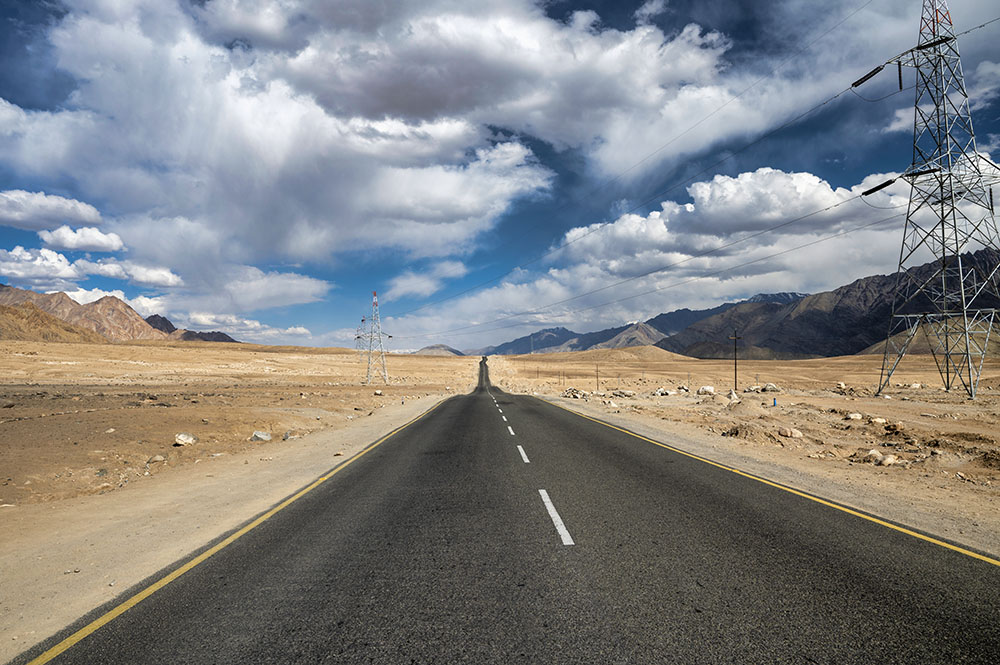 The journey from Kargil to Leh takes you through some of the most beautiful vistas that the famous Srinagar Leh highway has to offer. Irrespective of whether you travel via Lamayuru or Batalik, every moment of this journey is worth cherishing.
The distance between Kargil and Leh is approximately 215 kilometers. On the way, you will also cross the high-altitude passes of Namika La and Fotu La. But since the condition of the road is excellent, the journey can easily be completed in 6 to 8 hours, depending on your speed and breaks.
Please note though that in case you travel by the Batalik route, the distance increases to about 235 kilometers but the travel time will be about 9 to 11 hours.
In the post below, I will provide complete information on traveling from Kargil to Leh. I will talk about the different routes you can take, places to visit on the way, accommodation choices, and several other important things that you should know about.
Kargil to Leh
I was recently on a road trip to Ladakh that lasted for about 2 months. It was the 15th day of the trip when we traveled from Kargil to Leh, after spending 2 weeks in Kashmir and Zanskar Valley. To read the previous parts of the travelogue, you can follow the links below.
Journey So Far:
But before I narrate our journey on this day, let me first provide information on how you can plan your journey from Kargil to Leh.
Kargil to Leh Road Video
To see a video of our journey from Kargil to Leh, you can follow the YouTube link below or continue reading for further details.
Kargil to Leh Route
There are two different routes that you can take to complete the journey between Kargil and Leh. In terms of the distance, both routes are about the same but the travel time varies greatly.
Route 1: Kargil – Namika La – Fotu La – Lamayuru – Khalsi – Nimmu – Leh
Route 2: Kargil – Hamboting La – Batalik – Aryan Valley – Khalsi – Nimmu – Leh
The first and most common route is via Lamayuru and Khalsi. If you go this way, you stick to the main Srinagar Leh highway and reach Leh in about 7-8 hours with plenty of sightseeing breaks.
The other and lesser-known route is via Batalik. If you decide to take this route, then you skip the town of Lamayuru and the passes of Namika La and Fotu La.
Since the road is a little narrow here, the travel time can easily be 9 to 10 hours. But the benefit of traveling this way is that you get to visit the beautiful Aryan Valley, a part of Ladakh that is still unexplored.
As you can see above, the variance in the route is only between Kargil and Khalsi. Irrespective of which way you chose, you will eventually reach Khalsi and travel the last 100 kilometers to Leh from there.
Kargil to Leh Road Map
To better understand the information I posted above, you can take a look at A Complete Road Map of Leh Ladakh Region. This actually is a complete road map of the entire Ladakh road trip route. For the route I mentioned above, take a look at the part between Srinagar and Leh.
Kargil to Leh via Batalik
The road from Kargil to Leh via Batalik is one of the most beautiful routes of Ladakh. It is a road that not many tourists chose to travel on but the ones that do, return with an experience that is hard to get anywhere else in Ladakh.
Traveling by this route, you will cross the high-altitude pass of Hamboting La and see the village of Batalik which sits right next to the India-Pakistan border.
You will also pass through the lush green Aryan Valley, inhabited by the Brokpa people who are said to be the direct descendants of Alexander.
I have explained this route in great detail in another post The Batalik Route that I will request you to take a look at. In the post below, I will explain the route via Lamayuru. I had to put this information on two different pages otherwise this one post would have become way too long.
Kargil to Leh via Lamayuru
Now let us take a look at the route between Kargil and Leh via Lamayuru. This road remains open between May and October and gets closed sometime in November after the passes of Namika La and Fotu La start to receive snow.
Actually, the Army keeps this road open for all 12 months. But from a tourist point of view, the time between May and October is when you can travel by this road.
During the rest of the time, in the winter season, the Manali Leh route and the road between Kargil and Srinagar remain closed. So you will have no way to reach either Kargil or Leh by road.
But if you reached Leh by Air between November and April, you can plan to travel to Kargil by road. But that will entirely depend on the weather, the amount of snow on the road, and the fact that whether civilian traffic was allowed at all.
Kargil to Leh Road Condition
The road between Kargil and Leh is in excellent condition. The road out here is even better than the city roads and the highways. There are a few bad patches in between but those are very short.
For most of your journey, you will be driving on a tarred and super-smooth road. Put it together with the views in front of you, the journey becomes very enjoyable and pleasant.
Kargil to Leh Bus Service
There is a daily bus available between Kargil and Leh. It starts from Kargil early in the morning and arrives in Leh by evening. It is a state-operated ordinary bus but since the condition of the road is good, the bus journey is also not uncomfortable.
Kargil to Leh bus actually is a part of the Srinagar to Leh Bus service. You start from Srinagar on Day 1 and reach Kargil in the evening where you stay for the night. On Day 2, you board the bus from Kargil and reach Leh by evening.
Kargil to Leh Bus Fare
A journey from Kargil to Leh by Bus will cost you approximately Rs. 450 per person. The fare usually changes almost every year so I cannot give you the absolute number but it ranges between Rs. 400 and Rs. 500 per head.
Kargil to Leh Bus Timings
This bus starts from Kargil at around 8 am and reaches Leh between 4 pm to 5 pm. It is a daily bus that operates on regular bases between May and September. Depending on the weather condition, it may also remain available in October.
For more details on buses, please take a look at Leh Ladakh Bus Service.
Kargil to Leh Taxi Fare
If the journey by Bus was not your cup of tea, then the best option would be to travel by a private taxi. You can either ask your hotel to arrange a cab for you or you can just go to the Kargil Taxi stand and look for a taxi.
A private taxi for a drop to Leh will cost anywhere between Rs. 7000 to Rs. 13000. It will depend on the time of your travel and your negotiation skills.
During the offseason, the rates are on the lower side but during the peak tourist season, you may have to pay as much as Rs. 13000 for a drop.
This is why I said that you should talk to the hotel you were staying in Kargil. They may be able to get you a taxi at a cheaper rate.
Also Read: How to Plan a Trip to Leh Ladakh – A Complete Travel Guide
Kargil to Leh Shared Taxi
If you did not want to pay so much for a drop to Leh, the next best option would be a shared cab. These are available in plenty during the tourist season and you can board one from the bus stand itself.
Depending on the time of your travel, a shared taxi from Kargil would cost you anywhere between Rs. 2000 to Rs. 3000 per head.
Kargil to Leh Flight
There is no airport in Kargil so a trip by flight is not possible. The only way to travel between both these places is by road.
Kargil to Leh Tourist Places
The majority of the tourist attractions on the Srinagar Leh highway are located between Kargil and Leh. I have provided an exhaustive list of the places to visit in a different post Places to Visit on Srinagar Leh Highway & Things to Do.
But for an overview, below are the best sightseeing places that you should visit while traveling from Kargil to Leh. They are all located right along the highway and you will not have to take a deviation anywhere.
Mulbekh Monastery
Maitreya Buddha Statue in Mulbekh
Namika La
Fotu La
Hangro Loops
Lamayuru Monastery
Lamayuru Moonland
Alchi Monastery
Likir Monastery
Basgo Plains
Sangam Point
Magnetic Hill of Ladakh
Gurudwara Patthar Sahib
For more details on these places, please take a look at Places to Visit on Srinagar Leh Highway & Things to Do.
Kargil to Leh Itinerary
So what is the best way to plan your trip from Kargil to Leh? This journey can easily be completed in 6 to 8 hours so this is really a day trip unless you had time and wanted to stay somewhere on the way.
I will strongly recommend taking an early start from Kargil. There are a lot of places to cover on the way and you will need time for that.
The monastery and Maitreya Buddha at Mulbekh are not far from the highway but you will still need about an hour to visit both places. The monastery is 3 kilometers uphill from the main road and it will take you some time to get there and come back.
After that, you will cross the high-altitude passes of Namika La and Fotu La to reach Lamayuru. Visit the gompa there and see the Moonland while continuing the journey to Khalsi.
After Khalsi, it is a straight run to Leh City. You will drive through the Basgo Plains as you get closer to Leh. The drive on this part of the highway is really something to experience.
The three major attractions of Ladakh, Magnetic Hill, Gurudwara Patthar Sahib, and Sangam Point, are all located on the Srinagar Leh highway.
If you started early from Kargil, you can take a short break at all these points and won't have to come back this way from Leh in the following days.
The monasteries of Likir and Alchi may be a little difficult to cover as you will have to take deviations of over 10 kilometers to get here.
Both these places will take an hour each. So unless you started from Kargil by 5 or 6 am, you may have to give up both these places or at least one of them.
Which pass connects Leh and Kargil?
The passes of Namika La at an altitude of 3,700 m (12,139 ft) and Fotu La at an altitude of 4,108 m (13,478 ft) connect the towns of Leh and Kargil.
Also Read: Clothes for Ladakh Trip – What to Pack
Kargil to Leh Road Trip
Now coming back to the travelogue, it was the 15th day of our trip and we were all set to finally reach Leh from Kargil. We had been on the road for 2 weeks now. Even though the trip was planned for Ladakh, we took 2 weeks to even get there from Delhi.
This was not my first time in Ladakh. I had been there several times before and had seen all that there was to see. Still, I wanted to start as early as possible so that we could spend some time at the tourist spots in between.
But as fate would have it, I ended up working till late at night. I actually went to sleep by 5 am so that I could catch up at least a couple of hours of sleep.
We finally got up and left the bed at 8 am. After a light breakfast, we checked out of Hotel Kargil Heights and started our journey at around 9.30 am.
It was possibly the laziest day of our trip. I hardly got 3 hours of sleep and my energy levels were way too low. The same was the case with Lavish. Even he did not get proper sleep the night before and he too was tired and sleepy.
We were feeling so dull that day that I even thought to cancel the plan of going to Leh today and extend our stay in Kargil.
But we could not do so because the hotel we were staying in Kargil was booked to its full capacity. They were waiting for other guests to arrive that day. We had no option to check out.
We could have looked for another hotel but in the end, we just decided to move on to Leh as planned.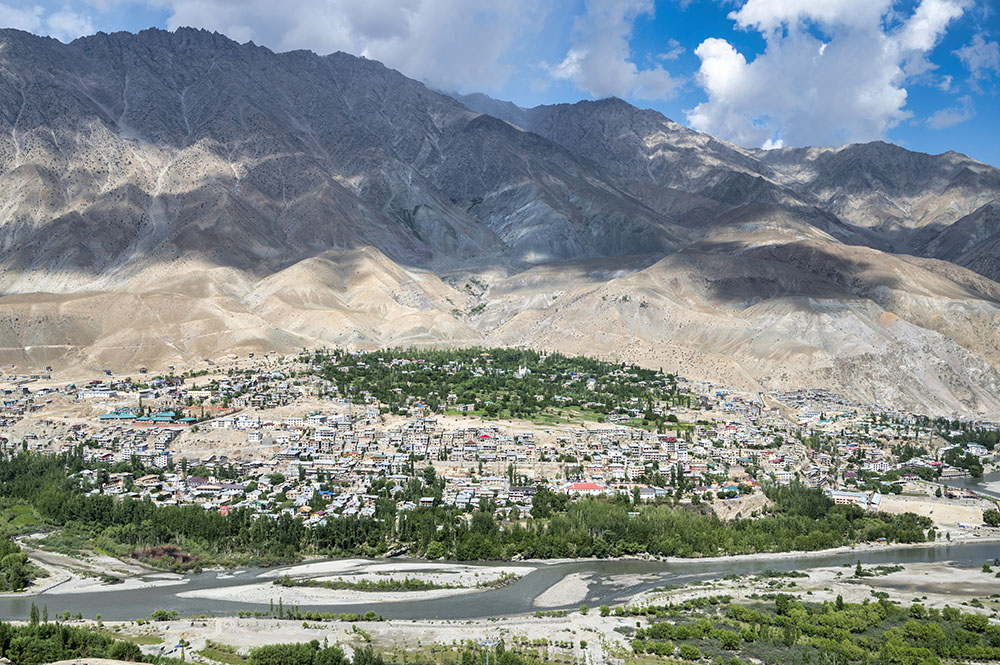 Sapi La
While we were in Kargil, Lavish found out about a new pass that is located on the Srinagar Leh route. It is called Sapi La and was not a part of our itinerary but got added after we talked about it.
At an altitude of 4,397 meters (14,425 ft) the road across this pass ends at the small village of Sapi on its other side. There is also a small lake at the pass called Sapi Lake.
We both agreed to visit the pass before moving on to Leh. The road to Sapi La bifurcates from the Srinagar Leh highway near Shargole, about 30 kilometers from Kargil.
From this point, it is a 40 kilometers drive to the village of Sapi. So going to the village and coming back meant a diversion of 80 kilometers.
In order to do this, the most important thing for us was to start as early as possible from Kargil but unfortunately, that did not happen.
We drove out of Kargil and reached the point where the road bifurcates. But once we got there, we started to doubt if it will be a good idea to go there. In the end, we decided not to.
I think the biggest reason behind this was that I was too tired and sleepy to drive 80 kilometers more than the planned journey.
It would have easily taken us close to 3 hours and our moods that day did not encourage us to do so. So we gave up the plan of Sapi La and continued to Mulbekh.
A beautiful mosque we came across on our way.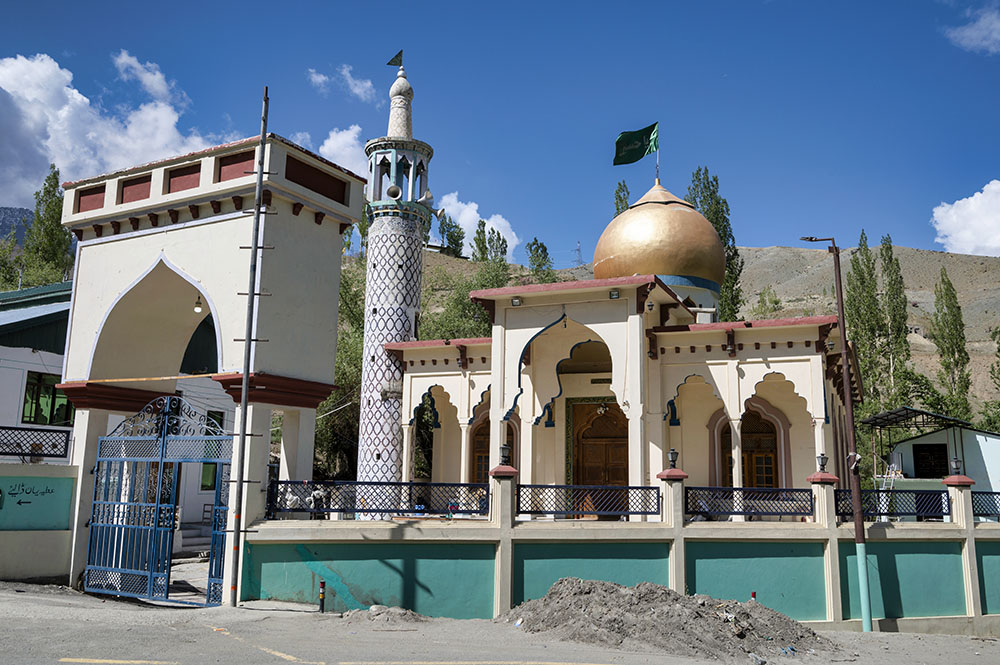 Mulbekh Monastery
Mulbekh is a small town located about 37 kilometers from Kargil. The place is best known for its Gompa located on a hillock and a 30 ft high standing Maitreya Buddha statue.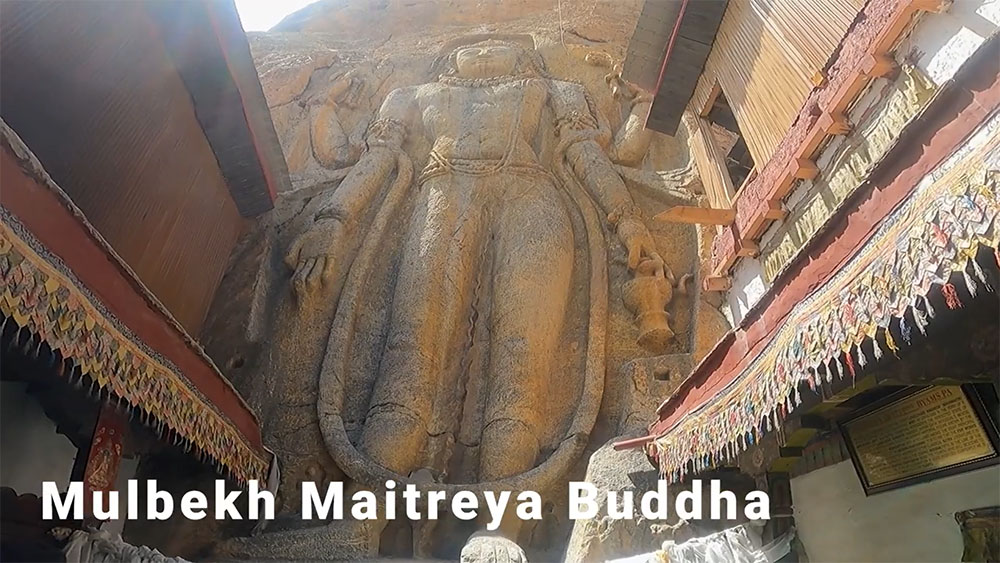 I had seen the statue before but had never been to the monastery. So the plan was to cover it this time on our way to Leh.
We reached Mulbekh but could not locate the way to the monastery. We asked around and one of the locals pointed us in the right direction. He even escorted us all the way to the point where the road to the gompa bifurcates from the main highway.
From there, it was a steep uphill drive of 2 kilometers on a narrow dirt road. All this effort was in vain though. We arrived at the monastery to find it closed. So far in the trip, it was the third monastery that I wanted to see but found it to be closed.
The views from the top however were great. The monastery, sitting on a rock, looks stunning.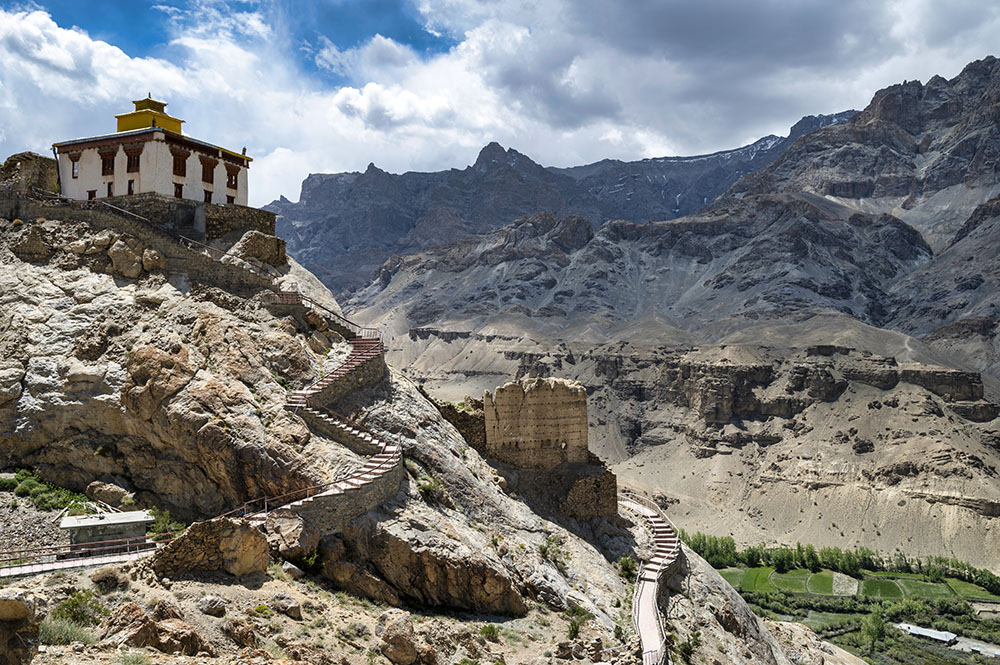 Maitreya Buddha
We took a brief break and clicked some pictures. Just when we were about to leave, we noticed a car coming uphill. We asked them about the monastery and were told that the Lama had gone to a villager's house in Mulbekh to help conduct some religious ceremonies and that is why the monastery was closed.
They also told us that we should have asked around in the village first. There was a grocery ship right next to the spot where the road to the monastery bifurcates. That shop owner usually has the key to the monastery if someone wants to visit there in the absence of the head Lama.
Nonetheless, we drove back to the main highway and stopped again near the Maitreya Buddha statue. It is a grand 30 ft rock carving, similar to the one in Sankoo in Suru Valley.
There was a huge crowd in the temple, owing to the tourist rush in Ladakh in the month of June. We paid our respect and continue the journey.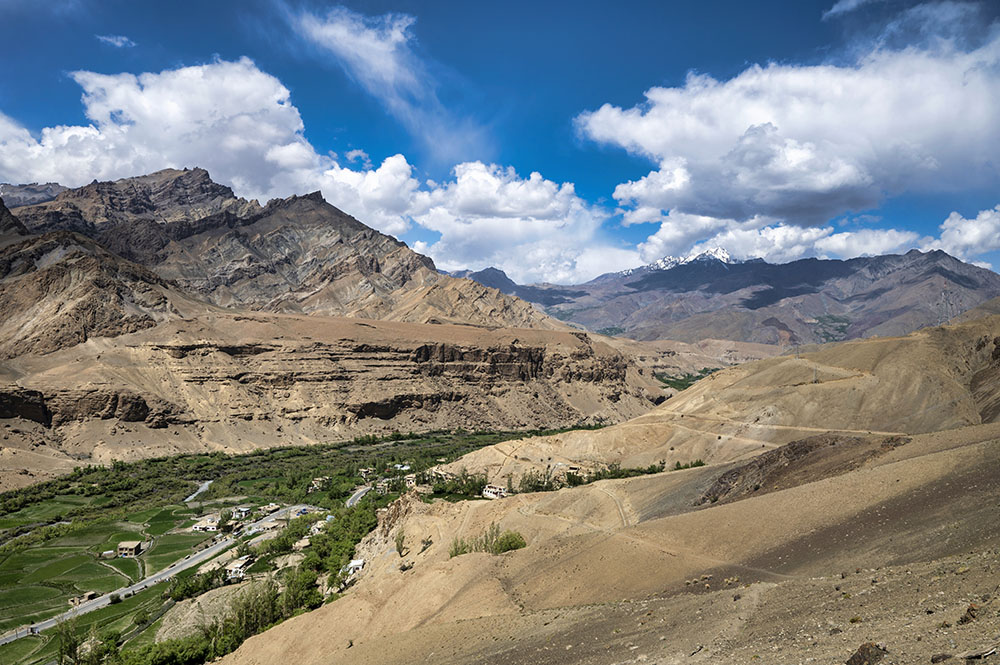 Namika La
Namika La is the second high-altitude pass on the Srinagar Leh route. At an altitude of 3,700 m (12,139 ft), it is one of the easier passes of Ladakh. The incline is not that steep except for the last few kilometers.
As a matter of fact, only because I was aware of this route and had traveled on it before is why I knew we were driving uphill to a pass. Otherwise, we would have hardly noticed it at all.
A little while later, we arrived at the top of Namika La, to find it equally crowded. There were a lot of tourists trying to click their photos in front of the 'I love Namika La' board. I managed to get some shots and after that, we started driving downhill.
Fotu La
Shortly after, we reached the village of Khangral where the road toward Chiktan bifurcates. There is an ancient fort in Chiktan that I wanted to see. It is located at a distance of about 12 kilometers from the main route.
Such was our condition that day though that I did not even want to drive 25 kilometers more than we had to. We were terribly tired and exhausted and all that we wanted was a bed to get some sleep on.
So we decided to skip Chiktan fort altogether and continue on our way to Fotu La Pass. Sapi La pass and Chiktan Fort will now be my main reasons to plan a journey from Srinagar to Leh once again.
Fotu La is the last high-altitude pass on the way to Leh if you were coming from Srinagar. At an altitude of 4,108 m (13,478 ft), it is the highest point of the Srinagar Leh highway. But due to the excellent condition of the road, even this pass poses no challenge at all.
After a pleasant drive of 25 kilometers from Khangral, we were standing at the top of Fotu La. Like Namika La, even this pass was crowded with a lot of people trying to click their pictures in front of the board.
Lamayuru & Khalsi
We continued our journey and were soon driving down the Hangro Loops. It is a set of hairpin bends that takes you to the top of the pass if you were coming from the Lamayuru side.
But since we were going to Lamayuru, we were driving down the loops. It was still fun though and we stopped several times to click some pictures.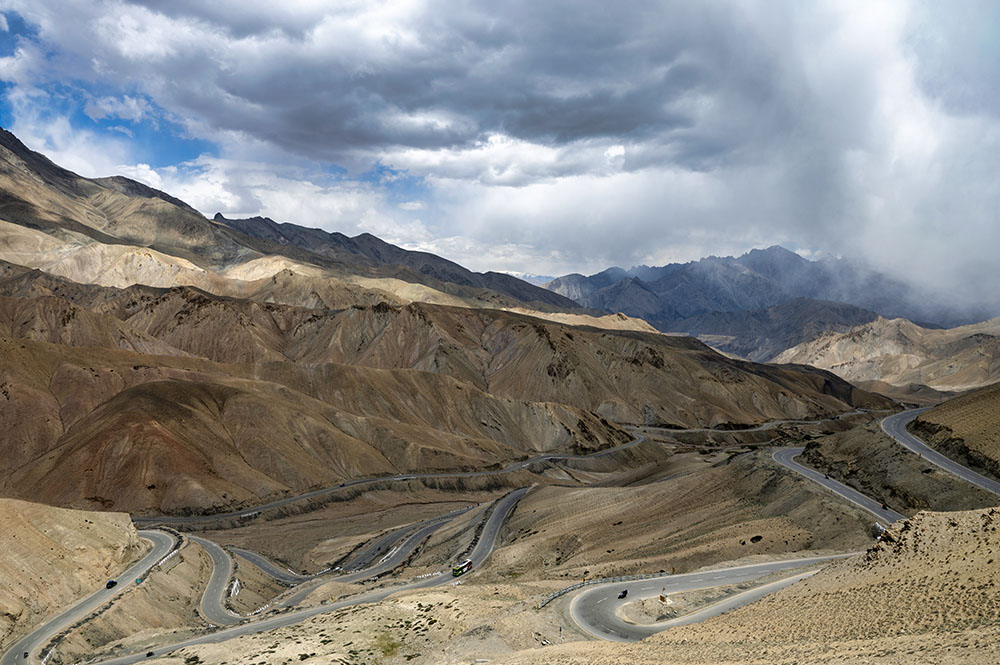 Since we were in Lamayuru a few days ago and had already visited the Gompa, we did not stop and drove across the town. We saw the Lamayuru Moonland once again and stopped for a break in Khalsi.
This is the small town of Lamayuru. The white building is the Lamayuru monastery.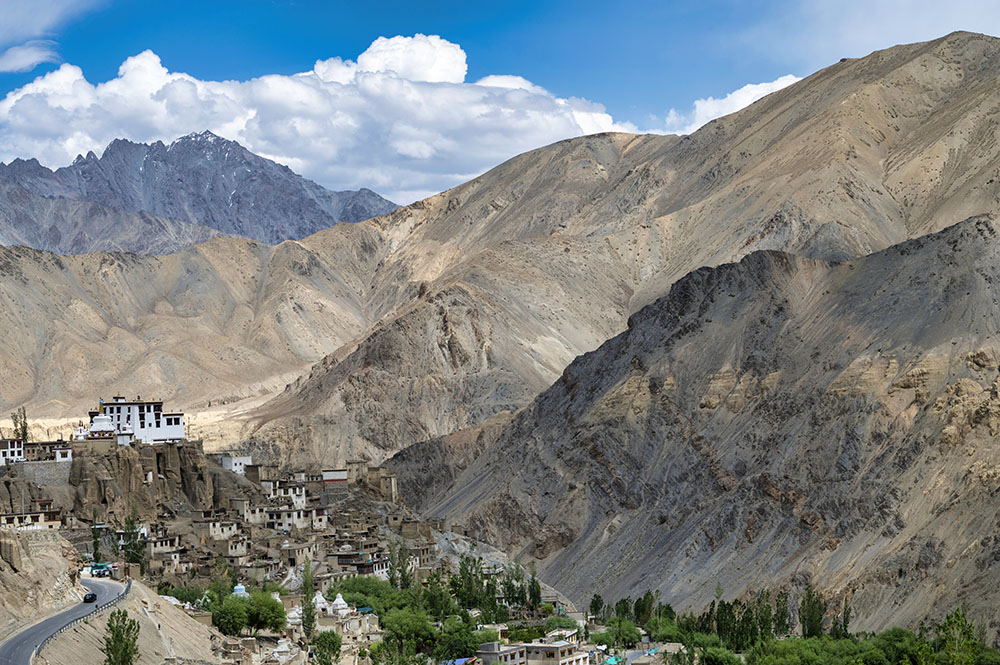 This was the same restaurant where we took a break a few days ago while going to Batalik. After stretching our legs and getting a cup of tea, it was time to cover the last part of this journey.
Also Read: When is the Best Time to Visit Ladakh
Leh
Leh is located at a distance of about 100 kilometers from Khalsi. There is a check post right after Khalsi where we had to register ourselves. After that, it was a smooth run all the way to Leh.
The condition of the road on this stretch is excellent. It is mostly either a straight road or has a very little incline. On the way, we drove through the Basgo Plains and the views here were stunning.
The only time we stopped during this part of the journey was to click some pictures on this straight road in Basgo Plains. Other than that, we just drove non-stop.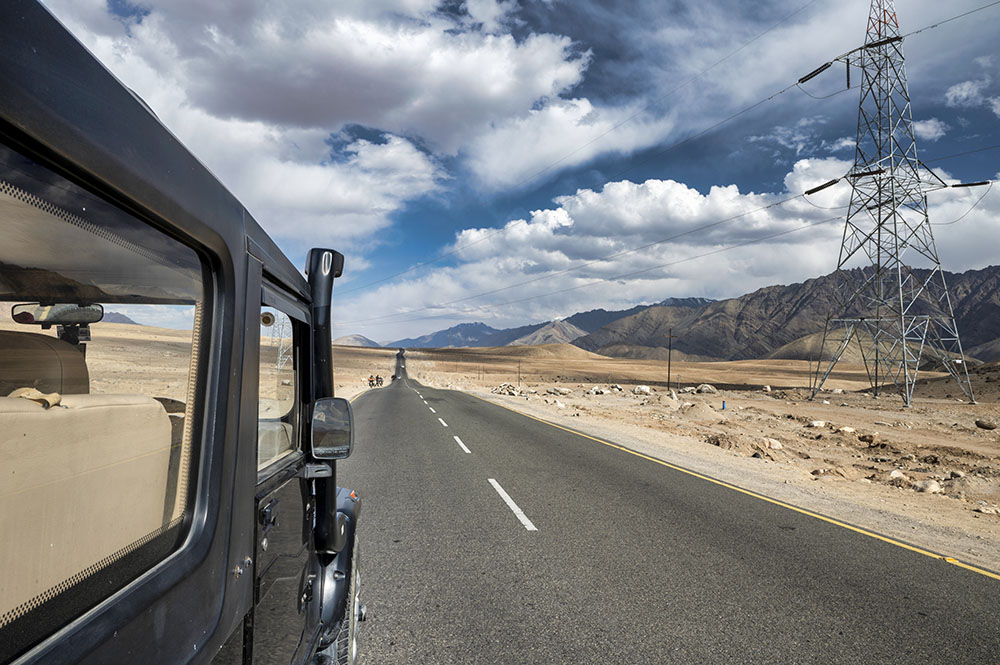 Some other attractions located on this route are the Indus-Zanskar Confluence, Gurudwara Patthar Sahib, and Magnetic Hill of Ladakh. But since we were going to be in Leh for a few weeks, our plan was to cover all these places later.
But if you were short on time, you can take brief breaks at all these attractions and cover them before reaching Leh.
Hotel Radhus Boutique Inn
We arrived in Leh and after a couple of wrong turns, we reached the hotel where we were going to be for the next 7 weeks – Hotel Radhus Boutique Inn.
I will post a review of this hotel in a later post but for an overview, it is a great place to stay. The best part was that the rooms were amazingly large with a lot of space.
We checked in, freshened up, and rested for a while. By the time we got to Leh, it was already 6.30 pm. So it took us about 9 hours to cover the journey that I thought we will manage in 6.
The only thing was that if we had slept properly the night before, we would probably have enjoyed it more. Nonetheless, it was a pleasant drive and we were able to make it to Leh in time.
Gesmo Restaurant Leh
After it was dark, we stepped out to get some dinner. We had about a month and a half in Leh and our plan was to try a different restaurant each day.  Lavish wanted to eat momos so that is what we started looking for.
Our search ended at the Gesmo Restaurant near the main market. I had heard about this restaurant before but this was the first time that I was eating there.
It proved to be a wrong decision though. We had to wait for about 40 minutes for two plates of Momos and even the Momos were just Ok, nothing great.
We did go back to this restaurant later in the trip but even then, the wait time was too high and the food was just plain bland. It is not a restaurant that I will recommend to anyone.
It was a Saturday when we reached Leh. The plan for the next day was to do some sightseeing in and around Leh only. We had initially thought to go back on the Kargil Leh route to cover Alchi and Likir Monasteries.
But that plan changed at the last minute and we instead ended up visiting Shey Palace, Thiksey Monastery, and Shanti Stupa. But the highlight of the day was when I lost my GoPro on our very first day in leh. Please click on the link above to continue reading the next part of the travelogue.
Kargil to Leh by road – Conclusion
I hope the travelogue, pictures, and details on traveling from Kargil to Leh were of help.  If you have any questions, you can ask in the comments section below. You can also contact me on Instagram to chat with me or subscribe to my YouTube channel and ask a question there.
This error message is only visible to WordPress admins
Error: No feed found.
Please go to the Instagram Feed settings page to create a feed.