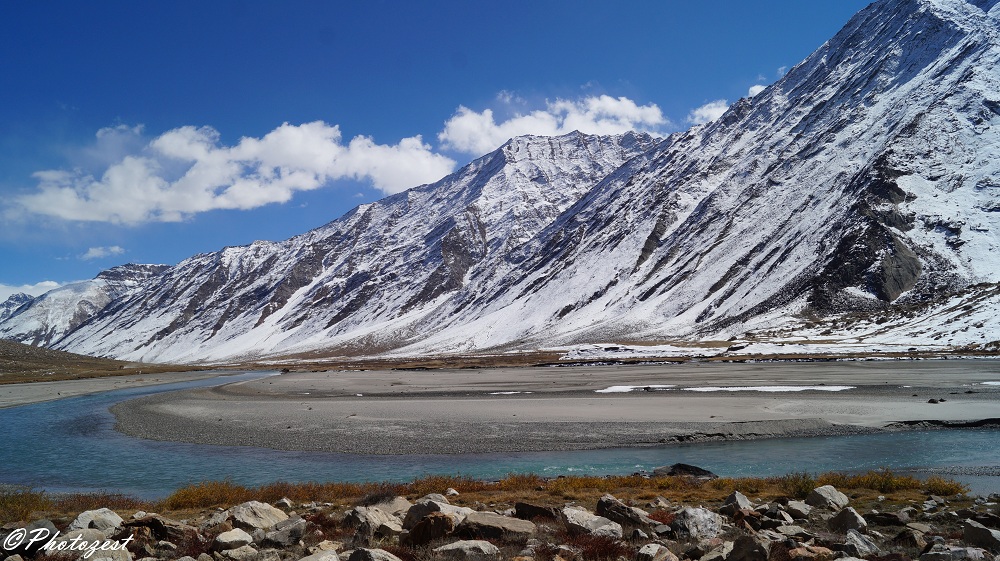 Ladakh is a favorite among people wanting to visit an offbeat destination and explore someplace new. But did you know that even within Ladakh, there are places that are still not on the tourist map? While the city of Leh, Nubra Valley, and Pangong Tso can now feel a little crowded during the tourist season, there are a lot of hidden gems in Ladakh that only a handful of people. These are places that are still truly offbeat and an example of which is the beautiful Suru Valley.
Mostly considered as a part of Zanskar, Suru Valley remains unseen by most of the travelers that pass by. I can guarantee that a lot of people would not even know of its name.
Also Read: How to Plan a Trip to Leh Ladakh – A Complete Travel Guide
From Kargil, tourists rush to Padum to explore Zanskar Valley and ignore what comes in between. For them, everything between Kargil and Padum is Zanskar, which is not really correct. On the way is also a little lush green heaven in the barren of Ladakh which holds wonders of its visitors. It is never on the itinerary of regular tourists but has a lot to offer if you had the time to explore.
About Suru Valley
Suru Valley is located in the Kargil district of Leh Ladakh, between the town of Kargil and Pensi La Pass. On one side of the pass is the Suru Valley and Zanskar on the other. As you start from Kargil, you pass through the Suru Valley, drive up the Pensi La Pass and cross it over to enter the Zanskar valley.
Suru is divided between the lower Suru Valley and Upper Suru Valley and is inhabited by about 25,000 people of Dard and Tibetan descent. The valley is named after the Suru River that flows right through it before finally merging into the Indus River.
Most of the valley's population is around the town of Sankoo. Beyond Parkachik Village, it is mostly uninhabited except for a couple of tiny settlements that make up Rangdum.
The average altitude of lower Suru Valley is below 3,000 meters and it is the most fertile land in all of Ladakh. Ample plantations of willow and poplar trees making it a relatively lush and high in contrast with the barren landscape of the rest of Ladakh.
Suru Valley has not been promoted as a tourist destination and receives ignorance by both the authorities and the travelers. Tourism activity is very limited in the valley even though several attractions that are attributed to Zanskar are located in Suru Valley, including the Nun Kun Massif.
Best time to visit Suru Valley
May to September is the best time to visit Suru Valley which is also the best time to visit the rest of Ladakh as well. The weather at this time is enjoyable with moderately warm days and pleasantly cool nights. Since it is the peak tourist season, you will also have no problem finding accommodation and will also be able to cover the Zanskar Valley during your trip.
But it will entirely depend on how you were traveling actually. The valley remains connected to Kargil and Leh for all 12 months a year. The only catch is the accessibility of Srinagar Leh Highway. So if you were flying into Leh City, you are free to visit Suru Valley as per your convenience and preference. After landing in Leh you can drive to Kargil and continue to Suru Valley from there. The road will remain open until Rangdum even during the peak winter months.
But if you were planning a road trip, then you can only do so from mid-April to early November, when the roads from Srinagar and Manali remain connected to Ladakh.
A winter trip to Ladakh and Suru Valley is possible as well but you should know that winters in Ladakh are extremely harsh with temperatures dropping to as far as -25 degrees Celsius. For more details, please take a look at When is the Best time to visit Leh Ladakh.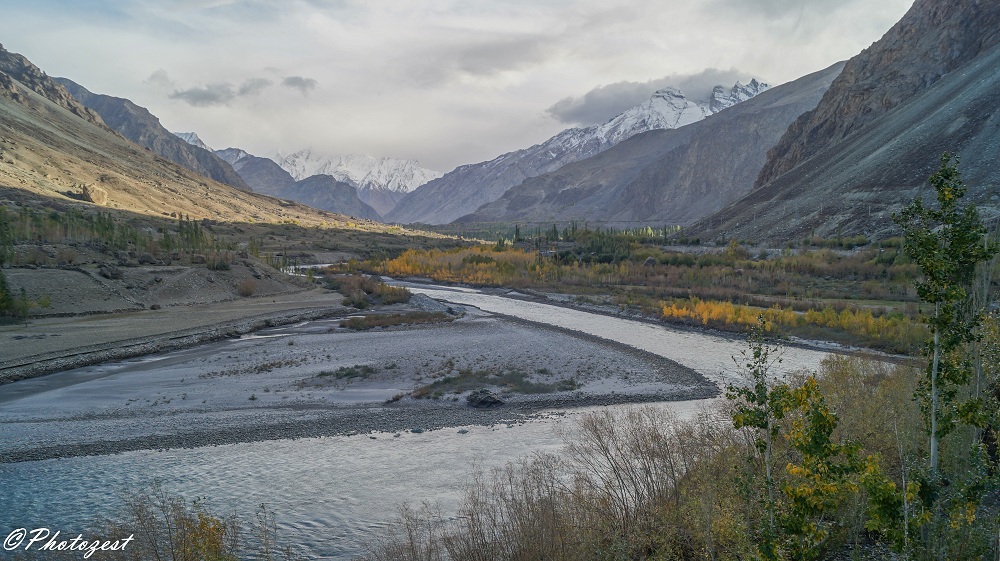 How to reach Suru Valley
In order to get to Suru Valley, you will first have to reach Kargil. You can either get there via Leh or via Srinagar. The best way would be to travel by road in your own vehicle while enjoying the beautiful scenery on the way. But if you were short on time, you can also travel by Air.
Let me first explain how you can get to Kargil in brief. To read a more detailed version of this information, please take a look at How to reach Ladakh by Road, Bus, Air, or Train.
By Road
If you were traveling by road, the best and quickest way would be to go via Srinagar. The total distance between both places is about 200 kilometers and you can easily complete the journey in a single day. The journey will take you through the beautiful valleys of Kashmir and across the mighty pass of Zoji La.
By Air
If you want to reach by Air, then you have two options and they are more or less the same in terms of distance and travel time. You can catch a flight to Leh directly and reach Kargil by road. This journey can be completed easily in about 6-7 hours, covering a total of 200 kilometers.
The second choice is to catch a flight to Srinagar and then travel to Kargil by road as I explained above. The only major difference in both of these choices is the price of the flight ticket. A flight to Srinagar will cost you considerably less than a flight to Leh.
By Train
Traveling to Ladakh by Train is not really the best of the choices but nonetheless, it can be done. The nearest major railway station is in Jammu. From Jammu, you will have to catch a bus or taxi for Srinagar and then go to Kargil from there.
By Bus
If you were traveling by public transport, you will have no problem finding a bus for Kargil from either Leh or Srinagar. There is a daily bus that travels from Leh to Kargil and vice versa. From Srinagar, this bus starts in the morning and arrives at Kargil by evening, halting there for the night. From Leh, it starts at 2 PM and reaches Kargil by 7 PM. If not this bus, then you can also opt for shared cabs which are more frequent than the Bus.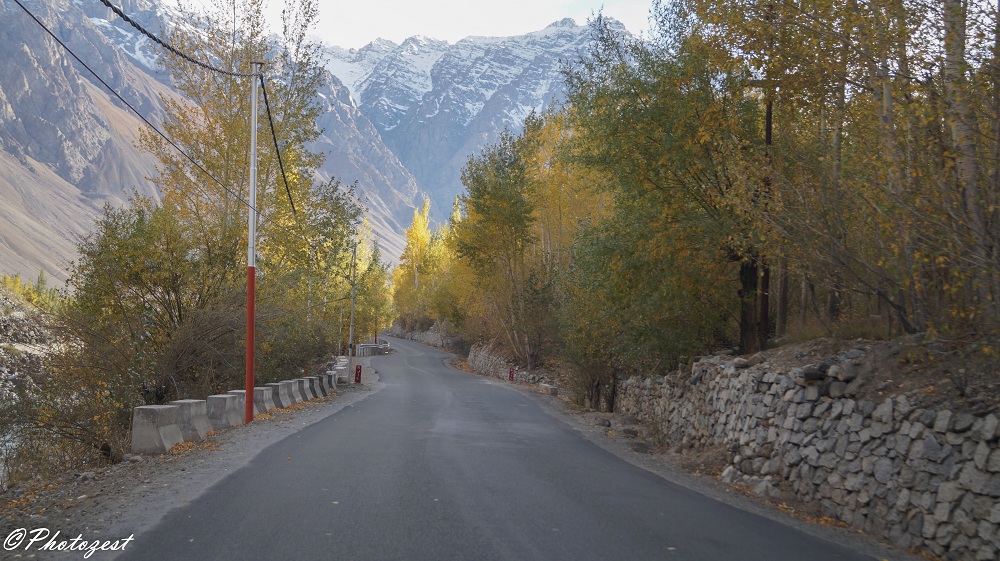 Kargil to Suru Valley
From Kargil, Pensi La is at a distance of 155 kilometers which is where Suru Valley ends officially. Sankoo is the largest town in the valley which is about 40 kilometers from Kargil. Depending on where you wanted to stay for the night and the places you visited, your travel time can be anywhere between 6-10 hours. The important thing to note here is that the road is good only till Sankoo. After that, it is a broken dirt road for the most part of it.
You can either start in the morning from Kargil, cover Suru Valley, and return by evening. Or you can stay for the night in any of the villages in the valley and continue to either Kargil or Padum the next day.
If you were traveling by public transport, you will have to mostly rely on shared taxis. There is a 7 AM bus from Kargil but it travels only Sankoo. There is also a Kargil to Padum bus but it is only once in a week. So your best bet would be to hire a private taxi for day-long sightseeing. If not, you will have to completely rely on shared cabs and hitchhiking.
Srinagar to Suru Valley
Now let us assume for example that you were coming from Srinagar. An ideal way to plan the journey would be to reach Kargil and stay there for the night. The next day, you should start early from Srinagar, visit Suru valley, spend some time exploring places and stay at Panikhar, Parkachik or Rangdum (more details on later in the article on this). If time allows, spend another day exploring Suru Valley and then proceed to Padum. After visiting Padum, you will travel back on the same route to Kargil and continue to Leh.
Leh to Suru Valley
If you were coming from Leh, then the journey can be done in a similar manner. Reach Kargil by evening, stay for the night, spend a couple of days in Suru valley, and then go to Padum. After Padum, you will travel back to Kargil and then either go to Srinagar or return to Leh.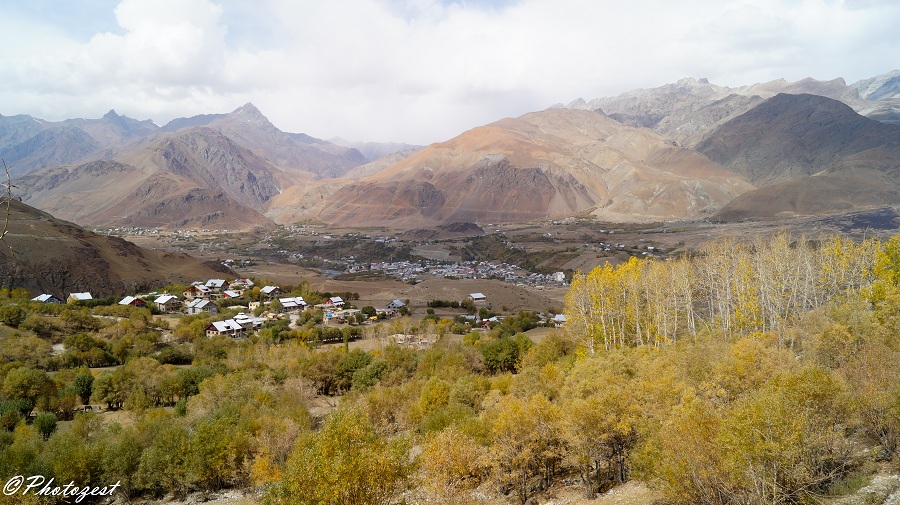 What to see in Suru Valley
There is really a long list and a wide variety of places to visit in Suru Valley. As a matter of fact, there are more tourist places in Suru Valley than there are in Zanskar. But on an overall basis, all of its attractions get considered a part of Zanskar only. From passes to lakes to monasteries to glaciers, Suru Valley has it all. If you had the time and wanted to explore it properly, you will actually need a good 2-3 days here. Below is a complete list.
Nun-Kun Massif
The twin peaks of Nun and Kun are by far the greatest attraction of Suru and can be seen from most of the valley. These two beautiful and mysterious mountains are a beauty in themselves. Nun is forever covered in snow, a white peak; whereas its next-door neighbor, Kun is barren black, picture below.

Source: Wikipedia
On a clear day, you will continue seeing the rising peaks of Nun Kun Massif for most of your journey towards Rangdum. Nun, at an altitude of 7135 meters (23,409 ft) is one of the highest peaks in all of Ladakh. These two mountains are located right next to each other, separated by a snowy plateau of about 4 km.
Parkachik Glacier
This is a huge wall of ice located slightly after Panikhar, near the village of Tongul, on one side of Nun Kun Massif. The entire mass of ice moves slowly down the slopes of Nun Kun, finally forming a 300-foot high front wall of the glacier. The breaking and melting ice from this wall feed the Suru River. There is even a suspension bridge on the river that you can cross to get closer to the glacier.
Shafat Glacier
On one side of the Nun Kun massif is the Parkachik Glacier and on the other side is the Shafat Glacier. This is a 14 kilometers long glacier formed by a mass of ice flowing down the slopes of Nun Kun. Melting water from this glacier forms a stream of water known as "Shafat Nala" which finally merges into the Suru river.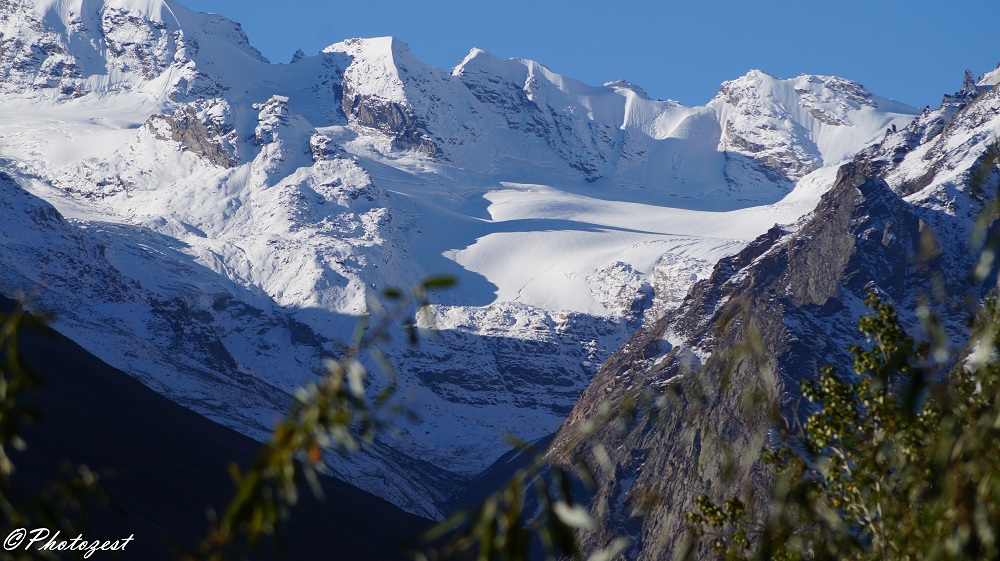 Pensi La Pass
Also known as Penzi La, this pass is actually considered in Zanskar Valley and not Suru. But it is more of a border between both the valleys. From Karil, you drive through the Suru Valley, climb up Pensi La and then drive down into Zanskar Valley. At an altitude of 4,400 meters (14,436 ft), it is one of the easiest passes in Ladakh.
The climb to Pensi La top is very gradual and if it wasn't for the prayer flags at the top, I do not think you will even realize that you just crossed a high altitude pass. But it has a couple of aces hidden up its sleeve that makes traveling to Pensi La an amazing experience.
Drang Drung Glacier
At the top of the Pensi La pass, you will be greeted with a breathtaking view of Drang Drung glacier. It is a massive river of ice and is truly a sight to behold. At a maximum length of 23 kilometers, it is the second-largest glacier in Ladakh after the Siachen Glacier. A large number of tourists travel to Ladakh and Zanskar only to catch a sight of this magnificent white river of snow, which is also the source of the Stod River.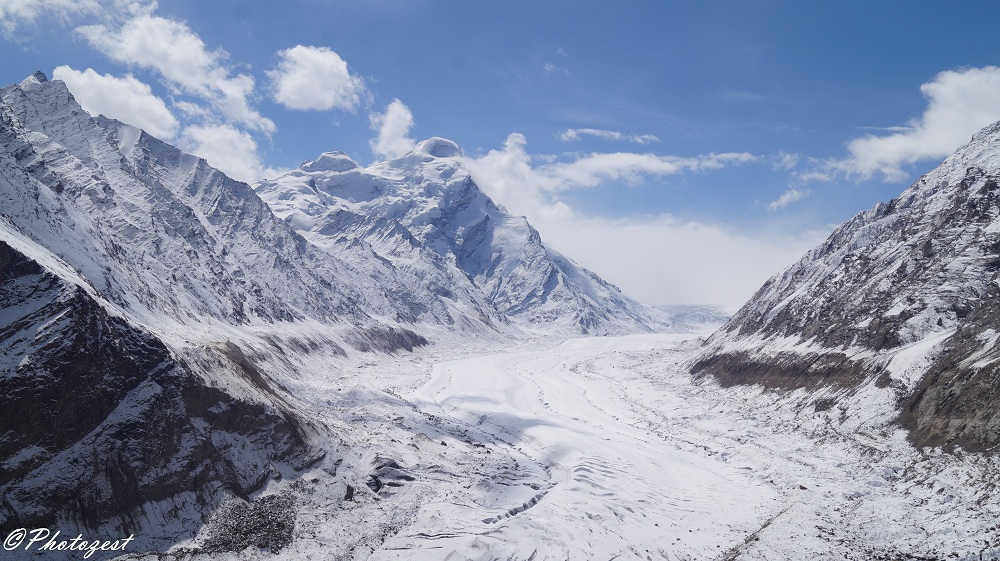 Ta Tso and the Lang Tso lakes
Another two little blue jewels sitting at the top of Pensi La ar the twin lakes of Ta Taso and Lang Tso. Both these lakes are located right next to each other. To get here, you will have to leave your vehicle at the top of the pass and walk a short distance. Not many people are aware of their existence and you will rarely find anyone around here which makes them possibly the least visited lakes in Ladakh.
Also Read: Budget Trip to Zanskar Valley – How to Plan Your Journey?
Rangdum Monastery
Rangdum is the last inhabited place in Suru Valley. About 5 kilometers out of Rangdum and built on a small hill is the Rangdum Monastery, also known as Rangdum Gompa. It is next to the tiny village of Julidok, and about 25 kilometers before Pensi La. Built in the 18th century, the monastery looks like a small fortress and was in fact used by the Army of General Zorawar Singh as a base during their invasion of Ladakh. The monastery is also known as Rangdum Fort or The fort of Rangdum.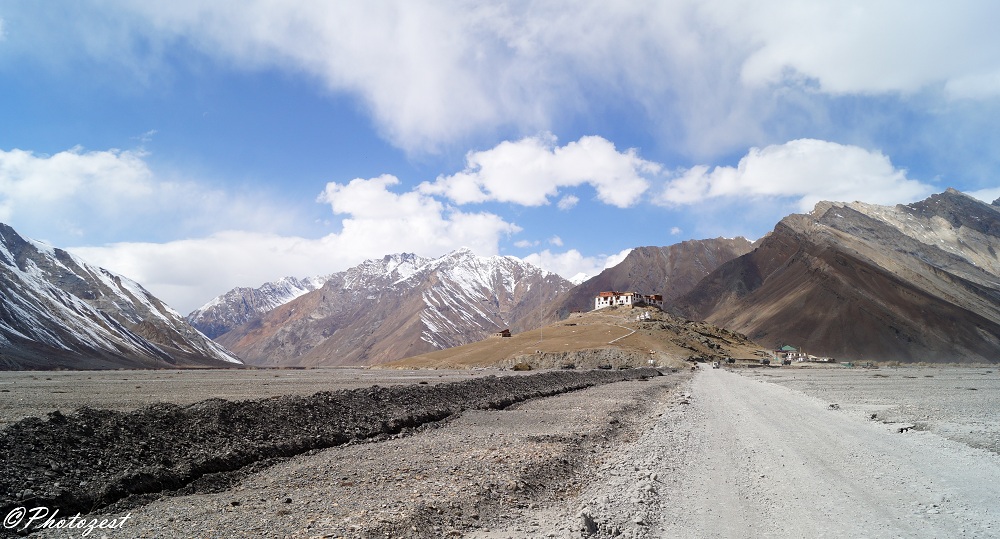 Suru River
This beautiful river will accompany you throughout your journey in Suru Valley. The river originates from the Panzella glacier near Pensi La, flows along the Kargil Padum road, and forms the Suru Valley. The river is also known for its extensive possibilities for rafting that are organized during the summer season.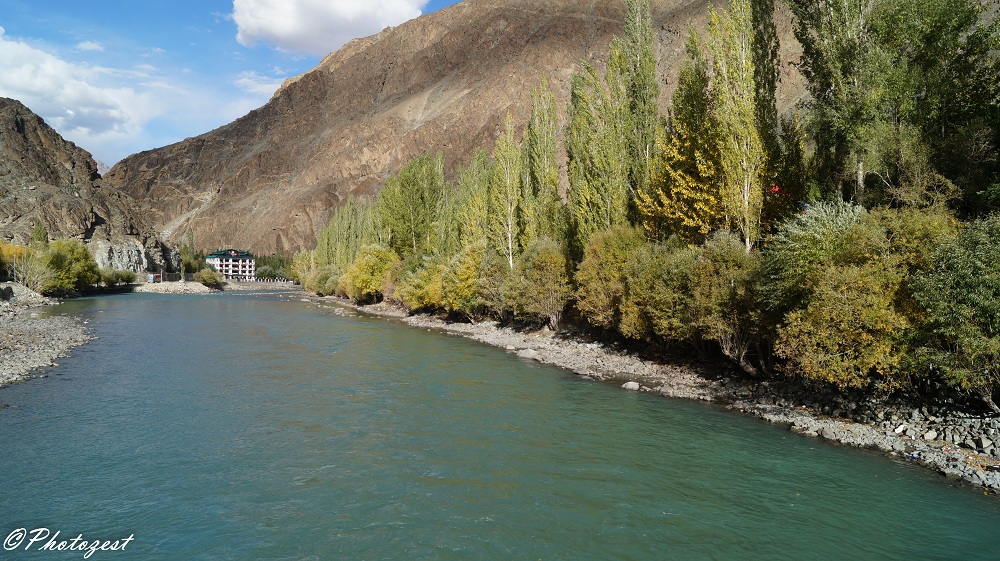 Parkachik La
This is a pass within Suru Valley, connecting the villages of Panikar and Parkachik. It can only be accessed on foot. From Panikhar, you walk up to the pass and descend down to Parkachik on the other side. This pass provides amazing views of Nun – Kun massif and other peaks in the main Himalayan ridge separating Kashmir from Ladakh. If you are into photography, this is the spot in Suru Valley where you will get your best landscape photos from.
Umba La
This is the pass that connects Sankoo in Suru Valley to Dras directly. Traveling this way, you do not need to go to Kargil first and can reach Dras directly from Suru Valley. At an elevation of 4,496 meters (14,750ft), it doesn't even sound like much of a difficulty to cross. But the steep climb and bad road can surely make it one hell of a challenge to reach the top of this pass. If you want to add a little bit of adventure to your trip, this is the pass to cross.
Kartse Khar
This is a tiny little village in Suru Valley, near Sankoo. What makes this village a must-visit however is the 7 meters Maitreya Buddha of the 7th Century, carved into a Hill and overlooking the valley. It is a majestic and impressive statue of about 22 ft in height, one hand raised in the Abhaya mudra and the other holding down a kamandal and flanked by two gandharvas on either side. Just ask any of the locals in Sankoo and they will show you the way to the village
Also Read: Phugtal Monastery – A Complete Travel Guide
Towns and Villages in Suru Valley
Below are the five major villages of Suru Villages. There are numerous other small hamlets scattered across the valley but the ones mentioned below are the biggest ones located right along the Kargil Padum Road.
Sankoo
Sankoo is the only place in Suru Valley that can actually be called a town. It is located about 42 kilometers from Kargil in a bowl-shaped valley. It is surrounded by dense plantations of poplars, willows, Myrciaria, wild roses, and colorful mountains; making it quite popular as a favorite picnic spot among the locals. There is also a small bazaar in the town where you can buy little souvenirs for your trip.
Purtikche
About 17 kilometers after Sankoo is the small village of Purtikche. A friend of mine stayed here at a local's house and was very pleased with the overall ambiance of the place. It is a scenic little hamlet along the river.
Panikhar
7 kilometers after Purtikche is the village of Panikhar. This village serves as a starting point and base for people wanting to climb Nun Kun Peaks or to even trek to the base camp. It is also one of the best places to get a clear view of Nun Kun.
Also Read: Zanskar Valley – A Complete Travel Guide & Itinerary
Parkachik
This place is best known for awesome views of Nun Kunk peaks, Parkachik Glacier and Shafat Glacier. It is located about 16 kilometers after Panikhar.
Rangdum
It is the last village in Suru valley. The landscape of this village however resembles more to Zanskar than Suru Valley. By the time you reach Rangdum, the greenery will be all gone and you will be standing in the barren brown of Zanskar surrounded with the white snow-capped peaks. The place is best known for Rangdum Monastery, also known as Rangdum Fort.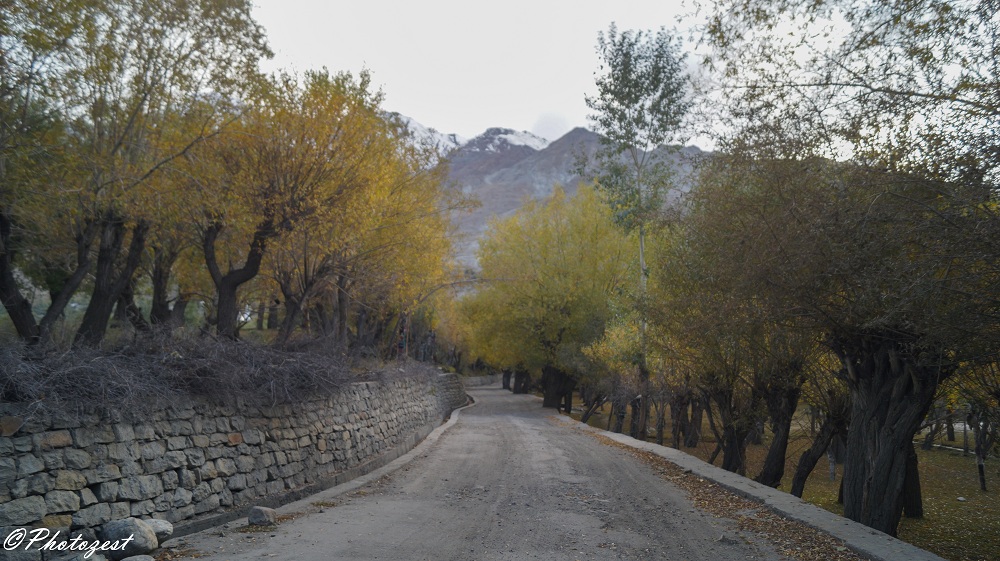 What to do in Suru Valley
Suru Valley is a place to relax and enjoy the natural beauty around you. If you want to do a ton of activities then Leh is the place for that. But if you want to spend a few days in peace and away from the crowd, then Suru Valley will suit you the best.
Photography
Other than visiting all of the above-mentioned places, photography will be one of the greatest things to enjoy here. The landscape of Suru is very different than the rest of Ladakh. It changes drastically within 30 kilometers as you travel towards Sankoo. The lush green scenery with a river flowing through the valley and mighty snow-capped mountains in the backdrop is a shot that is hard to find elsewhere in Ladakh.
During the night, the pollution-free skies will light up with countless stars, a sight that city folks hardly get to see. If you had a capable enough camera, you will have fun getting some long exposure shots of the skies and capturing the star trails.
Local Culture
Like the landscape, the culture of Suru Valley is also very different. While Ladakh is majorly Buddhist, Suru Valley is predominantly Muslim. The culture of the people here is very different even than the Muslims from other parts of the country. Talking to the locals, listening to their stories, and learning about their way of life should also be on your list of things to do in Suru Valley.
Enjoy Local Food
The thing about Suru is that there are no big and fancy restaurants here, just a few small dhabas and eateries. At most of the places, you will in fact end up eating at your homestay or guest house. But that does not undermine the taste of the food. If you are a non-vegetarian, you are in for a treat.
Also Read: Kargil Taxi Union Rates – Updated List
Trekking in Suru Valley
Thanks to the Nun Kun Massif, trekking is one of the most popular tourist attractions in Suru Valley. Thousands of trekking and mountain climbing enthusiasts arrive here each year to scale the massive twin peaks. The annual Suru Boulder Festival in the valley is attended by participants from different countries including some of the best climbers from India and abroad.
But do not let that scare you. I agree that Nun Kun is for serious mountain climbers but there are numerous other options for regular trekkers as well. The most common trek is between Parkachik and Panikhar over the Parkachik La Pass. This is a day trek that can be a little strenuous but can be done in 6 hours. The views that you get on this trek will definitely make up for your time and effort.
Other trekking options include the Sapil Lake and Rushi La trek from Shergole to Sankoo; or the six days Warwan Valley trek from Panikhar. From Tangole, you can also trek up to the Nun Kun Base Camp.
Where to Stay
There are three choices of accommodations that you have in Suru Valley. The first is of very simple guesthouses that are located only in Sankoo.
The second choice is of J&K tourism bungalows that are located in Sankoo, Panikhar, Parkachik, Rangdum, and also in some other villages like Rangdu, Tangol, and Purtikchay.
The third option is homestays that are available throughout the valley. Just talk to the locals and they will let you stay in their homes for a night at a very nominal charge.
Rangdum has a PWD guest house and a J&K tourism bungalow as well. There is also a campsite here by the name of Nun-Kun Deluxe Camp (01982 252153 or [email protected]). Another place to stay is Zanskar Express Guest House. You can stop here for some very simple food and they can also arrange a night stay in a village home for a price as low as Rs. 200 to Rs. 300.
The tourism bungalow in Parkachik here goes by the name of "Parkachik Alpine Hut" which leads people to believe that this is a different guest house but it is not. Meals are prepared at the bungalow by the caretaker on request.
I have covered this topic in great detail in a different article, Accommodation in Suru and Zanskar Valley, which I will urge you to read.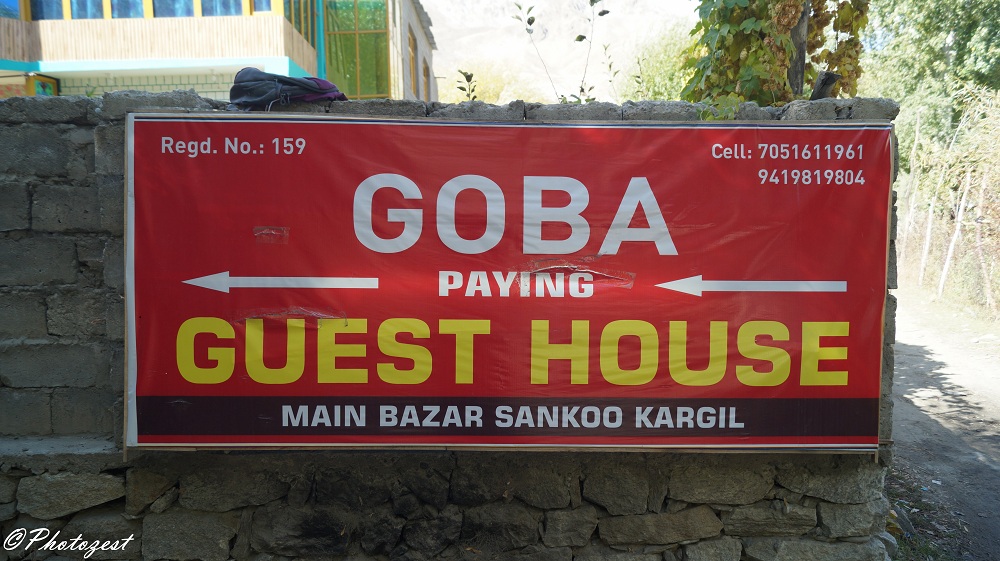 Where to Eat
Like accommodation, your options to eat are also limited. Only Sankoo has a small bazaar and a couple of simple eateries. At the rest of the places, it is just going to be a small dhaba where you can get some basic food only. If you were staying at a homestay, then it would be best to eat with your host only.
J&K tourism bungalows do not have any food facilities available. So if you stayed there, you will have to look for a dhaba in the village to eat at. While traveling through Suru Valley, I will strongly urge you to carry some snacks and other food items with you.
Also Read: Zanskar Valley Taxi Rates – Updated List 2020
Other Facilities
Below is some information on other amenities available in the valley.
Mobile Network in Suru Valley
BSNL has the widest coverage in all of Ladakh but it does not work in Suru and Zanskar Valley. Irrespective of which network you were on, you will remain connected in Kargil and until Sankoo but not after that.
BSNL, Jio, and Airtel work well in Kargil but Vodafone and Idea will not. In Sankoo, you can get some reception with BSNL only. Even if you did, the voice quality will be bad.
Electricity
There is electricity available in the villages but not regularly. Even the locals rely on solar power.
Petrol Pump
There is a petrol pump in Kargil but not elsewhere in Suru Valley.
Permit
There is no permit needed for Suru Valley.
Medical Help
There is a district hospital in Kargil that is capable of handling medical emergencies. There is also an Army hospital here that can be approached if needed. Other than that, only Sankoo has a drug store.
Shopping
You can try buying something in the small bazaar of Sankoo but for shopping, Kargil will be a much better place. Most of Suru Valley has only a few simple shops selling day to day commodities.
Distance Chart of Suru Valley
Kargil to Sankoo: 42 Kms
Sankoo to Panikhar: 25 Kms
Panikhar to Parkachik: 31 Kms
Parkachik to Rangdum: 32 Kms
Rangdum to Pensi La: 25 Kms
Conclusion
Suru Valley is one of the last unexplored places of Ladakh. This is where you should spend some time if you want to visit an offbeat place. The natural beauty of the place, its people, and culture is sure to win your heart. I hope the information above was of help. If you have any questions or need any other details, please feel free to ask in the comments section below, or at our Community Forum, and I will be glad to answer.