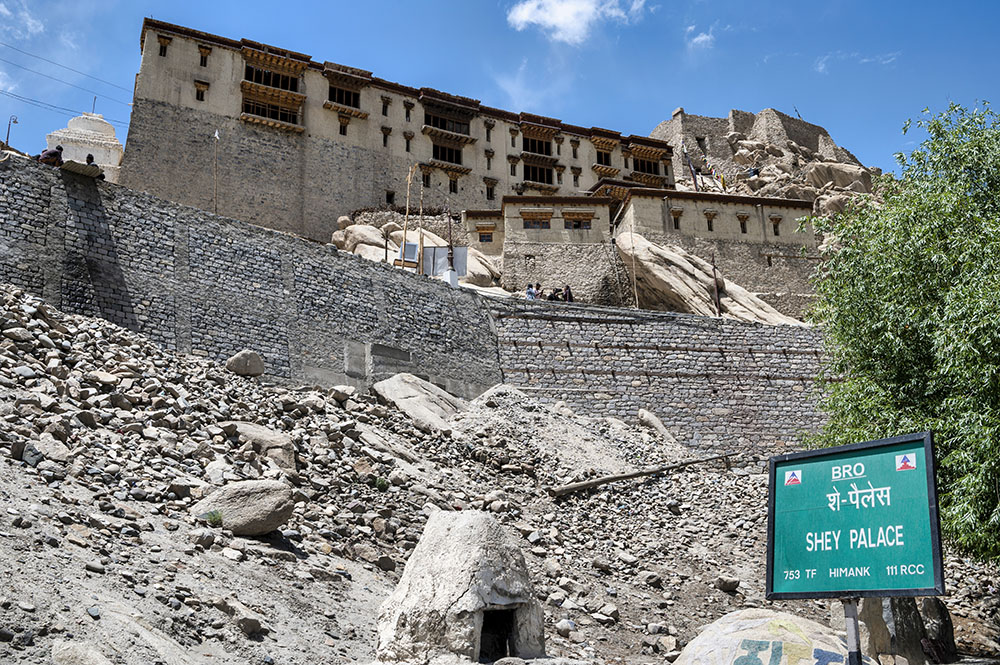 Shey Palace and Monastery are located at a distance of about 15 kilometers from Leh. It sits on the top of a hill on the Manali Leh Highway in Shey Village and is among the most picturesque monasteries of Ladakh.
At an elevation of 11,204 feet (3,415 meters), it commands an excellent view of the Indus Valley flood plains and the surroundings of Thikse, Stakna, Matho, Stok, and Leh. If you are into photography, this is one place in Ladakh that you definitely do not want to miss.
A trip to Shey Monastery and Palace can be a stand-alone affair or a part of a day-long monastery tour around Leh. If you were short on time, you can also include it with your trip to Pangong Tso and Tso Moriri.
Another option can be to cover the monastery while traveling between Leh and Manali. In this article, I will provide more information on how to reach Shey, what to see there, things to observe, and accommodation choices.
For information on other places in Leh Ladakh and a complete travel guide about how to plan your trip, you can also take a look at How to Plan a Trip to Leh Ladakh.
Leh to Shey Palace and Monastery
I was recently on a road trip to Ladakh that lasted for about 2 months. We covered the entire Ladakh region and visited pretty much all of the tourist attractions in Ladakh including Shey Palance and Monastery.
The post below is a brief narration of our visit to Shey. It also has all the necessary information that you would need to plan your own trip. To read the previous parts of this travelogue, you can follow the links below.
Before I talk about our journey though, let me first provide some information on the Shey palace and monastery.
About Shey Palace and Monastery
People often confuse Shey Palace and Shey Monastery as two different places. The truth, however, is that both of them are in one and the same place.
The building that once served as a palace for the Royal family of Ladakh has now been converted into a monastery. Earlier, the monastery was part of the palace but nowadays, the entire palace is pretty much the monastery only.
The literal meaning of the word Shey is 'mirror'.  There is a legend that the small body of water on the other side of the road, in front of the palace, once used to be a huge lake.
It mirrored beautiful reflections of the surrounding mountains and this is why the place was named Shey. When the water was still in the early morning, it looked like a giant natural mirror.
You can watch the video of our visit to Shey palace at the link below.
Shey Palace in Leh
Shey may just be a small village now but it was originally founded as the capital of Ladakh. The history of Shey Palace as well is quite a glorious one.
The original palace was built in the 10th century and served as the seat of power, controlling most of Ladakh and Zanskar, up to the Zoji La Pass. A new palace and monastery were built in 1655, just below the old palace.
After the Dogras of Jammu invaded Ladakh in 1842, the Royal family of Ladakh, the Namgyals, abandoned Shey and fled to the other side of the Indus River, to Stok Village.
Over a period of time, around the 17th century, Leh eclipsed Shey and became the capital of Ladakh. It did not, however, reduce the importance of Shey Palace any less.
Shey turned into the summer capital of Ladakh and it became a mandatory custom for Namgyal kings to father their heirs here.
Shey Monastery
The monastery in Shey was once a part of the palace but now occupies most of the building. So in a way, when you visit Shey Palace, you are actually visiting Shey Monastery as well.
It is best known for its copper statue of the seated Shakyamuni Buddha, gilded with gold. It is the second-largest such statue in Ladakh, second to only the Maitreya Buddha statue at Thiksey Monastery.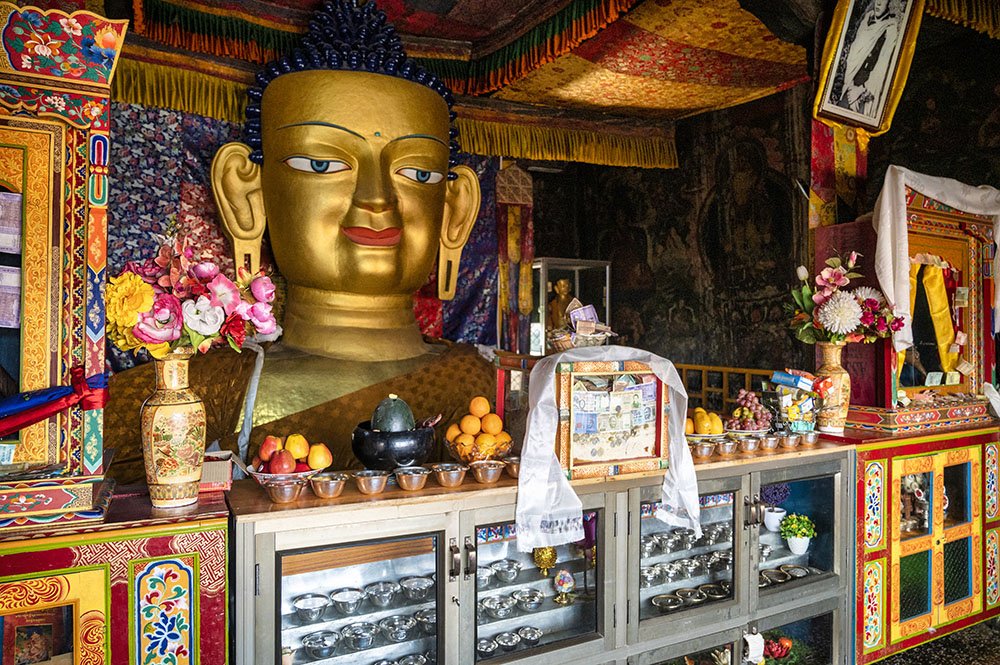 The monastery (or palace) is located right next to the Manali Leh route. You can just leave your vehicle on the highway itself and climb a set of steep stairs to enter the gompa.
As compared to other monasteries, like Thiksey or Hemis, Shey is not really a big one and you can be done exploring it within an hour at most; unless you spend some time trekking above the monastery to where the ruins of the ancient fort are.
Shey Monastery can also be approached by trekking 4 kilometers from Thiksey Monastery. This path is marked with hundreds of whitewashed chortens scattered across the desert landscape. There is in fact an interesting story behind it.
It is said that the king of Ladakh was a kind-hearted man and had a unique way of punishing criminals. Rather than incarcerating or fining people for their crimes, he would instead have them build a certain number of chortens.
This way, the criminal will have plenty of time to think over what they have done, to repent of it, and in the act, absolve themselves through a holy deed. This is why this entire area is filled with chortens to date.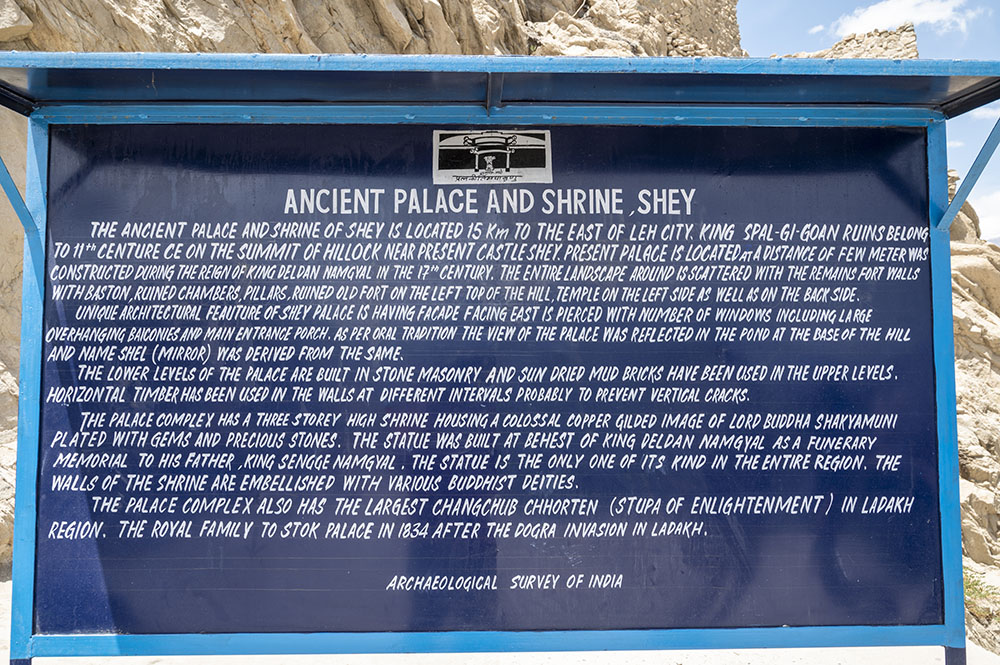 Leh to Shey
In order to reach Shey Palace from Leh, you will start driving on Manali Leh Highway towards Karu. About 13 or 14 kilometers later (depending on where you started from in Leh), you will notice a narrow dirt road climbing up to your left.
Since it is almost like a U-Turn, the road is easy to miss so keep an eye out. There is no way that a car can go up this road so you will have to park somewhere on the highway itself.
If you were on a bike, you can ride it up till the gate but my advice would be that you leave the bike as well parked on the road.
Walk up this narrow road and it will lead you to the spot from where you will have to climb a set of stairs to finally reach the gates of the monastery.
Exploring the Monastery
The main attraction of the monastery is the Shakyamuni Buddha. It is 12 meters (39 ft) in height and is so large that it, in fact, covers three floors of the monastery.
Standing on the first floor, or the lowest level, you will only see the feet and part of the legs of the statue. The top floor is where you will see the upper torso and the face.
The statue is made of copper and gilded with 5 kilograms of gold. It was first built in parts and then transported to Shey palace to be put together.
Other than the statue, there are several beautiful wall paintings in the monastery that are working taking a look at. There is also a small library on the first floor that houses several ancient manuscripts and paintings of Buddha figures in different positions.
After exploring the shrine, you can further climb up the dirt path towards the top. But please keep in mind that it is a steep broken path and you will have to climb very carefully.
From the top, you can get an amazing panoramic view of the surrounding valley and Thikse, Stakna, Matho, Stok, and also Leh in a distance.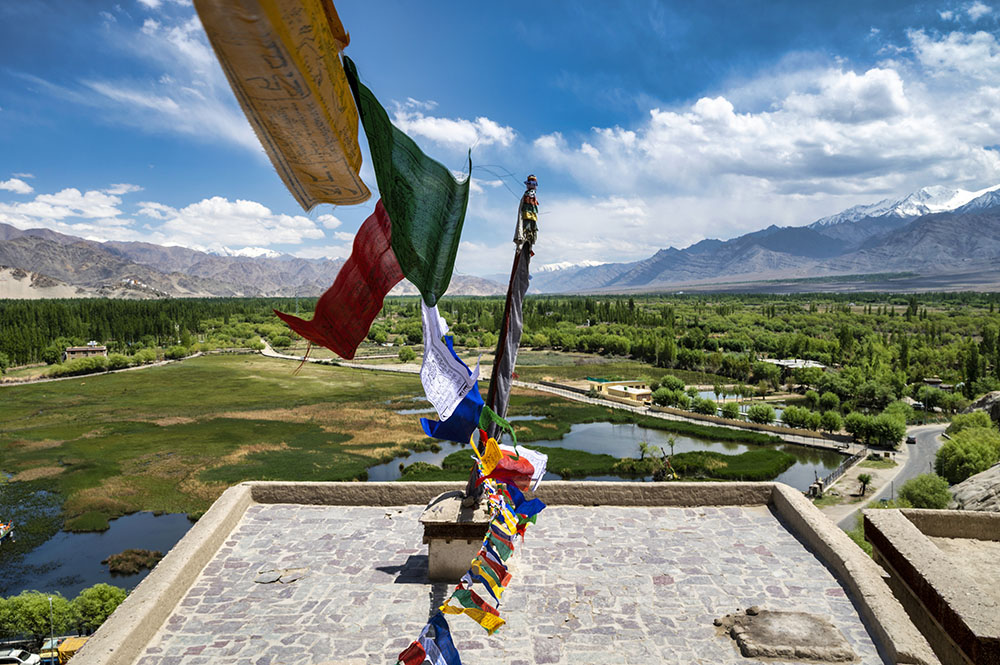 Sitting Buddha
You can also walk to another small shrine near the monastery that housed another large statue of Shakyamuni Buddha in a sitting posture.
Just ask anyone at the monastery and they can point you in the direction of this shrine. Here as well, other than the Buddha statue, you will find several paintings of 16 Arhats, original disciples of the Buddha.
From this shrine as well, you can get scenic views of the Indus valley. The white chortens that I discussed above in the article are located towards the east of the palace.
I will also recommend going towards the back of the place to get some pictures of an amazing landscape. Photong, the official residence of the Head Lama of the monastery is located near the edge of the valley.
Shey Gompa Festival
There are two festivals held in Shey Monastery each year – Shey Doo Lhoo (also called Shey Durlo) and Shey Rupla.
These festivals follow the Tibetan Lunar Calendar so the exact dates vary each year but it is either towards the end of July or the beginning of August. You can check THIS POST to find out the exact dates of all festivals celebrated in Leh Ladakh.
Shey Doo Lhoo marks the beginning of the sowing season and is celebrated in either July or August. It is a two days affair and is marked by Cham Dances and rituals performed by the Lamas. The prayers in the monastery at the time of this festival are attended by a lot of locals in a spirit of celebration and hope.
The second festival is called Shey Rupla and marks the harvesting season. A dance called 'Rupla Dance' is performed by two men in tiger costumes as the villagers make offerings of their first harvest at the monastery.
It is also believed that women without Children offer special prayers at Shey Monastery to seek blessings in the form of kids.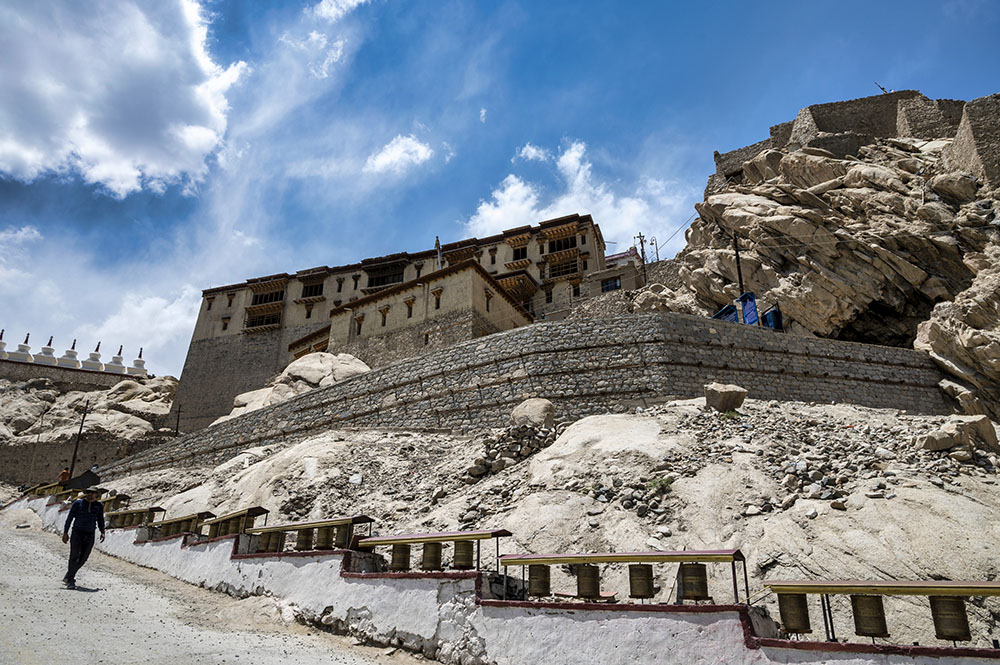 How to Reach Shey Palace and Monastery
For this part, I am going to assume that you have arrived in Leh and are now wondering how you can get to Shey from there. If however, you would like to know about getting to Leh first, I recommend taking a look at How to Reach Leh Ladakh by Road, Bus, Air, and Train.
Once you are in Leh, getting to Shey is pretty easy. Your own vehicle, either a car or motorcycle, will be the best way to travel around for local sightseeing in Ladakh.
This way, you can draft your own itinerary, follow your own schedule and take as many breaks as needed while on the way.
By Own Vehicle
The best way to plan this trip would be to stay in Leh for a day and spend it on what is commonly referred to as a 'monastery tour'. You prepare a list of the monasteries you want to see, start early in the day, visit them one by one and return to Leh by evening.
The road that Shey Palace is on also has three other large monasteries, Thiksey, Stakna, and Hemis. So between Leh and Karu, you can visit 4 monasteries in total.
If time allows, you can also go towards Kargil and cover Alchi and Likir Monasteries. On the way, you will also cross three other great tourist spots; Gurudwara Patthar Sahib, Indus-Zanskar River Confluence, and Magnetic Hill.
Or you can spend the latter part of the day visiting Leh Palace and Shanti Stupa. The sunset view from both these places is really stunning and must not be missed.
The second way is to incorporate the trip with Pangong Lake or Tso Moriri. It is the same road that you will take to get to both of these lakes. So you can also cover Shey either while going to Pangong or Moriri or while returning.
The third way is to visit while commuting between Leh and Manali. For example, if you were coming from Manali, you can pay a short visit to the monastery before reaching Leh.
There is no permit required for it so you won't be stopped anywhere. Or if you were planning to return via Manali, then you can cover the monastery while on the way.
Leh to Shey Bus
If you were traveling by public transport, then you will have to board a bus going from Leh to Sakti. The timings of the buses are 8.15 am, 8.30 am, 1.30 pm, 2.30 pm, 3.30 pm, and 4.30 pm. The fare per person will be Rs. 30.
Since Shey Palace and Monastery is right on the highway, you can ask the driver to stop right in front of it. After you get off the bus, you can walk the remaining distance to the palace. For more details, please read Local Bus Timings in Ladakh.
By Shared Taxi
If you weren't traveling by your own vehicle and a bus was not really a convenient option, then a shared taxi can be a great choice.
These are available from the bus stand itself and on a regular basis throughout the day. Just reach the stand, ask around and find one that could drop you outside Shey and jump in. The fare per person will be around Rs. 40-50.
By Private Taxi
This will definitely be the best option if within budget. This way, you get picked from right outside the hotel, shown around, and brought back.
But if you were opting for a private cab, I will recommend booking one for the entire day of sightseeing and not just Shey. Please read Taxi Charges in Leh Ladakh to know how much it will cost you.
Rented Motorcycle
If public transport wasn't convenient and a private cab was not within the budget, then the next best choice is to rent a motorcycle like Royal Enfield.
These are easily available for rent in Leh at several places. It is also a great way to add a bit of adventure to the trip. Riding a motorcycle on the roads of Ladakh is really an experience in itself. While you were there, it would be best to give it a try.
If you weren't too big on motorcycles, then you can also opt for an automatic scooter like Activa. Please read Leh Ladakh Motorcycle Rental Rates to find out how much it will cost you.
Hitchhiking
The most cost-effective way would be to simply hitchhike and in Ladakh, it is not difficult at all. Shey Monastery is located on Manali Leh Highway, a busy road.
You will find plenty of locals and tourists traveling on it all day long. Someone in a car may not stop but a biker riding alone will not mind giving you a lift at all.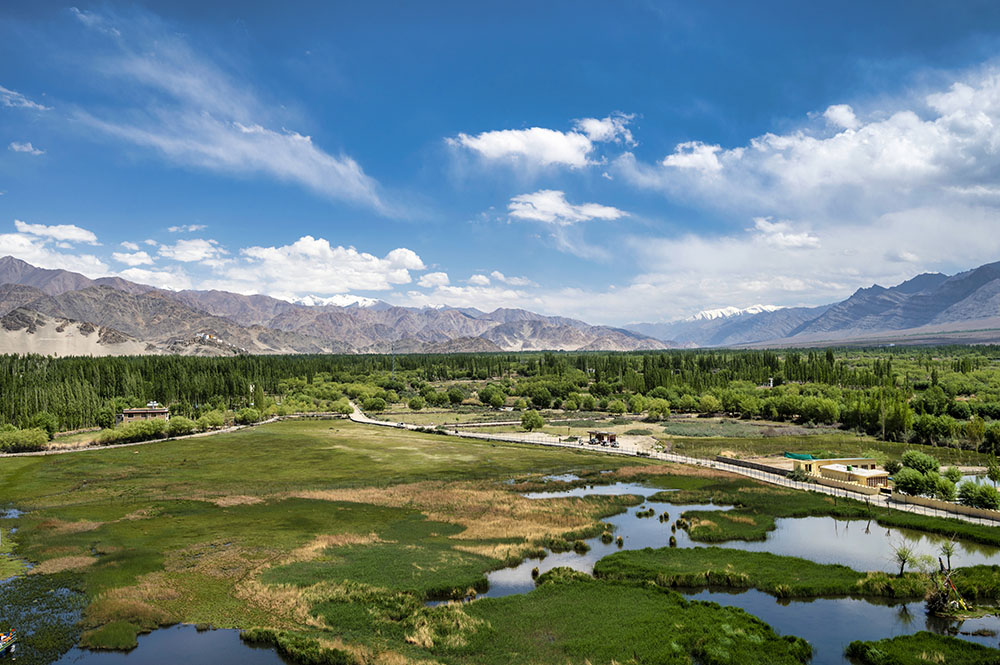 Best time to visit Shey Palace and Monastery
May to September is the best time to visit Ladakh and will also apply to Shey Palace and Monastery. The weather at this time is very pleasant and perfect for tourists.
Srinagar Leh Highway as well as Manali Leh Route will both be open and reaching Ladakh will not be difficult. Tourist places in Ladakh like Nubra Valley, Pangong Lake, and Tso Moriri will be accessible during this time period.
If you, however, wanted to attend the Shey Gompa Festival, then you will have to plan a trip in either July or August, according to the dates of the festival.
Where to Stay
The best thing to do would be to stay in Leh City and plan a day trip to Shey. It is hardly half an hour's drive from the city so commuting too will not be difficult at all.
If you wanted to stay somewhere close to the palace, then you can look for a hotel near Shey Village. The entire route between Upshi and Leh, in fact, has several hotels, and finding one on any budget will not be difficult.
As far as I know, staying overnight in Shey Monastery is not an option. You will have to stay at a hotel only.
If you are eager on staying at a monastery, then you can try your luck at either Thiksey or Hemis. Both of these monasteries have basic rooms that they lend out to visitors.
Where to Eat
There are several small restaurants and shops right next to the monastery, on the other side of the road, where you can get something to eat while visiting Shey.
Mobile Network
BSNL has the widest coverage in all of Ladakh followed closely by Airtel and Jio. The thing that you should know, however, is that only postpaid phones work in Ladakh due to security reasons.
Prepaid phones do not work at all and will be dead as a paperweight. So, if you were carrying a postpaid BSNL, Airtel, or Jio phone, it will work fine in Shey Palace and Monastery. For more details, please read Mobile Connectivity in Leh Ladakh.
Shey Palace Timings
The opening hours are from 6 AM to 1 PM and 1.30 PM to 6 PM every day, including Sundays and national holidays. The monastery also remains closed for 15 minutes between 4 – 4.15 PM for a tea break.
Shey Palace Entry Fee
You will have to pay an entry fee of Rs. 30 per person to enter the monastery. The fee is the same for both Indians and foreign nationals. There is no parking charge.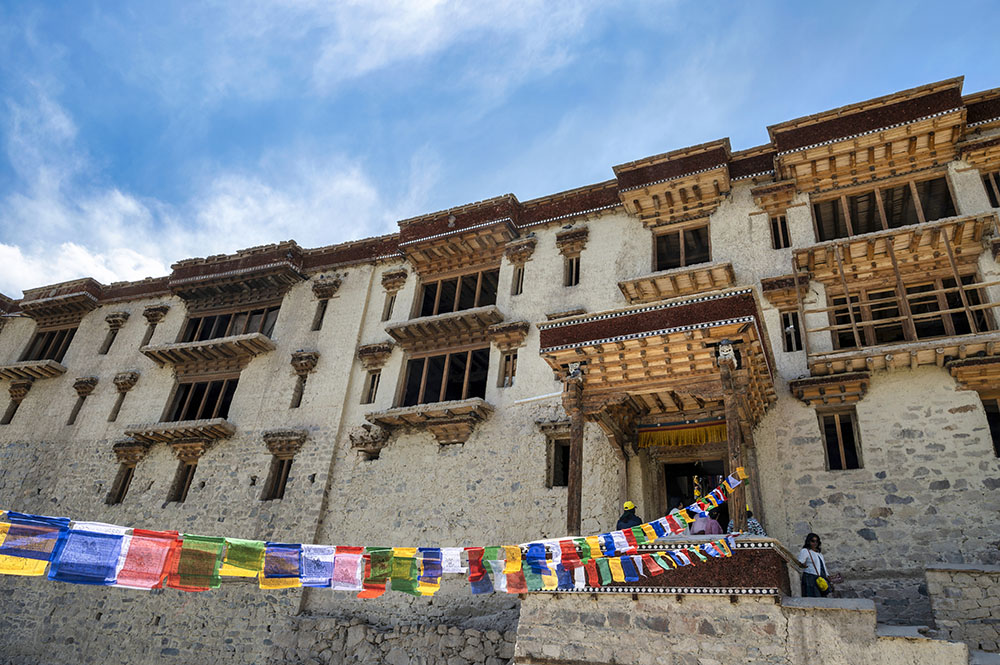 Day 16: Ladakh Monastery Tour
Now coming back to the travelogue, let me talk briefly about our visit to Shey Palace and Monastery. We arrived in Leh from Kargil on a Saturday evening, on the 15th day of our Ladakh trip.
On the way, we covered Zanskar, Lingshed, Batalik, Umba La, and Manman Top, links to which I have provided previously in this post. This is why it took us over 2 weeks to finally make it to Leh from Delhi.
The plan for Day 15 was that we will start early from Kargil so that we had enough time for sightseeing on the way. But unfortunately, we could not get up early and by the time we started our journey, it was already 10 am.
The day was slow and lazy overall. We pretty much drove non-stop from Kargil to Leh and did not stop for sightseeing anywhere. All the places that I wanted to visit on this route were left including the monasteries of Alchi and Likir and other sightseeing spots.
We reached Leh by 6.30 in the evening. For the next day, we decided that we will go back on the Srinagar Leh route and spend our Sunday visiting the places that we missed.
Our plan was to go all the way back to Alchi, see the monastery here, then go to Likir Monastery and then visit Sangam Point, Magnetic Hill, and Gurudwara Patthar Sahib while driving back to Leh.
Leh to Shey Palace
But the entire plan changed on Sunday. Thanks to the tiring journeys that we had in the previous days, by the time we got up and get ready on Sunday, it was already 12.30 pm.
Since we had just been on the Srinagar Leh route the day before, we were not eager to travel back the same way again. So we left Alchi and Likir for another visit in the coming days and decided to visit the Monasteries towards Karu and Upshi.
We were going to stay in Leh for another 6 ways so changing the plan was not a problem at all. We were anyway going to see all that there was to see in Ladakh. The only question was in what order would we do that.
So with our plans changed, we agreed to a Monastery tour covering the 4 monasteries of Shey, Thiksey, Stakna, and Hemis. These are all located between Leh and Upshi, in the same direction. So we could cover all of them together easily.
Exploring Shey Palace and Monastery
We left our hotel at around 1 pm. Since Shey was only about 15 kilometers from Hotel, we reached there easily in less than 20 minutes. We parked our car and walked up the steep path leading to the palace gate.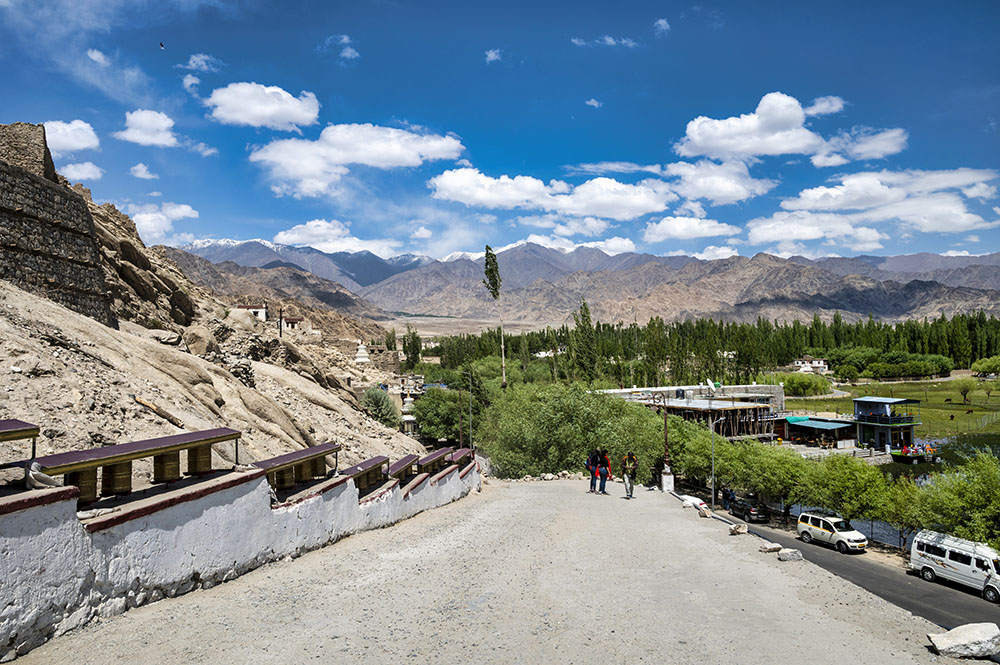 We bought our tickets from the counter and stepped inside. The next hour was spent exploring the monastery and its nearby areas. There is not really a lot to write about this part so I will let the pictures do the talking.
The view from the monastery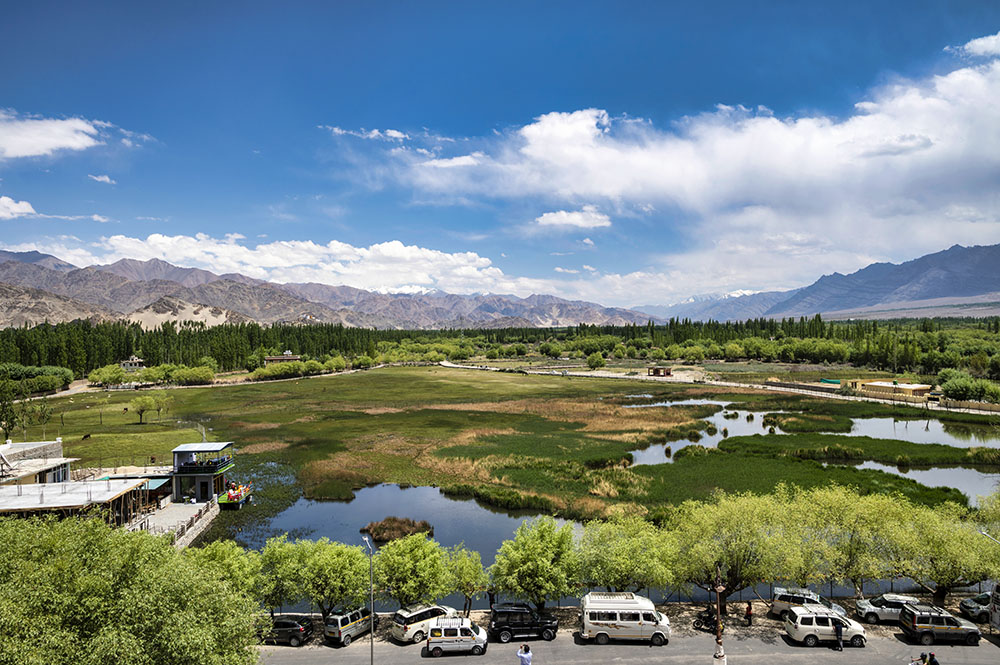 Exploring the monastery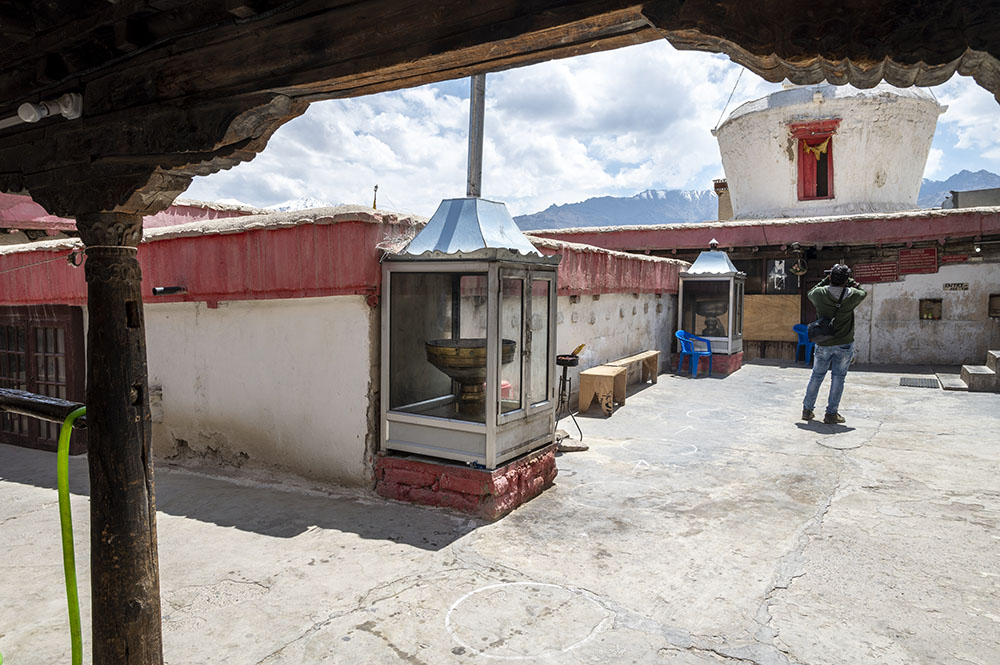 The statue of Maitreya Buddha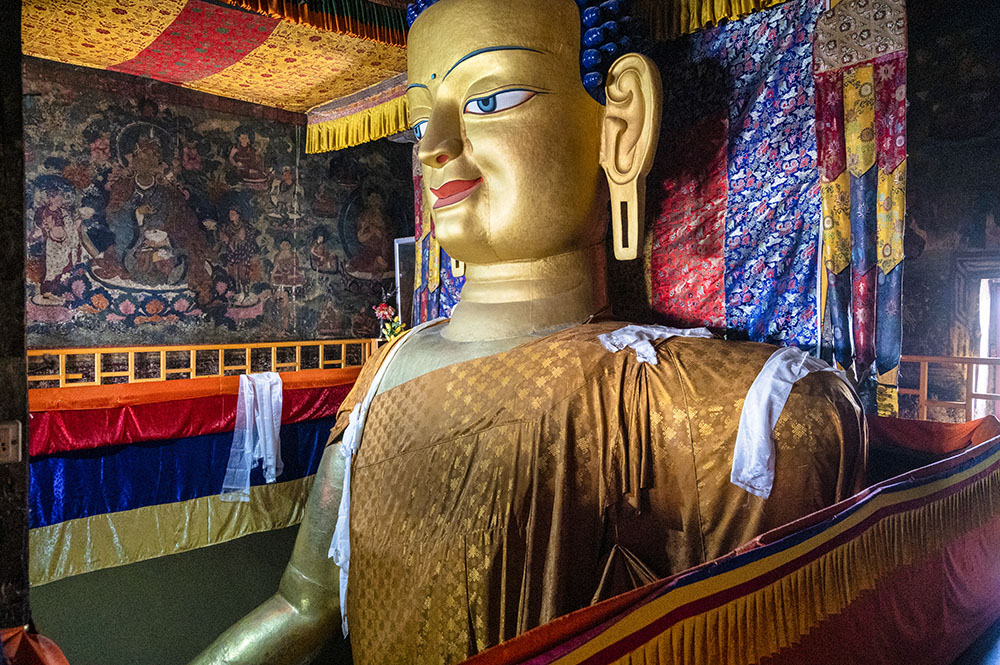 The small lake in front of the monastery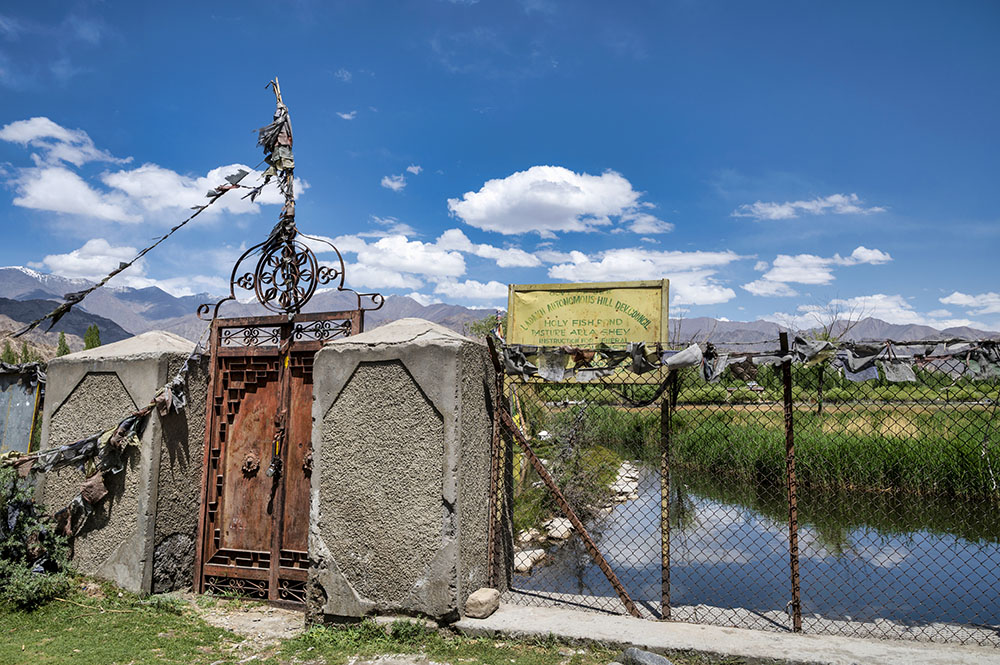 The atmosphere of the monastery was very peaceful and pleasant. The last time I visited here several years ago, there were hardly any people around. But this time, I was surprised to find even a monastery so crowded, filled with so many tourists.
We finished our tour of Shey Palace and stepped out again. It was now time to move to the Thiksey Monastery, the second one on our list.
Thiksey Monastery is located at a distance of only about 6 kilometers from Shey. It was a short drive that took us only about 10 minutes but exploring the Thiksey Monastery took much longer. Please click on the link above to continue reading the next part of the travelogue.
Conclusion
I hope the pictures and details above on Shey Palace and Monastery were of help.  If you have any questions, you can ask in the comments section below. You can also contact me on Instagram to chat with me or subscribe to my YouTube channel and ask a question there.
This error message is only visible to WordPress admins
Error: No feed found.
Please go to the Instagram Feed settings page to create a feed.