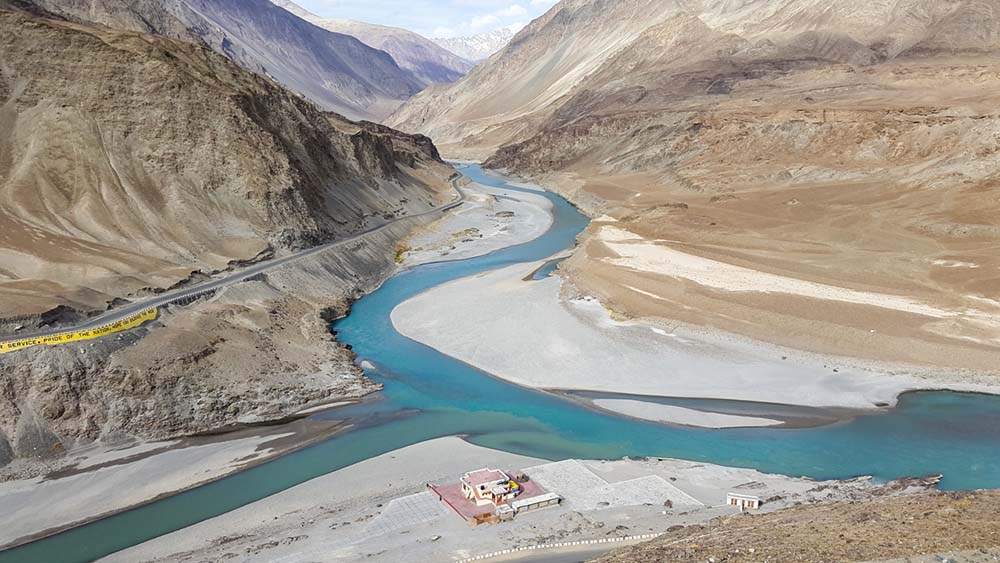 Ladakh is a long list of tourist attractions and places to visit. Every turn of the road here will present you with a sight that will leave you in awe. Some are very well known, and some still unexplored. Some are easily accessible while a few others will require you to make some effort to reach. But they are all equally stunning and unique. One such amazingly beautiful sight is the Sangam Point in Ladakh, the meeting point of the Indus and Zanskar rivers; also known as the confluence of Indus and Zanskar rivers near Leh City.
In this article, I will provide a brief travel guide on visiting this vantage point that in recent years has become one of the most visited tourist spots in Ladakh. It is at a short distance from Leh city, easily accessible, and is perfect for visiting with families. If you were traveling from Srinagar to Leh or vice versa, you can actually cover the confluence point on the way.
Sangam Point Ladakh
Let us first take a look at a little bit of history. The word 'Sangam' was a recent addition and came into use only after the increase in tourism in Ladakh in the last few years. Go back a decade or 15 years and it was just called the confluence point or just meeting point. Slowly, as more and more people started to visit Ladakh in recent years, the word Sangam got introduced and that is how the place got named as such. The word literally means a confluence of rivers and aptly describes the place.
Also Read: How to Plan a Trip to Leh Ladakh – A Complete Travel Guide
And it is not just the confluence point that got renamed. The surrounding area as well is now known as Sangam Valley. Even the local taxi drivers have started to refer to this name only as it is easier for tourists to recognize.
It is very similar to the case of Hagan Valley in Pahalgam in Kashmir. It was earlier known as Hagan until the movie Betaab was shot here in 1983. After the movie was released and did well at the box office, the entire valley now got renamed from Hagan Valley to Betaab Valley, after the movie.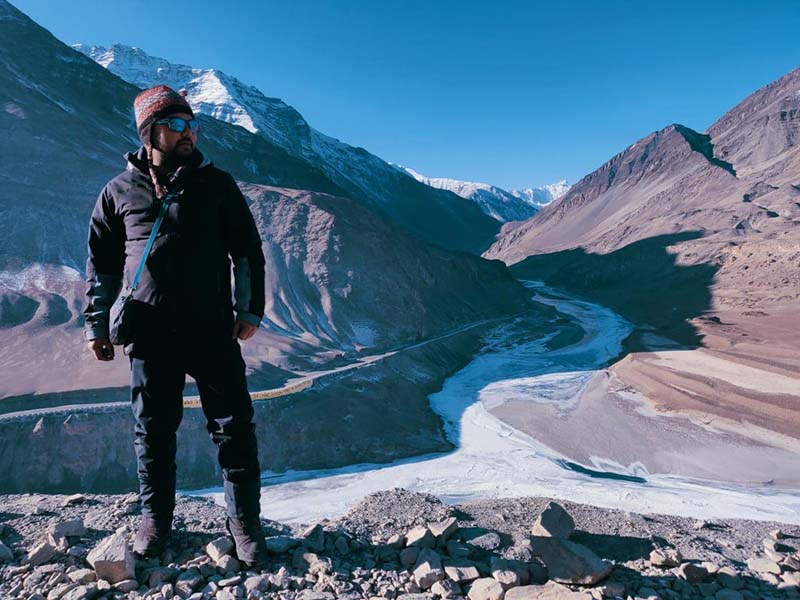 Indus River
The Indus River, also known as 'Sindhu' really needs no introduction. It is one of the longest rivers in Asia and has a special place in Human History. It was the birthplace of the great Indus Valley Civilization in the 3rd millennium BC and a lifeline to the ancient cities of Harappa and Mohenjo-Daro. Even the name of our country "India" is said to have been derived from the Indus River.
The river originates or forms at the confluence of the Sengge Zangbo and Gar Tsangpo rivers in Tibet. It then flows into Ladakh in India where first the Shyok River and then Zanskar River merge into it. The river then flows into Pakistan. Throughout its length, it is joined by numerous other rivers like Panjnad and Kabul rivers before it finally merges into the Arabian Sea.

Zanskar River
Zanskar River is formed in Zanskar Valley as a result of two rivers. The first one is the Doda River that originates from the Drang-Drung Glacier near Pensi La Pass. It then runs a total length of about 79 kilometers towards Padum, before it is joined by the Lungnak River.
The Lungnak River is formed near the village of Purne as a result of the confluence of Kargyag and Tsarap rivers. This river flows into Zanskar's central valley where it joins the Doda River to form the main Zanskar River.
Zanskar River then turns north-east, flows through the Zanskar Gorge and then unites with the Indus near Nimmu Village at the spot that is now known as Sangam Point.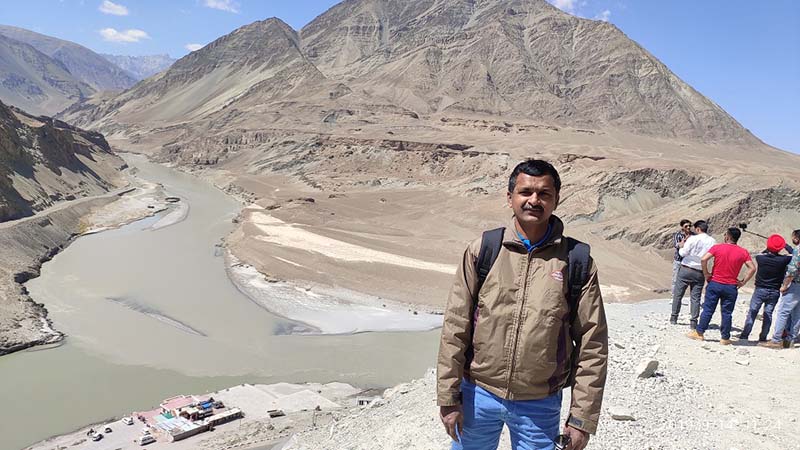 Confluence of Indus and Zanskar Rivers
What really makes the Confluence of Indus(right) and Zanskar(left) a truly wonderful sight is the color of the water as well as the flow. It changes all year long.
The four pictures of the confluence I posted in this article were taken at different times and during different trips. In the first picture, you will notice that the color of Indus is light green while Zanskar is crystal blue. In the second picture, you will see how the color of the Indus has become dark green whereas Zanskar has turned completely muddy.
The third picture was taken in January showing both the rivers frozen and completely white. And in the fourth picture, water in both the rivers is almost of the same muddy color.
It is not just the color but also the flow of the water that changes. During the months from July to September, the flow of the water increases greatly, flooding the banks of the rivers. During the winter season, the flow diminishes greatly. Zanskar River freezes in the months from December to February and its flow of water becomes even lesser than Indus.
Where is Sangam Point in Ladakh
The confluence point of the Indus and Zanskar rivers is located about 35 kilometers from Leh, just before Nimmu Village on Srinagar Leh Highway. A road bifurcates from the main highway and then brings you right to the river bank after a short drive of about 3 kilometers. This same road continues for about 25 kilometers along the banks of the Zanskar River before ending at Chilling Village.
How to reach Indus Zanskar River Sangam?
If you were traveling to or from Srinagar, then you can actually visit the confluence as you move along. It is visible from the main highway itself and you can take a short break to click some pictures before moving on. If you had some time, then you can take half an hour out to go down to the riverbank and spend some time there.
If you reached Leh by flight or going to Srinagar wasn't part of your itinerary, then Sangam usually becomes a part of the Sham Valley tour. What you can do is to start early from Leh and drive on the Srinagar Leh highway until Lamayuru. On the way, you will see the Indus Zanskar River Confluence, Magnetic Hill, Gurudwara Patthar Sahib. Have lunch at Lamayuru and visit the monastery here.
After a short break, you will then drive back to Leh. While returning, you can also visit the monasteries at Likir and Alchi.
Rent a Motorcycle
The best way to do the journey I described above would be by your own vehicle of course. If not, then you can rent a motorcycle in Leh City and use it for local sightseeing. You can either rent it for the entire duration of your trip or just for a couple of days to see local places in the City and towards Lamayuru.
Riding a motorcycle in Ladakh is a fun activity in itself and you must experience it, even if it is just for a day. If not a bike, you can rent an automated scooter like Activa. Check Leh Ladakh Motorcycle Rental rates to find out how much you will pay for it.
By Bus
There is, unfortunately, no bus available that goes specifically towards the confluence point. You can, however, board the daily afternoon bus going towards Srinagar and get down at Sangam. For your way back, you can hitchhike with any tourists going towards Leh.
Private Taxi
This is the most comfortable and recommended way of traveling. You can rent a private taxi in Leh to show you around in Leh City as well as the confluence. Please read Taxi Rates in Leh Ladakh to find out how much will it cost you.
Hitchhike
There will be a lot of tourists going towards confluence in the peak tourist season. If you could not find a bus and were traveling on a budget, then just hitchhike with anyone going towards Sangam. People going in a taxi may not pick you up but any of the motorcyclists will certainly will.
Shared Taxi
Last but not least, shared taxis are a very common and much-preferred way of traveling in Ladakh. These are available at the Bus stand itself. Walk over there and board any taxi going towards Sangam, Lamayuru, or Kargil. For your return journey as well, you can find a shared cab or just hitchhike.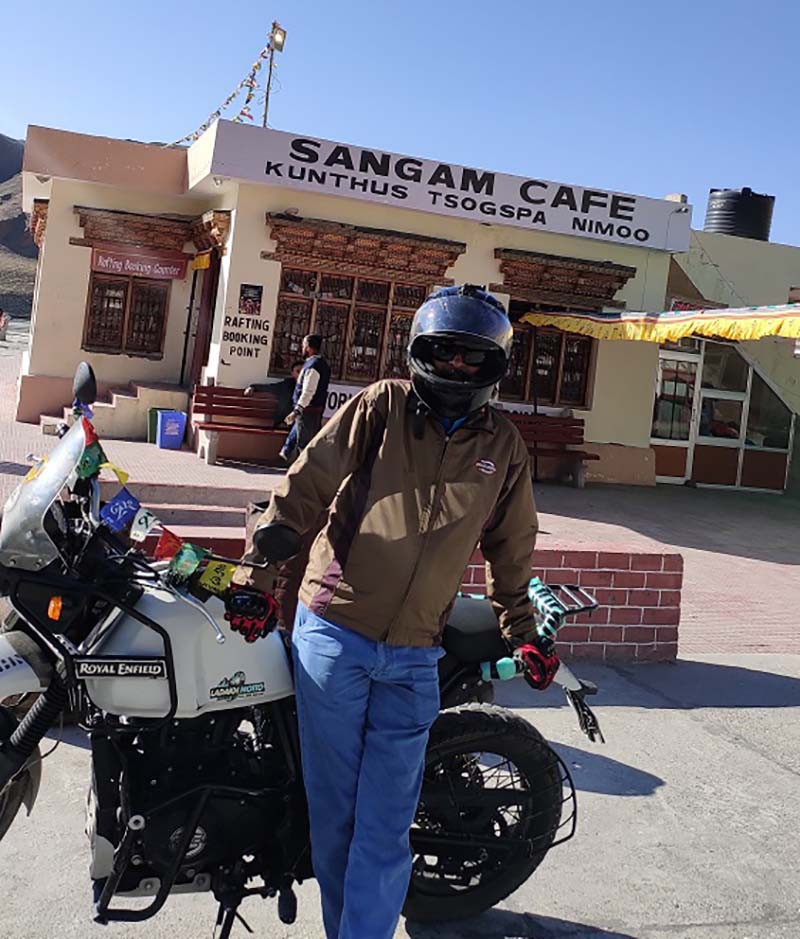 What to See & Things to Do at Sangam Point
What can you do entirely depends on the time you have in hand. Most people just stop at the viewpoint on the highway, click some pictures, and move on. But if you truly wanted to enjoy the natural beauty, I will highly recommend driving down to the river bank. There is also a small restaurant located here known as the Sangam Café where you can get something to eat.
Rafting in Zanskar River

Rafting on the Zanskar River is one of the most fun activities that you can do in Ladakh. I agree that it is not for everyone and cannot be done at all times; but if you do not fear the water and are ready for the adventure, it will definitely add more charm to your trip.
You can either book for rafting with any of the travel agencies in Leh City or you can do it on the spot as well. Just drive from the highway to the Sangam point to the cafe. The people who run the restaurant also provide rafting packages of 8 km, 16 km & 32 km.
The charge for the 16 km stretch is Rs. 1900 per person and also they charge Rs. 200 extra per person if we want to go to the starting point by their vehicle.  For 8 km, you will pay about Rs. 1000 and Rs. 3500 for 32 kilometers.
Drive to Chilling Village
The road that brings you down from the highway to Sangam point then travels further in the Zanskar Gorge for 25 kilometers, ending at the village of Chilling. The entire drive is a beautiful one with the Zanskar River flowing right next to the road.
As of now, the road ends at Chilling but in the near future, it is supposed to extend till Padum. Chilling Village is also the starting point of the famous Chadar trek during the winters.
If you had a couple of hours in hand, I will highly recommend taking a drive on this stretch of the road. It is one of the most scenic routes that I have witnessed in all of Ladakh.
Visit Gurudwara Patthar Sahib
As you start driving from Leh towards Sangam, you will arrive at Gurudwara Patthar Sahib about 23 kilometers later. It is a beautiful Gurudwara that was built in 1517 in the memory of Guru Nanak Dev to commemorate his visit to Leh Ladakh. The Gurudwara is now managed by the Indian Army and is among the top-visited places of Ladakh. Stop here while either going towards Sangam point or returning and pay respect.
To know more, please read How to Plan a trip to Gurudwara Patthar Sahib in Ladakh.
Experience Magnetic Hill of Ladakh
Another entry among the most known places of Ladakh is the mystifying Magnetic Hill. It is a spot on Srinagar Leh Highway where your car will start to climb up the road on its own, with the engine turned off. Sounds intriguing? I agree. It is located about 4 kilometers after the Gurudwara and 4.5 kilometers before the confluence. To read more about what happens at Magnetic Hill and why, please read The Truth Behind Magnetic Hill of Ladakh.
Get something to eat at Sangam Cafe
If nothing at all, then just relax, enjoy the natural beauty, click some pictures and get something to eat at the Sangam Cafe. It is not often that you get to have a meal with such a stunning view right in front of your eyes.
Best time to Visit Sangam Point
The best time to visit here will be between the months from May to September. This is when both the Srinagar and Manali routes remain completely open. The weather in Ladakh in these months is very pleasant and perfect for planning trips with families even.
The road between Leh to Kargil, however, remains open all year long. So even if you reached here by flight in winters, you can easily visit all the areas on Leh Kargil stretch including Indus Zanskar Confluence as well.
Sangam Point Leh – Conclusion
I hope the information above on visiting Sangam Point was helpful. It is one spot in Ladakh that you must take some time out to visit. The confluence of Indus Zanskar Rivers is one of the best spots to get some pictures clicked at. If you have any questions; or need any other details; please feel free to ask in the comments section below, or at our Community Forum, and I will be glad to answer.