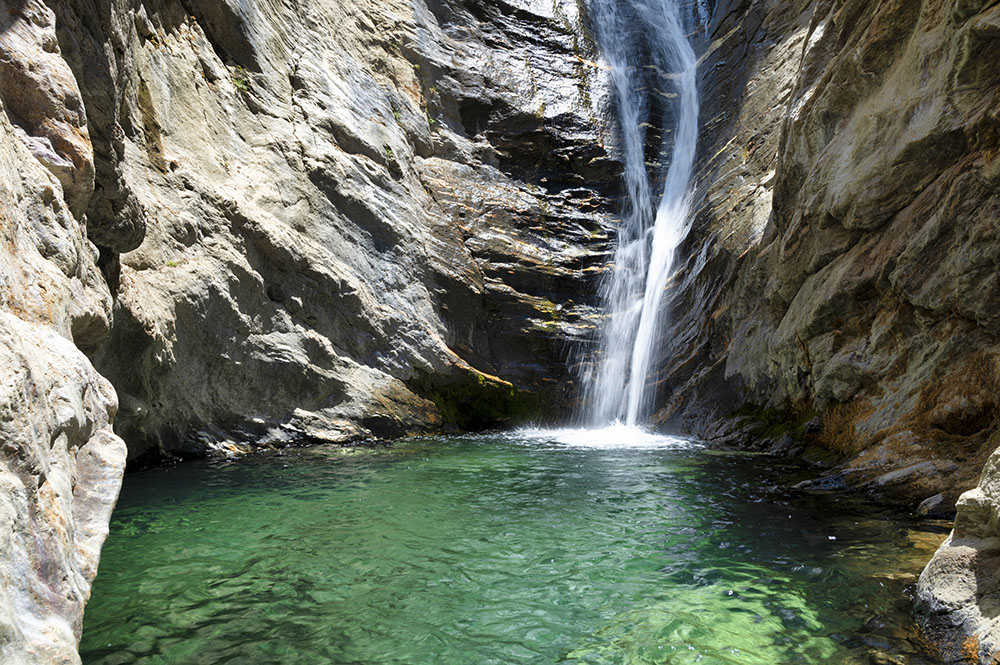 Sheela waterfall is one of the many tourist attractions that the beautiful Zanskar valley has to offer. The waterfall is not so large in terms of size or the water volume but definitely has a charm of its own, making it a must-visit place for anyone visiting Padum.
It is located in a small village called Sheela that it is named after, at a distance of 4.5 kilometers from Padum. The waterfall is considered sacred by the locals as it is their primary source of water for not just drinking but other household activities as well.
I visited this waterfall during my recent trip to Zanskar Valley. This was the 10th day of our trip that we spent in Padum, visiting the local attractions. You can follow the links below to read the previous parts of the travelogue.
Journey So Far:
We started our day with a visit to Sheela waterfall followed by a failed attempt to visit the Bardan monastery. The evening was spent in the beautiful Karsha Monastery followed by a wild drive chasing the sunset.
Sheela Waterfall Padum
It is not often that you hear about waterfalls in the barren landscapes of Ladakh and Zanskar and this really made me unsure of whether or not to visit Sheela Waterfall.
I have been in situations before when we decided to visit a certain waterfall only to find out that it was just a small stream of water. Locals were just calling it a waterfall to attract tourism and nothing else.
We only had one day in Padum and I was not sure whether to use the time to visit Sheela Waterfall or go in some other direction. But then I saw a few pictures of the waterfall on the web that looked promising and that is where we decided to go.
You can also see a video of our trip at the link below.
Where is Sheela Waterfall
Sheela Waterfall is located in the small village of Sheela, about 4.5 kilometers from Padum.
How to reach Sheela Waterfall
The last time I was here, the waterfall was not yet marked in Google Maps properly and I had to rely on the locals to give me directions.
The drive is a straightforward one though. You get out of Padum, cross a small bridge, drive for another 500 meters, turn right near an Army camp and take the road towards Sheela Village.
If you get lost or confused, ask any of the locals and they will point you in the right direction. There is no local cab or bus service to the village. You will either have to travel in your own vehicle or rent a taxi or bike in Padum.
Also Read: How to Plan a Trip to Zanskar Valley
Padum to Sheela Waterfall
Now coming back to the travelogue, the long journeys on the previous 2 days really did a number on us. We were terribly tired when we reached Padum and called it a night as soon as we had dinner.
The next morning, we did not wake until 10.30 am, after a sleep of more than 12 hours.
The good part however was that it was a much-needed sleep and we felt rejuvenated. The bad part was that we just had one day in Padum and will now have to decide which places we wanted to use the remaining hours for.
Sheela Waterfall was decided on first because it was the closest one. Some of the other ones I had on my list were Bardan Monastery, Zangla Palace, and Karsha Monastery.
We decided to go to Bardan Monastery after Sheela waterfall and then come back to Padum to have lunch. After a bit of rest, in the evening, we planned to go to the Karsha Monastery and see the sunset from there.
We kept Zangla Palace for the next day. We were going to travel by the Lingshed route to Lamayuru and Zangla would fall on the way. So we could just take a small detour, pay a visit to the Zangla Palace and continue to Lingshed.
Sheela Village
It was almost 11.30 am by the time we got ready, had tea, and stepped out of our hotel. We asked the locals for directions and started driving to Sheela Village.
It took us only about 15 minutes to get to the village. The road was a mix of good and bad. But since it was narrow in a few places, we had to keep our speed limited.
I really liked Sheela Village and fell in love with its setting. The village is lush green and in complete contrast with the barren landscape of Zanskar. Even the houses, surrounded by the green fields, looked pretty.
We parked our car outside the village and walked the last few kilometers to the waterfall.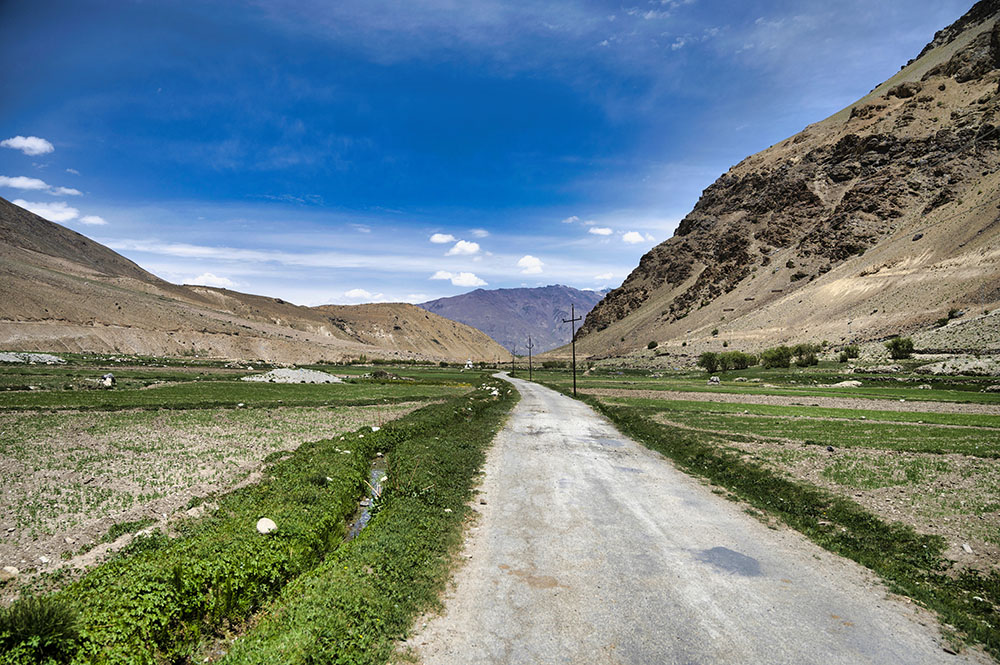 Sheela Waterfall
I was mesmerized the moment I laid my eyes on the waterfall. It is by no means a huge waterfall, neither in terms of size nor the volume of the water. I have seen bigger waterfalls, much bigger.
Also Read:  How to Plan a Trip to Leh Ladakh – A Complete Travel Guide
But it is definitely a tall one. The water falls from the top of a mountain rock into a small pond. It then flows through the village in a small drain that supplies water to almost every house and field here.
This water gets used by the villagers for almost everything – from cooking to washing. It is really like a lifeline to them due to which the waterfall is considered sacred.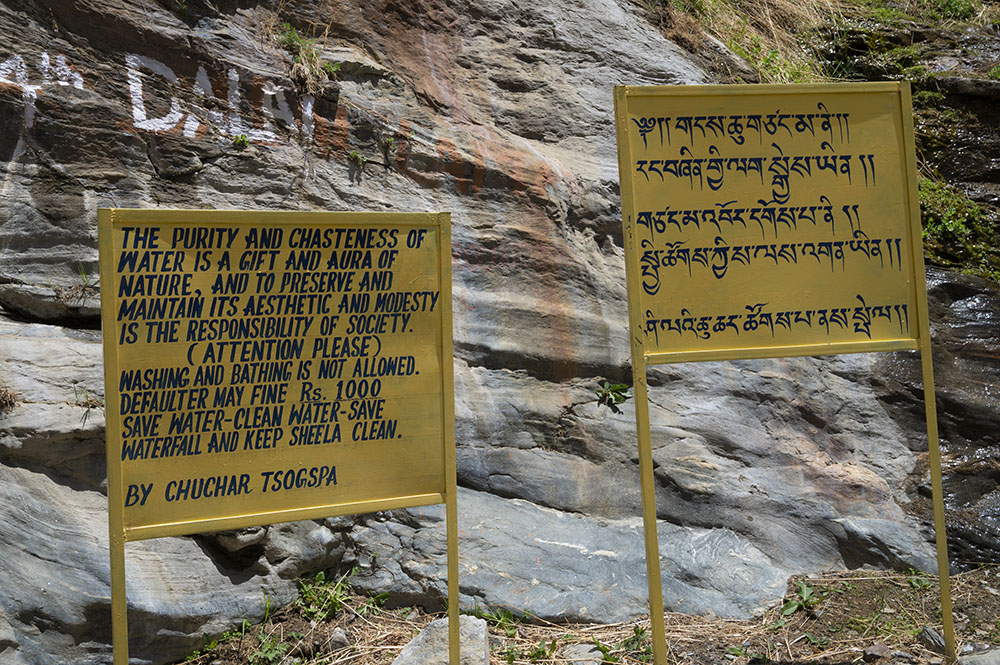 Bathing and washing are not permitted in the waterfall. I think that is also the reason why the locals do not promote it as a tourist attraction. The more people visit, the more polluted the water will get.
We spent about 30 minutes at the waterfall, clicking pictures, making videos, and having a good time.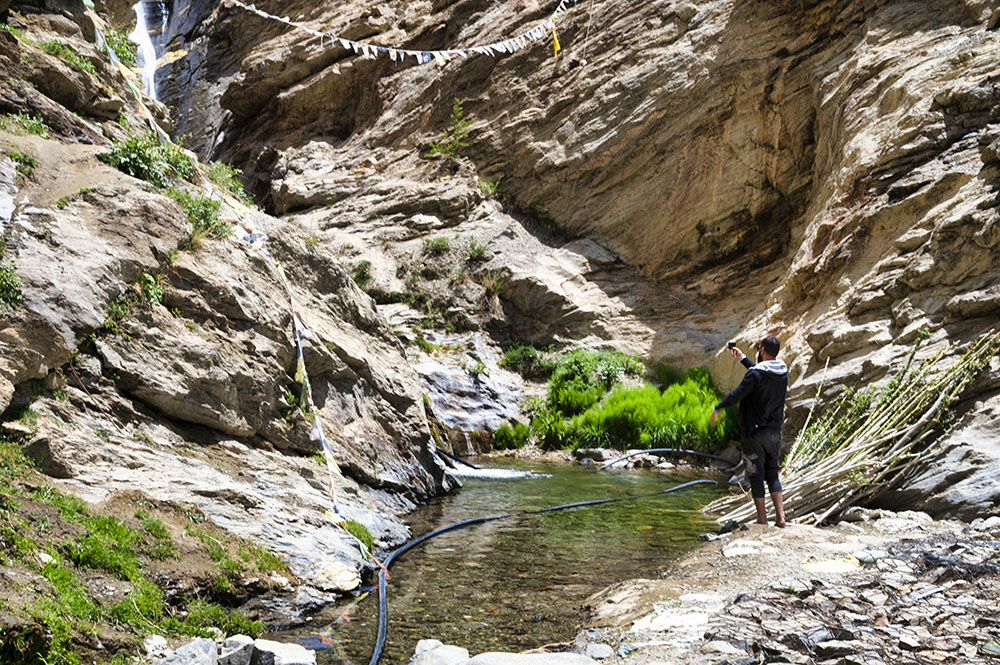 Best Time to Visit Waterfall
A road trip to Zanskar Valley is only possible in the summer months, as the valley remains cut off from the rest of the country during the winter season. So you can visit the waterfall only from May to October.
But I am quite sure that in the winter months when the water freezes, this waterfall will still look amazing as a wall of ice.
Phone Network
Jio works well in Zanskar Valley. It remains connected with good reception and data speed in and around Padum, including Sheela Village.
BSNL works as well but its network is not that strong. The voice clarity and call quality were very bad.
No other network works in Padum or Sheela Village for now.
After visiting Sheela Waterfall, we drove back the entire 4.5 kilometers back to our hotel. The next destination in mind was Bardan Monastery – a small monastery built on top of a single rock.
It is also located on the same road that goes toward Shinku La pass. So we decided that we will visit the monastery and drive on Shinku La road as far as the road remained good.
Little did we know that our plan to visit Bardan Monastery was going to fail miserably, and for a very funny reason. Please click on the link above to continue reading the next part of the travelogue.
Sheela Waterfall – Conclusion
I hope the travelogue, pictures, and details on Sheela Waterfall were of help.  If you have any questions, please feel free to ask in the comments section below. You can also follow me on Instagram to chat with me live or subscribe to my YouTube channel and ask a question there.
This error message is only visible to WordPress admins
Error: No feed found.
Please go to the Instagram Feed settings page to create a feed.