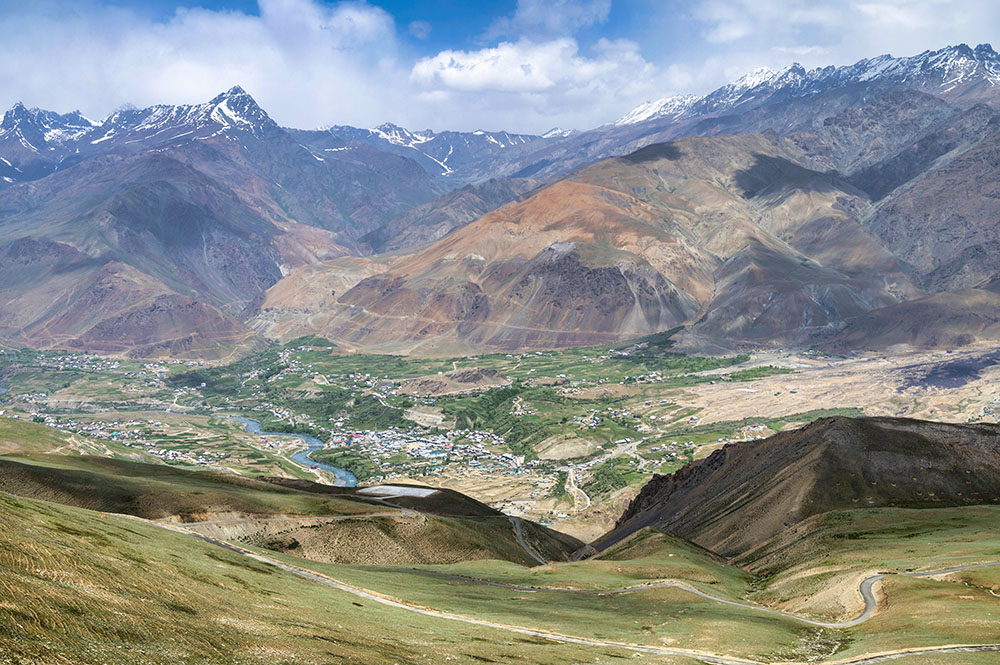 Manman Top is located at a distance of about 11 kilometers from Dras and is considered one of its primary tourist attractions. It can be called both a viewpoint or a high-altitude pass, depending entirely on your travel plans.
The place is best known for offering an eagle-eye view of the town of Dras, the entire valley, and the surrounding mountains. This view is what most of the tourists visit here for.
If your plan was to go to Manman Top, see the view, and return, then it is just a viewpoint for you. But if your plan was to cross the mountain over and continue traveling the road further to Suru Valley, then it is a high-altitude pass that you will cross on the way.
We fell in the second category of tourists. Our plan was to cross Manman Top while traveling the complete 60-odd kilometers long Umba La road that connects the towns of Dras and Sankoo.
We were staying in Kargil for 2 days and that is when we decided to complete the Umba La – Manman Top circuit. Before that, we had traveled to Zanskar Valley and covered the Lingshed and Batalik routes. To read the previous parts of the travelogue, you can follow the links below.
Journey So Far:
Manman Top turned out to be way different than how I imagined it to be. What I thought of as a tourist spot and a viewpoint was actually a pass that got our hearts pumping. Read on to find out more.
About Manman Top
Manman Top is basically a hilltop, a high-altitude pass located near Dras in Ladakh. The road to the hilltop passes through a lush green area that the locals often use as a picnic spot.
Below is a video of our journey on this day if you want to check it out or you can continue reading the travelogue.
In recent times, as tourism in Ladakh started to rise, this local picnic spot because a tourist attraction as well. For people visiting Dras or the ones breaking their journey here for a day or overnight, a short trip to Manman Top is well worth their time and money.
It is in many ways like Rohtang Top. If you are in Manali, then Rohtang Top is one of the places you must visit. Similarly, if you are in Dras, Manman Top becomes your primary attraction to cover.
But the mountain is much more than that. It also provides a shortcut and an alternate route to travel from Dras to Sankoo, another town in the beautiful Suru Valley.
Dras to Sankoo
Until a few years ago, the road across Manman Top used to be a trek route for the local shepherds and adventure enthusiasts. The trek would start from Dras, get you across the passes of Manman Top and Umba La on the way, and end in Sankoo.
In those days, if you wanted to travel between Dras and Sankoo by road, the only way to do so was via Kargil. It would be a drive of about 105 kilometers that would take you anywhere between 3 to 4 hours.
Later on, the trek across Manman Top was turned into a motorable road of 60 odd kilometers. There are not one but two passes on this route. The first is Manman Top if you were coming from Dras, and the second one is Umba La.
It was meant to be a shortcut between the two towns, cutting the distance down to just about 65 kilometers and significantly reducing the travel time.
Also Read: How to Plan a Trip to Leh Ladakh – A Complete Travel Guide
Manman Top Altitude
I could not get the exact elevation of Manman Top but if I am to guess, it should be close to 4000 meters (13123 ft). This is based on the fact that Dras is at an elevation of 3300 meters and the next pass on this route, Umba La, is at 4,496 meters (14,750 ft).
How to Reach Manman Top
The road to Manman Top bifurcates from the Srinagar Leh highway shortly after Dras. If you were coming from Srinagar, you will have to drive across the entire Dras town and get to its other side.
About a kilometer after Dras, this road will fall to your right. If you need a marker, there are a couple of automobile shops there. One that I remember was called Sadiq Automobile.
The last time I traveled on this route, the road from Dras to Manman Top was completely tarred and in good condition. The incline is very steep though and you gain a tremendous amount of altitude within a short distance.
Due to this, the progress will be slow. If I am to assume, it will take you no less than 45 minutes to an hour to reach Manman Top from Dras.
There is no public transport available on this route. So you will either have to travel by your own vehicle or rent a private taxi in Dras.
Mobile Network
Both Jio and Airtel have a good and strong network in Dras that works well all the way to Manman Top. BSNL will also work but their services are not that great. No other network works in this area.
Also Read: How to Plan a Trip to Suru Valley
Kargil to Sankoo to Umba La
Now coming back to the travelogue, we were traveling to Manman Top from the other side. Our journey started from Kargil at 7 am and we first drove to the small town of Sankoo in Suru Valley. The plan was to cross the passes of Umba La and Manman Top, reach Dras, and circle back to Kargil from there.
After a brief breakfast break at Sankoo, we started on our way to Umba La Pass. The road was good for the initial 11 or 12 kilometers but after that, it was a complete offroading experience.
The tar from the road vanished and we were navigating our way on a badly broken dirt road with a lot of twists and turns. After an hour of offroading, we finally made our way to Umba La Top.
While we were at the top, a light spell of snowfall also started which only made the journey more memorable. We clicked some photos, shot some videos at Umba La, and started driving our way down.
To my surprise, the road on the other side of the pass was completely asphalted and in very good condition. It took us less than 30 minutes to come down from Umba La and reached this meadow-like area.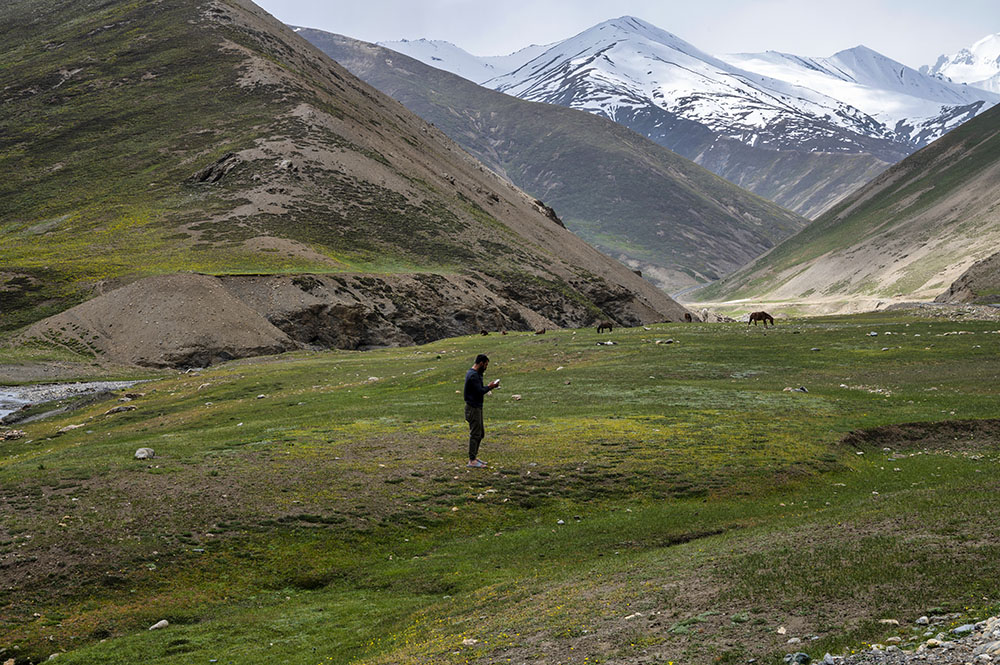 I have talked about this part of the journey in detail in the previous part of the travelogue. We took a brief break at this spot, stretched our legs, and began our journey to the second high-altitude pass on the route – Manman Top.
Umba La to Manman Top
The climb to Manman Top began immediately after this meadow. There were two things that I realized at that moment.
The first was that my doubt of whether Manman Top was just a viewpoint or a pass was cleared. It was definitely a high-altitude pass.
The second was that the Umba La was not the most challenging pass on this route. Manman Top posed an equally challenging and tough drive. It was in no way going to be a walk in the park.
The asphalted road that we were on after Umba La top once again turned into a broken dirt road. It was narrow, has a lot of twists and turns, and the incline was way too steep.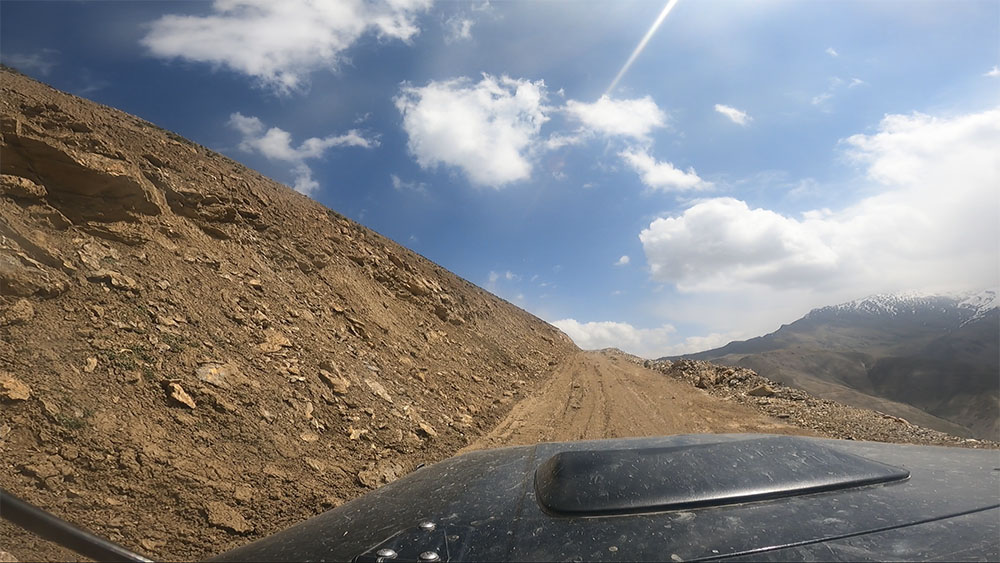 What made this drive a challenge was the mud caused by the melting snow. We found snow at Umba La as well but for some reason, there was no mud there.
But as we got closer to Manman Top, muddy roads and slippery drives became an occurrence way too often for comfort. See the picture below to know what I am talking about.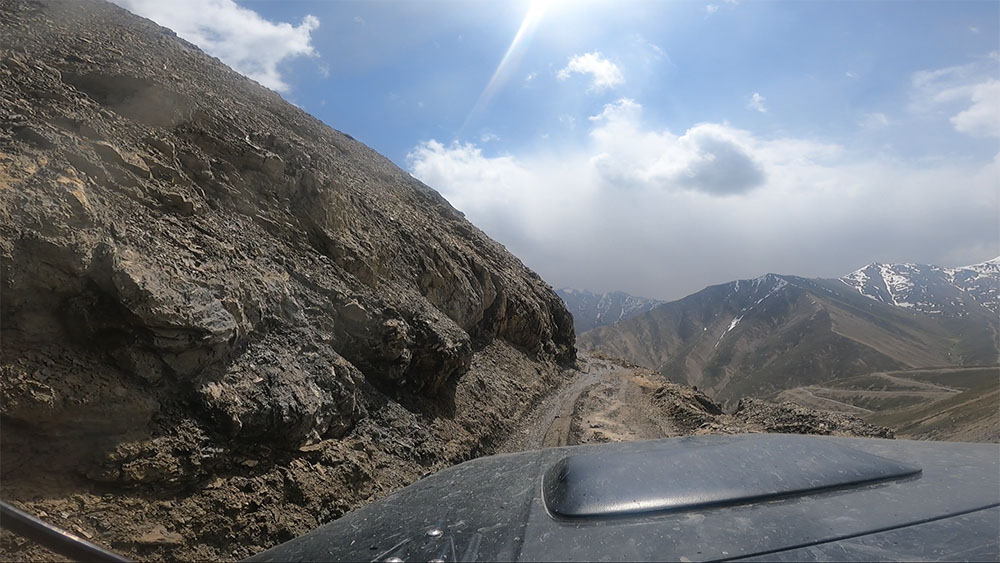 The only saving grace was the amazing views. On the Umba La side, it was more of a barren landscape but as we climbed up Manman Top, the mountains and the valley resembled more Kashmir than Ladakh.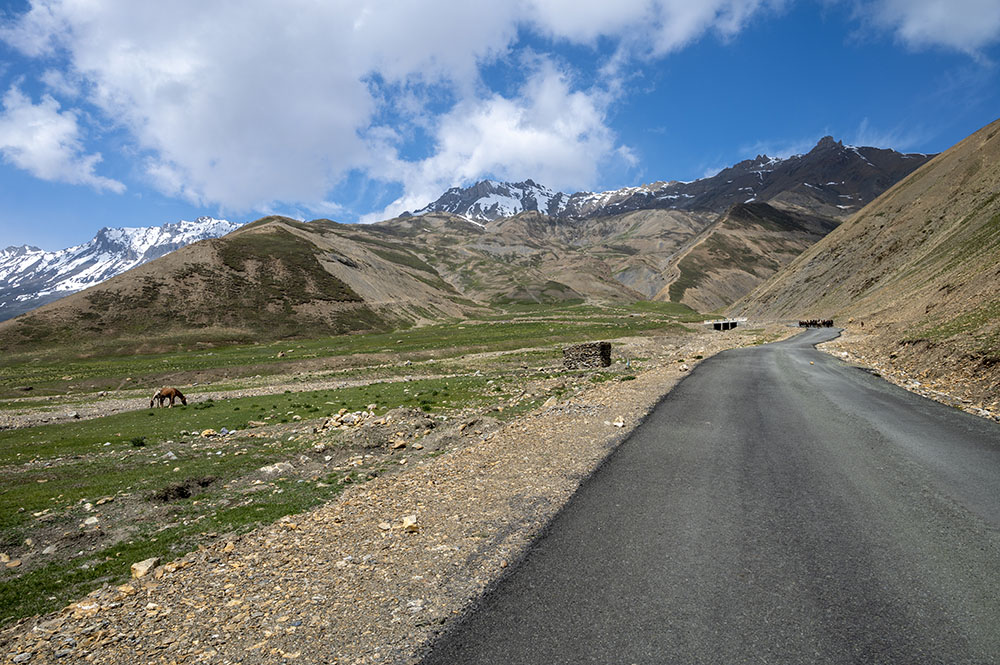 After about an hour of navigating our way on tricky roads, we finally made it to the top.
An interesting incident occurred while we were at Manman Top, something that became an excruciating experience later. Just as we reached the top, a man waved for us to stop.
The Shepherds
I was anyway going to stop there at Manman Top but what made me apply brakes immediately were the circumstances. The first was a car parked by the road. The second was an elderly man and woman sitting on the road.
The third was the fact that I knew we were in a remote area. Ever since we left Sankoo, we only came across one car on the entire stretch. The car that I was looking at now was the second one.
So my immediate thought was that their car has broken down and he was asking for help. I knew that out here, it could be hours before another car comes along. Or there may not be any other travelers at all in the entire day. So with the intent to help, I stopped immediately.
Turned out, the guy who waved us to stop was a contractor working on the road there. The car was his. It was not broken. He just parked it there because he had some guys and a dozer working on the road a little ahead.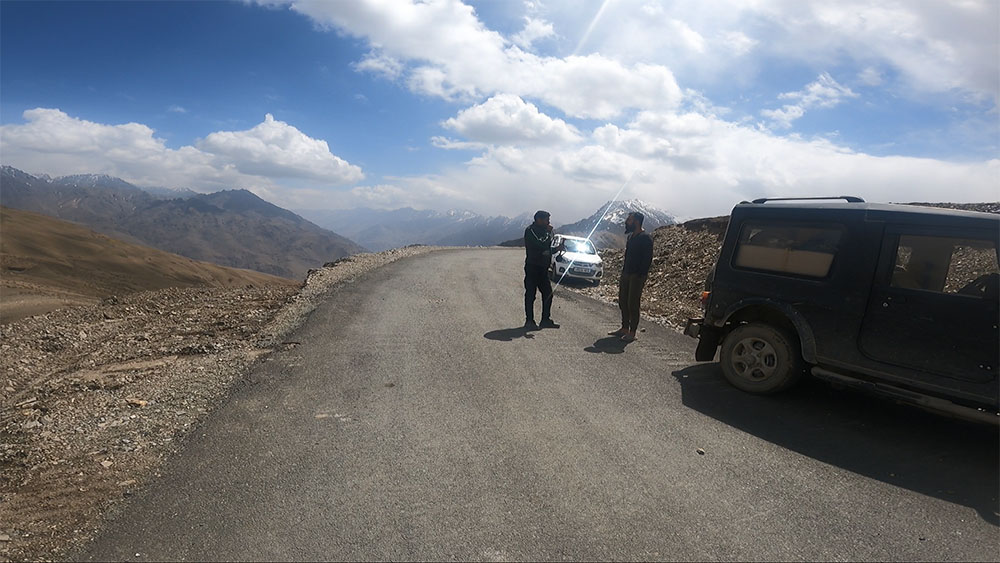 The elderly couple I saw on the road were some local shepherds. They wanted to go to Dras and were looking for a ride. Since the contractor was supposed to be there all day with the ongoing road work, he waved for us to stop.
I did not mind helping. The elderly couple was accompanied by their son and they were really old. There was no way that they were going to be able to walk 10 kilometers to Dras.
Also Read: How to Plan a Trip to Zanskar Valley
Manman Top to Dras
We took a brief break at Manman Top and started on our way down. Now I was carrying three passengers in my car, some local shepherds, and my intention of offering help proved to be a wrong decision.
Shortly after, the car was filled with a peculiar help. I do not know how to describe it but it was a mix of the smells of goat shit, dirty clothes, and a smell from someone who hasn't showered in years.
I could not even roll the windows down because the wind was way too strong and cold. We had to live with that smell for the next 10 kilometers.
I know I may be sounding rude while narrating all this but that smell coming from the shepherds was a painful experience. It took us about 30 minutes to get down from Manman Top and by the time we did, I already had a headache.
During this entire drive, Lavish and I just kept looking at each other in silence, acknowledging the mistake that we just made.
The second effect it had was that we drove non-stop to Dras. There were a lot of beautiful spots where I would have loved to stop and take some pictures but I wanted those shepherds out of my car as soon as possible.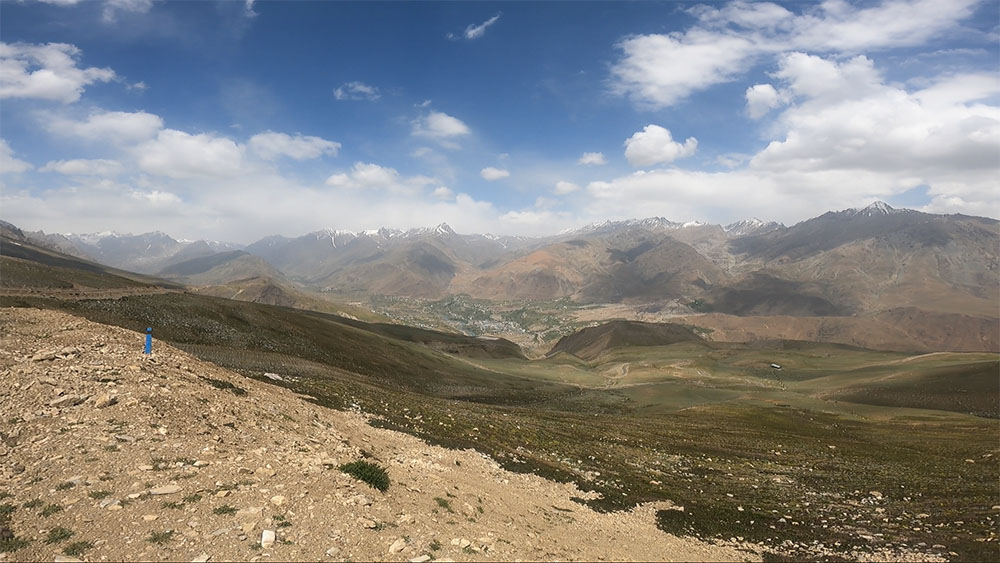 Dras
Finally, after what seemed like a lifetime of smelling goatshit, we reached Dras and got rid of the shepherd family. The spot below is where we exited on the Srinagar Leh highway.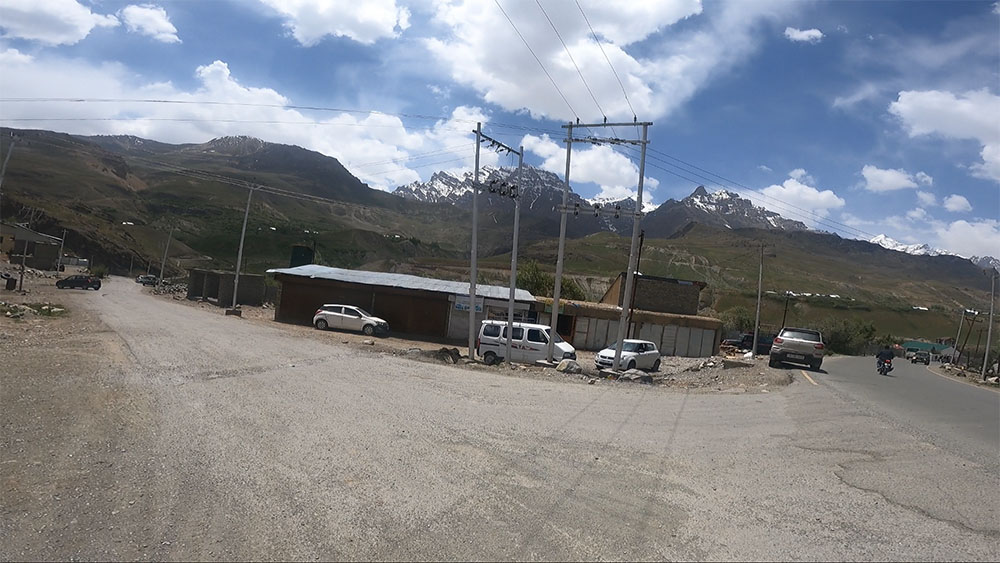 From here, we turned right on our way to Kargil. The views were good and our windows were rolled down completely, a feeble attempt to get the strong smell out of the car.
We stopped at this beautiful restaurant to get something to eat. They served some amazing tea and delicious momos. Keep an eye out for this place while traveling between Dras and Kargil. It is a good spot to take a break. It is called Brown Bear Cafe.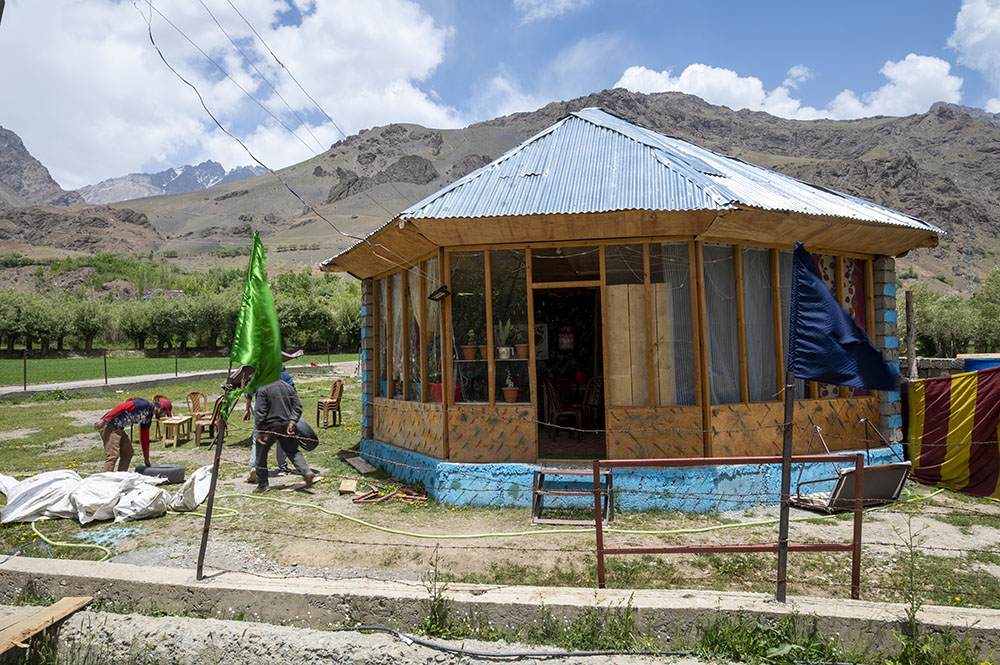 The Hotel Confusion
While we were eating here, I got a call from the hotel we were staying in Kargil. He wanted to know by what time we will be checking out. This came as a surprise because we had no intention of checking out today.
As per our plan, we were to stay in the same hotel in Kargil today and tomorrow. Our checkout was scheduled for the day after, on Saturday, when we were scheduled to leave for Leh.
We were staying in Hotel Kargil Heights and our booking here was confirmed by a friend. Some miscommunication or confusion happened and as per the hotel's records, our stay there was only for one day.
They were expecting us to check out today and had already taken other bookings. This really put us in a pickle because now we would have to look for another hotel for the next 2 days.
It was not going to be easy because of two reasons. The first is that there was a lot of tourist rush in Kargil at that time and all hotels were overbooked.
The second was that I needed a place with a stable internet connection and a strong Wi-Fi network. We were carrying our office laptops along and were also working while traveling.
Hotel Royal Gasho
Thankfully, it was the staff of Hotel Kargil Heights that came to the rescue. Upon understanding the confusion, they themselves called a few hotels and booked a room for me in another hotel nearby, Hotel Royal Gasho.
I think this was because of the fact that it was not my first time in Kargil Heights. I had been there before and I am sure that they did not want to see a repeated guest in inconvenience.
Nonetheless, after having lunch, we drove for another hour and arrived in Kargil. We packed our bags and the hotel manager escorted us to Royal Gasho. It was right next to Kargil Heights and took us only 2 minutes to get there.
Royal Gasho was a good experience as well and I will post a review of that hotel in a different post. But the hospitality of Hotel Kargil Heights really moved me that day. It is not often that you see a hotel taking care of its guests so well.
Anyway, that was the end of our day. Not much happened after that. We had lunch, rested for a while, and got back to work in the evening.
The plan for the next day was to stay in Kargil, rest, and visit the Hunderman Village. It is the last village on the border that offers a view of the LOC and a sneak peek into Pakistan. Please click on the link above to continue reading the next part of the travelogue.
Manman Top – Conclusion
I hope the travelogue, pictures, and details on Umba La were of help.  If you have any questions, you can ask in the comments section below. You can also contact me on Instagram to chat with me or subscribe to my YouTube channel and ask a question there.
This error message is only visible to WordPress admins
Error: No feed found.
Please go to the Instagram Feed settings page to create a feed.