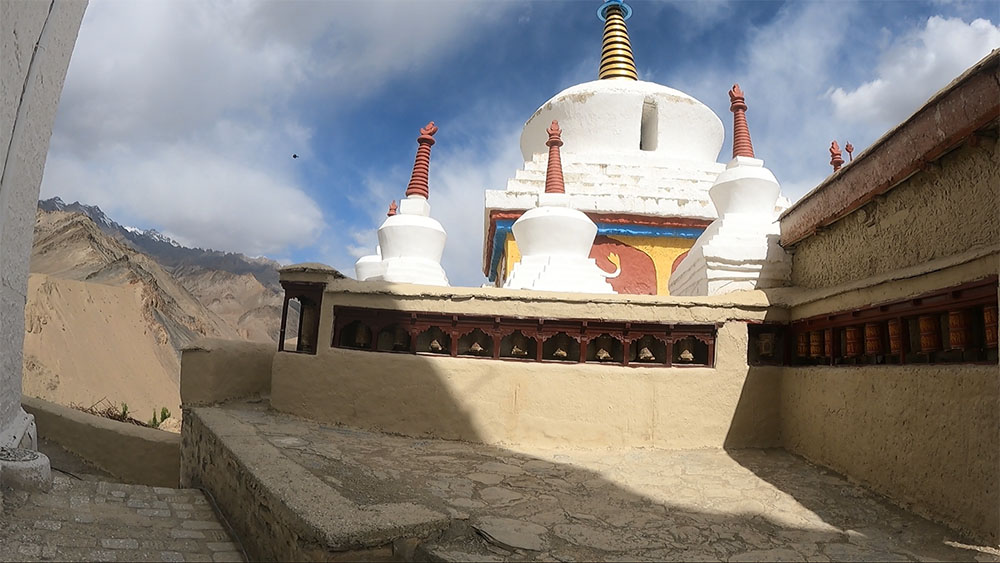 Lamayuru Monastery is one of the prime attractions of a journey on the famous Srinagar Leh highway. It is a beautiful monastery that sits on the top of a hillock, overlooking Lamayuru town and offering an astounding view of Lamayuru Moonland.
The monastery, painted in white, is as pretty from the inside as it is from the outside. Against the brown backdrop of the barren landscape of Ladakh and in complete contrast, it is quite a sight to look at, one that will be hard to miss.
Once you step in, you are confronted with a sight consisting of beautiful and colorful artwork on its walls and ancient murals. The peaceful environment of the monastery itself in my opinion makes it worth a visit.
I stayed for a night in Lamayuru recently during my two months long journey to Ladakh and Zanskar. It was the 12th day of our trip and we were scheduled to travel back to Kargil via the Batalik route. To read the previous parts of the travelogue, you can take a look at the links below.
Journey So Far:
But before we started our day and our journey to Kargil, I decided to pay a visit to the Lamayuru Monastery early in the morning. We were there when the morning prayers were being conducted. We attended the prayers and had an experience that I know I will remember for the rest of my life.
About Lamayuru Monastery
Lamayuru monastery is a Tibetan Buddhist monastery located in the small town of Lamayuru, Ladakh. It is also known as Yuru Monastery. The name literally means an eternal monastery.
It is one of the largest monasteries in Ladakh that consisted originally of five buildings. The remains of the four corner buildings can still be seen.
It houses 150 permanent resident monks currently but in the past, as many as 400 monks lived here. Two annual masked dance festivals are held in the monastery in the second and fifth months of the Tibetan lunar calendar.
You can see the video of our visit to Lamayuru Monastery at the link below.
Lamayuru Monastery Timings
The monastery remains open from morning 8 am to evening 5 am for tourists. These are however just the official timings. You can visit here as early as 6 in the morning and can stay late, well after sunset.
Lamayuru Monastery Entry Fee
An entry fee of Rs. 50 is charged to the tourists for visiting the monastery.
Lamayuru Monastery Stay
There are currently no arrangements for a night stay in the monastery. For accommodation, you will have to look for a room in of the nearby hotels in Lamayuru.
The good part however is that Lamayuru is a very small town and all of the hotels are within a walking distance.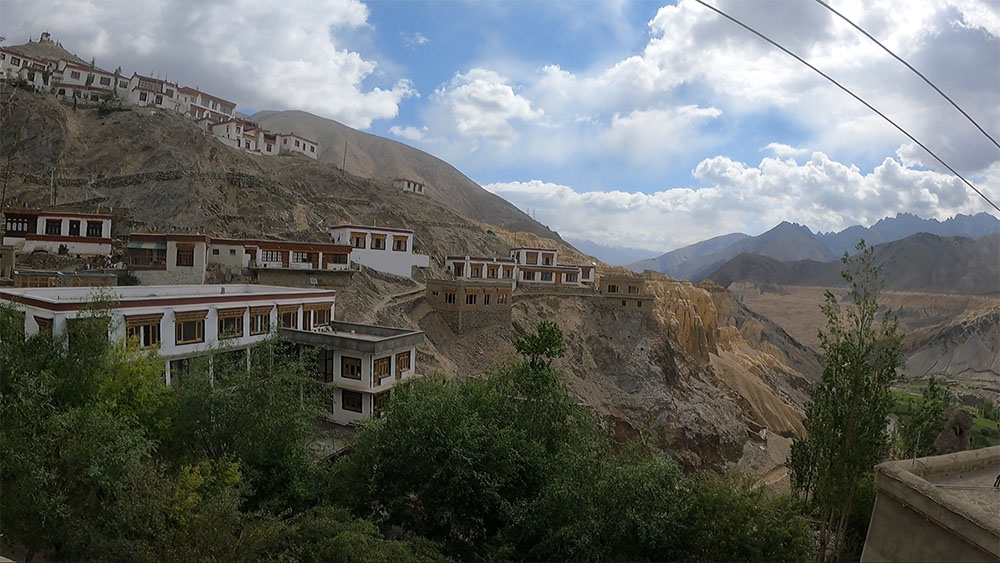 Day 12 – Lamayuru Monastery
We stayed in Hotel Moonland in Lamayuru. It was about a kilometer from the monastery and a great place to stay. For a detailed review of this hotel, you can take a look at Hotel Moonland Lamayuru Review.
This was the 12th day of our trip and the plan was to travel to Kargil via the Aryan Valley, Batalik Village, and Hambuting La pass.
This was not my first trip to Ladakh. I had been there several times before but this was the first time that I stayed there overnight. On all the previous trips, we just passed through Lamayuru on our way to either Leh or Kargil.
As a result, I never had a chance to visit the Lamayuru Monastery before. But this time, I wanted to remedy that. Before we started our journey to Kargil, we first decided to visit the Lamayuru Monastery.
Also Read:  How to Plan a Trip to Leh Ladakh – A Complete Travel Guide
Late Start of the Day
We were in Padum on days 9 and 10 of the trip. On the 11th day, we traveled via the Lingshed route to reach Lamayuru. That entire road was a long and never-ending stretch of dirt, steep inclines, loose stones, and possibly everything that you can think of that can make a road bad.
As a result, when we arrived in Lamayuru in the evening, we were dead tired. After an early dinner, we were off to sleep by 10 pm with the thought of getting up early in the morning in our heads.
But that did not happen. We were just so tired that we could not get ourselves to leave bed until 8 am. By the time we got ready, had our breakfast, and checked out, it was way past 9 am.
We drove back to the main highway from our hotel and took the road toward the monastery. It was still early morning and there was no one around. We parked our car and walked to the booking counter.
The counter however was still closed. There wasn't even a single person in sight that we could ask about it. We looked around for a few minutes but when no one showed up, we decided to enter the monastery.
Also Read: How to Plan a Trip to Zanskar Valley
Morning Prayers
On the way, we finally came across a Lama and I asked him if the monastery was not yet open. He confirmed that it was indeed open but we will have to get the tickets from inside the monastery only. The booking counter outside doesn't open until late.
There isn't much to write about really. We walked around the monastery, attended the morning prayers, and spent some time in its peaceful environment.
The artwork, murals, and colorful thangkas on the walls of the monastery are really beautiful. The white statue of Avalokitesvara is really a sight to behold.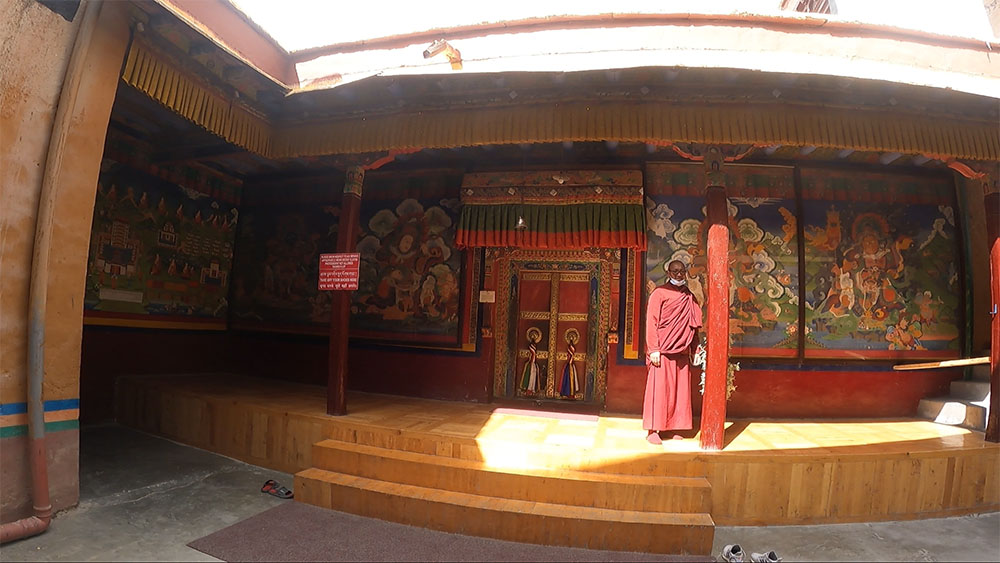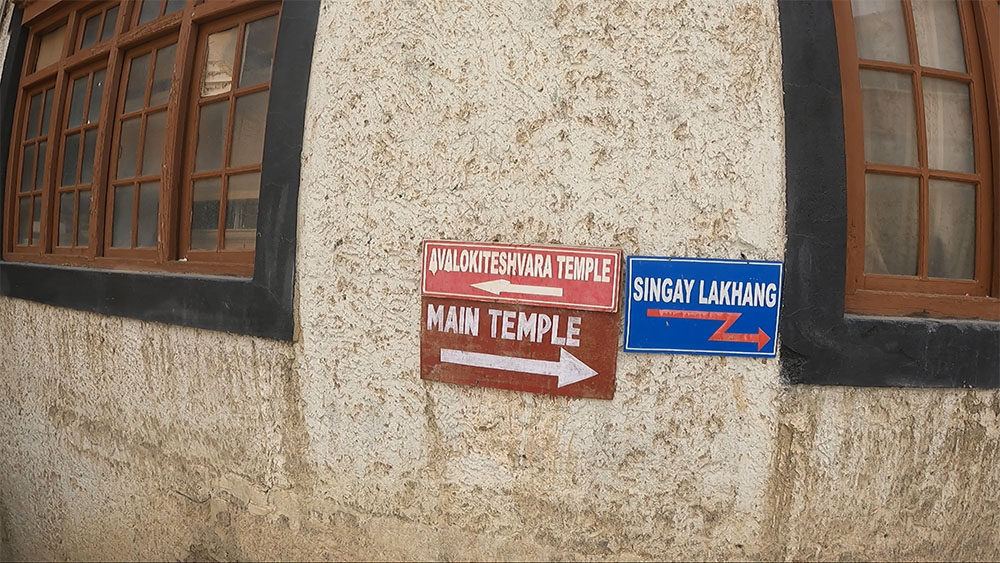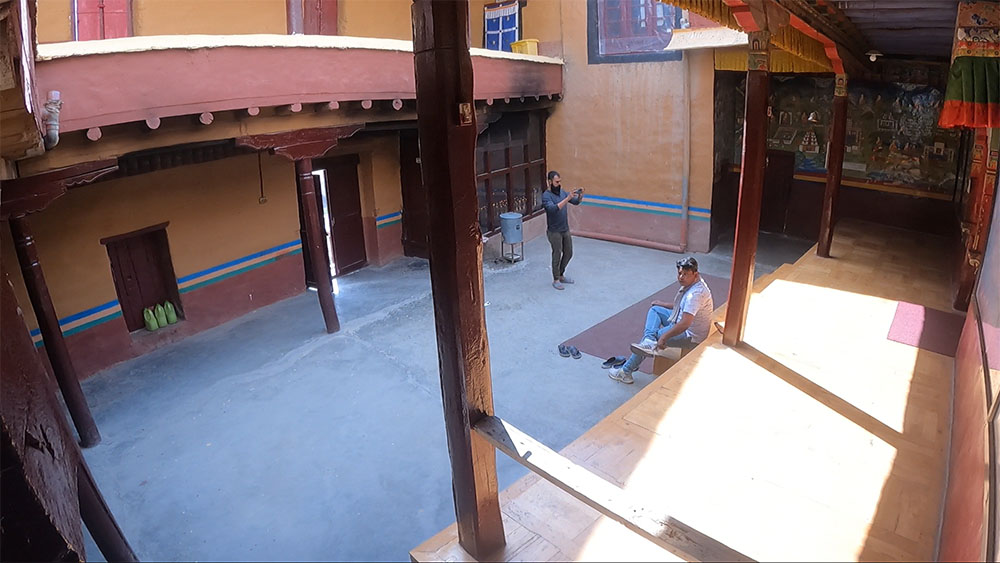 Towards the back, the monastery offers a great view of Lamayuru town and Moonland. If you are into photography, a visit early in the morning or in the late hours will be rewarding enough.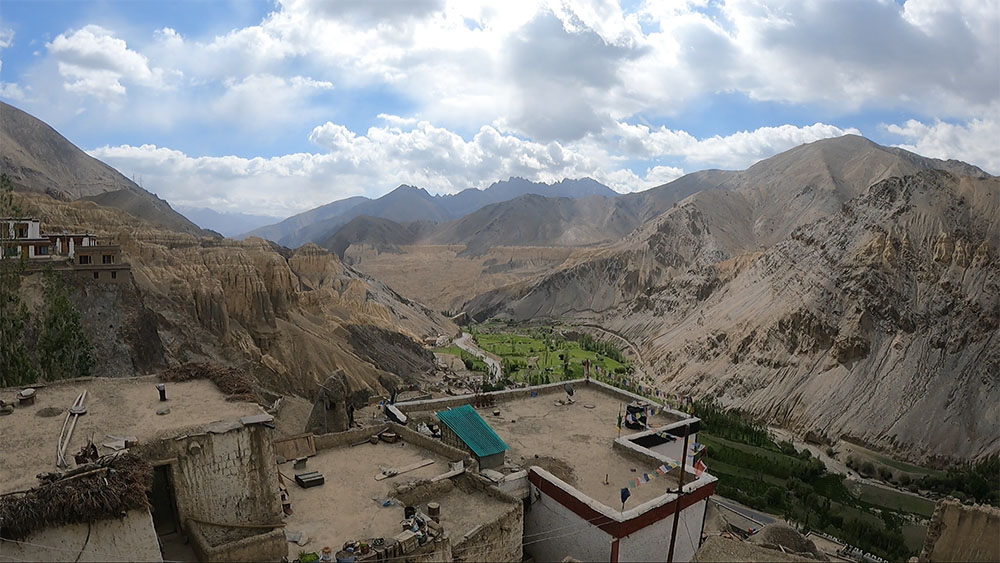 Unfortunately, when we were there, the sun was shining quite bright and harshly in the sky and I could not manage even a single good photograph.
It was coming up from the same direction that I was pointing my camera in and pretty much all of the photographs were blown out.
There is also a small souvenir shop where you can buy some religious artifacts and gift items. I did find the items here a bit overpriced though. You can get the same stuff in Leh at a much lower price, after negotiation though.
We spent about an hour in the monastery and started on our way to Kargil at around 10.30 am. Please click on the link above to continue reading the next part of the travelogue providing details on Aryan Valley and Batalik Village.
Lamayuru Monastery – Conclusion
I hope the travelogue, pictures, and details on Lamayuru Monastery were of help.  If you have any questions, you can ask in the comments section below. You can also contact me on Instagram to chat with me live or subscribe to my YouTube channel and ask a question there.
This error message is only visible to WordPress admins
Error: No feed found.
Please go to the Instagram Feed settings page to create a feed.