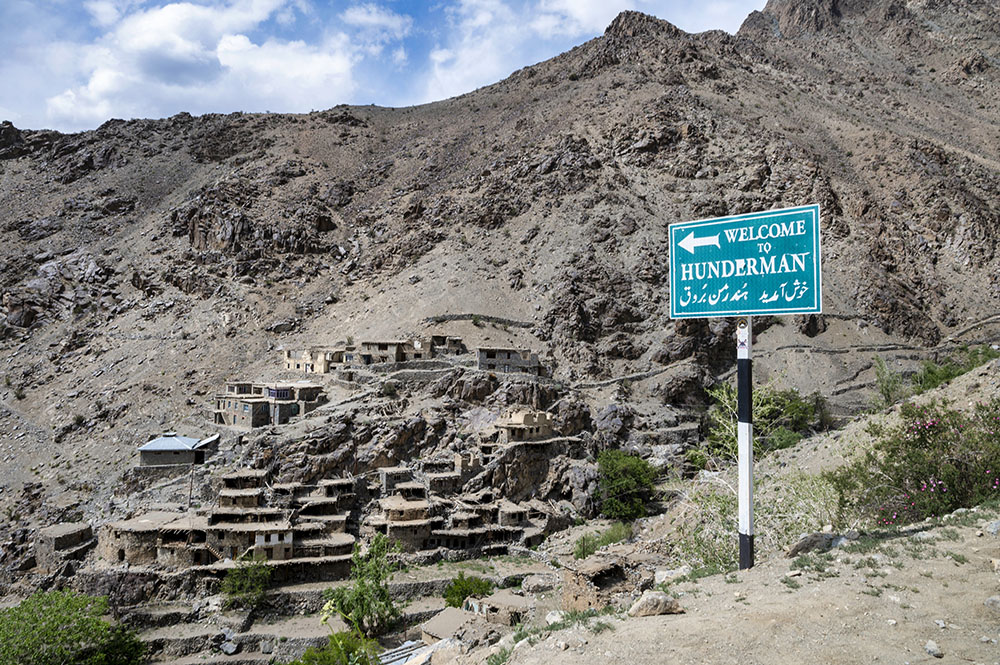 Hunderman Village Kargil is a name that not many people are familiar with. It is a small abandoned village that offers exactly what the tourists visiting this region want but is surprisingly still not on the tourist radar.
I have been to Ladakh a few times. I have seen it transform from a place no one wanted to visit to the tourist hotspot that it is today. Everyone has their own reasons for going to Ladakh but there is one thing that is common among most travelers.
We all know that Ladakh is right next to our border with the neighboring countries of Pakistan and China. For a regular tourist, seeing the border is an exciting and adventurous idea.
I have seen this mania of getting a glimpse of the border in other villages like Turtuk or even the Wagah border in Amritsar for that matter. But for some reason, Hunderman still manages to skip the eye of the tourists even though it sits right next to the LOC.
We recently visited Hunderman during my two-month-long trip to Ladakh. We were staying in Kargil for two days and decided to use one of these days to pay a visit to Hunderman. To read the previous parts of this travelogue, you can follow the links below.
Journey So Far:
Where exactly is Hunderman? How can you reach there? Is there a permit needed? What is there to see? Read on to get answers to all these questions.
Hunderman Village Kargil
Hunderman is a small village located about 10 kilometers from Kargil. It is like many other villages in the region, a group of 10-15 houses sitting between tall mountains of solid rocks. But what makes this village special is its history.
From 1947 to 1971, this village was in Pakistan. After the war of 1971, the border shifted and the village became a part of India. Today, it sits right next to the border, along the line of control.
Standing there, you can actually see the border and get a sneak peek into Pakistan. Below is a video of our journey on this day if you want to check it out or you can continue reading the travelogue.
How to reach Hunderman Village
To go to Hunderman, you will first have to reach Kargil of course. From there, reach the Kargil bypass road and then turn left on the narrow road that goes to Hunderman.
If you were unable to find this road, just ask any of the locals and they will point you in the right direction. The place is also marked on Google Maps so you can follow that as well.
There is no public transport available though. You will either have to travel by your own vehicle or hire a private taxi in Kargil. You can also rent a bike or an automatic scooter for a day.
Also Read: How to Plan a Trip to Leh Ladakh – A Complete Travel Guide
Permits for Hunderman
There are no permits needed for Hunderman Village. From Kargil, you can just drive to the village and return in less than an hour.
This is the reason why I said that it is surprising that hardly anyone goes there. For all the other areas close to the border, you need to get a permit but such is not the case with Hunderman.
Thousands of tourists travel between Kargil and Leh every year and visiting Hunderman is actually very convenient. All that you need to do is just take an hour out of your day and deviate from the main highway for 10 kilometers to this small village of the past.
What to See
There really isn't much to see around here except for the village. One of the locals has converted his ancestral home in the village into a museum. The house itself is said to be a century old like the other houses in the village.
It is known as  Unlock Hunderman — Museum of Memories and holds a collection of shells, bullets, artillery, shrapnel, army helmets of the past, and some decades-old handicraft items that were unearthed in the village.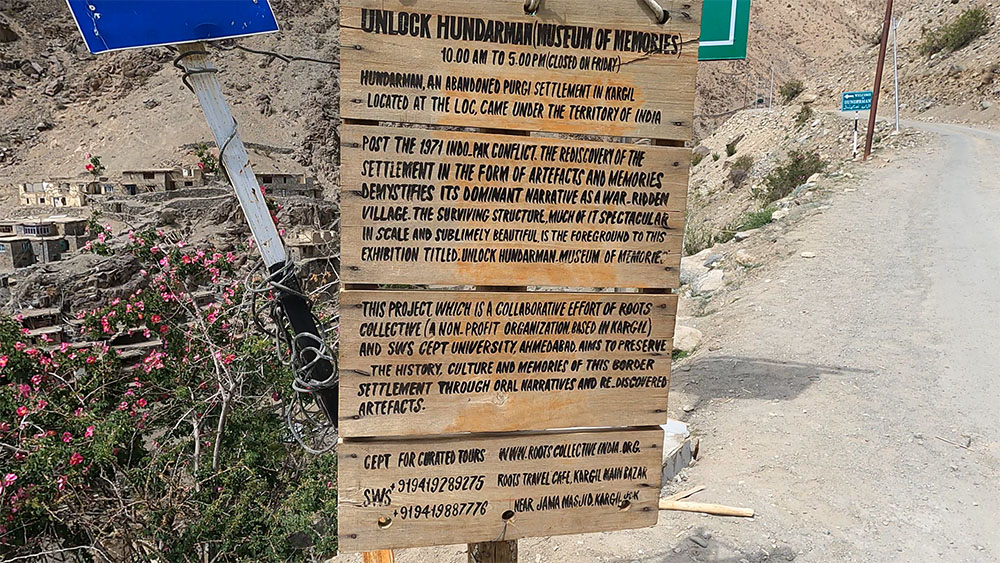 Kargil to Hunderman Village
Now coming back to the travelogue, it was Day 14 of our trip. I had been to Hunderman once before and the plan for this day was to just rest and get the car washed.
But then we decided to change this plan a little bit. My friend and co-traveler on this trip, Lavish, had not been to Hunderman. When I told him about how it sits right next to the border, he was immediately intrigued about going there. I also agreed.
But before we went there, the first task of the day was to change hotels. Our stay in Kargil was booked in Hotel Kargil Heights for 3 nights. But due to booking confusion, they had to shift us to another nearby hotel for a day.
So on Thursday, we were shifted to Hotel Royal Gasho which was located right next to Hotel Kargil Heights. We spent a night there and on this day, Friday, we were to shift back to Hotel Kargil Heights.
This could have been inconvenient but the staff at Kargil Heights ensured that it was done with minimal hassle. In the morning, a couple of their staff members arrived and helped carried all of our luggage back.
After we were back in Hotel Kargil Heights, we agreed to first go to Hunderman and then hand the car over at the car wash on our way back. The round trip was anyway going to take an hour at the most. The car wash was also conveniently located right next to our hotel.
Hunderman Village
We stepped out of the hotel at around 12 noon, drove out of Kargil town, and reached Hunderman in about 15-20 minutes.
This is the small village of Hunderman. Until 1971, all these houses were filled with people but now, they are all abandoned.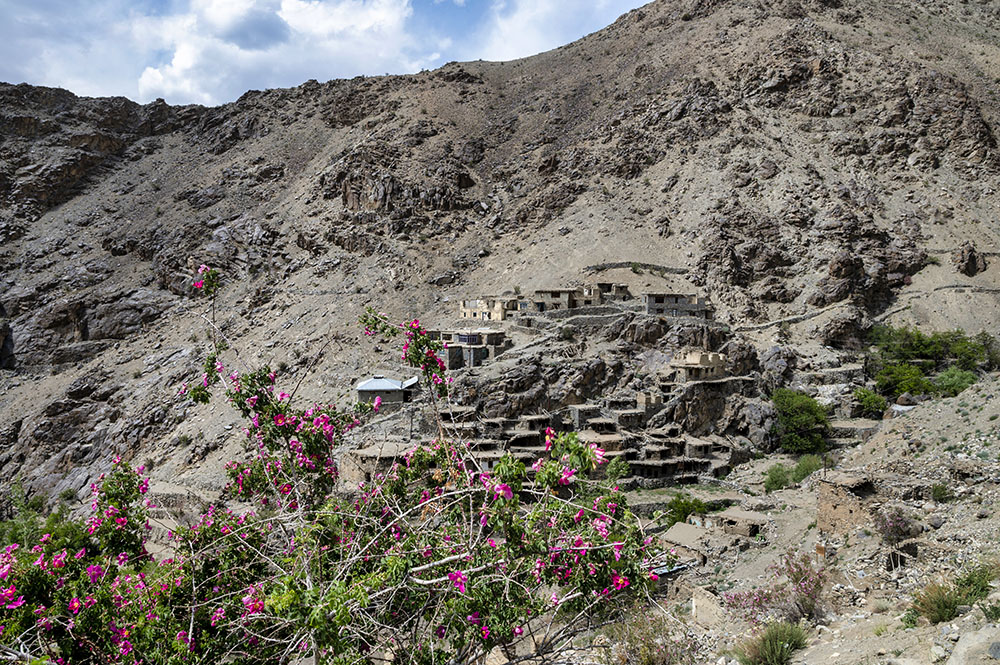 I wanted to see the small museum located in the village. The first time I came here, I even walked down to the village but found the museum locked.
This time, I was hoping that it will be open but luck did not favor us once more. There was not a soul in sight. We found no one who could open the museum for us.
I knew that walking down to the village was going to be futile. So we just clicked some pictures from this spot and returned to the viewpoint.
Viewpoint
The viewpoint is located about 3 kilometers from the village. It is a small white building sitting at a little height that serves both as a restaurant as well as a place where you can get a clear view of the Pakistan side of the border.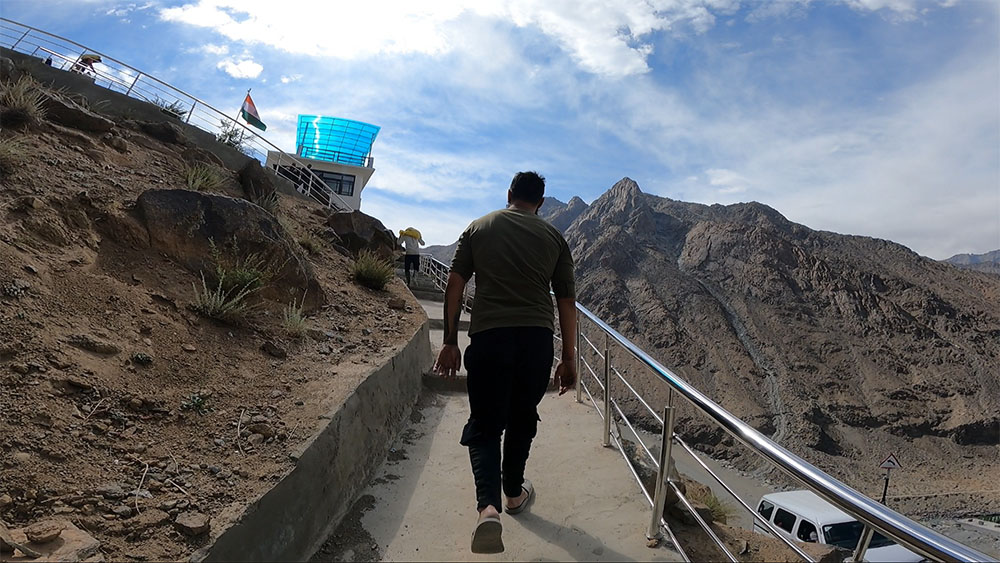 The green patch of grass that you see in the picture above is in Pakistan. For a minimal charge of Rs. 50, the owner of the restaurant can also lend you his binoculars to get a closer look at the Pakistani Army posts, bunkers, and a small Mazar located on the other side of the border.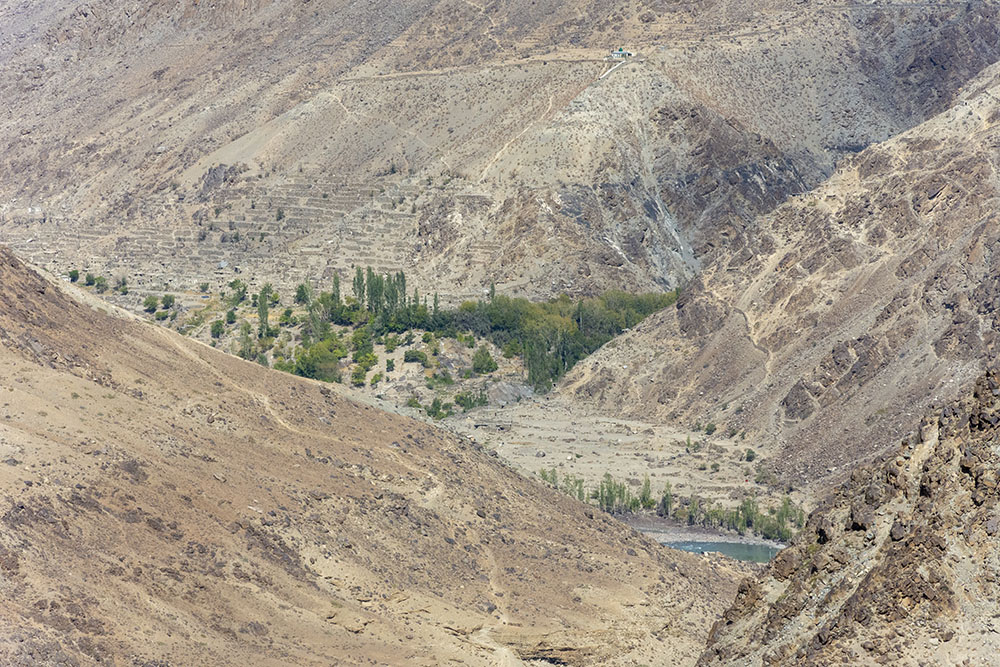 The patch of green across the river in the picture above is in Pakistan. That is how close to the border you get at Hunderman. We spent some time at the viewpoint and then drove back to Kargil.
Car Wash & Laundry
Before we arrived back in Kargil from Lamayuru, we were in the Zanskar Valley and on some really dusty roads. As a result, the insides of the car were completely covered in dirt.
There was dirt just about everywhere. It actually even got into our bags and the clothes that we were wearing this day were the last set of clean clothes that we had.
So getting everything washed was on the agenda for this day. We handed over the car at the car wash, walked over to the hotel, emptied our bags, and handed over all our clothes at the hotel laundry for a wash.
Not much happened for the rest of the day. We got our clothes and the car back in the evening, all washed and clean. By evening, we were logged into our office laptops and after that, it was a regular working day.
The plan for the next day was to drive to Leh from Kargil. We intended to start as early as possible so that it gives us plenty of time for sightseeing on the way. Please click on the link above to continue reading the next part of the travelogue.
Hunderman Village Kargil – Conclusion
I hope the travelogue, pictures, and details on Hunderman Village Kargil were of help.  If you have any questions, you can ask in the comments section below. You can also contact me on Instagram to chat with me or subscribe to my YouTube channel and ask a question there.
This error message is only visible to WordPress admins
Error: No feed found.
Please go to the Instagram Feed settings page to create a feed.